Holiday Gift Guide For Her
I had so much fun rounding up these gifts for the ladies. I thoughtfully curated a guide of items I own and love, as well as gifts I'm adding to my wish list or gifting!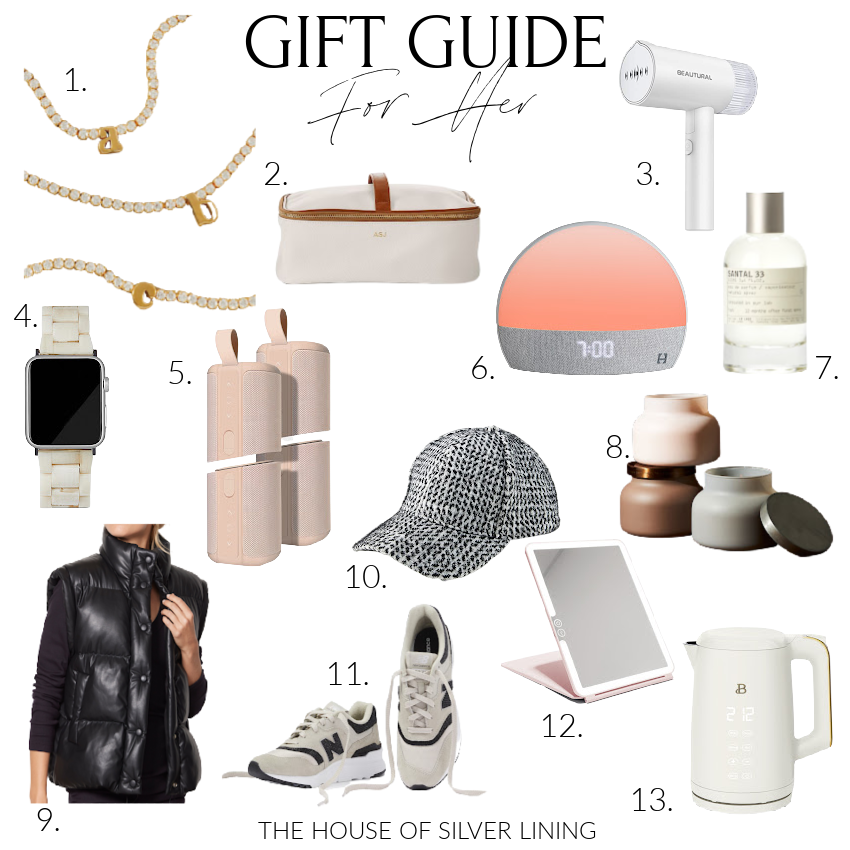 1. Monogram Pavé Necklace 2. Concourse 2-in-1 Cosmetics Case 3. Beautural Steamer 4. Machete Smart Watch Band 5. Commuter 2xVP Speaker 6. HATCH Alarm Clock 7. Santal 33 Perfume 8. Capri Blue Volcano Matte Jar Candle 9. EVEREVE Julia Vegan Puffer Vest 10. Textured Baseball Cap 11. New Balance 997 Sneaker 12. LED Travel Mirror 13. Beautiful Electric Kettle
1// Monogram Necklace. Every year one of the girls in my life gets a monogram necklace from Anthropologie. I love to layer these with other simple necklaces or wear on its own.
2// Cosmetic Case. This vegan leather cosmetic case is both practical and stylish. Once you have a good travel case, you'll use it for years! I especially love that it can be personalized.
3// Travel Steamer. Ladies!! This steamer converted me! I've never been a fan of steaming my clothes because I hadn't found the right steamer. I read all the great reviews on this one and decided to give it a try on a recent trip. My expectations were blown away by how fast it released the wrinkles. I especially love how the flat part can be used like an iron. Definitely a travel item I'll never go without!
4// Smart Watch Band. I love switching out the bands to my smart watch. This one is so stylish and available in different colors.
5// Bluetooth Stereo Speaker System. I received this as a gift from my parents last year and have really enjoyed using them in different rooms of our home. We even use them outdoors around the fire pit since they are weather resistant. I love how the speaker can be split and set in different areas of a room. Great quality sound. Our friends always comment on them when they come over. I think they are a great gift idea for anyone on your list!
6// Restore Reading Light, Sound Machine & Sunrise Alarm Clock. I actually got this for my husband last year. I love that it's a reading light for me at night that's not too bright for the person sleeping next to you. The feature I love most is the alarm function that simulates a natural sunrise that wakes you up calmly. I feel like I wake up in a better mood than the sudden jolt of a loud alarm clock. You can even customize personal settings with an app on your smart phone.
7// Santal 33. I only own two perfumes (I'm very selective) and this is one of them. A distinctive woodsy scent with hints of floral by Le Labo that smells amazing!! A lingering fragrance that lasts all day. I get so many compliments when I wear it which is almost daily.
8// Volcano candle. My absolute favorite candle! If you want to know what my home smells like, this is it. This is my #1 "go to" gift for all the girls in my life. I love to give it as a hostess gift too!
9// Puffer Vest. This one is actually on my wishlist! I wear vests more than I do a coat since I don't like to feel weighed down or overheat. I'll be styling this vest over a sweater or sweatshirt all winter long.
10// Textured Baseball Cap. Most often if you see me running around town doing errands or having a fun shopping day, I'll be wearing a baseball cap. I love the elevated style of this cap with the texture. I'm already seeing it paired with that cute puffer vest!
11// New Balance Sneaker. I love a good every day sneaker. I love the neutral beige and black colors that will go with everything. Now imagine these sneakers paired with that baseball cap and puffer vest! See, I'm putting a whole outfit together for you! 😉
12// LED Travel Mirror. I can't travel without this slim mirror. I always feel like the lighting is not great in hotel bathrooms so I love this mirror for putting on my makeup. Also handy when you're sharing a room and don't have access to a mirror to get ready at. I use this at home as well and keep it tucked in a vanity drawer ready to pull out and use when needed.
13// Electric Tea Kettle. Every day I make myself a cup of tea with this kettle, which is part of the BEAUTIFUL collection by Drew Barrymore. It is so pretty sitting out in our kitchen. I have it in black but it's also available in six color options. The price is so good! I actually own quite a few pieces in this line including the air fryer, toaster, blender, and crockpot. I bought all white for our beach cottage and all black for our Colorado home. The gold detail is the icing on the cake!
More Gift Ideas! Tap on Image to Shop