Holiday Gift Guide For Parents/In Laws
This Gift Guide for Parents/In Laws is a round up of items I have gifted in the past to my parents as well as some ideas I have in mind for them this year. I find it harder and harder every year to find gifts for both our parents who have everything, so I have spent a lot of time thoughtfully sourcing practical and personalized gifts they will love. Any of these items would make great gifts!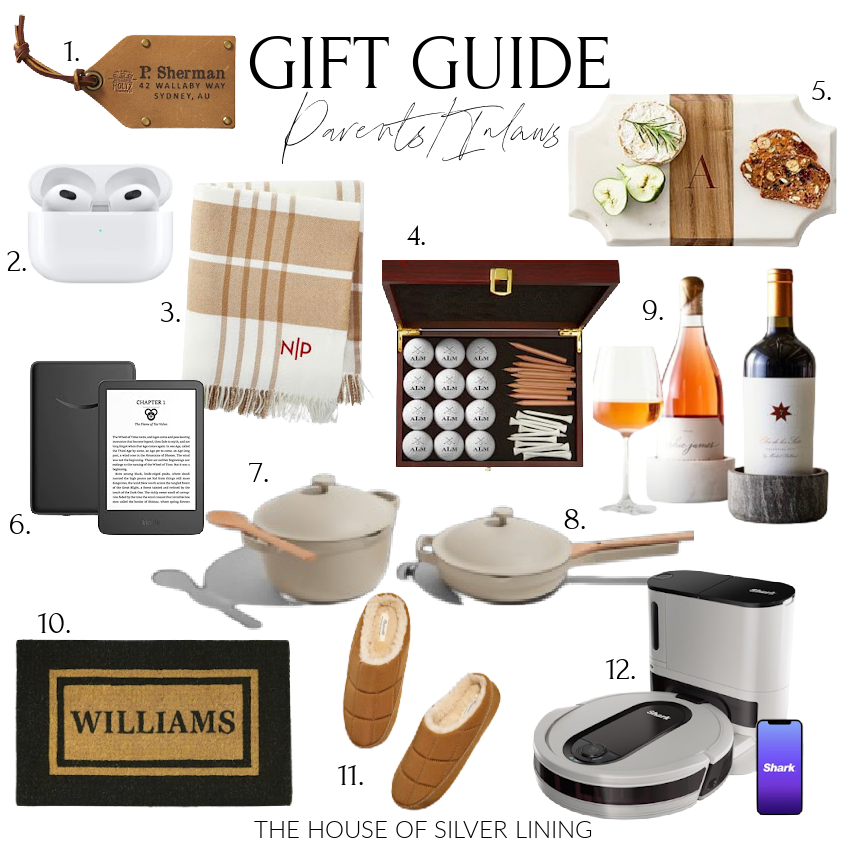 Leather Luggage Tag 2. Apple Air Pods 3. Italian Plaid Throw Blanket 4. Personalized Golf Ball Gift Set 5. Wood and Marble Cheese Board 6. Kindle 7. Our Place Perfect Pot 8. Our Place Always Pan 9. Marble Wine Bottle Coaster 10. Personalized Double Boarder Doormat 11. Quilted Slipper 12. Shark EZ Robot Vacuum
A few notable items on the list:
Always Pan //You may have already heard the hype about this pan but I am here to say it is THE BEST! Not only does it come in a variety of beautiful colors (I have the oatmeal color set), it is also nontoxic which is so important for me and for a gift I would give to my parents. With over 28,000 positive reviews, this pan lives up to all its hype. I've ditched my old pans and only use this one now. No more soaking and scrubbing those old skillets, this pan cleans up amazingly and stays looking new. Definitely a gift they will love!
Shark EZ Robot Vacuum // I gave this vacuum to my parents last Christmas and it has made their home stay so much cleaner, especially having two cats and all that cat hair. They actually are quite entertained by how efficient it is journeying through their home and then emptying itself in the base when all finished. I think I want to add one to my wishlist this year!
Apple Air Pods // These are a great gift for anyone on your list! I use my AirPods every single day and have definitely got my moneys worth out of them. I love to listen to audiobooks when I'm cleaning, cooking, walking Kodak, exercising and on a plane. I know my mom will love having these as a gift to listen to audiobooks on her walks too!
More Gift Ideas! Tap on Images To Shop

Be sure to check out my complete Gift Guide for everyone on your list!