Holiday Gifts For Grandparents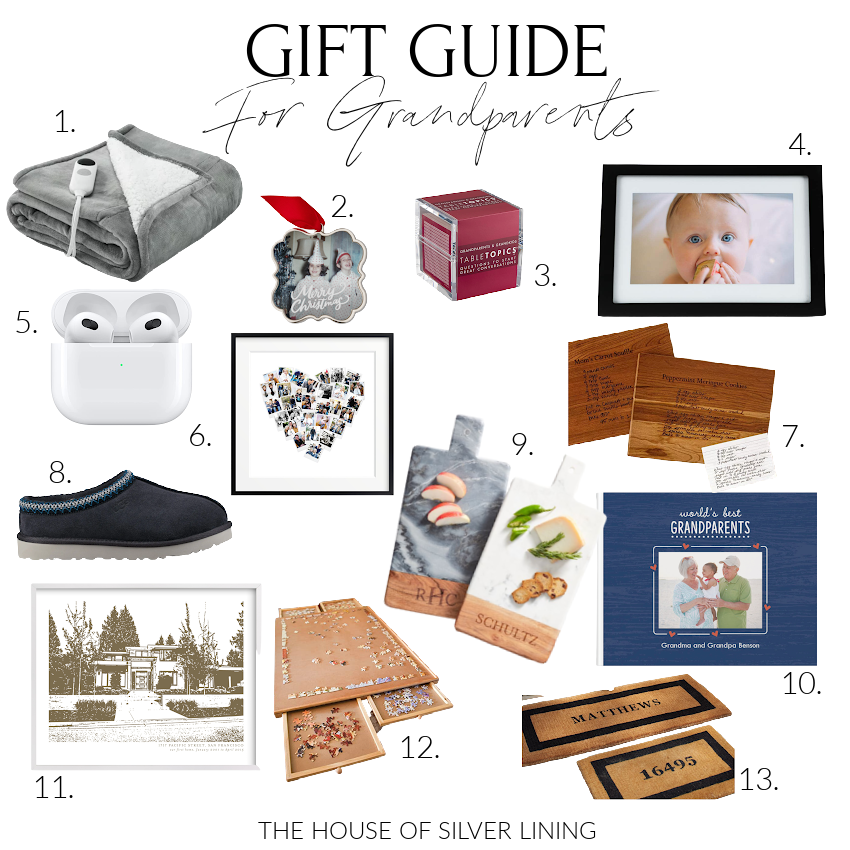 1.Electric Blanket 2. Keepsake Ornament 3. Table Topics Cards for Grandparents 4. Skylight Digital Picture Frame 5. Apple AirPods 6. Collage Heart 7. Personalized Family Recipe Board 8. UGG Tasman Slipper 9. Personalized Cheese Board 10. Grandparents Photo Book 11. Custom House Portrait 12. Jumbo Puzzle Work Board 13. Custom Welcome Mat
1// Electric Blanket. I got my parents these for Christmas last year and they use them daily in the winter to warm them up. They were a big hit!
2// Keepsake Ornament. Parents and grandparents love adding these to their Christmas tree every year. We have quite a collection of them on our tree. They are so special and nostalgic. I love thoughtful gifts like this!
3// Table Topics Cards for Grandparents. A fun conversation piece to keep on the kitchen table.
4// Skylight Digital Picture Frame. Keep the grandparents up to date with photos! They'll love this one!
5// Apple AirPods. These are great for grandparents or parents who want to listen to an audio book on walks.
6// Collage Heart. A unique keepsake with 30 of your favorite photos. A thoughtful gift!
7// Personalized Family Recipe Board. A special gift that will be treasured. Those old handwritten recipe cards can fade. Preserve your grandmothers handwriting of a special recipe with this unique board.
8// UGG Tasman Slipper. When in doubt slippers are always a good gift. Get grandma and grandpa a matching pair. I love all the color options. Bonus is that they can be worn both indoor and outdoor.
9// Personalized Cheese Board. Show your appreciation of all the food grandma serves for the holidays with this pretty cheese board.
10// Grandparents Photo Book. Not just for grandparents! Anyone would appreciate a thoughtful photo album. I have had albums made by this company for years and the quality is always so nice.
11/ Custom House Portrait. For the grandparent who may have everything. This custom portrait of their home is so special. I would love one of these too!
12// Jumbo Puzzle Work Board. For all the puzzle lovers! Most often a puzzle is slowly assembled at the dining table. This board is a great way to store it in between meals. My parents love theirs!
13// Custom Welcome Mat. A great welcome to the home! Available in three size options.