This past weekend we hosted our 6th annual Halloween Bash. A first time event in our new home, The Forest Modern. Our exterior setting couldn't have been more perfect for a gothic theme with the gorgeous black siding with european stone facade nestled in an eerie setting of the forest. We look forward to this event every year!
I came up with our costume idea pretty easily. The home itself was enough to inspire an elegant zombie bride and groom.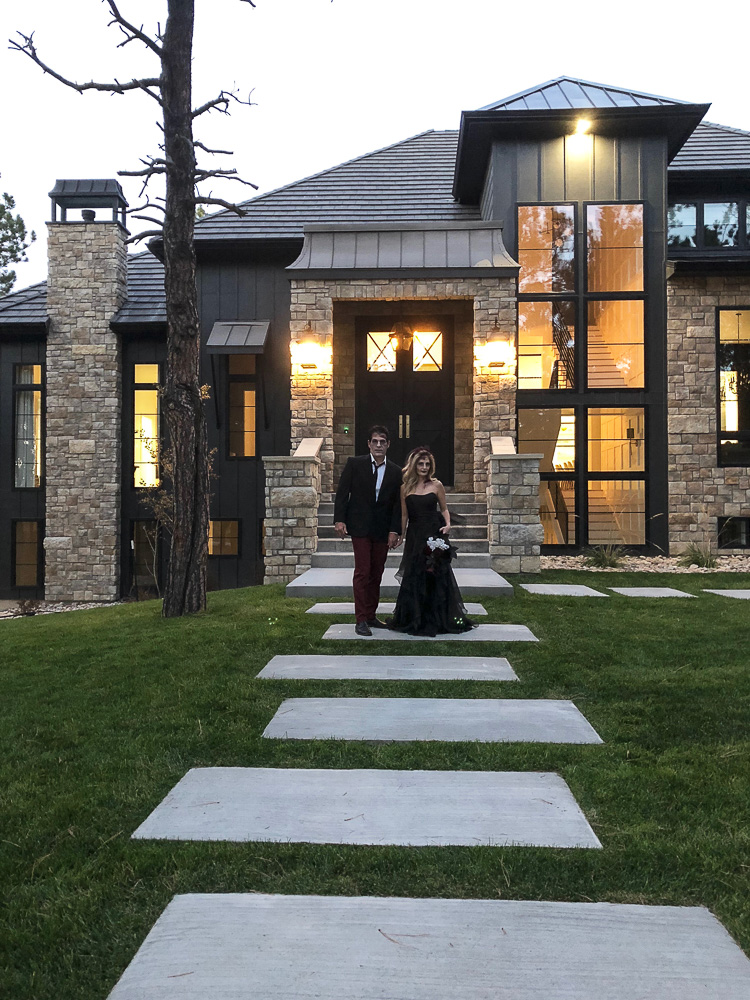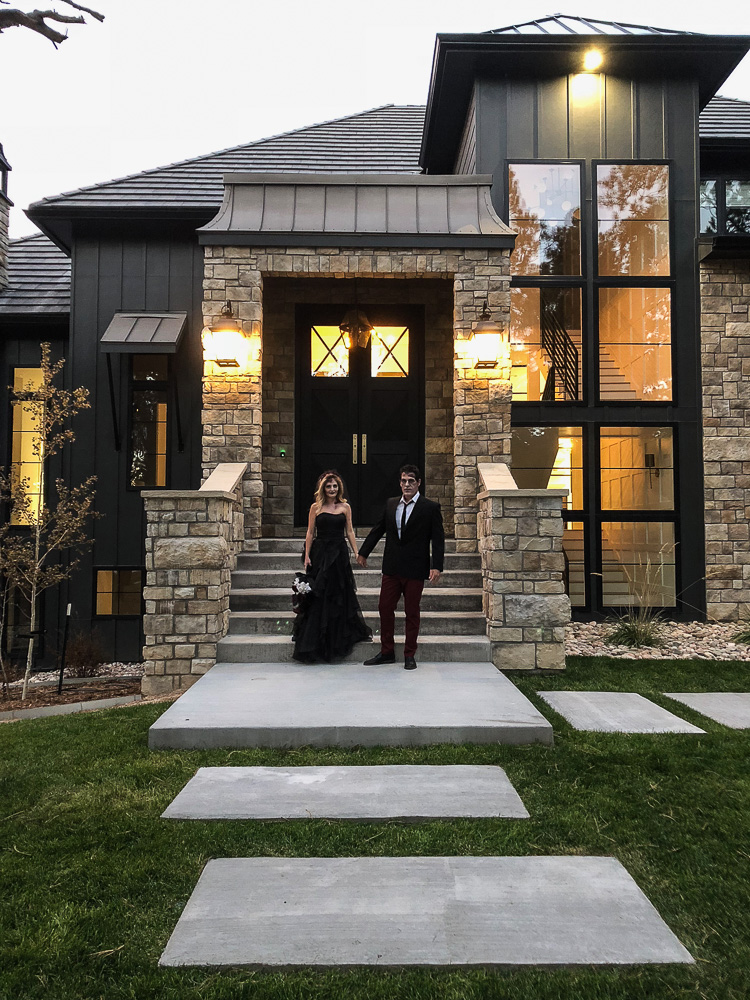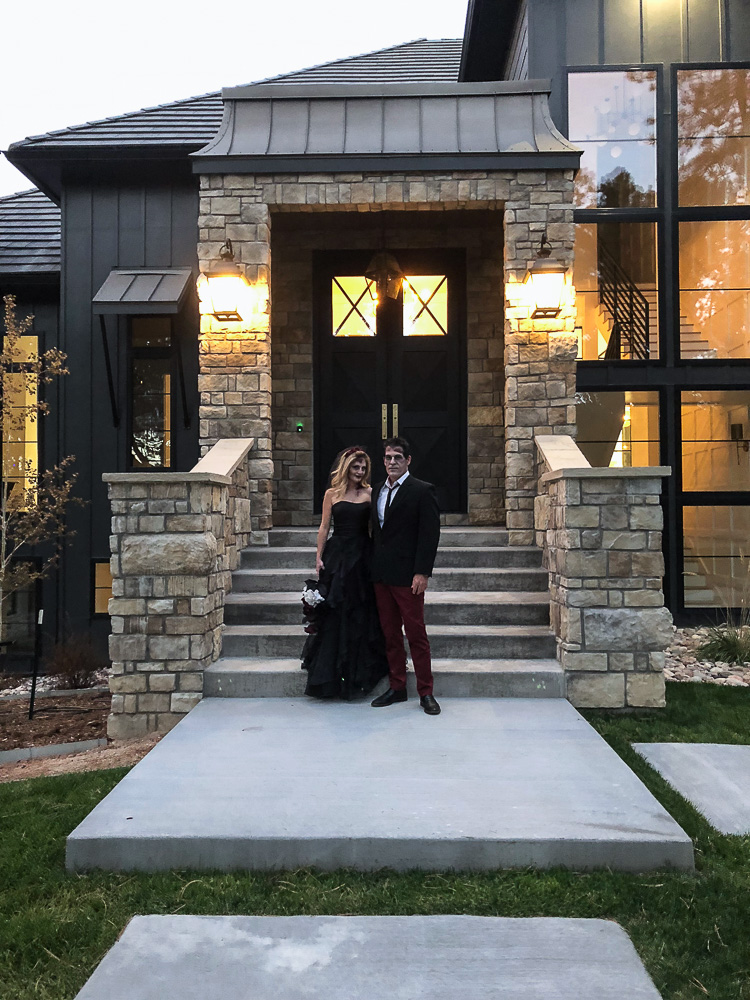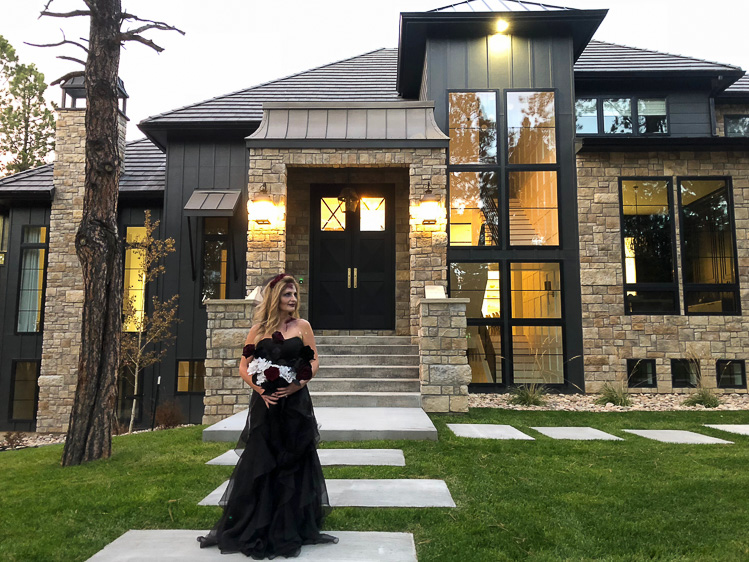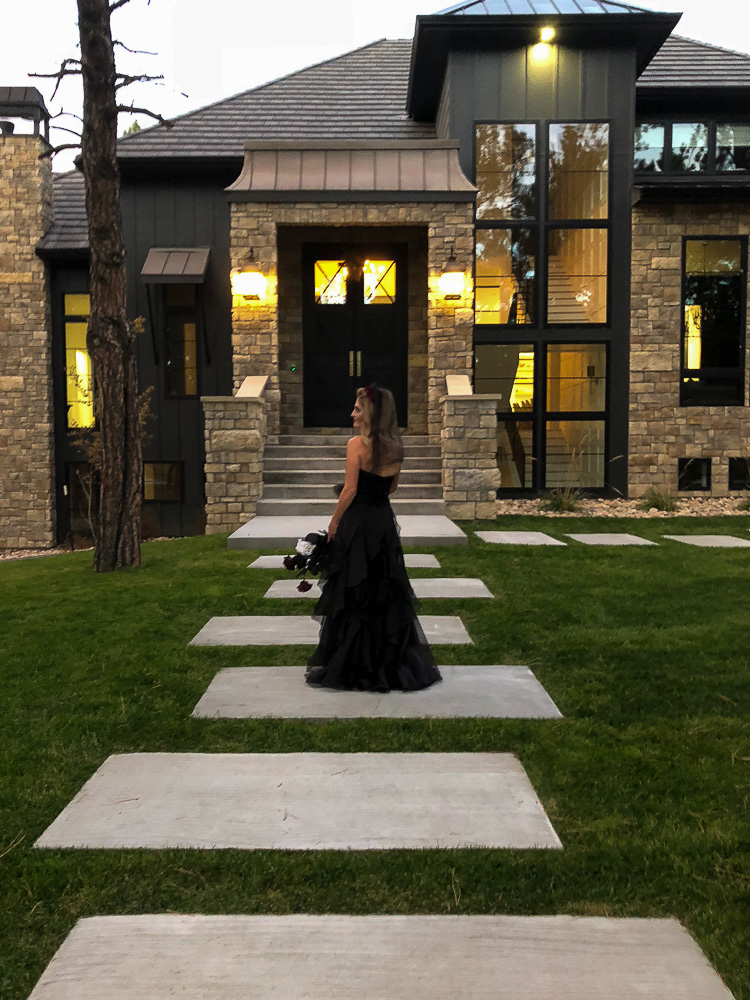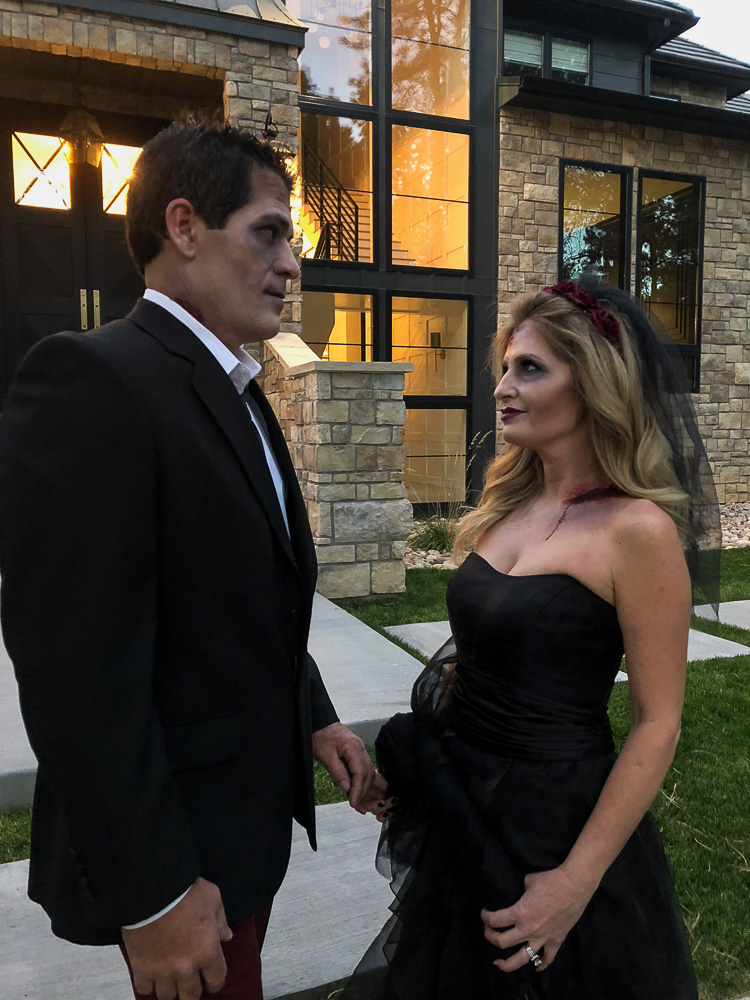 We hosted the event in an extension of our home that I haven't revealed yet. I call it my "event barn" and envisioned hosting all sorts of parties and gatherings in here. It's also an indoor basketball court. The boys and hubby love that! I'll save more detail photos of this fabulous gathering spot for a later post. If you follow me on Instagram you may have seen these massive 12′ doors and wondered what they lead to. They open up to where our Halloween Bash took place (Ps. Don't judge the 10 year old patio furniture that's on its last leg.)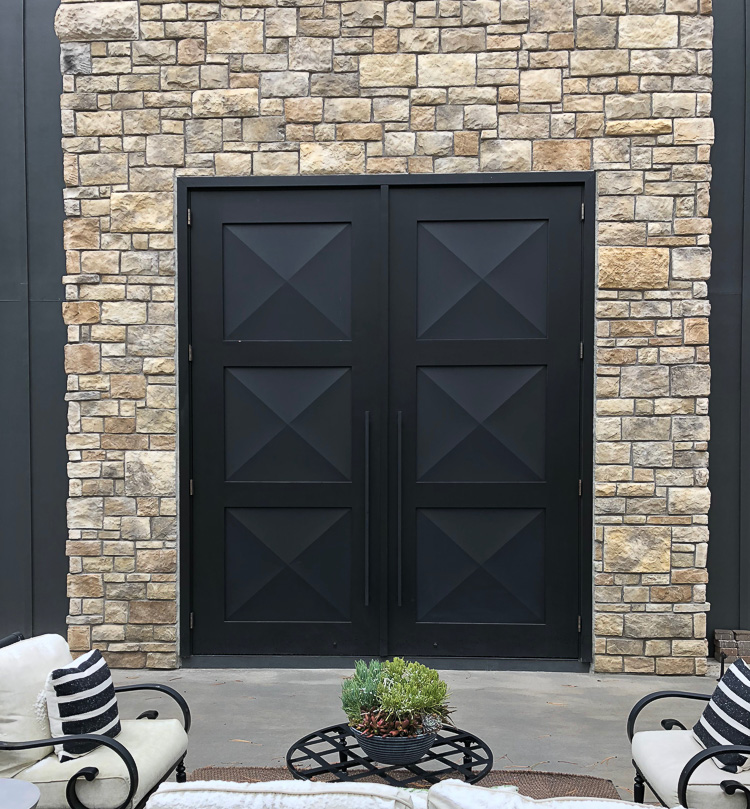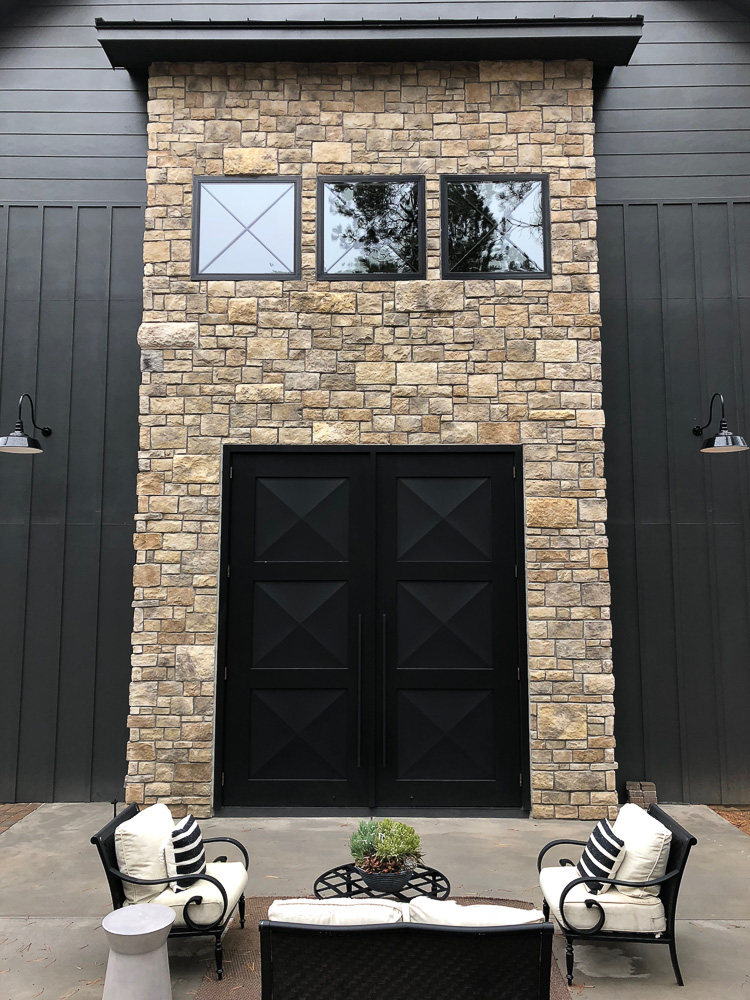 No halloween party is complete without a photo backdrop. Our guests always impress with the most creative costumes. I wish I had captured some photos before it got dark in here but you can get the idea. Next year I plan to hire a professional photographer to capture the event.

Materials used to create the look:
Black plastic tablecloths for backdrop
Black tulle
Faux florals (red and white roses with mixed greenery)
Turf by the yard from Home Depot
String lights
2 Spot lights
Old Chairs draped with white sheet
Old urn for flowers
Skeletons, tombstone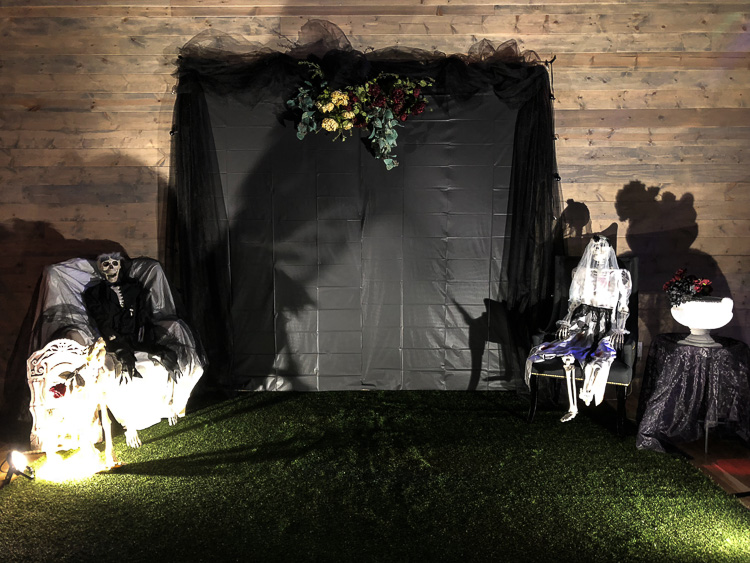 Since our walls our planked with pine wood, I was able to staple everything to the wall. Super easy.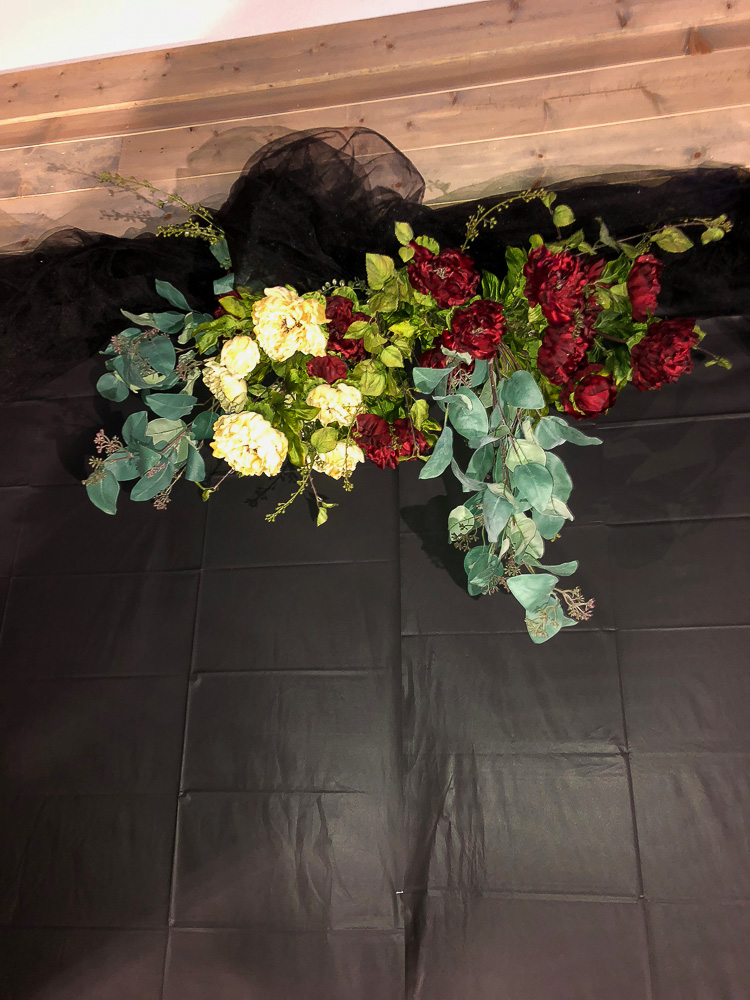 I have a collection of old urns just for halloween decorating. They are so fun to style for an eerie haunted mansion vibe.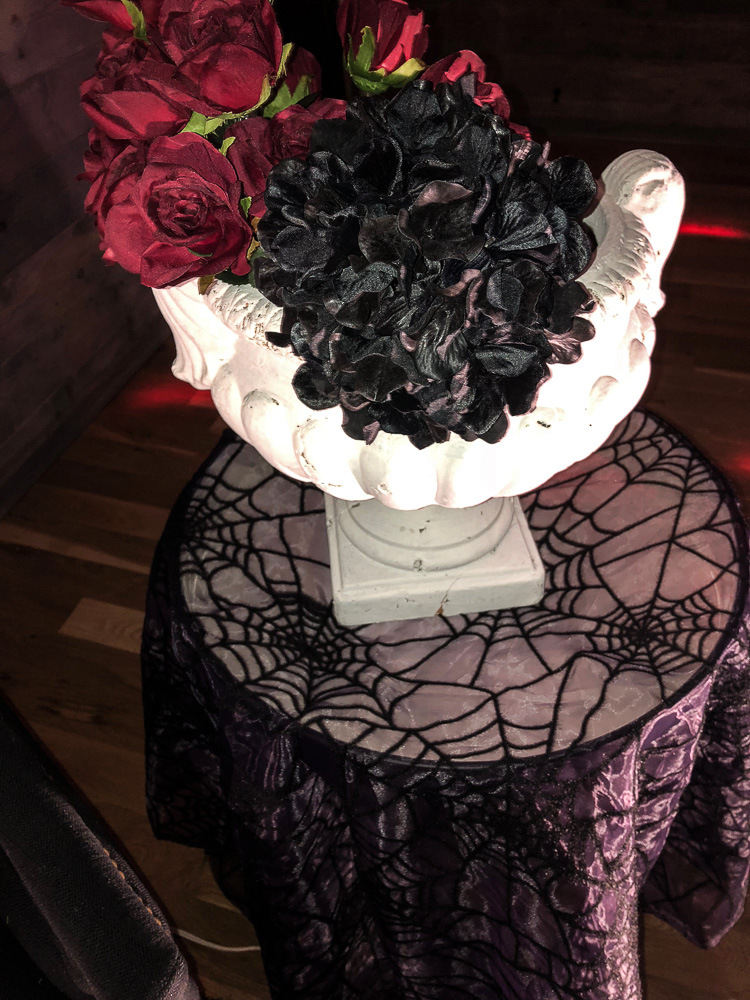 White sheets protect the furniture but also go with the abandoned mansion vibe. Our skeletons are always the life of the party and end up on the dance floor every year. This one is missing hands from previous years. Oops!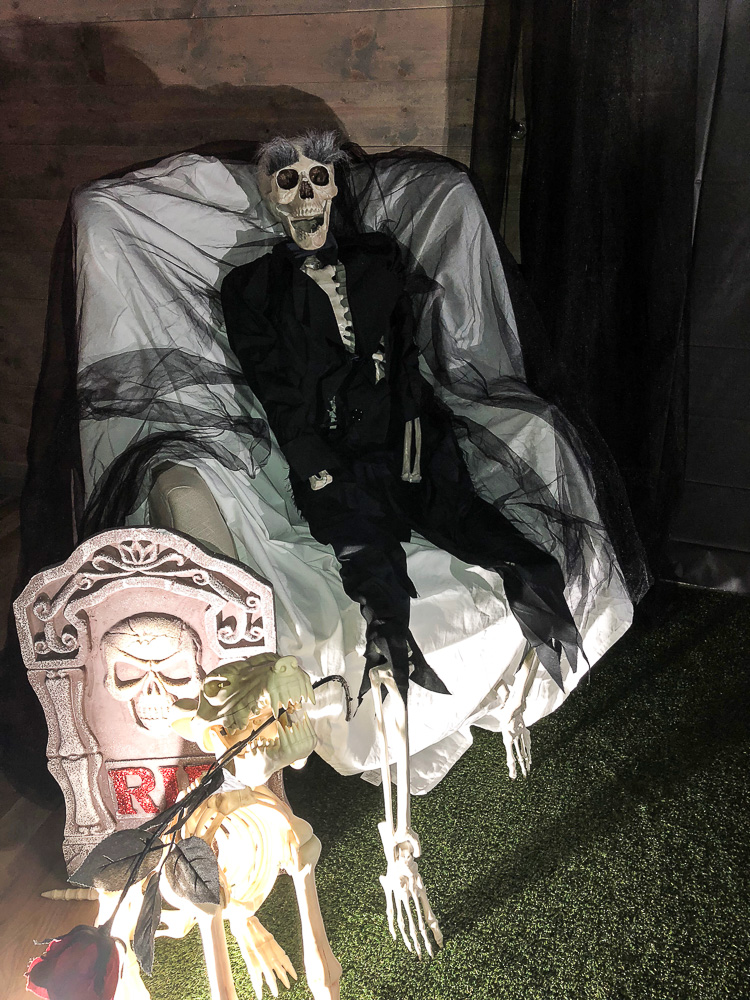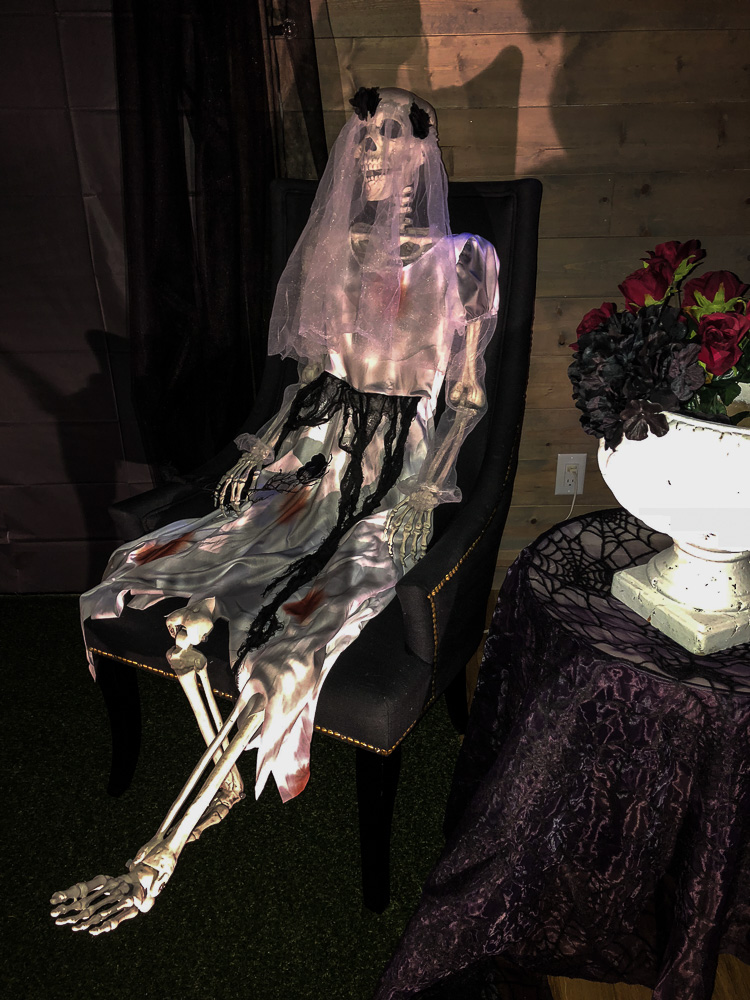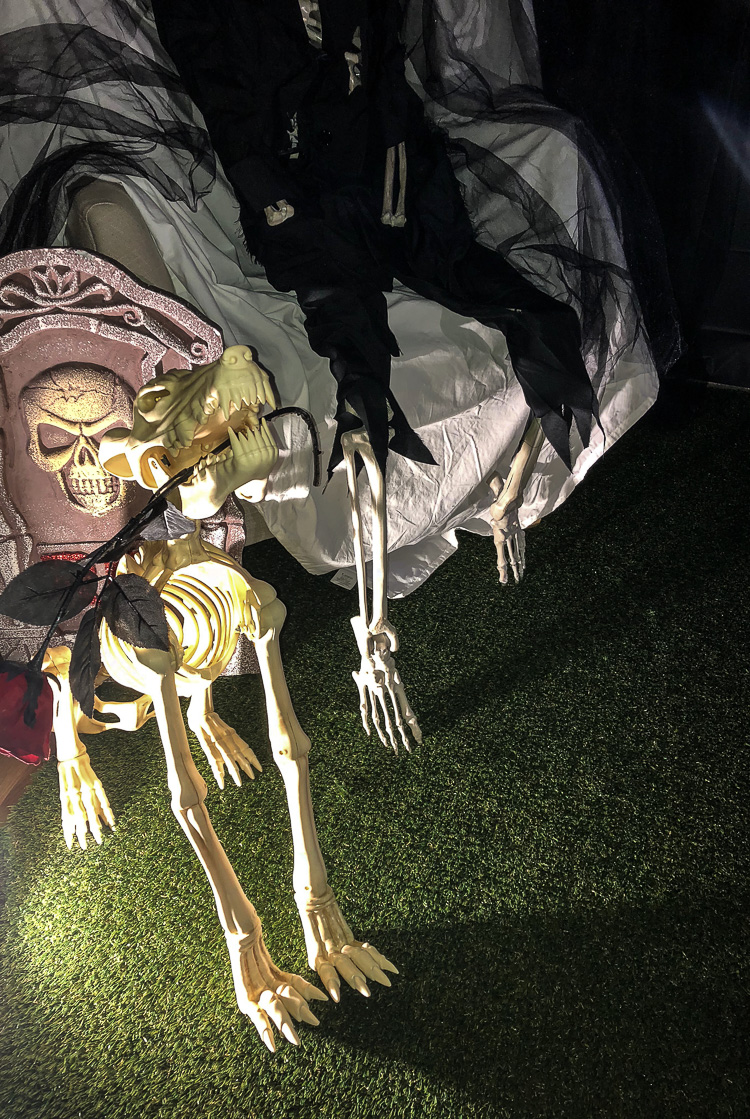 Like I mentioned before, our guests always have the best costumes! Little Red Riding Hood and The Big Bad Wolf were a hit!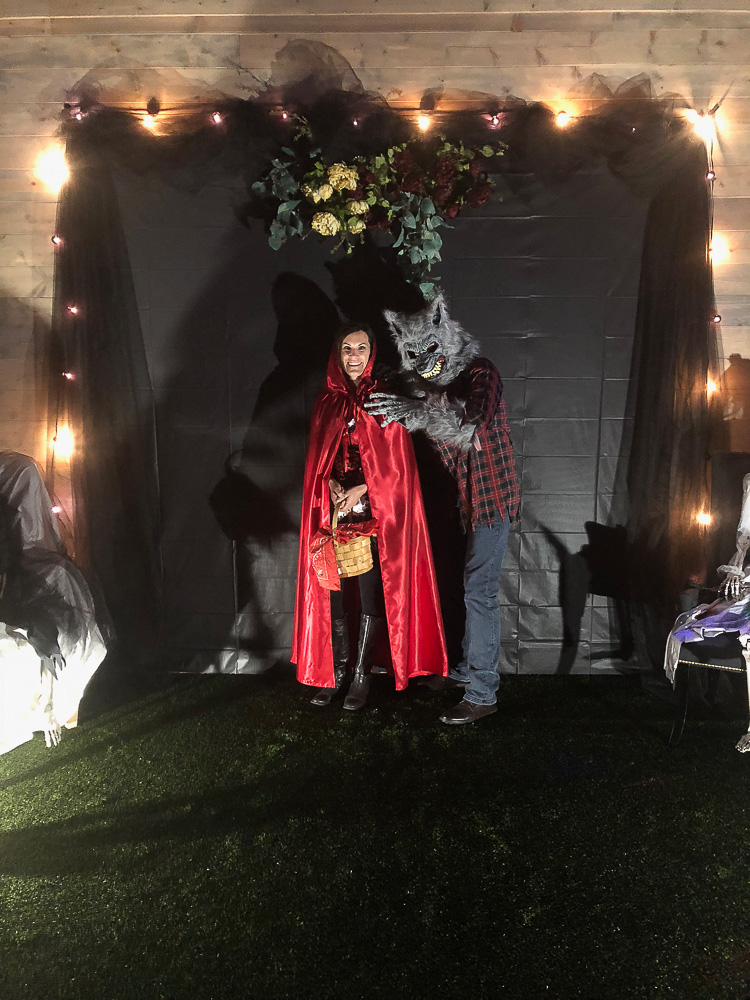 Since we were on a roll with the gothic bride and groom theme, we had the perfect wedding cake made by a friend. I embellished it with a dozen roses, topped off with a skull head.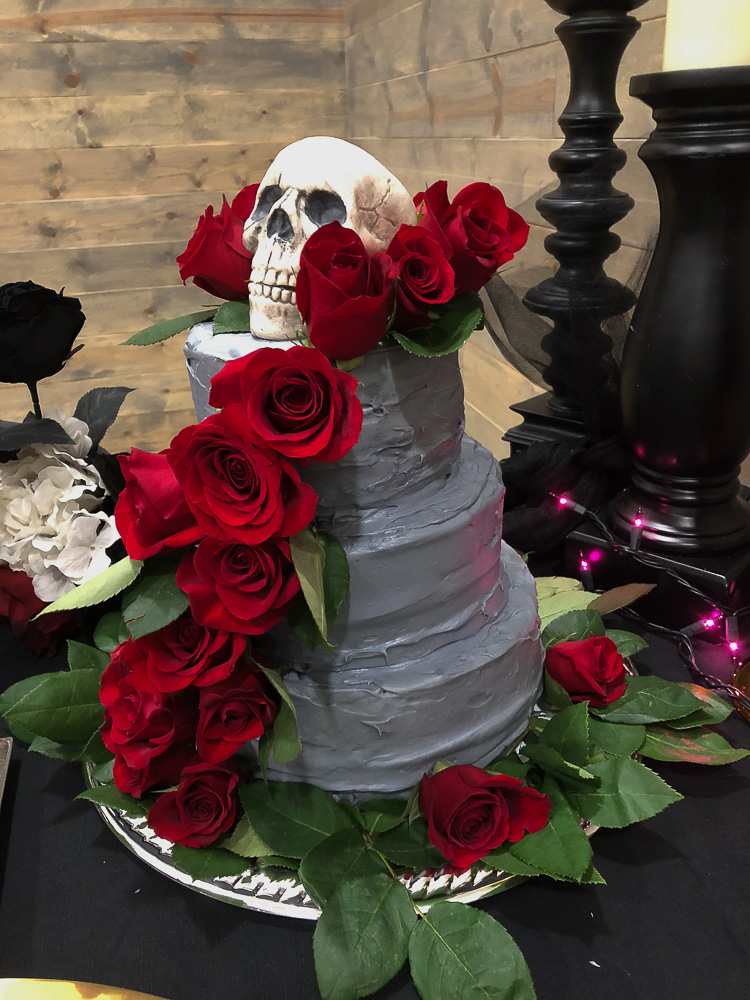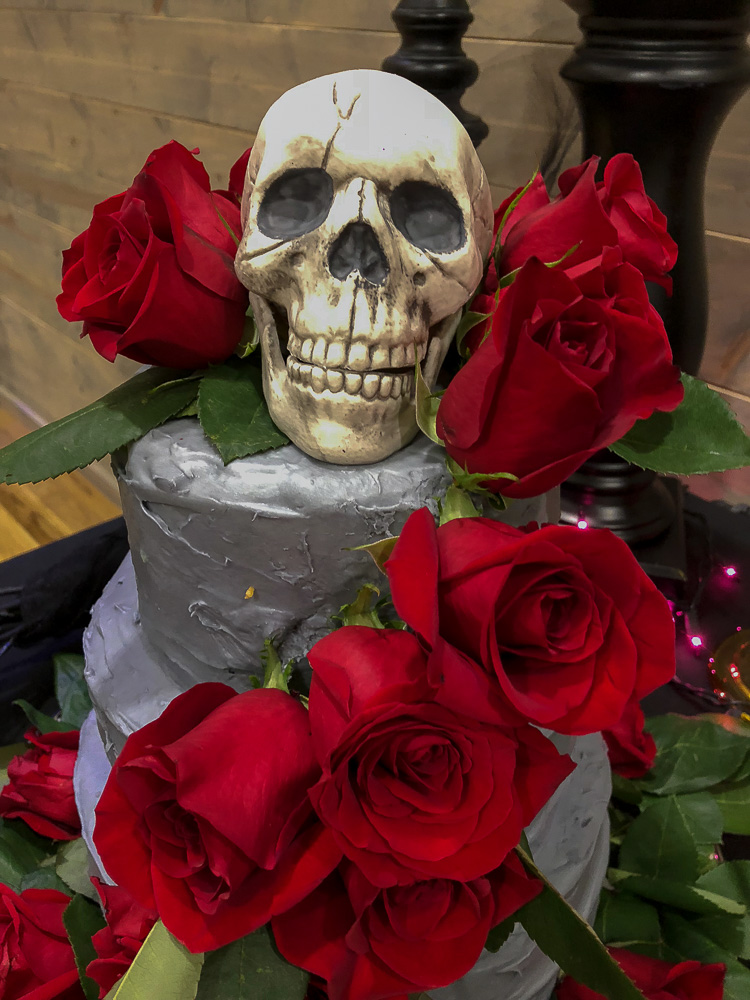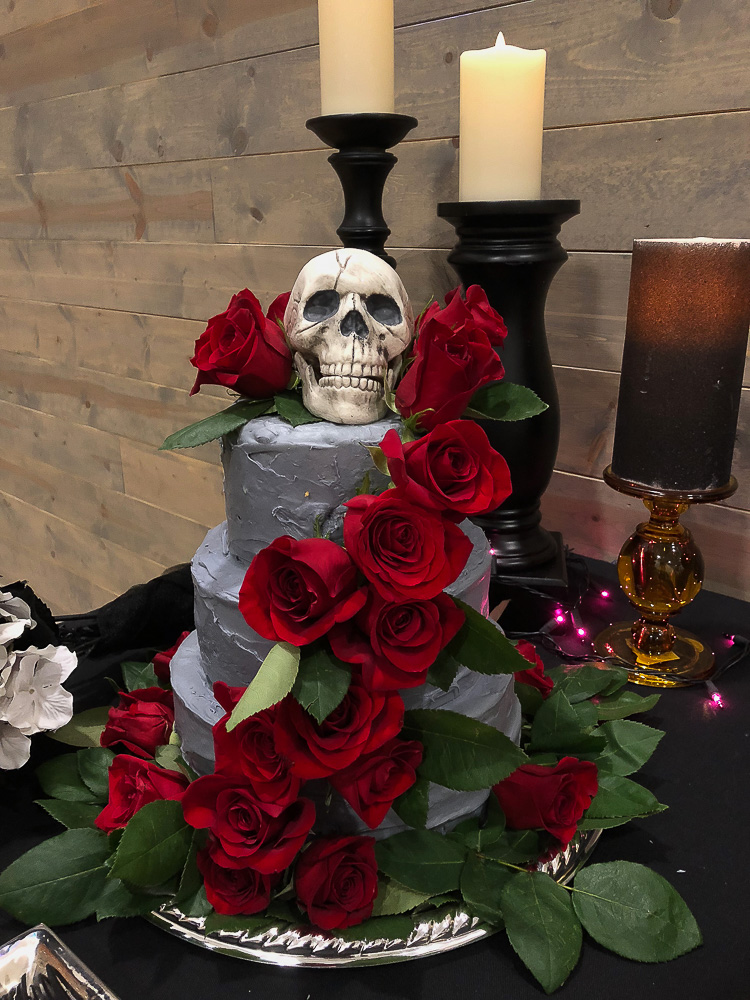 The halloween decor for our halloween bash focuses on gaudy elegance. I bring out all my old candelabras, an assortment of glass votives and plenty of purple string lights (the only time purple debuts in our home). Ambient lighting is a necessity that sets the mood. A glimpse of night with the lights down low (again, iPhone photo in the dark…ugh).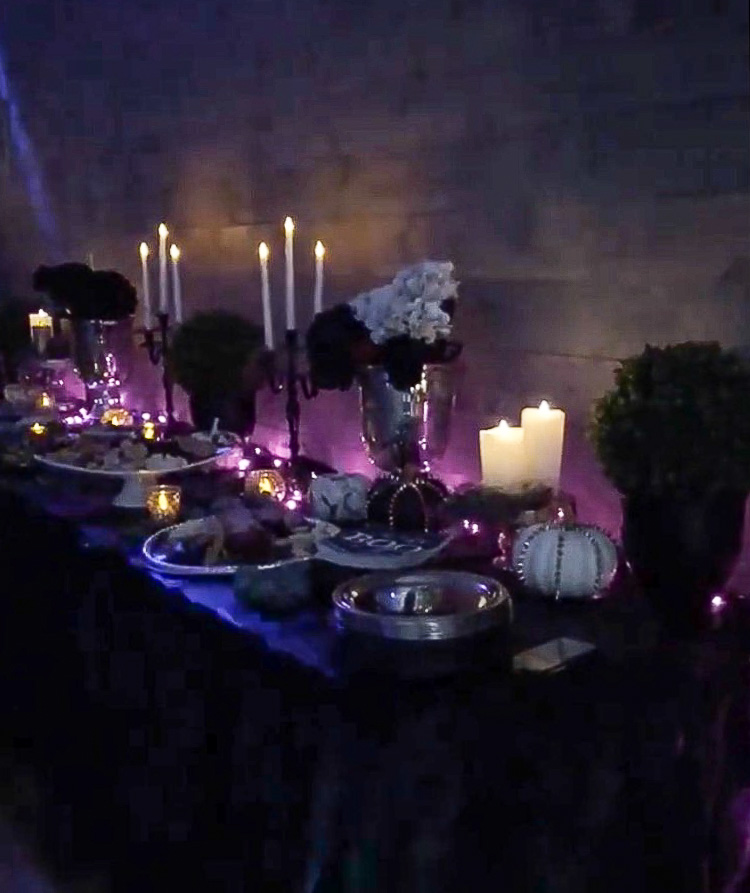 Use cake stands, books or anything else you have on hand to elevate the candles for variegated heights.
Scatter spanish moss on table settings or tuck it into urns, candle holders, etc.
Fill gilded vases with faux flowers
Use black tablecloths (always a good backdrop!) Layer with black tulle.
Scatter embellished black and white pumpkins. You can use skulls, skeleton bones or any other curiosities.
Remember to have fun with it and don't try to make it look perfect!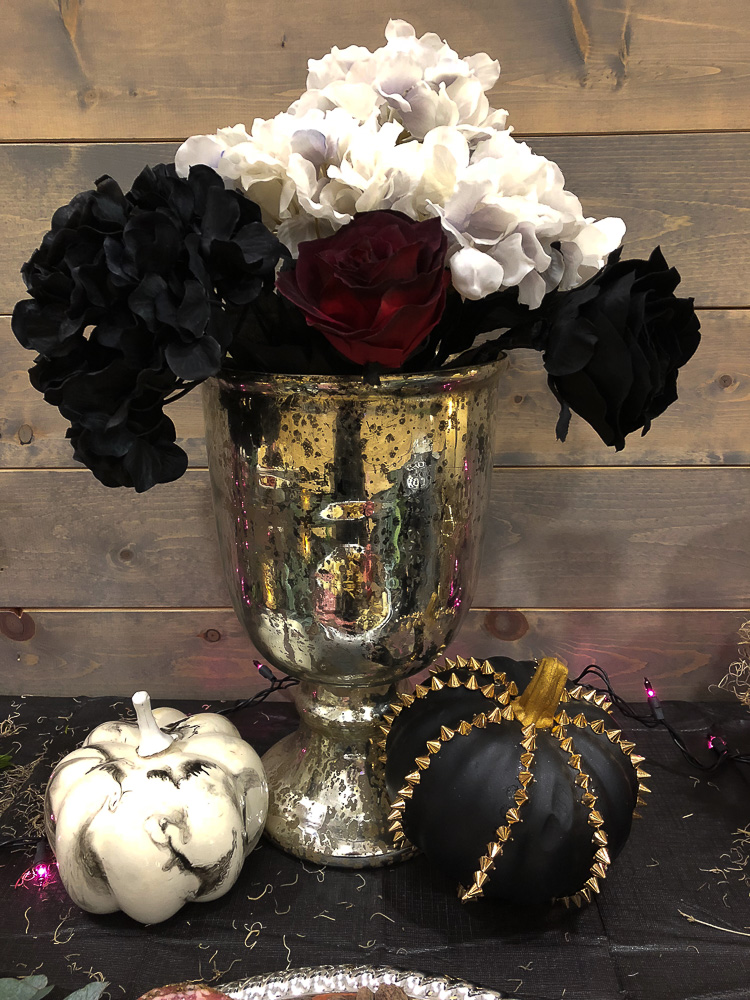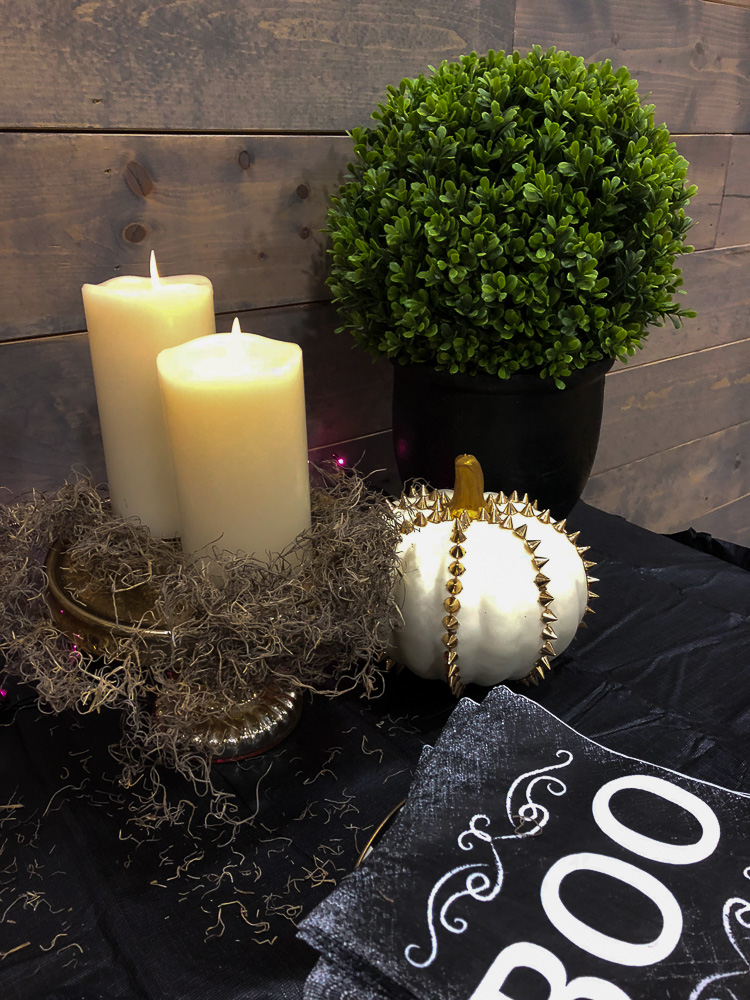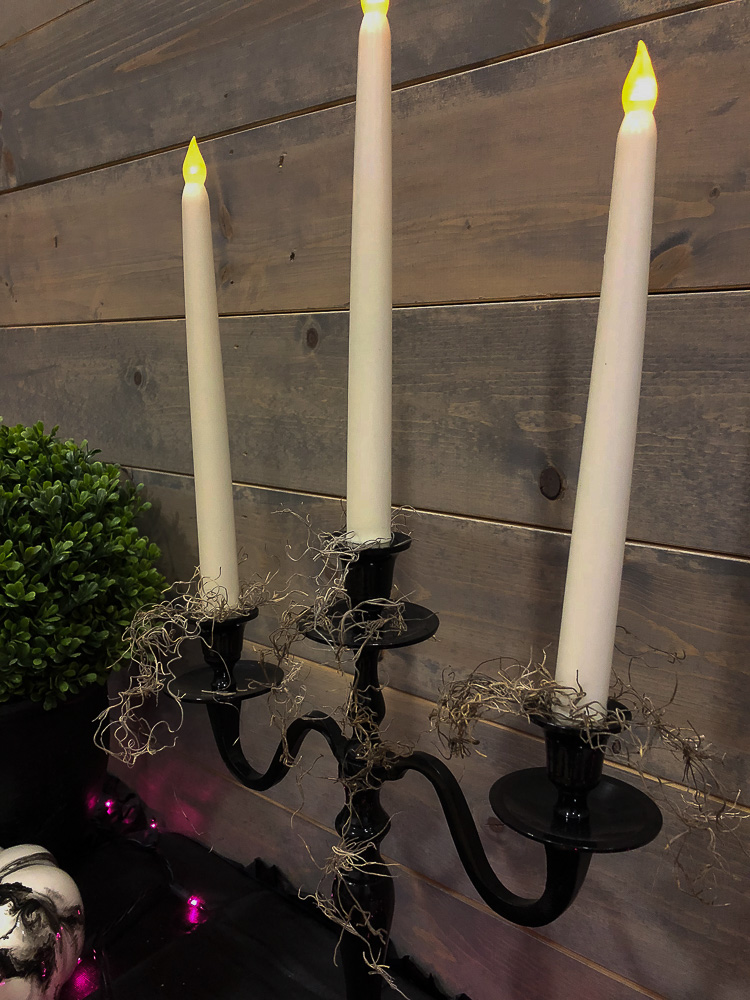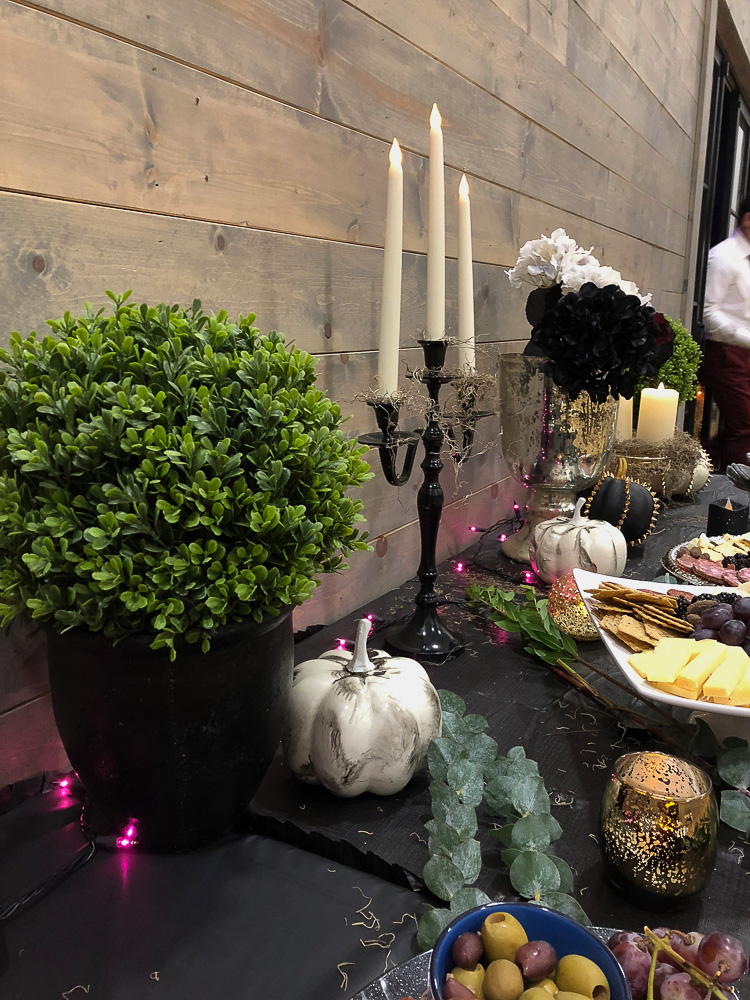 It's kind of a running joke around here that I'm always so focused on the decorating and how the house presents itself that I forget about the food. This year, I made it simple by whipping up these easy charcuterie platters.  Actually, my "assistants" (my hubby and blogging bestie, Bree) created these platters while I was busy getting made up like a zombie bride. Typically, charcuterie is served on a wood board (I especially love this one and this one), but I opted for dollar store silver platters and white platters for this event since I have a stockpile of them. You can get creative with a charcuterie board feast and choose specific meats, cheeses, crackers, and fruit. I tried to balance the taste buds with sweet and salty on every tray.

An assortment of meats and gourmet cheeses
Stuffed olives or any other pitted olive
Moon drop grapes (aka "witch" finger grapes)
Red grapes, dragonfruit, boysenberries and dried mangos
Chocolate covered almonds, plain almonds and pistachios
Assortment of breads and crackers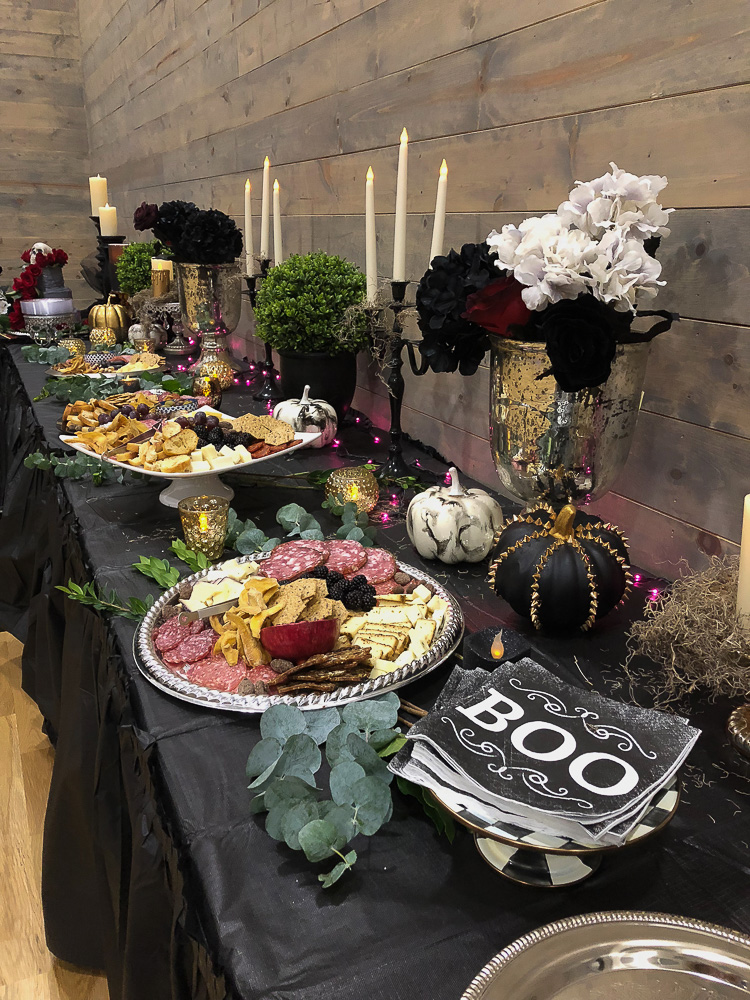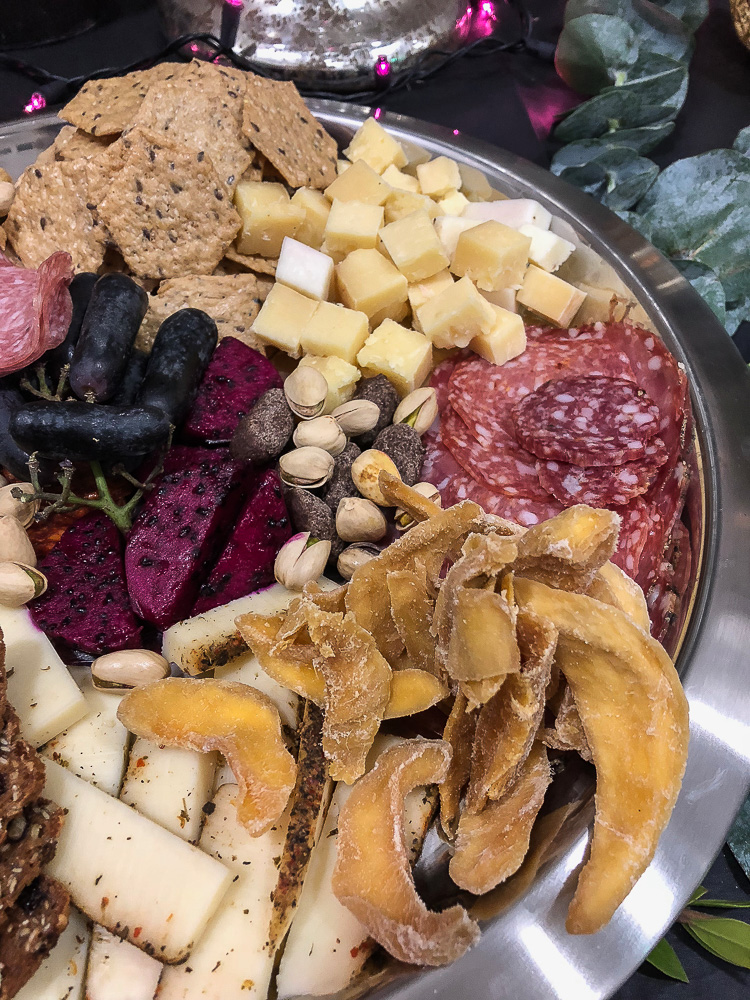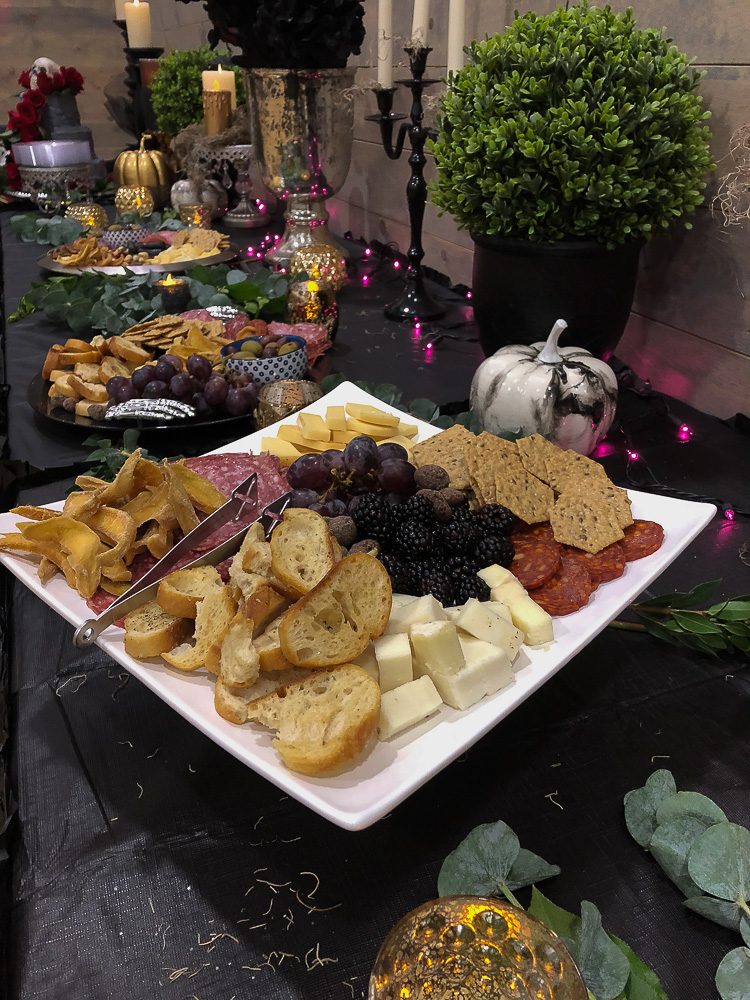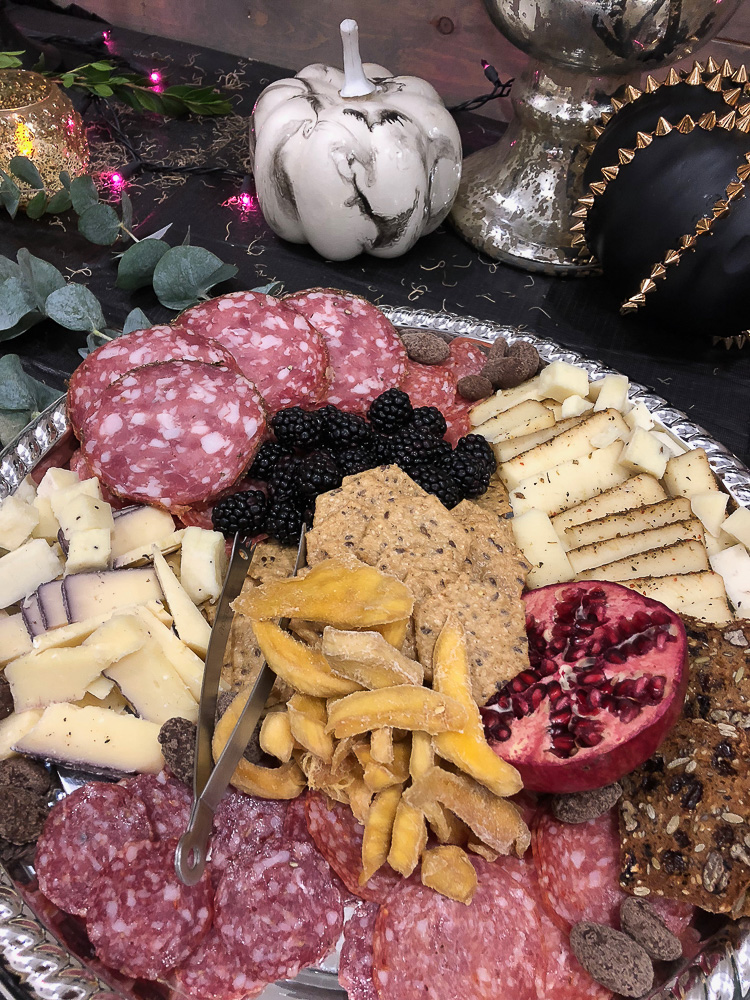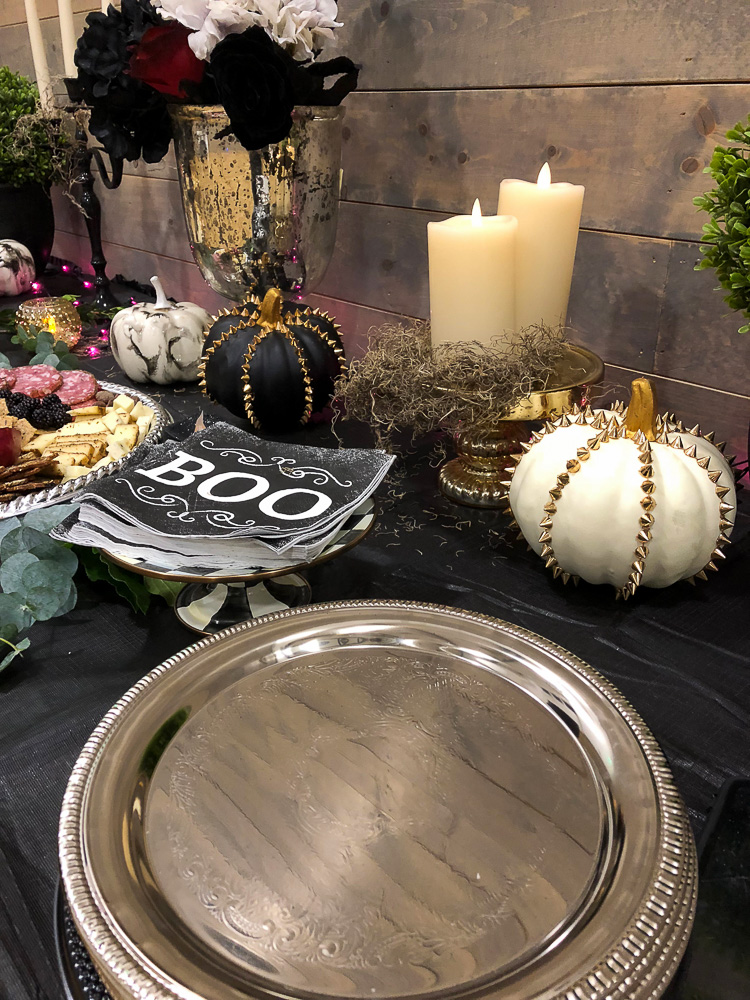 In case you're wondering if I decorated the entire home for halloween this year, the answer is no. Life and schedules were just too hectic as we are still getting settled into our new home. I used to spend days decorating for halloween, especially when our boys were younger and really appreciated all the festive decor. I no longer have time like that to invest in decorating so I'm learning to appreciate the simple touches that give a little nod to the holiday season. Our black dining room was the perfect setting to add a few skulls, bones and twiggy branches to set the mood.