Awesome Halloween Costumes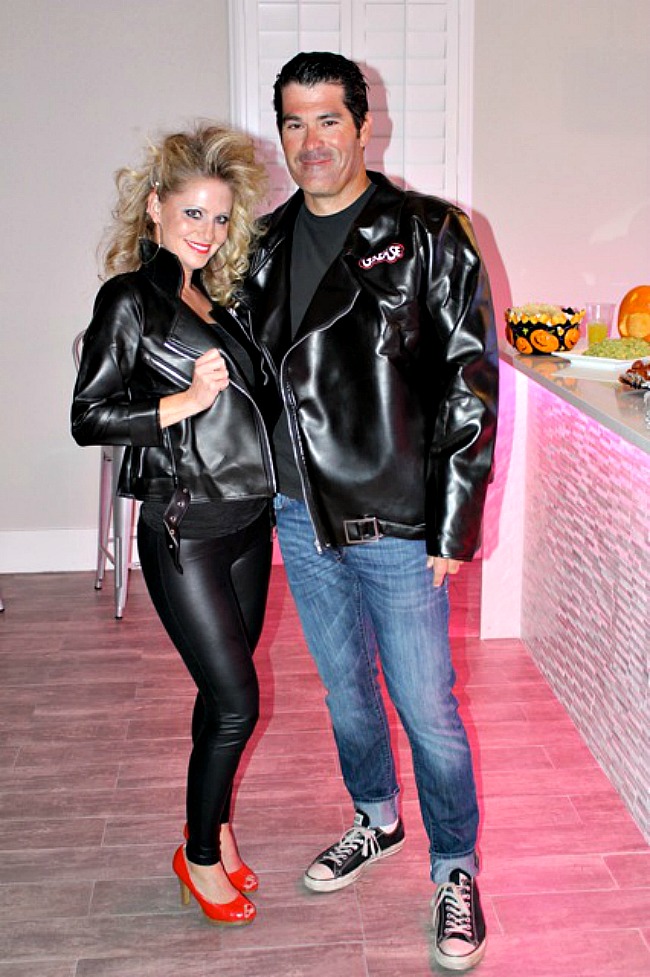 Hello Danny and Sandy from the all time classic movie, Grease!  What can I say, I LOVE Halloween costumes and throwing a big Halloween party in our home every year for the past few years.  Give me any opportunity to tease my hair to heights only seen in my glory days of the 90's and I'm totally in my element.  Plus it helps when I have a hunky hubby with black hair to slick and play the perfect role of Danny from Grease.  We started this tradition a few years ago of throwing a big Halloween bash in our home.  I love costumes, I love to decorate, I love Halloween, so let's throw a party!  Today I'm sharing some of the awesome halloween costumes from our party last year.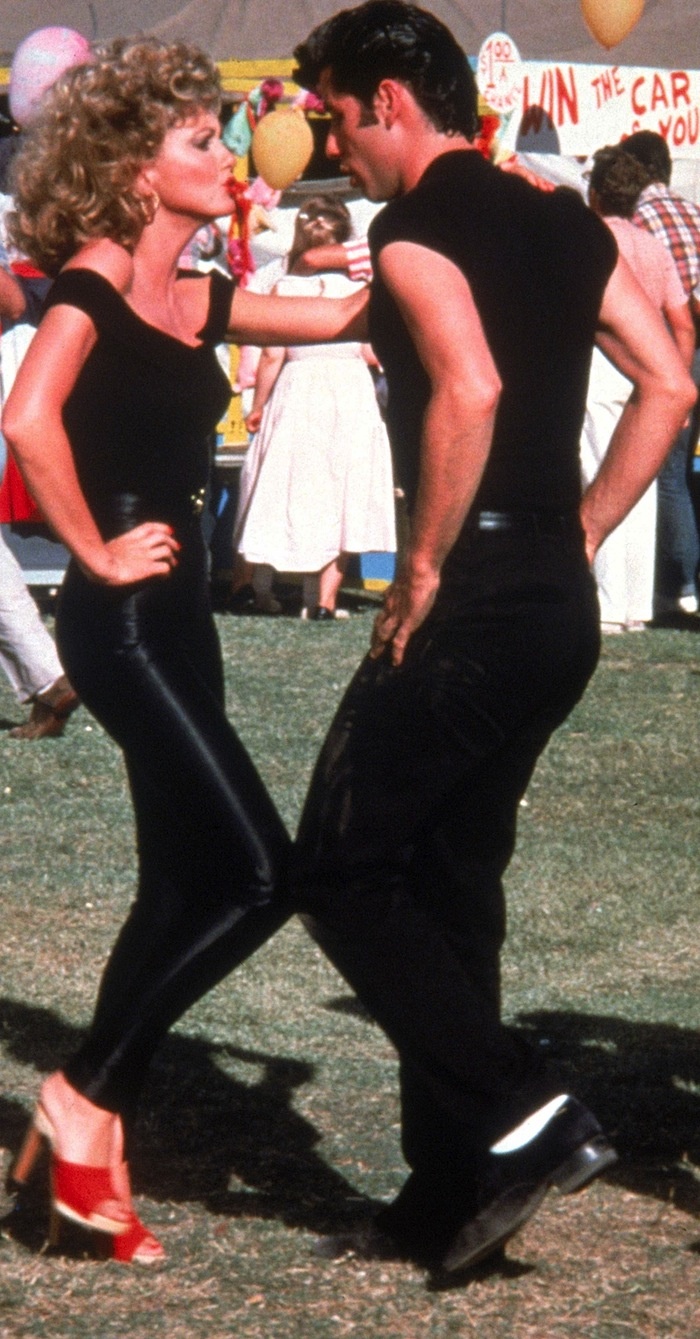 GREASE! What a CLASSIC movie!!  Danny and Sandy make red heels and black loafers with white socks look like the sexiest get up around! What do you think?? Did we nail the look?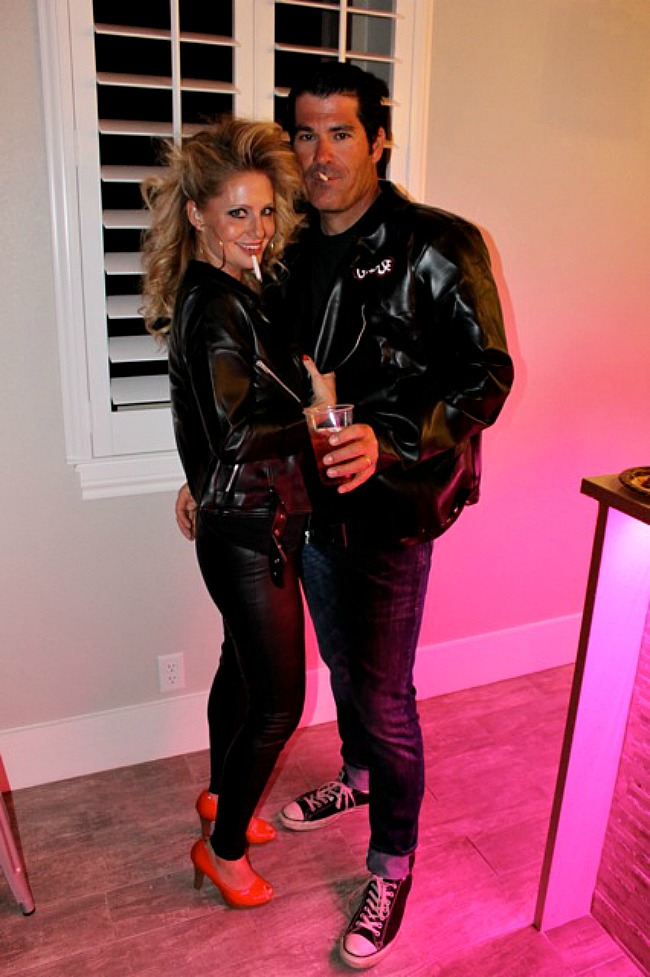 My thoughts exactly…my Danny had my heart a pitter pattering.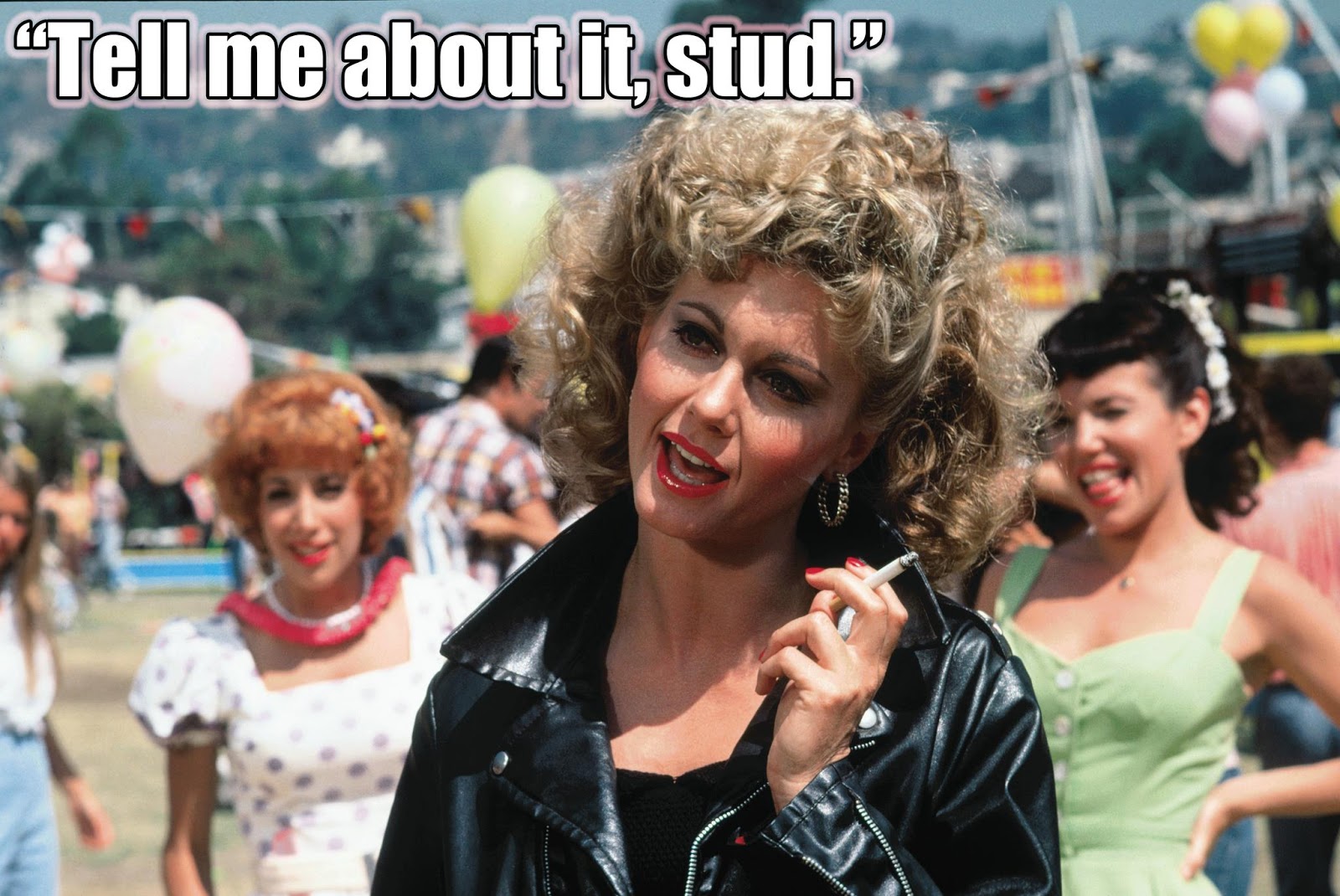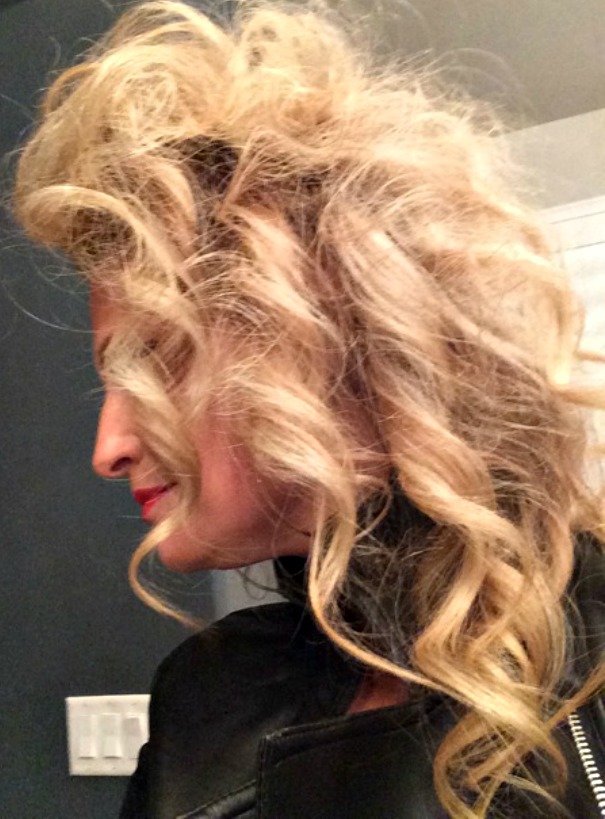 Okay, so I admit I want hair like this every day!  Big hair!  Actually my hubs would say that. Remember the spiral perms back in the day??  Did I just age myself?  Ah…the good ole days.  For the record, no we don't smoke, those puffers are fake.  Straight from Party City. But it was kind of fun playing the rebel for a night!  And can we just say those gold hoop earrings are big enough for me to put my foot through.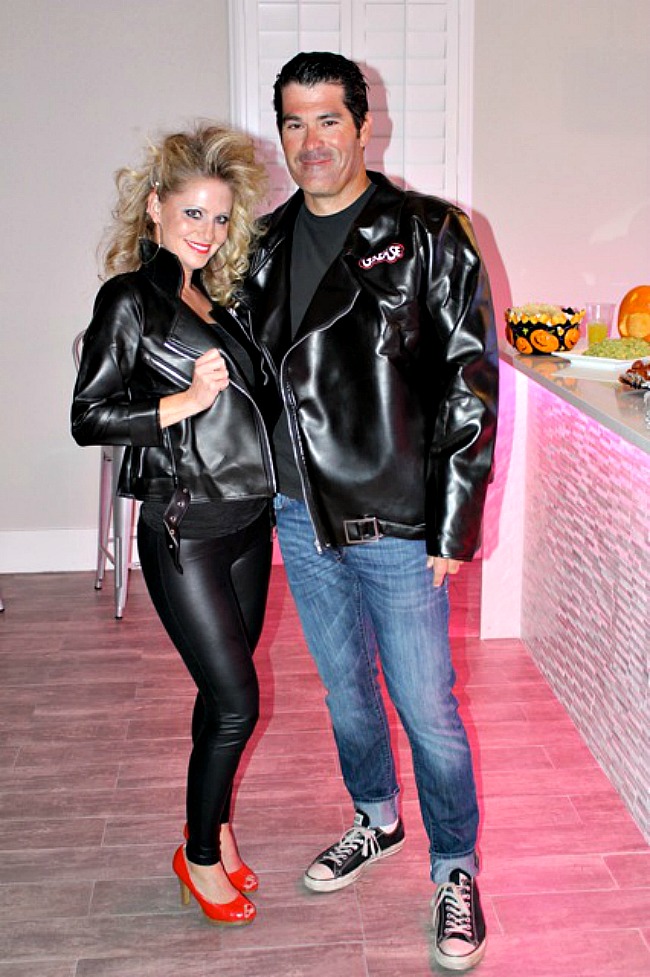 We found the "pleather" Danny and Sandy jackets online from Party City.  The "pleather" pants are from Wet Seal and my high heels were from Charlotte Russe.  Confession here…I wore those on Christmas about eight years ago.  This is why I hold on to out of style fashion items, you never know when it'll be needed for a costume!
Sorry for the grainy, not so good photo but I wanted to show you the rest of the Sandy look with the "pleather" stylin jacket off.  Love the belt!  Actually found it in Chattanooga, TN where I was with my running team for a race and happened upon this fun clothing boutique.  Who'd of thought I'd complete my Sandy costume there!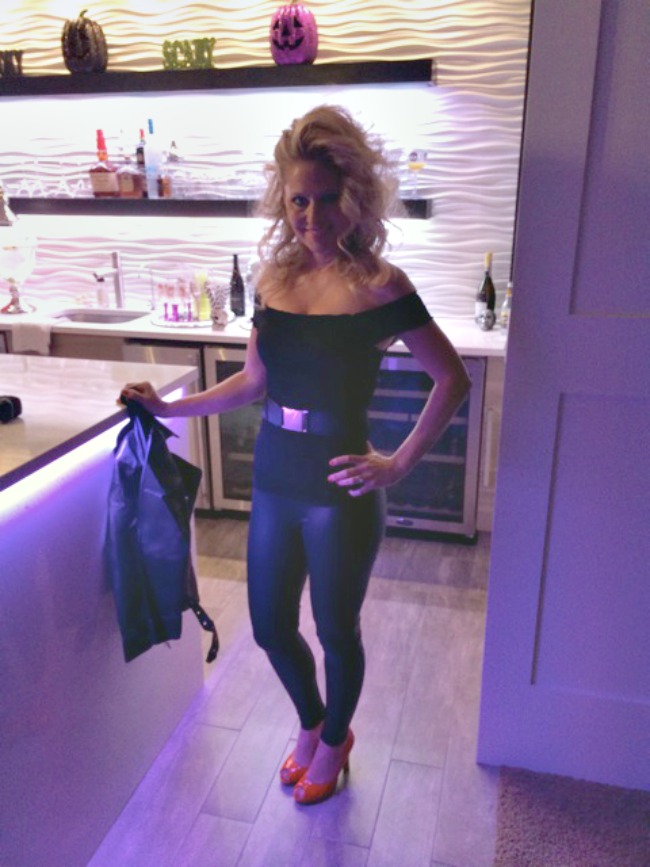 And another not so great photo.  Keep in mind, I took these photos pre-blogging days and knew nothing about how to work my camera.  Guaranteed this year, the photos will be MUCH better to show!  Promise.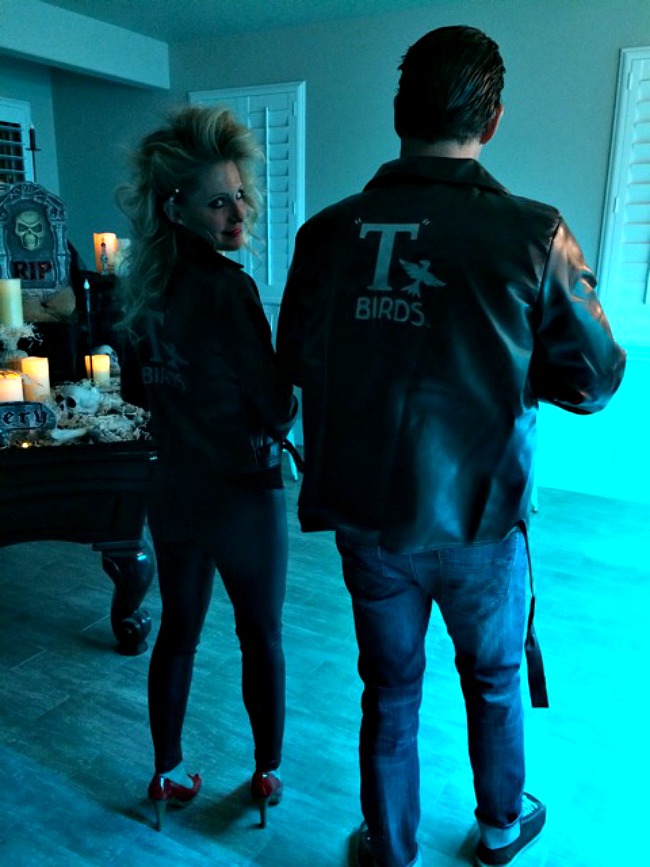 Those cigs look so real don't they??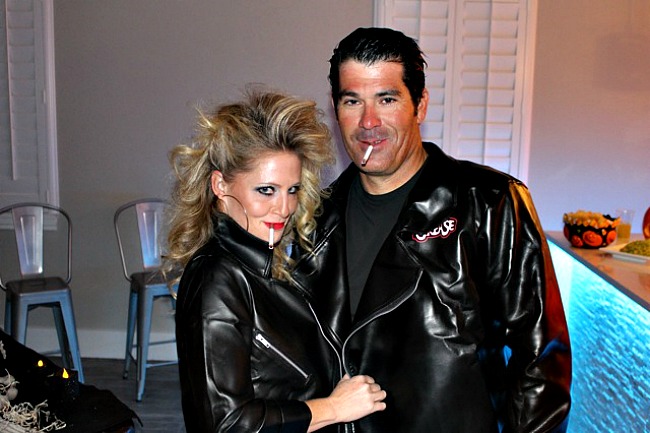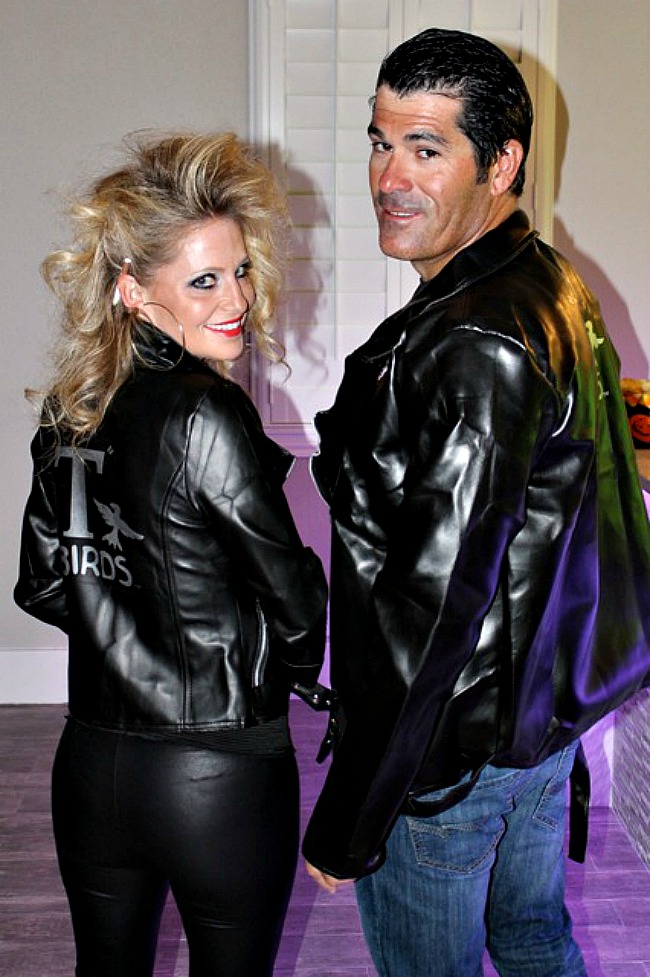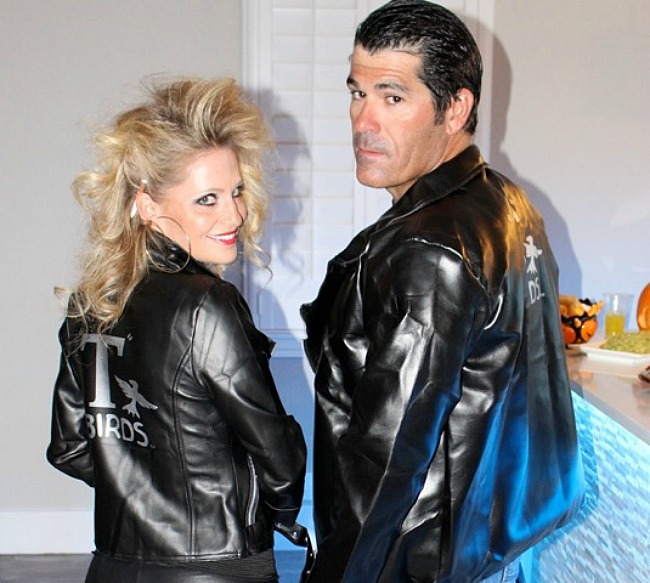 The best part of our Halloween parties are seeing all of the creative costumes that walk through our door!  We have some talented DIY costume minded friends.  When one friend's hubby is away on a trip and can't come to the party, just dress up as Three Blind Mice with another couple.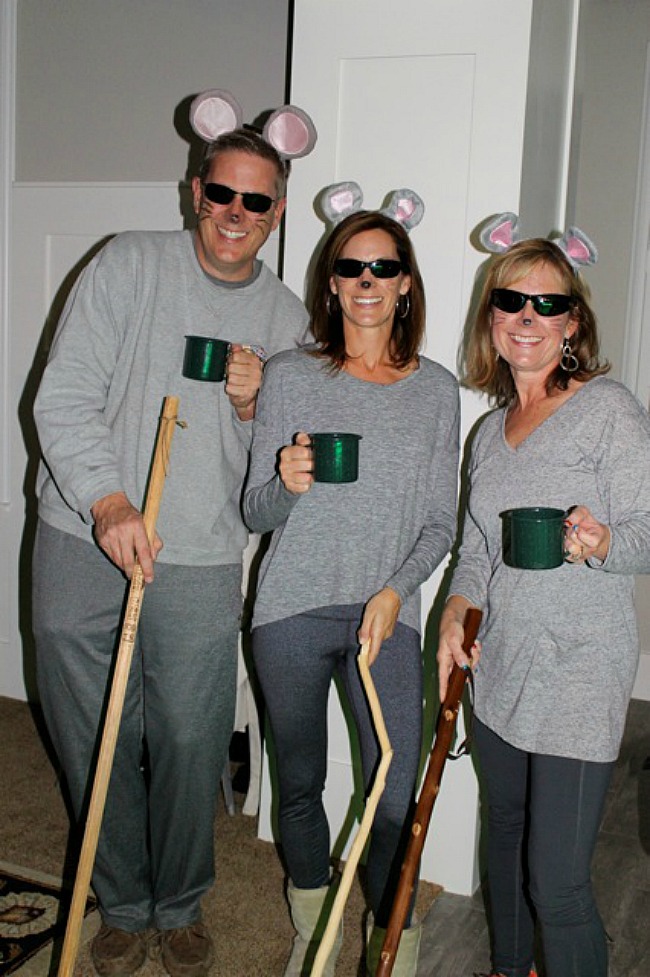 If you're a fan of The Christmas Story movie raise your hand!  I'll pretend I see them! Remember, "you'll shoot your eye out!"  This costume is a winner!! Love the leg lamp! Now would I put it in my front window for the whole neighborhood to see??  Probably not, but wear it as a costume?  So fun!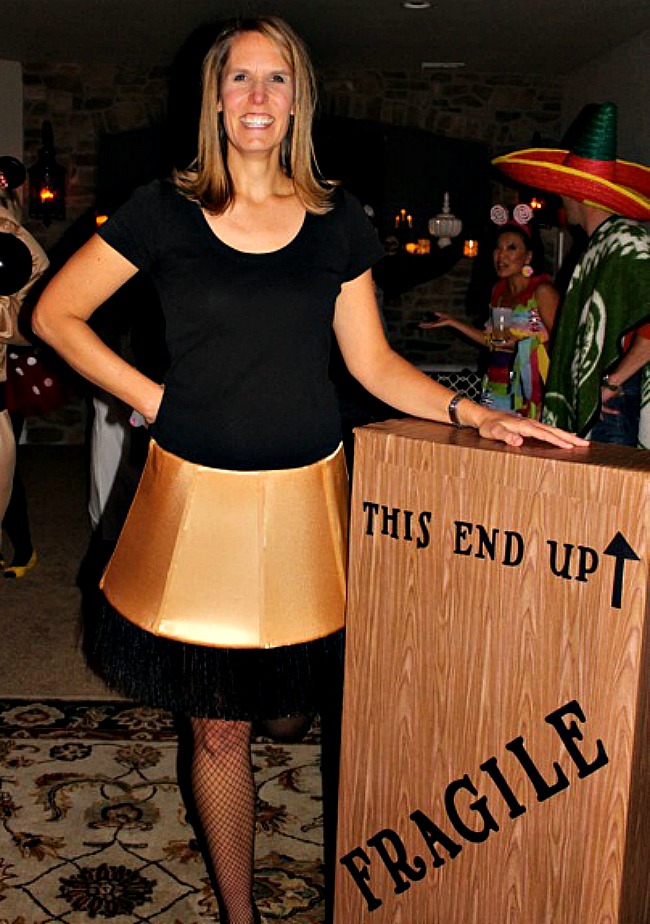 Miss Piggy with the chef from the muppets? I think??  He played the part well!  And for the record, Miss Piggy and I shut the party down as the last on the dance floor with the best dance partaaay to some rocking 80's music (Prince, Journey, Def Leopard…give me an 80's track and the lack of dance skills comes out! Hehe!!)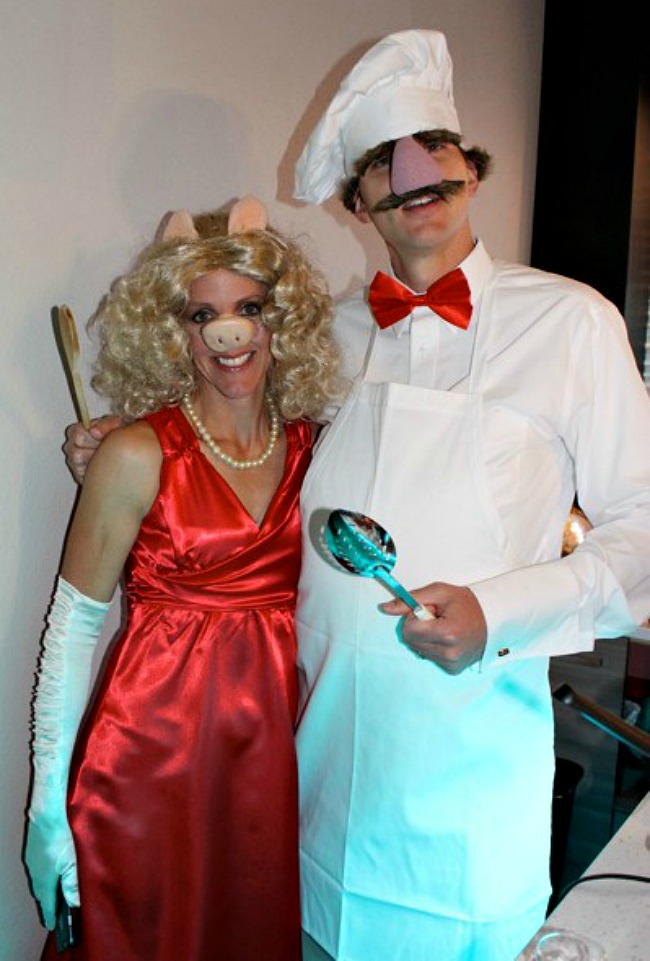 Greek god and goddess make a gorgeous couple.  You should have seen them the year before!  Big hair band Guns and Roses style!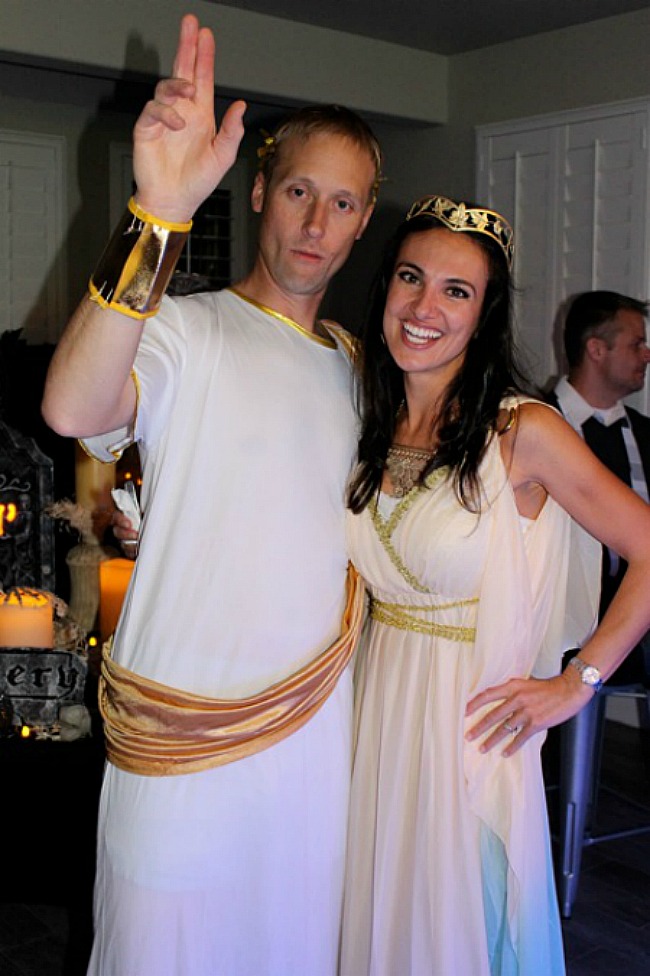 Can't forget our olympic medalist figure skaters!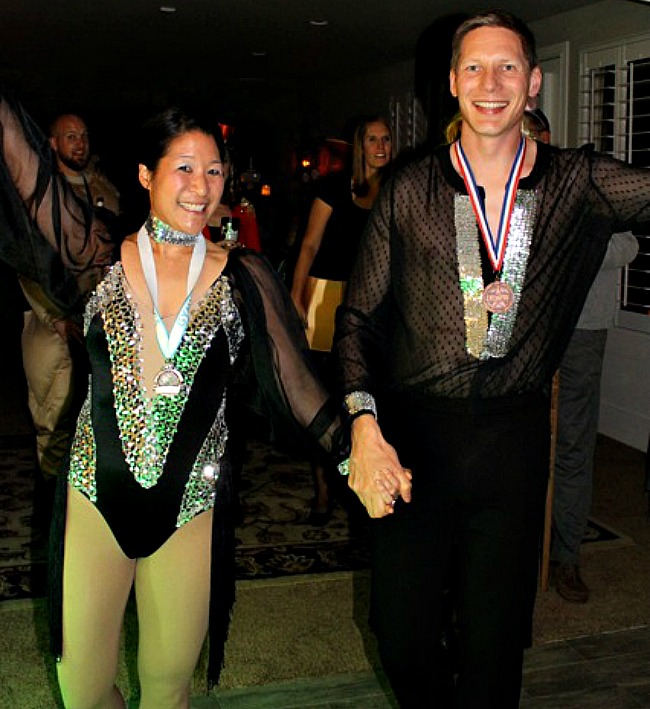 And the circus ring leader and ultra muscle dude with some serious heavy weights. Actually I think it was blow up weights but shhh…don't tell him!  He's thinking he's getting a work out!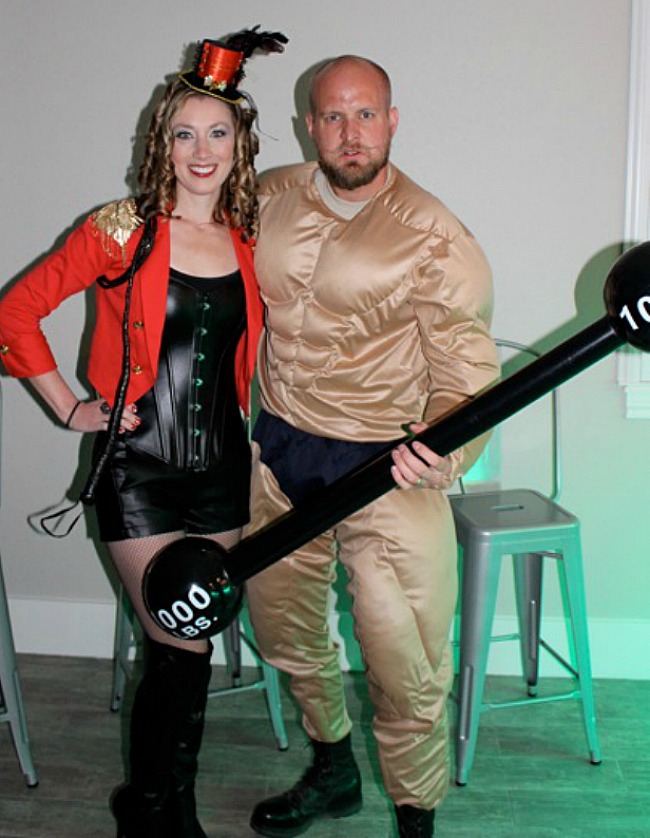 The party got a little shade of blush when these two walked in as Fifty Shades of Grey!  That skirt….look closely…look familiar? Hint: paint. grey paint. I'm deciding on a shade of grey.  Yes! A skirt made out of paint color swatches!  Genius!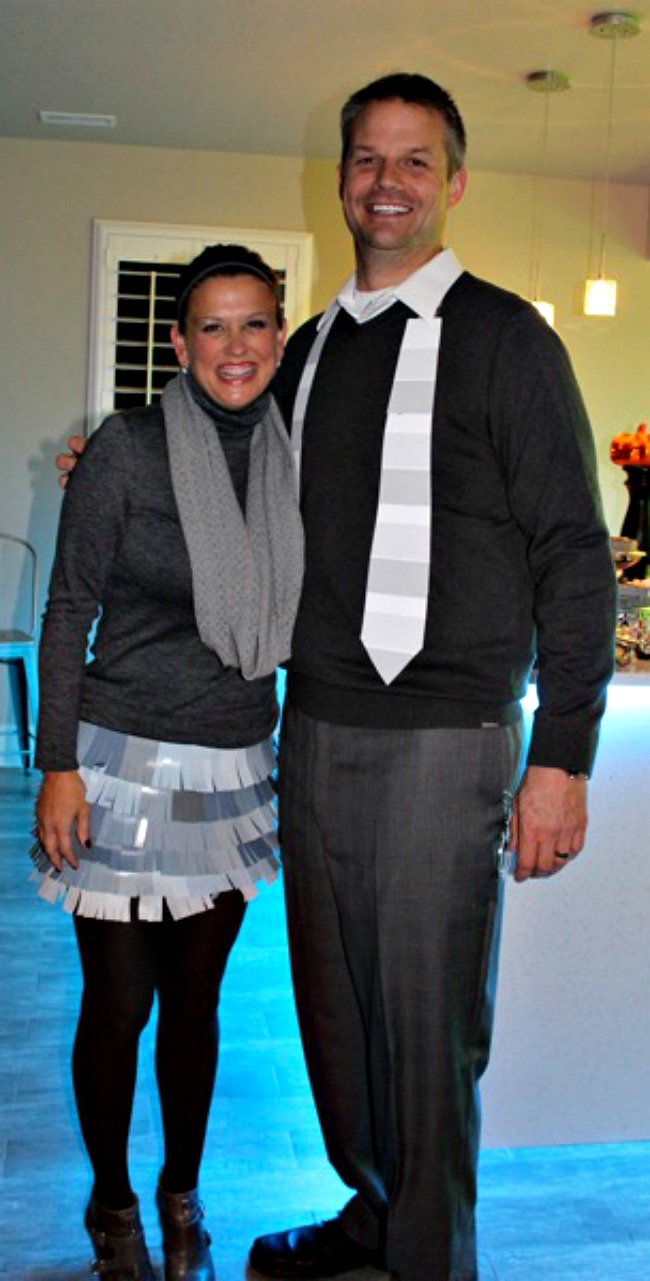 Now these Charlie Brown and the gang "heads" topped the best of the best!!  My friend made these out of paper mache and they were heavy!!  Such troopers for walking around with those on their head!  I put one on and felt like an instant bobble head!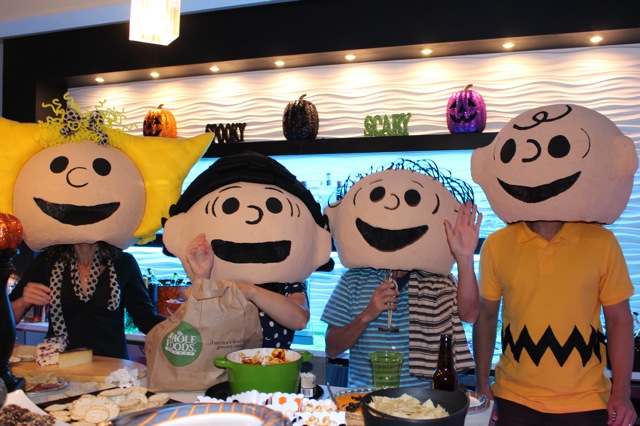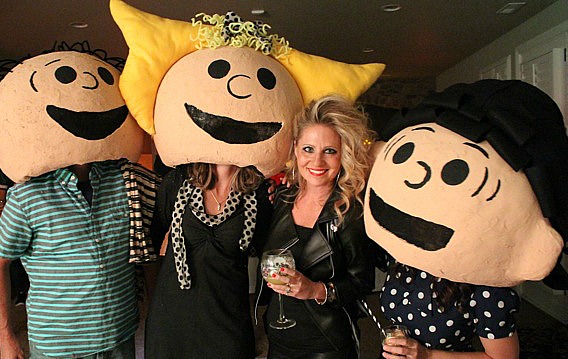 Here's my little BFF!  Isn't she so stinkin cute in her DIY piñata costume!  She made it out of party streamers! Meet her hubs who was part mexican mariachi band leader/"chase the piñata" dude carrying a piñata stick.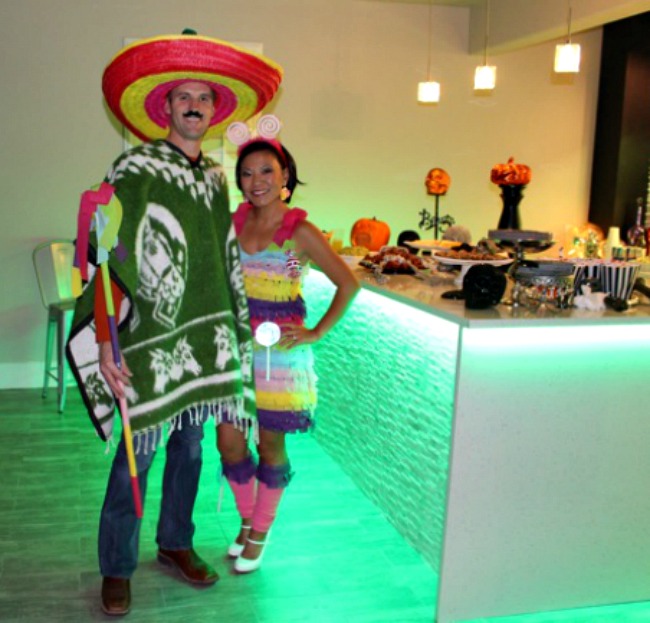 The ever so popular high school cheerleader and football player! Cute aren't they!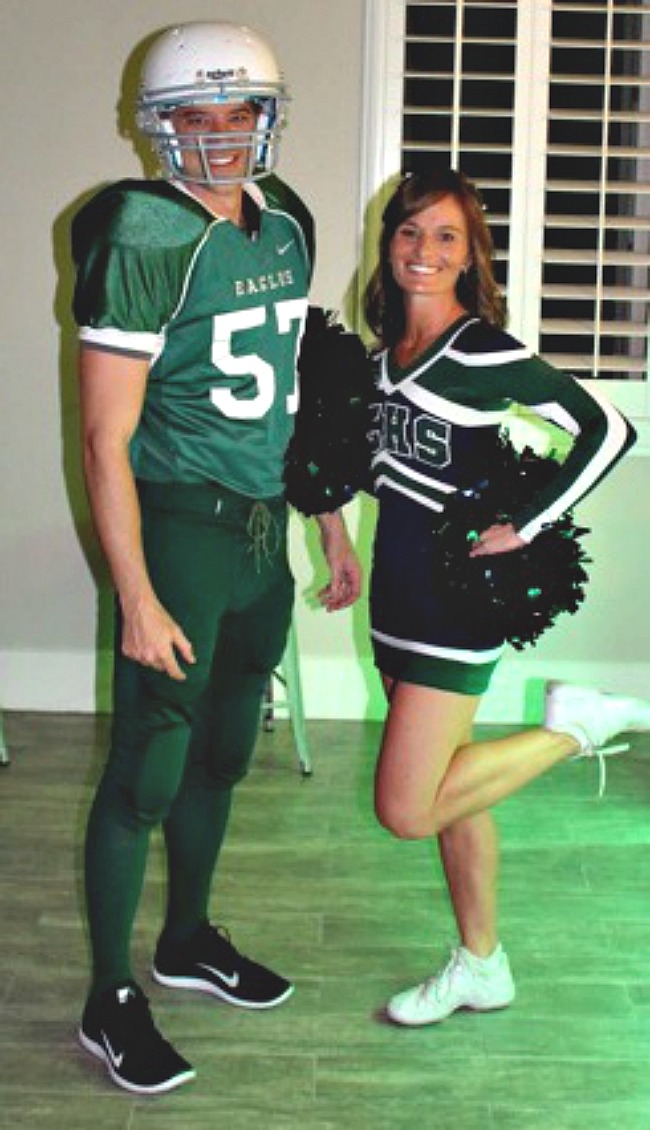 And last but certainly not least, the hit of the party, The Bounty Hunters duo.  We're still having many laughs over this one!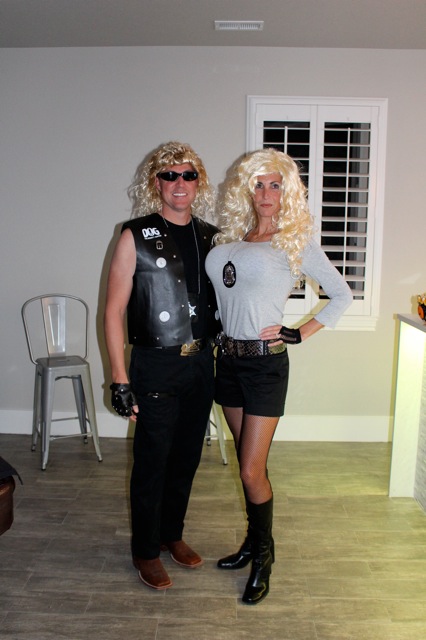 In two weeks, the halloween party is happening again!  I cannot even tell you how excited I am!  The costumes just get better every year!!  What's your favorite costume?  I'd love to hear your most creative DIY costumes too! Next up, I'll be sharing my halloween party decorations and ghoulish food!