Beach Cottage: Exterior Progress + Landscaping Drama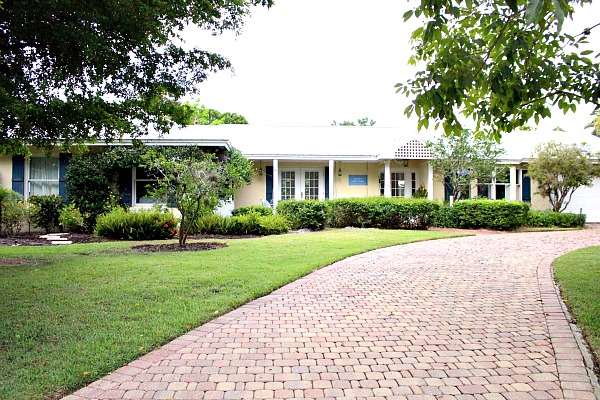 Hi friends!  First off, I want to say THANK YOU for the outpouring of responses and visits to all the beach cottage renovation reveals.  You have made this journey so much more exciting!  My hope is that you walk away with a few ideas to create in your home!  With that said, let's take a look at the beach cottage exterior progress + landscaping drama. Oh there was some drama! Big crocodile tears kind of drama.
Back in the summer I shared the first home tour of the beach cottage HERE.  This is the curb appeal that had me at HELLO green, luscious landscaping!  Oh, and can we just focus on that wrap around brick driveway for a moment.  So full of character and charm!  But once you stepped closer to the home you could see that the paint was old and needing an update. Remember that domino effect I've talked about…one project leads to the next.  You can see that we have creeping jasmine billowing around the bedroom windows.  Oh how I loved that!  There was no way for the painter to paint around or under it though.  The only option was to tear it out…crying a big river at this point!  When Tim and I visited the cottage early in December, we met with our awesome lawn guy who has been manicuring and maintaining our yard since we bought the home. As you can see, all of this landscaping requires a lot of maintenance, especially in tropical southern Florida where everything grows at a rapid speed!  We decided on doing a little (remember that word in the coming statement) manicuring along with the new paint job to clean up the place a bit.
The yellow house with blue shutters was cute but I was ready for a crisper look.  The jasmine hedges were overgrown, but I always loved them and the heavenly scent when the jasmine would bloom.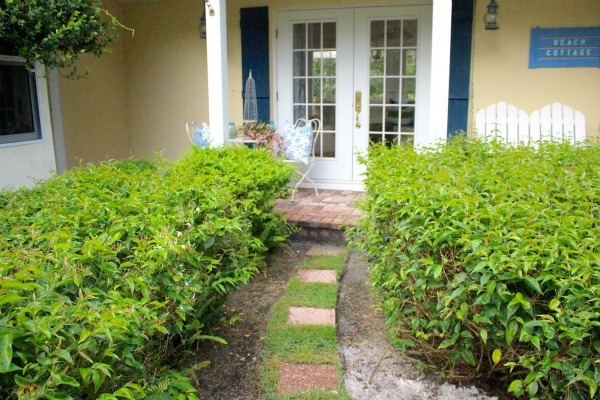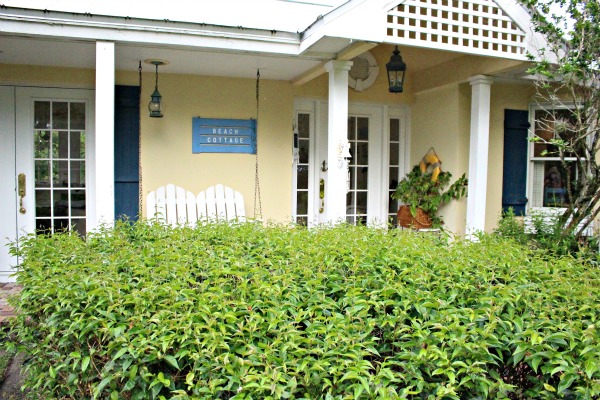 We walked the entire yard with our lawn guy and came up with a makeover plan.
A couple of days later, you can imagine my expression when we showed up to this right before we were to hop on a plane back to Colorado.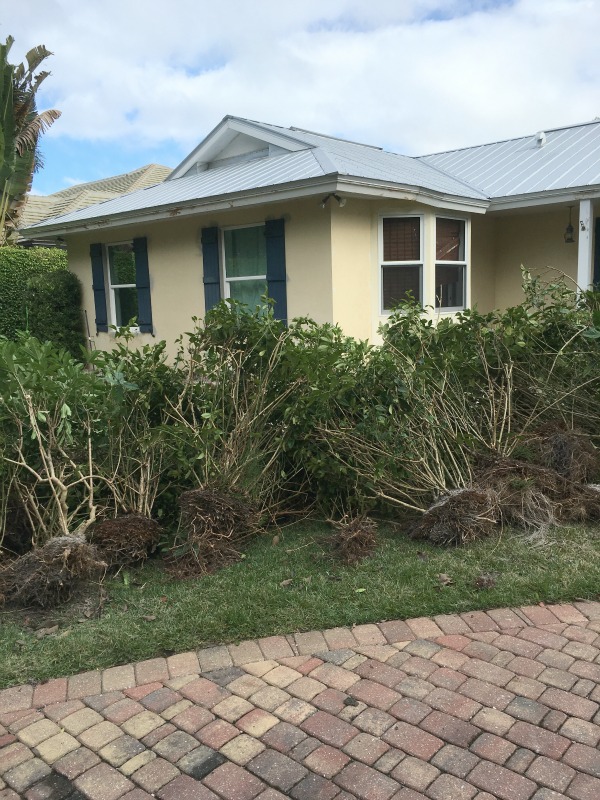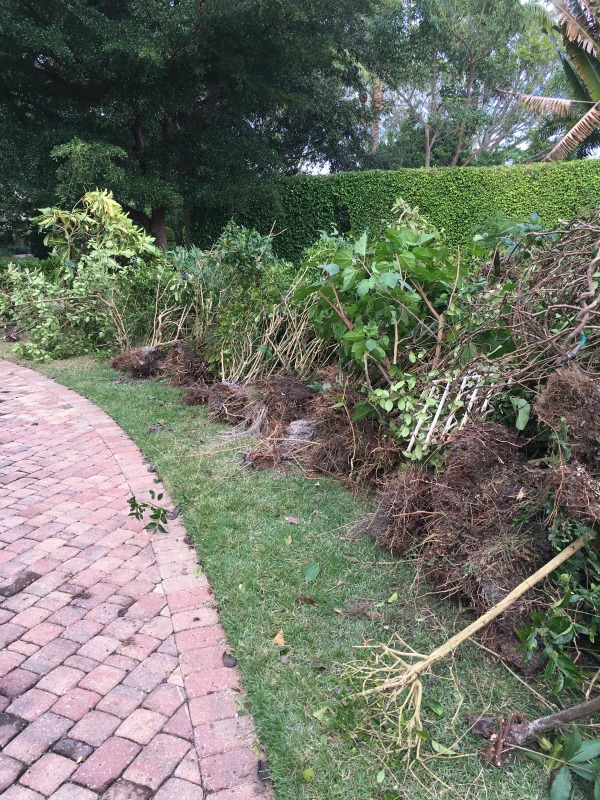 The landscape crew got a little A LOT carried away with their machetes and hacked away at our yard to the point of unrecognition!  I literally pulled into the driveway and thought, "did a tornado just tear through my yard???" Oh big sad sigh!!! My heart dropped into my stomach and you better believe a speed dial went straight from my cell phone to the landscapers. Actually, Tim made the call because I'm pretty sure I ran into the house into my beautiful bathroom and threw myself into the fetal position with big a ugly thumb sucking cry. Yes, it was that bad!  My little "Better Homes & Garden" yard as I would always refer to it as was gone!  Remember how I referred to our lawn guy as awesome? Well, I do still believe he's wonderful and has been so good to our yard all these years.  His crew however didn't get the memo straight. Fortunately, he came rushing right over from another job and assessed the damage.  He promised to get the yard back on track and to replant the shrubs that I didn't want torn out.  Looking back though, I realized that the shrubs were overgrown and were covering up too much of the home.  The positive note, is that everything grows at rapid rate in Florida so my new landscaping will look lush and mature by this summer (fingers crossed)!
Unfortunately, the landscaping didn't get installed until after we returned back to Colorado from our long Christmas vacation there.  I only have update photos sent from my lawn guy. I did happen to catch a few iPhone shots before we left of the new painted exterior and I absolutely LOVE the white house with black shutters!!  The landscaping in front of the kitchen bay window and along the front of the home has since been filled back in with jasmine and palm trees.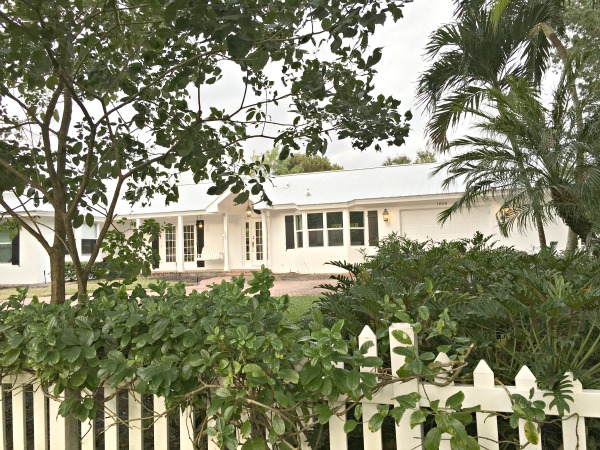 Here's an updated photo of our old brick path leading to the front door. All those baby shrubs will fill in nice and full but with a lower hedge height over the next couple of months.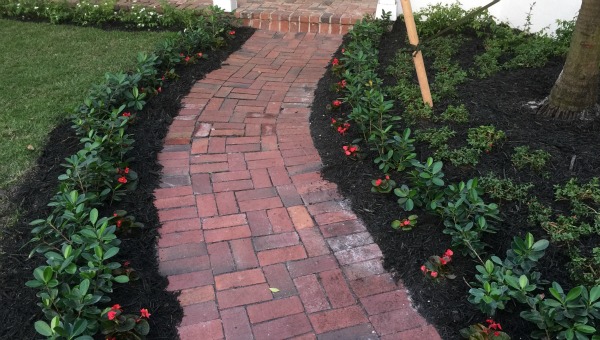 What a difference white paint can make!!  Everything just pops against it!  Even the green landscaping!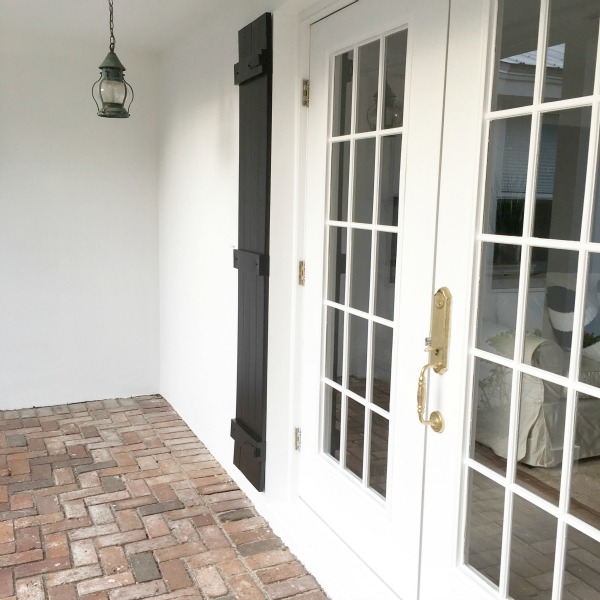 We kept the original copper lanterns. I love their time worn look and how they've turned this blue/green patina over the years. The black shutters really pop now against the white house!  I think that's my favorite feature of the whole exterior.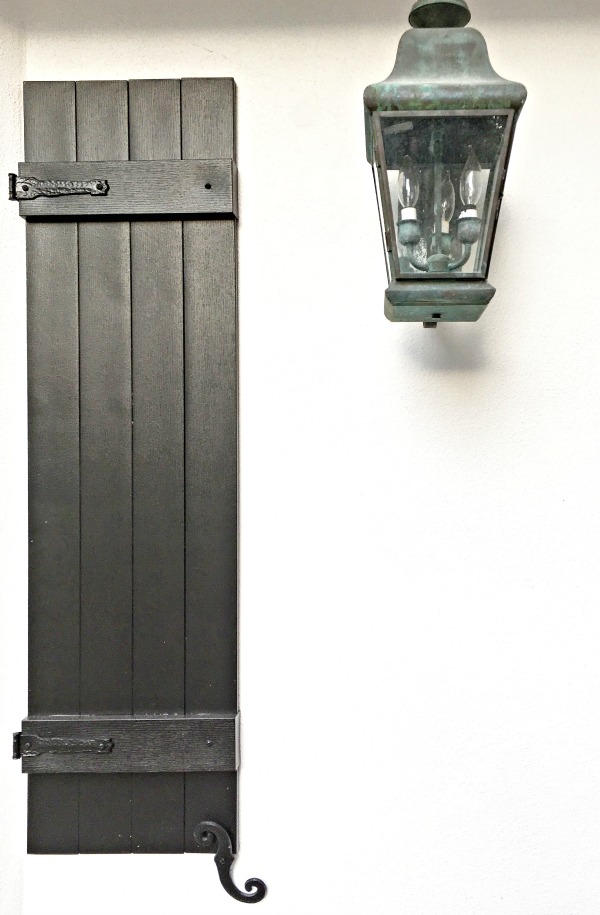 The old sailor ship bell had been left by the previous owners.  I decided to leave it since it just adds a sense of whimsy and has greeted us for many years as we enter the front porch.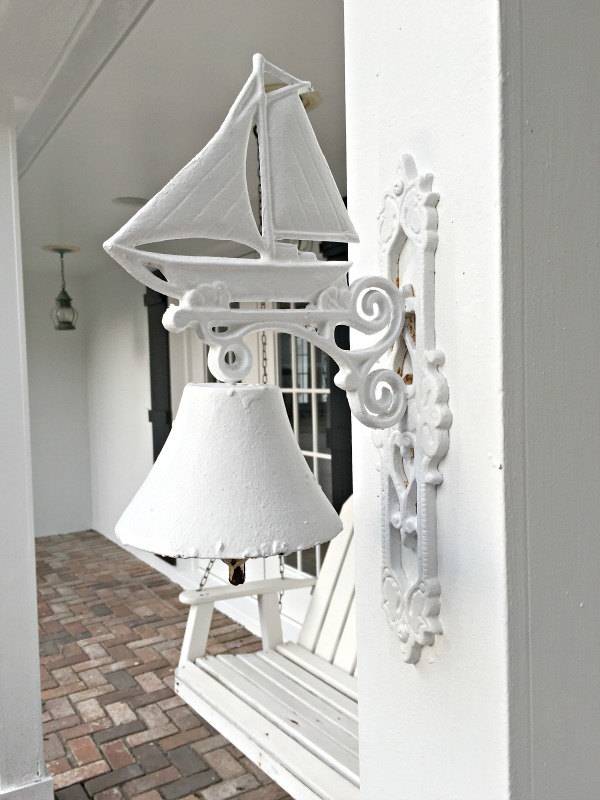 The swing stayed too.  I love sitting out here in the evenings and watching the boys run around in the front yard throwing their football.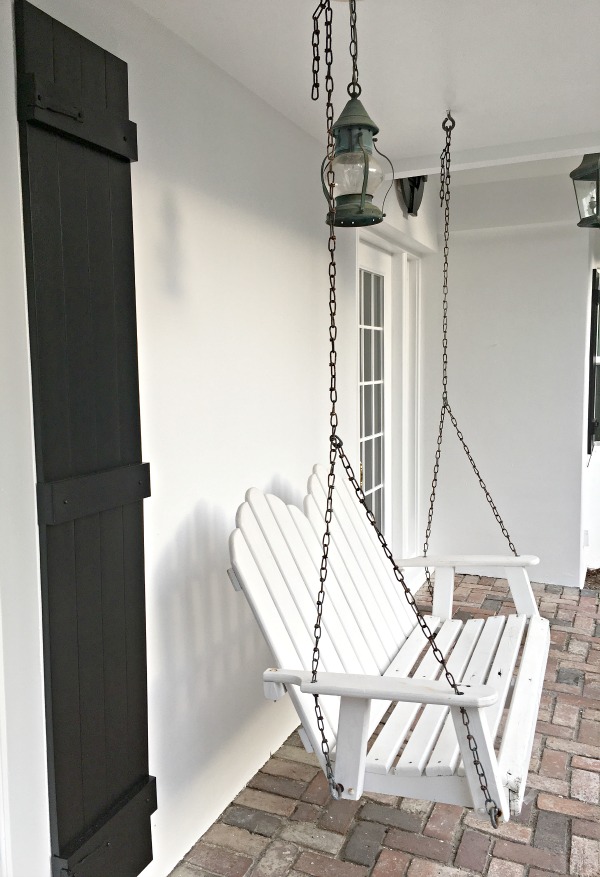 They play football in the pool too..lol!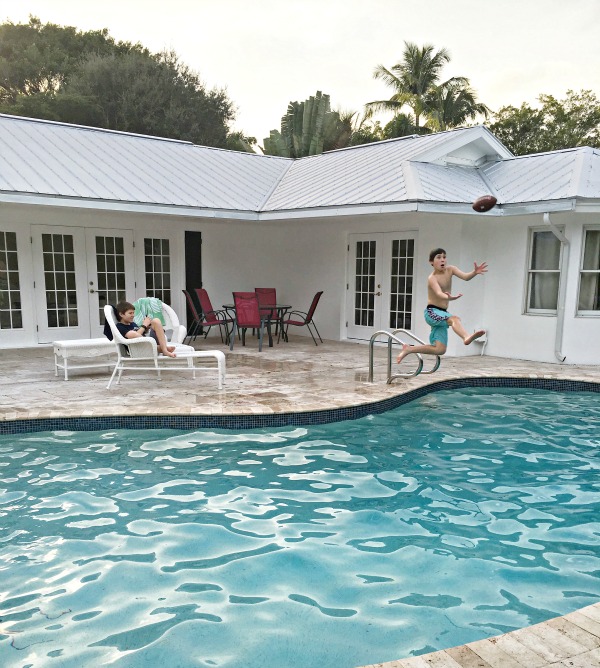 You can see how the house wraps around the pool here. The doors on the right are the master bedroom and the back wall of french doors lead into our living room.  Obviously nothing was staged for this photo. The outdoor furniture was not in proper place and those hot pink chairs were a huge clearance bargain a few years ago.  I would love to do more with outdoor living furniture here one day, but it's just not practical with the amount of time we actually spend here.  Most of the time we're in the pool and I'm dodging footballs while laying on my floaty in the pool sunbathing.
One of these days I'll share with you what this pool area looked like when we bought the house.  It had an old screened in cage, chipping concrete and a jungle of plants.  Two years ago we replaced our old shingle roof with this metal roof.  The transformations of this home over the years have been so profound. We knew that when we bought the house 7 years ago, that we were buying a money pit that needed a lot of work.  Slowly but surely we have completed all the renovations that needed to be done!  Such a good feeling!  This home is our family heirloom beginning with Tim and I. We want this home to always be a part of our family and hope that our boys will one day bring their wives and children to the beach cottage (we're talking a good ten years from now please!)
Many of you have asked, "do you rent when you're not there?"  The answer is yes, as of last year.  We only rent to seasonal snowbirds for a one month minimum typically between January and April.  I really struggled with renting our precious cottage but have come to my wise senses that the rent money is too good to pass up and it is what has paid for a big chunk of these renovations.  Now that all the renovations are complete, the question is will we continue to rent when we're not there?  I honestly don't know.  It's hard to say at this point.  We don't want to be restricted on when we can just spontaneously hop on a plane during the cold winter months of Colorado and go to the cottage.  We never rent in the summer since that is when we spend a good amount of time here.  We'll be returning to the cottage in April after having a snowbird couple renting it for 3 months.  If all looks good after all those renovations, then we'll probably continue to rent with highly selective rent clients.
Now, let me just reassure you all that during that awful demolition of my yard, the white picket fence and vining shrubs were untouched. Thank you Lord!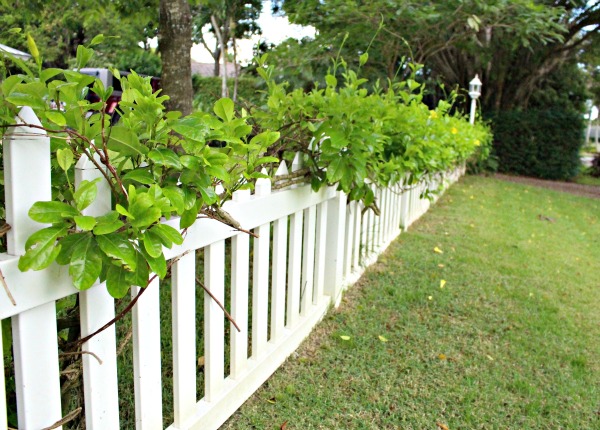 I hope you enjoyed these little snippet views of the beach cottage exterior progress!  I'll be taking all new photos when I return and can't wait to show you how awesome the curb appeal is now!