Breaking ground! What I've been up to!
Hello! It's been a minute since I've been on the blog. Actually since before Christmas, time flies! I've been keeping a secret on what I have been up to for quite a while and it's time I finally share all the excitement with you! I am breaking ground on some exciting projects! If you have been following along here for the past few years, then you are familiar with the journey I took you through when we built our home, The Forest Modern. Well, I'm about to take you on a journey of not one but TWO new homes!
House #1 – The Broadmoor House
A little back story on these homes. The Broadmoor house has been in the works since the beginning of 2019. This client had reached out to me to design her home from the ground up. I was hesitant at first yet something sparked inside me and I got a little excited for a brand new design/build project. After a few exchanges on Instagram, which is how she found me, we met up to review a floor plan she had already been working on with an architect. I listened to her story and her vision and heart's desire for her new home. The home that was proposed on paper was not the home she had hoped for. My heart could relate with her already. She asked if I could "fix" the current floor plan and overall design of the home.
At this point, my empathetic heart was ready to take on this project. I had experienced first hand the frustration of not being heard when building our home. I had to learn with my own building process to be an advocate for myself and become very resourceful. When my original architect couldn't land my design vision, I created it myself. Not an easy process but I believe that prepared me for what the future was about to hold. I learned so much through the process and feel like maybe it was my calling to help guide someone else through the challenges of building. I made plenty of mistakes through our personal design process and have a list of "if I could do this differently" items. However, I still designed a home my family loves and there is none other like it. We fought through the hurdles and here we are today, almost 4 years later in the home "that built me."
I never imagined that our home would be one that has been shared thousands of times on the internet, Pinterest, and Instagram. Sometimes I can't look past the flaws of our home that only I see, but you all see the home filled with rooms that have given you pause and appreciation for an original design that did not come easy. That is why I have shared so much of our home with you all. So if you are one of those who have reached out to let me know our home made a difference and inspired your design journey, thank you!!
So, back to House #1, after some pondering over my new client's preliminary floor plan, we mutually decided to "scrap" those and start from scratch. Just like I did our own home, room by room was pieced together on paper. This client loved the inspiration found from my home and wanted her home to have the same feel. The Forest Modern is my signature style and it has been so fun to design this new home as a "spin off" to the design. The home will be a balanced mix of modern and traditional elements. A transitional style that is refined yet inviting, and will be filled with treasured antiques and art collected by my client over the years. We found a new architect who was able to take my sketch renderings and design vision to life. We were close to getting ready to break ground early in 2020, then the pandemic hit. The house got put on hold for the remainder of the year. In spring of 2021, we finally started up the project again and recently broke ground! We had to pivot and redesign the original floor plan (sq ft) to accommodate the rising costs of building but this beautiful home will still have all the original design elements that will be exciting to watch unfold!
I have never designed or overseen an original custom home for anyone but my own homes. I am so grateful to this client for putting all the trust and confidence in my vision. The only way I was going to take on this big project was to have her full trust. I let my own home speak for itself and have been very transparent with this client on all the ins and outs, struggles and joys, hurdles and roadblocks that come with good design. It requires vision, perseverance, resourcefulness, flexibility (especially now), patience and a good eye. I'm full of anticipation to watch this home, or shall I say, another baby of mine come to life. Be sure to follow me on Instagram where I will be sharing more of the progress of this home and house #2!
House #2 – Stone Glass Modern
Ah, House #2, The Stone Glass Modern. Let's go back to summer of 2021. This home was also unexpected and initially I didn't have any intentions of taking on the full design. But then I got my hands on the initial house plans and couldn't help myself going ALL IN! This client happens to be one of my dearest friends. I have helped with designs in her previous home and current home. She has always trusted my eye for design and I've said through the years that she is "the best client ever" because she listens and values my insight. As a designer, you want (need) a client to trust your ideas, even when they don't fully see the vision. It all comes together in the end!
I had spoken with this client quite a bit about her hopes and dreams for her new home. When she shared with me the architect's original concept and floor plan I saw it was not meeting all the needs and wants she had expressed to me. So we took those drawings, set them aside, and I started a new design concept from scratch. I knew she wanted special elements like a glass breezeway separating the primary suite. She loved aspects of my home like our kitchen, pantry and mudroom. I worked strategically on this unique floor plan to create a one of kind home. I worked closely with their architect (Larry Gilland & team – LGA Studios) who took my design vision from sketch to structure and brought it to life in this rendering.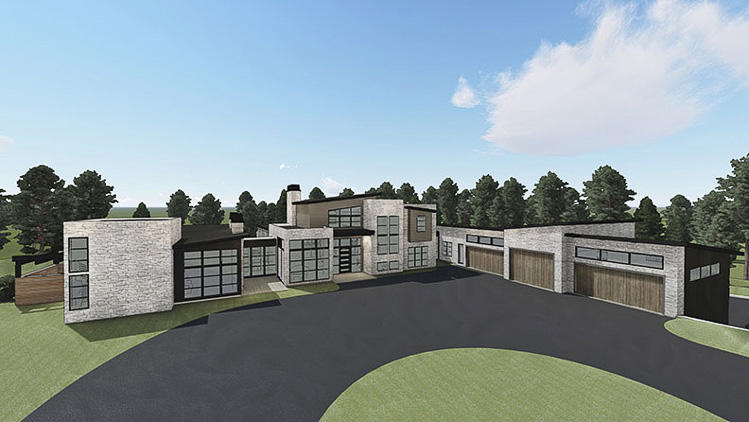 There has been no holding back with this design and the freedom this client has given me. I filled the walls with BIG windows. The mixture of stone, concrete and wood siding balances the beautiful forest setting surround. The interior will be harmonious to the earth and land beyond the windows. The design is organic and streamlined yet comfortable for this active family. As with House #1, I will be designing every little detail of the home, from moulding, cabinetry, and all that goes into making a custom home unique and set apart from anything else.
We will be breaking ground on this home hopefully by next month! I'll be sharing more on Instagram so be sure to be following along with me over there!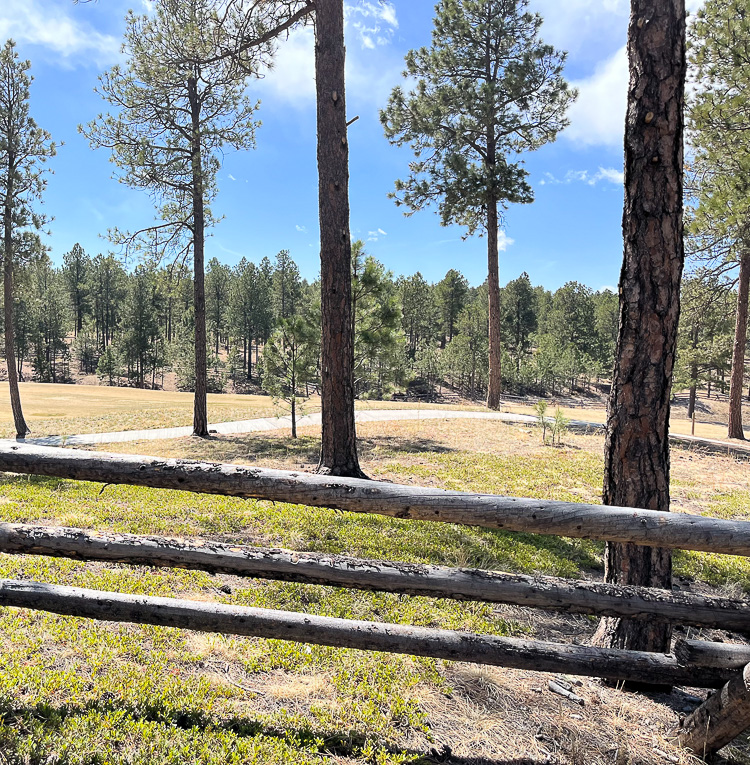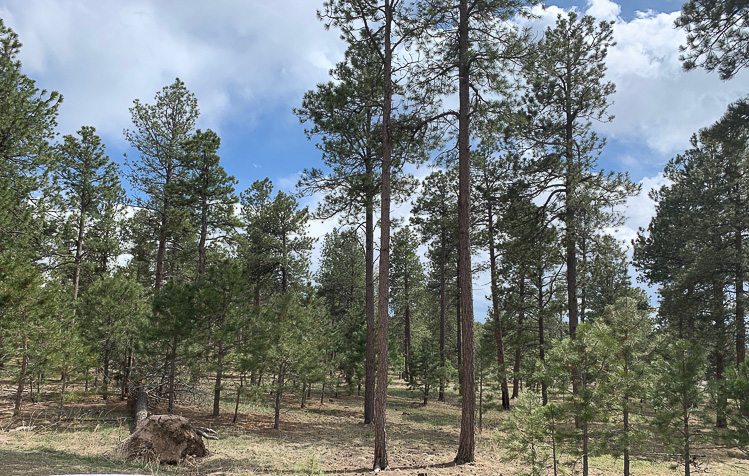 In answer to a lot of requests I get via email and through Instagram, I am not taking on any new clients at this time. My hands are full as I will be the lead design on these new homes. I am honored to take these two special homes under my wing and I want to give them all the attention to detail and time they truly deserve.
Thank you for following along here and I hope these homes will be as much of an inspiration to your own design journeys as my home, The Forest Modern, has been the past few years.