A Colorful Spring Centerpiece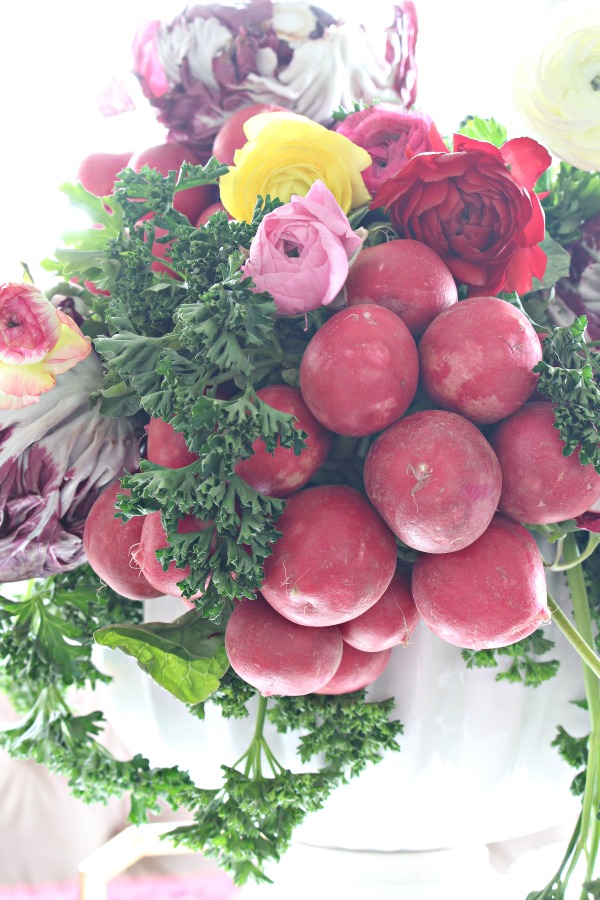 I can't believe Spring is upon us already!  Honestly, I haven't felt like "springifying" my home yet since it is still so cold here in Colorado.  We even had another snow storm last night.  Bringing in the spring decor and beautiful tulips that are symbolic of spring have not been on the forefront of my mind.  Actually, I planned on skipping any spring decor blog posts and just wait to jump right into summer within the upcoming months, but then I was invited to participate in a few blog and Instagram series that are all about SPRING! Oh joy! I better get creative because there's no sign of budding tulips in my yard.  One of the design challenges I was asked to participate in yesterday on Instagram was to make an arrangement of any sort in a white vase.  That was the caveat, it had to be in a white vase. No problem there! I hoard white vases in every shape and size. They're my decor staple!  I knew that I wanted to create a colorful spring centerpiece that was a little unexpected and not your traditional floral arrangement.
Last week I was at my local grocery store and I saw these bunches of radishes that caught my eye.  Inspiration is EVERYWHERE, yes, even in the produce aisle!  I thought they would be so pretty as a big bouquet for a table centerpiece.  I actually really love to create themed tablescapes for holidays and different seasons of the year.  They are so fun to photograph, capturing little moments all over the table.  This is my first year to be able to create a spring theme tablescape for the blog. All of a sudden my mood about the gloomy spring here shifted to excitement to bring as much color into my home as possible to brighten up the space and to give hope that summer will be here before we know it!
Yesterday, I was running from store to store trying to gather flowers and I was so disappointed with what I was finding.  I think everyone cleared out the floral departments for Easter.  I didn't want to spend a lot of money on flowers that would die soon, just to get a pretty photo for my centerpiece.  I went back into the produce aisle and the wheels in my head started turning as I searched for some good "fillers" for my centerpiece that were affordable.
Here's what I came up with to create this vibrant, full of color, beautiful spring centerpiece:
1.  Colorful Veggies (not just for eating!)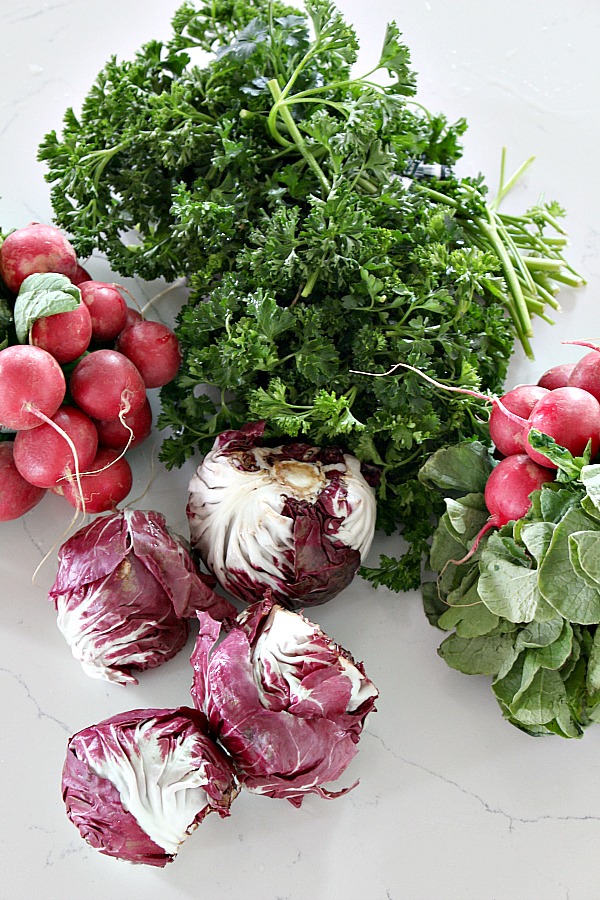 Radish, Parsley & Baby Cabbage
The colors and textures of the radish, parsley and baby cabbage are gorgeous!  The parsley will provide the filler and fullness I need and for less than $1! WIN! The cluster of radish is so pretty that they could even be used as a centerpiece all on their own!  The layers of burgundy, deep red, and white of the baby cabbage reminded me of the bud of a beautiful flower.  Not envisioning it?? Stay with me here…I promise, it'll all come together!
I chose to use a mid size white vase and began layering in the base of the arrangement. Starting with two bushels of parsley. I basically just draped them over the edge of the vase. The radish will weigh them down and keep them in place.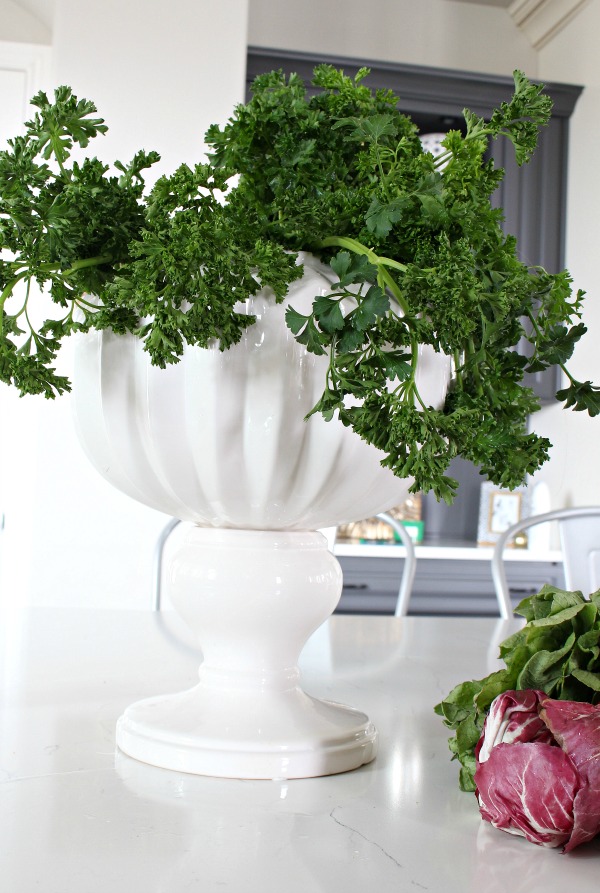 The radish came tied in a bushel and I left them that way so I could easily just lay them in the arrangement.  The little root stems are easy to clip off and gives the radish a less "earthy" look.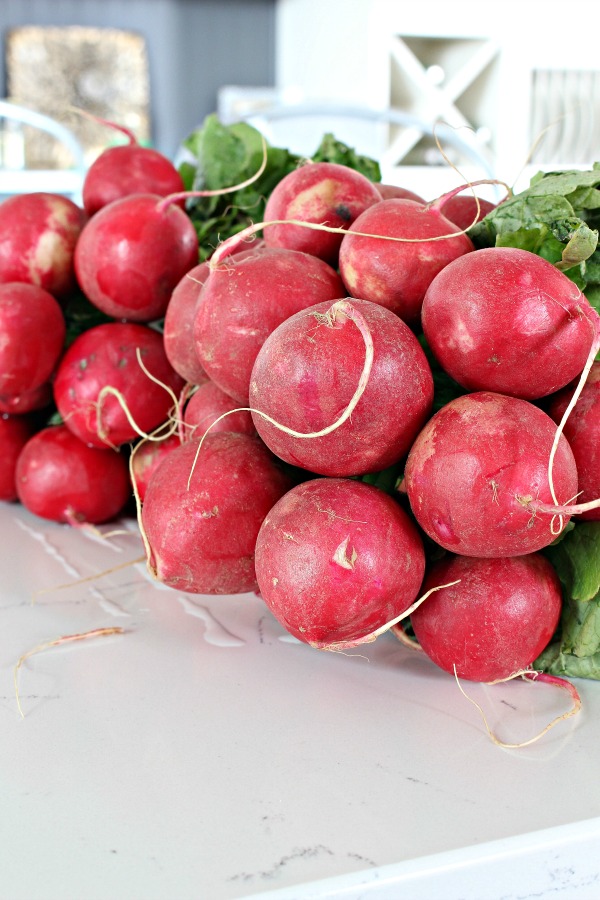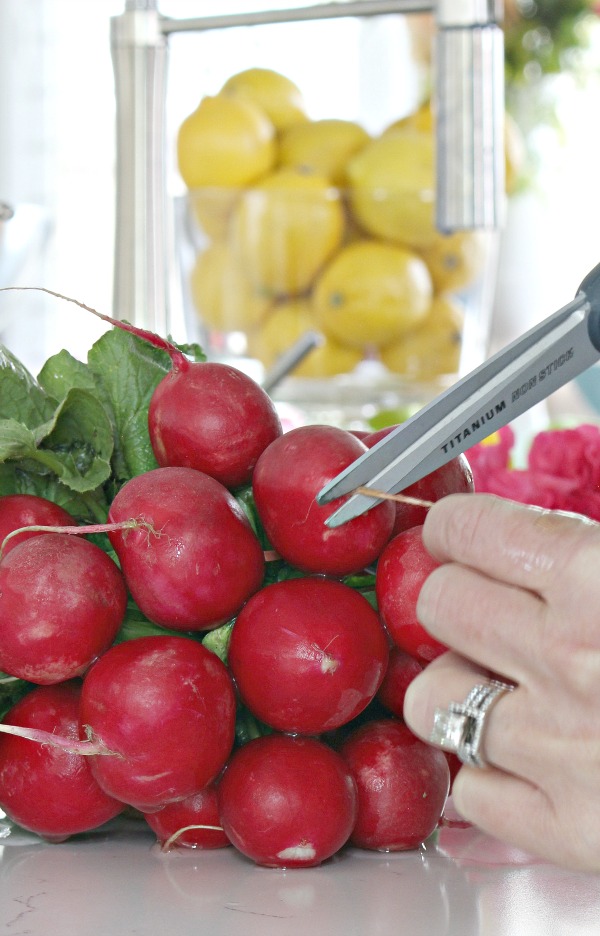 Spritz a little bit of water on them to shine them up! (Photography tip;))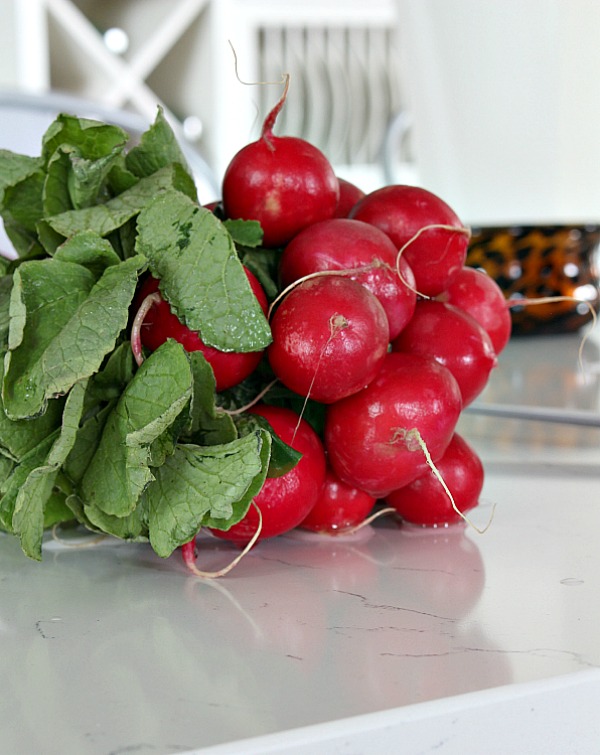 Next, layer in the radish on top of the parsley.  I love it like this! Even without the flowers!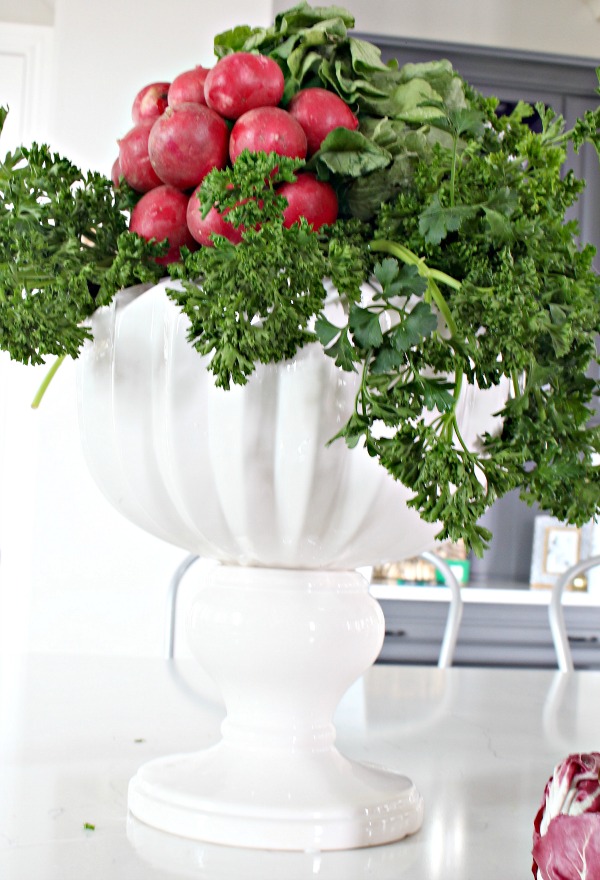 The baby cabbage can be displayed in two ways.  Either in a little perfect cabbage ball just the way I bought them or peel back a few layers of the cabbage leaves to make it look like a budding flower.  I love both looks so I mixed them.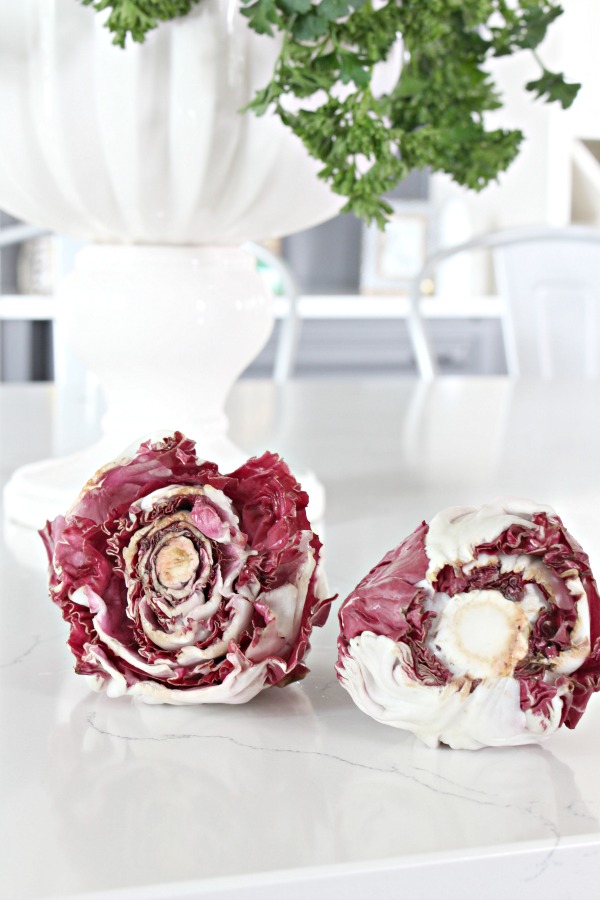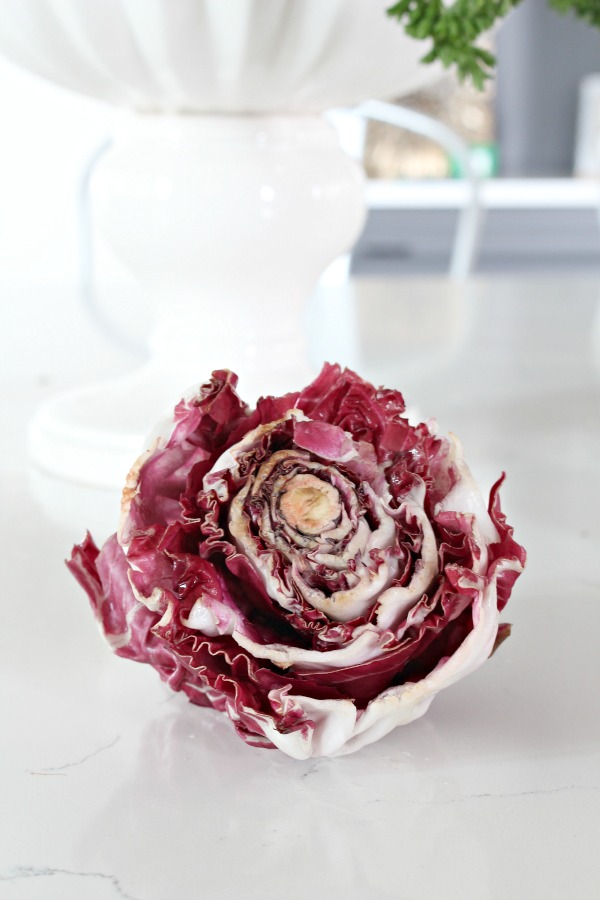 I used a 12″ wood skewer to give the cabbage support so I can randomly place them in the arrangement.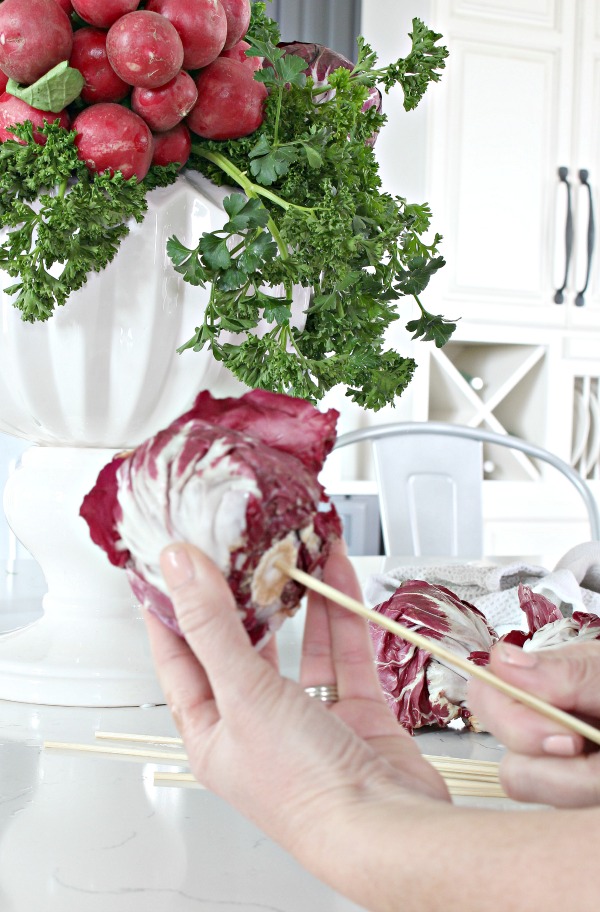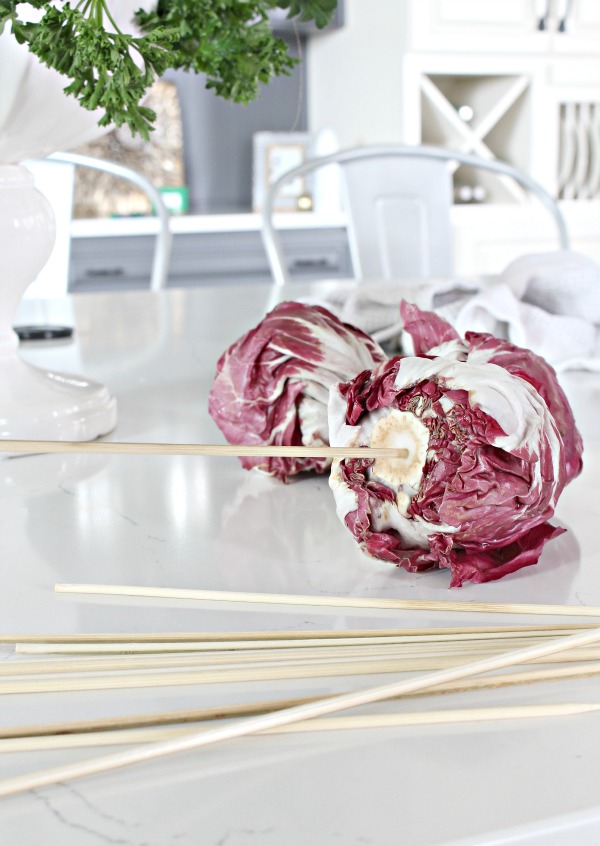 2.  Flowers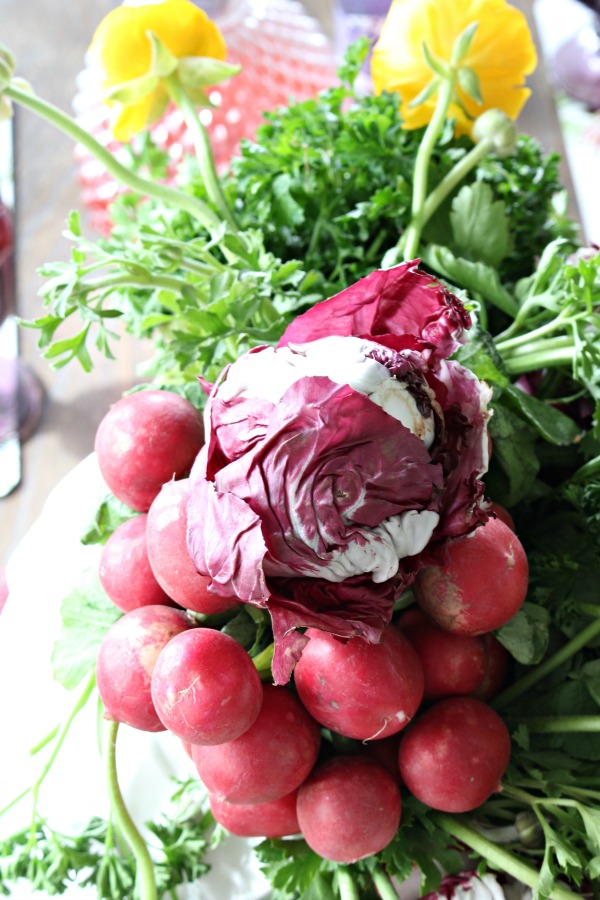 Once the parsley, radish, and baby cabbage were in place, I randomly scattered my flowers. I love the whimsical look of Ranunculus flowers with their squiggly stems and petite buds. I chose an array of colors in red, yellow, pink and white.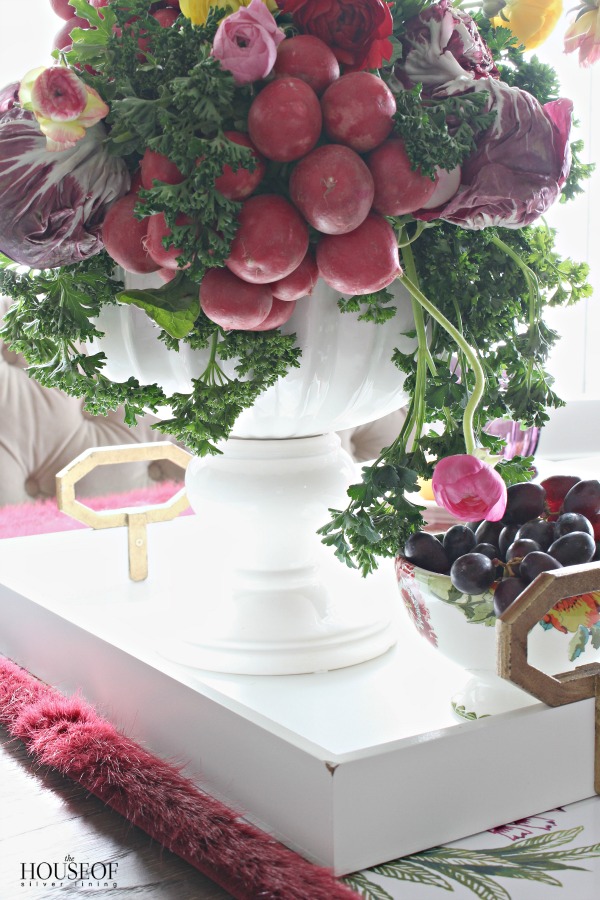 I am loving this veggie/flower combo!  I tucked some parsley throughout to fill in any holes.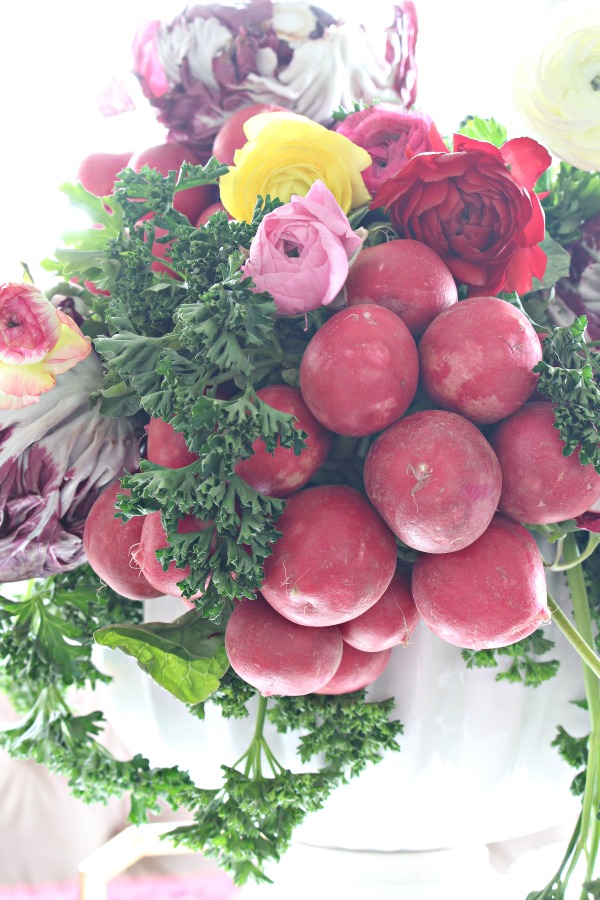 If I didn't know better, I wouldn't know that those are baby cabbages.  I think they pass for flowers, almost even better because of their bigger size.  I love too that they were less than $1!!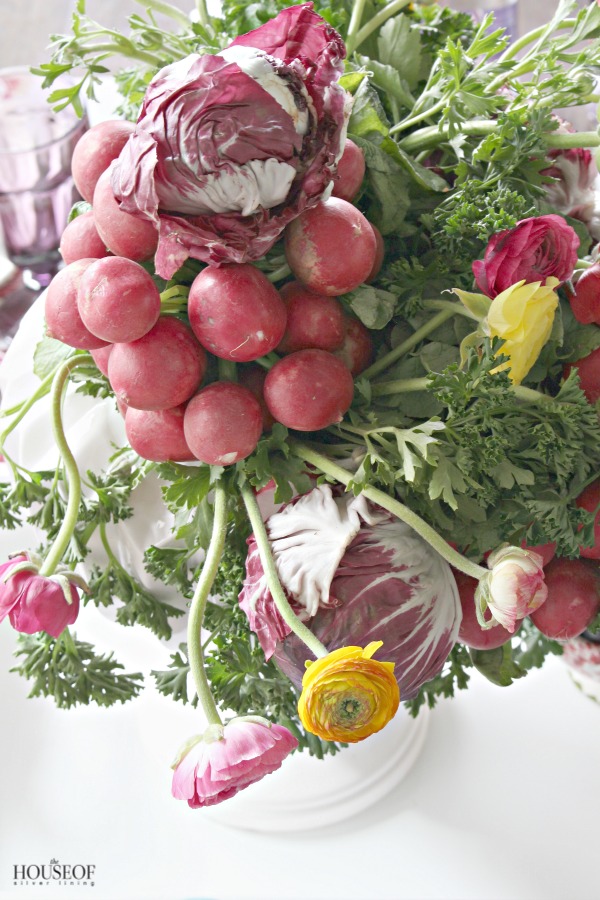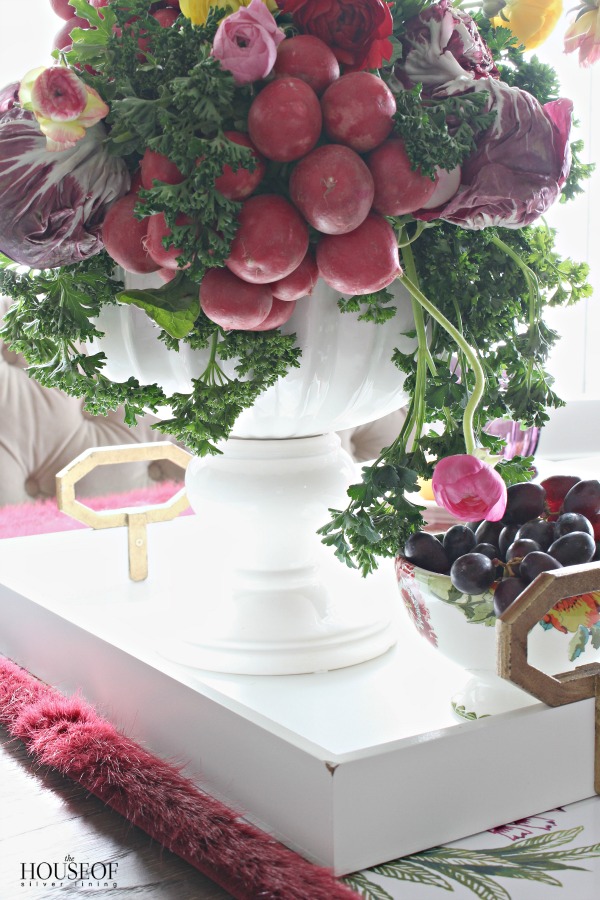 So what do you think?  Are you ready to raid your fridge for some veggies to whip up in a big bouquet?? Go for it! Explore and see what you come up with!  I'd love to hear what other fruits or veggies you like to use in your centerpieces!
You just got a sneak peek of my spring tablescape that will be on the blog next Monday! Be sure to come back to see this whole spread and also for a fun little spring blog hop I'm participating in with some other fabulous bloggers!