Fall Decorating & Fall Tablescape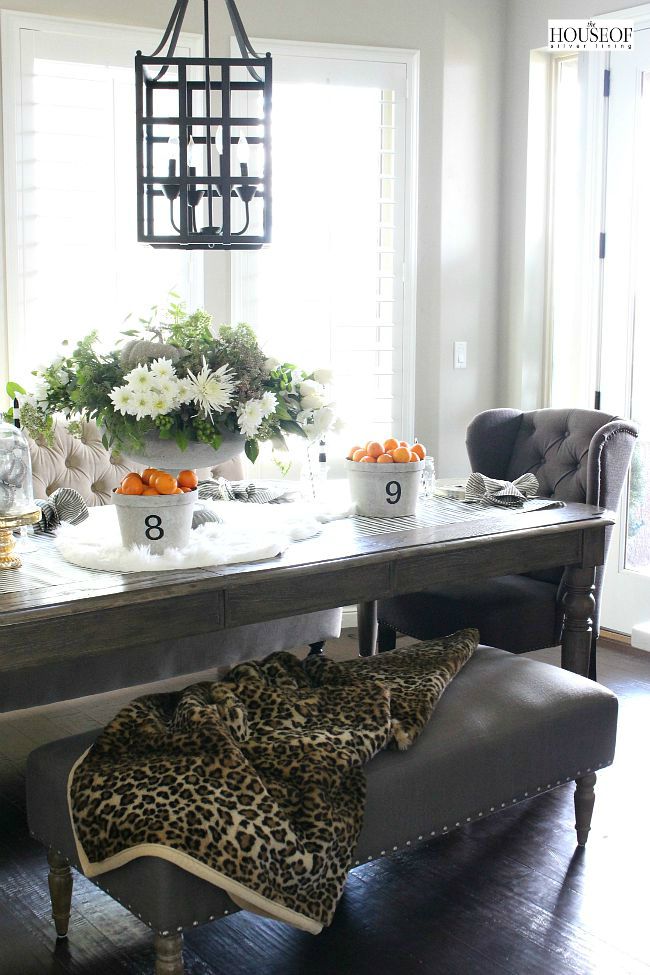 I've been getting the house in the mood for fall lately.  I actually spent the entire day taking photos of the house for my fall home tour and when it came to editing the photos, I realized I had so many of my fall tablescape that it deserved a blog post all of it's own.  I tend to be most creative under pressure when time is running out.  I knew I needed and wanted to get my home tour up on the blog since you haven't seen much of it unless you are following me on Instagram.  So my goal this week was to get the house photographed and "home tour" ready for the blog.  I woke up this morning rearing to go!  I knew I needed lots of flowers and a cheetah print!  So off to Costco and Pottery Barn I went and gathered my loot! Things are a little backwards as far as decorating for me this fall season.  Typically, I'm pulling out all the Halloween decor in September and not focusing as much on just simple fall decorating.  This year I have been really trying to scale down my decor and be a little more simplistic.  Today I'm sharing my kitchen and my transitional black and white fall tablescape.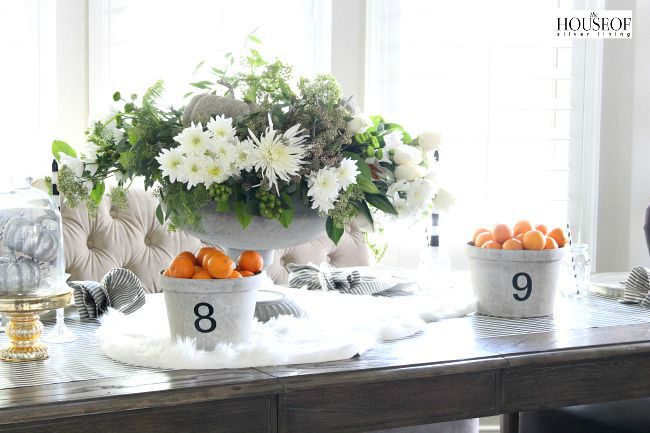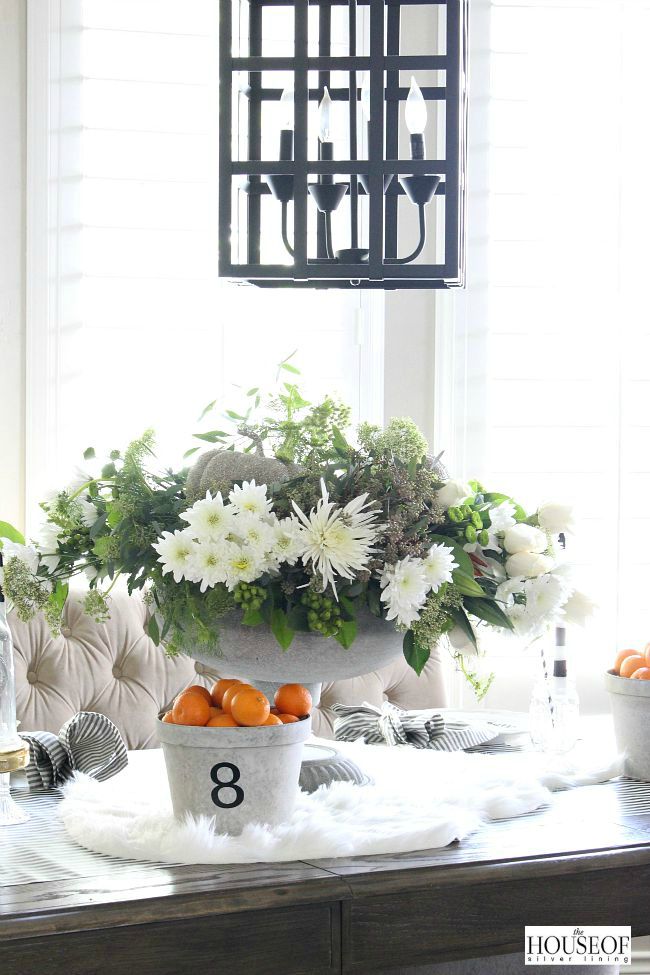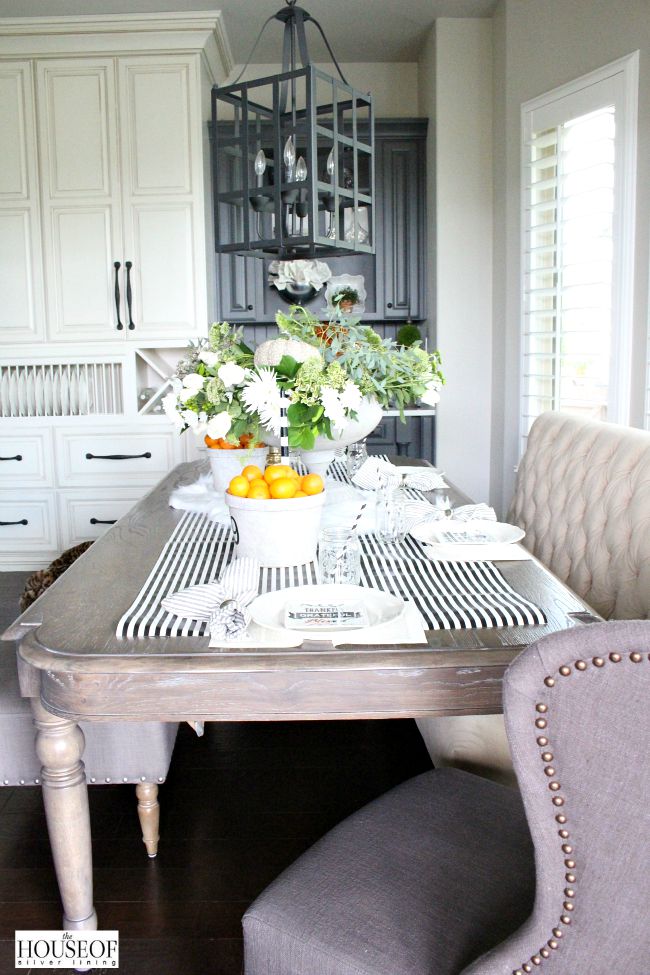 The most exciting part of creating a tablescape is using what I already have in my home. I'm not a big fan of table cloths because they always get stained.  My husband is Italian, so that means overeating pasta feasts with red sauce.  The red sauce that always misses the plate and lands on the pretty table cloth that I spent too much money on. I've come to my senses and now my "go to" table cover is wrapping paper!  I always stock up on wrapping paper at Homegoods because their paper is super great quality and often like the texture of wallpaper so doesn't tear easily! The black and white stripes can really be used for any occasion. There's a bit of photo overload today (no yawning!).  I had so much fun shooting this!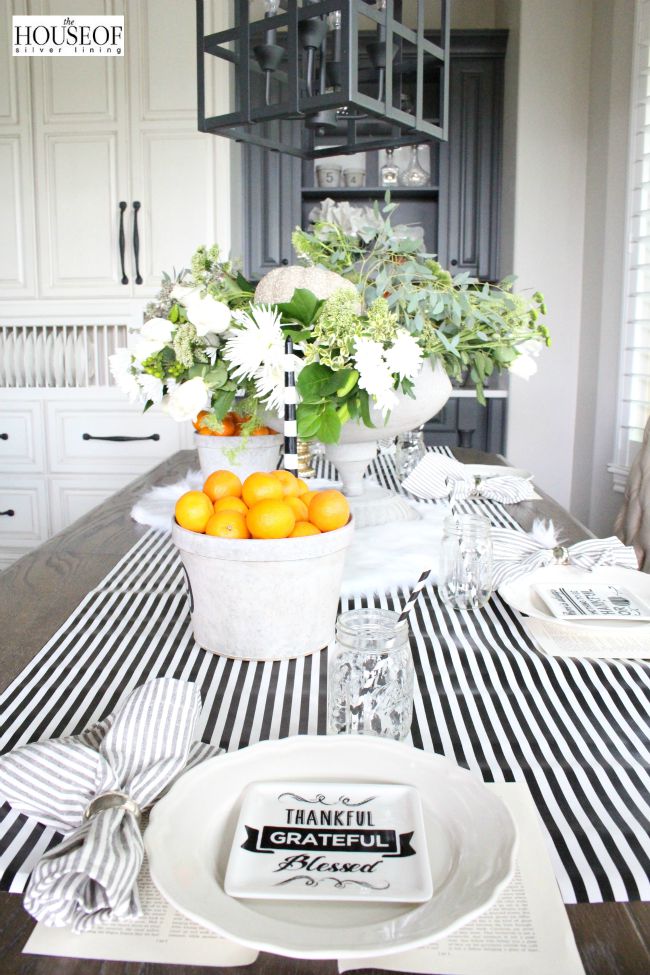 I do have placemats, but I have the same issue with them.  I'm a collector of old, cheap books and I thought it would be fun to rip out some pages and have paper placemats.   The great thing about all of this is that I can throw it all away when cleaning up and can skip the laundry and ironing of fine linens. Now how cute are these plates!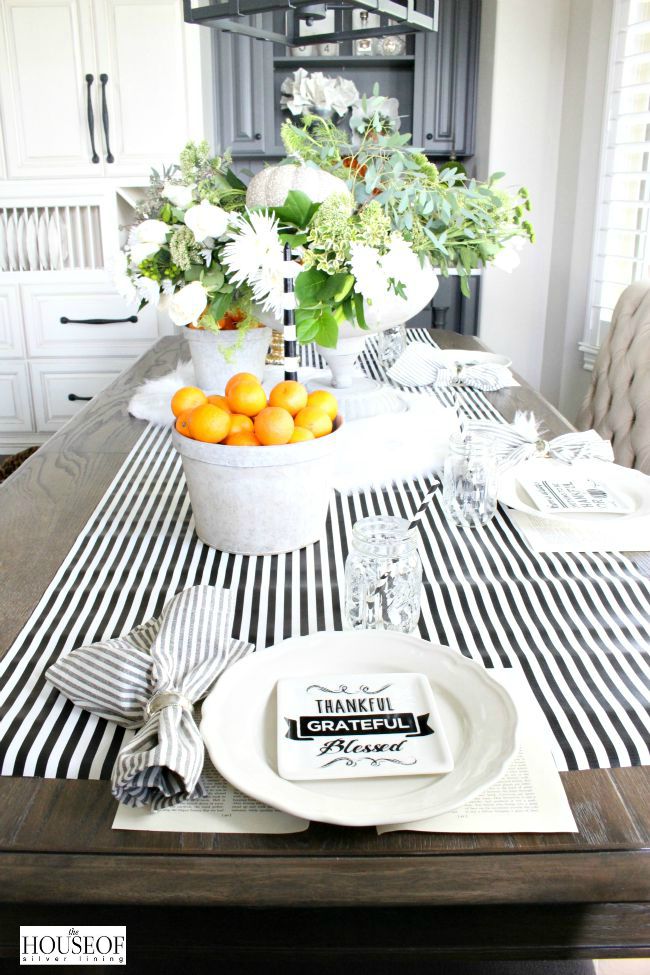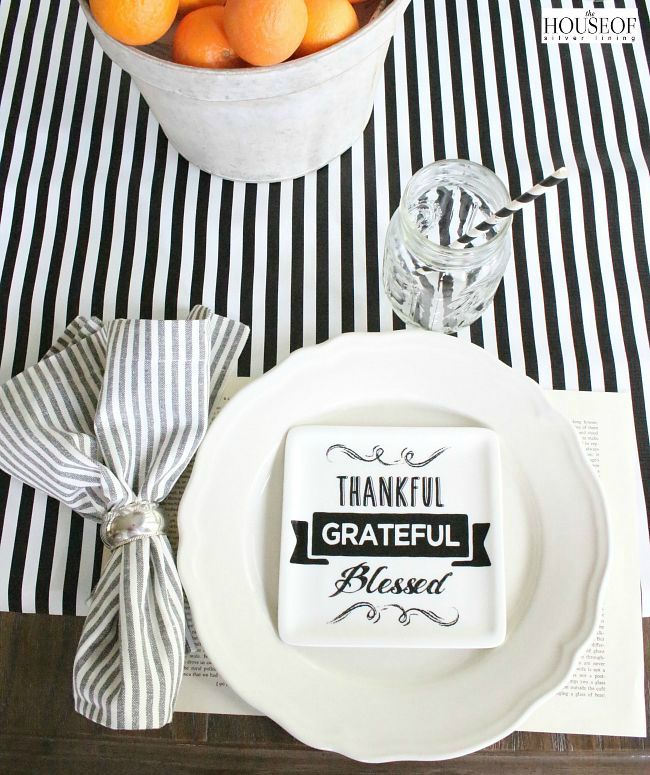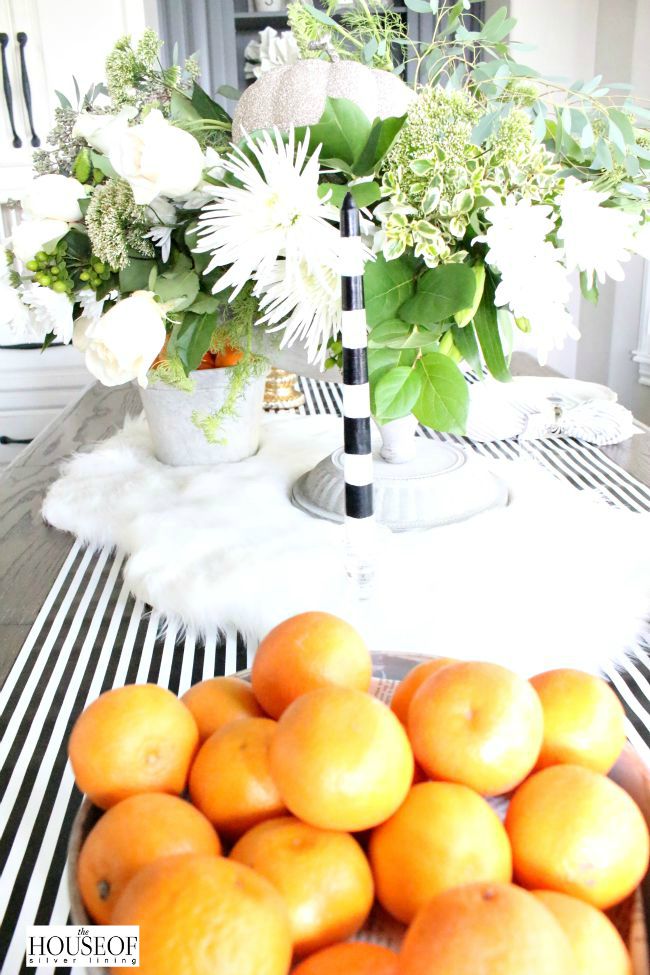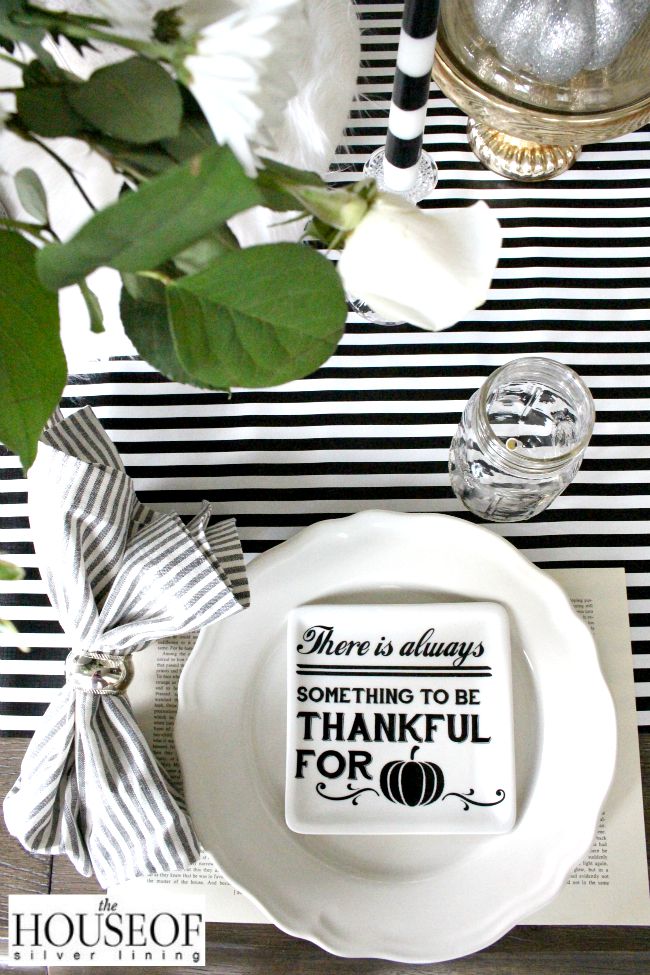 I have fine china from our wedding, but I think I've only used it once or twice.  I'm more into using fun, kid friendly dishes like these Ball jars.  I love the classic script on them and the down home feel they give. Paper straws are another stock item I always have on hand to add a little character.  Who doesn't love a striped paper straw!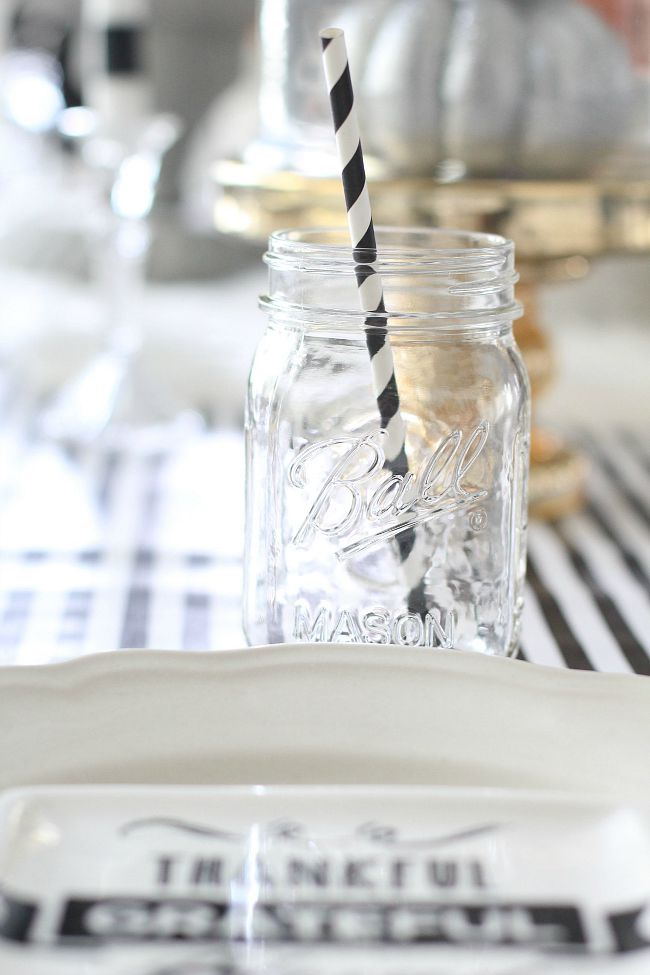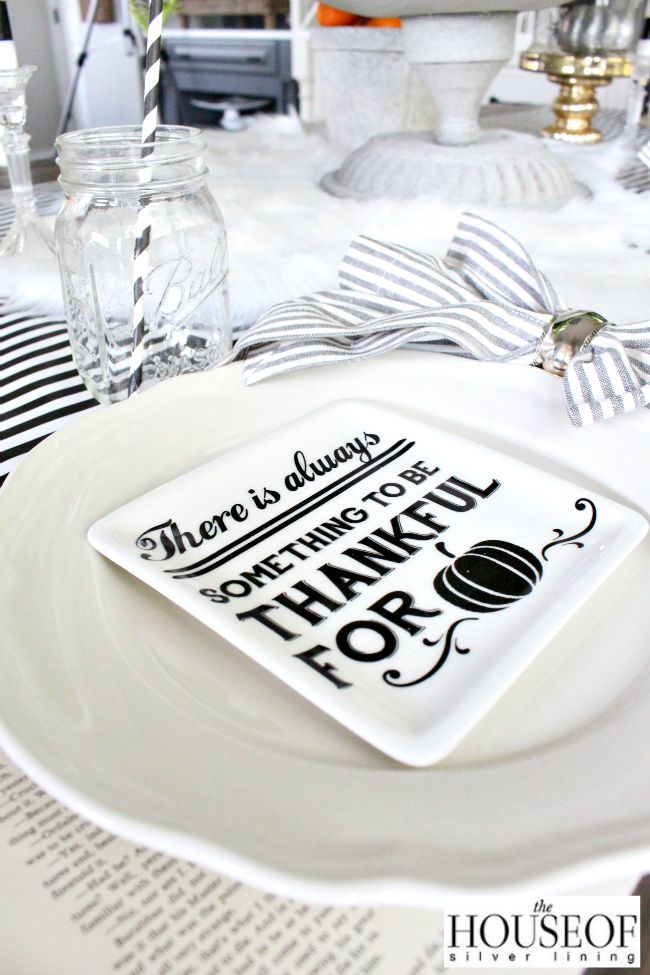 When I walked into Costco and saw these floral bunches, I was beyond thrilled!!  The color scheme was perfection for the simple setting I had in mind.  I love mixing elegance with rustic as I did here with the gorgeous mix of roses, eucalyptus and a whole lot of other flowers I don't even know the name of.  I just know they're stunning!  A whole lot of green and white beauty to play off of the black, white, and metal.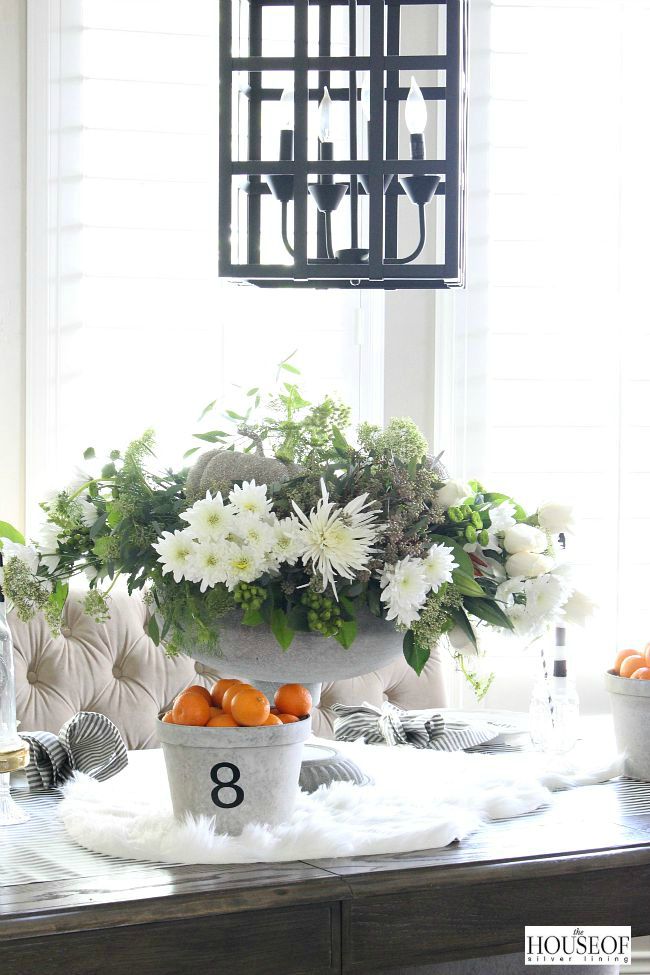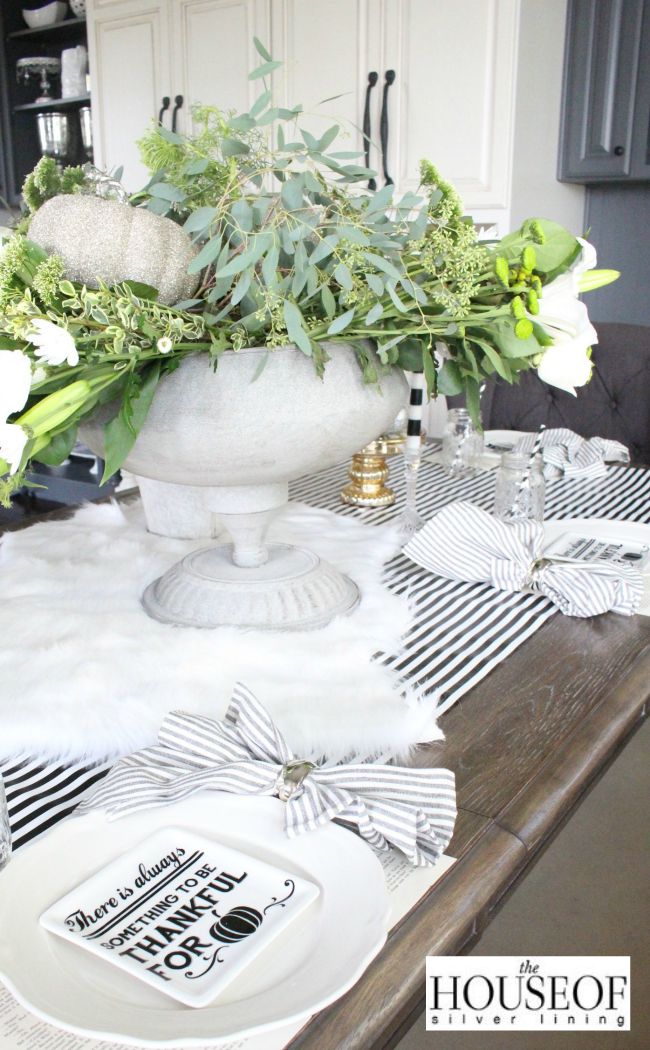 I didn't dig out the orange pumpkins this year (yet anyway).  I love these silver glitter pumpkins from Homegoods.  I actually saw them in Pottery Barn today too!  The mini silver pumpkins actually have black spiders on them for Halloween.  Do you see the little legs poking out! The only fine china piece I have on this table are the crystal candle holders from our wedding.  I've never used them, but when I found these black and white candles from Michaels, I decided to bring them out on display.  I didn't know what to put in the metal buckets initially since I was scaling back on the pumpkins, so I raided the refrigerator and pulled out the clementines.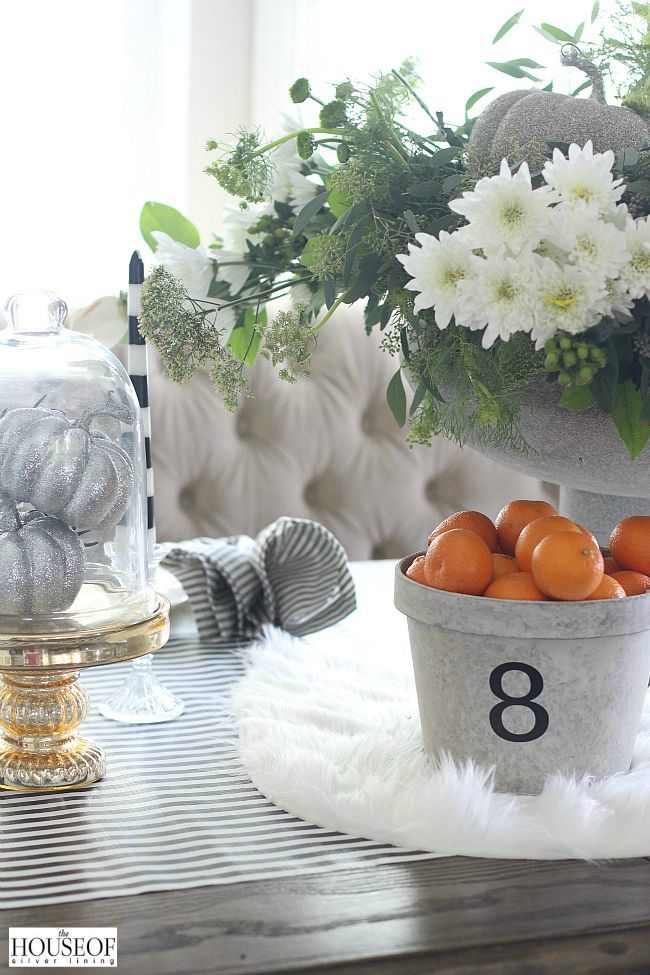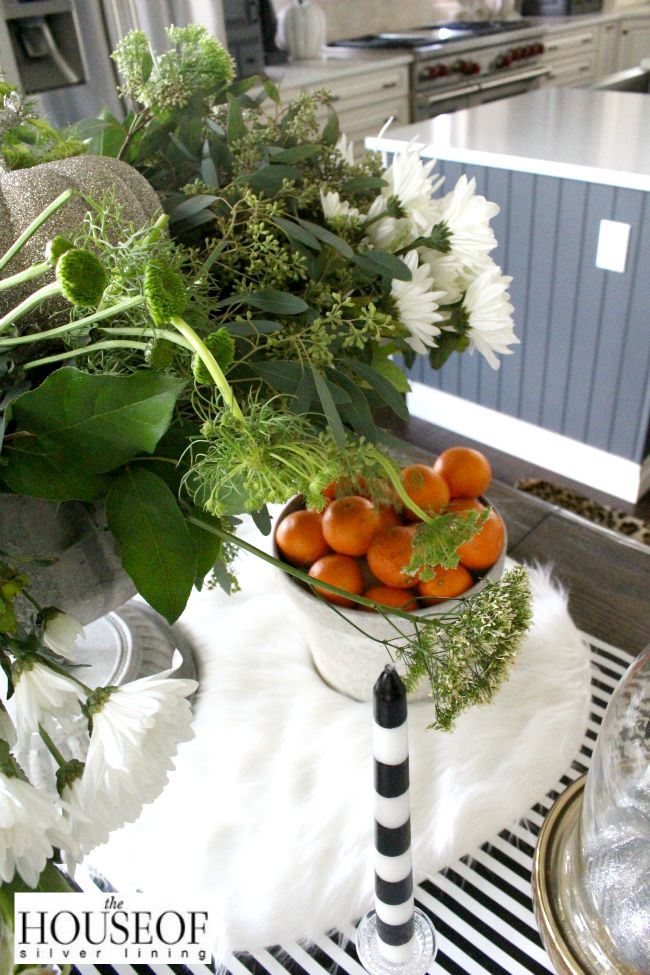 Fur ALWAYS creeps on to the scene in my home.  You'll see it in every room, well maybe not the bathroom…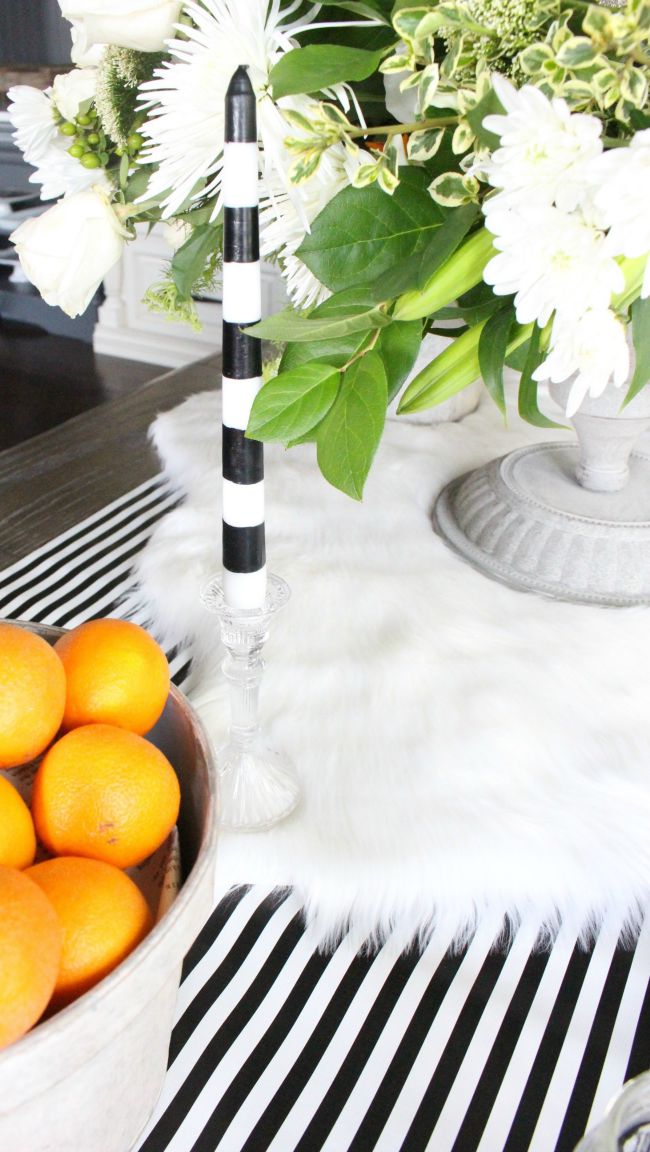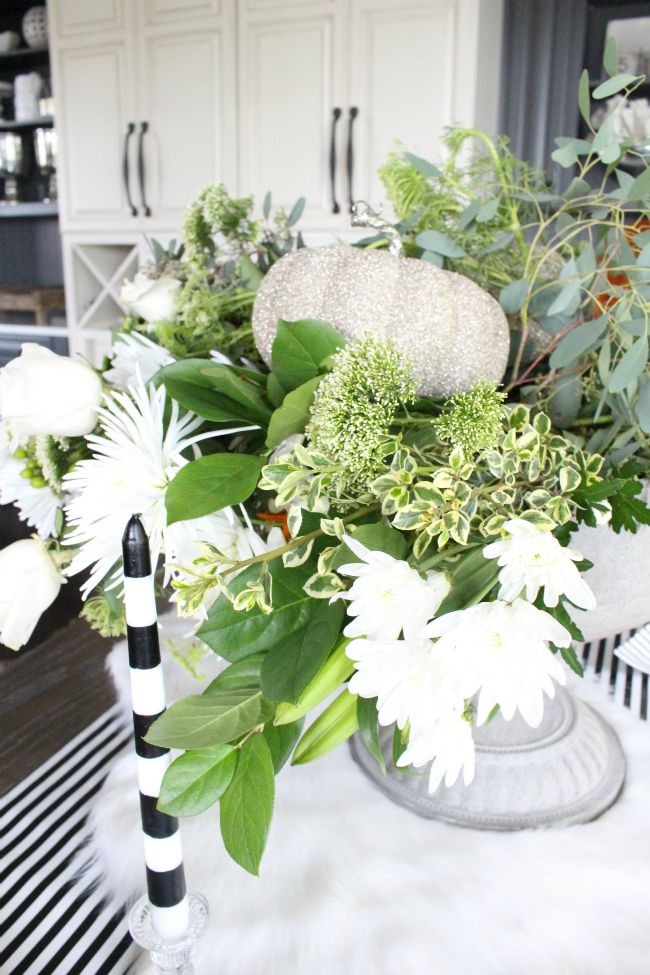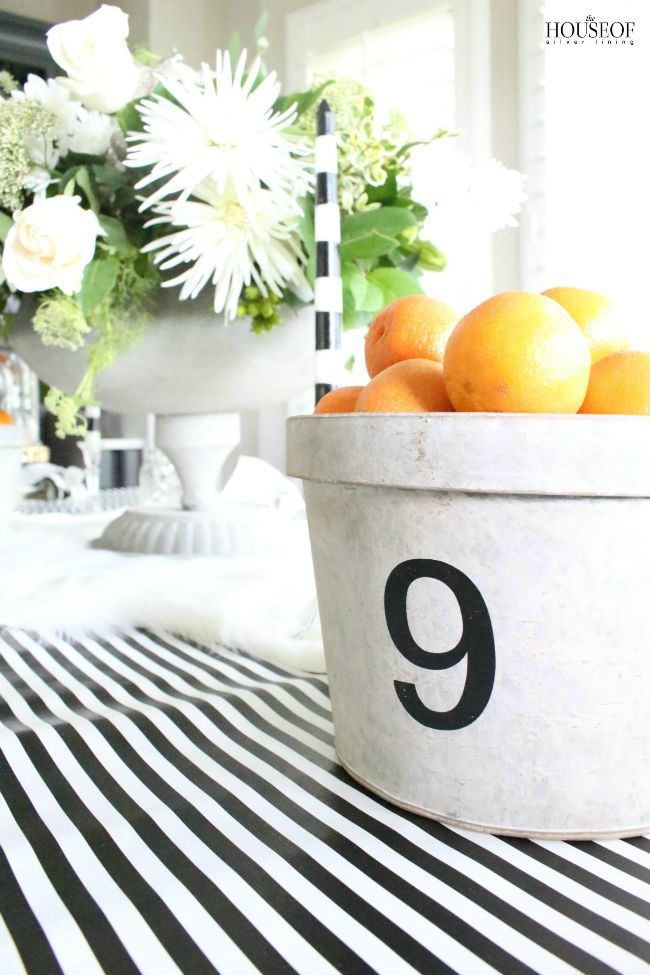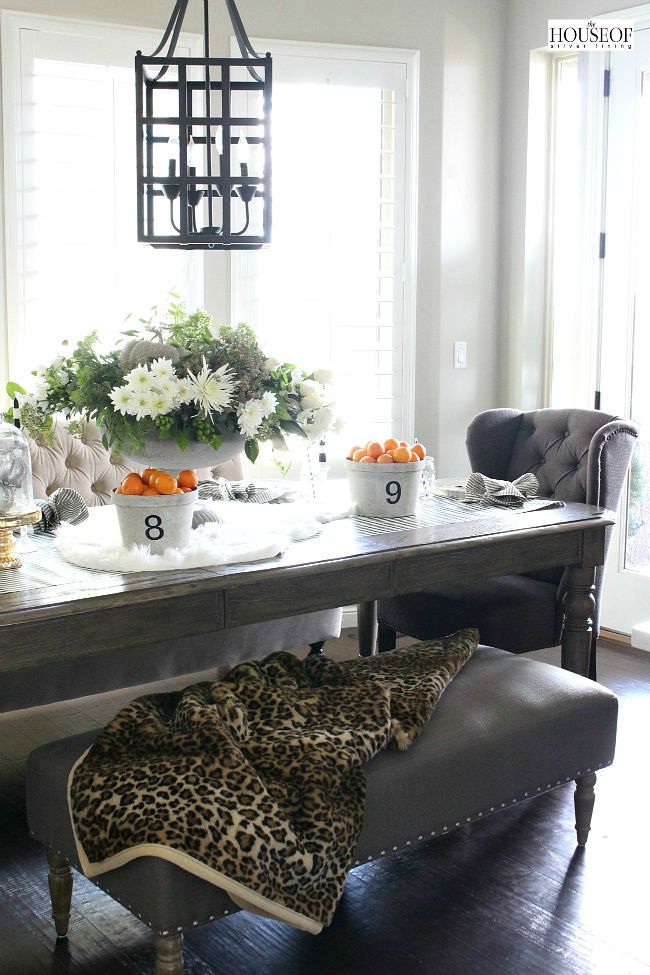 The great thing about this fall arrangement is that I can easily add my Halloween decor in October.  I hope I can keep those flowers alive for a while!  I'll be restocking them from Costco as soon as they die off, OR maybe I'll  just go with the dead flower Halloween look! And I have ROLLS of that black and white paper to carry me through some messy dinners.  How do you like to add fall touches to your table? Leave a comment, I'd love to hear from you!
Bench & Metal Urn // Cheetah throw blanket & striped linen napkins // lantern chandelier // chairs // Banquette-World Market {discontinued}