Fall Home Tour 2020 + Practical Styling Tips For Transitioning Your Home Into Fall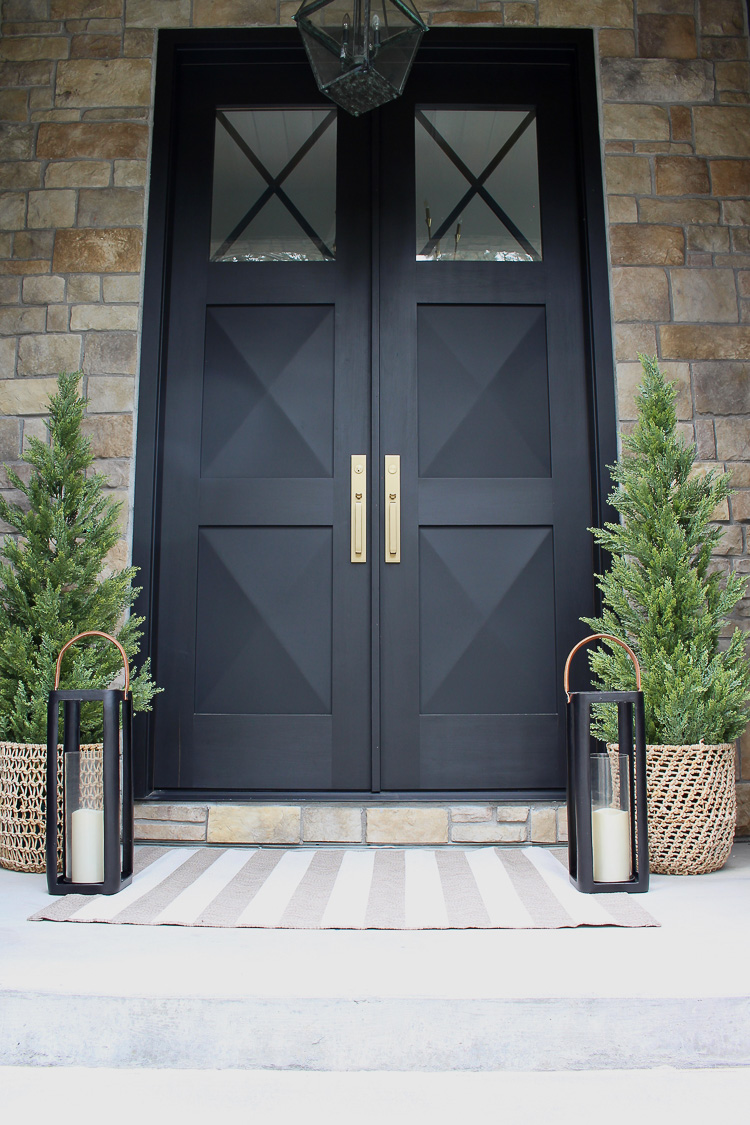 Happy Fall!! I love this season with all the leaves changing in beautiful Colorado. Even though we had a very short summer (still snow in June and snowed a month ago, ugh!), I love the sense of nostalgia this time of year brings with the colors, scents and cozy textures. Welcome to our Fall Home Tour 2020! I've kept things very simple and am excited to guide you with practical styling tips for transitioning your home into Fall.
Over the past two years I've simplified my approach to how I decorate my home with the change of seasons. There was a time in my life when I bought up every pumpkin in every shape, size and color. Scattered them all over our front porch along with the biggest mums I could find. I loved that season, but I'm over it. To put it bluntly. Don't get me wrong, I still love seeing all those pretty fall porches yet I don't feel the need to do that in our home. I style more practically where I'm not wasting money on pumpkins and mums that rot and wilt. I choose to spend my money more on essential styling pieces I can use throughout all the seasons, that have longevity.
This post contains affiliate links. Full disclosure and photo policy can be read HERE.
Style the porch with items that will carry you through Christmas and possibly year round.
I have had these cedar topiary trees since mid summer on our porch. They look natural in our forest setting but I believe they would be beautiful in any setting. Unless you have palm trees out your front door, then maybe keep them out for Fall through Christmas.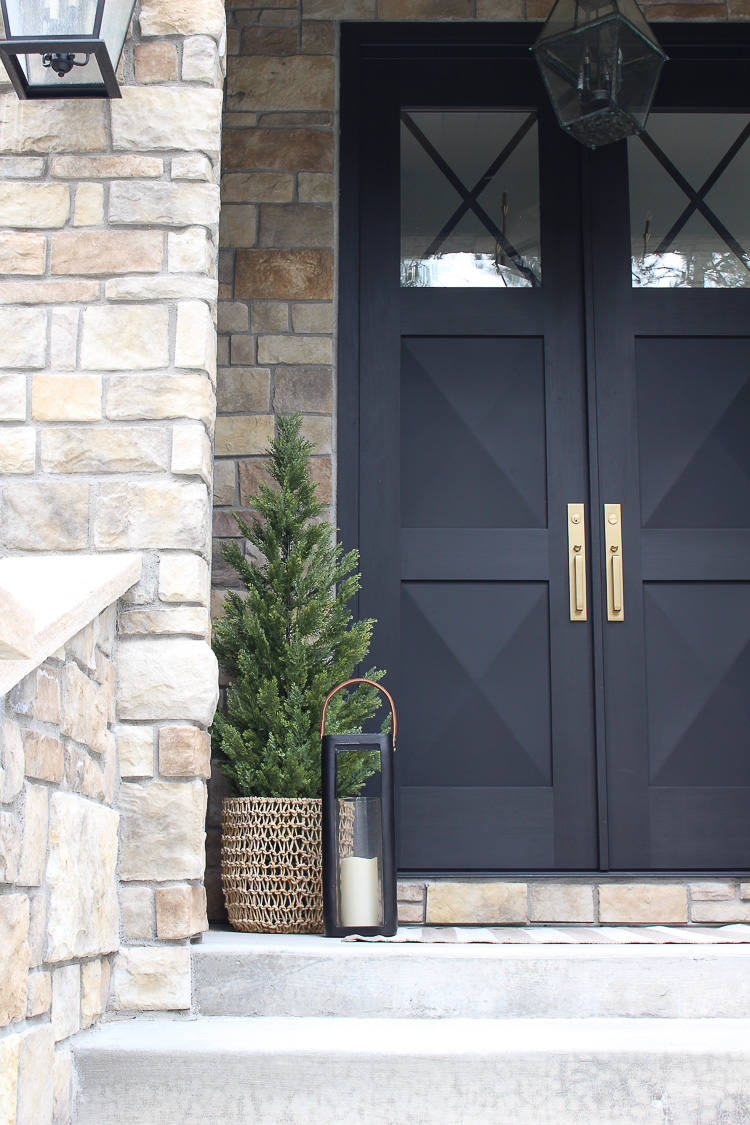 A pretty lantern filled with battery operated candles are a nice welcome with the evening glow. This lantern is from last holiday season. I've continued to display it throughout our home over the year from outdoor settings to even our laundry room.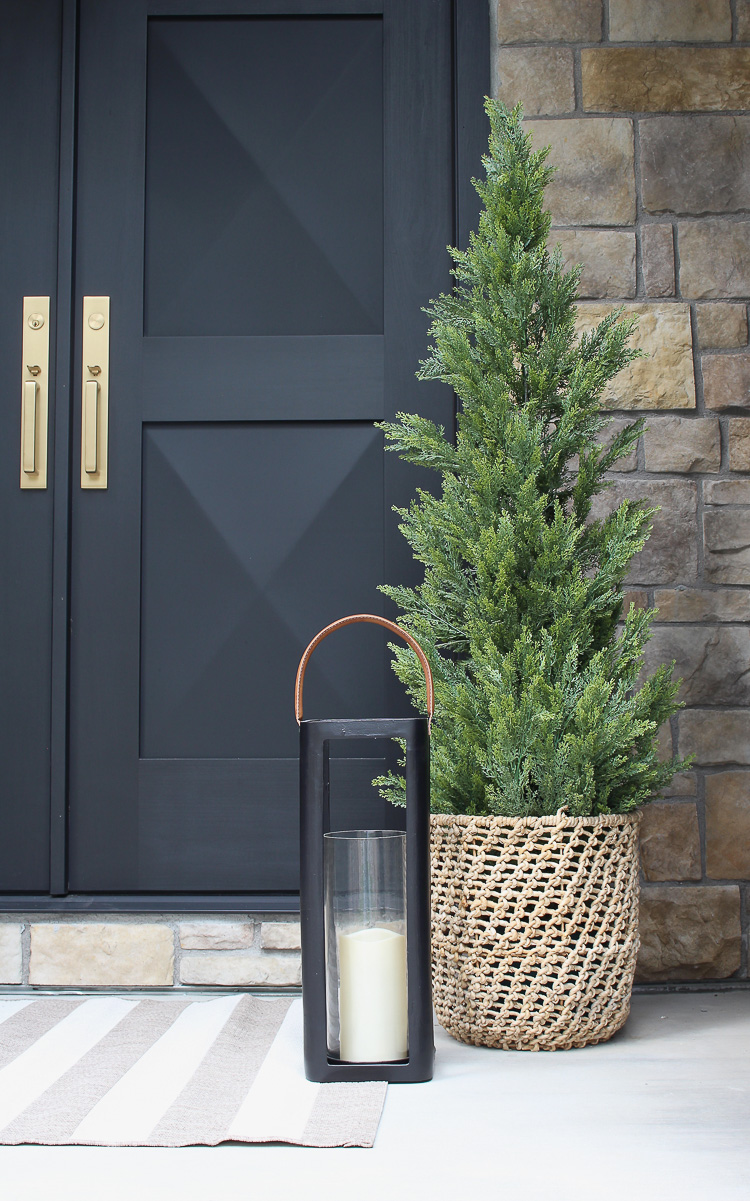 Layer in a neutral outdoor rug for another layer of texture. With all the snow we get I wanted a rug that doesn't hold moisture and gives a soft welcome at the front door. I also have this welcome mat to layer over the stripe rug. I was cleaning it the day I photographed and forgot to layer it back on for photos. Oops! You get the idea though.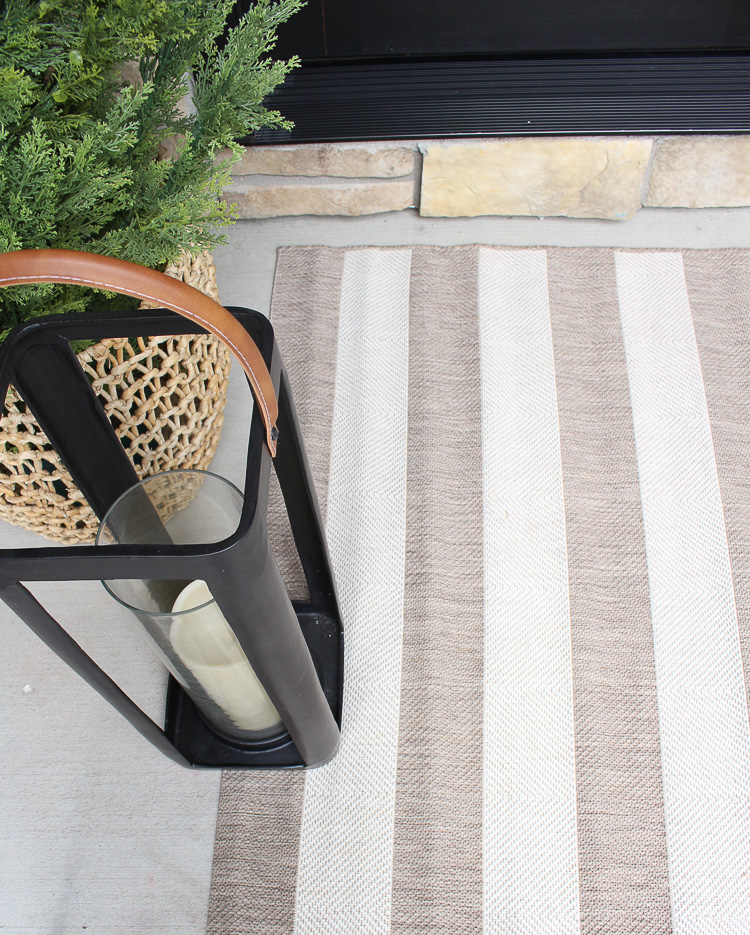 If you've been following the blog since last season you probably remember the holiday photo of Gucci and Kodak on our porch. Gucci was always the photo bomber who loved the camera. Kodak isn't so sure now that we no longer have sweet Gucci with us. Between him chasing the squirrels and sniffing the air I felt lucky to get one good photo. Sweet boy.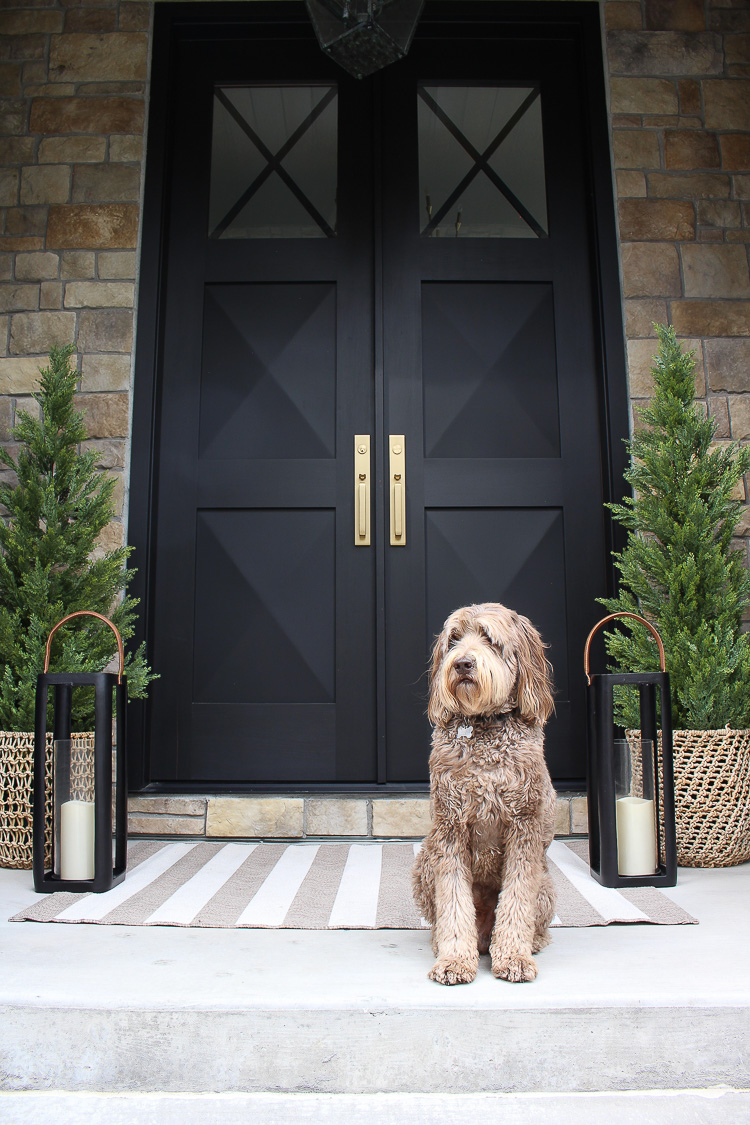 Add Fall foliage in large vessels, vases and bowls. Stick with colors that feel natural to your home. Orange, red and yellow aren't for every home. Think rust, brown, grey, black and cream.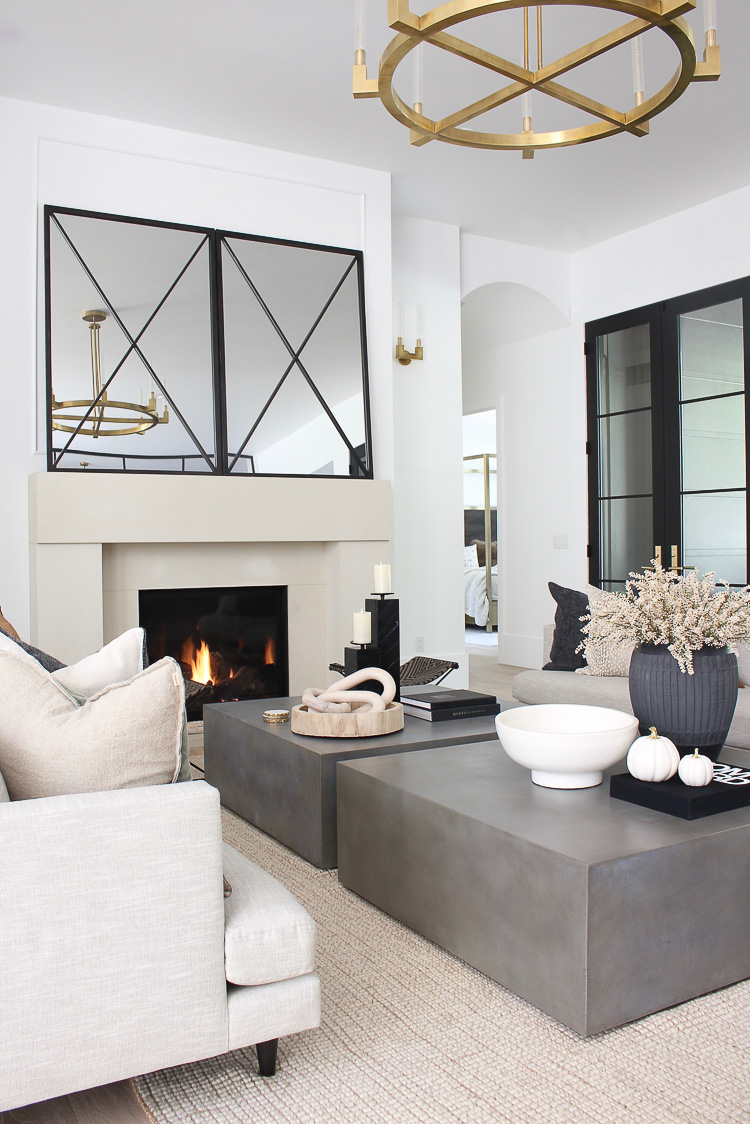 A large statement planter, vase or decorative bowl goes a long way in design. I love the texture and size of this black planter I've been styling it in our home throughout the year. I filled it with these simple faux heather bushes but you could also go foraging in your yard or some field to gather some simple, natural foliage. Just watch out for the bugs! The color and texture is so beautiful and compliments the organic look of our home.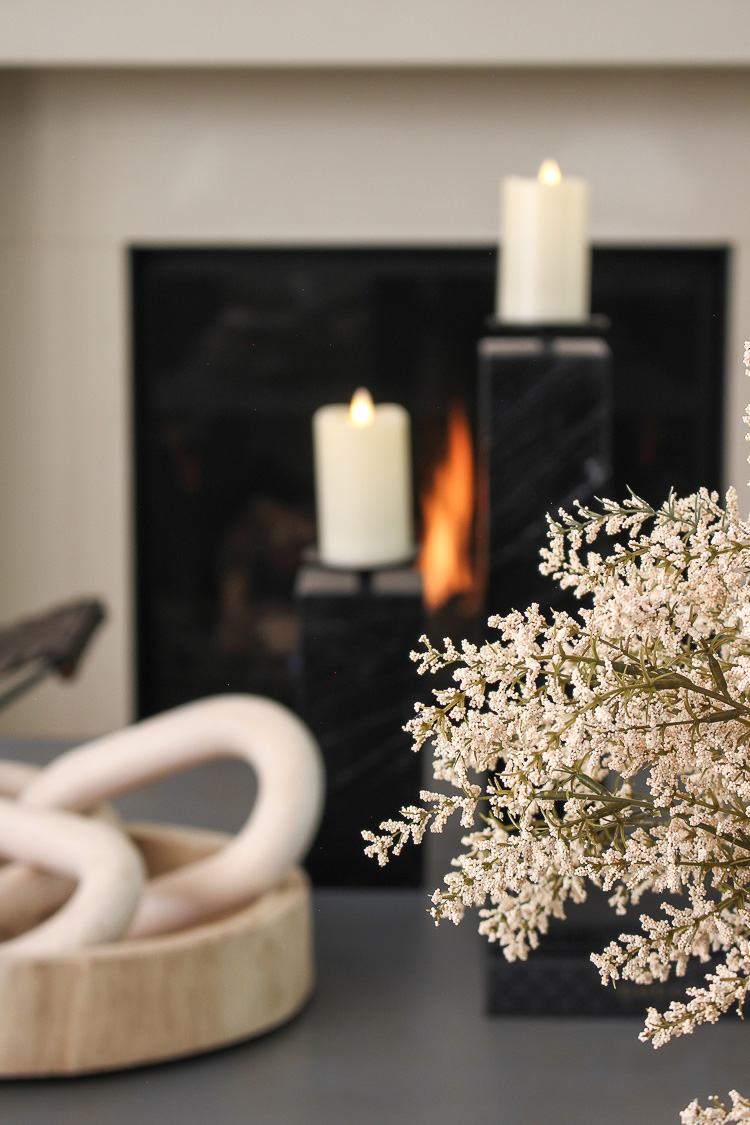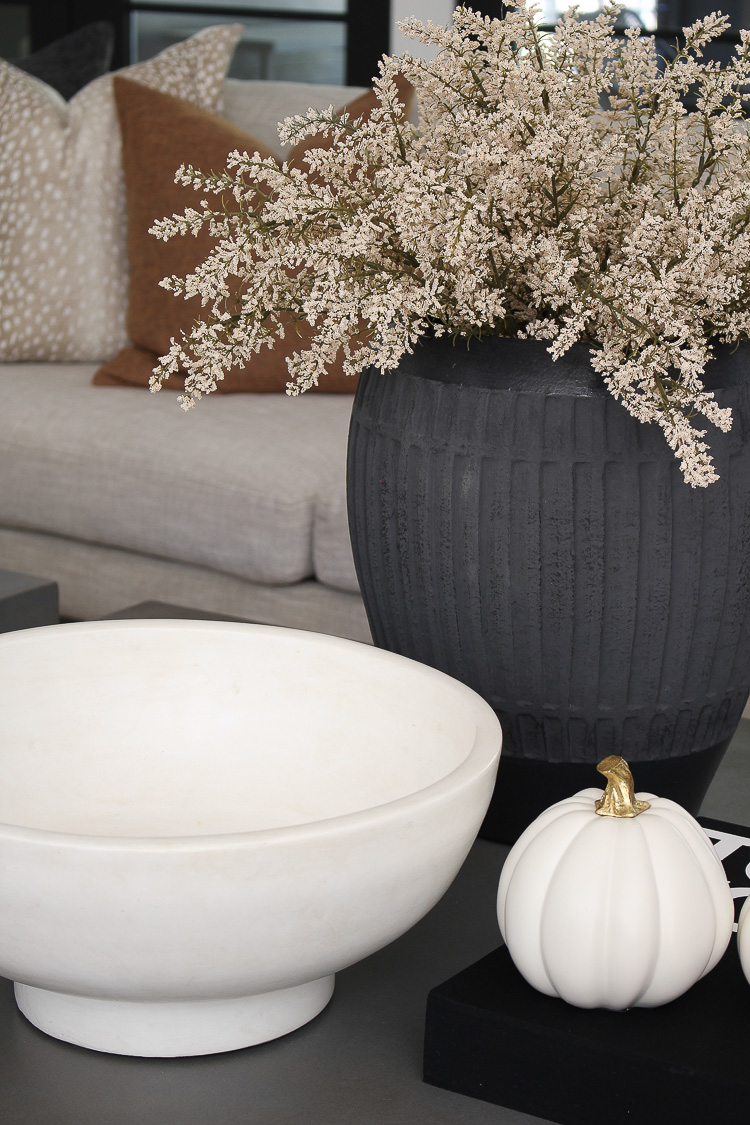 This huge white terra-cotta bowl is another statement piece that looks great all on its own. Style it on your coffee table, dining table or kitchen. Fill it with seasonal elements like pumpkins, pinecones or even holiday ornaments. It's the design piece you won't regret buying. Also available in black, but I already have this black pedestal bowl that is another good one.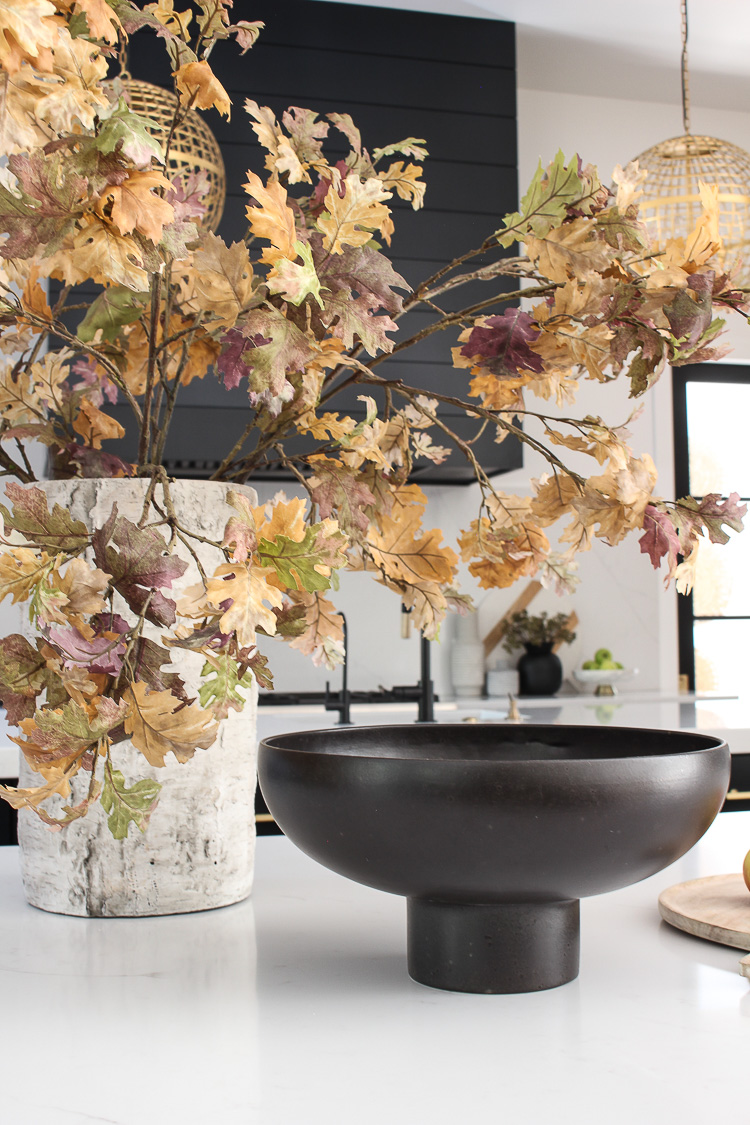 These autumn branches were a splurge but worth it since I know I'll be using them seasonally for years to come. I put 3 branches in this vase. So full and beautiful! I finally retired my old yellow leaf autumn branches that I used for over 10 years! You may remember those from previous fall home tours.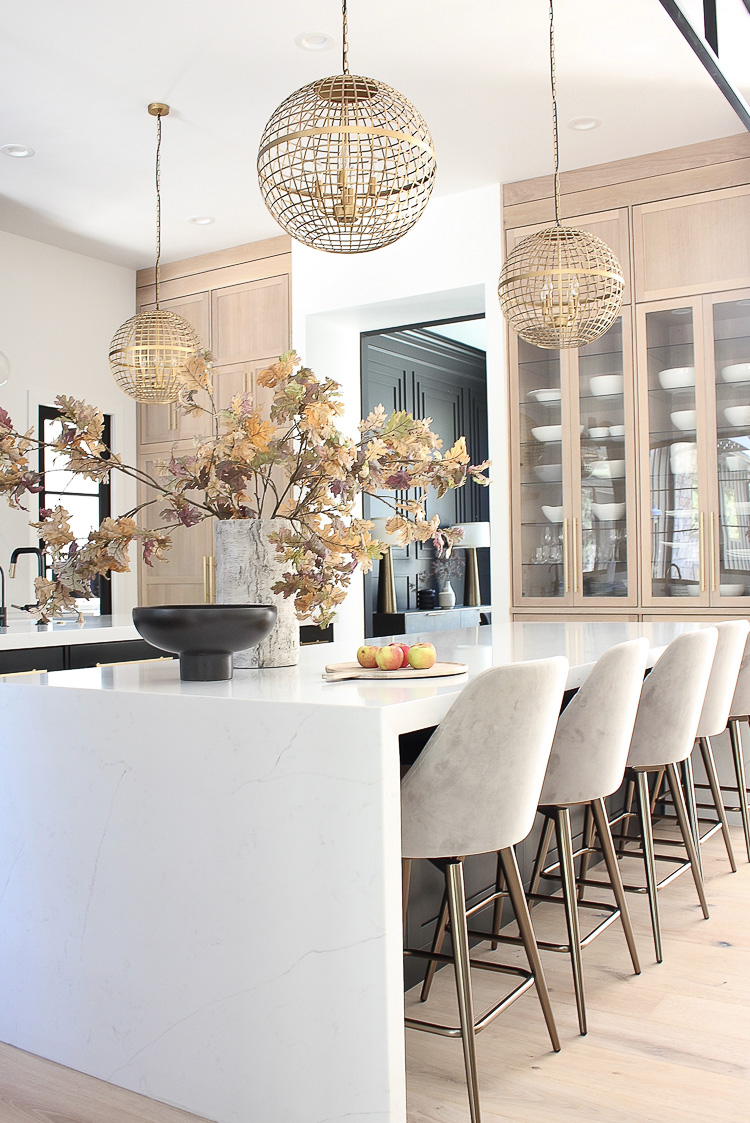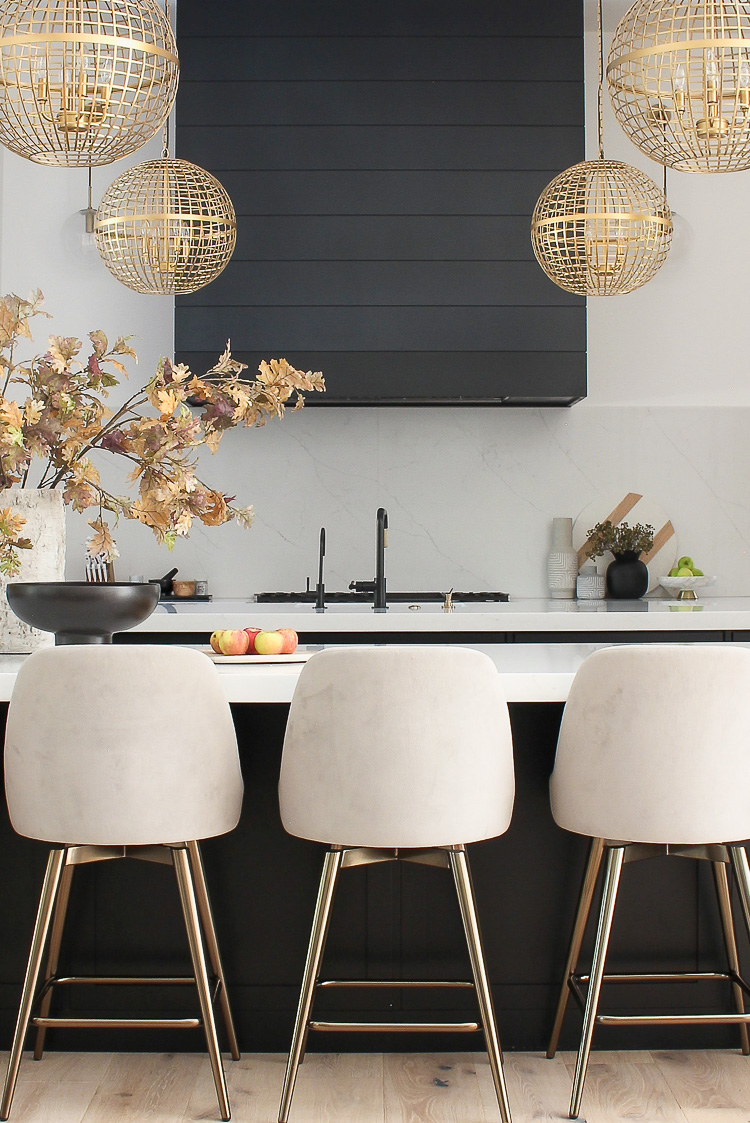 Transitioning your home into fall doesn't mean limiting your look to something that will only be relevant until December or earlier! It's all about adding new layers of color and texture that compliment your home and make a room express a slight shift of season.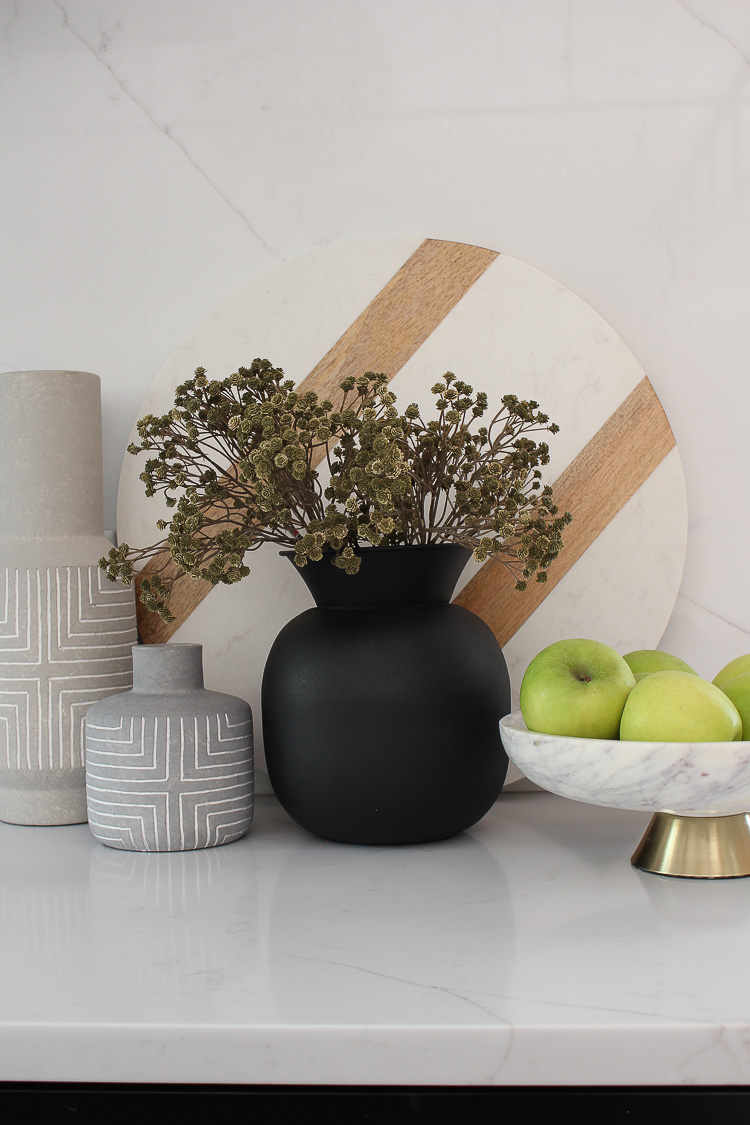 Fill your home with Autumn scents and ambient candles.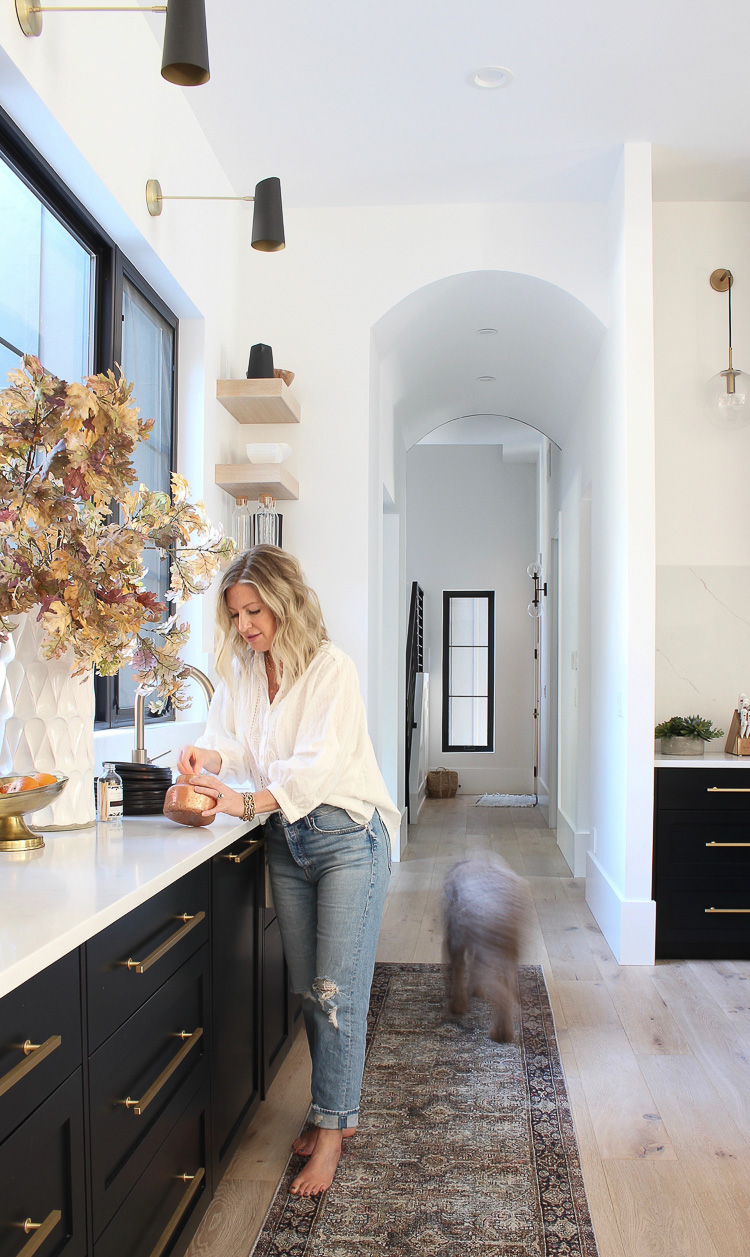 My favorite thing about fall is the scent. I love a good pumpkin scented candle. One that fills the air in every room and then leaves a lingering scent even after the candle is blown out. My favorite scent is this pumpkin clove candle. Your home will smell like Autumn heaven! So scrumptious! It's also a great hostess gift. Everyone loves it!
If scented candles aren't your thing you can still add an ambient glow to a room with battery operated candles. There is something so calming about a glowing candle in a room. Makes me want to curl up by the fire and read a book.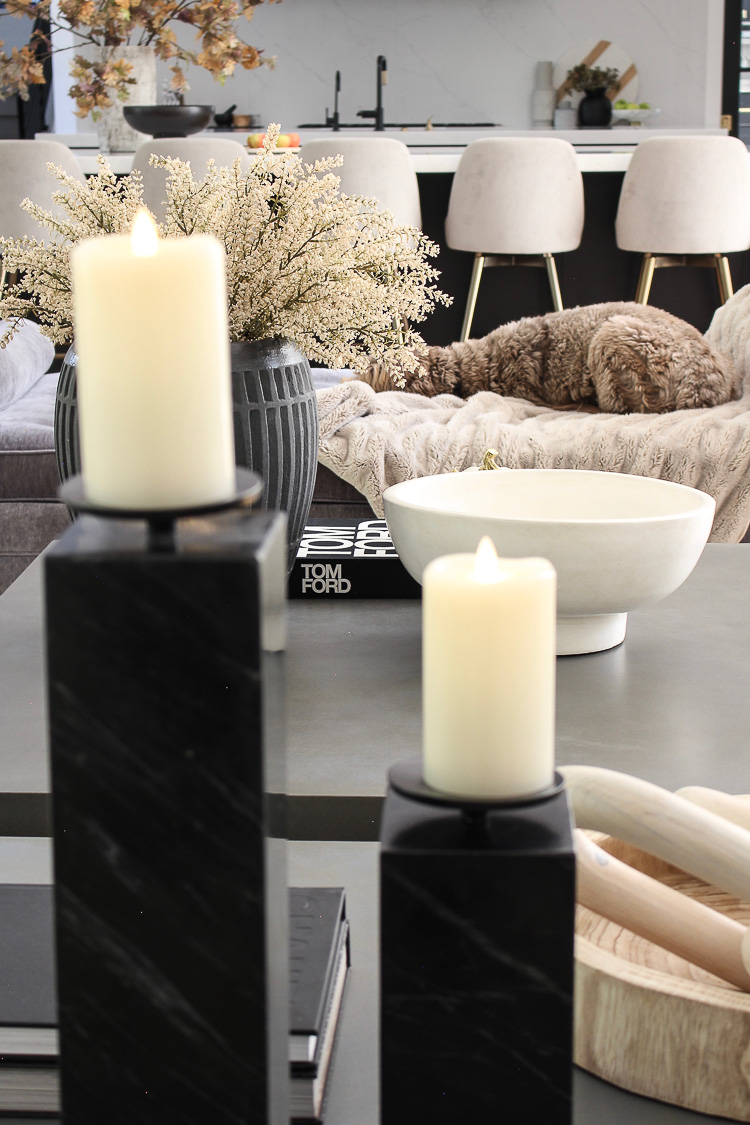 Switch out your daily dinnerware with textured black plates and bowls.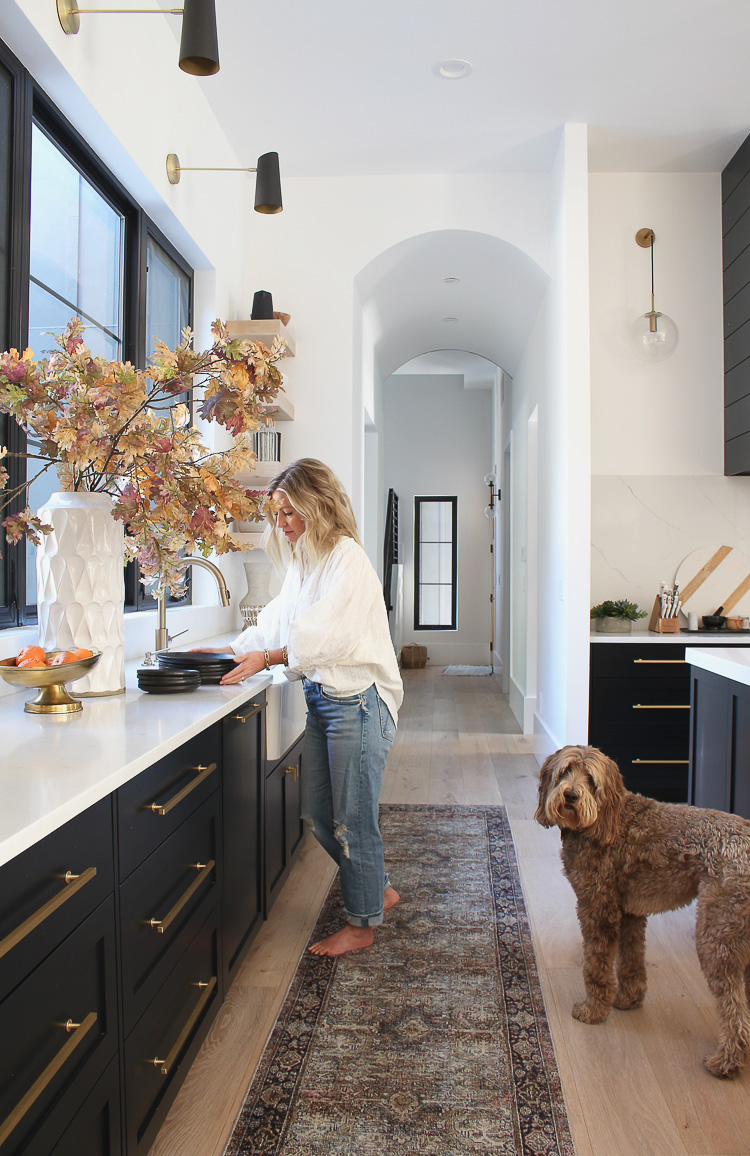 Fall recipes look so much better against black. Or maybe I'm bias because black is my favorite color. I love switching out our white dinner plates and bowls for the fall season. My black dinnerware set is no longer available but I found this line of dinnerware that looks almost identical. I also love the asymmetrical curve of this dinner plate and the matching stoneware collection.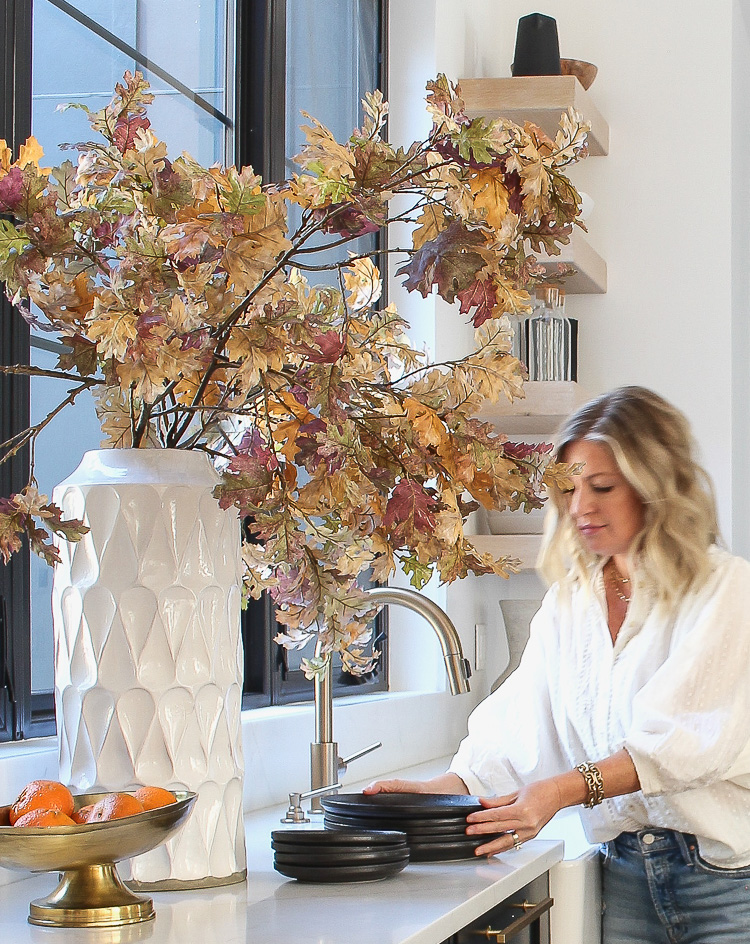 Layer in texture with cozy throw blankets and pillows.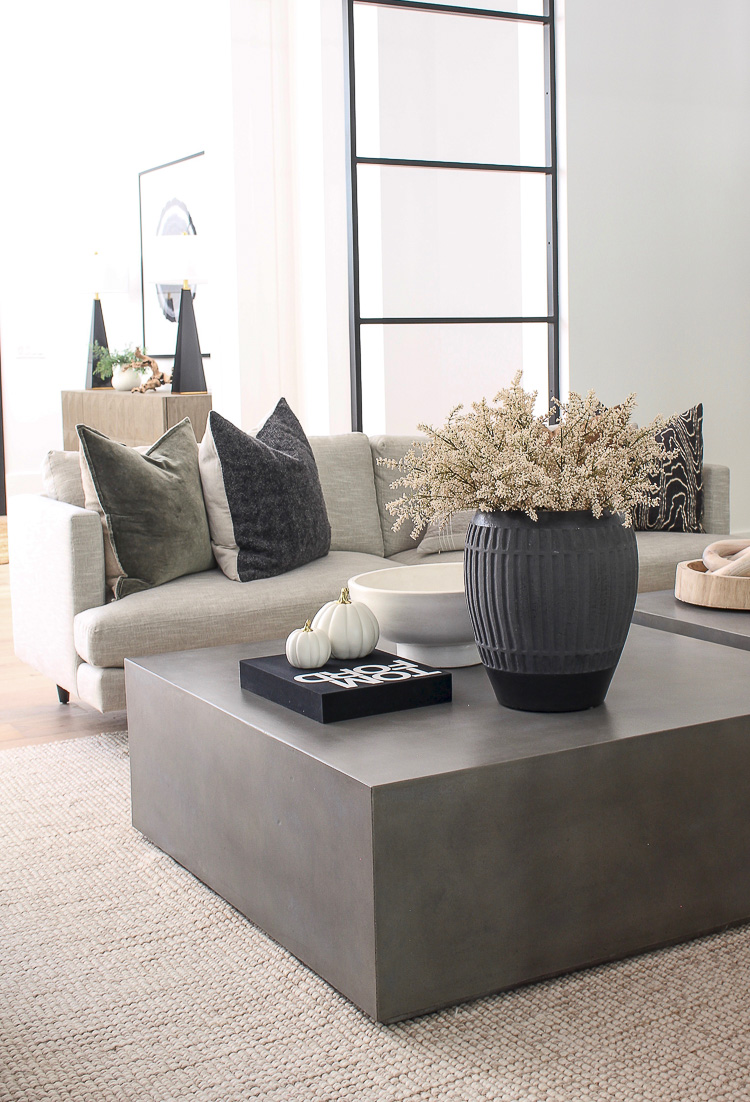 Our living room has beautiful layers of earth colors in a palate of charcoal, sage, black, brown and linen. I transitioned into Fall by adding a couple of new pillow covers in terra-cotta/brown color. The color is so pretty! I randomly stumbled upon these pillow covers as I was searching online for affordable pillows. I couldn't believe the price for a set of two covers! They have a nice texture and are good quality. Definitely look and feel more expensive than they are. I also ordered them in black to recover some other pillows in our home. They come in a variety of colors and sizes.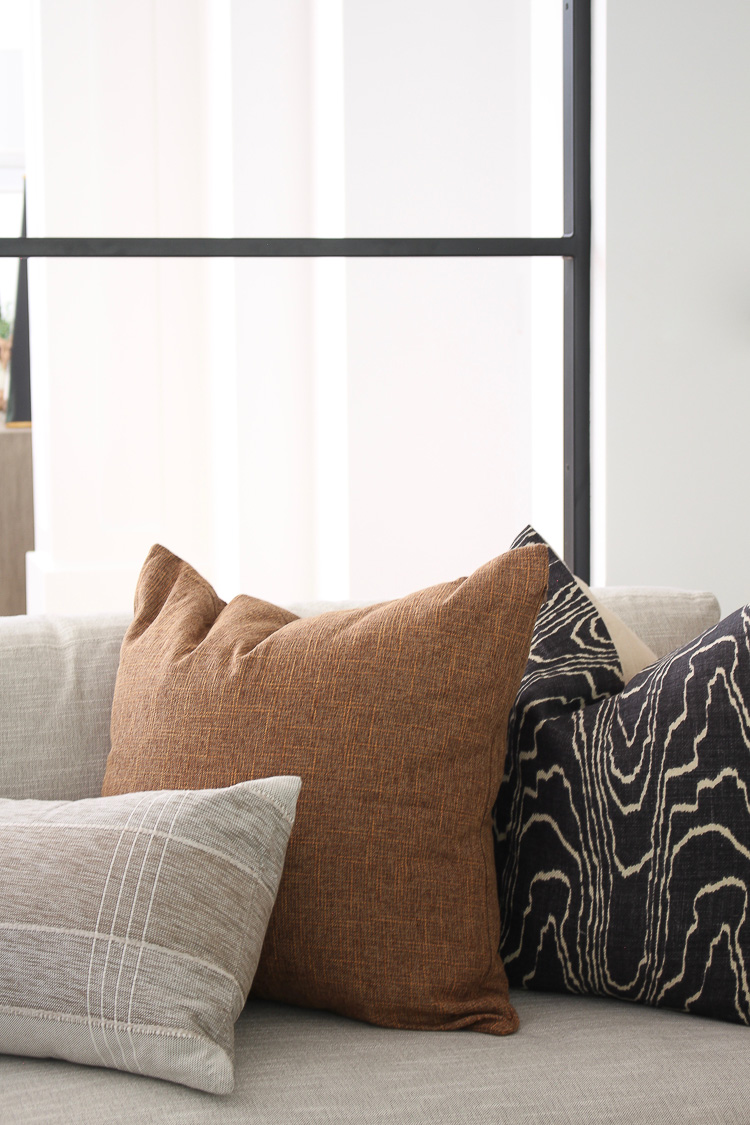 Every sitting room needs a cozy throw blanket for the Fall season. I love luxurious faux fur throws. They are so soft and warm. Adding that luxe feel to your home. This faux fur throw blanket is from last season and still a favorite. In our cooler climate we keep a few throw blankets out year round and this one has migrated to every room. I drag it around the house with me like Linus' blanket.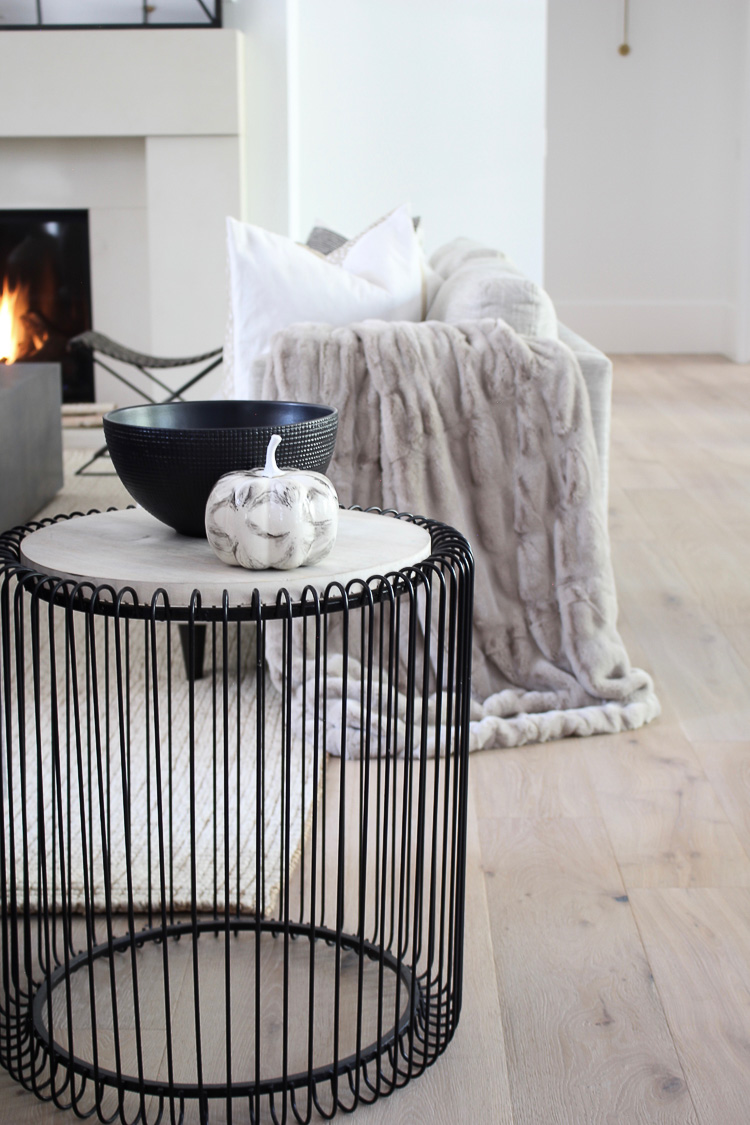 I also layered our bed with this new chunky knit blanket. Ours is a king size and is huge! I love how much hangs off the side of the bed. It's available in a variety of colors. This color is the "marled gray" and we also have the "light gray" at our beach cottage.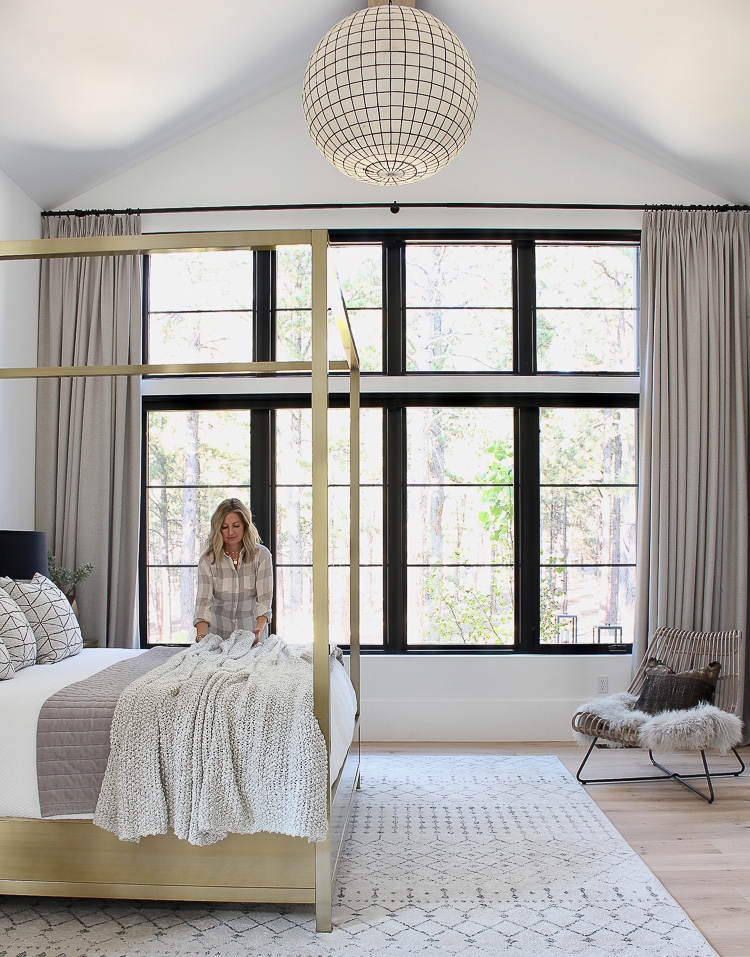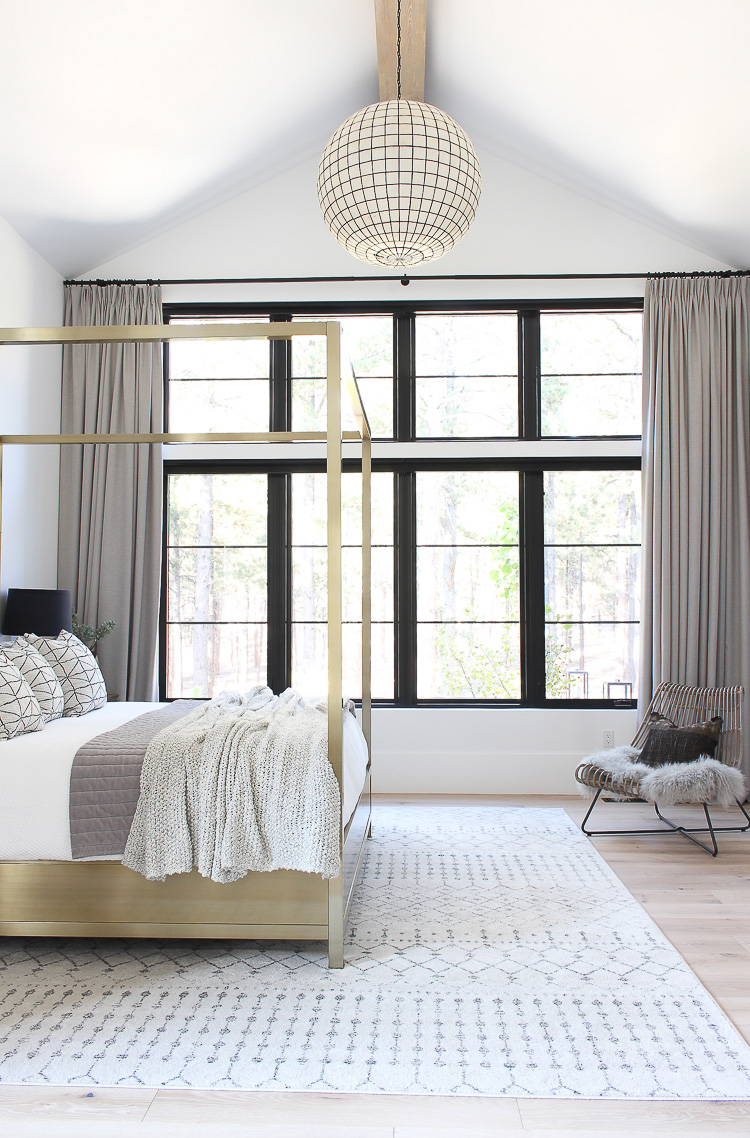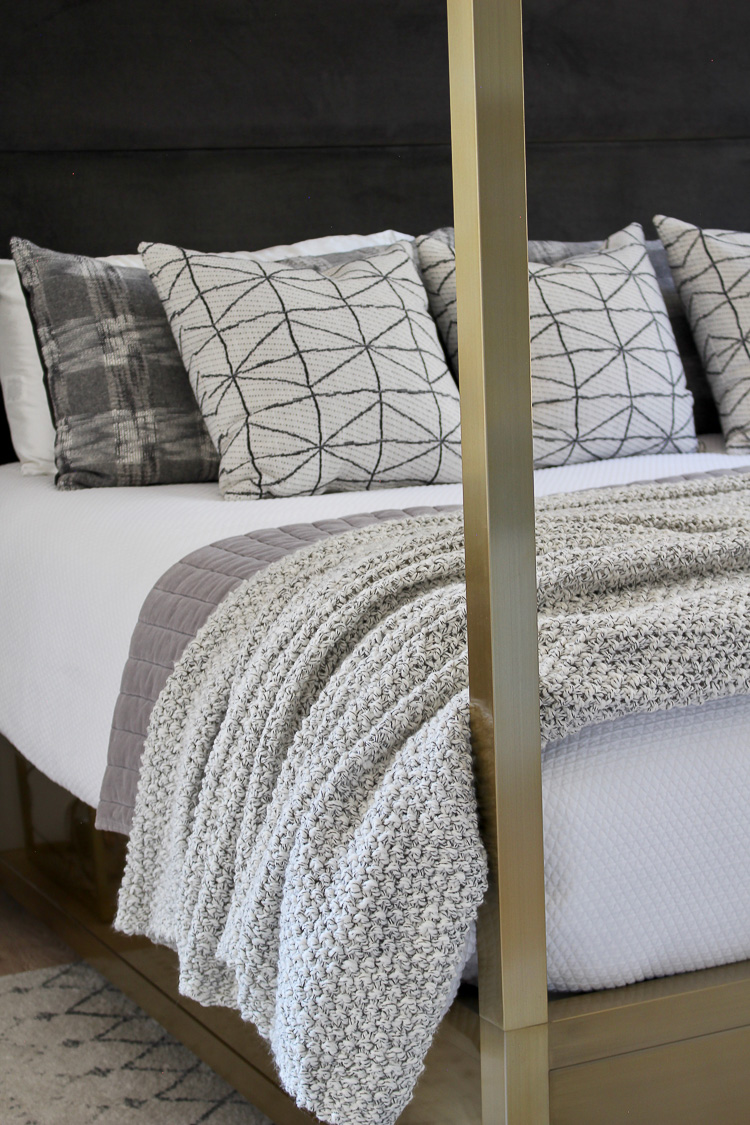 I hope these practical styling tips for transitioning your home into Fall are helpful. As you style your home for Fall try to avoid impulse buying on seasonal items that will truly only fit in with your home in the short season. Style with longevity in mind. Focus on versatile decor pieces that will transition into the Christmas season and beyond. Invest on quality seasonal foliage that you will be sure to love for years to come.
Most importantly, slow down and relax, light a pumpkin candle and enjoy this season. Let us all be thankful for the home we have to nest in.
Happy Fall friends!

Front Porch

Living Room

Kitchen

Master Bedroom