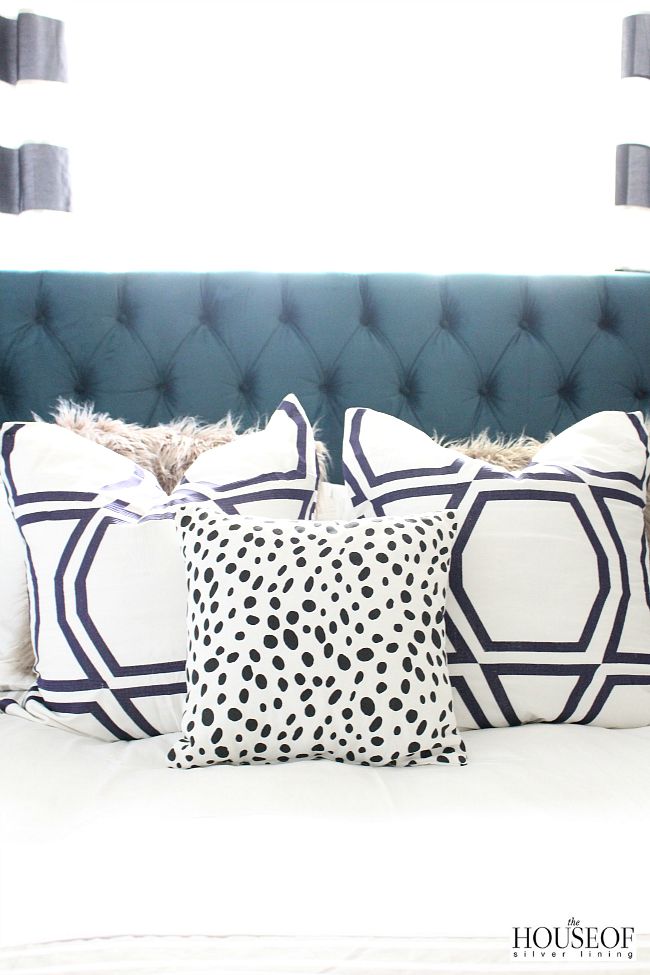 The guest bedroom got a little glamorous makeover!  This room has never been a top priority for me in decorating, until recently.  It all started when I found THE BED!  But first, let's just peek at what it looked like before…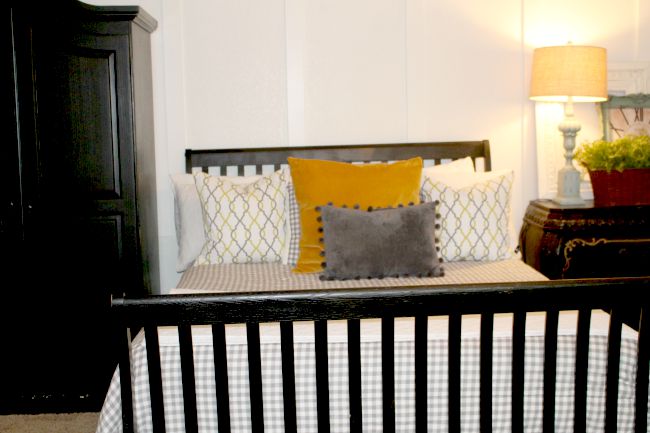 Not bad, just not ME anymore.  We bought this bed our first year of marriage and have held on to it for 18 years!  That's a record for me. Halfway through those 18 years, I spray painted it black from the original light Ash.  I had been just fine with it in our guest bedroom until we tackled the renovations in the rest of our basement this year and this bedroom became a complete dumping ground.  I have to say, there's a lot of nostalgia with these furnishings.  The black armoire to the left was also a purchase our first year of marriage…it used to be cranberry red.  Nothing is off limits to a paint job in my home!!  It used to house our big box TV (remember those??).  I've changed the bedding out several times over the years and have a closet full of comforters and pillows as evidence of how often I change my mind.  But I finally decided that this is all just furniture and I need to quit holding on to every stinkin piece that holds sentimental value! That's what photos are for!! Take a picture of it and store it in a memory album forever!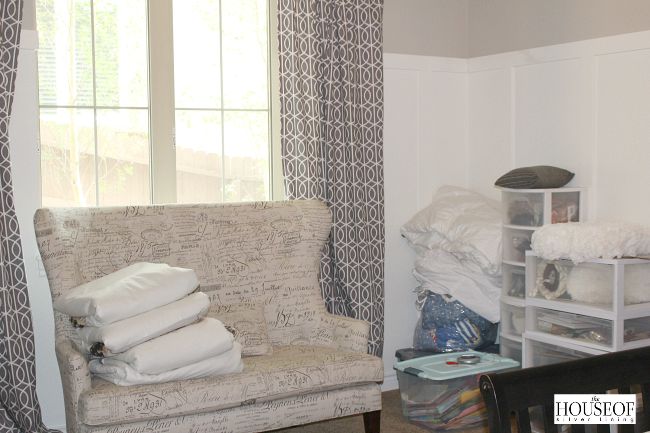 There's that dumping ground I was talking about!  See that blue bag over there?  That's my 16 year old son's old crib bedding!  Say what??? I just can't let go of some things!  Will he use it in his future child's crib?  Pretty sure his future wife will say NO, but I'm hanging on to it just in case.  Oh yes and that bin with the blue lid over there…kindergarten papers from him as well.  He's 16 friends!!  What is wrong with me!  I do plan to go through those papers soon and purge…promise!  Because I have 3 boys and those same collections for all 3 of them!  That's a whole other blog post on organization (I LOVE ORGANIZATION!). Enough of the BEFORE photos, let's see the AFTER!
I knew I wanted navy blue, so I designed everything around the bed. I scored a great deal on a duvet cover at Homegoods, so was able to keep my down comforter.  Not everything in here is new but is repurposed.  Pillow covers are a great way to update the look without buying a whole new pillow.  You'll recognize the lamps too that I pulled from my living room. I love how everything feels new when moved to a new room!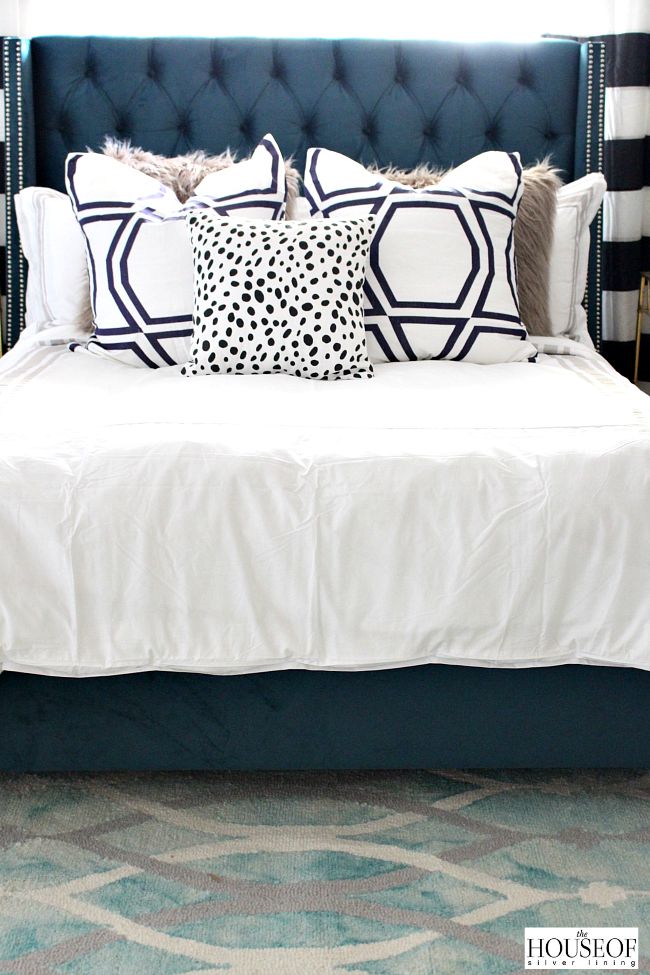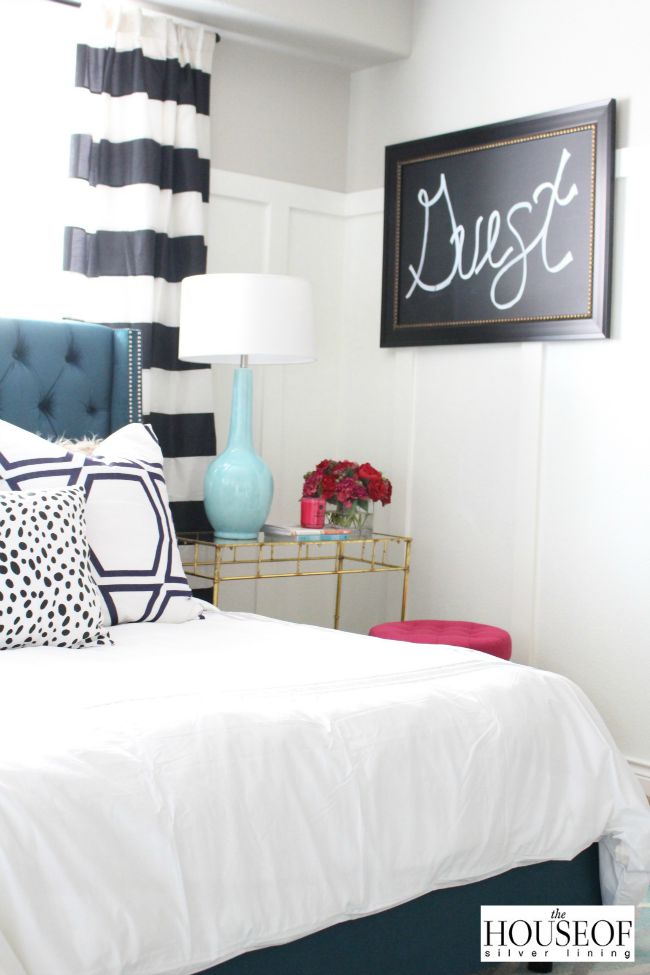 I added some of my favorite books to the night stand.  Candles and flowers add that special touch that make your guests feel welcome. The Guest sign is a chalkboard that I scribbled out the word "Guest" (I probably should consider taking a calligraphy course). I've had this board for so many years and have had fun writing different messages on it throughout the seasons.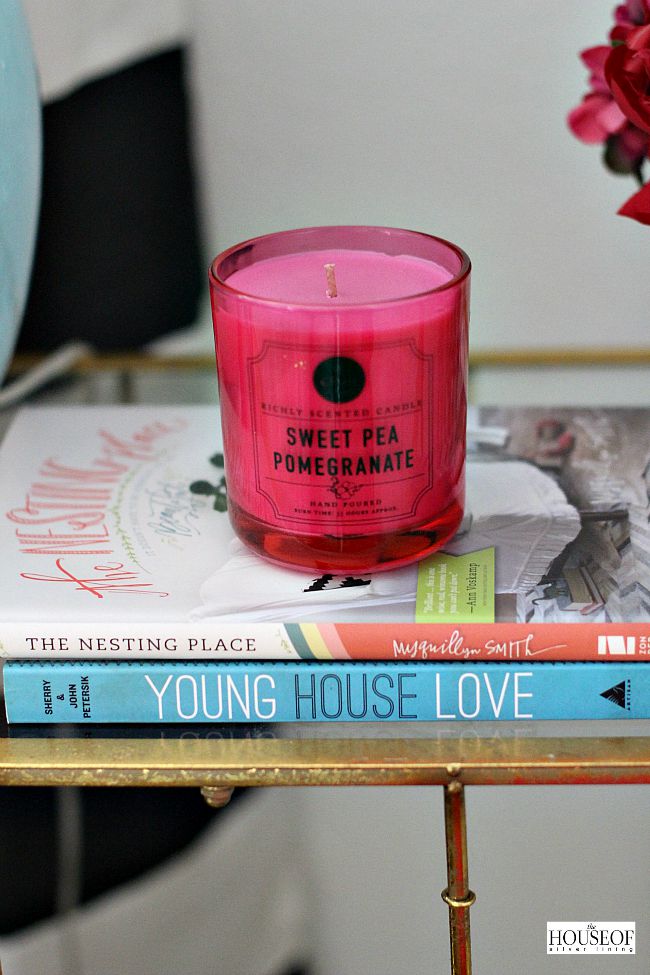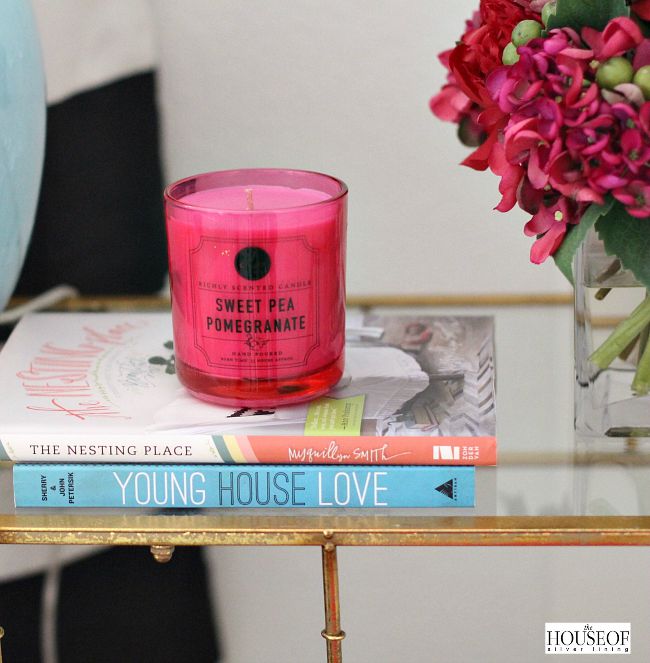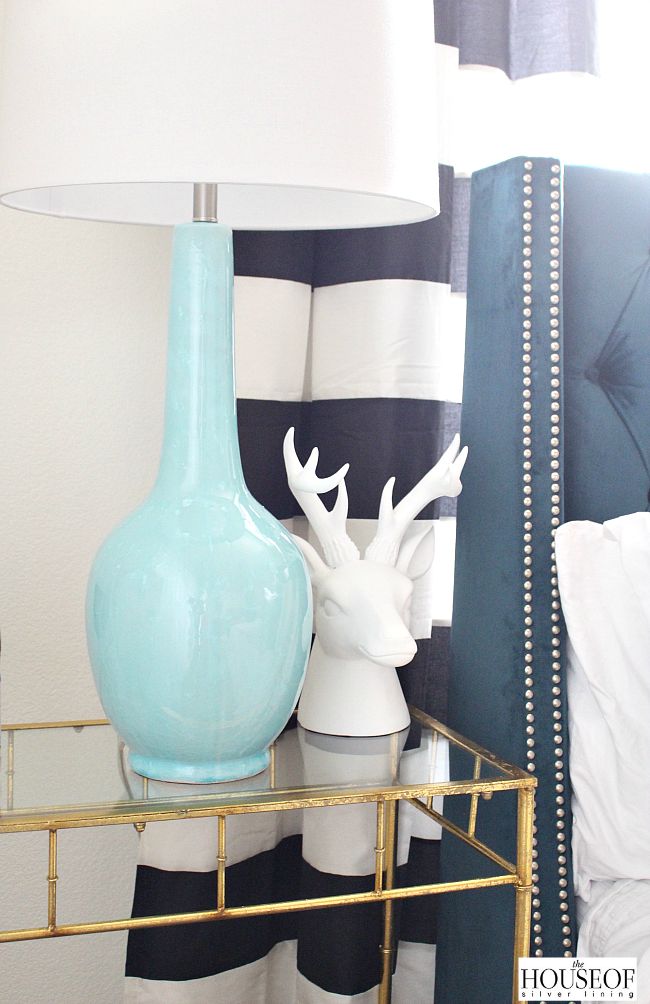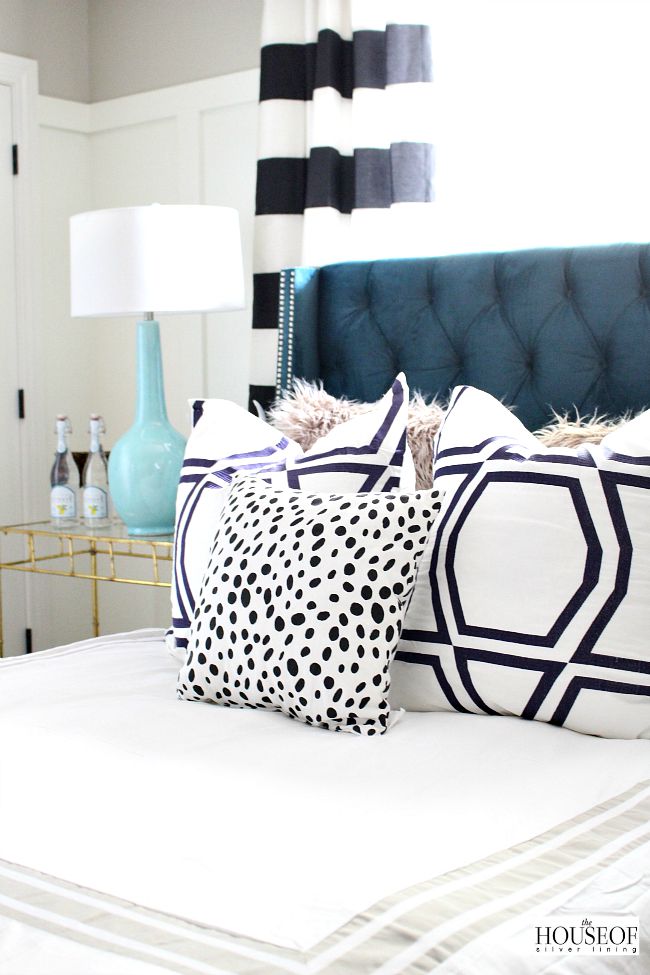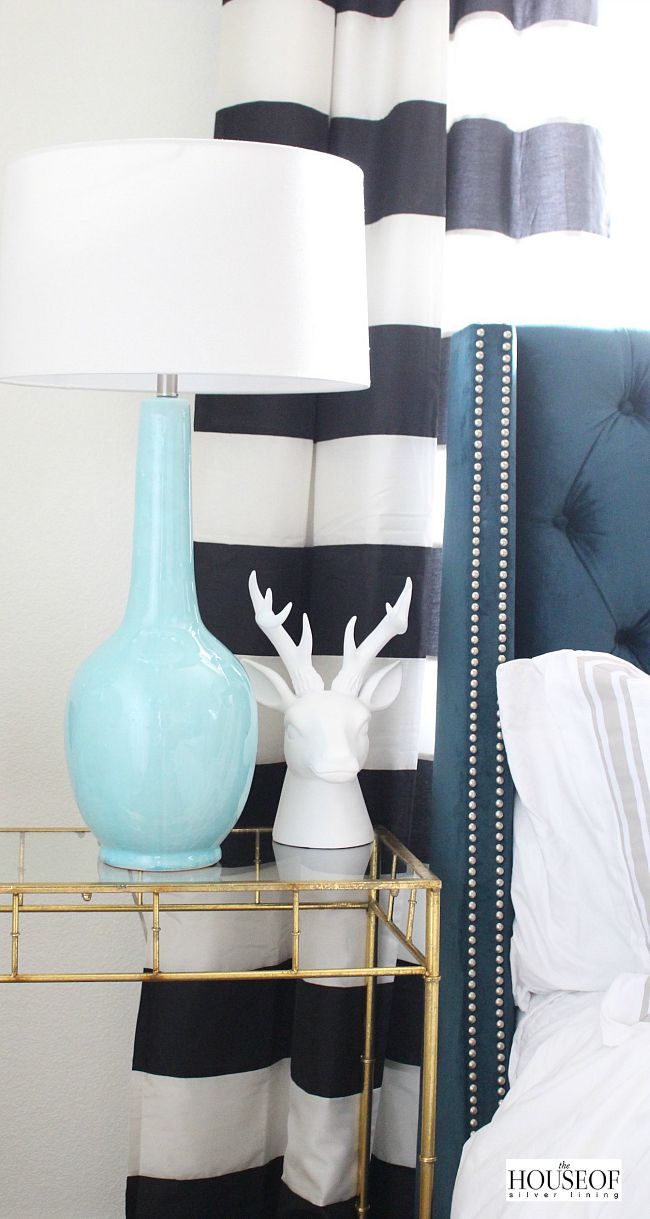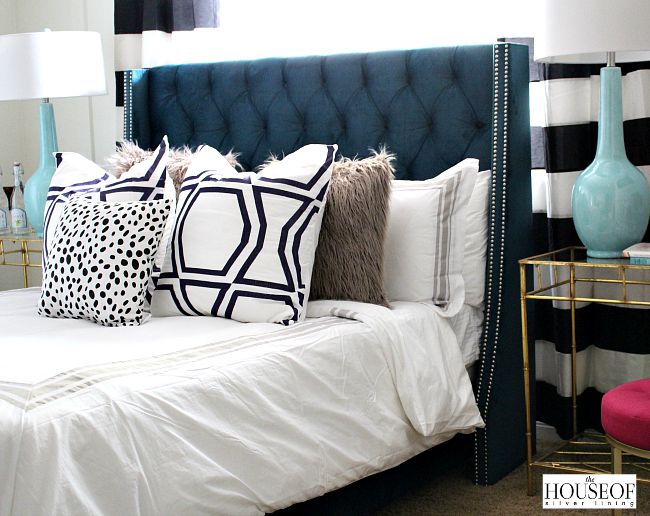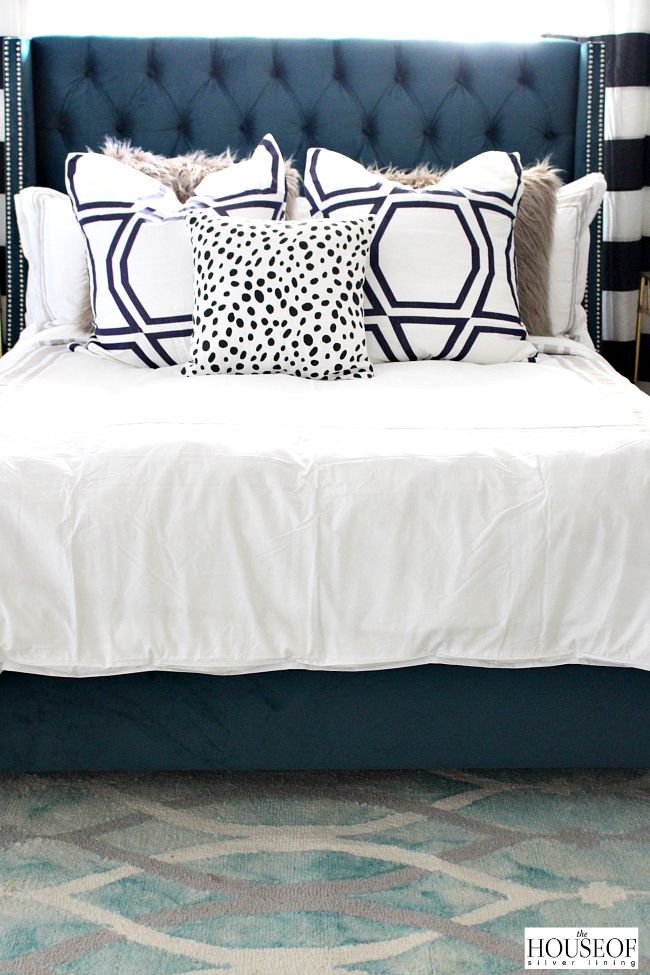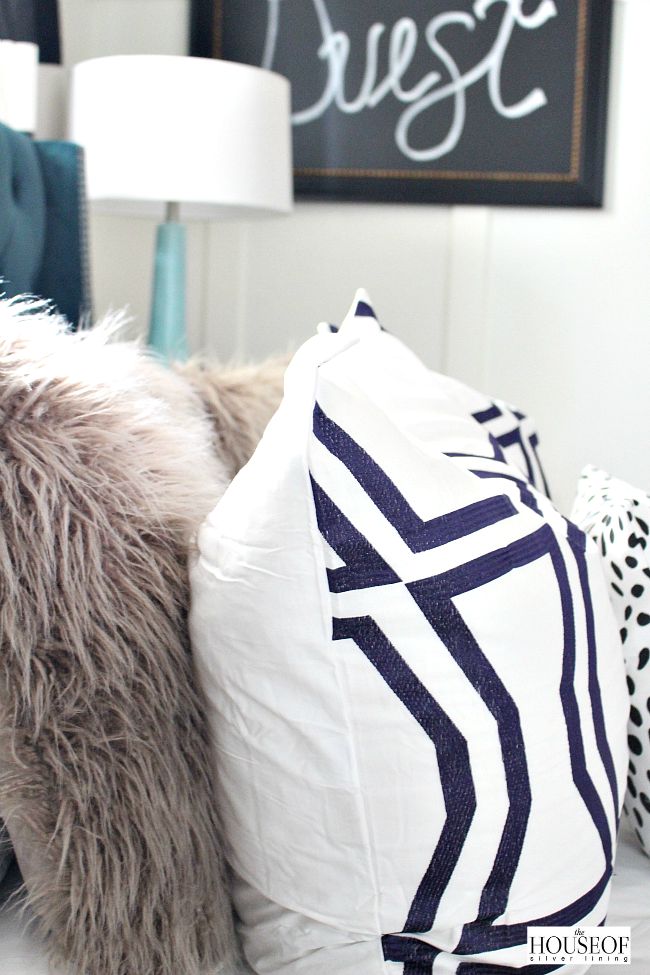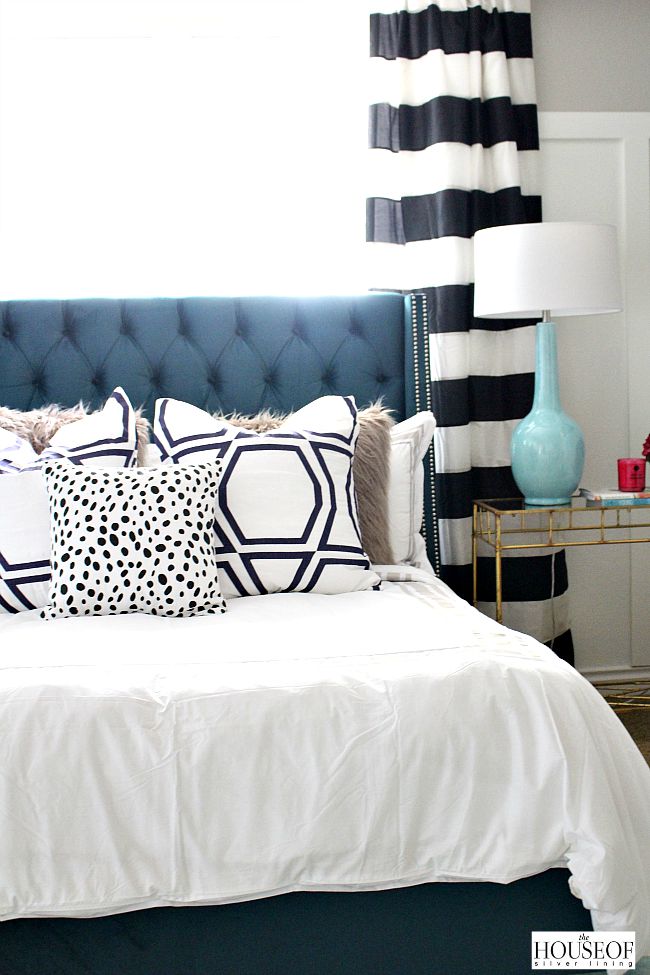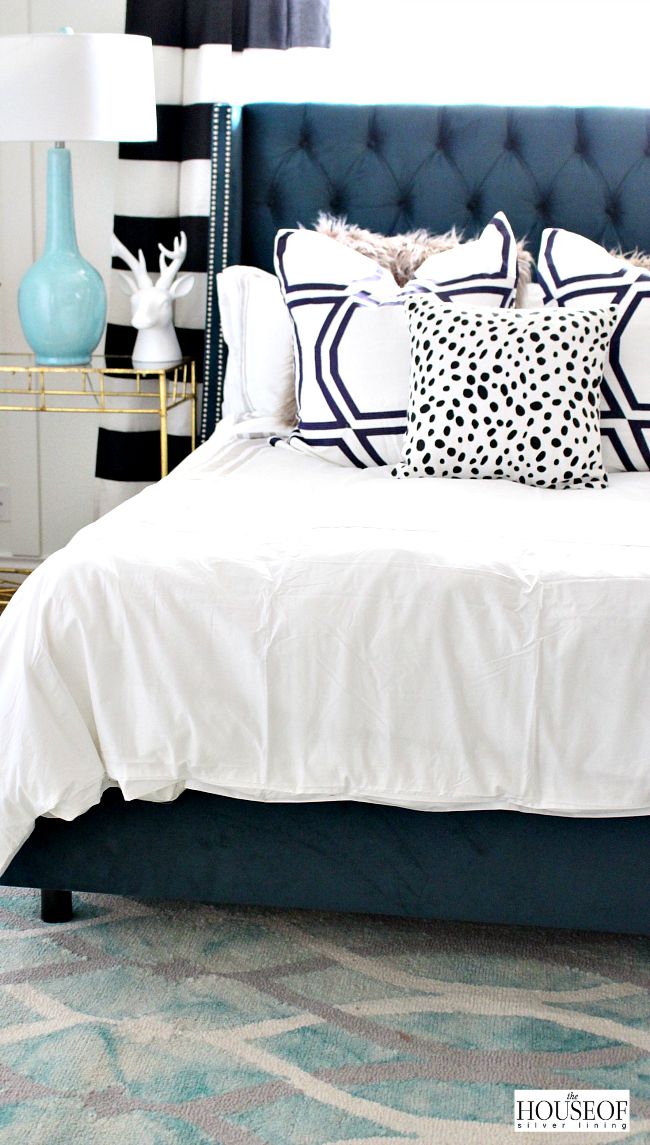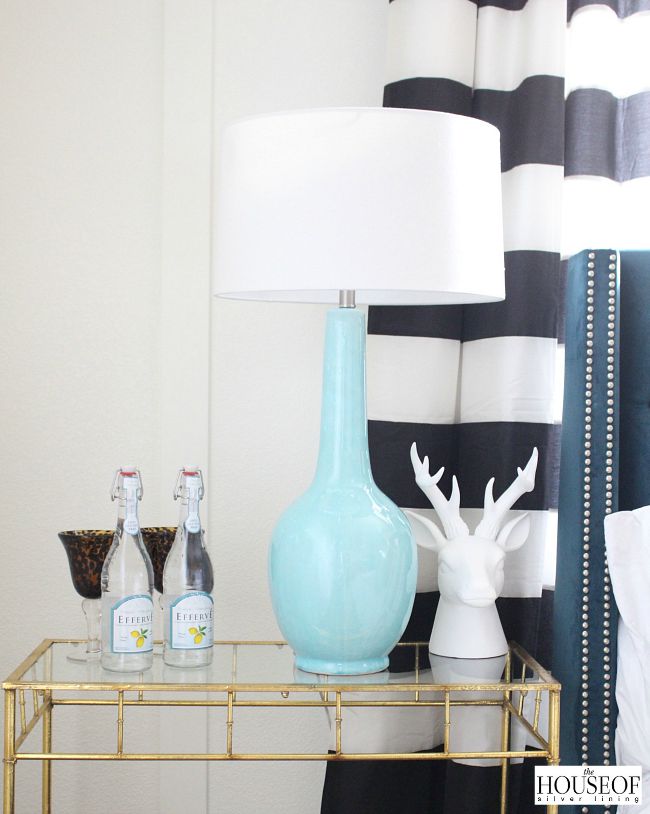 Why not give your guests some sparkling lemonade in cheetah print goblets!  I didn't have to go out and buy accessories, I just shopped my kitchen cabinets!  The deer head was a fun purchase from Target last Christmas that I decided to keep up year round.  I love a sense of whimsy in every room!  I found these matching gold wrapped night stands at Ross for $40 each!! I love a bargain that replicates some very high end pieces I've seen lately! I feel so accomplished getting this room looking a little GLAM!  I've still got some work to do on the opposite side of the room.  I'm thinking of a large gallery wall.  I'll keep you posted on the progress!  At least all the clutter is cleared out and the room is ready for the next guest!
Drapes Z Gallerie
Rug Joss & Main
Bed (similar)
Fur Pillows  Wayfair
Duvet Cover/Flowers/Candle Homegoods
Dalmation Pillow Hobby Lobby
Geometric Euro Sham Nordstroms
Sheets (similar greek key)
End Tables  Ross (similar)
Lamps  Homegoods (similar)
Pink + gold Ottoman – (similar)