Halloween Bash Spooktacular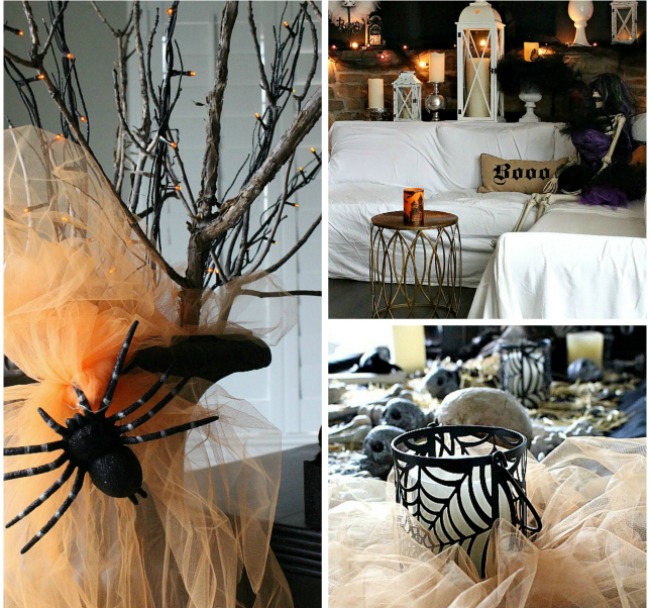 I have a few design tips for turning your home into a setting for a Spooktacular Halloween Bash!  I've always been fascinated with haunted mansions, like the infamous Haunted Mansion at Disneyland. When I think of an old creepy mansion, I think of white sheets draped over furniture, cobwebs, unkept landscaping with bare trees, eery glowing candles, and spiders everywhere.  Yikes! Enough to make my skin crawl! For our Halloween Bash this year I set the tone for that haunted mansion vibe.
First we had to clear our basement family room of all the furniture since this area would turn into a dance floor once the party was going.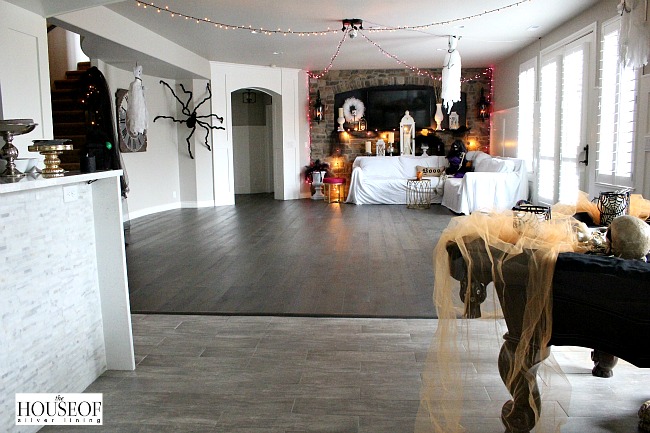 I used a few strands of purple and orange lights strung along the ceiling to light up the room enough but not too much. There's even a disco ball up there! No party is complete without a disco ball, right??
Let's move in closer…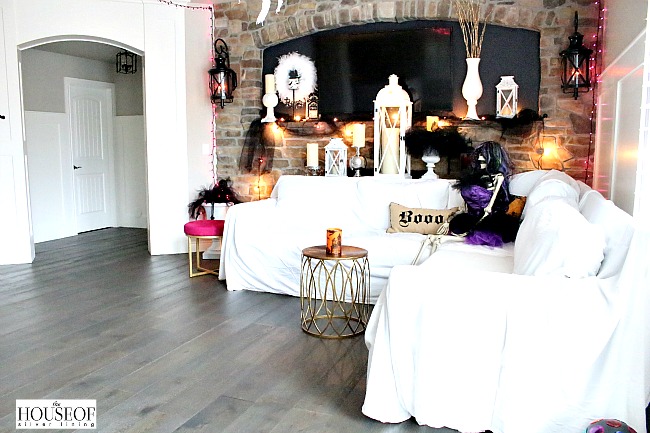 Since we didn't have another room to move our sectional sofa into, nor did we really want to break our backs doing that, we covered it in old white sheets.  At night when the room is dark and glowing with ambient light, the white sheets draped over the sofa looks so spooktacular!
Candles also set the tone for that glowing, elegant, mansion look. This is where I literally just raid my decorations and find urns, cake stands, candelabras or anything to give my candles variegated height.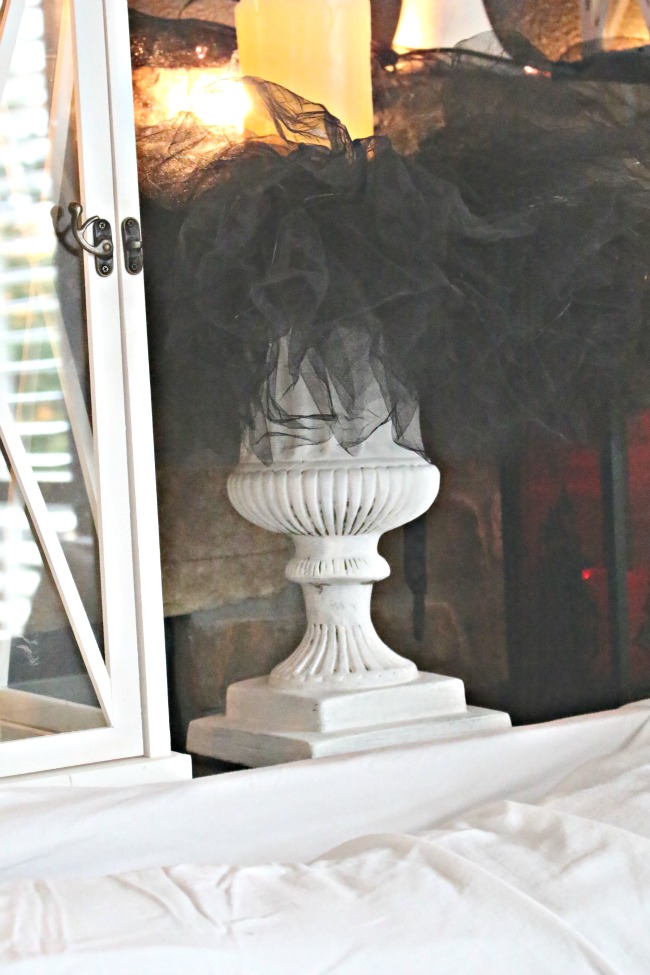 You may be wondering what this black fluffy thing  is.  Looks like a fire hazard if these were real candles! But they're not so need to run for the fire extinguisher!  This is actually a tutu that I wore for a relay race one year.  That's a whole other story but let me just say that running through a graveyard at one in the morning with no sight of life nearby in the pitch black with only a headlamp to light the path is downright TERRIFYING!!!  I'm pretty sure my feet weren't hitting the ground at that point! I love how the tutu dresses up my urn in all of its fluffiness!
Meet Helga…she's the life of the party!  She's wearing my old witch Halloween costume from a few years back.  The pillow was from Pottery Barn last year.
And Helga's baby…also wearing a tutu!
Moving on to the other side of the this large space is where our pool table is.  We definitely weren't moving that either.  Who has time for broken backs??  I found my perfect spot for my graveyard scene.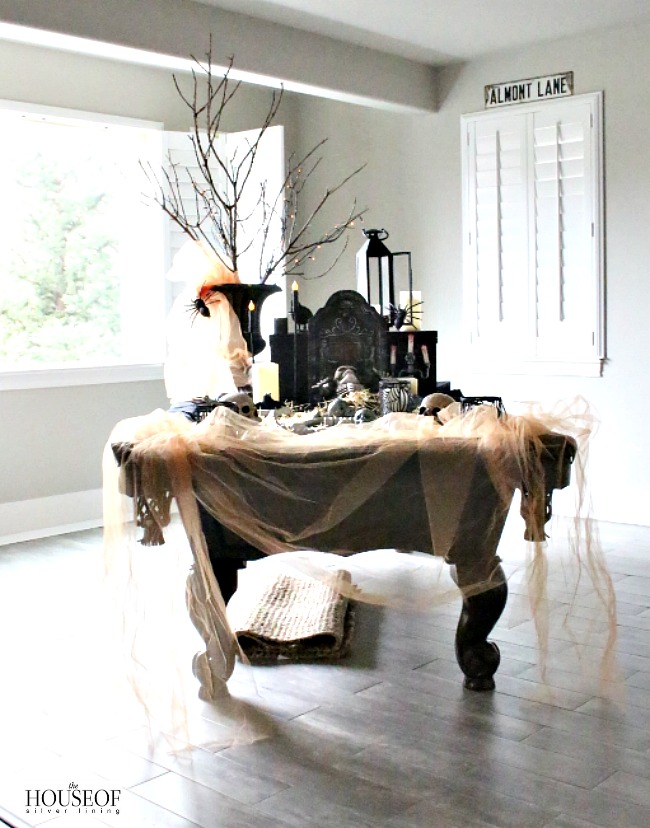 I covered the surface with a black tablecloth to protect the felt. Draping tulle over everything has become my thing for decorating events.  I love the elegance and whimsy of it!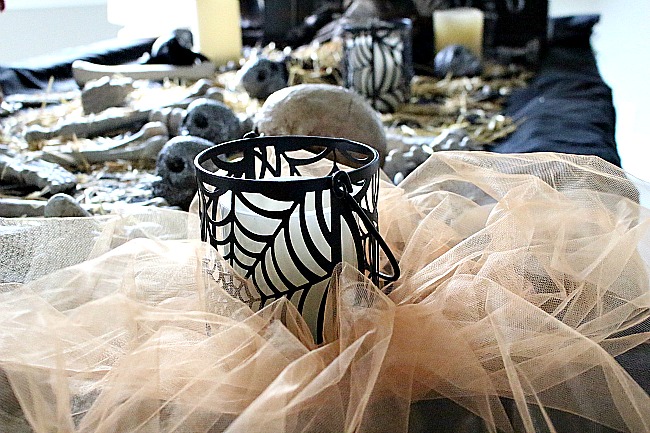 I scattered some straw from my straw bales I had for my fall porch. I've collected skeleton heads and bones over the years, like when I run through graveyards at night! Ha! The little silver glitter skulls are from the Dollar Store and the eyes glow different colors when turned on.
Of course no decorating is complete without some tree branches! These are my absolute favorite element of halloween style and the best thing is they're FREE!  I had quite the adventure with my partner in crime gathering these last year. You can read that story here.
I have about twenty candles on this table from tea lights to luminaries. When they are all turned on at night, the glow is hauntingly creepy!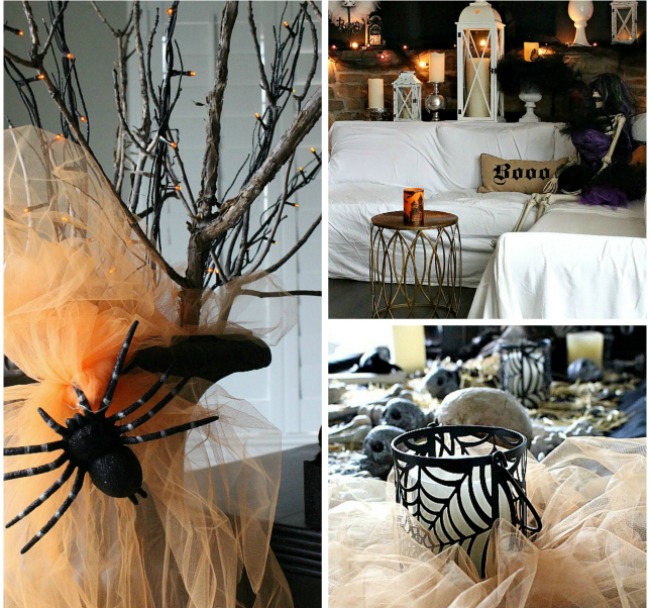 The halloween bash is always SO.MUCH.FUN!!  It deserves ALL CAPS because every year this part of our home becomes a great gathering spot for neighborhood friends to gather together.  Until next year…