Spending a halloween photoshoot day with Better Homes and Gardens in our home checks off a bucket list item in my blogging career.  If you would have asked me two years ago when I started blogging what one of my blogging goals was, I would have said to get our home published in a magazine. A couple months ago, Ann Blevins (Editor of Better Homes and Gardens Special Interest Magazine, "Halloween Tricks & Treats") emailed me asking if I would like to have our home photographed for a magazine feature for 2018.  She was so considerate of our current hectic schedule of building The Forest Modern and allowed me to choose the timeframe they would come. Of course, I chose right before Halloween because who wants to dig out skeletons after Christmas!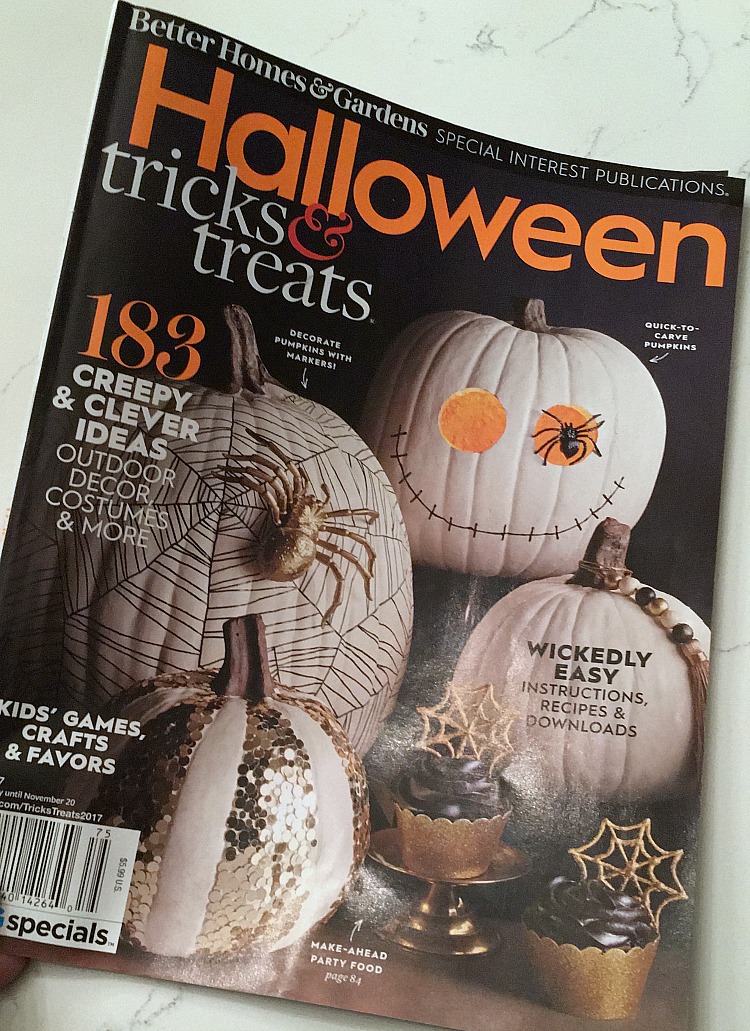 Prepping the house for the photoshoot was actually pretty easy. I have so much halloween decor on hand from all of my years of decorating.  Ann told me she really liked our halloween tour from last year so I knew I needed to kind of go in the same direction with my halloween decorating but with a few tweaks.  I have heard from other blogging friends whose homes have been photographed for magazines that often times they rearrange and "redecorate" your home for the photoshoot. I was fully expecting this to happen.
The day before the photoshoot, Ann and Jay (the photographer) arrived to drop off all the camera equipment. Let's just say his camera equipment put mine to shame. They walked the rooms they planned to photograph to get an idea of lighting. Our piano room, living room, and kitchen eating area were the areas to be photographed. After Ann looked around at how I styled each space for the photos, together, we discussed other props we may need to shop for.  Things like more candles, pumpkins and succulents. Who would have thought that succulents and halloween were such a good match. Just wait…you'll see next year! 😉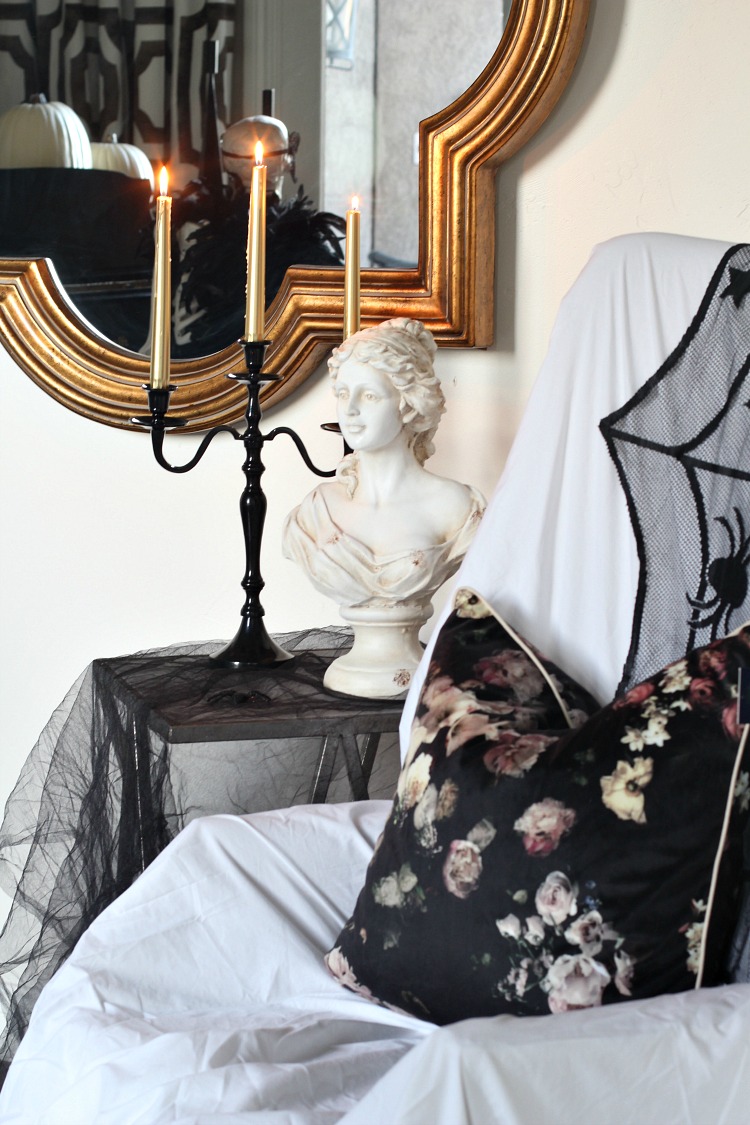 I can't share any styled spaces that will be in the magazine but here's a little vignette in our piano room that didn't make the cut but I still love it. An old sheet draped over a chair, black tulle billowing over a side table and a moody floral pillow. Do you get the feeling of an old, elegant, haunted mansion?
Ann and Jay arrived at 8:30 a.m. on photoshoot day and we went straight to work. Camera equipment was spread out in each room. It's no wonder those magazine photos look so spectacular!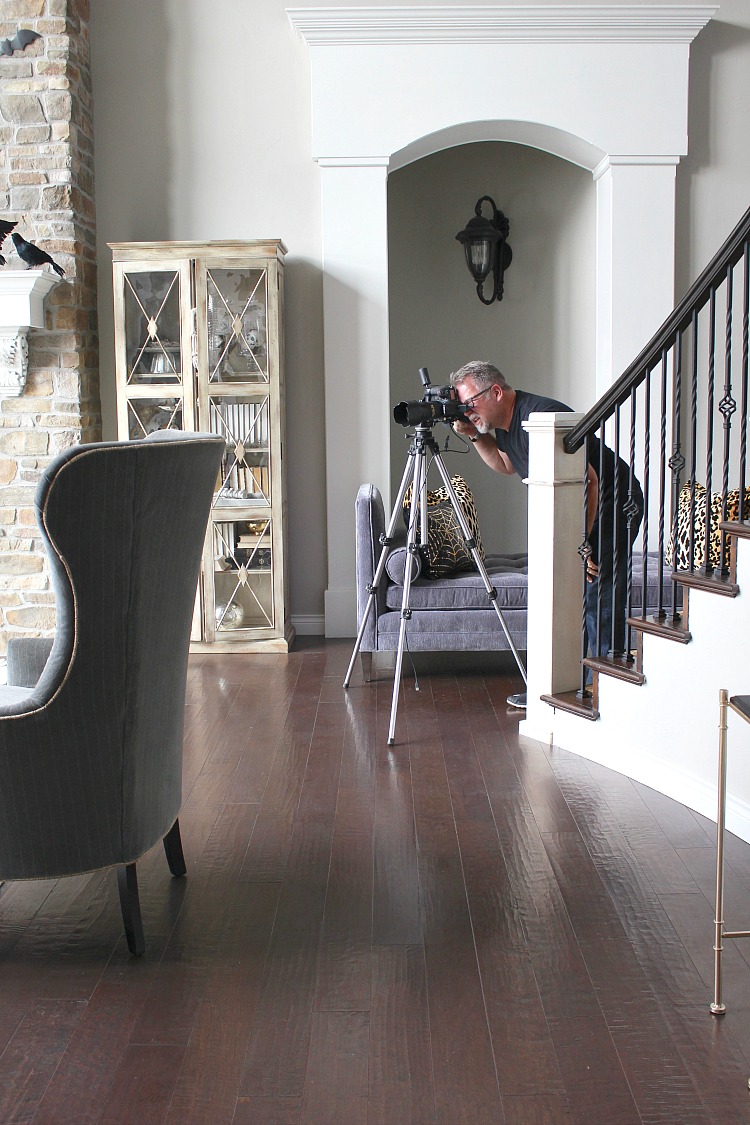 The whole process of what goes into one photo was so interesting and I loved getting professional insight on how to truly capture the mood of a space. Ann and Jay would study a vignette or section of a room and determine what they wanted to zoom into.  Once that was decided, furniture would be shifted, rearranged and even moved out of the room.  Like my daybed that normally sits in front of our fireplace.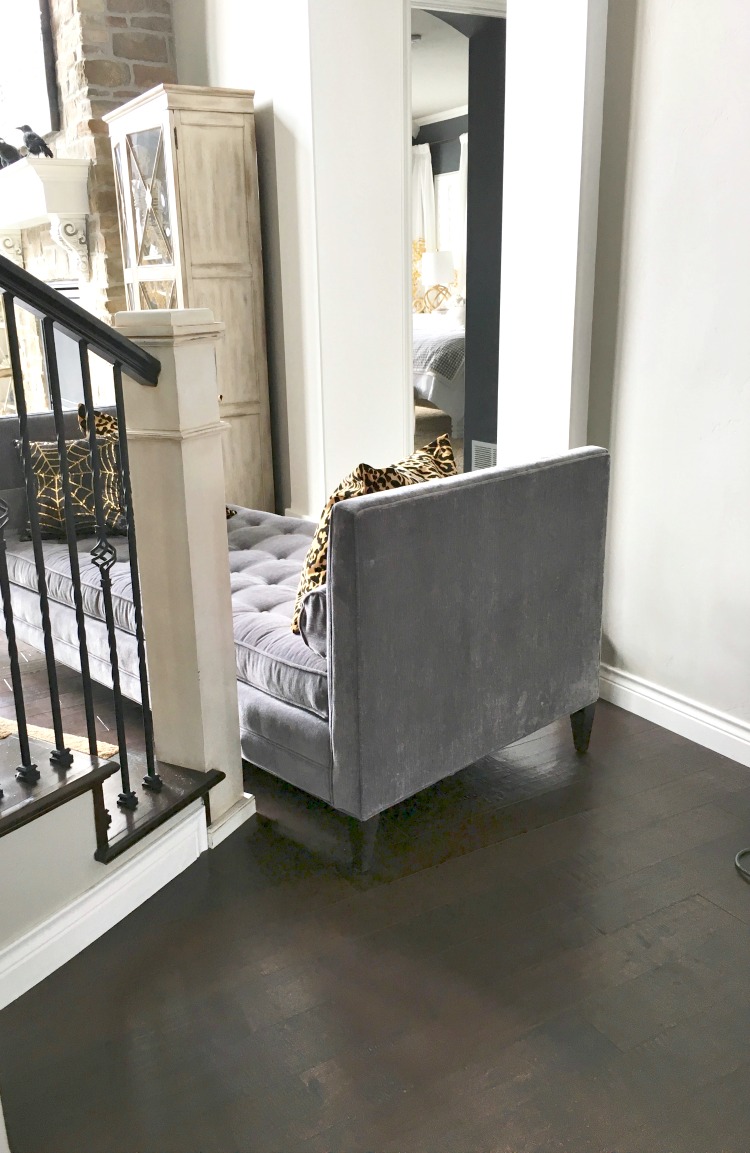 I learned that my system for photographing a room is actually so backwards. I normally get the entire room decorated and then take at least 30 photos of that one room. Totally not necessary. I think we can all appreciate the feeling we get from just a few photos of a room that precisely depict the mood and style.  Zooming in on details that define the feelings you want the photos to evoke. Sometimes, us bloggers tend to share ten angles of the same vignette.  That can be so redundant and pairing down gives a stronger impact. Keep me accountable with that for my Christmas tour! 😉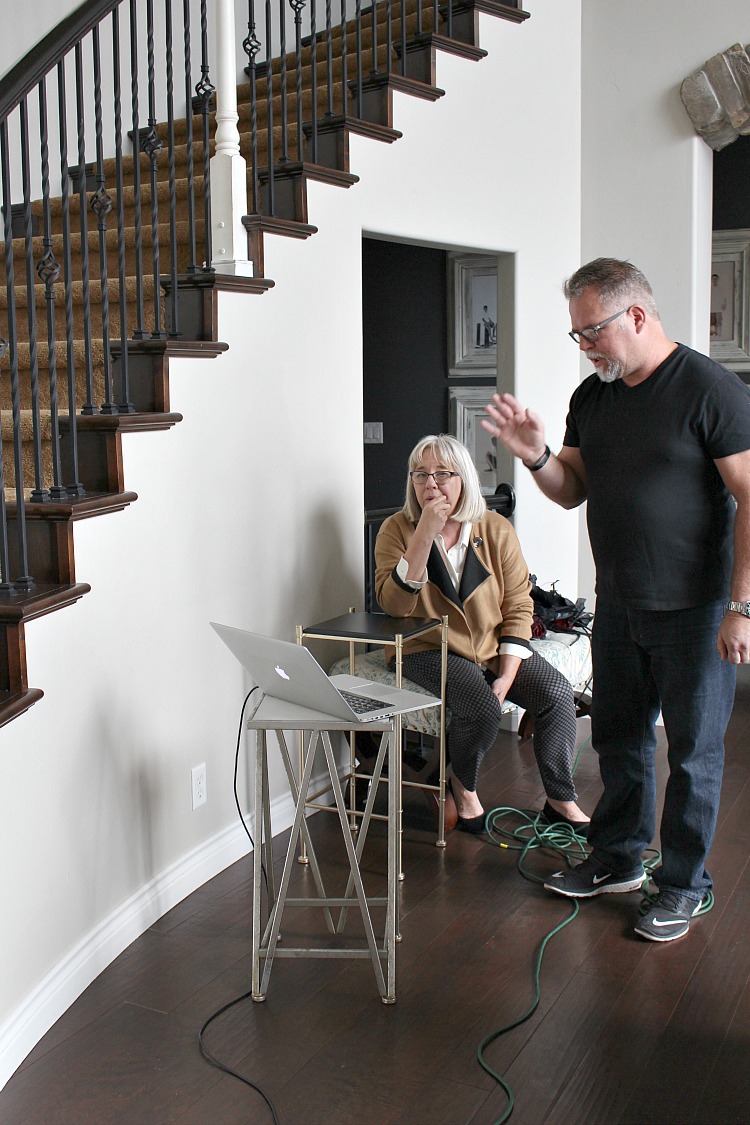 Ann and Jay would take multiple images of just one focal point in the room and look at the photos on the laptop.  The idea was to "set the frame" of the space and look ahead to how it would lay on the magazine spread. An "empty space" in the photo would allow for text you often see above a photo. Once the frame was set, Ann and I would either add items to or take away from the styled space.  I really appreciated how fun and easy Ann was in working with me to style each space. We would play around with the candlesticks and candelabras until we found the perfect ones. More photos would get snapped and we would analyze them to see what was missing or what was hindering the photo. Once we had each space styled "perfectly" Jay would only take a couple of photos and that was it! I was so surprised thinking he'd need to take a hundred (like I do…because I'm no professional photographer).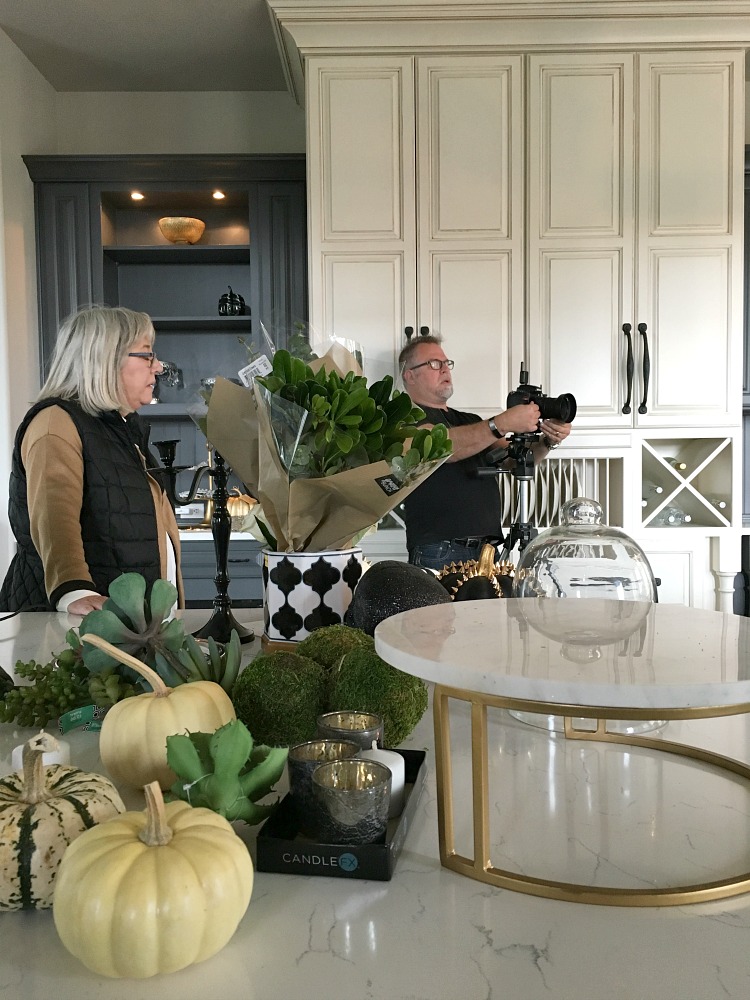 Excuse my subpar photos. I was afraid I would look like a moron pulling out my camera next to Jays' so I just snuck a few candid shots with my iPhone.  My kitchen island was grand central station for props. By the time we were finished my living room and kitchen looked like I was in the process of moving.  Furniture scooted off to the side, random pieces everywhere. So fun though!
Oh the things photographers will do to get the perfect photo. Apparently my cage chandelier over our kitchen table was interfering with the "framed photo" so Jay climbed a ladder and hooked it to the highest chain link. Like I said before, so much effort and thought goes into those magazine pages.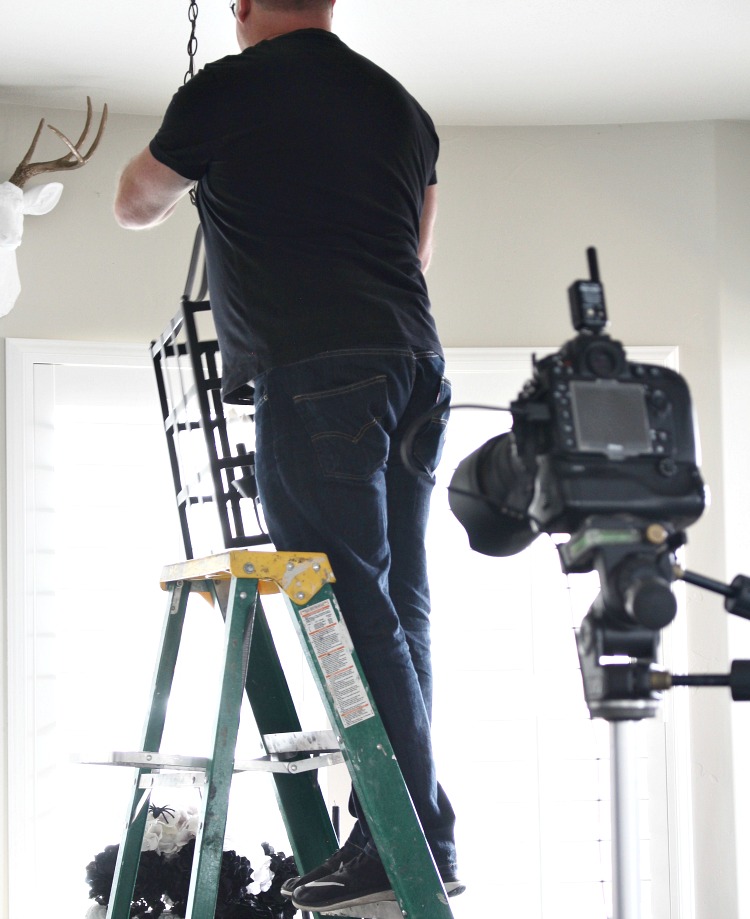 After 7 hours of photographing and styling I think we were all beat.  The day was truly so fun and I was relieved with how comfortable this crew made me feel.  Before they left, I pulled out my camera for this photo.  I was sad to see them go since I felt like I had made some new friends. We shared stories throughout the day and I loved getting to know them beyond "editor and photographer."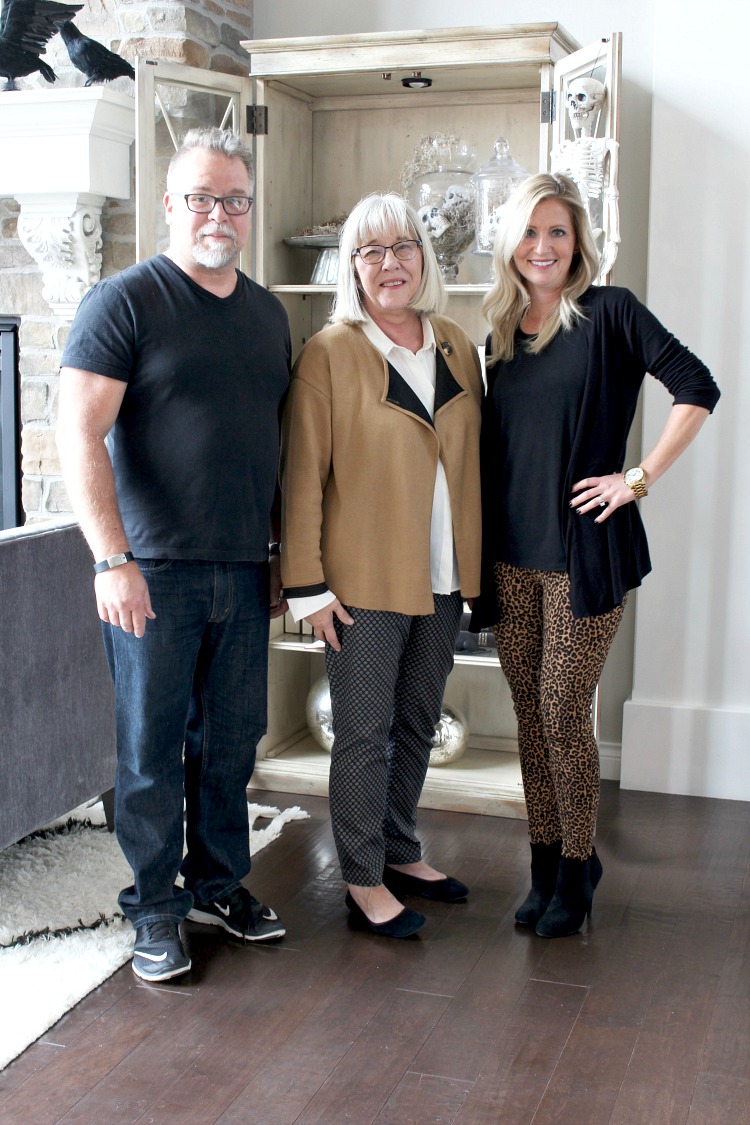 My neighbor was so sweet to keep Kodak and Gucci for a playdate at her house all day. Of course they had to come say hello before the crew left and get their photo taken (by me).  Notice that Kodak is half his size. His dreadlocks were a little out of control and matted so we had to shave him. I may have shed a tear over that. For now, he feels velvety soft.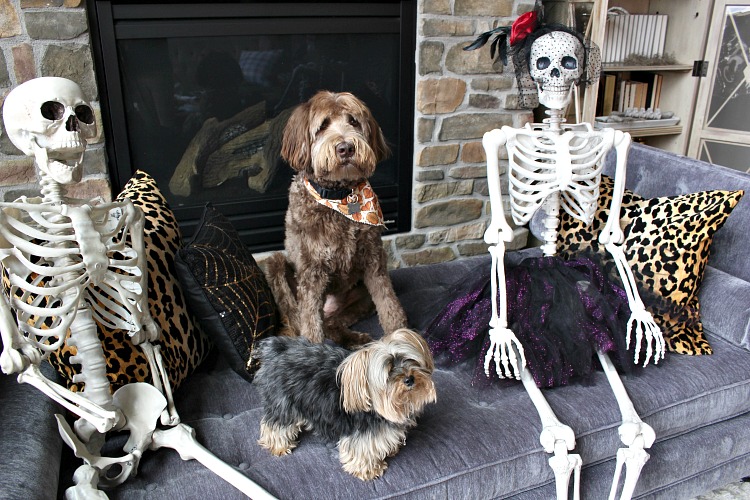 The skeletons may or may not be in the magazine. You'll have to buy the special edition "Halloween Tricks & Treats" magazine next fall to find out!  Thank you Better Homes and Gardens for appreciating my whimsical, spooktacular sense of halloween style. My favorite time of year to decorate!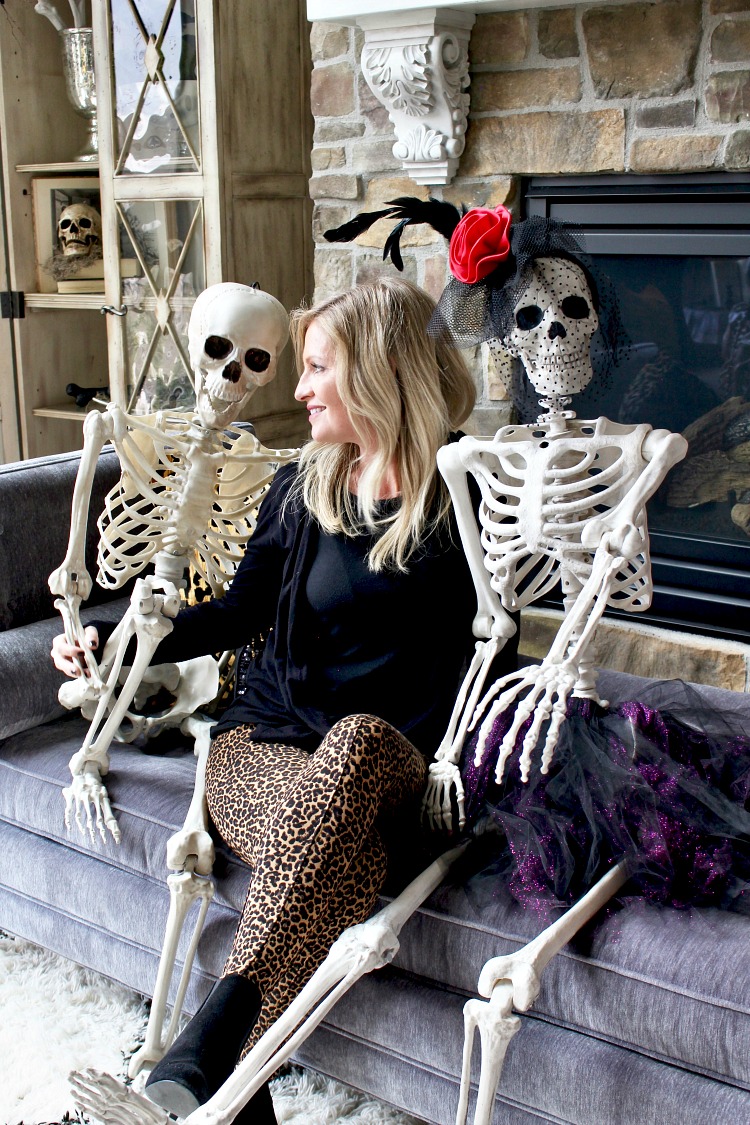 Happy Halloween from our home and the skeleton crew that keeps the practical jokes and laughs abundant.