Kitchen Open Shelf Styling For Fall
Fall is already in the air with cold mornings and evenings in our neck of the woods. A hazy fog blankets our forest trees as I rise early in the morning to take the dogs out and prepare for my morning run. I get so excited this time of year for season change! The colors are my favorite! My styling approach to fall has scaled way back from previous years. I think it's the season of life I'm in where I need easy, intentional, practical and minimal. It's all about incorporating practical items in colors I love. Black with subtle hints of fall colors in copper and gold. Today I'm sharing how I've styled the open shelfs in our kitchen for fall.
This post is sponsored by Walmart and contains affiliate links. All photos, reviews and opinions are mine. Please see full disclosure and photo policy HERE.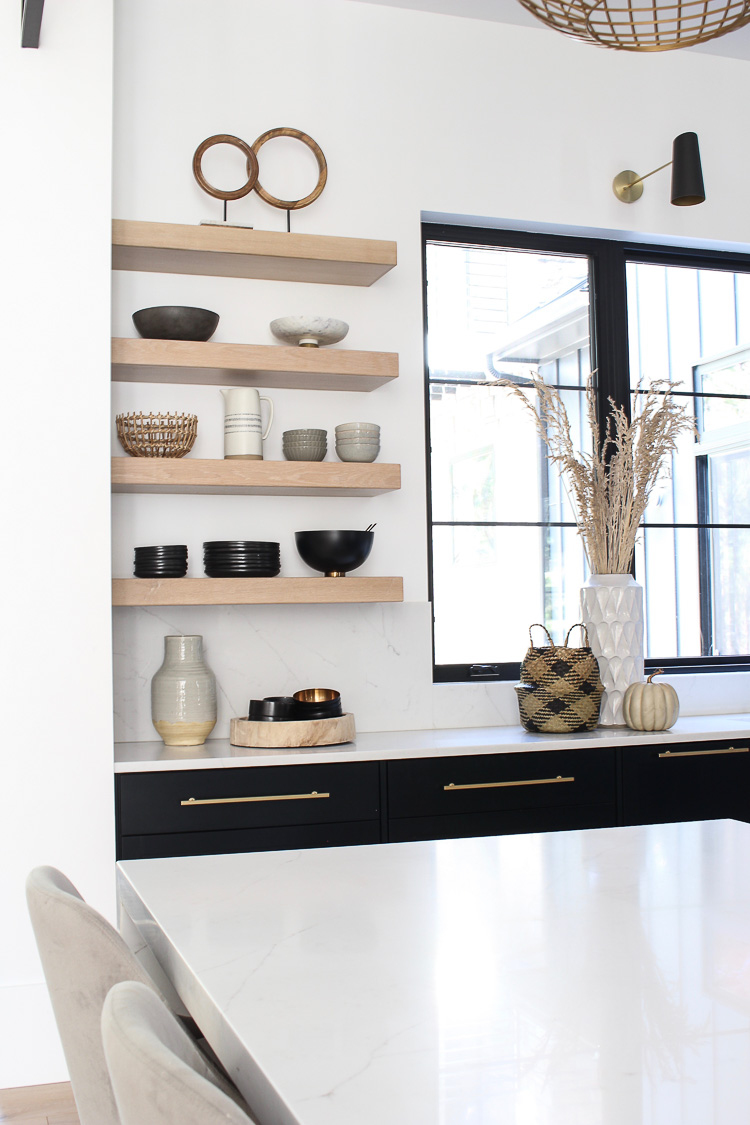 I absolutely love having these open shelves in our kitchen. The idea of having your daily dishes on full display is enough motivation to have pretty dishes. As you can see, I keep my shelf styling pretty basic. Dinner plates, breakfast bowls, serving bowls and a basket for bread. I like to keep these functional items within arms reach so I can easily grab them when preparing a meal.
I found some great new pieces to style my shelves for a fall color vibe from Walmart. By now, you know that I source quite a bit of my home items from Walmart.com. Their curated Fall Harvest selections are sure to have everything you need for styling and hosting this fall season! It's easy to shop your specific design aesthetic with their Shop by Style looks. I'm really so impressed!
I switched out our traditional white plates for this gorgeous black dinnerware set. I love the speckled pattern on the dishes that give it a more upscale look. The set of dinner plates, bowls and salad/dessert plates are so perfect for bringing in warmth to my shelfs.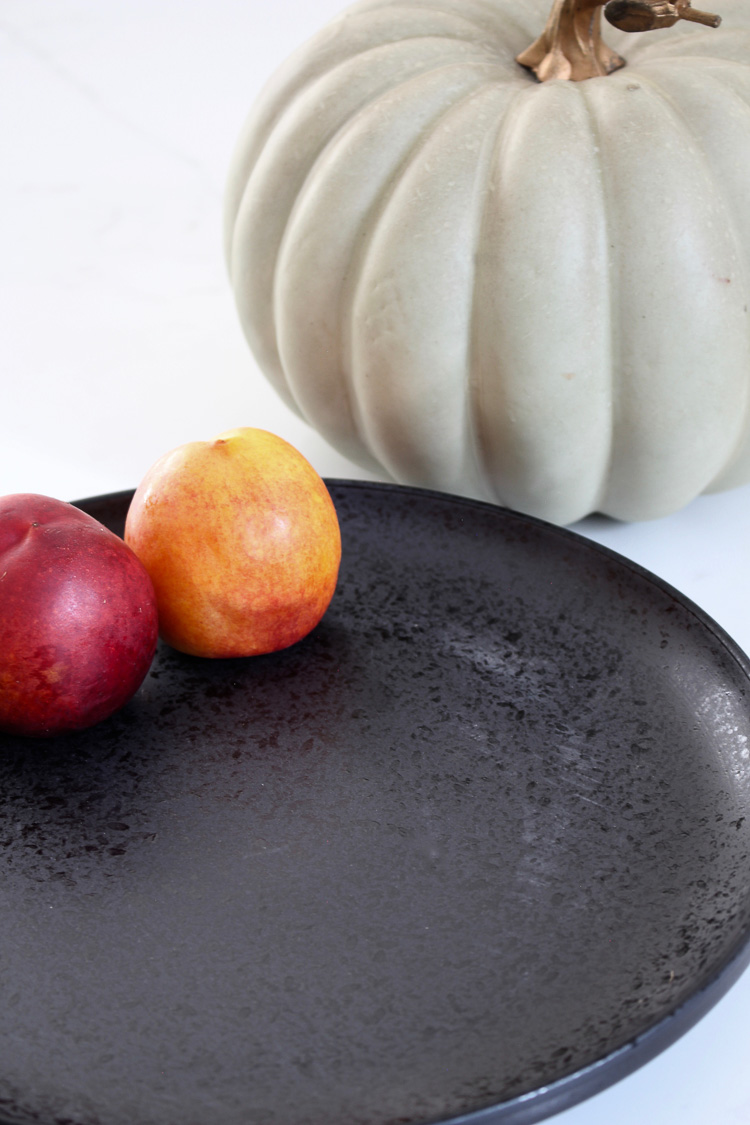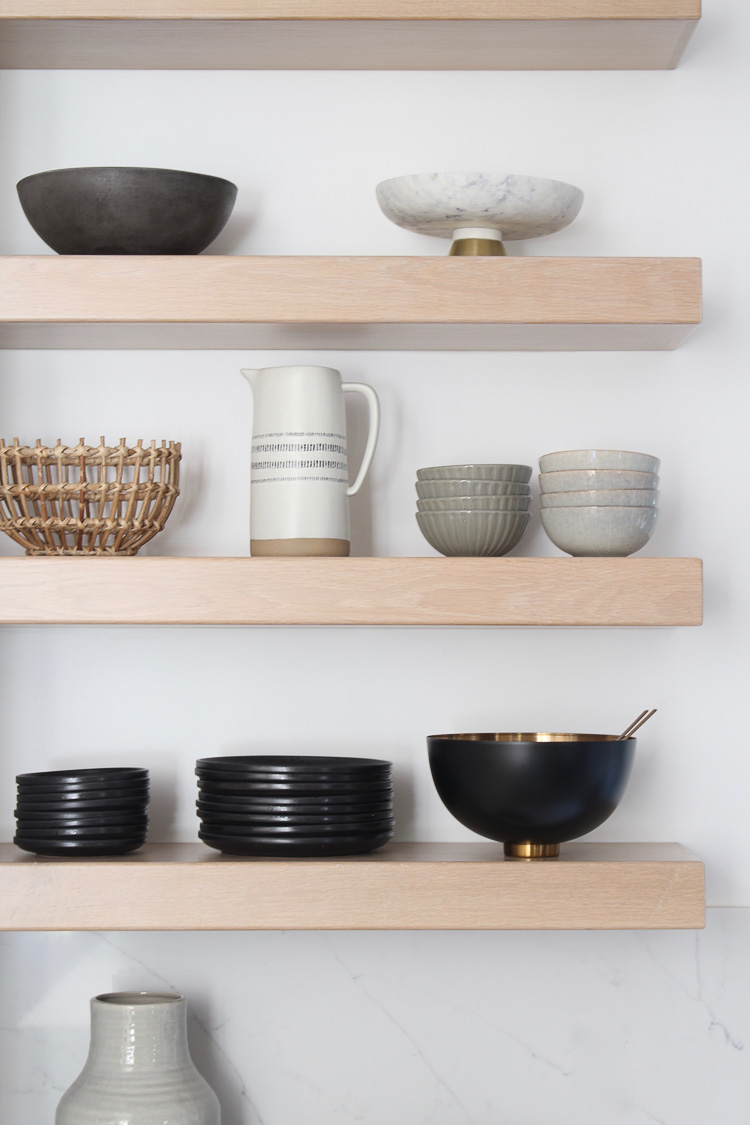 Another fall addition is this black + gold bowl set. I love love love the gold interior and pedestal base. Subtle yet bold. Quite the statement maker for display on a shelf.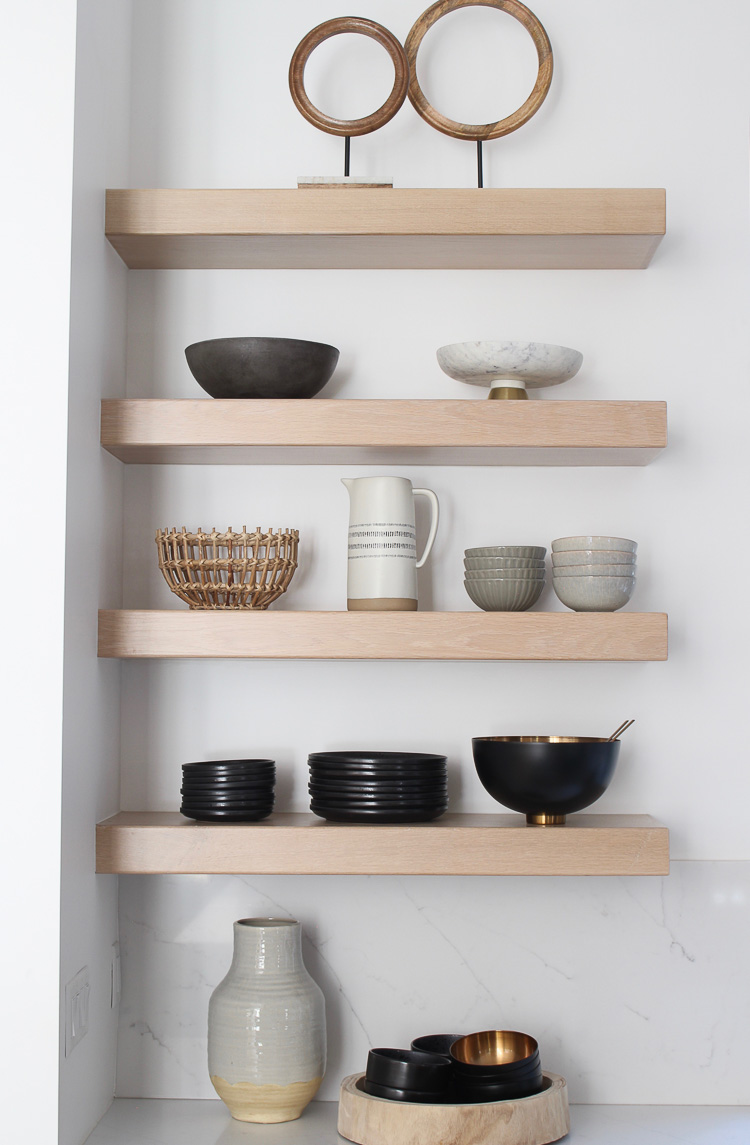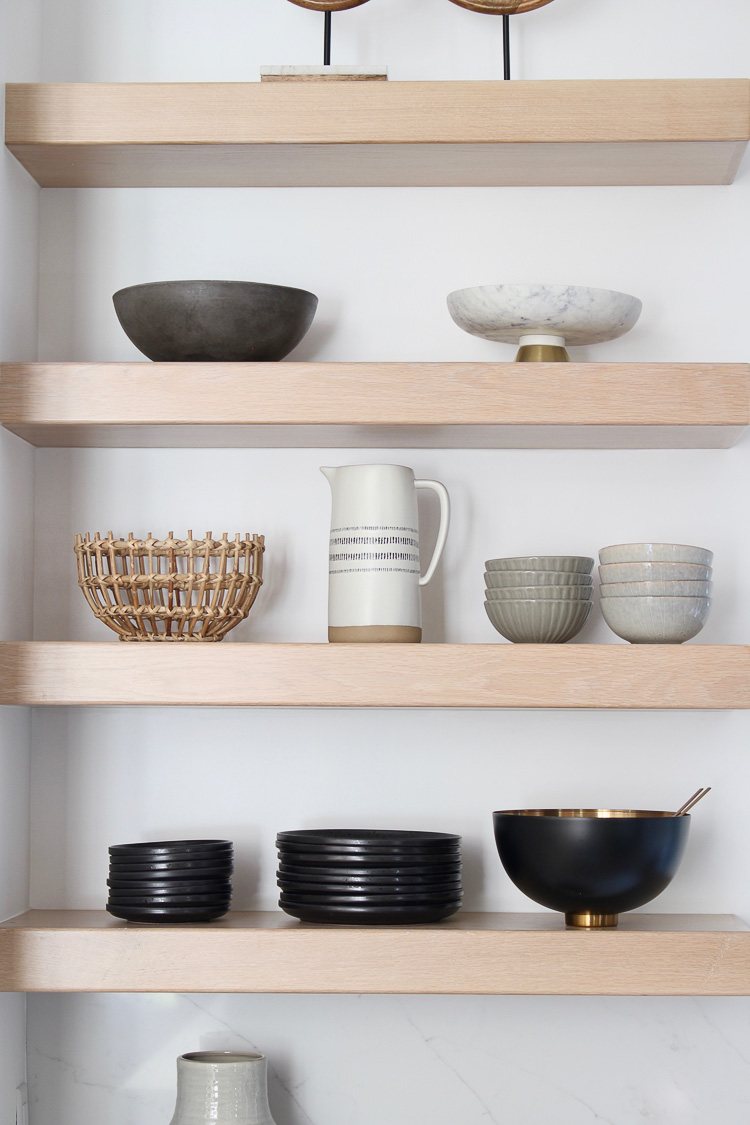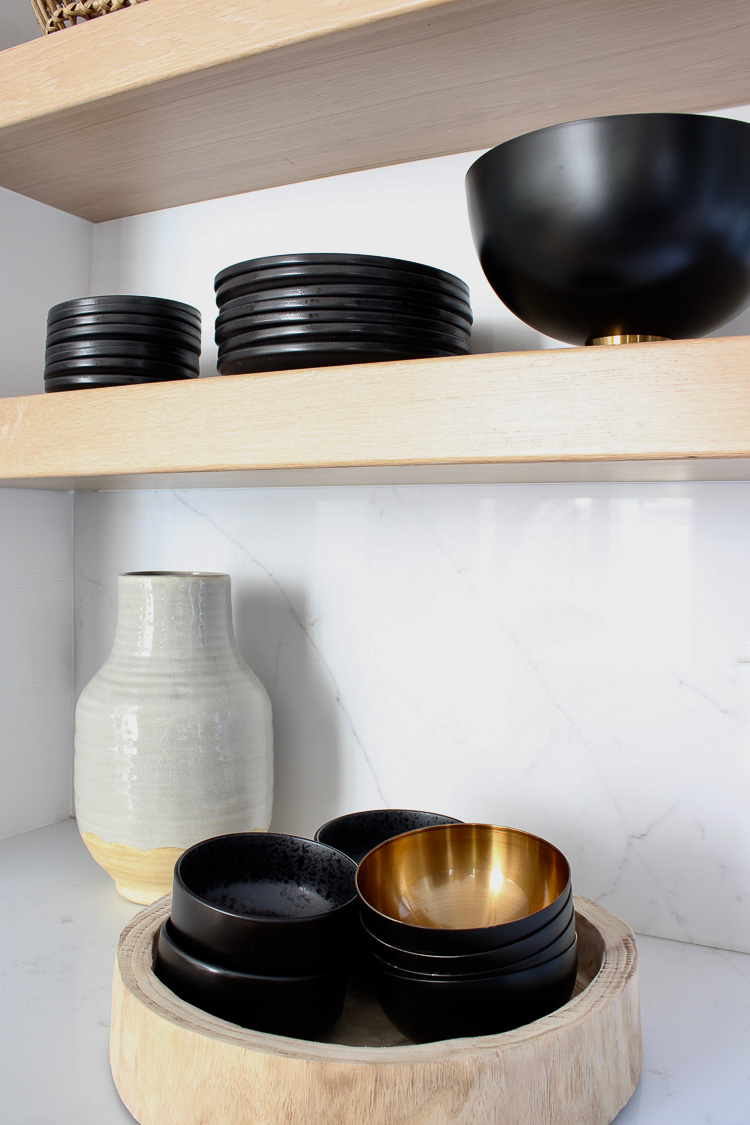 I always like to mix an organic, raw, feel to styling with a bit of modern glam. This wood carved tray brings in that vibe. Trays are always a good staple item to have in your kitchen or anywhere in your home. They serve so many purposes. I especially like to use them to group items together.
That gold though…gah! I feel like those bowls were made for my home!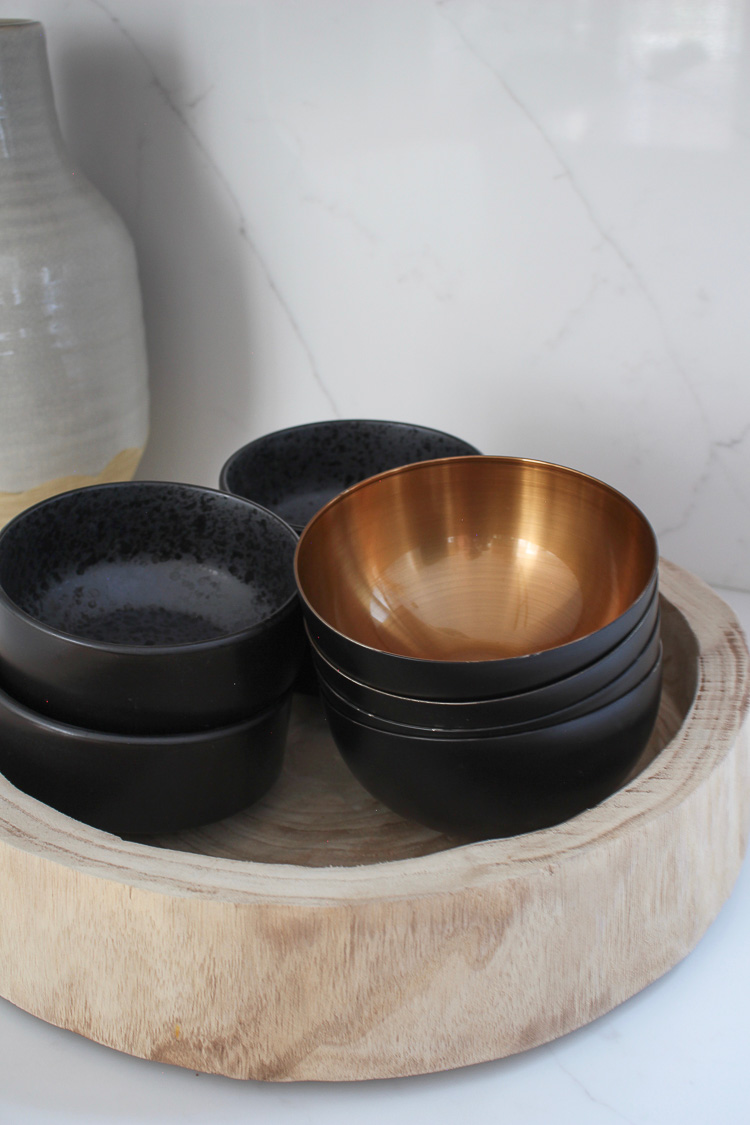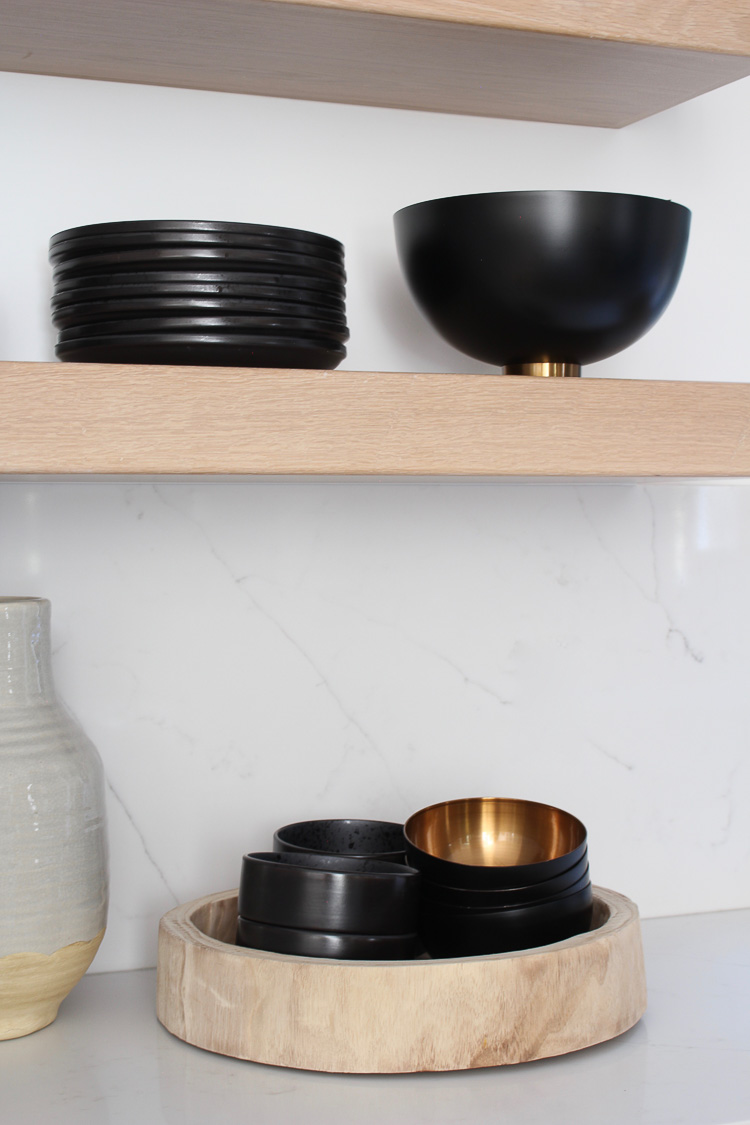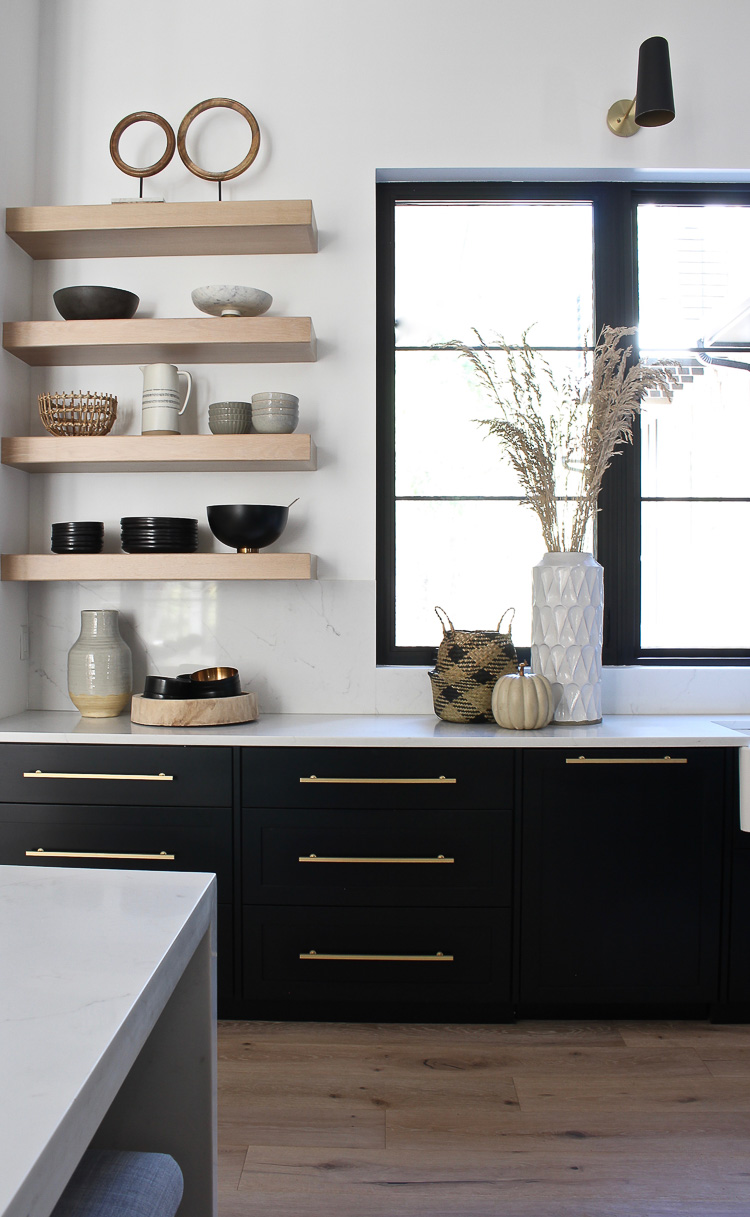 I'm having fun styling the rest of the kitchen for fall too. I switched out my summer greenery for pampas grass. The cute basket is part of a set. So fitting for fall don't you think?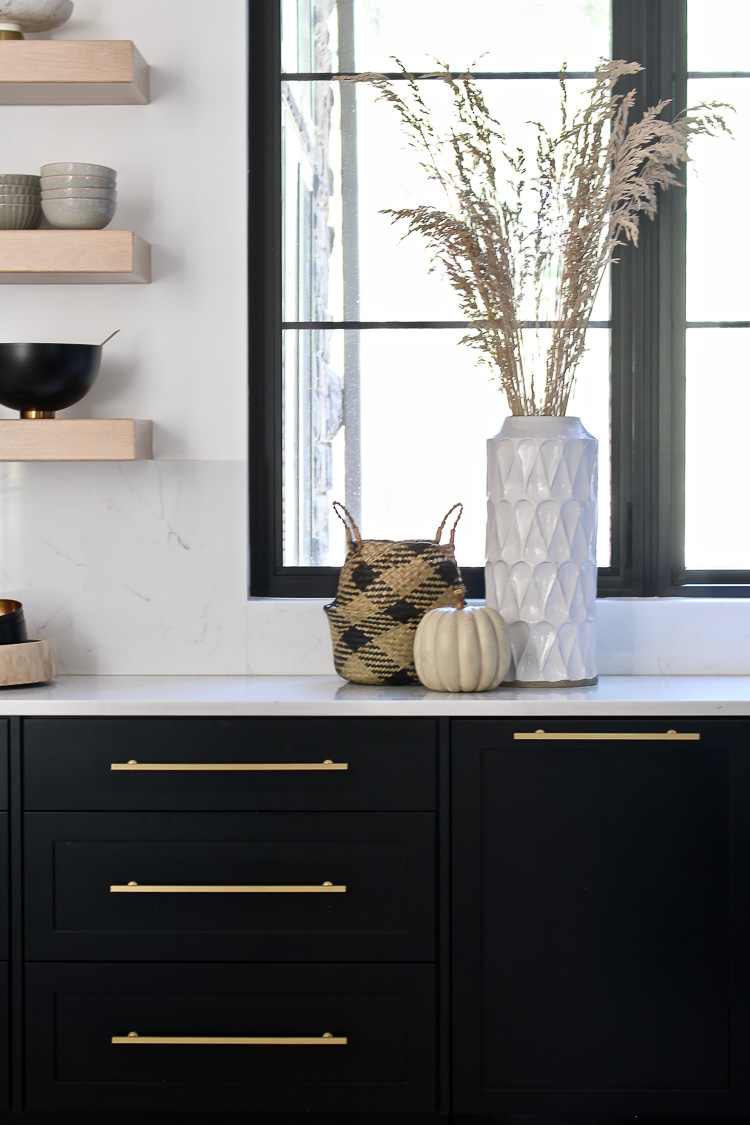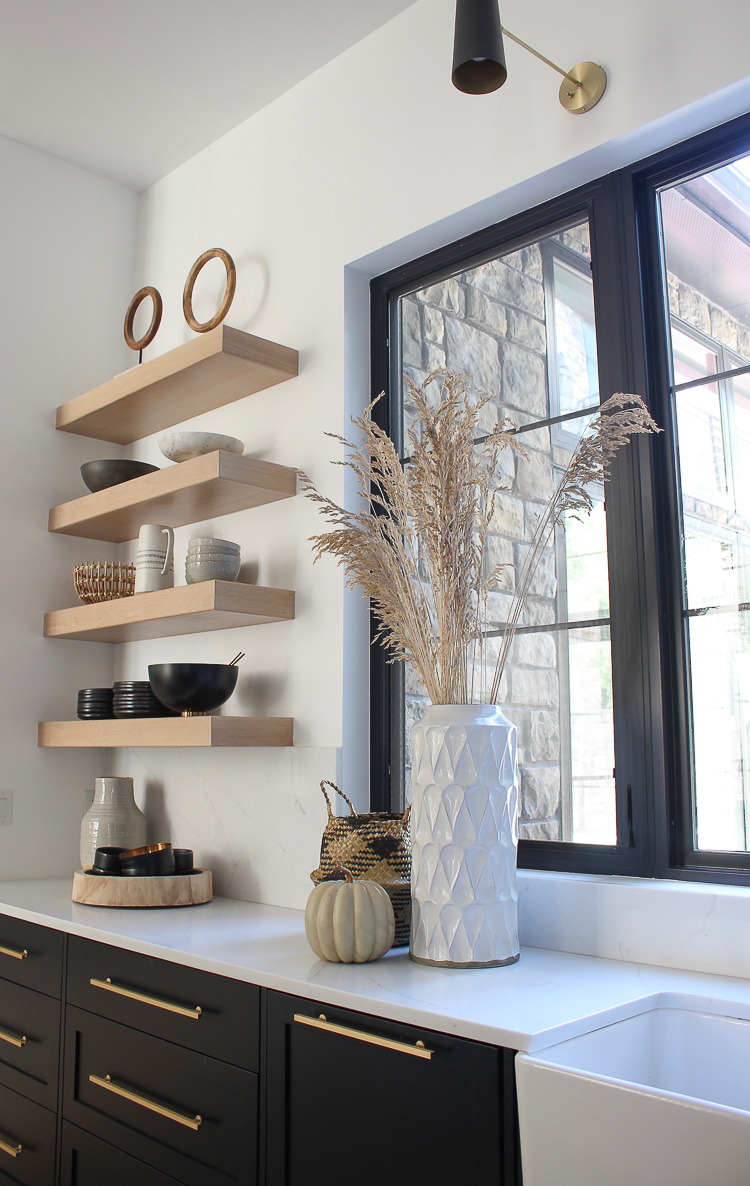 My days of pumpkins scattered all over the home this time of year have passed, but I do still like to add one here or there. Instead of the traditional orange, I found these pumpkins. When I ordered them online I was a bit hesitant since the color said "blue," but was pleasantly surprised with the actual sage color.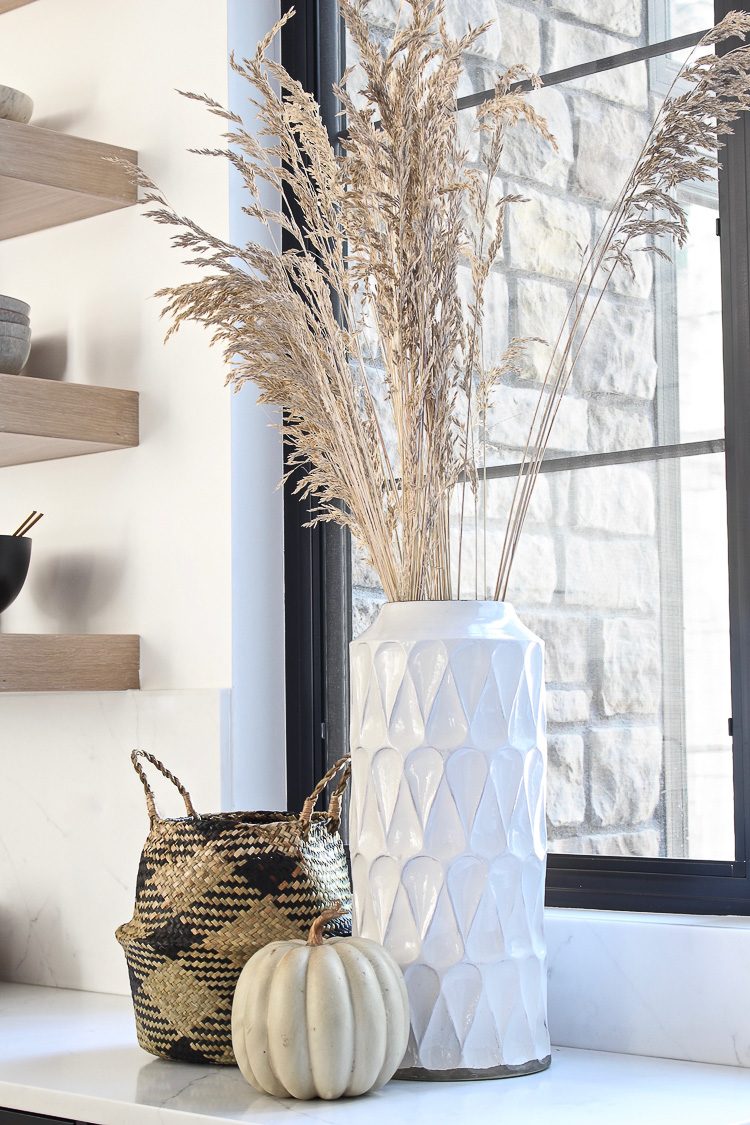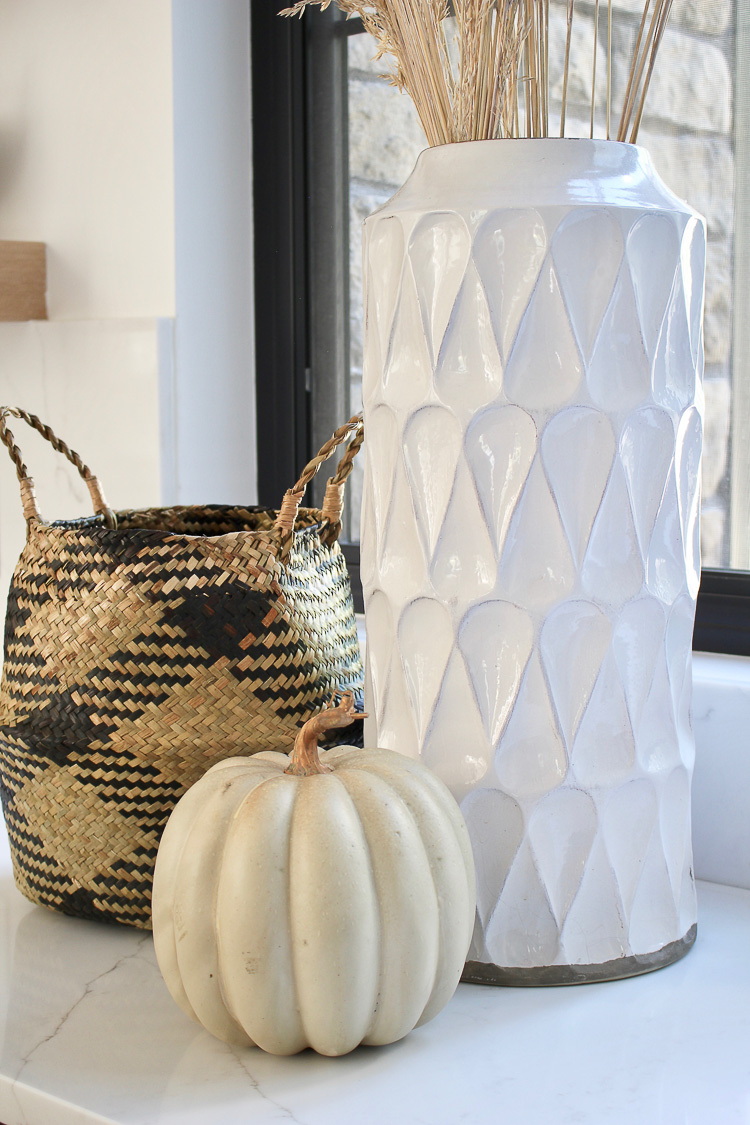 I've rounded up some great essential items for beautiful open shelf style in your kitchen. A mix of marble, wood, copper, black and grey.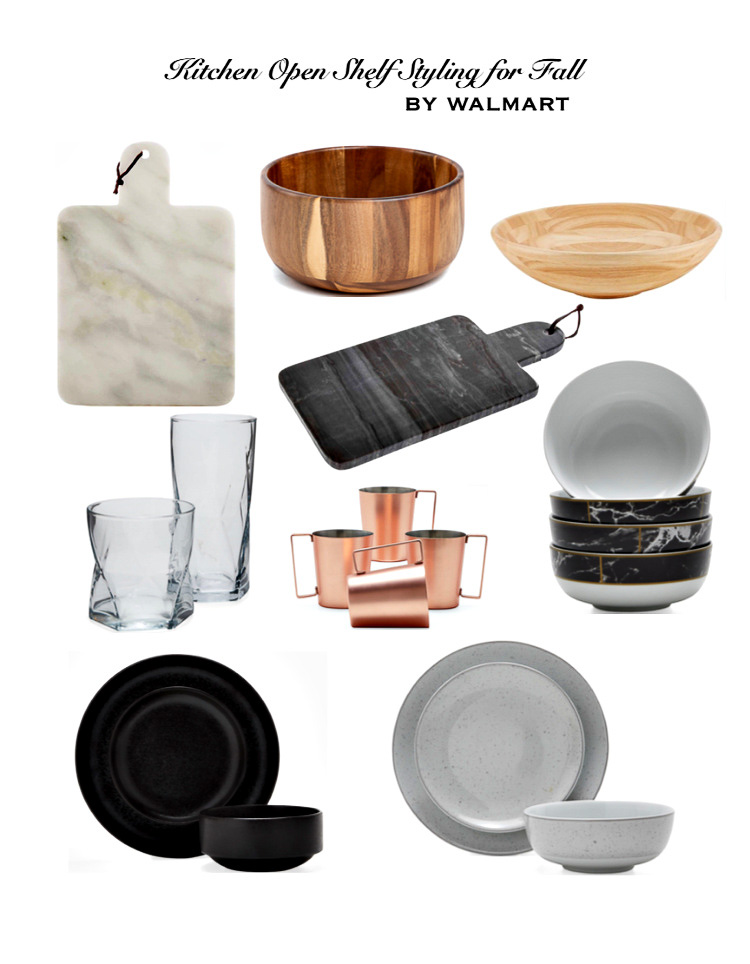 White Marble Serving Board // Acacia Wood Serving Bowl // Wood Salad Bowl // Gray Marble Serving Board // Glass Drinkware // Copper Mugs // Marbleized Black Bowl Set // Black Dinnerware // Grey Dinnerware