Married to a Blogger: The Husband Tells All!
Well this ought to be interesting. A husband tells all?? gulp. All you ever here me talk about mostly on this blog is design. Now you get to hear a glimpse of what it is like to be married to someone like me. Oh Tim is ready for this one!  In honor of Father's Day just around the corner, I'm participating in a fun and very candid blog hop with nine of my favorite bloggers where the husbands get to brag and swooooon over the fabulous, AMAZING babe in his life. Did I just sense an eyeroll?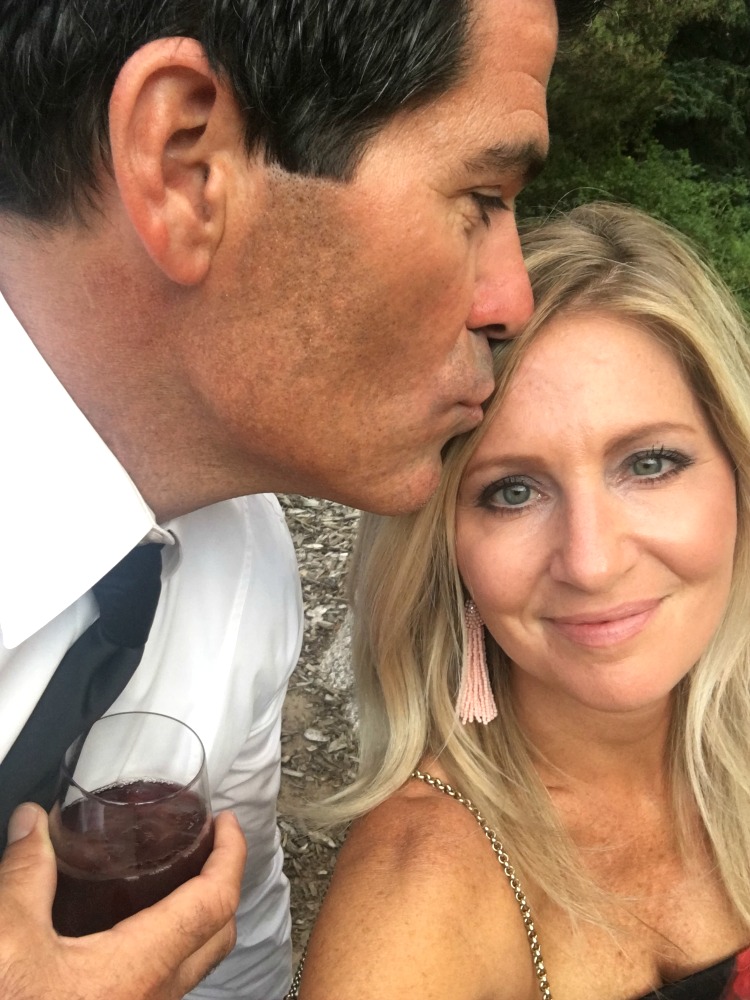 Ya'll, I completely married up. An Italian stallion. I sound like the biggest dork but I'm bragging on my man who truly is God's gift to me. He's put up with me in marriage for almost 21 years!! Of course we were only 10 years old when we got married and are still young and in our prime. Did I just sense another eyeroll?
We've had a good marriage, full of ups and downs but blessed for sure. Together we are raising our three boys and watching them grow within a blink of an eye.  I have a big fat momma crush on all three of those cute boys (19,16, & 13)!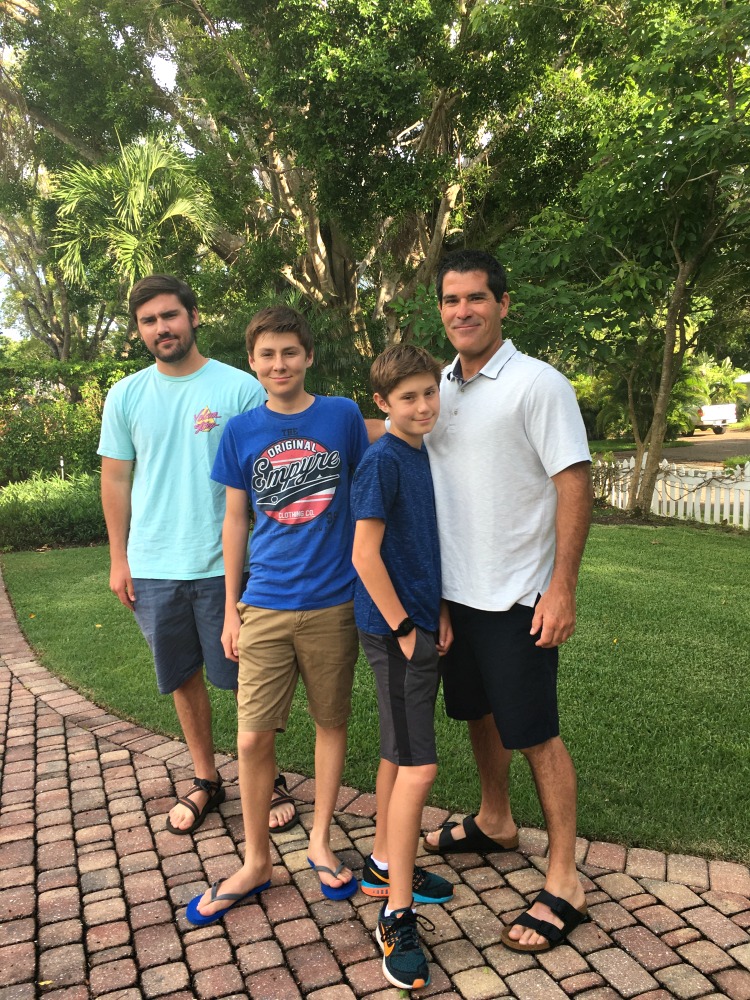 So, here we go!  Everyone in our friend circle knows that I'm the talker. Tim tells me all the time that I elaborate too much on one story. I'm like…details! Girls need details! His one word or one-liner answers will have me thinking 'details please, explain that one a bit more, or I definitely have to share my side of that story'. Let's see how detail oriented he'll be with this fun little Q & A. Of course with my details attached to his answers ;).
When did you first meet Shauna and what was your first impression?
T: In College. Thought she was cute but looked like she was in high school.
S: I was 23, he 24. He still thinks I look like I'm in high school…ha.
Which one of you more aggressively pursued the other?
T: I did.
S: See what I mean about lack of details? One liner answer. I'll elaborate…we both worked at a restaurant/bar that was the popular college hang out spot. He would never say hi to me so of course I thought he must be full of himself. Turns out he was just super shy (awe!) and finally got the nerve to have a conversation with me one night as my shift was ending. We talked about how we both loved the soap opera, Days of our Lives. He had me at that moment.
What are the best and worst parts of your wife's job as a blogger?
T: The worst, the amount of time spent on blogging. The best, good opportunities and being able to hang out with a celebrity.
S: He's totally working it now…celebrity? Only in your eyes babe.
I agree the worst part about blogging is the time suck it can be. Designing, photographing, editing and sourcing items. The good opportunities…having a voice in the design community and a platform/outlet to share my love of design. Traveling opportunities to fun events like the Better Homes and Gardens Stylemaker event in NYC and being a guest speaker at the mega blogging conference, Haven.  Meeting some of the dearest women I know who love design like me and who have become real life friends (Hint: all the gals in this blog hop).
Okay, I just took over the conversation. Couldn't leave out those details! Back to you babe.
What is something we might not know about your wife?
T: She loves 80's music, but…she can't sing to karaoke.
S: Truth. Doesn't stop me though.
What does your wife do that drives you crazy?
T: She says I'm a bad driver when I'm a really good driver.
S: Let's just say that I never get car sick…except when Tim is driving. #eyeroll
What would you say you do that drives her crazy?
T: My driving.
S: He knows I'm right on this one.
If you had an extra $10,000 that you could do anything you wanted with (no saving, investing or donating allowed!), what would you spend it on?
T: Four leather recliner chairs. One for me and each of my boys.
Would she be on board with that?
T: Doubtful.
S: Emphatically NO. Okay, I admit that's kind of sad that he wants a recliner that bad and I've resisted all these years. Let me think on that for a minute. Oh, two seconds are up and I'm still saying NO. Love ya honey!
You come home from work and your wife is giving you "the look." What have you most likely done to get yourself into trouble?
T: I didn't take off my work clothes.
S: Leeeeet me explain that one!  Babe, you forgot to mention why you take your clothes off in the garage.  People are getting the wrong impression of us! There is a legit REALLY GOOD reason. Aaaand it's not what you're thinking if that's what you're thinking!! Tim builds roads for a living. Half the time he comes home from work covered in tar, splattered asphalt or head to toe mud. So badly so that he often hoses his work clothes off in the driveway before they are even allowed to go in the washing machine. Sure babe, bring that pound of dust and mud from your jeans into the home #saidnowifeever! But still, love how hard you work and provide for us! xoxo
What's your favorite trip you've taken with your wife and family?
T: That's a tough one because we've been on a lot of fun trips! Kauai probably. NYC was another good one.
Do you have a man cave?
T: Not up until now in our new home.
S: Oh he totally got his man cave. Sharing that soon on the blog 😉
What's one thing that your wife is super "picky"/particular about?
T: Cleanliness.
S: Guilty. I can't help myself. 
What's your favorite dinner your wife makes?
T: Reservations.
S: Good one babe! Although I do feel the need to defend my taco salad. He's the chef in the family. His Italian grandmother taught him how to make handmade pasta and sauce and he's a natural in the kitchen. I'm just a pro at catching my hair on fire over the burner, forgetting about raw hamburger on the stove while proceeding to take a shower, and microwaving mac and cheese for an hour.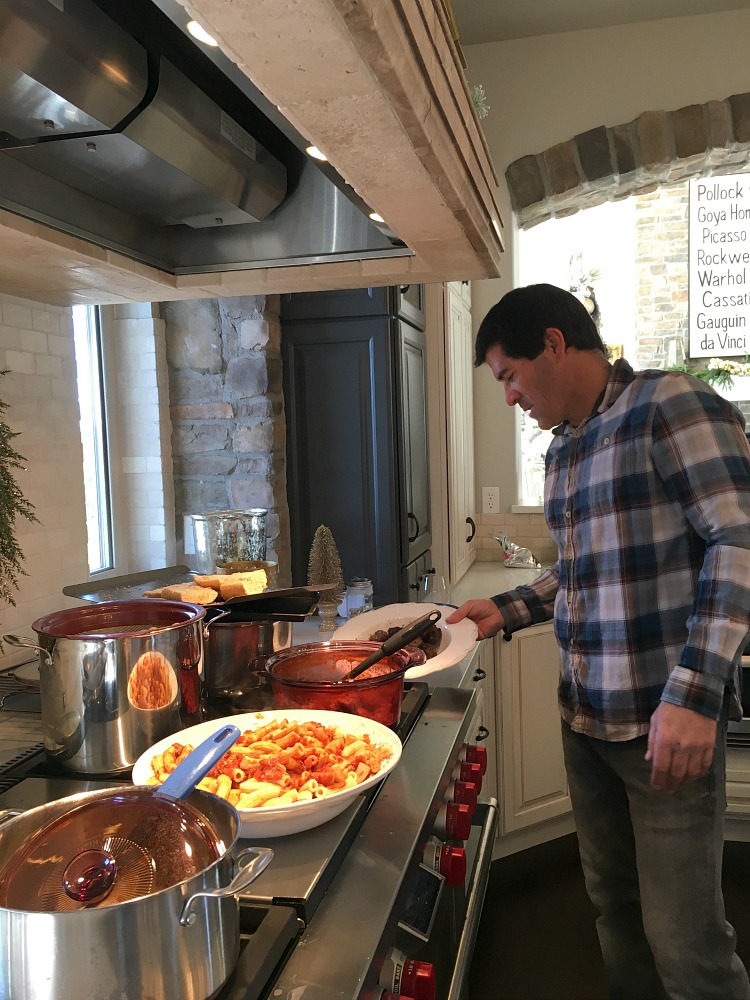 Are you a DIY-er or more of a "hire the professional" type of guy?
T: Most often I do it myself.
S: DIY-er always! Let the photos be evidence. A time when we had tree roots growing into our plumbing at our beach cottage in Florida, causing every toilet to overflow. He trenched our yard from the house to the street, by hand, with a shovel, to install new plumbing.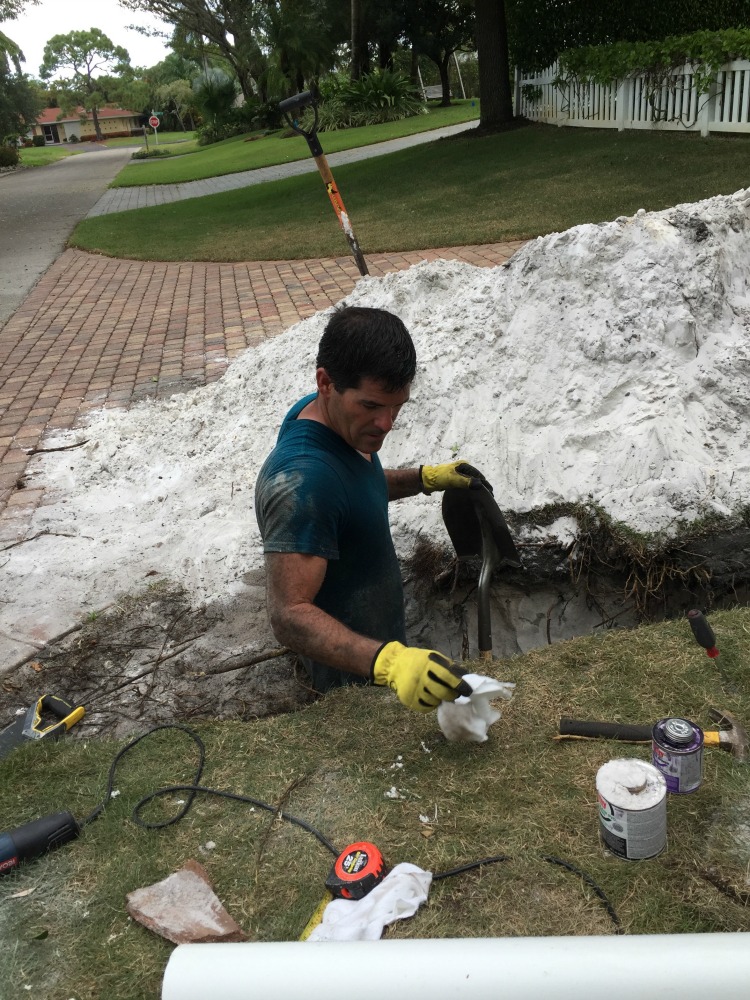 And replaced rotting windows.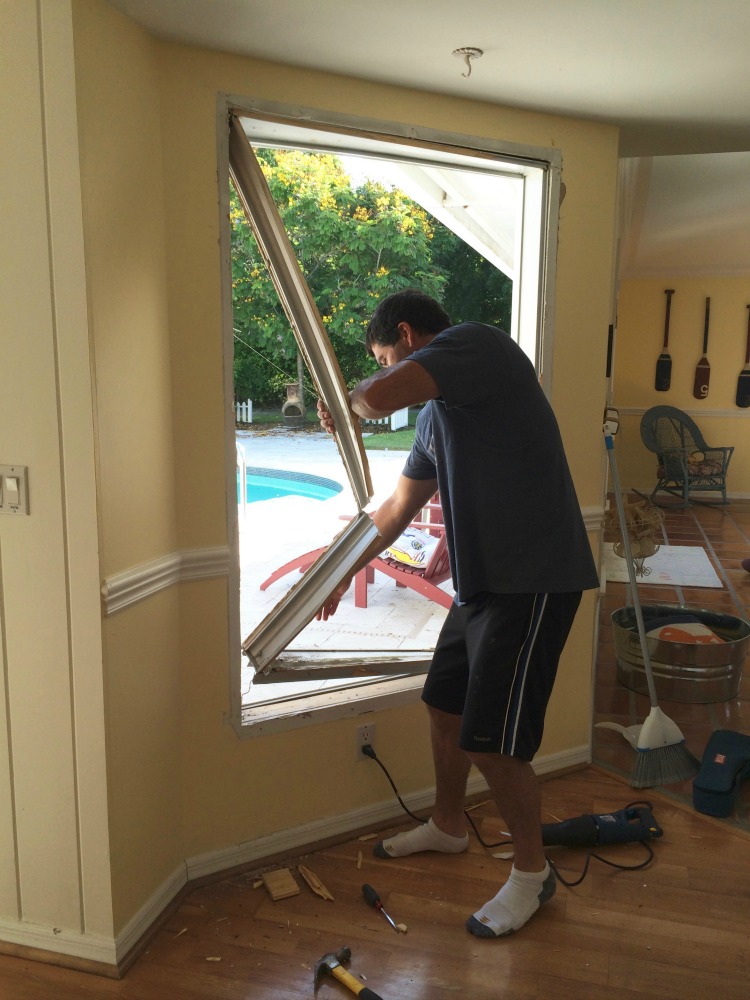 And tackled masonry at our new home, bricking five different walls. There's really no task he won't take on. Lucky for me since I tend to keep that task list going…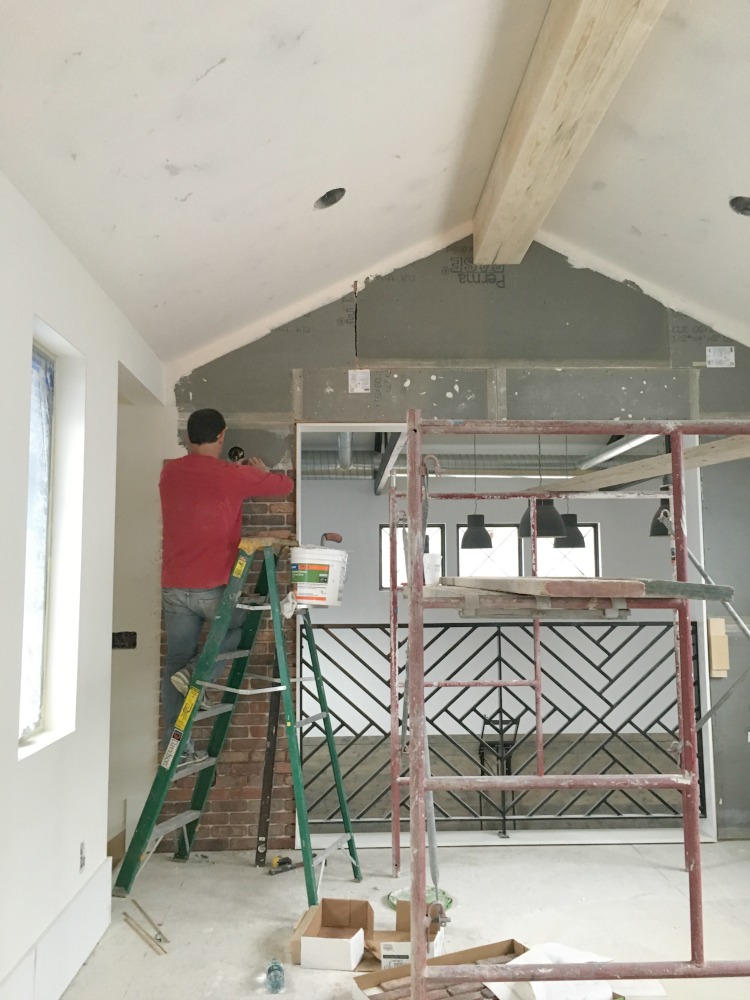 What do you think about your wife's blogger friends? Who do you hear about the most and have you met any of them?
T: The few that I have met I really liked. It's good for her to have these friendships. Put it this way, when she had her first blogger friend trip, I didn't hear from her for days. She must have been having a really good time. I've met Jennifer and her husband Tony (Decor Gold), Erin and her husband Kenny (The Sunny Side Up), and Brittany and Mark (Addison's Wonderland).
S: We all met up in NYC last fall. It's been so fun having Tim meet my blogging friends and their husbands. We all get along great and the guys all see that they have much in common…non-stop decorating going on in their homes! They need each other for moral support…hehe.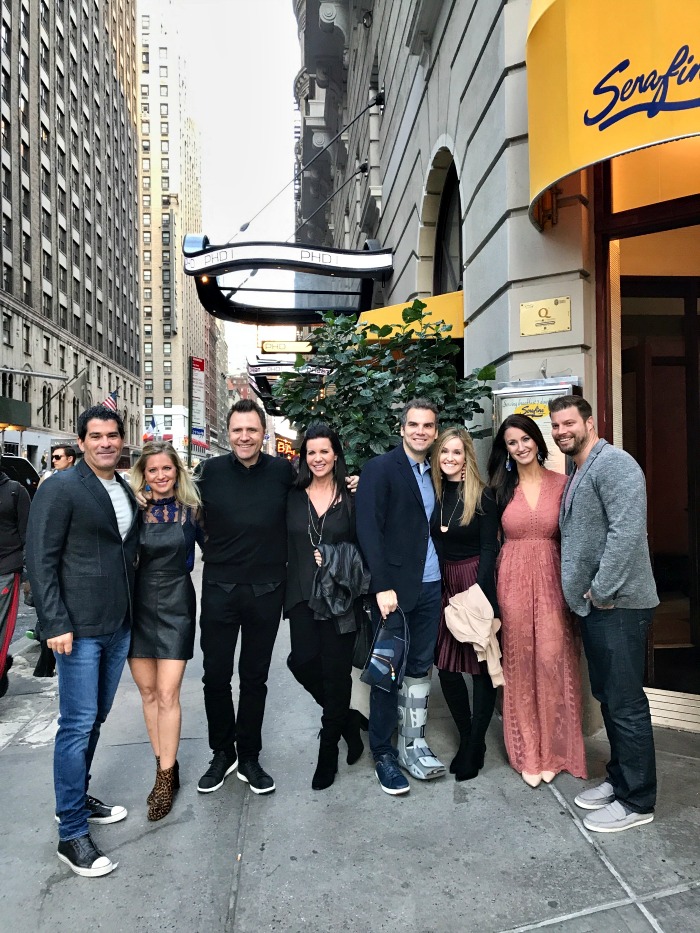 Left to right next to yours truly: Jen & Tony, Erin & Kenny, Brittany & Mark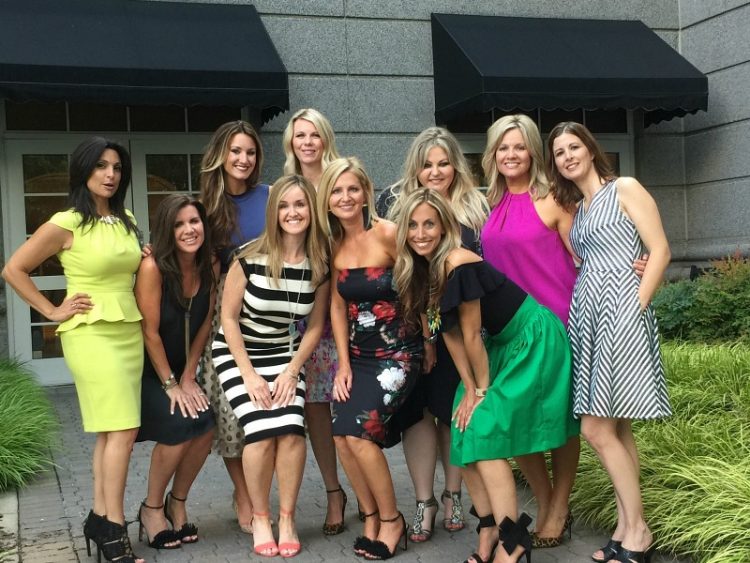 Has your wife ever done a project that you secretly didn't love but never told her?
T: No. Only the time she removed my comfortable furniture.
S: Eyeroll. He has a comfy sectional sofa. With extra pillows all around. Just not leather. not a recliner. The comfy furniture he refers to are the two leather chairs we did actually own for 9 years. I gave them to a friend. He still talks about them. They were worn out and cold in the winter to sit on. Who needs a recliner anyways when you have ten throw pillows to prop your feet up on. Just sayin. 😉 I confess though, we just moved into our brand new home (HERE) and I may have sold most of the furniture. Maybe there could be a recliner in his near future. He definitely deserves it!
If you could live anywhere, where would it be? Would your wife agree?
T: Florida. No, she wouldn't live there full time because her hair frizzes up and she doesn't like that.
S: True. I LOVE our second life in Florida, however my hair takes on a life of its own. Oh that darn humidity. Vanity wins. I could only live here a few months of the year. Ps. we happen to be in Florida as I'm writing this post and you should see my hair. Blonde afro. 
What's your idea of the perfect Father's Day?
T: Spending the day with my boys and wife. Doing anything as long as they are all around me.
S: 100% family guy. Love him.
That's a wrap! Happy Father's Day to all the guys out there!
Thank you Tim for loving me through it all! And for holding my hand as we jump into the ocean because you know how terrified I am of sharks. Pretty sure you'd beat up a shark for me too.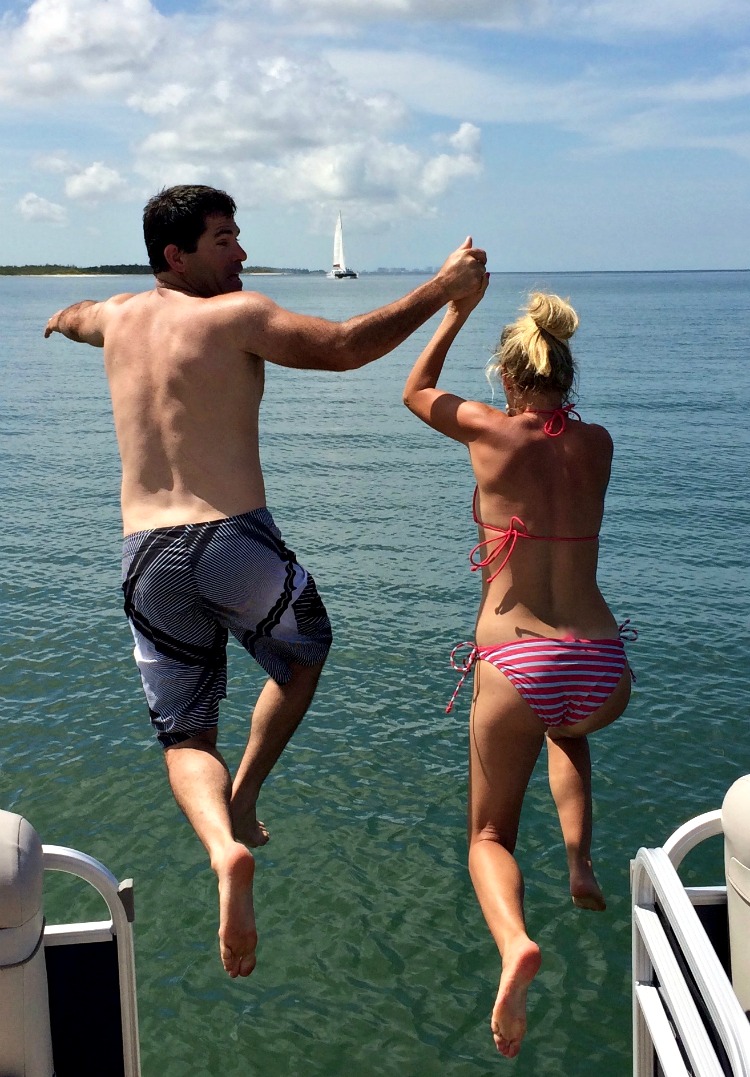 Now that you know a little bit more about us, please go visit my friends in this blog hop! I know I'm excited to read all about what their hubbies have to say!
Brittany – Addison's Wonderland