Modern Luxe Office Reveal
After pondering and slowly designing my office these past couple of years, I'm thrilled to share the finished project with you today! Welcome to my Modern Luxe Office Reveal! I learned so much through my design process as I designed this home. I'm a firm believer that the key to a beautiful and timeless home aesthetic is to start with good bones. That is why all the historical homes have stood the test of time. They have fantastic bones that are always coveted. Details like understated crown moulding, large windows and tall ceilings.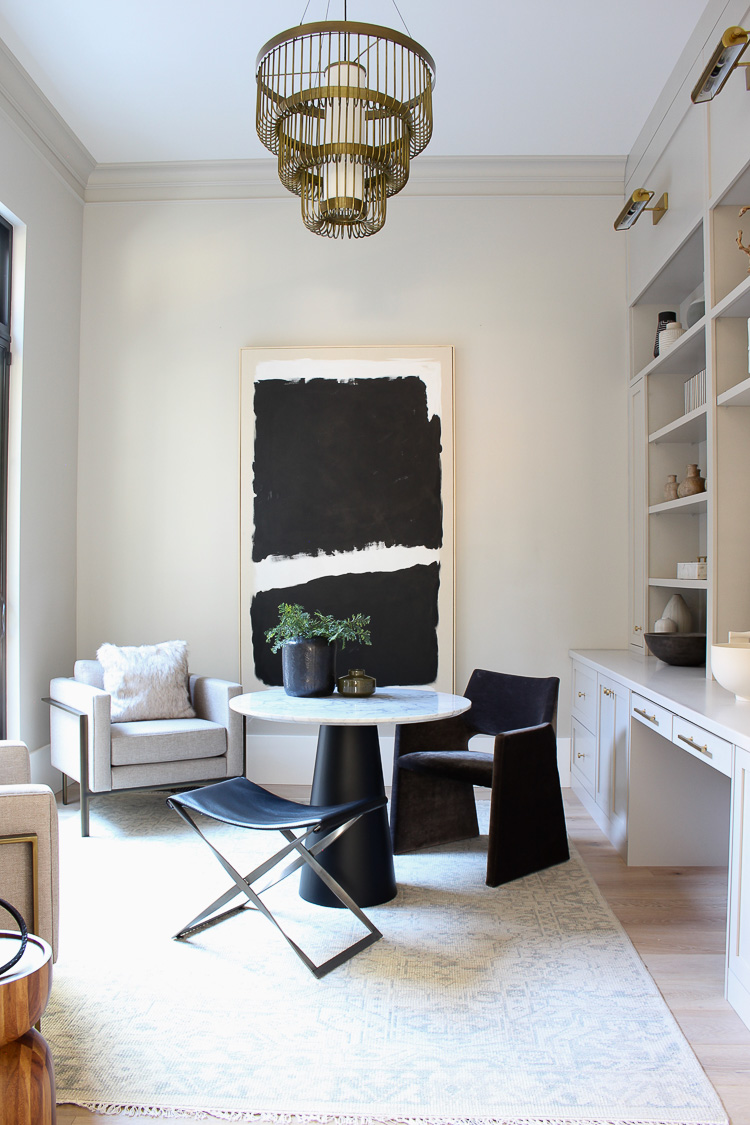 The vision I had for my office was luxe modern with comfort, function and practicality in mind. A room where I feel inspired as I work. My brain is more creative when surrounded by a pretty space. The first layer and most important was the paint color I chose. Agreeable Gray by Sherwin Williams.
I painted the walls, built in cabinets and upper crown moulding all the same color. The tone on tone backdrop makes quite the statement. A beautiful mushroom "greige" that is a subtle shift from the rest of our home. A calm, warm design that allows the well appointed furnishings, lighting and accessories to stand out in harmonious balance.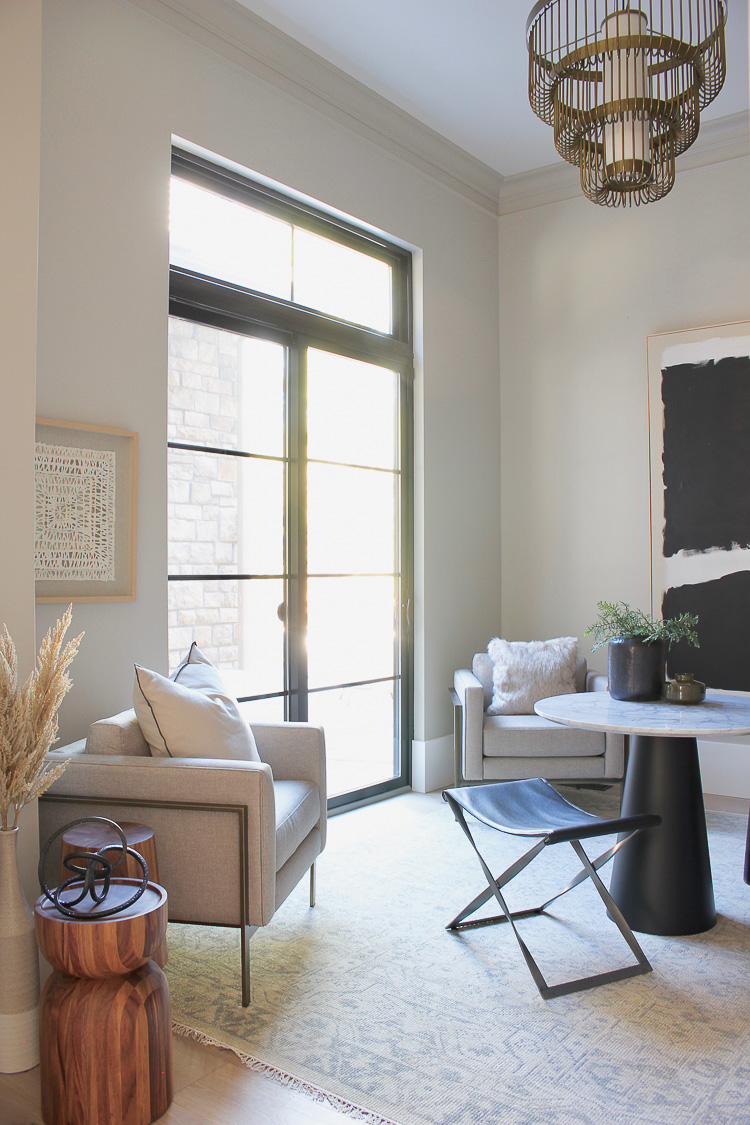 Designing with tone on tone colors does not have to be boring. I've added layers of texture with textiles, stone, raw wood and metals. The 12 ft ceiling gives the room a grand appearance but the true footprint is just big enough for a functional and cozy space.
My original plan was to use the built in desk as my primary work station. However, after two years of spending countless hours on my laptop looking at the wall, I was feeling a bit closed off. Those gorgeous big doors open up to the beautiful forest, just off my patio. I should be facing outward, I thought. I temporarily dragged in a small table from another room and turned my chair around to give the new set up a trial run. Game changer! I knew I always thrived on sunshine but didn't realize that having the natural sunlight on my desk would make such a difference. From that point on, I had a plan for finally finishing my office design into a space I love and truly enjoy working in.
Thank you to Room & Board for partnering with me by providing some pieces for this room design. This post contains affiliate links. All photos, reviews and opinions are mine. Please see full disclosure and photo policy HERE.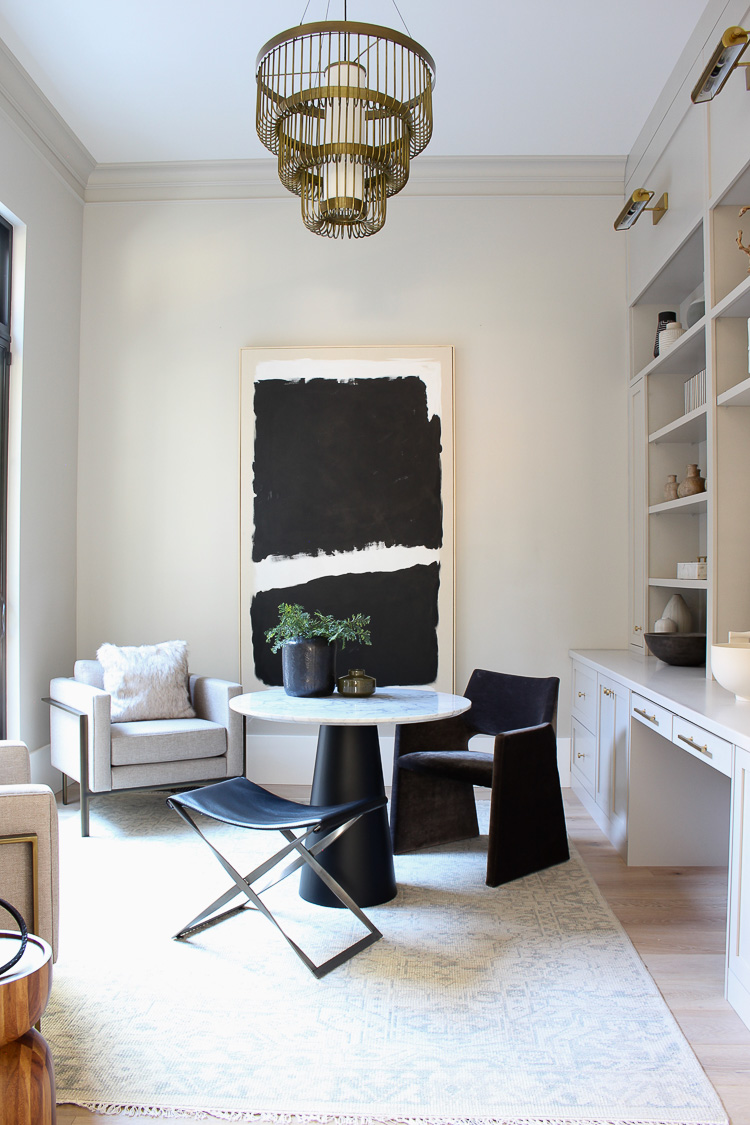 I reached out again to one of my favorite brands, Room & Board, to collaborate on the final pieces of my office design. I've had a long standing obsession with their modern line of furniture and more. I love everything I own from them, so much so that I felt confident in ordering these new pieces without seeing them in person.
To warm up the room I added a soft layer of texture with the beautiful Anjora rug. I love that it is wool so will be durable, but is also hand sheered for a soft plush feel on my bare feet. The muted colors of grey and taupe give it that antique look.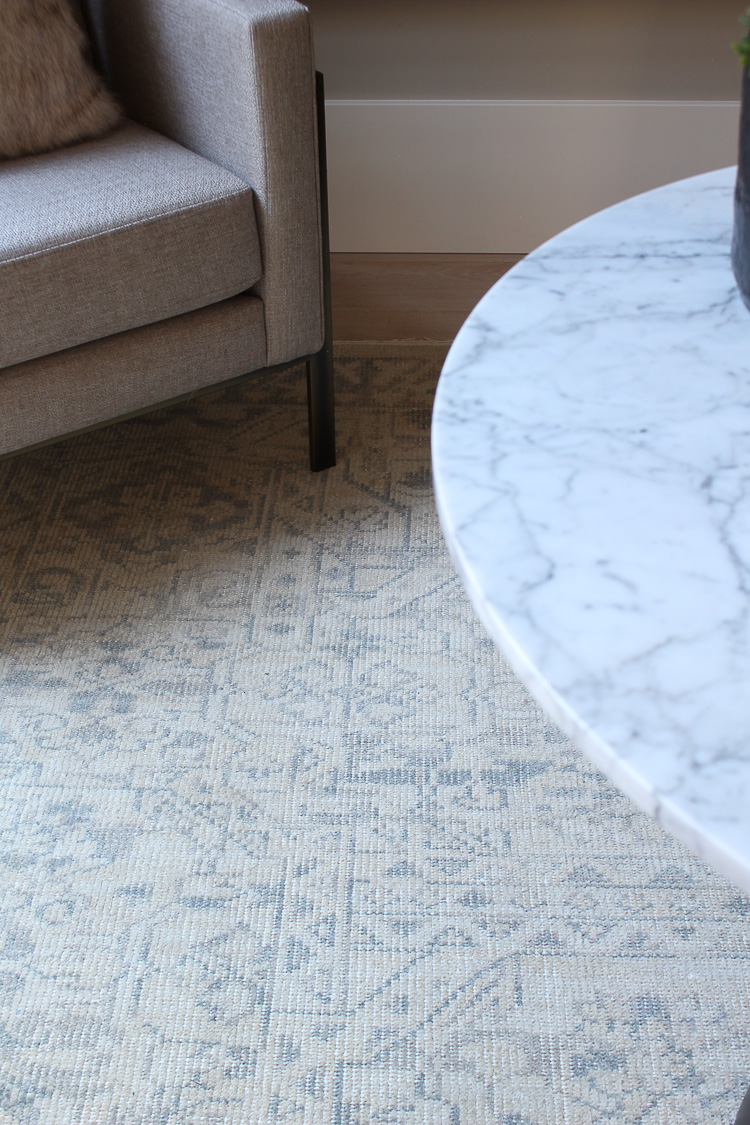 My new version of a desk is the Decker table which I was able to fully customize size, base color and stone option. I chose the 36″ size but it is also available in up to 60″ round. What a gorgeous dining table it would be! I LOVE the venatino marble top paired with the graphite steel base. The perfect duo of industrial luxe.
Now I have the option of sitting at this table as my desk or I can turn my chair around and sit at the built in desk. I love the versatility.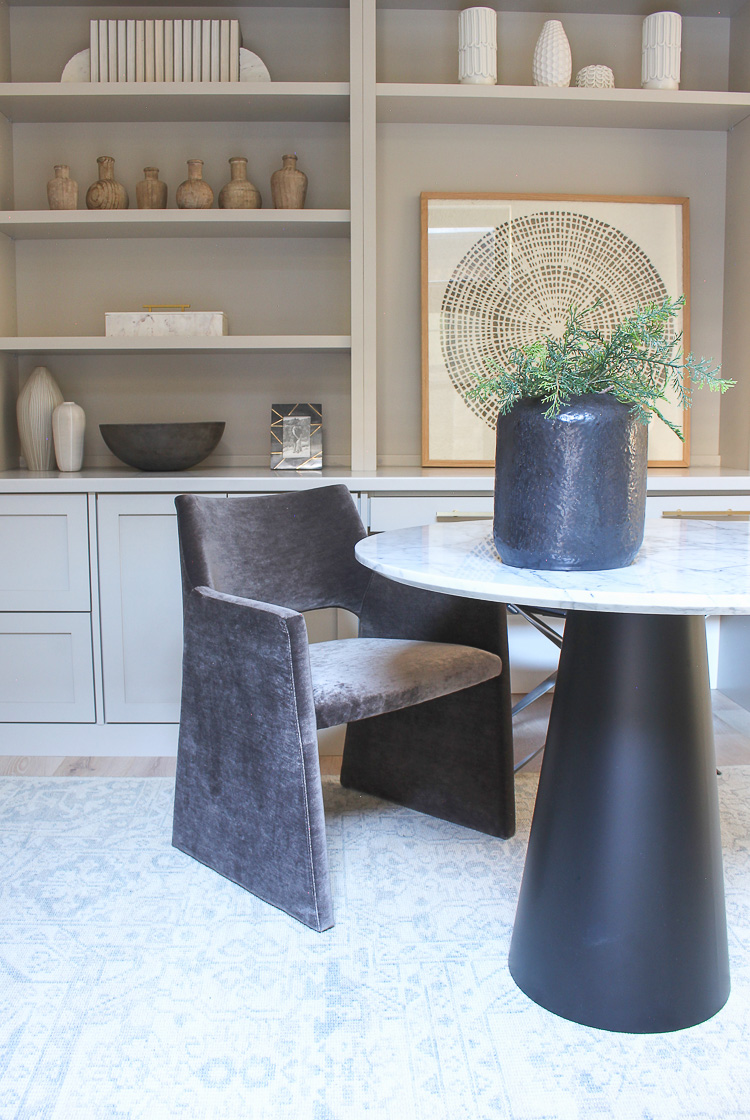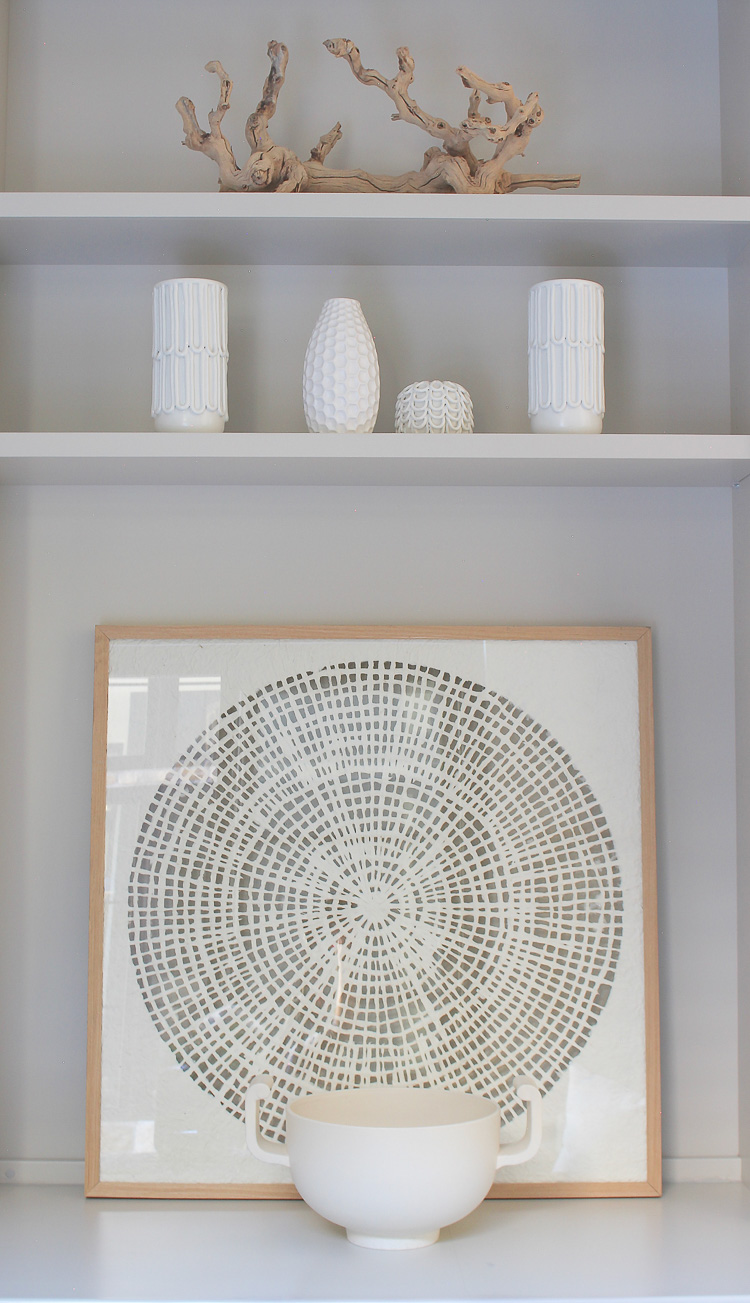 You know I love black and steel. The Karr leather stool gives this space that edgy vibe I always want to incorporate. I can tuck it under the wall desk or the table for additional seating. The leather is so soft and nice to sit on.
I love the organic element the Nyla side table and stool bring to this space. They are skillfully hand carved in a warm wood tone. A step outside of the white oak you see throughout our home. Proof that you can mix wood tones!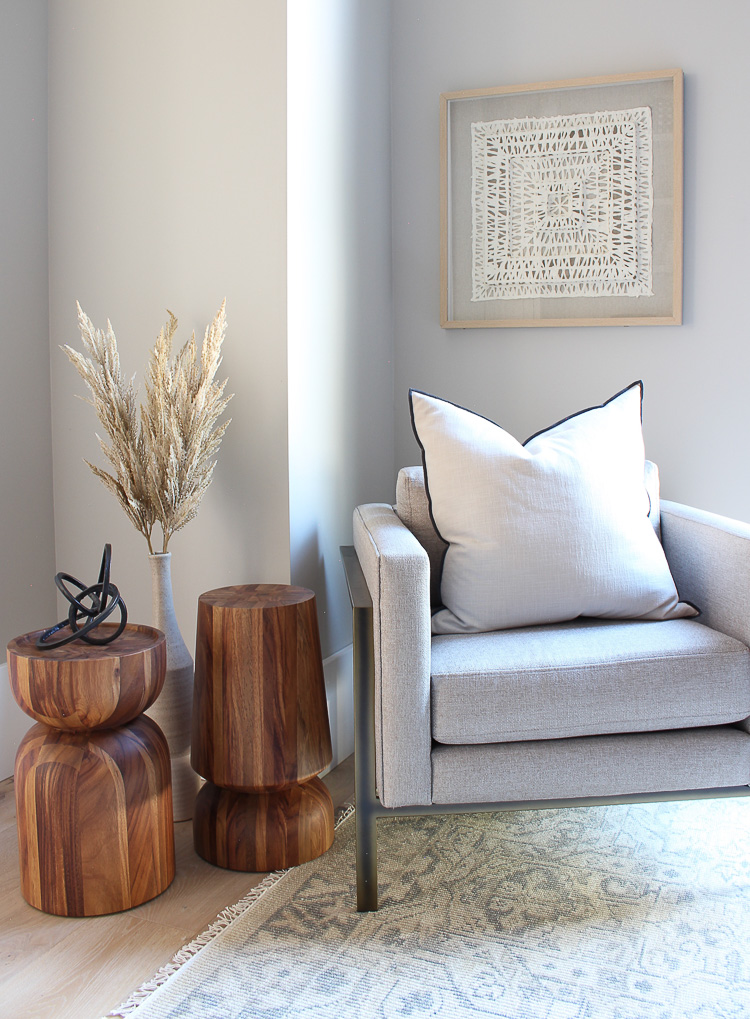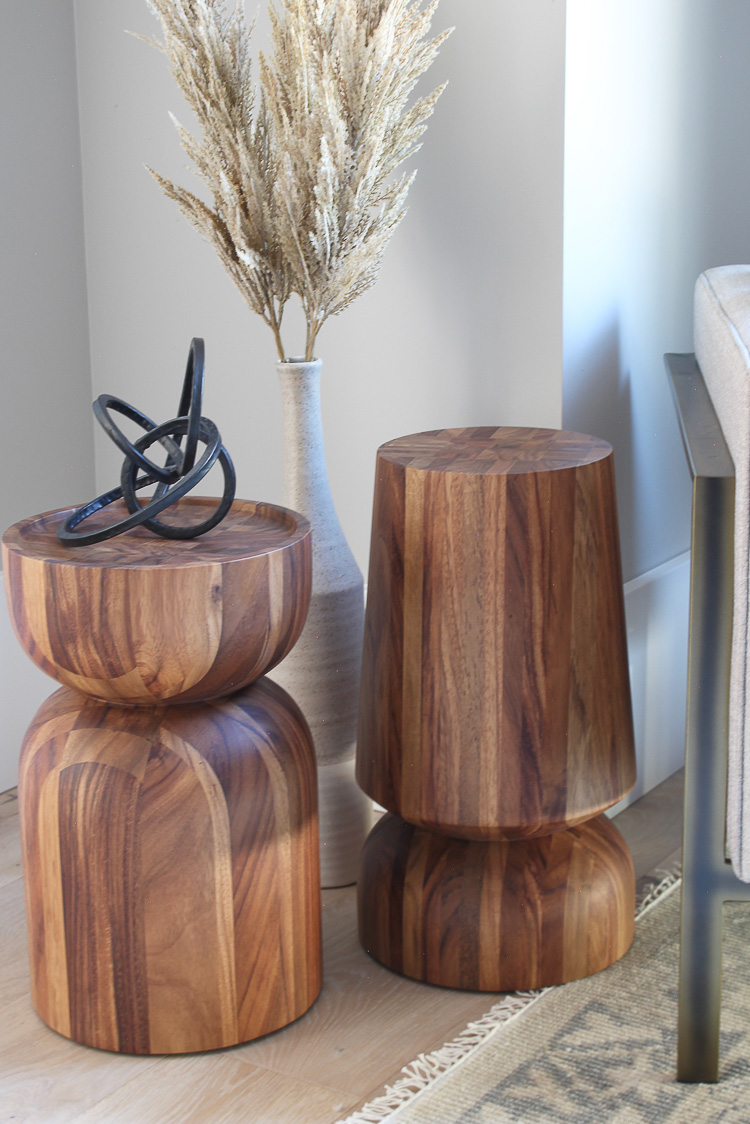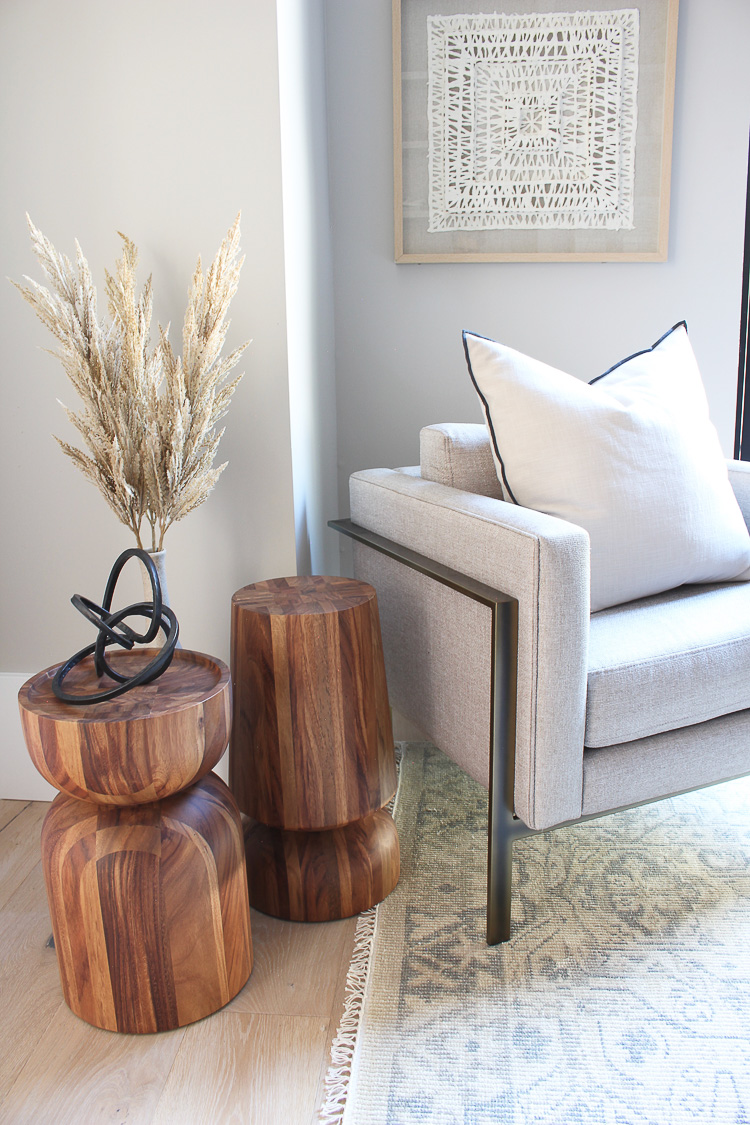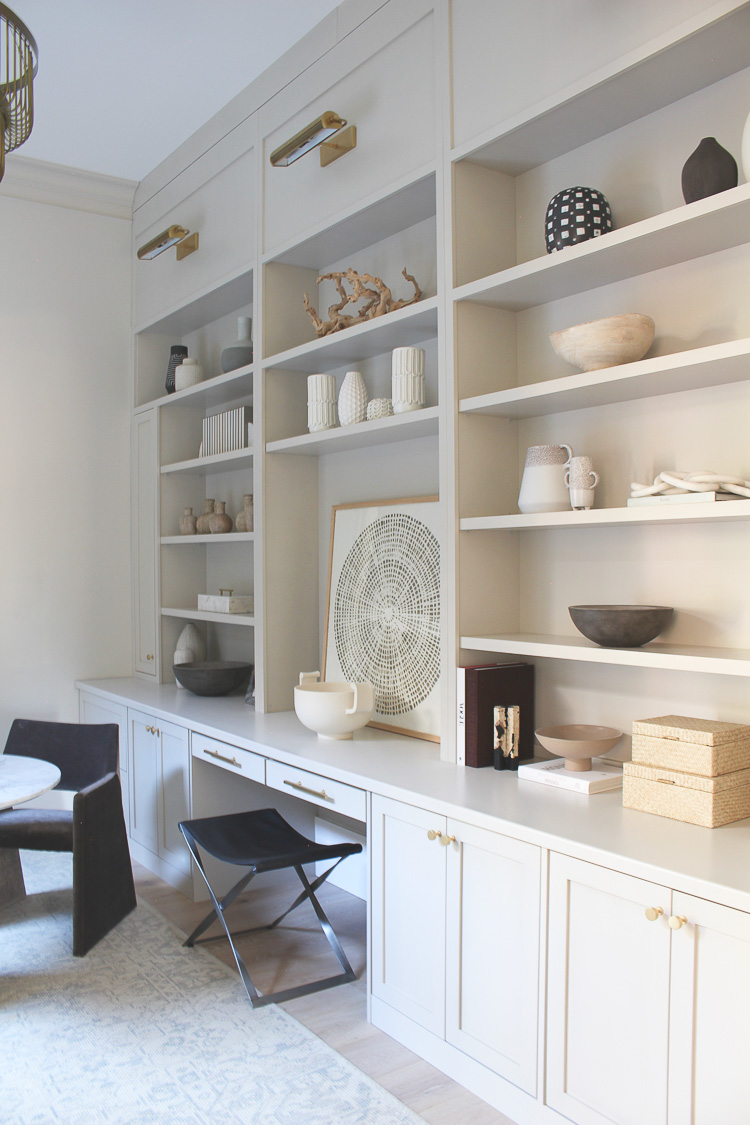 Another completed room to check off my list. This one just may be my favorite. I think I say that about all of them, but aside from my bedroom and kitchen, this one gets the most of my presence. I hope you love it as well and gained some design inspiration for your home.
ADDITIONAL SOURCES