It's that time of year friends! I'm sure by now you've heard all the hype going on about the most coveted sale of the year!  The Nordstrom Anniversary Sale has begun and is THE SALE that I hit every year because it's so good! The Early Access Nordstrom Sale started yesterday for Nordstrom cardholders and runs through 7/20.  After that date, it opens up to the public.
Good to Know!
Get the card! //  This is the only way you can start shopping the Early Access sale NOW! The most popular items are already selling out and this is the only way you have a chance to get the items you want before most will be sold out come 7/20 when the sale opens to the public.  I'm not the person who carries a credit card for every store, but Nordstrom is my only exception.  I made a personal trip to Nordstrom in Denver yesterday and could not believe how fast everything was selling out. You can sign up for the Nordstrom card HERE
This sale is featuring all the new fall pieces that you may love for your fall wardrobe. Of course, there are tons of "non-fall" clothing/shoes/accessories on sale but I thought this was a good time to plan ahead for those colder months. So many great deals for the entire family.  I even shopped for the boys' school clothes. Patting myself on the back for being on top of things this year and not being the mom frantically trying to shop the picked over school clothes one week (or day) before school starts. There is also a great selection of items for the home as well!
Nordstrom offers FREE SHIPPING & FREE RETURNS!  This is why I love Nordstrom. If you are ordering online, which I highly recommend to avoid the crowds in store, then you can shop with confidence knowing that whatever items may not fit or work out can easily be returned with zero hassle.  I strongly suggest that if you are unsure on sizes to order your items in a couple of sizes. Keep the ones that fit and easily return the others that don't.  If you wait until your items arrive and then find that the fit isn't perfect, then it may be sold out in the size you need come time to reorder.
Sale ends 8/6 and prices go up 8/7
(affiliate links for your shopping convenience)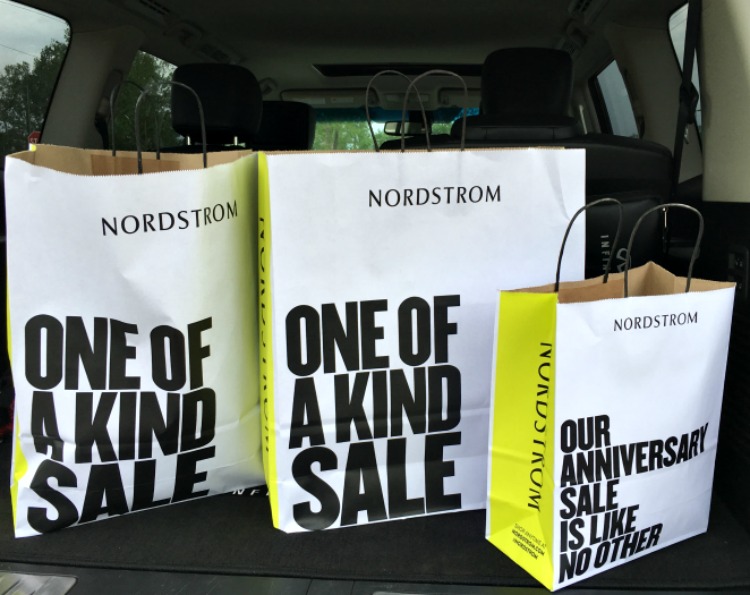 Now that we've covered all those details, let me show you what I bought yesterday.  Please excuse the dressing room iPhone photos with the the worst lighting possible. Selfies aren't my thing but I managed to take a few just to show you some of the cute items.
I kept my shopping focused on fall items. Living in Colorado, I can wear these items year round actually. So fun to be able to wear shorts and flip flops on a summer day here, but by evening its cool (or cold) enough to throw on a scarf and not look completely out of element.  As soon as I saw this scarf I scooped it up! I love the colors and it can work with so many outfits and looks. My favorite is to pair it with jeans and a Tee.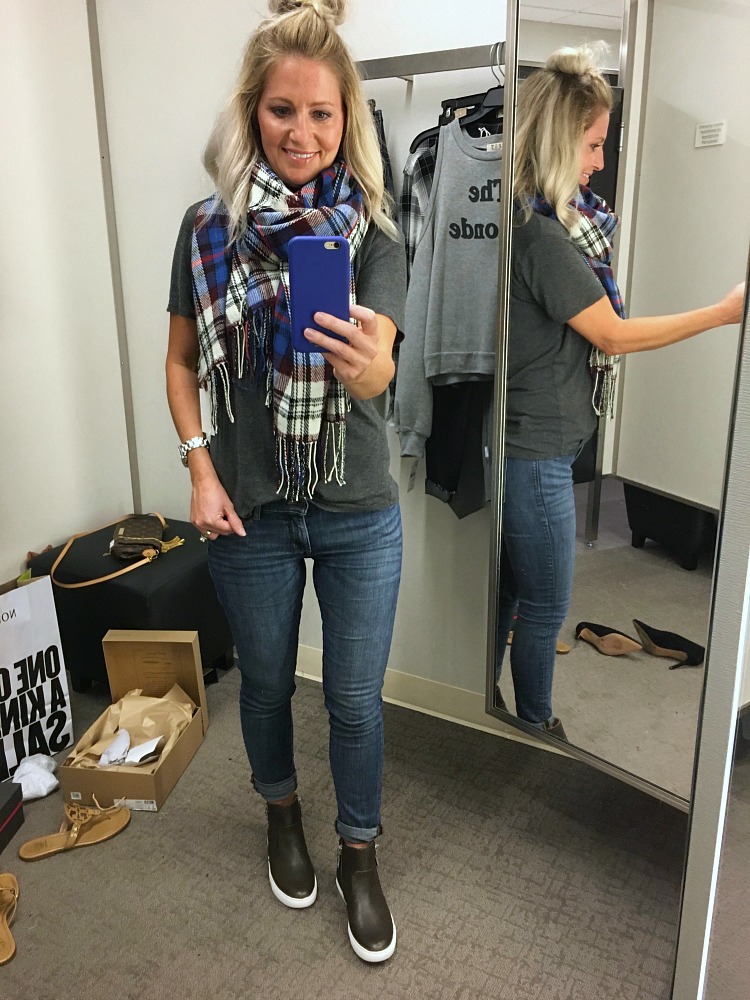 Speaking of T-shirts, I've been wearing this one on repeat all summer long. It's so comfy and has a great fit. Only $17 too!
Loving these shoes too. Perfect for all the running around casual comfort I live in on a daily basis. These are definitely comfy and come in other fun colors too! The color I am wearing is "cement leather." Sorry for such poor photography, but here's a little look at the side profile that zips on both sides.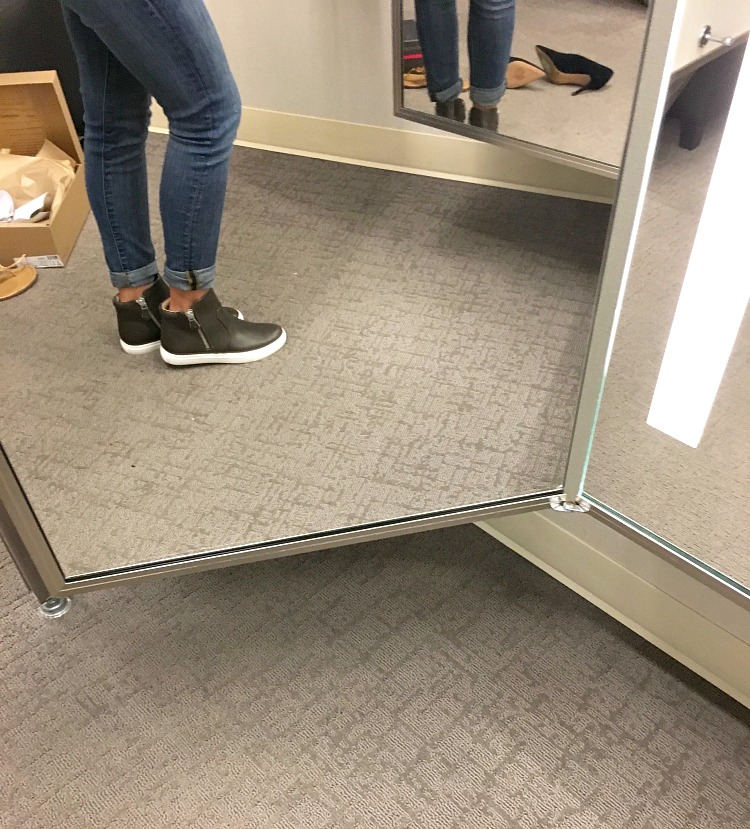 Every season, I always add a few more plaids to my collection. This one has a great, comfy fit (runs big, so size down!). I'm wearing a XXS to give you reference. Comes in 5 colors. I bought it in the black and the red (see below). Under $32!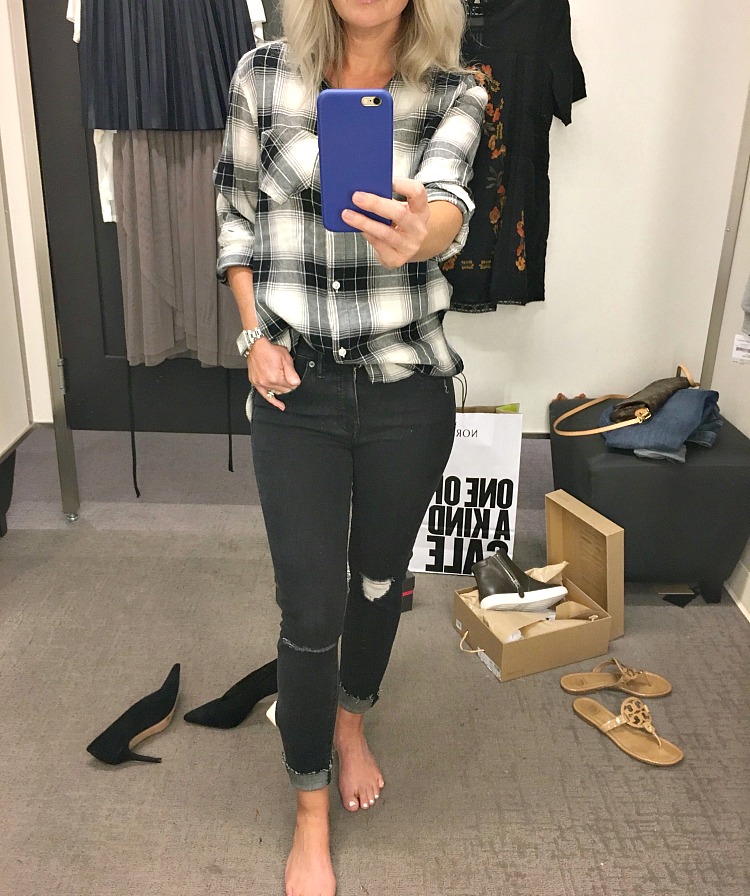 Can we talk about these ripped jeans for a sec? The first time I've ever actually liked a high waist jean. These felt like butter when I slipped them on and I really like how they keep everything tucked in a little higher up. They have a super nice stretch feel. This photo doesn't do them justice at all. I'm hoping to get a better pic soon and will share on Instagram.
Here's the same plaid shirt in red. How adorable is this outfit with this navy pleated skirt. It runs big too so size down. I'm wearing a size 2 here but ordered in a size 0 for a snugger waist. Comes in petite sizes too.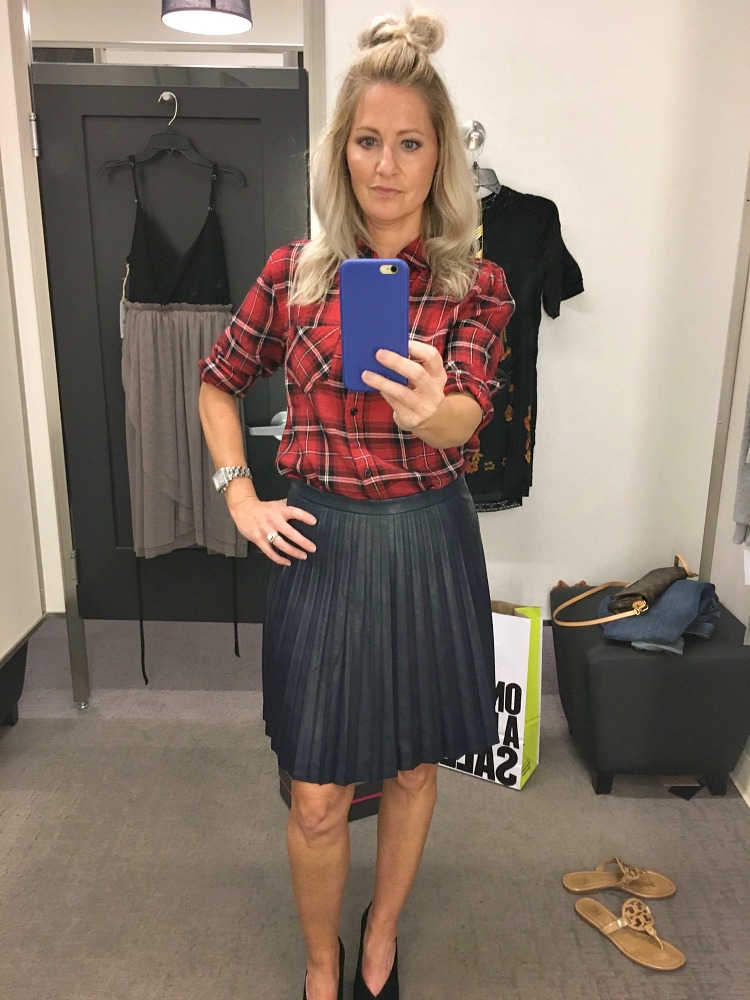 I bought these suede pumps in two colors. The black pair that I'm wearing and also in nude. Another really comfortable shoe that I think I could walk around in all day.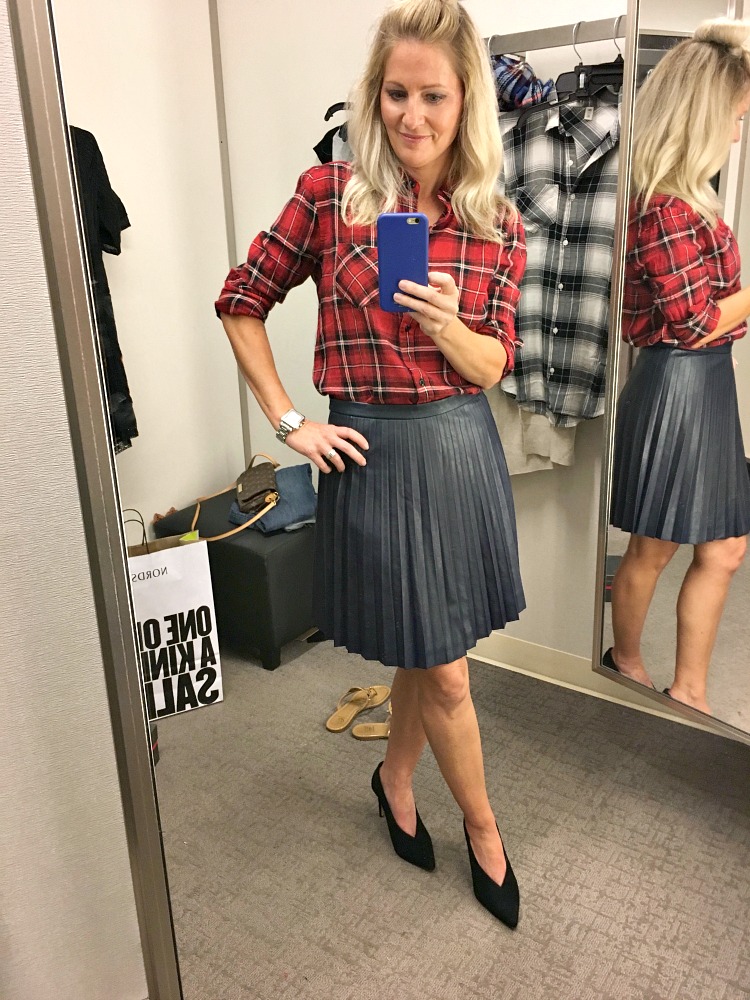 Just for fun, I couldn't resist. This "blonde sweatshirt" had to come home with me.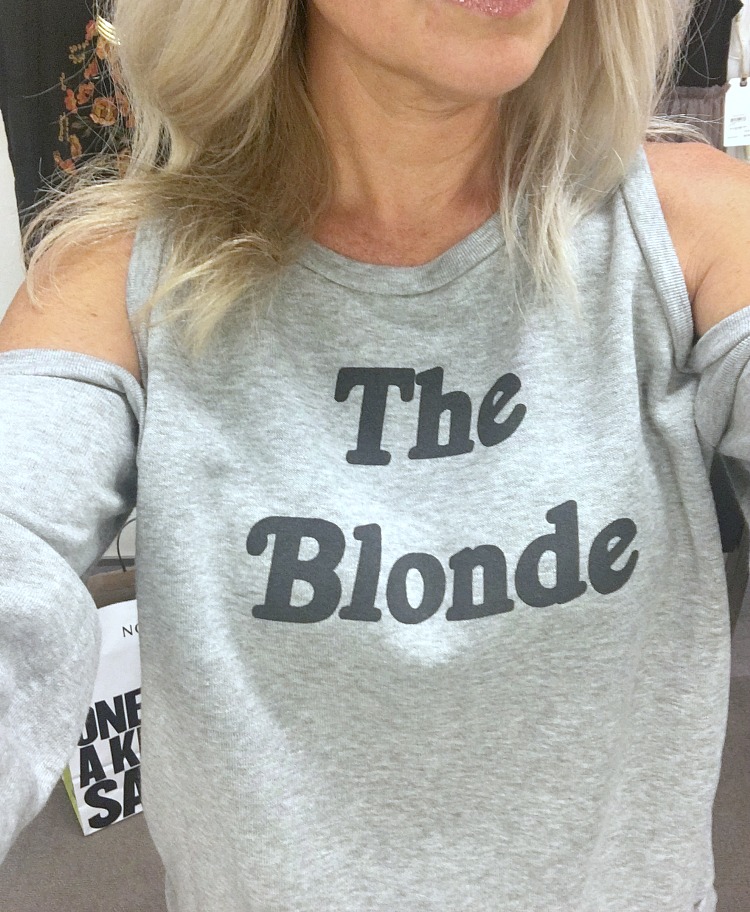 I also ordered these Hunter boots in black. I've lived in my red Hunter's since we started building The Forest Modern. They've been perfect for tromping around in the dust, dirt, and mud (we've had lots of that with all the spring snow and summer rain).  This is the time to buy them because they are on great sale! If you're contemplating, don't hesitate because they are going fast! My Nordstrom didn't have anymore in store so I had to order them online.
I also bought this sweater in gray and I'm ordering it in a few more colors (comes in 6 colors). It looks so cute on and is under $32! I think I'm set for fall! Just a few pairs of shoes, warm & casual sweaters, and some plaids. What more does fall need??
Here's a round up of my purchases and a few faves that didn't make the photos.  Just click on the affiliate link to shop. Happy shopping friends!

SaveSave
SaveSave
SaveSave
SaveSave
SaveSave
SaveSaveSaveSave
SaveSave
SaveSave
SaveSave
SaveSave
SaveSave
SaveSave
SaveSave
SaveSave