We've been in our home, The Forest Modern, a little over two years and I still have rooms that are in a state of design limbo. The three year design/build journey left me feeling completely drained by the time we moved in. I feel like every ounce of my creativity was depleted and needed some time to refuel. Some rooms in our home I felt completely inspired in and knew exactly the design direction I wanted to go. Have you seen our home tour? You can check it our HERE.
My office is a room that I spend a lot of time in daily, yet it was the space that I felt like I hit a design roadblock. I think I felt that way partly because I had already put forth a good amount of thought process during the building phase, designing the beautiful wall of built ins. I've had fun accessorizing those and it has felt like good enough until I was ready to finish the room. I've loved the clean palette and simplicity of bare walls. I've attempted filling the one large empty wall with art before, yet nothing felt right. I'd much rather have a bare space then temporarily fill it in with something I don't like.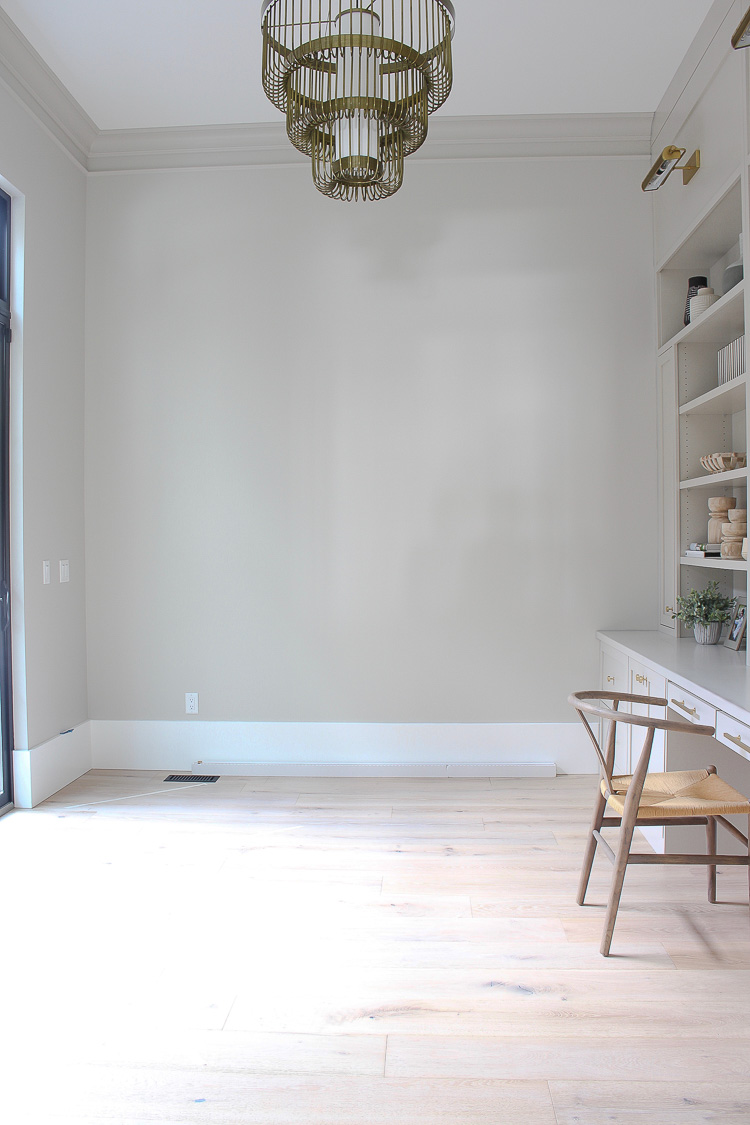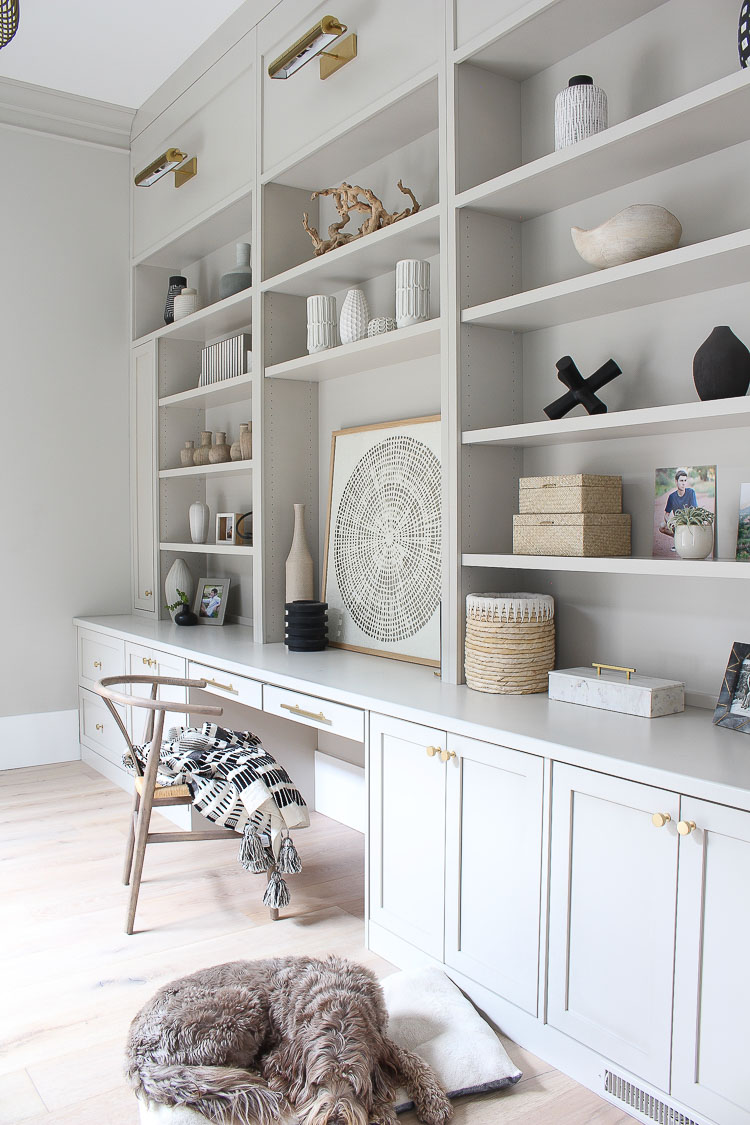 That's something I've learned over the years which ends up saving me a lot of money and avoids the feeling of dissatisfaction. Bear with me here for a minute because I have a word about design and my thoughts on it. I think it's really easy to get sucked into design trends and impulsive buying when we see something that looks great in someone else's home. But will it look great in our own home? Or if it's on sale and such a bargain and will fill that void temporarily. As a designer, blogger, and inspirer on social media I feel a big responsibility to encourage you to do what feels right for your home. I'm so grateful to all of you who have followed along with me here on the blog for six years and have watched my own design style evolve. In previous homes I've been so guilty of buying all the things to fill a room yet finding myself wanting to redo it all in less than a year. That's called impulse design. Not good friends. Just don't do it! I made a commitment to The Forest Modern to stay true to what felt right in design. Even when it has meant letting rooms and walls remain empty.
I've learned to design for myself and not for the masses that see our home on the internet and social media. I hope over these past couple of years as you've followed along, you come to our home for inspiration and for motivation to think forward in your own design work. I love all the emails I receive daily that tell me stories of how this home, The Forest Modern, has inspired so many remodels, new builds and room refreshes. As I continue to share more of our home, I hope it inspires you to think through what works for your home and even helps guide you to feel your home.
**Affiliate links are used in this post. Disclosure and photo policies can be read here.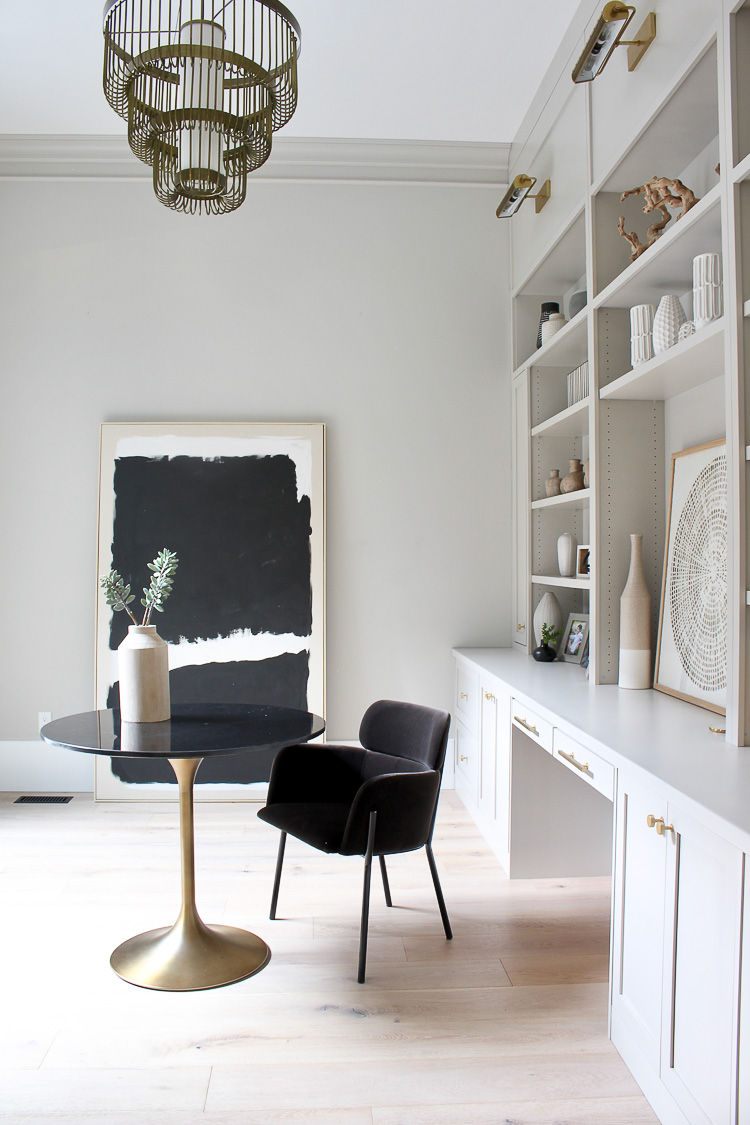 Okay, full circle back to my office and where I'm at in the design process. I had a "revelation" this week about its functionality and suddenly the design wheels turned in my brain. I'm still so happy with how I designed the wall of built ins with a desk in the middle, but, I realized I didn't enjoy spending hours working on my laptop facing the wall when I could turn my chair around and look out the doors to the beautiful forest. Duh!!! Another "need" I felt this room was missing was a sitting area. My family tends to congregate in here when I'm working and will sit on my built in countertops. Nope. I don't like that and am always shooing them off. So I realized I should create a cozy sitting spot.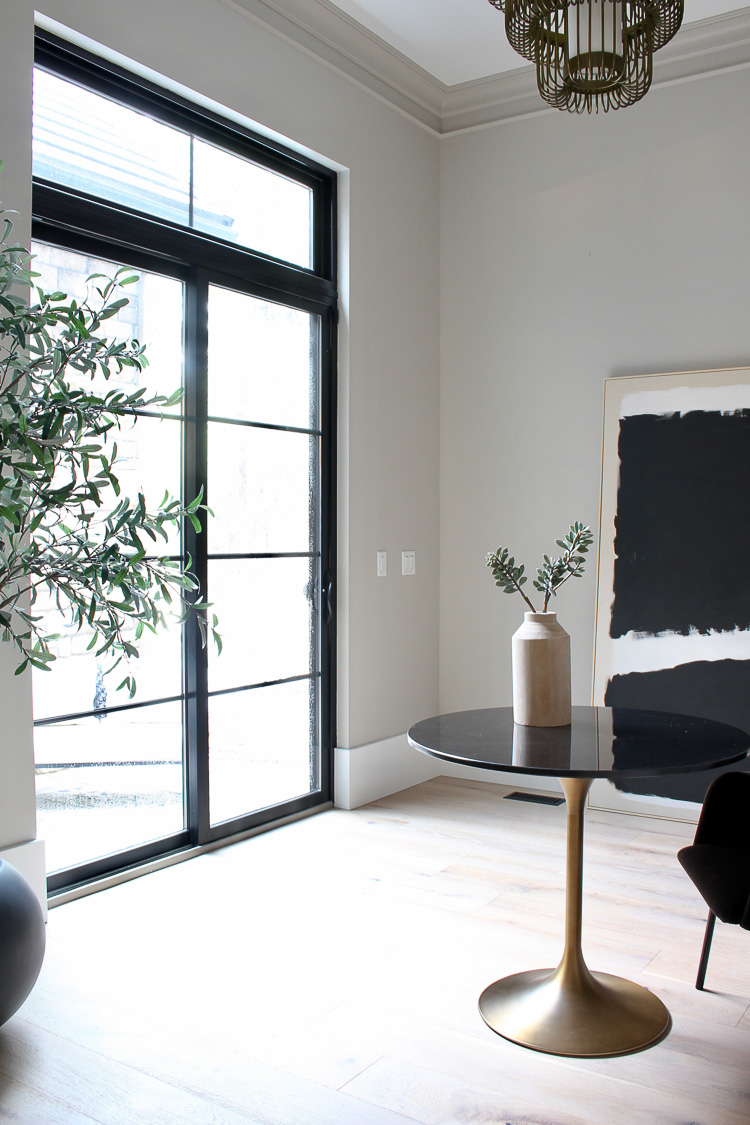 This is where I'm at this week in the design process. Side note, no my doors are not privacy glass as they appear in the photo. It was raining when I took a few quick photos so what you're seeing is rain. Just had to clarify that, lol.
This beautiful and LARGE piece of art arrived and I'm really happy with it! You know why? Because it's a compliment to the rest of our home. Neutral colors and of course, black, my fave. It's subtle yet bold. Our ceilings are 12′ and this art is almost 7′ tall! It'll be hung on the wall but for now you get the idea.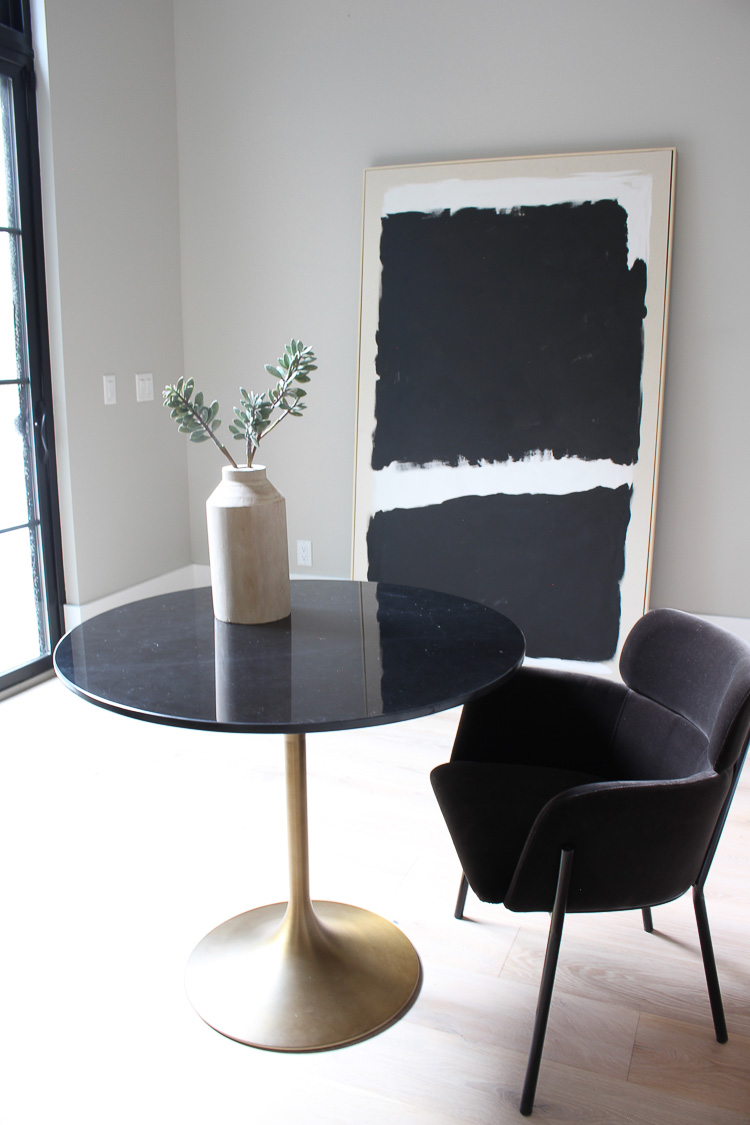 I borrowed this tulip table from our hearth room as a temporary "fill in" to get an idea of how a middle of the room desk would feel. I borrowed this chair from our dining room. This was so helpful and inspiring on my new design plan. I LOVE the idea of sitting at a small table and being able to look out my doors. Furthermore, I loved sitting in this chair as my desk chair. It's actually comfortable! I ended up finding this similar chair that is the same material and size as our dining chair. It's on order and I can't wait to get it. I'm still working on finding the perfect table/desk. I actually love the size of this tulip table (35″) but it already has a home in our hearth room so I need to find something similar.
I ordered a set of these chairs for that cozy sitting spot for the family. I'm still pondering rugs. I have this rug in mind because I'm drawn to the earthy sage undertone. I think this will be the last piece to purchase because I want to make sure it's "the one" before I take the plunge and buy.
I've been guilty of showing you finished rooms rather than the process and I want to get better at documenting the "in between" phases. I hope this post encourages you to be content in those "in between" stages in your home. Take time to ponder those big purchase items. I've saved myself so many times from the urge to buy when I take a step back and think through the process. Give yourself a few days, a few months or even 2 years (Ha! like my office has taken).
I'm super excited to get this room finished and now that I've shared the design plans here on the blog, you can hold me accountable to getting it finished up soon! A few desk options I'm eyeing are on backorder so I may be searching for alternatives, but, I'm taking my own advice and deciding if it's worth the few extra months of waiting to get the right piece. Stay tuned friends! This room is gonna be gorgeous!! Here's the design board I created to give you an idea of the look.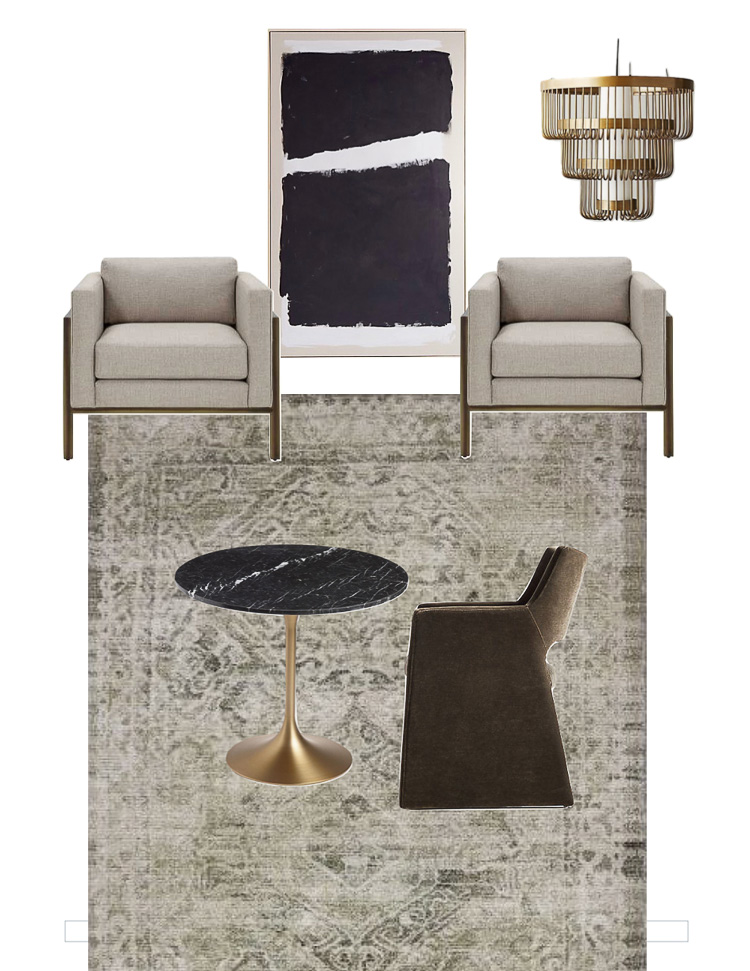 SCROLL & TAP ON IMAGES TO SHOP