What a crazy week this has been! Actually, we've had a lot of different things going on since the new year started. Hence, the blog has been a bit quiet. I've been working on some super exciting new design work that has kept me buried basically. Then throw in a huge curveball, we got a puppy.
Our new puppy story//be prepared for a novel and overly adorable photos
Last week on Instagram I announced that we had been searching for an Australian Labradoodle. I'll explain why we chose that breed in a moment. I'm a little wordy in this post because I've had a lot of questions on Instagram about the kind of puppy we have, why we chose it and who our breeder was. I hope to inform you the best I can.
The boys have been begging me since last fall for a new dog (a bigger than Gucci dog, a "man" dog, a dog that does not wear bows or onesies, a non-Gucci basically).  Not that Gucci isn't well loved just as he is, but apparently it's not cool to go hiking with your "teen friends" with a 5 lb yorkie who's mom may have dressed him in a tutu. What's wrong with that? 😉 I literally had no time to research breeders or even wrap my mind around a new puppy over the holidays. But now that we had settled into the new year, the time seemed right to take the plunge and go for it.
We've had golden retrievers and labs in the past and have loved both breeds, minus the shedding. Oh the shedding that makes me have tremors. Seriously, I have a bad case of OCD with massive dog hair and dander. So I knew we could not get another dog that shed. period.  I learned that the Australian Labradoodle is a non-shedder (worse case, slight shedding during certain times of year). Besides the fact that they are so darn cute!
I started researching breeders online and soon found out that these dogs are quite popular and hard to get in a short period of time. Many breeders had wait lists into summertime, fall and even 2018. That wasn't working with our timeline. We wanted a puppy now, more like 6 months ago. I literally spent over 20 hours searching nationwide for a doodle that we could get now. The family didn't seem to care what color we got, but I fell hard over the chocolate doodles. Those turned out to be the most popular. Of course it is. I spoke with a handful of breeders who were so helpful in educating me about the breed and how to search for a good breeder. I won't get into the breed details (you can google them and there is a plethora of info on the net).
This past Monday night, I sat down once again at our kitchen table, opened my laptop and scrolled over the 15+ breeder websites I had opened on my screen. I went to the ALAA (Australian Labradoodle Association of America), again, for the hundredth time it seemed, and came across this breeder. JACKPOT!! They had a boy puppy available and in my favorite color, chocolate! If you've read my blog long enough than you may have gathered that I pray a lot, about everything. I prayed that God would bring the puppy to our home that was meant to be. I was ready to give up my search. I was exhausted of my constant dead ends. I had become desperate and was willing to fly myself clear across the states if I had to just to bring home our puppy. Well, the good Lord had a plan and he gave us our puppy.
I called the breeder and learned they were located in the Dallas Fort Worth Area. They sent me this picture. My heart skipped a beat. 13 weeks old and ready to go to his forever home. Oh those soulful eyes!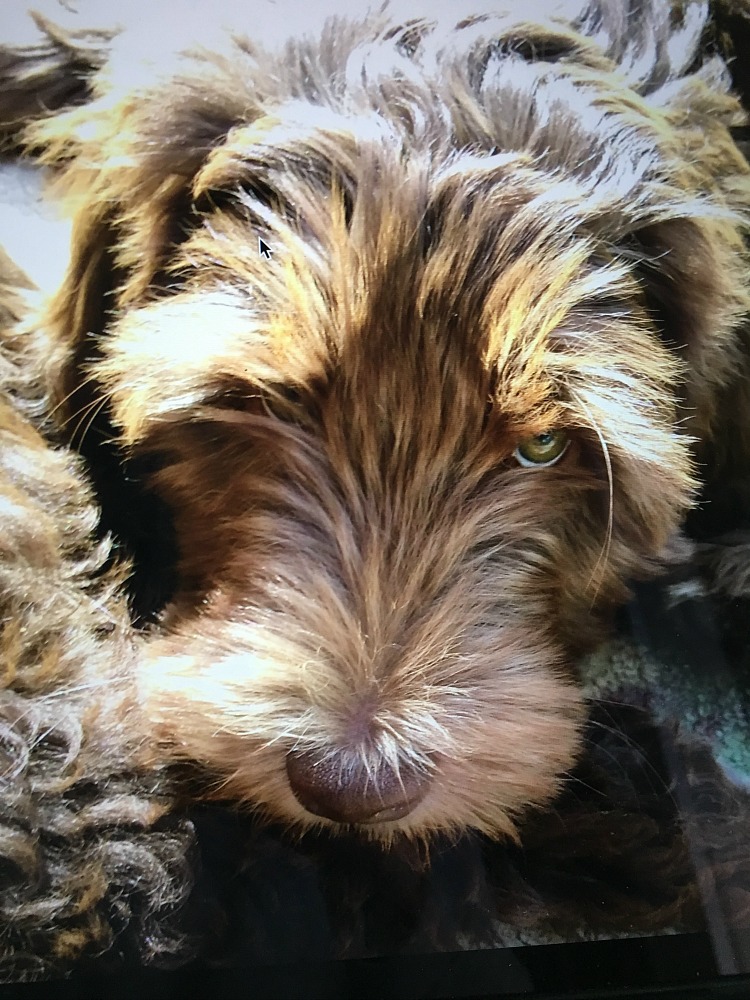 The breeder was so kind and agreed to drive the distance of halfway between Colorado Springs and Dallas to get us our puppy. Many breeders will put a puppy on a plane and send it. I never felt comfortable with that option. We've flown enough times with Gucci to know that flying is really stressful to animals. This breeder didn't feel comfortable flying him either, so that spoke volumes to me.
Wednesday morning, Tim and I left at 6 a.m. and set out on our 6 hour drive to Amarillo, TX where we would be meeting the breeder. We had a fun road trip and about 30 min outside of Amarillo, we were commenting on how easy the trip had been.  Driving down a very deserted highway in the middle of nothing but FLAT land and weeds, our uneventful journey hit a road block. Literally. The highway was shut down. Big ROAD CLOSED sign straight across our path. Say what?? Our GPS was highly confused and took us on a detour that involved a country dirt road that ended in another barricade. I started panicking because the breeder had already been waiting an hour for us in Amarillo. Blondie here forgot about the time change when timing our trip. oops! I called the breeder and explained to him that we were basically lost. He was so patient and just said stay put, I'll come to you.
We met off the side of the highway at some small business and we met our puppy…FINALLY!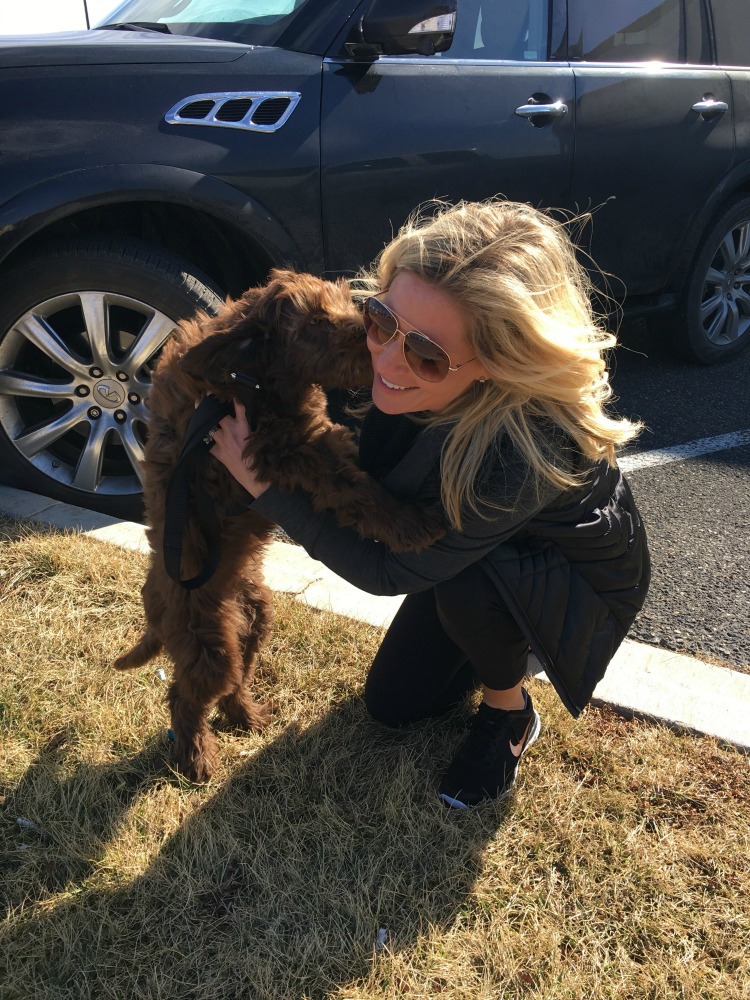 Vest | Leggings (my favorite!) | Top | Shoes | Sunglasses 
(*affiliate links used)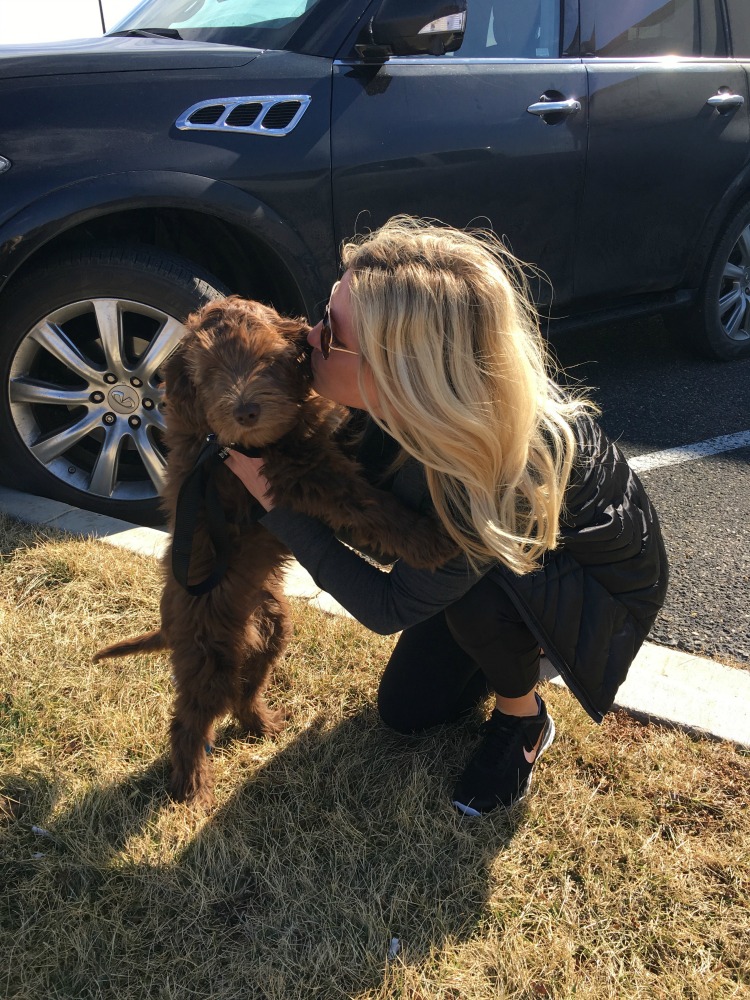 He warmed right up to me and literally curled his big teddy bear paws around my neck when I scooped him up in my arms! I couldn't believe how precious he turned out to be. Our 6 hour drive back home went smoothly, and he pretty much slept the whole drive. He spent a total of 15 hours in the car that day and he did awesome.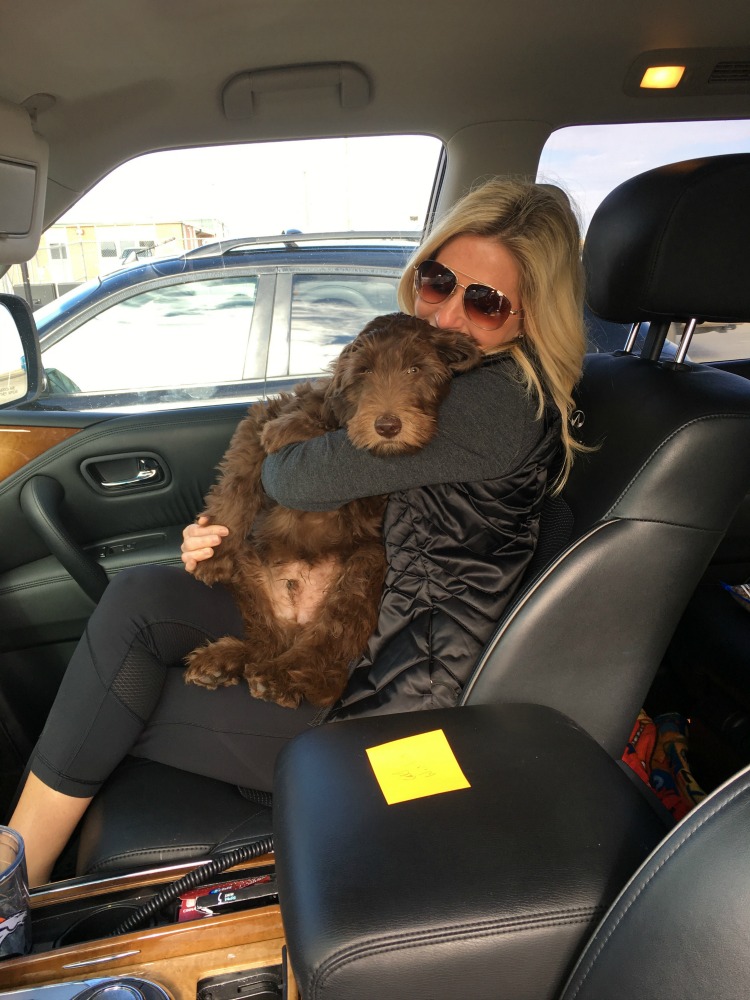 Meet our sweet doodle, Kodak. We're already calling him Dak for short. Dak the doodle. Catchy! I love it!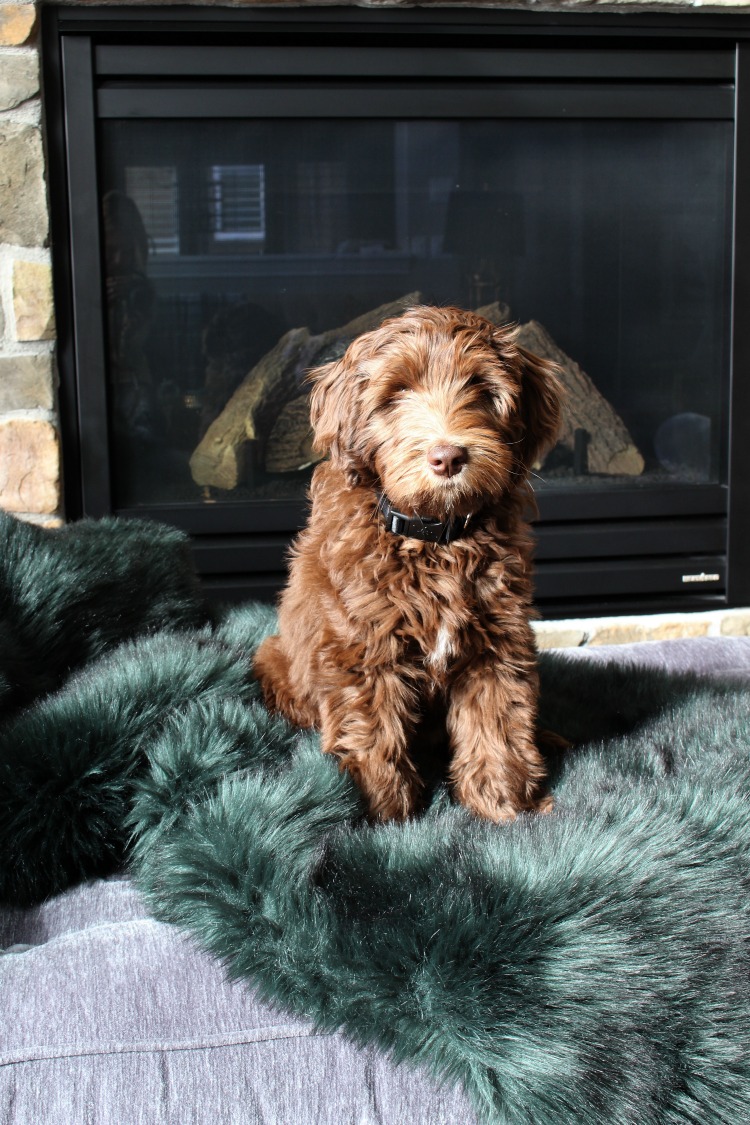 He's been with us for 2 nights now and he has slept 7+ hours straight both nights in his kennel without a peep. I mean he really couldn't be anymore perfect! I went into this journey pretty adamant that this would not be my dog to take care of. The boys would have to do their part. Turns out I fell in love with this guy from the moment I saw him.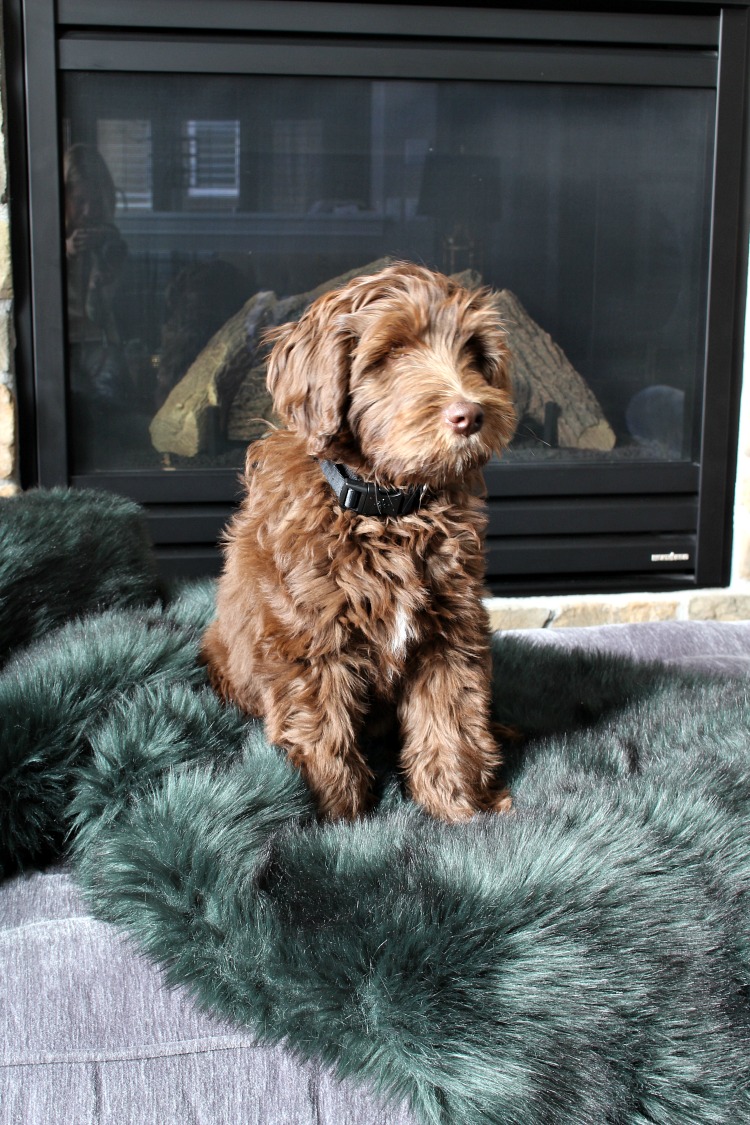 I've got nothing done these past couple of days because I feel like I'm in baby moon. You know the feeling when you bring a newborn home from the hospital.
Gucci is slowly warming up to him. He's definitely needing some extra lovin too!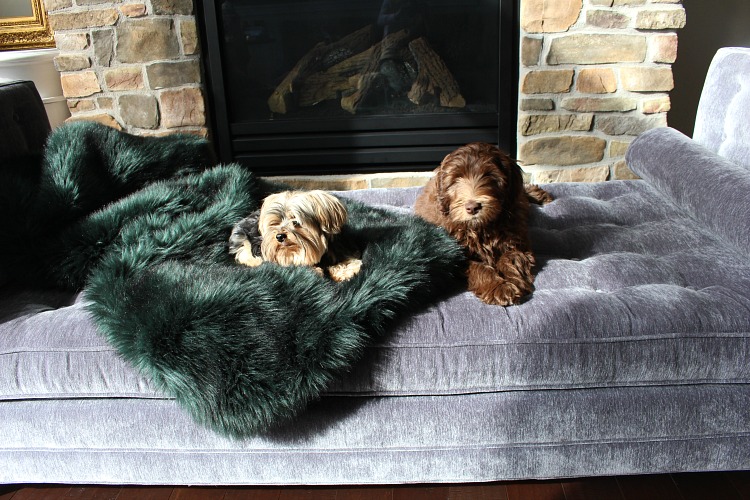 Dak wants to play with him but Gucci is not quite used to a playful puppy who has teeth as sharp as razors. I'm sure they'll be best friends in no time.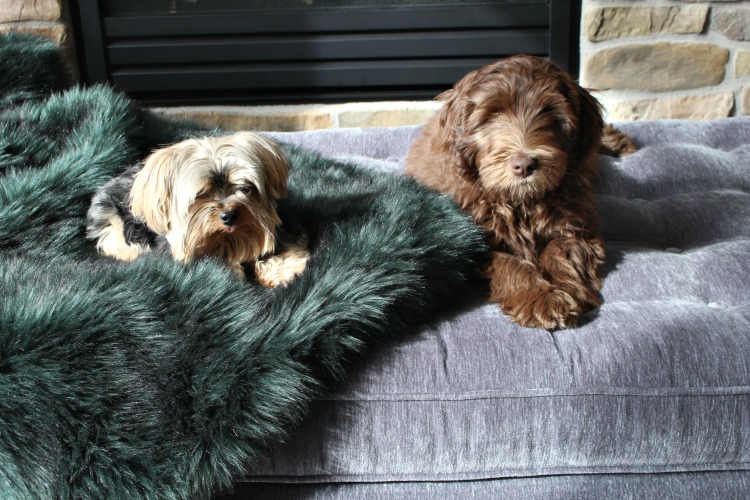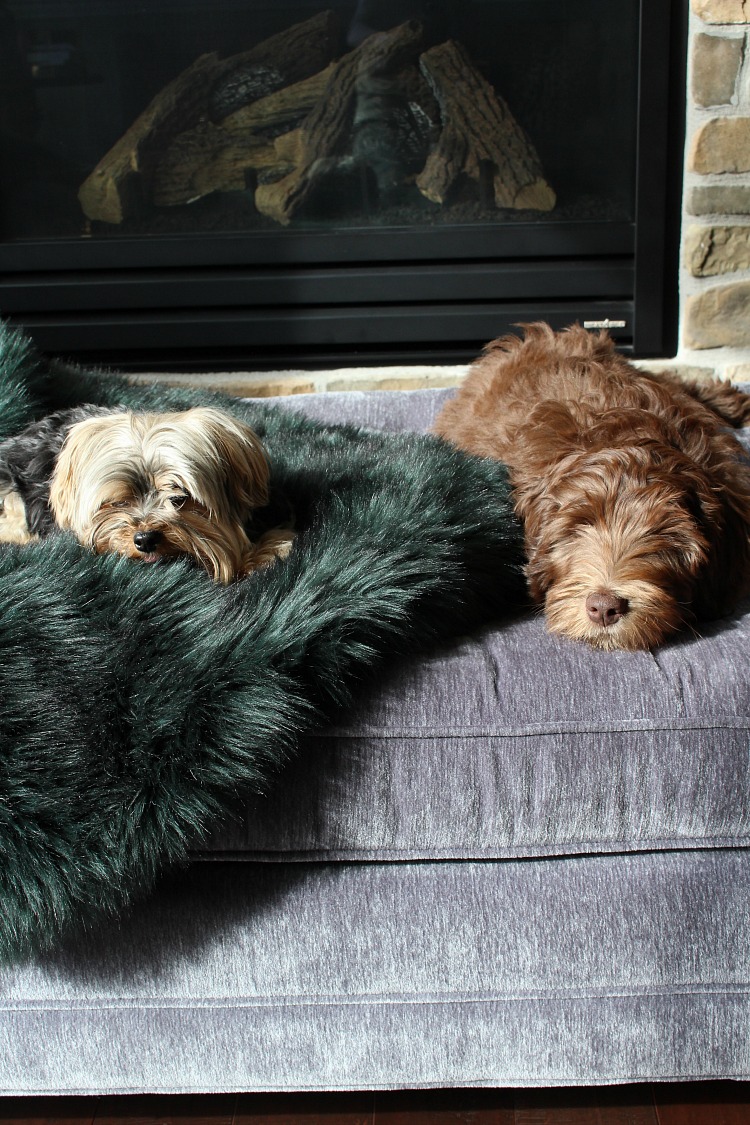 I rolled up our living room rug and my favorite kitchen runner just in case he piddled.  Of course there have been accidents, but for the most part he's done pretty good with his puppy bladder. He did poo in our bedroom on the carpet…ugh. And then he ate it. I can no longer say has cute puppy breath. Somebody pass him an Altoid please.
He's breaking all the rules. I let him on my sofa. I can't believe myself. It's just really hard not to let him cuddle with us while were hanging out in the living room. I laid a throw blanket down to protect it at least. So no rug, and throw blankets on the sofa, I think I'm ready for a spring home tour…haha! Not kidding, be prepared for that in March ;).
He even flung half his body across our kitchen table.  I don't even recognize myself. The old me would have been running for clorox wipes to wipe the table. Now I'm just running for my phone to snap some photos. I'm kind of loving my new carefree attitude.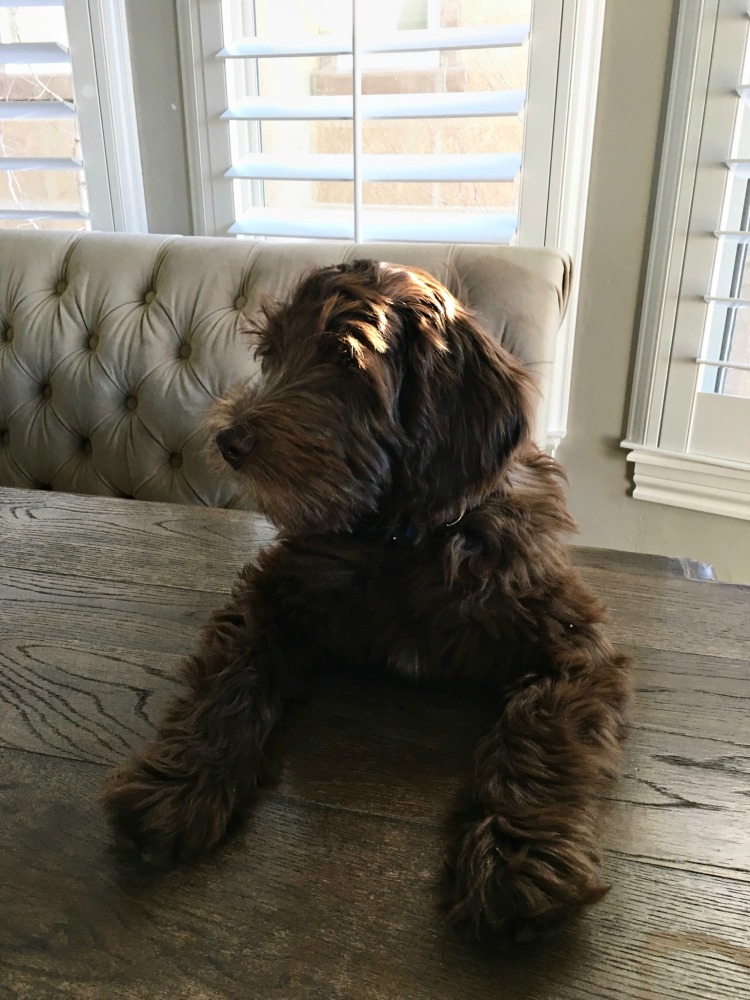 Can I just preface these last few photos by saying how hard it is to set the camera up on the tripod (while Dak is chewing the tripod legs), setting the camera timer, and then sprinting to photo position with pup in tow all before the 10 second timer takes the picture. Challenging for sure. Getting two pups to cooperate and look at the camera is even more of a challenge.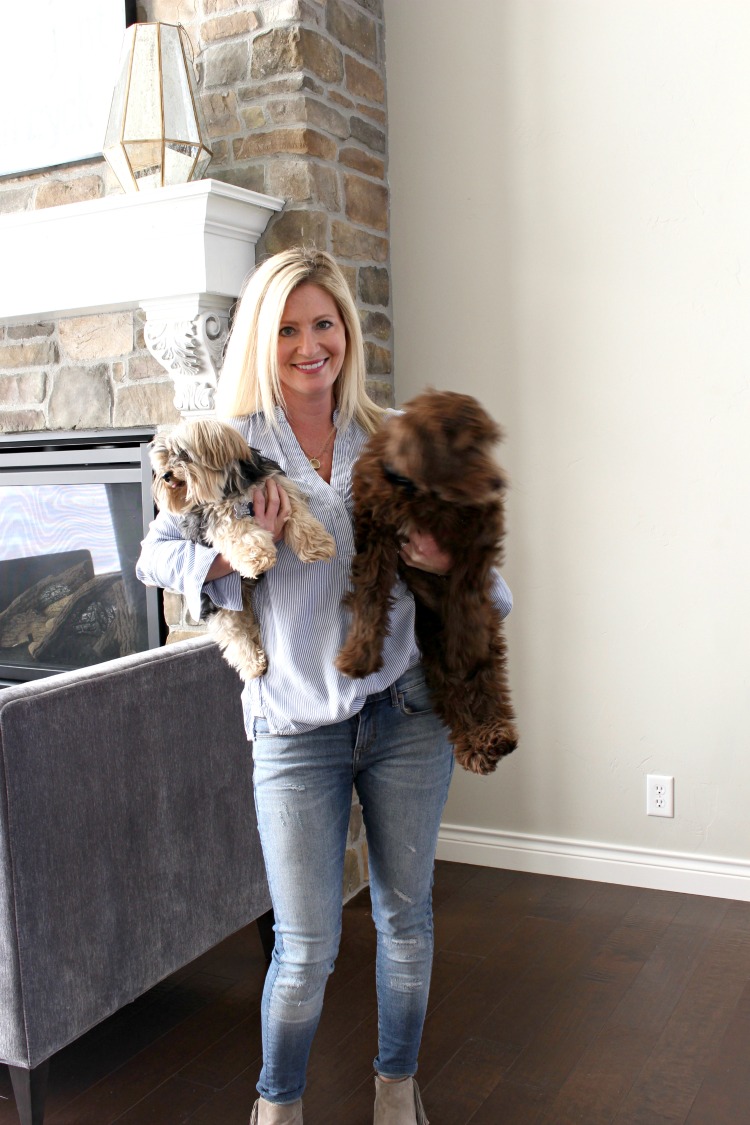 Booties | Jeans (similar) | Top
This is what I call a "Kodak moment." Get it? wink wink.  We're having a lot of kodak moments around here.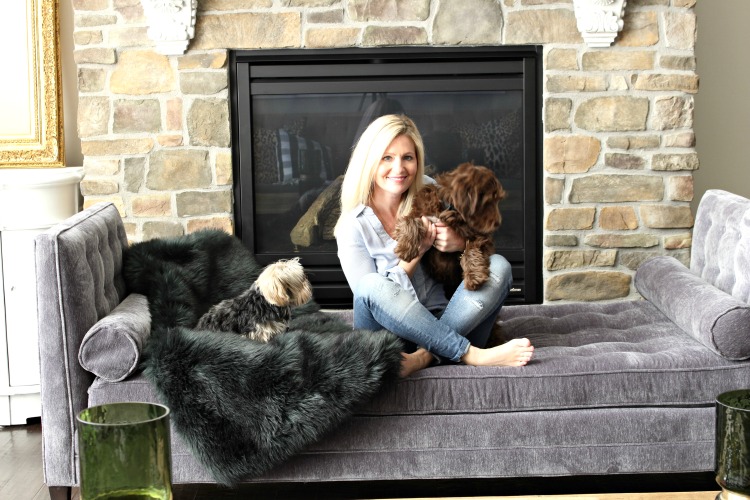 A slightly jealous Gucci.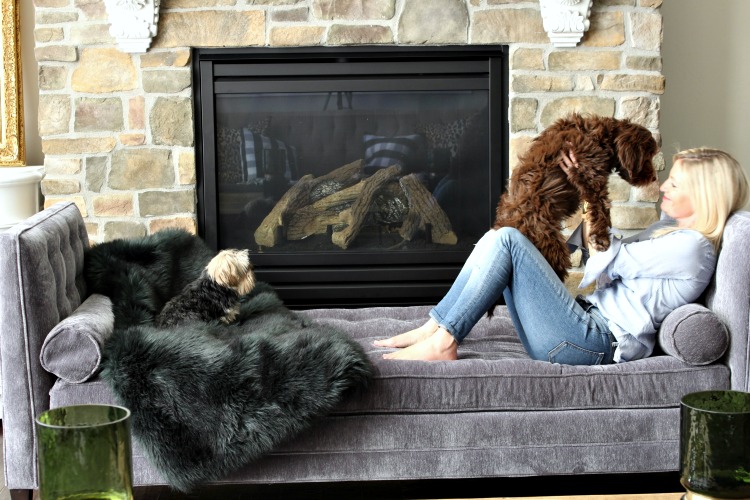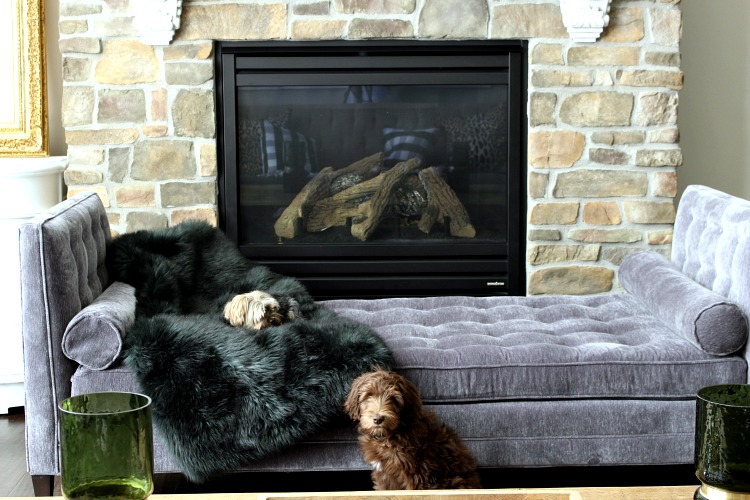 That, my friends, is the story of Dak. I hope you enjoyed!