Ruby Red Inspired Christmas Table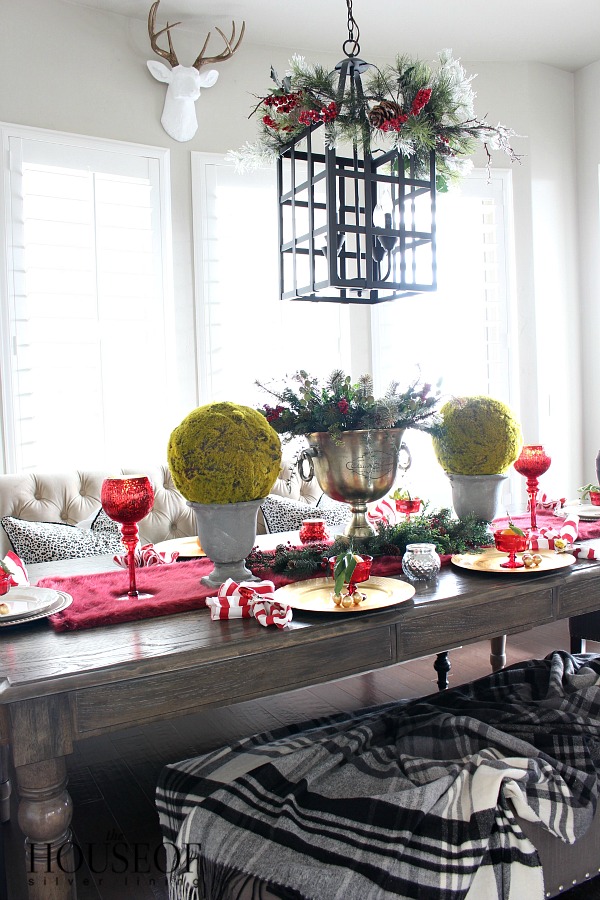 Tis the season of red and gold in my home.  I normally do not have any red in my decor but when I started conceptualizing what I wanted my Christmas table to look like, jewel tones popped into my head.  Most of my design inspiration comes just by browsing my favorite local stores like Homegoods, Target, and Tuesday Morning.  I will usually find one little piece that will set the tone for the design I want to create.  My ruby-red inspired Christmas table was all based on one gem that caught my eye.
This ruby-red, velvet pillow that I found at Tuesday Morning was that piece!  The rich and vibrant hue was perfect for my white and grey kitchen!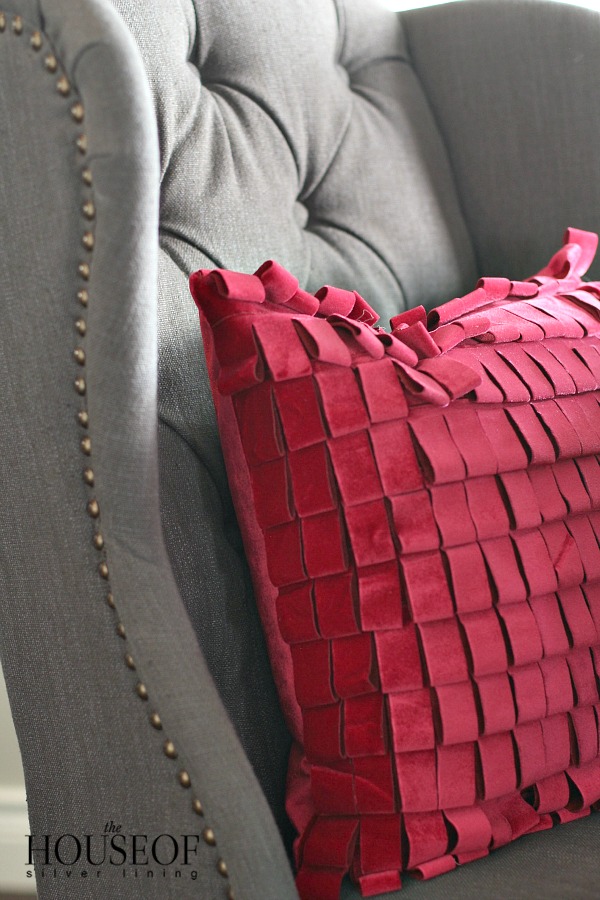 So once I knew the color I was drawn to, the rest of the pieces for this tablescape easily fell into place.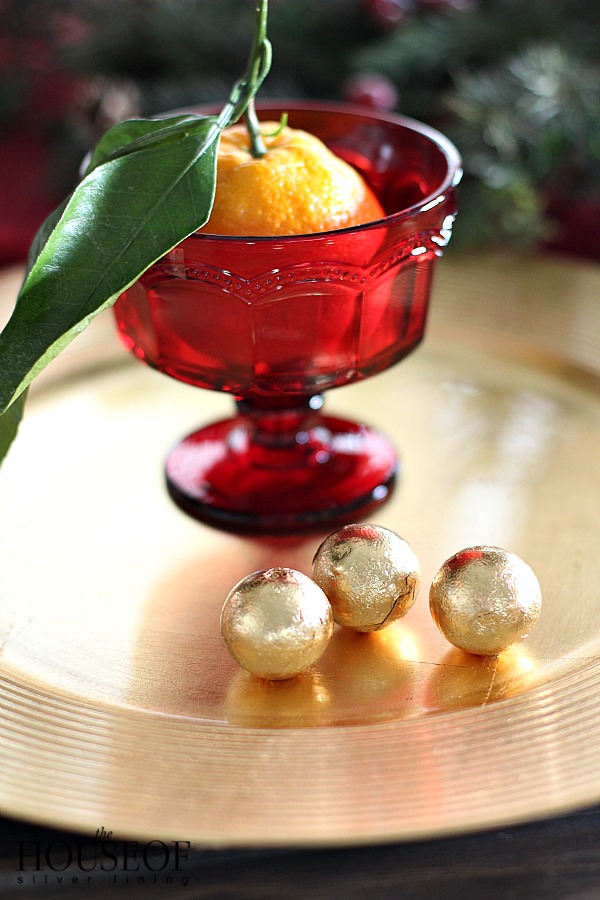 Another great find is this ruby compote dish from Tuesday Morning as well.  A sense of nostalgia triggered my memory to my childhood when we would travel to my grandparents home in Idaho for Christmas.  My grandmother would serve ambrosia in these little ruby-red compote dishes as an appetizer.
I love for my table to have an eclectic feel.  Nothing too matchy-matchy.  Some place settings have a charger with white plates, while others just have gold plates.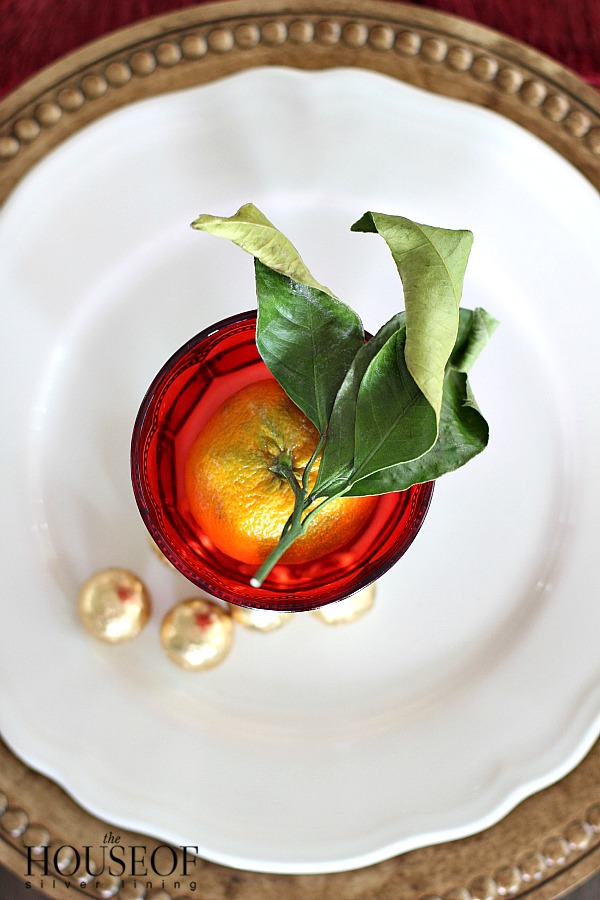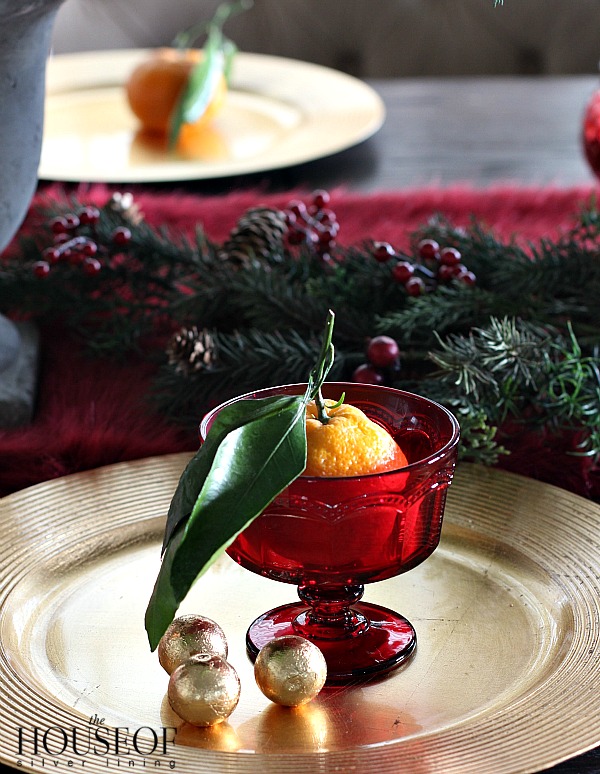 The little gold balls are chocolates that are sure to please my boys! Who says you can't have dessert before a meal?  Maybe only on Christmas!
The burgundy fur runner is from Homegoods.  I couldn't love it more! The mix of bright red, ruby-red, and burgundy actually look quite stunning together!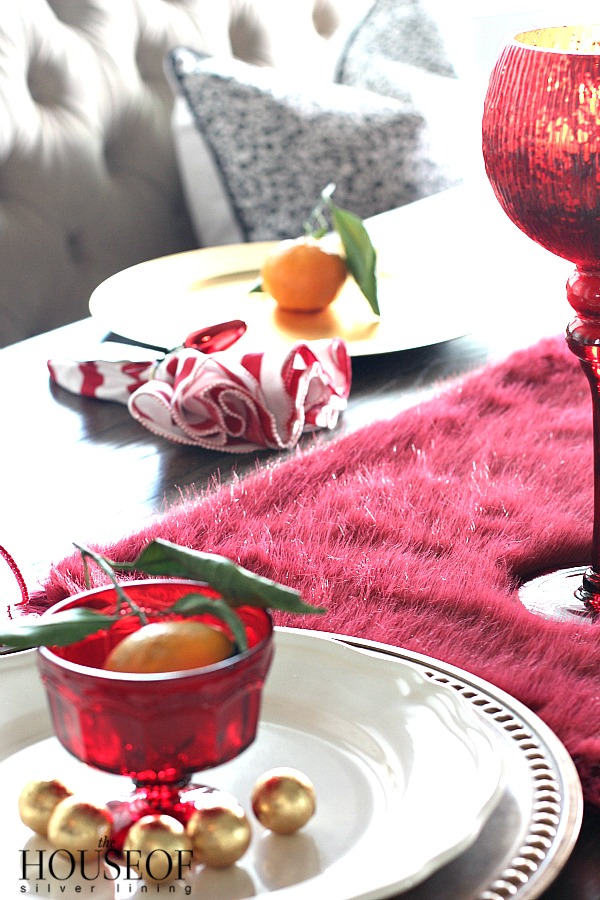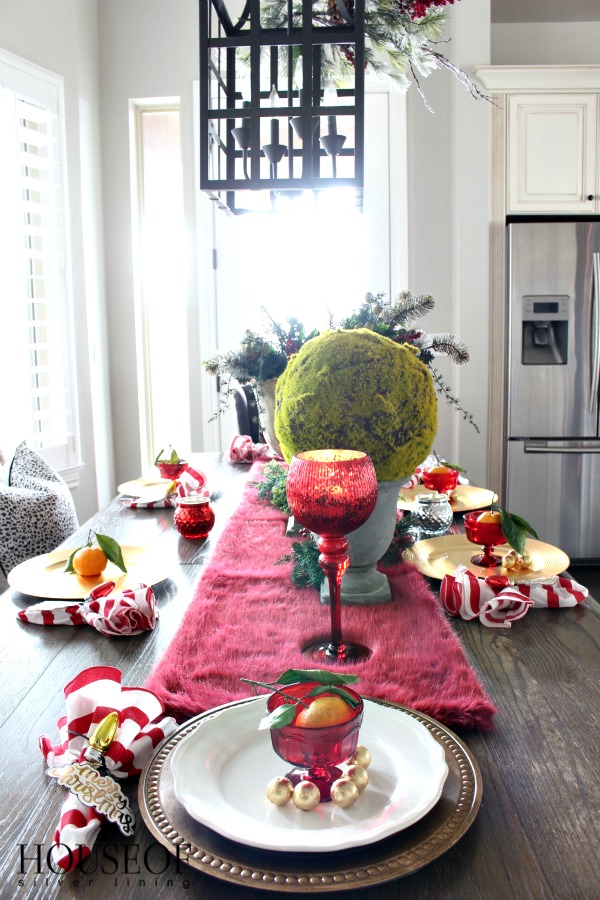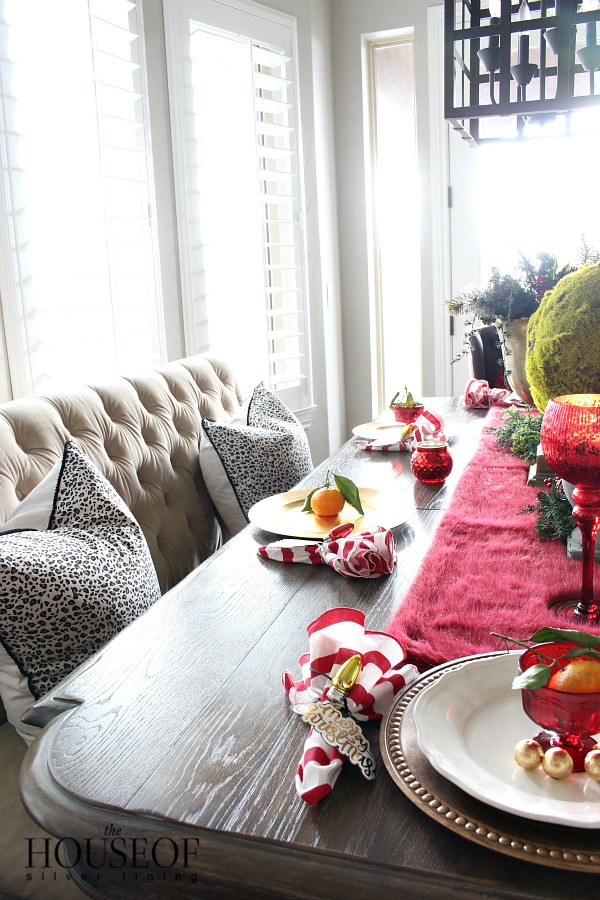 The leopard print pillows are from Homegoods.  You'll probably see these in every room of my home throughout the next year.  The candy cane stripe napkins are from Pier One.  The Christmas light napkin rings I've had for a few years.  They've always been a favorite of mine.  I used gift tags from Target tied to the napkin rings for a little more holiday cheer.
The large moss ball urns were transplanted from my living room mantel.  The mossy green breaks up the traditional winter greenery I have scattered throughout.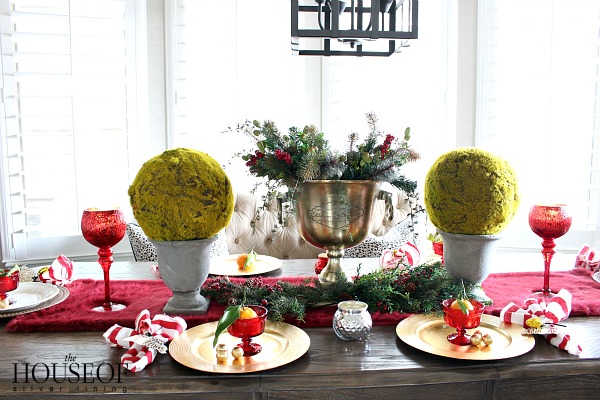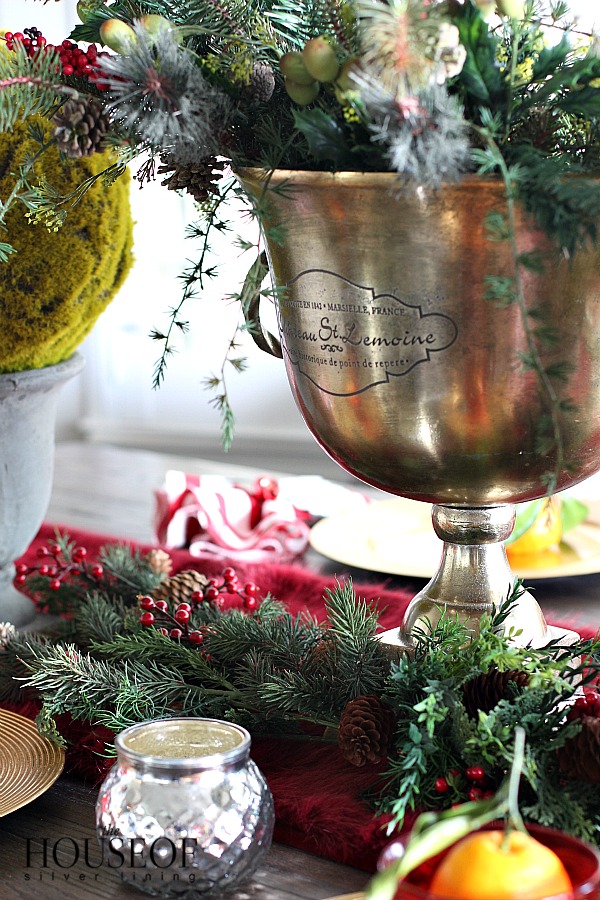 I found this champagne bucket at Homegoods and thought it would be beautiful as a centerpiece.  Mixing metals of antique bronze, silver, and gold create visual interest to the table.  A tablescape, as with any design, speaks louder to me if it looks like it's been curated with pieces collected over time. The red candles are from Tuesday Morning and the silver tea light jar is from the dollar spot at Target.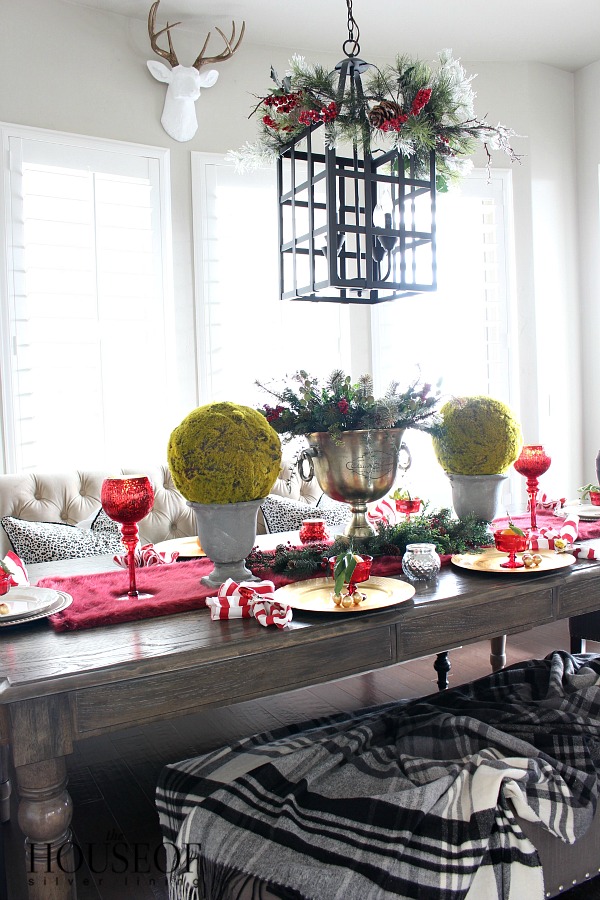 On December 7, I will be hosting a Christmas Home Tour with seven other amazing bloggers.  Be sure to come back to see all of our homes decked out for Christmas!!  It's going to be good…promise!!