Simple Designer Tips On Creating a Luxe, Elegant Christmas Tree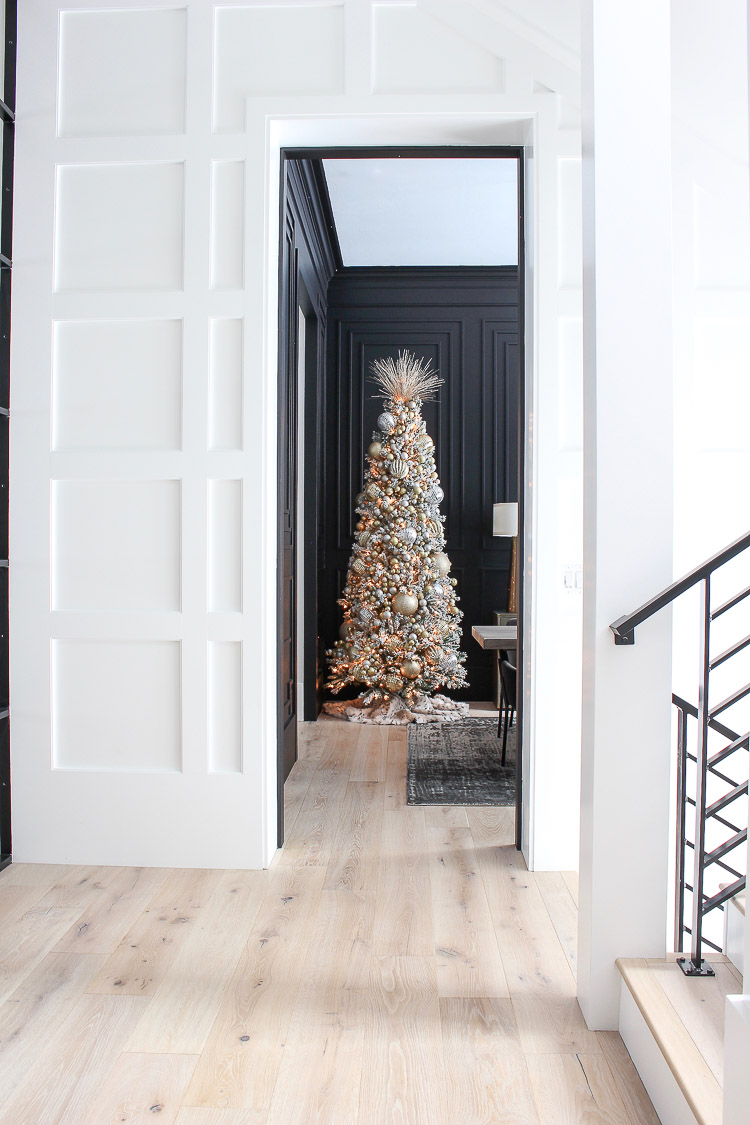 Affiliate links used in this post. See disclosure HERE.
I have a few simple designer tips to create a Luxe, Elegant Christmas Tree. This budget friendly flocked prelit tree has been a part of our holiday decor for years. With a few simple steps I turned it into a luxurious look! The best part is that it took me less than two hours to set up, fluff and decorate. I shopped around to find similar items for you to recreate this look and have linked at the end of this post.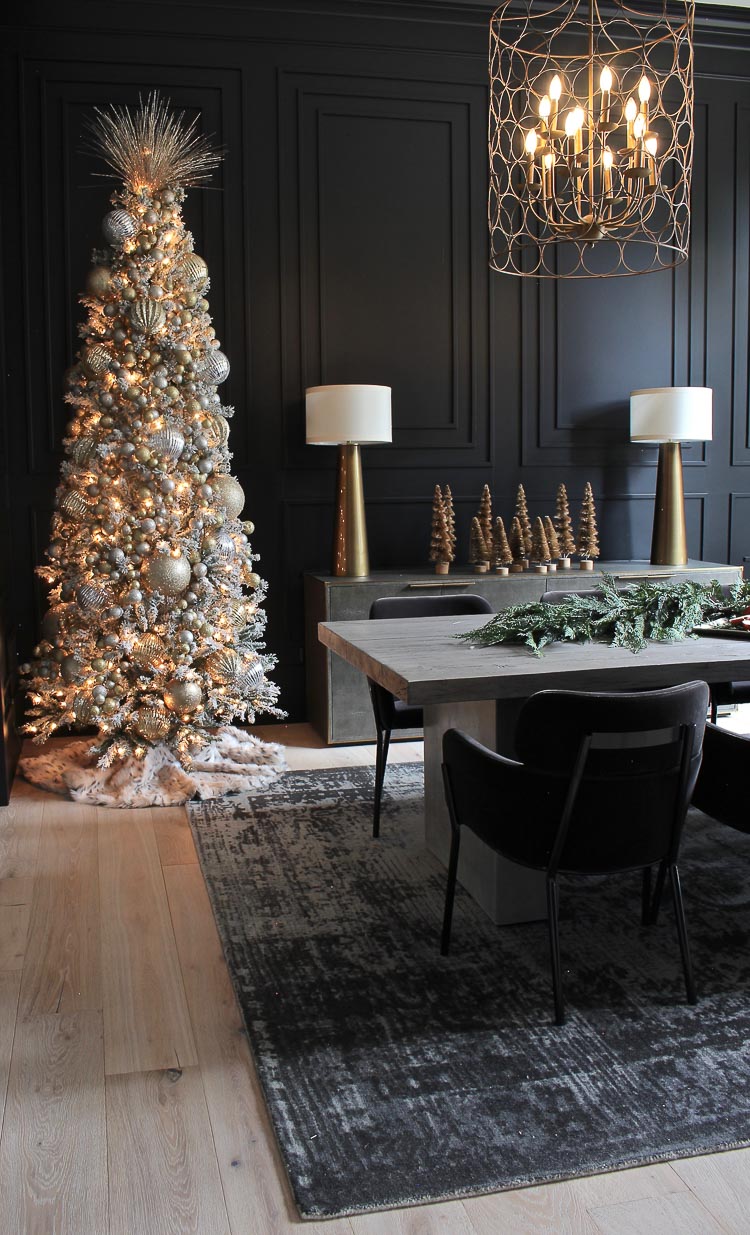 For me the most dreaded task of decorating the tree is unboxing and fluffing it. Last year I got rid of all of our cardboard tree storage boxes and stored our trees upright in this canvas cover bag. I highly recommend doing this if you have a space in your home to store your tree in its upright position.
Designer Tip // Create that luxe look with ball garland
I used five strands of ball garland cascading down the tree to give the illusion of clusters of ornaments. I simply hooked the garland around the top and 3/4 top of the tree and allowed it to cascade down. Our tree is 9 ft for reference. The garland is actually really light weight and is so easy to work with. Simply "tuck" in place deeper in the branches to create dimension. I also do not decorate the back of the tree, only the angles you actually see. This ornament garland is beautiful and even has string lights! I also found this similar garland at a great price!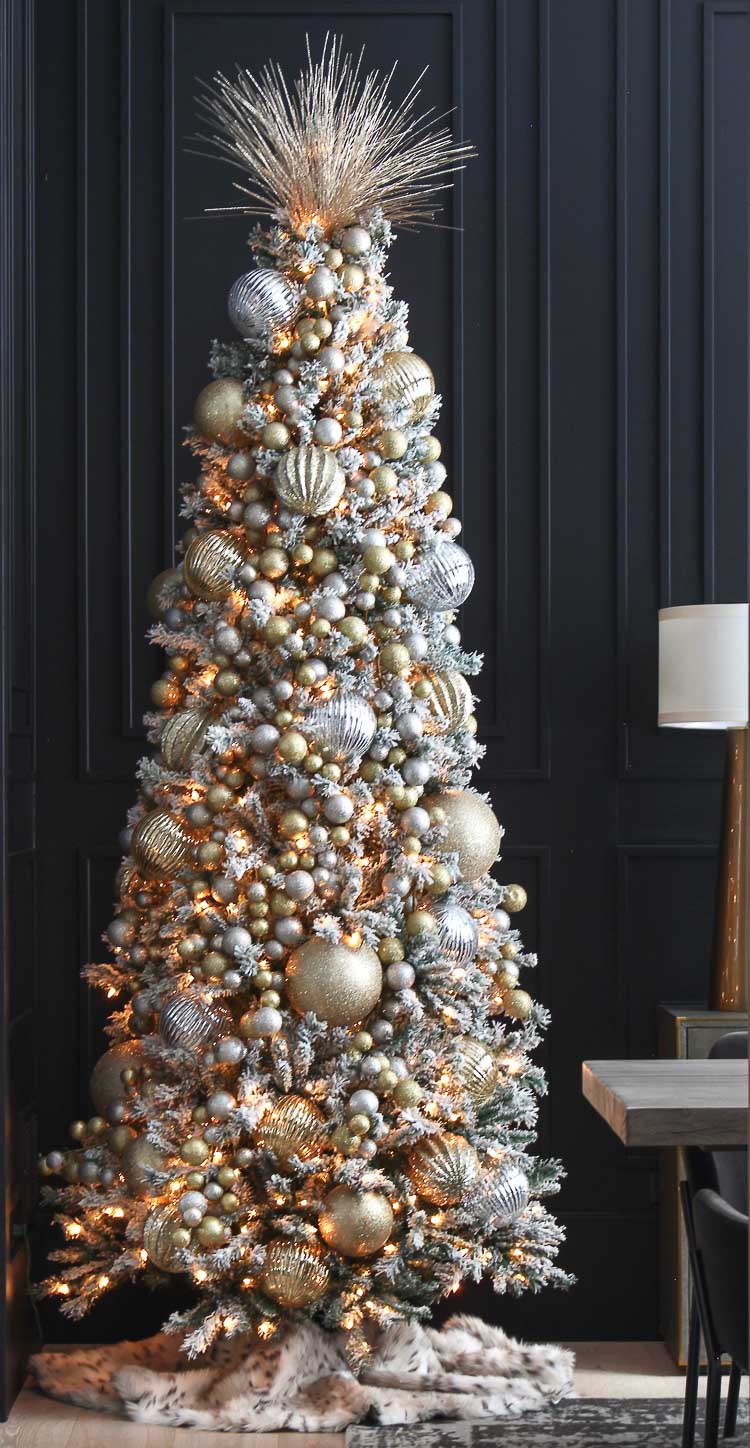 Designer tip // Extra large ball ornaments add volume and fill in the gaps
I use a mix of 6-8″ ball ornaments. They are shatterproof and lightweight, perfect for filling in all the holes and gaps and a great way to dress up a basic tree with a designer look. I rounded up a few options at the end of this post. I also recommend checking your local hardware stores that often have the extra large ornaments for indoor/outdoor and typically at a great price.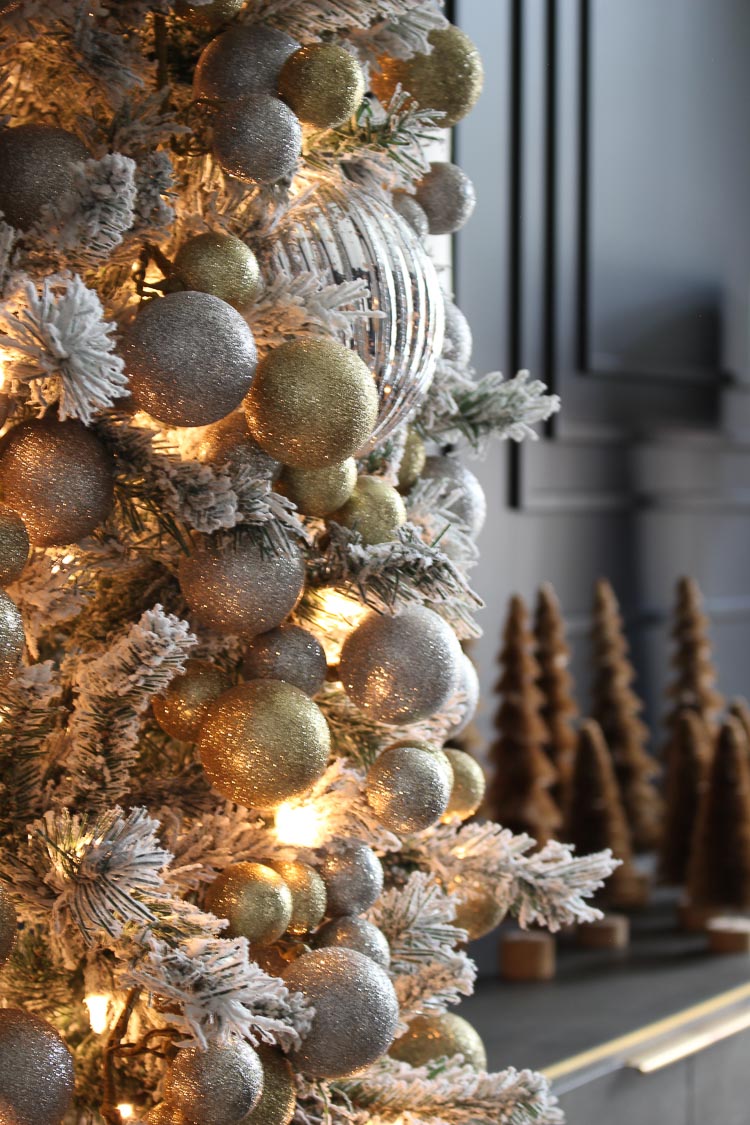 Designer Tip // Create the illusion of a tall tree with branches as the tree topper
Ideally I would love a 10 ft tree in this room since we have a 12 ft ceiling. I was able to pull of the illusion of a taller tree by adding these gold glitter branches from a local craft store. This is part of the tree you can get really creative and add a lot of layers of branches. My 9 ft tree now looks like it is grander than it actually is.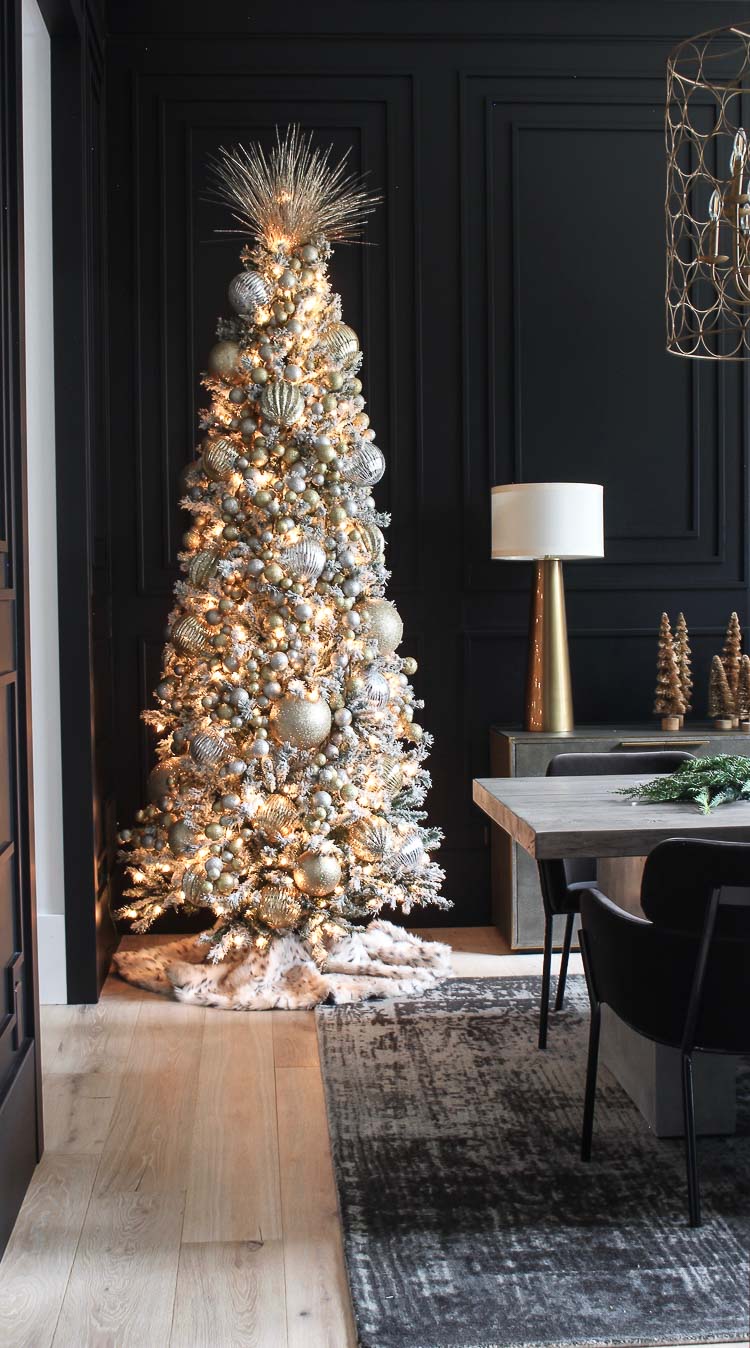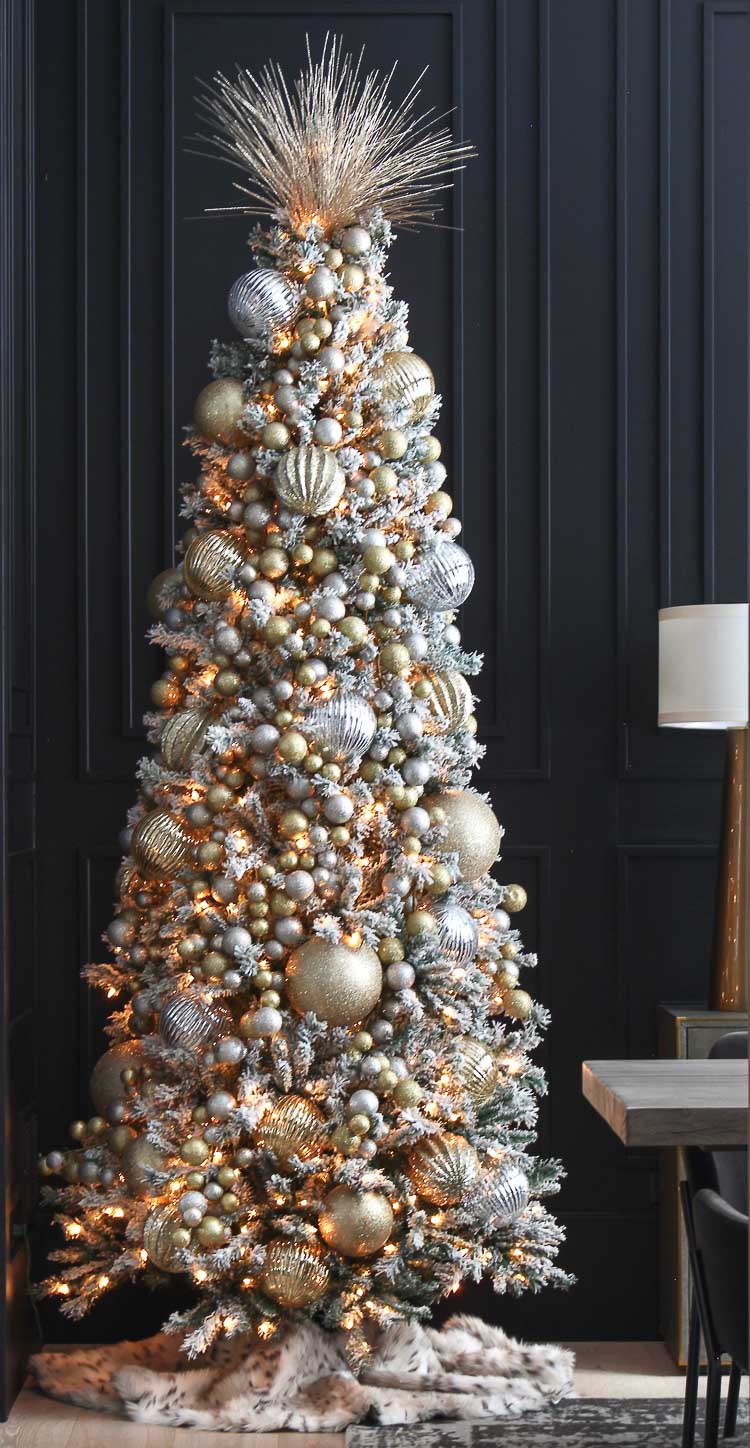 I hope these simple designer tips help you create that elegant, luxe Christmas tree in your home. Check out my round up of items you can use to recreate this look below.
Shop The Look