Taking my time decorating our home + a new styled space
One piece of design advice I "preach" is to take your time decorating your home. I believe a bare wall or unfinished room is better than a space that is filled with decor that is not what you love. Speaking from experience and buyers remorse, I tell my clients and remind myself over and over to let your home speak to you. We have been in our new home for almost 5 years and I still have empty rooms and plenty of bare walls. Over the years I have grown to love the process of evolving design. I consider the entire home as I am designing one small space. Everything must feel cohesive and thoughtfully curated with good intention.
With all that said, let's take a look at the latest space in our home that I've been working on. As I mentioned before, we are hosting some big gatherings and parties in the coming months so I am getting all those bare walls and empty spaces some love.
This post is sponsored by allmodern, a brand I love. All opinions, product selections and photography are my own. Please see disclosure policy HERE.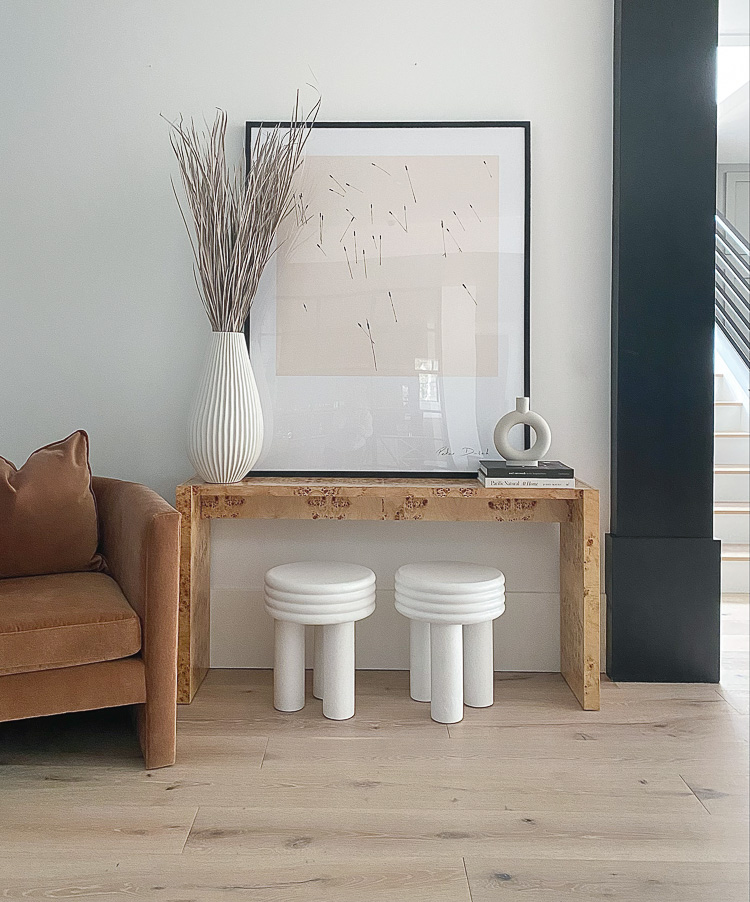 In our lower level, just off the bar lounge area I recently pulled furniture from other rooms. I always try to work with what I have before I buy new. Swapping furnishings between spaces is always a great start to making your home feel refreshed. Next, I add all the fun accessories. I partnered with one of my favorite brands, AllModern, to accessorize with pieces that have the modern, minimalist style I love.
Adding art to my walls has been something I've been very intentional about. I look for art that is oversized to really fill a space, yet minimalistic in design. I love this new abstract art with its very subtle design. It is available in multiple sizes and frame options. I went with the largest size of 50″x 40″.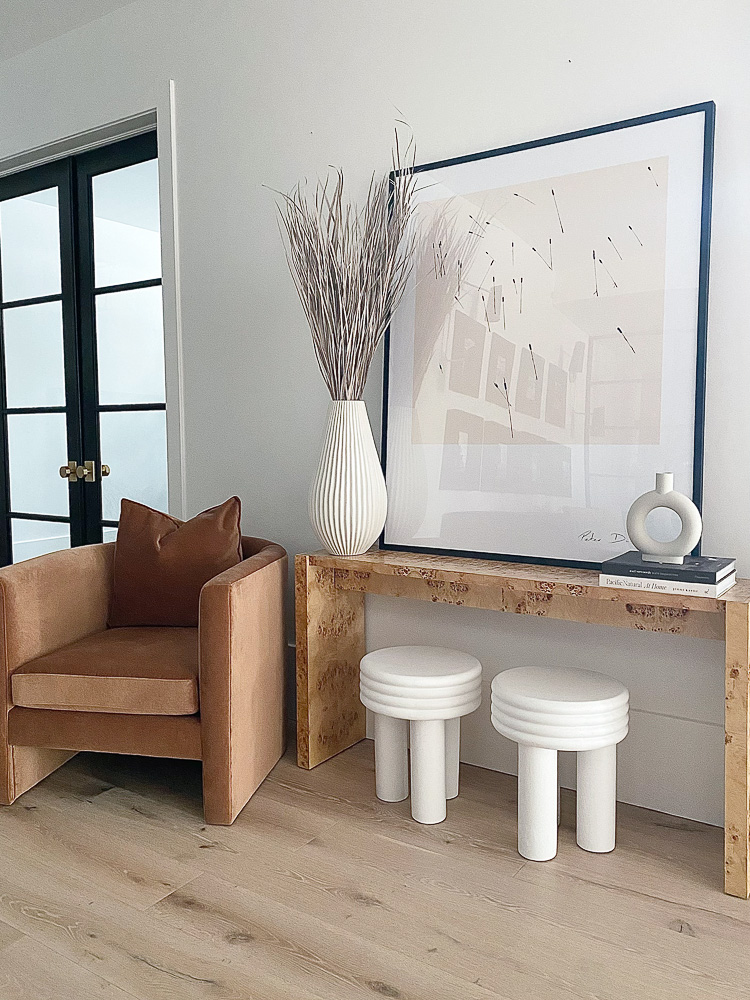 I like the idea of having extra seating and mini side tables to set a drink on. These gorgeous concrete stools tuck nicely under the console table but can be pulled out for use as needed. I love how they look! I have been collecting some beautiful ceramic vases from AllModern lately and this bone color vase is one of them. I try to avoid over accessorizing and stick with just a few statement pieces to speak to my minimalist design.
Now, as I walk down the stairs and turn the corner, this space feels inviting and perfectly cohesive with the overall style of our home. Check out my recent round up of favorites from AllModern!
SHOP NEW FAVORITES AT ALLMODERN