The Cottage Makeover Begins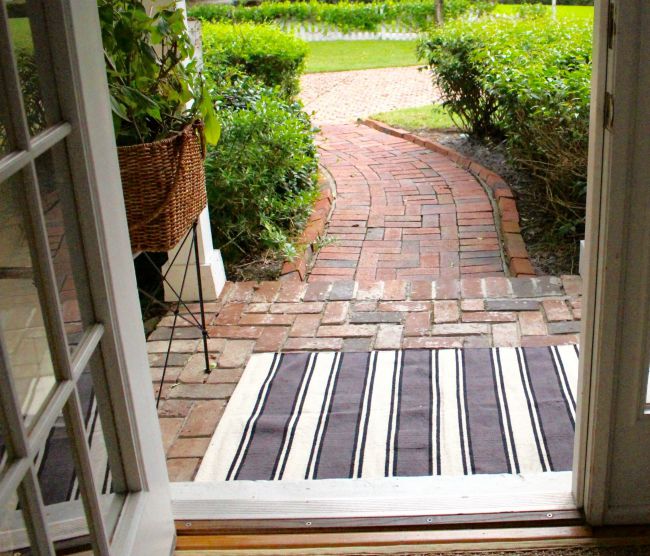 The blog has been a bit quiet the past week, but that means some good things are happening around here and I'll be bombarding you with it all very soon!  Meanwhile back at the beach cottage, renovations are underway and the bathrooms have been GUTTED!  If you want to see the before pictures pre-renovation you can see those here.  Tim and I were able to sneak in a very quick trip to Naples this past weekend to go check out the progress and keep the contractors moving forward!  I have to admit that planning and designing a big renovation in our second home from 3,000 miles away has been a bit challenging since Tim and I are normally so hands on with all of our renovations.  So handing this over to a contractor is huge for us, but we have to let go and hope that he puts all my drawings and designs to perfection in his work! Fingers crossed, saying big prayers!
Beware of the following pics because they are UGLY!!  Demolition ugly with bathtubs on end, shredded wallpaper and hot wires hanging about!  Just saying, you may decide to just skip this post until the reveal down the road, UNLESS you like this kind of demo stuff and can see the beauty in the ashes!  Here goes…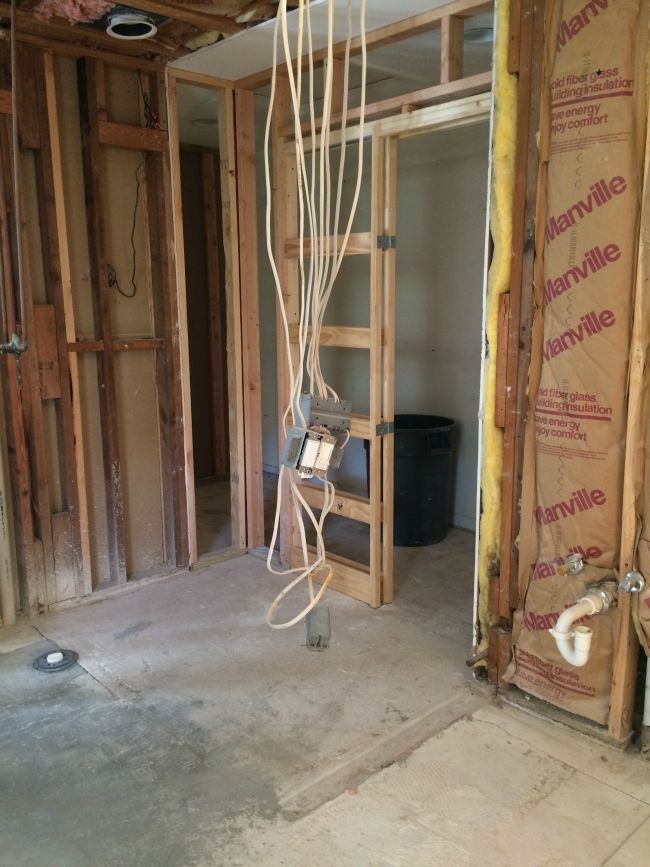 I warned you!  You are looking at the master bathroom where the glorious shower will be and the walk in closet just beyond that opening where a pocket door will be.  We tore out a wall and if you look closely you can still see the impression on the floor there next to that plumbing which will also be rerouted to a different wall.
I'm standing in the shower.  Let me just say it was a SAUNA in here!! Oh my goodness was it 87 degress smoking fireballs HOT!!  Our air conditioner went out (oh perfect timing) during demo phase.  This is the absolute hottest time of year in Florida and of course the AC decides it's ready to hit the grave after 9 years…it did not ask my permission first!  Not okay, especially since a new AC dips into the renovation budget. CRY.ME.A.RIVER!!
There's going to be a fun mix of subway tile and patterned tile, as well as an open vanity with modern fixtures.  The vanity wall will be lined with subway tile like this bathroom. I love the classic look of subway tile with black grout.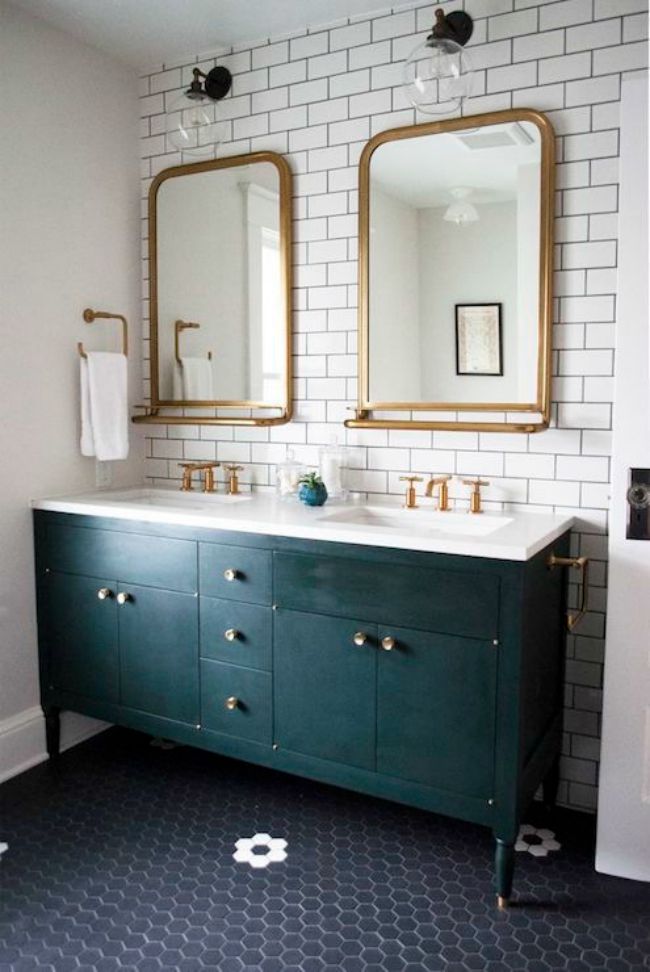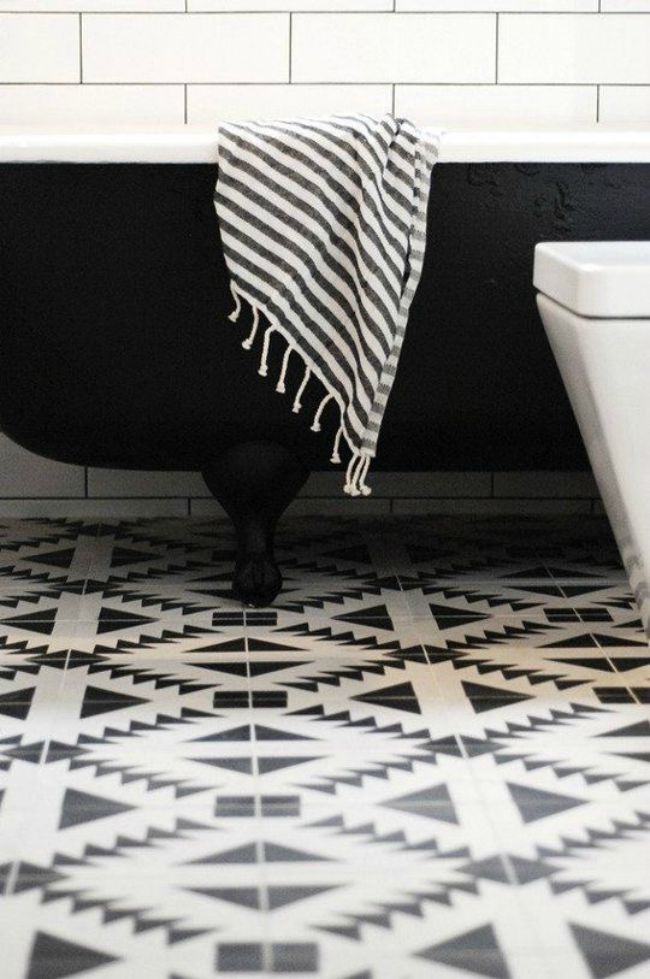 There are so many patterned tile options that I had such a hard time choosing!  My floors will be black and white and full of pattern which will be such a nice change from the white tile floors I had that showed every ounce of sand brought in from the beach.
The master bedroom that adjoins with the master bath is getting new hardwood floors and trim work.  Not much else needs done in here, well except a new fan (a less creaky one).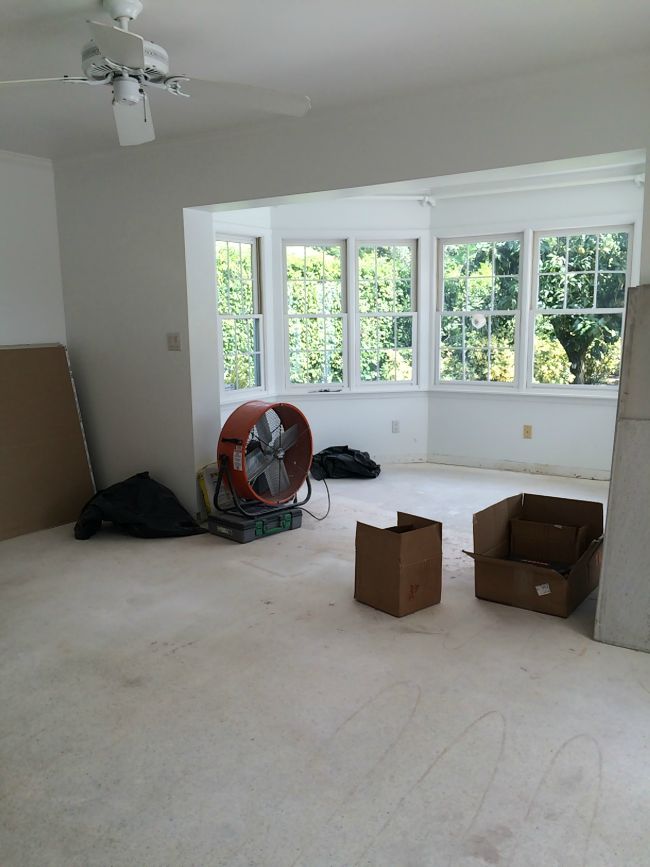 Moving on to the other side of the house is the boys area where we are gutting their bathroom and one of the bedrooms.  Looking in from the front living room you see the bathroom at the end with two bedrooms on the side.  The chair rail is being removed in the hallway and getting a crisp white coat of paint.  Hello, old vintage bathtub standing on end!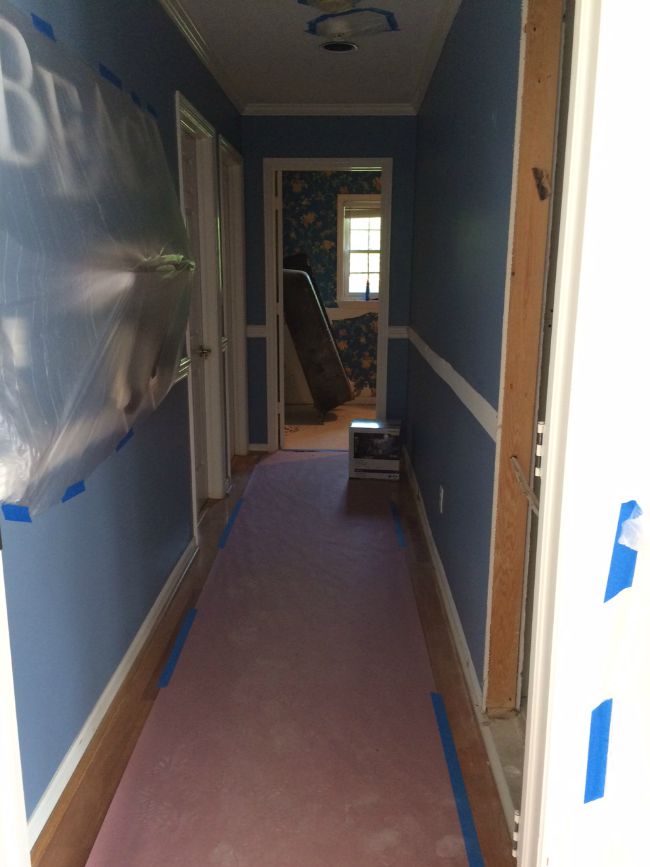 See the open doorway to the right?  Well our AC leaked all over the hardwood floors here and we may now be putting new floors in the whole house.  I'm really hoping this can be squeezed into the budget somehow.  Like the money tree in the back yard needs to start producing $100's instead of $5's!  You can see the original hardwood floors there from the 60's.  Honestly, they are in decent shape, but now have some water damage so it may be time to replace.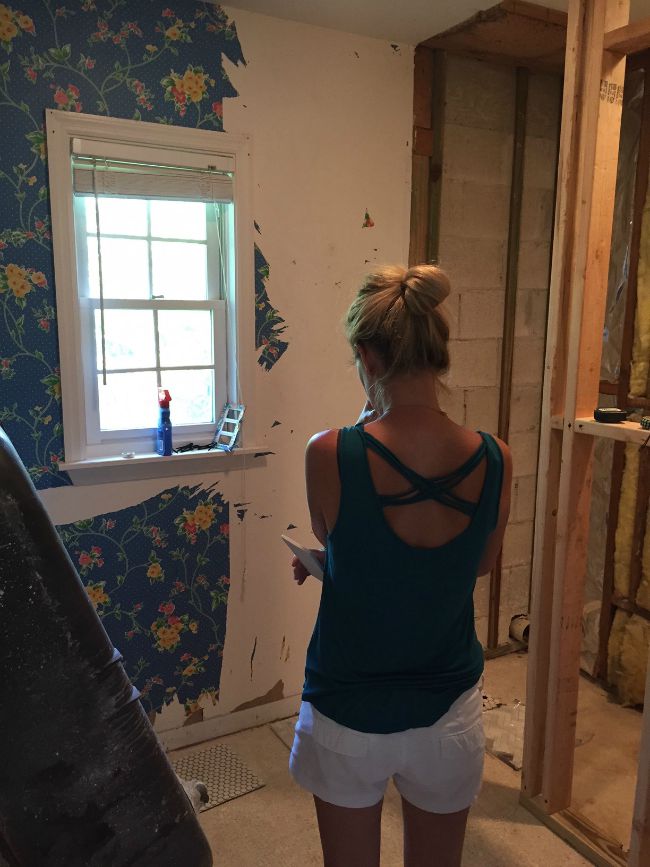 I think I'm either trying to figure out if a stray cat snuck in the house and clawed the wallpaper or if the contractor actually thought he could remove it.  No possible way!  This paper had some crazy glue on it!  We'll be doing ship lap in here since it's the easiest way to cover the paper and I love the look which is perfect for that beachy, coastal look.
The tub and a small linen closet used to be here, but are being replaced with a doorless entry shower.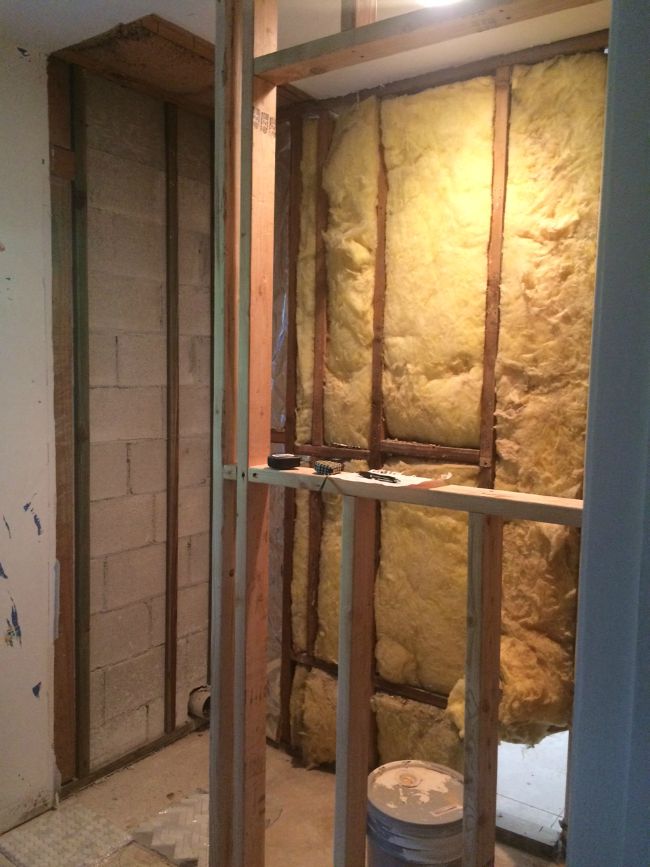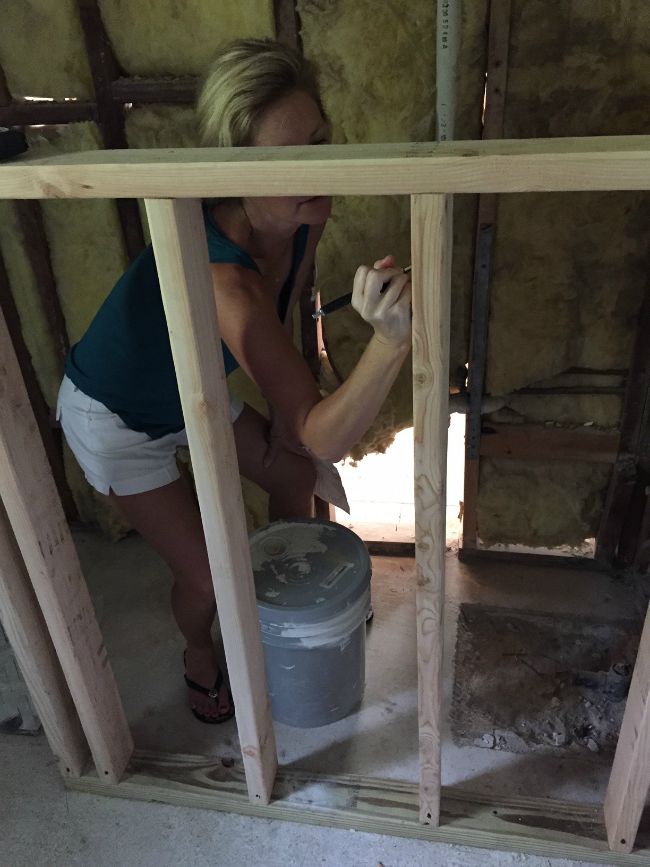 I'm writing the contractor a note of where to put the niche in the shower to hold shampoo and soap.  I love that it will be hidden from site looking into the bathroom.  I can't have Suave and Irish Spring interfering with the design aesthetic!
I gathered inspiration for the boys' bathroom from this beautiful bathroom by Studio McGee…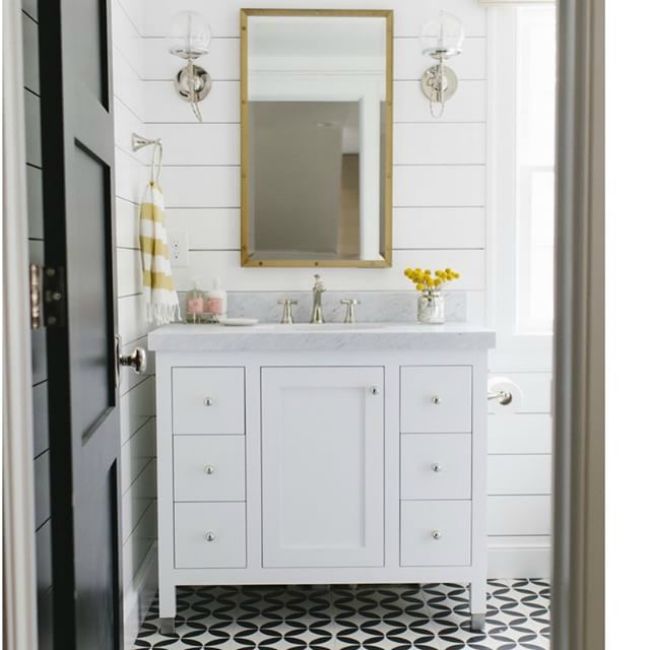 White ship lap is perfect for the coastal modern look.  See those patterned floor tiles again? These are definitely trending lately but I feel that the black and white will still be timeless. Any color could be added to a room that has a neutral foundation.  Black and white is my neutral and I will add some color with wall art or a fun playful rug.
The goal is for the job to be complete by Nov.1.  However, if new hardwood floors go in throughout the home that may delay us a bit and will mean another trip to the cottage by me to have a yard sale of a good portion of the thrifted finds and treasures I furnished the home in 7 years ago, but no longer fit with the "look" I'm going for.  That's the great thing about shopping at thrift stores, goodwill, yard sales, and resale shops is that changing styles down the road is not a huge sacrifice when purging.
The trip was a lot of running around finalizing design decisions and meeting with contractors, but Tim and I did manage to have nice evenings on our beach watching the sunset.  That's a view I'll never get tired of!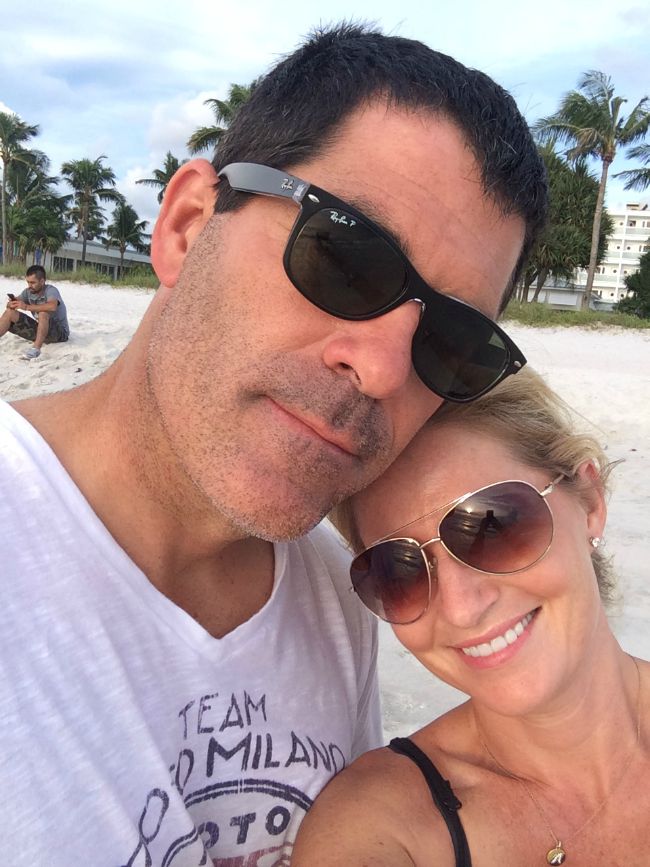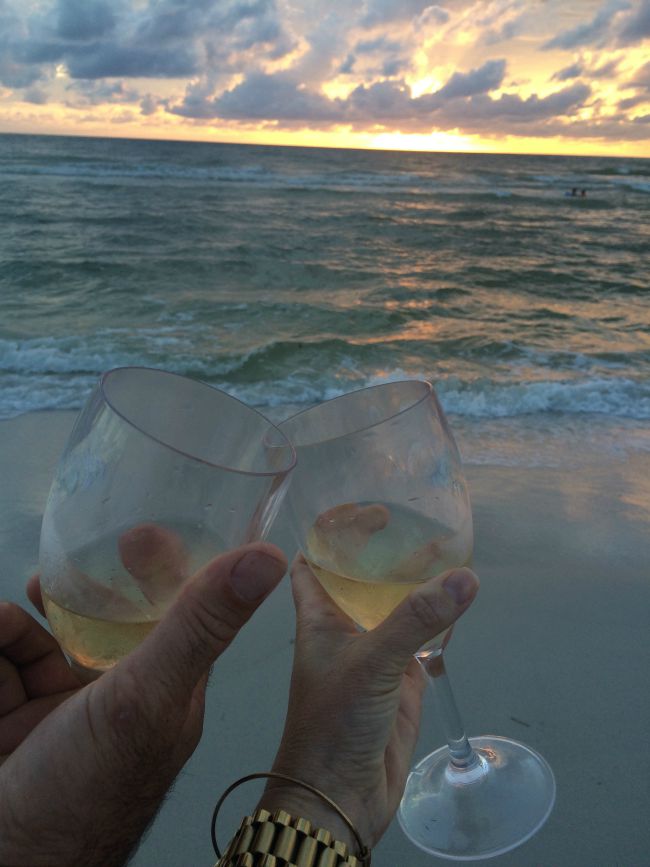 Cheers to a good wknd and progress being made!