The Forest Modern: Industrial Modern Boy Bedroom
Designing then building a home is one thing. Packing, moving and unpacking is a whole other game. Oh my have we been so busy!  With us still being under contract on the sale of our former home, we've been juggling maintaining that home all while trying to transition to a new home. It's just going to take a long time to finally get settled in around here but I'm excited to share with you one of the rooms that is almost completely decorated at The Forest Modern, one of our teen boy's Industrial Modern Boy Bedroom.
We pretty much sold all of his old bedroom furniture before we started the move. He had been sleeping in the same double bed and mattress he's had since he was 3 years old. He's now 16!  I think his room was ready for an overhaul. We are not the best at replacing our mattresses as often as I've heard recommended. Our son had been complaining how uncomfortable his mattress was for years so when Therapedic International and Agility By Therapedic reached out to me to try out their products, I was thrilled to finally have a chance to give my son a new comfortable mattress and bedding.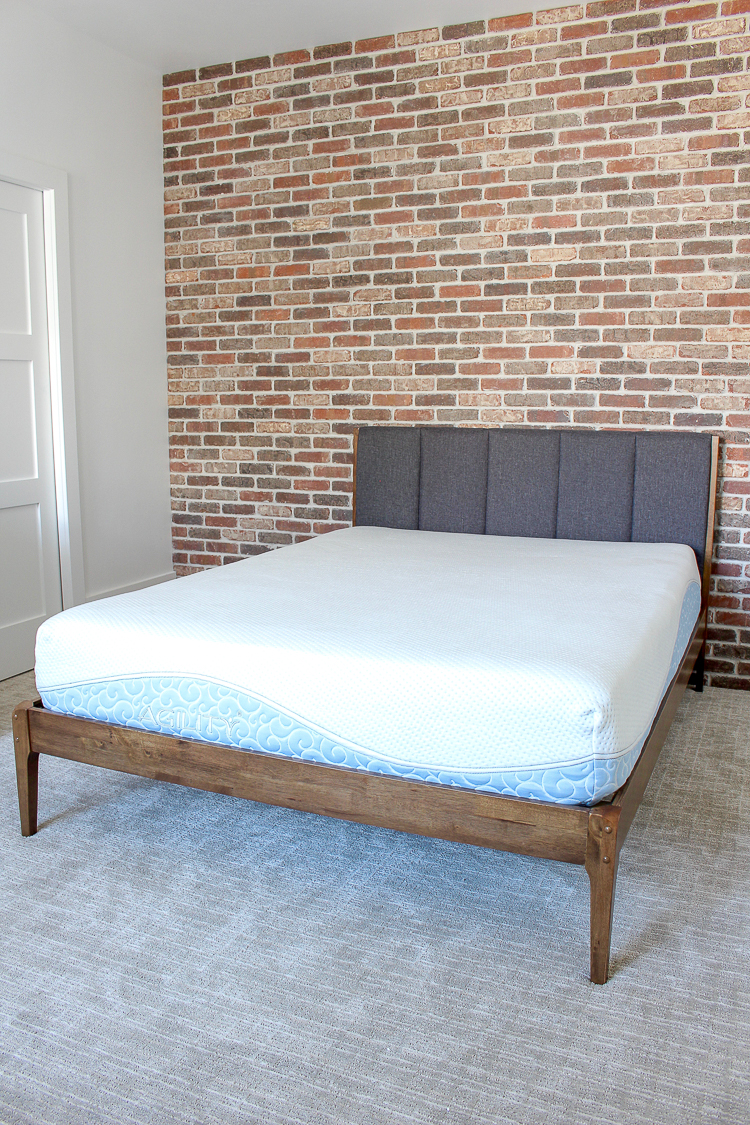 I know it can be scary to buy a mattress online without first testing out it's comfort. However, Agility by Therapedic offers a 100 night free trial of the mattress in your home to alleviate that fear. The Agility Bed mattress is a special hybrid mattress that goes beyond a standard all foam mattress. You can read all the details of what makes it so unique HERE.  If you're considering a new mattress, now's a good time since they are offering $150 off at checkout by using code FOURTH.
My son has slept on his new Agility Bed mattress for 2 weeks now and it certainly has passed the comfort test with him! He had to give his stamp of "comfort approval" before I gave it a review here on the blog. I also love that the foam layers used in the mattress are certified environmentally safe and non-toxic. I've been a lot more aware lately of the environmental hazards we can bring into our homes unknowingly.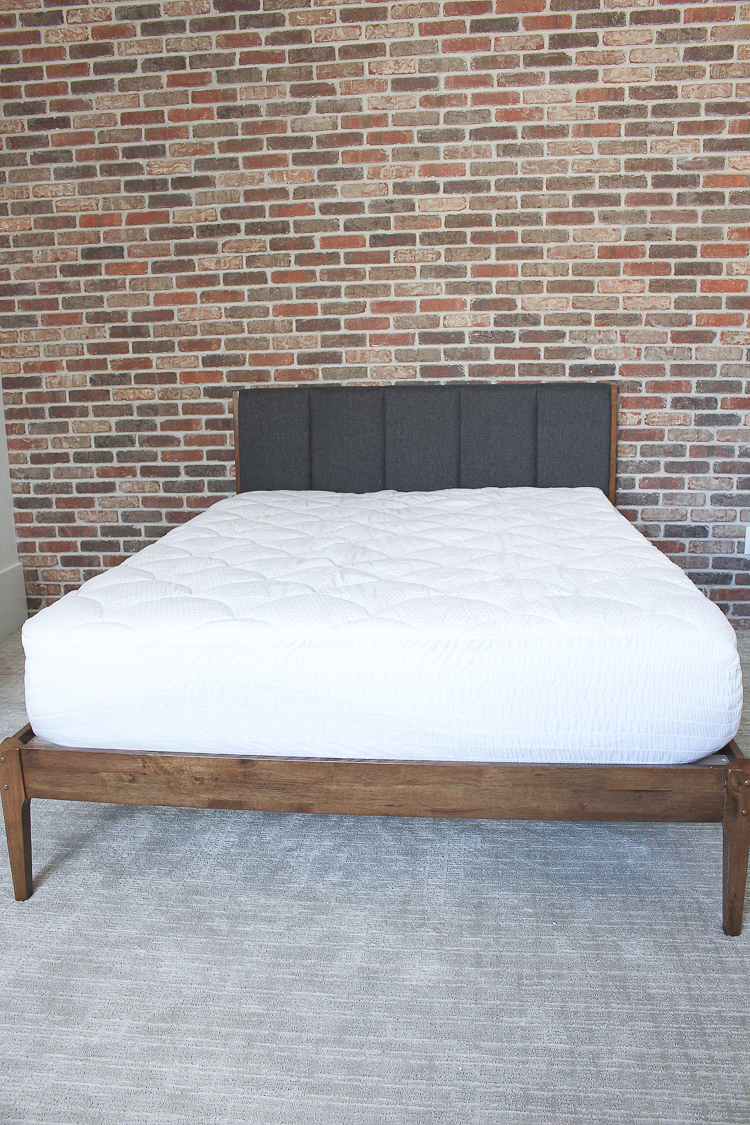 I'll admit, in the past I've never invested in a good mattress cover, sheets or pillows. With our new home, I'm ready to break that habit and make an effort to invest in comfortable, healthy bedding. I'm thankful to Therapedic for providing their 500-Thread Count Mattress Pad, 450-Thread Count Sheets and TruCool Memory Foam Pillows to us for our son's new bedroom.  The 500-Thread Count Mattress Pad features moisture management qualities, ClearFresh™ odor eliminator, and stain repel to protect the new mattress.  The 450-Thread Count Sheet Set is SO comfortable, plus it features TheraFit technology to ensure they stay put on the mattress.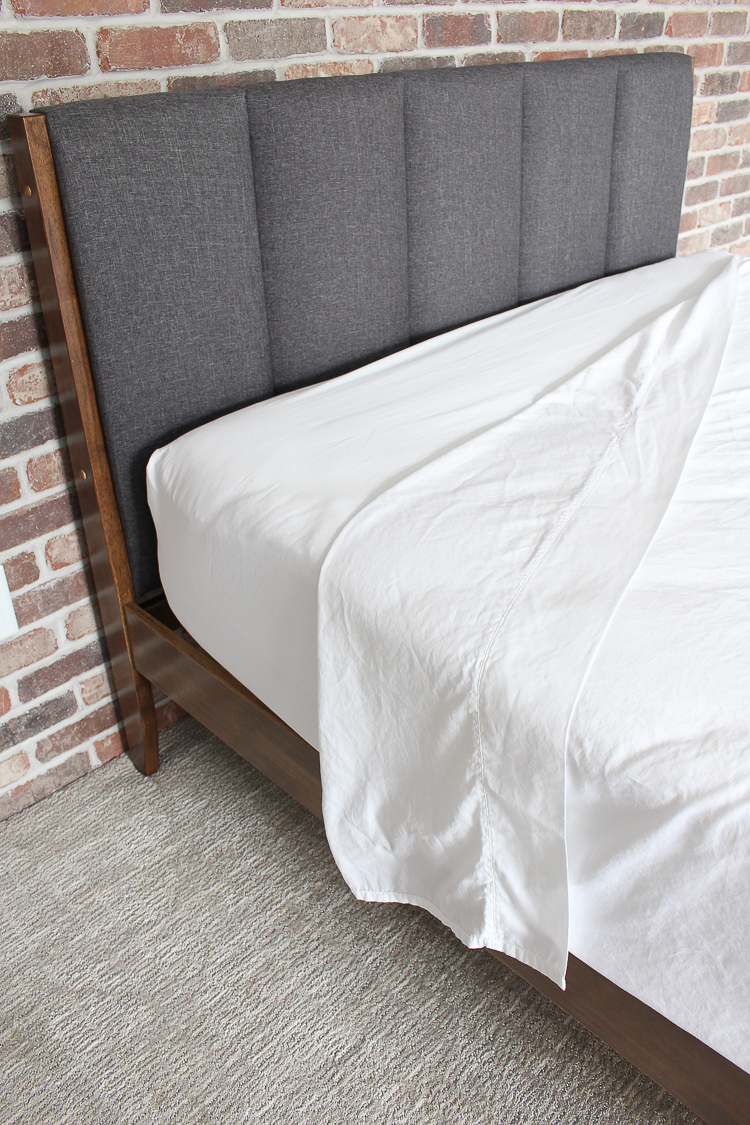 Last, the TruCool Memory Foam Pillows feature active air technology so the pillow stays cool even in the hot summer months.  No more flipping the pillow to find the cold side!  Our son's new bedroom is now off to a great start with healthy and comfortable sleeping.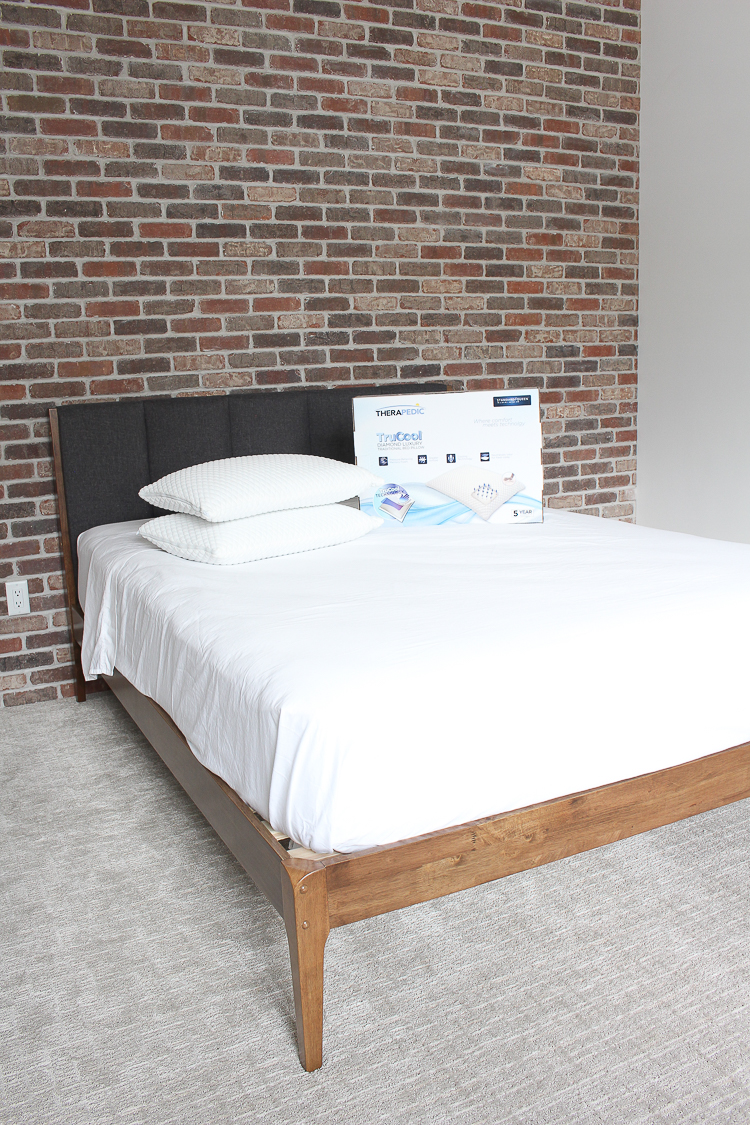 He also got this new mid-century bed  at an amazing price! (I'll be sure to link all room sources at the end of this post).  The upholstered headboard is a nice contrast against his industrial brick wall. He worked with Tim in bricking this wall himself. I'd say he's quite the mason!
Now that we've got all the comfy aspects in order let's look at his new  Industrial Modern Bedroom.
This is the boy who is very opinionated on the design and style of his bedroom. I love that he actually has an opinion and pays attention to details like I do! I must have shown him 20 beds and the same amount of night stands before he approved. I'd say he's got good taste! I wanted to create the perfect blend of comfort and style without the room being "overdone." Fortunately, he does a pretty good job of making his bed daily and actually is good at arranging pillows. Love that.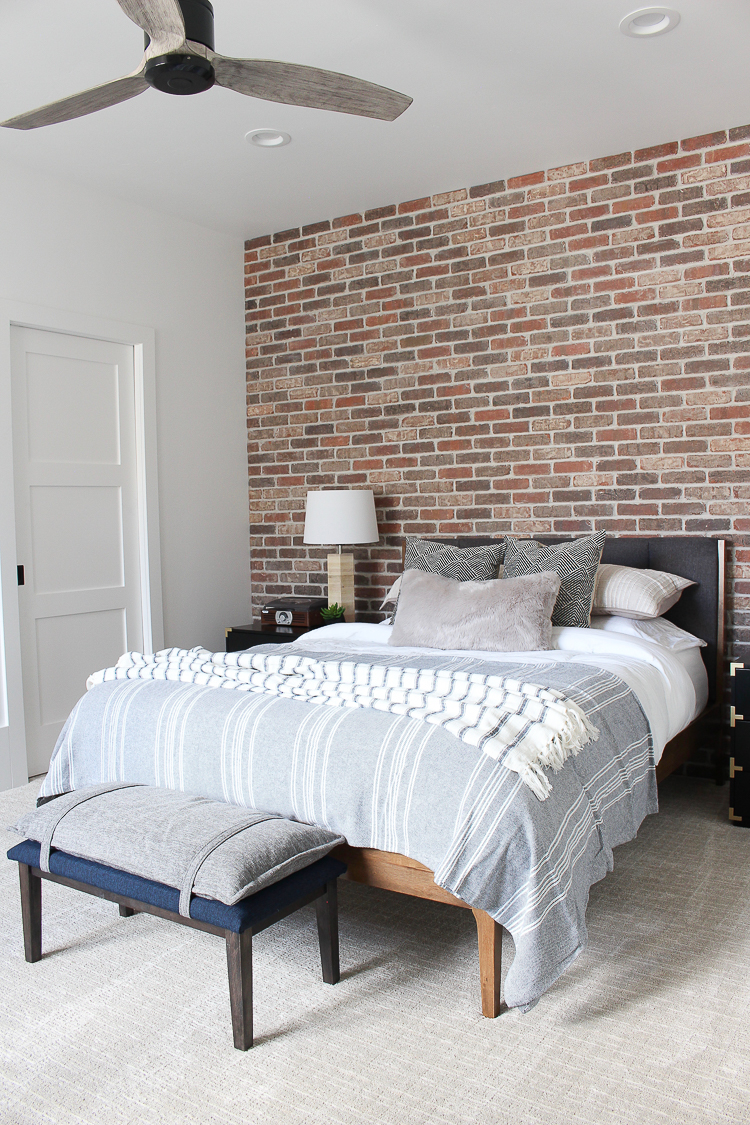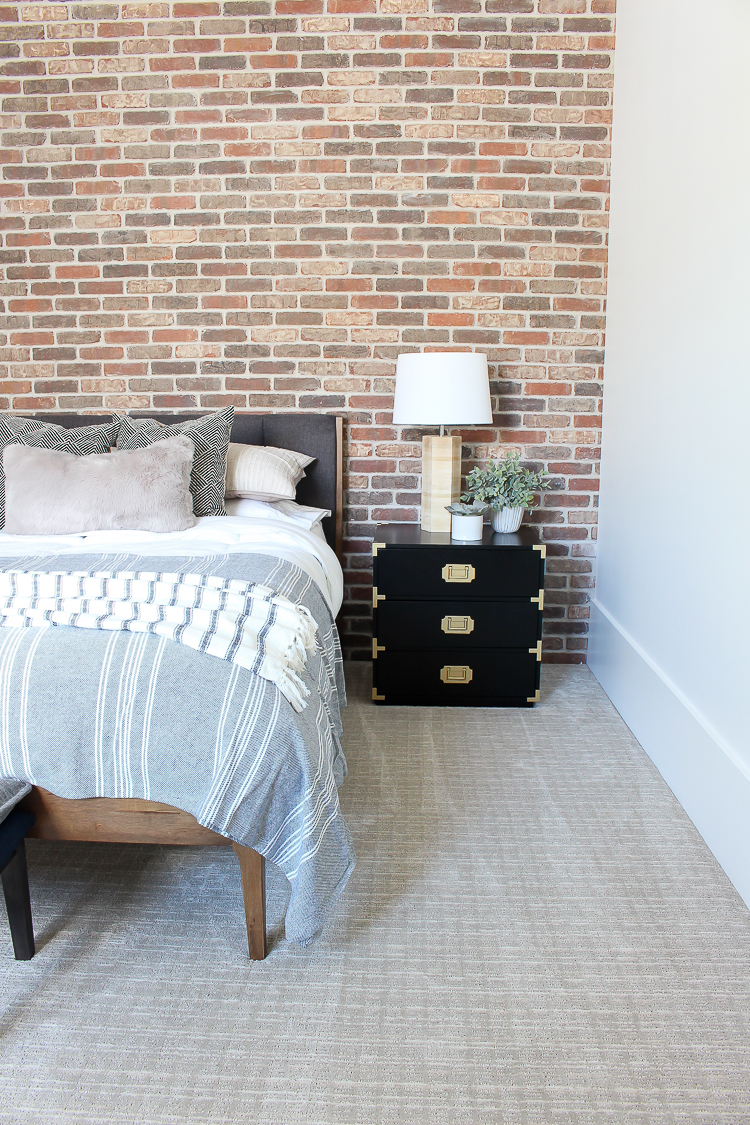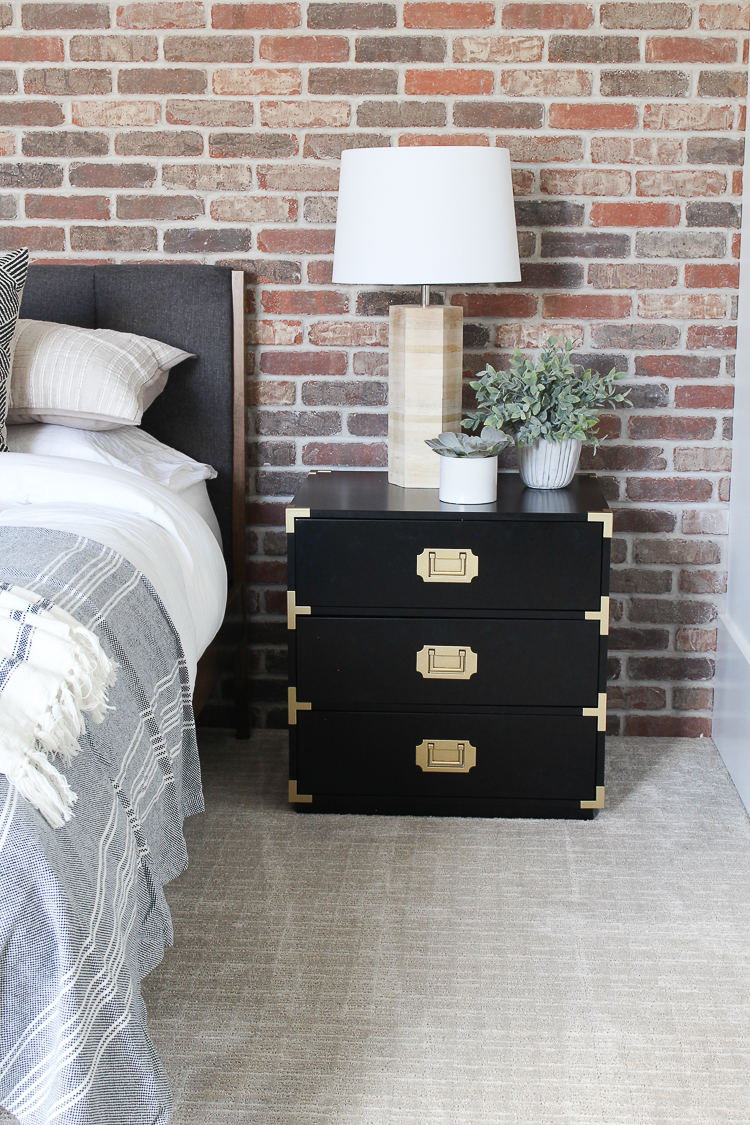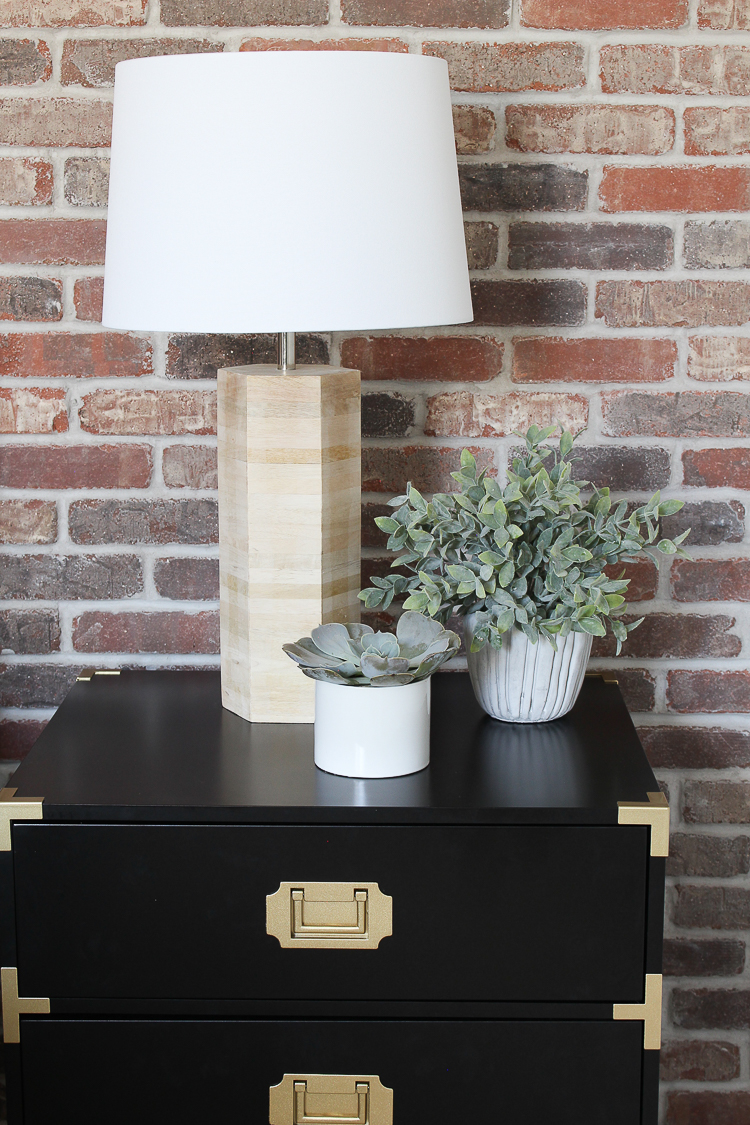 He's an avid gardener and is always spending his hard earned money on new plants. I knew he'd be sure to keep this cute succulent alive.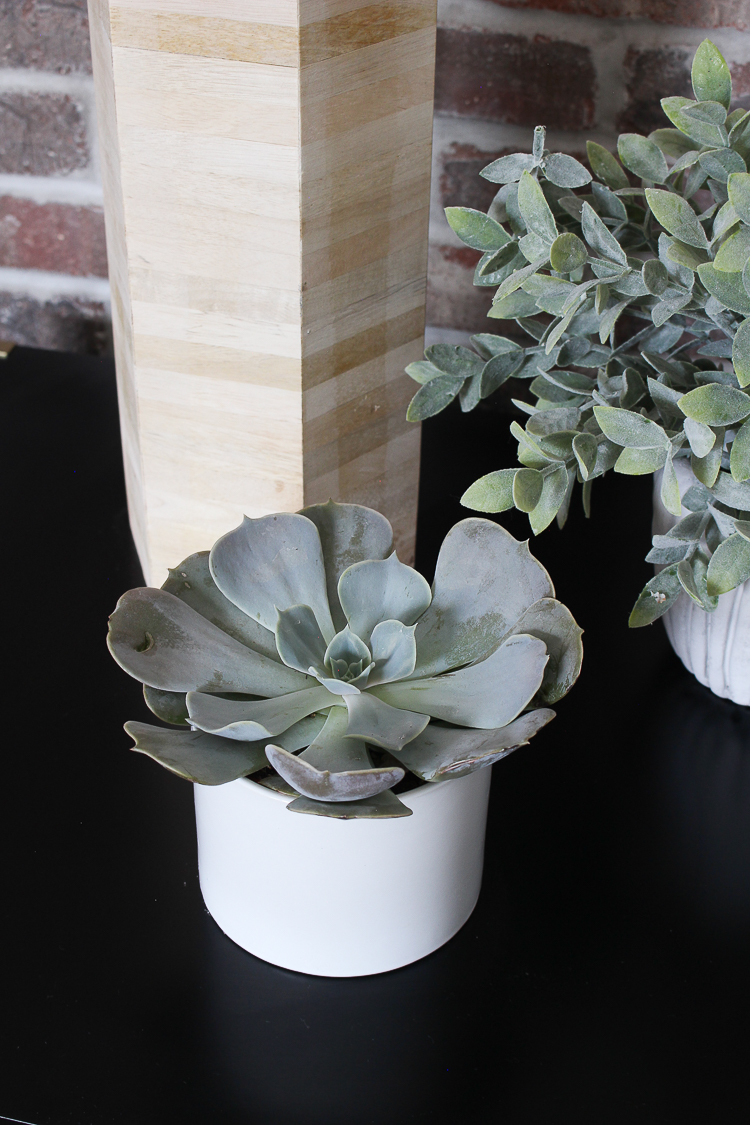 The key to a cozy room is mixing textures. This patterned pillow  balances off the mid century solid grey headboard which contrasts against the industrial brick wall. I'm not sure how big of a fan he is of this fur throw pillow but I'm hoping he'll realize how soft it is! So far he hasn't pitched it out of his room.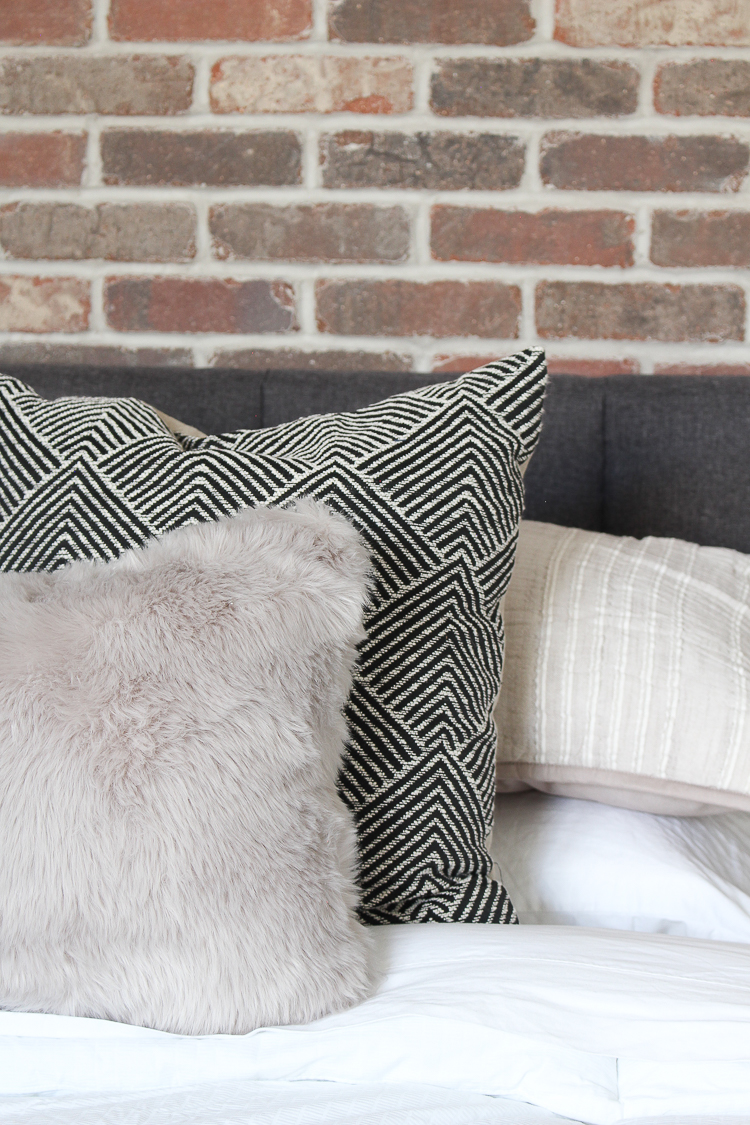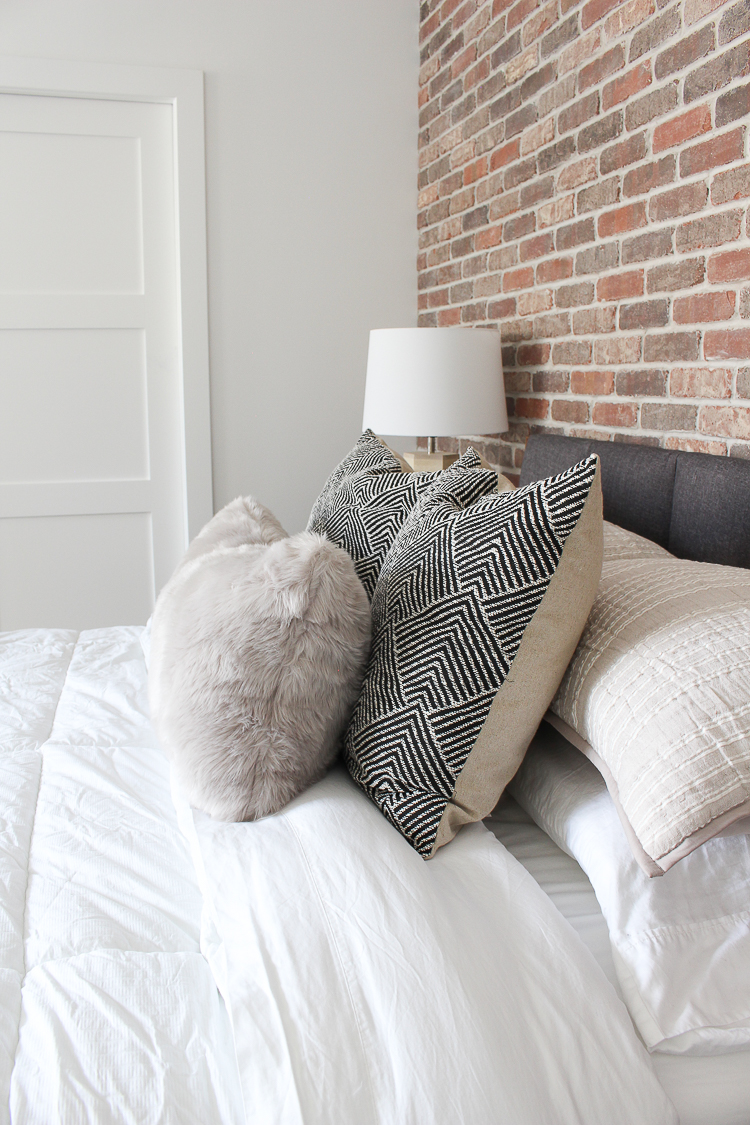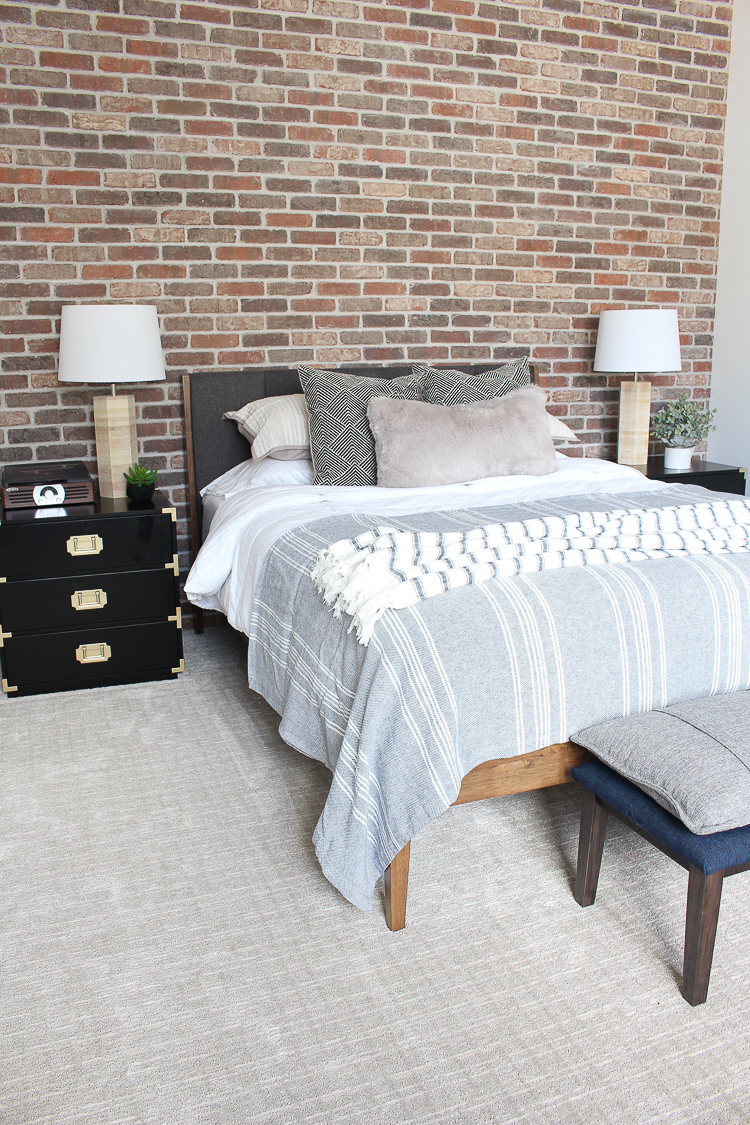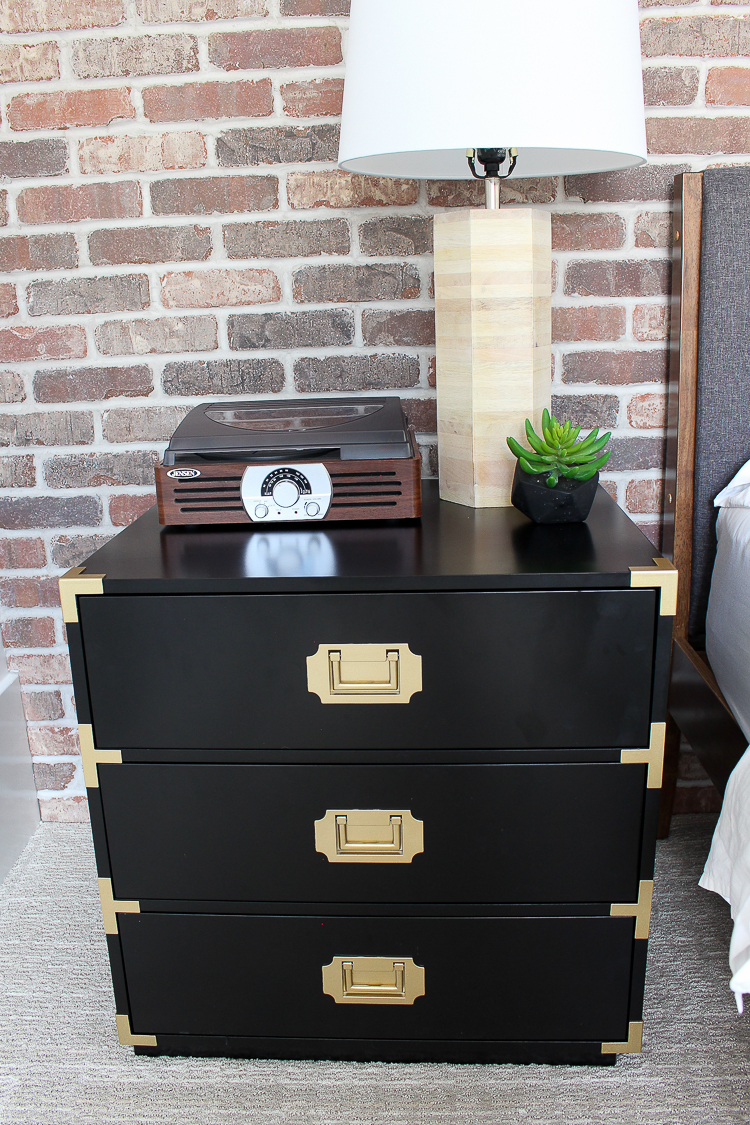 When making a bed, I always like to have a base white comforter. With the change of seasons it's easy enough to layer with lighter or heavier blankets. And yes, those wrinkles are normal around here because who has time to iron their bedding? Real life. Sure looks comfy doesn't it?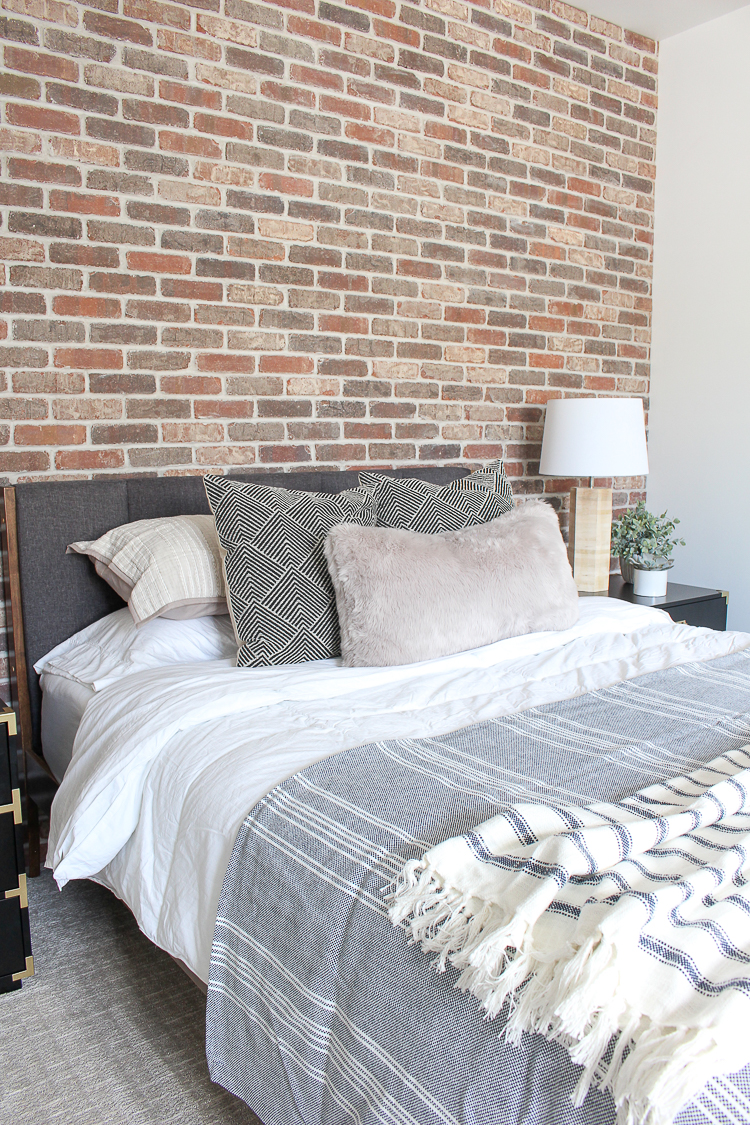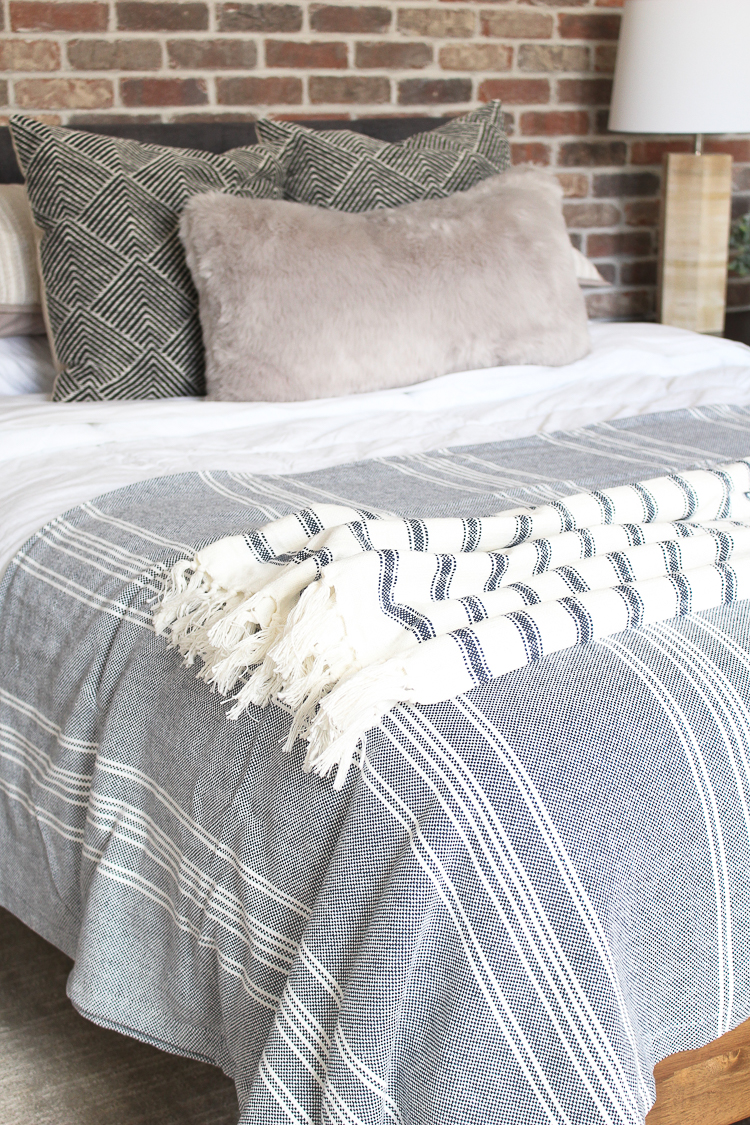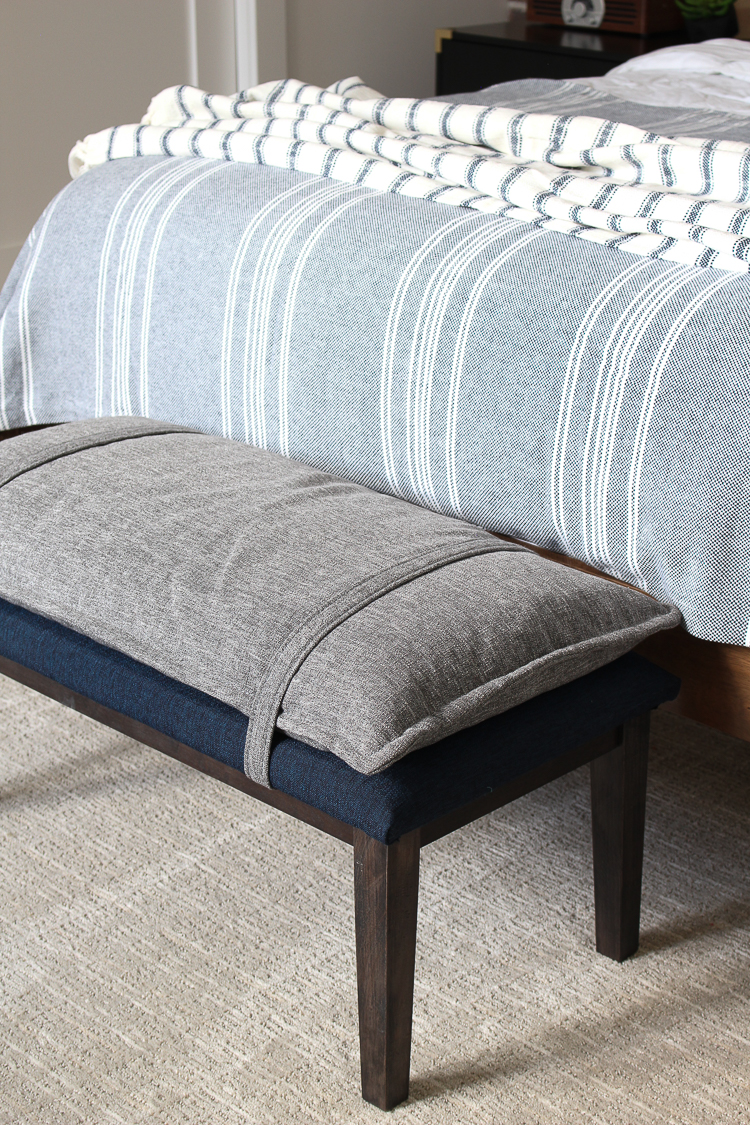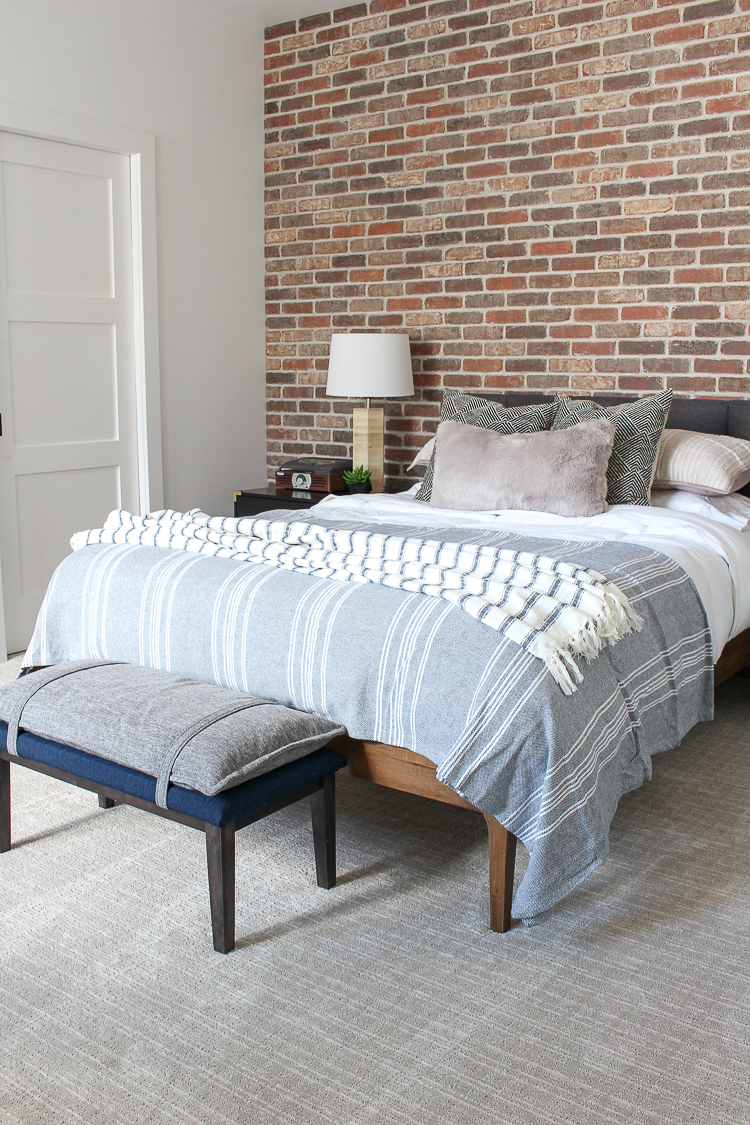 We are still working on the other side of his bedroom where his desk is. It's a work in progress but I find myself walking past his bedroom and pausing to stare. You'll see more of the modern industrial vibe as I continue to reveal more spaces of our home. Slowly we are making progress!
Thank you Therapedic International and Agility by Therapedic for partnering with me in this post to share my honest opinions of their product. 

*AFFILIATE LINKS USED FOR YOUR SHOPPING CONVENIENCE. SEE OUR FULL DISCLOSURE POLICY HERE.