The Forest Modern: Our Chic Black Butler's Pantry
Having a large butler's pantry has been a dream. A bit ironic since I'm not an organized shopper with stockpiles of staple food items. In fact, our previous small, walk-in pantry was always in disarray and my OCD would go into overdrive every time I'd see that Tim or one of the boys put a cereal box away with the plastic "unsealed" bag hanging out or the can of black beans mixed up with the granola bars. I'd obsessively stop whatever I was doing and have to line up all those cans and tuck in all the cereal boxes nice and neatly. Thus, my perfect design solution was to have large, floor to ceiling cabinets so I could HIDE all the food clutter. We certainly are not lacking in food storage anymore but pretty sure my husband would tell you we are always lacking in food. Grocery shopping is not my strong point. What can I say…I'm too busy designing.
I'll spare you the lack of organization behind the cabinet doors. Maybe that'll be motivation to organize and write a blog post for next year on how I keep all those food labels nice and inline with one another ;).  Let's just focus on the clean look of our new Chic Black Butler's Pantry for now. It's galley style walk-through layout can be entered from the kitchen through the pocket glass door or just around the corner off a hallway. In case you missed our kitchen reveal, you can see more of it HERE.
**affiliate links used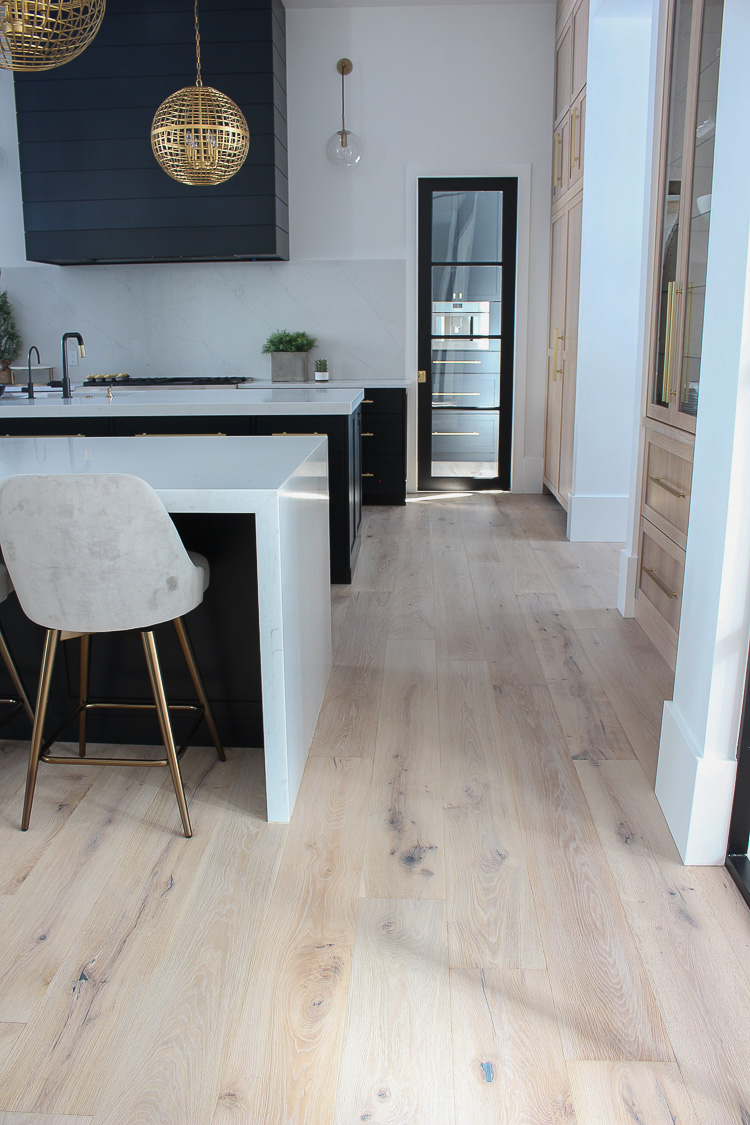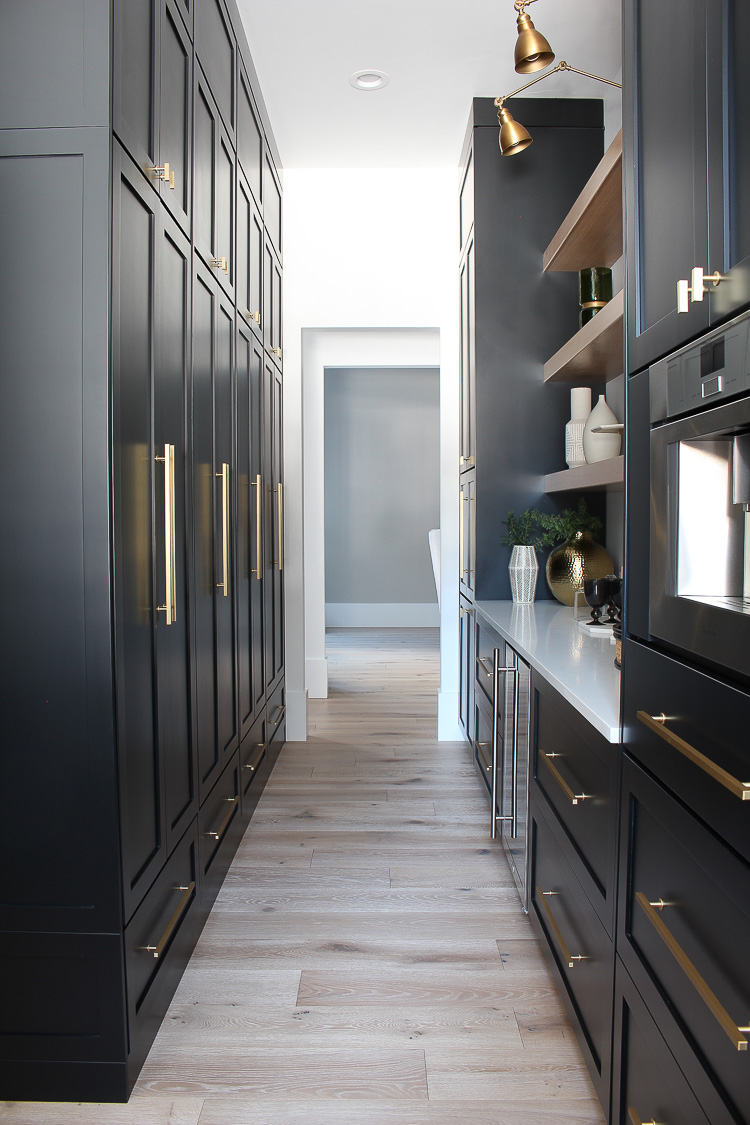 All the food is hidden behind the beautiful black cabinets which are an extension of the same cabinetry in our kitchen. The dimensions of the pantry are 8 ft x 24 ft. The cabinets are 24″ deep.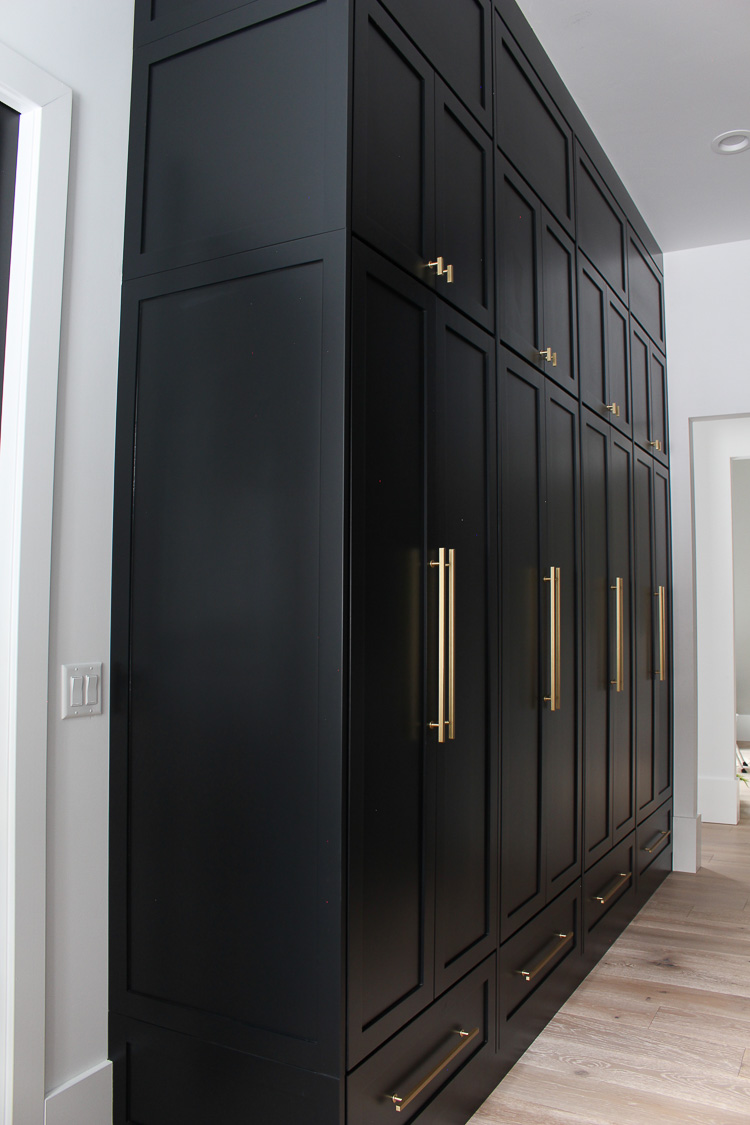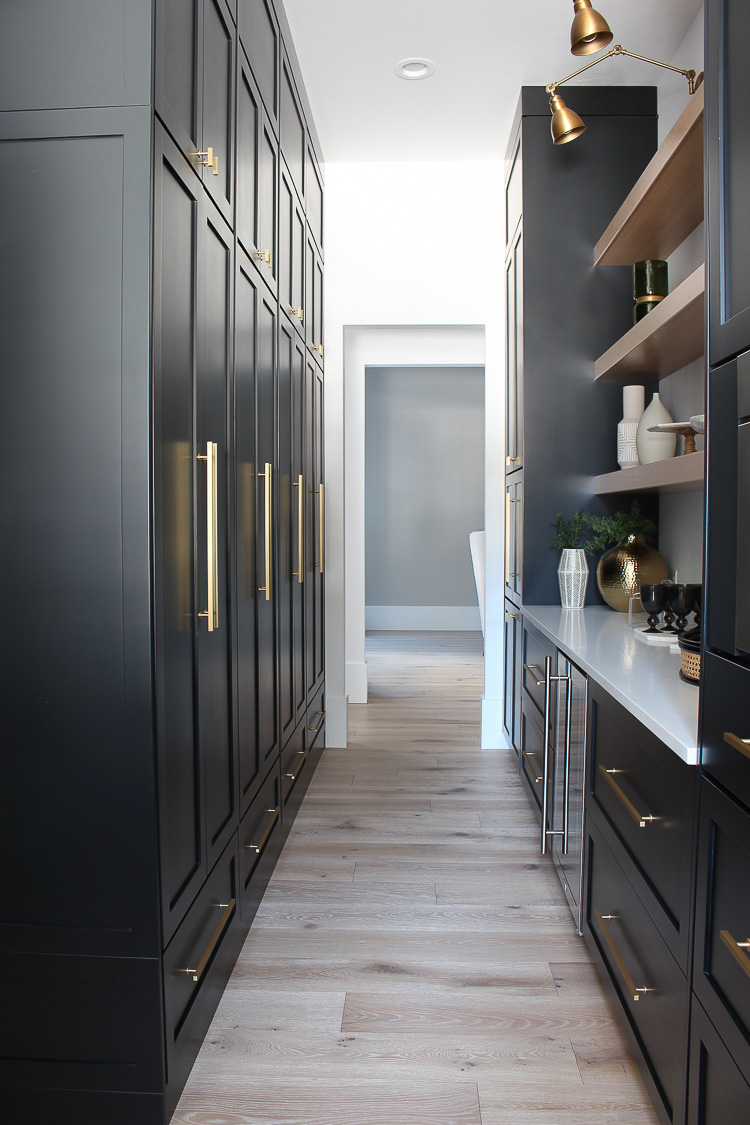 The white oak floating shelves are fun to display my collection of vases and marble platters. I have plenty more of those tucked behind the cabinets as well.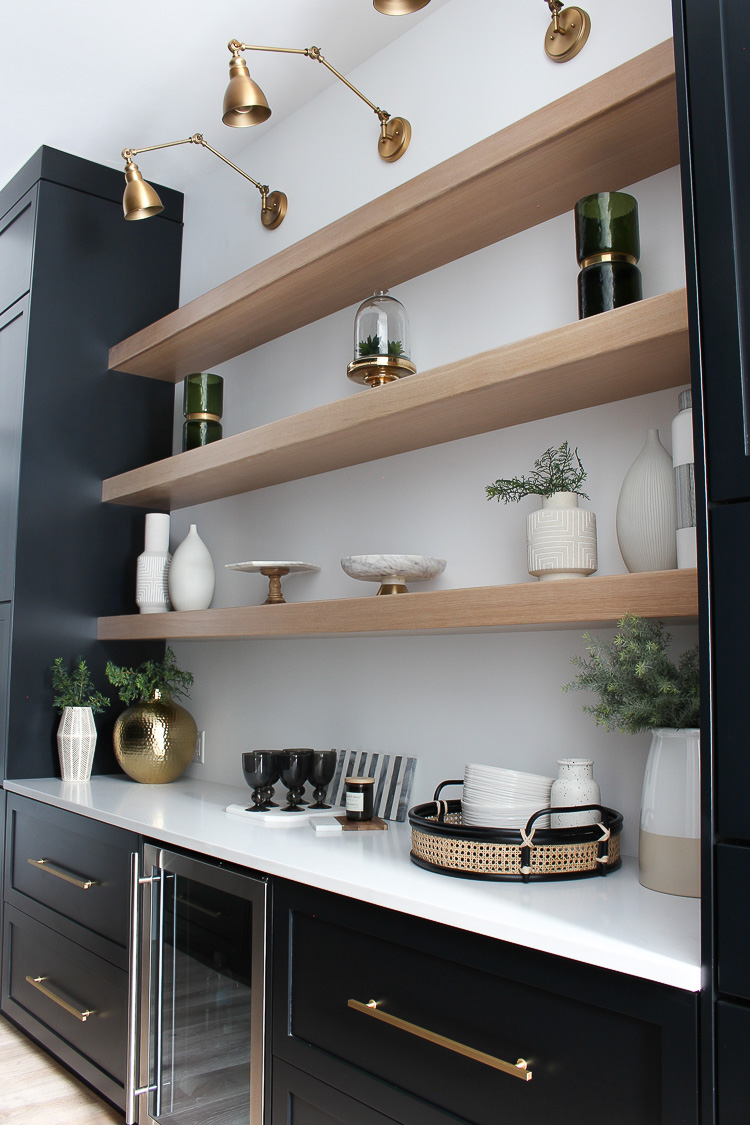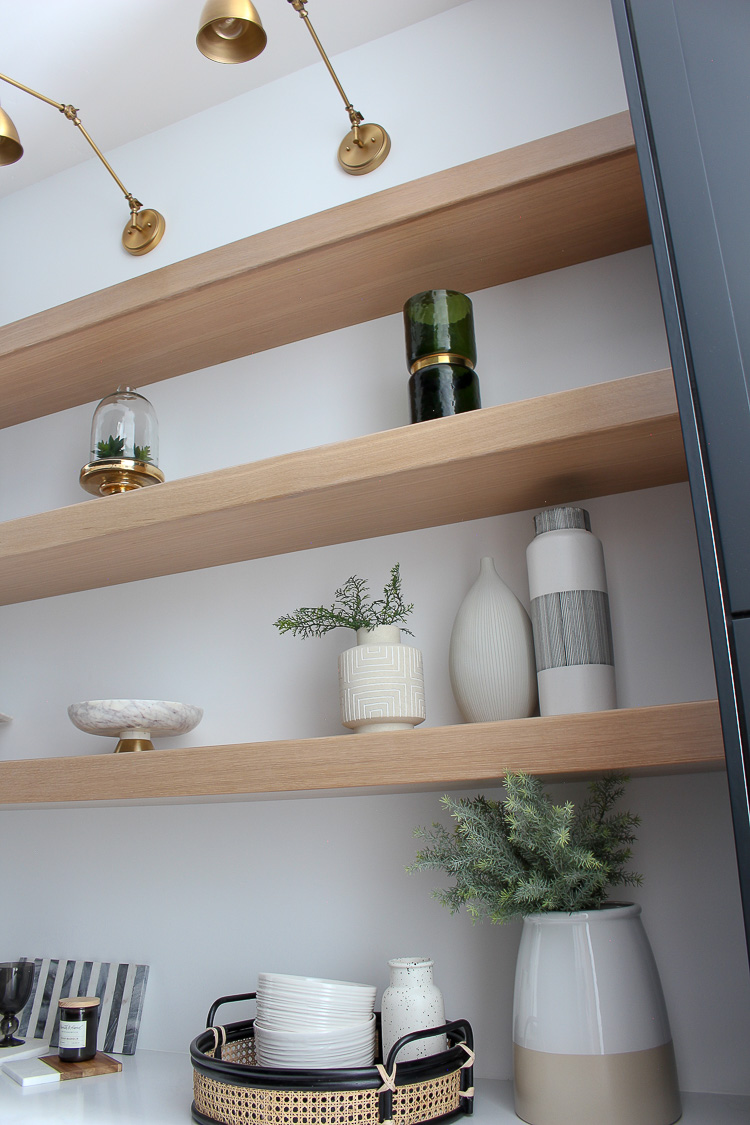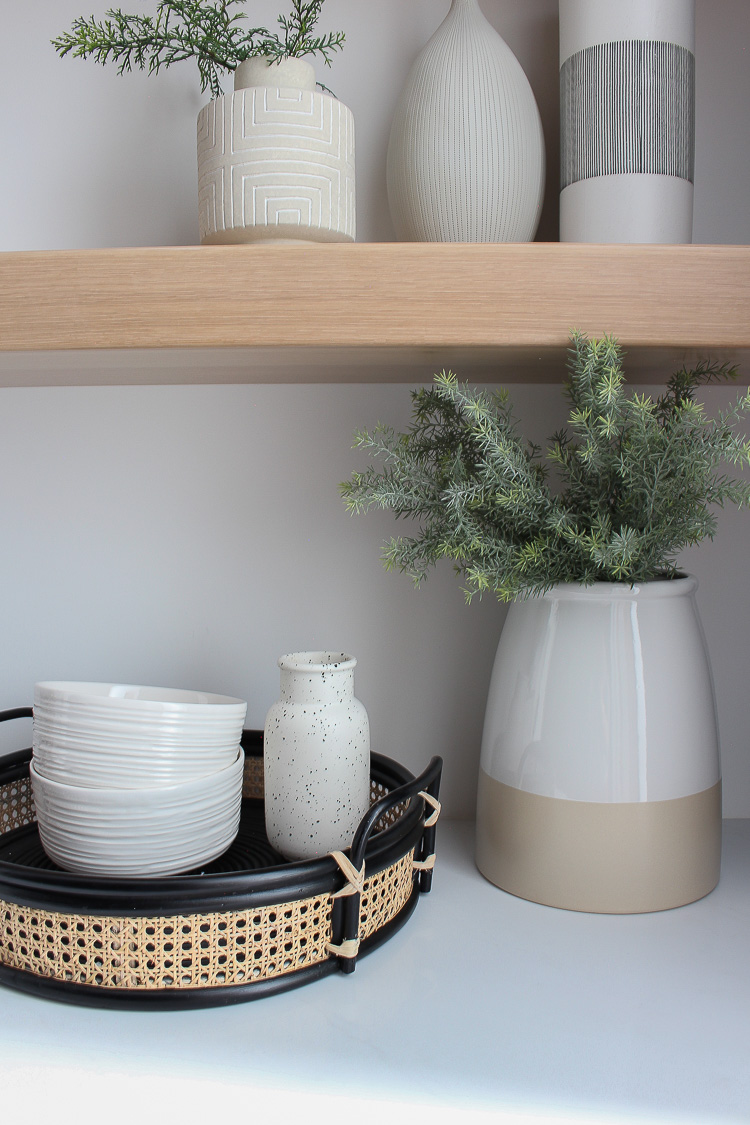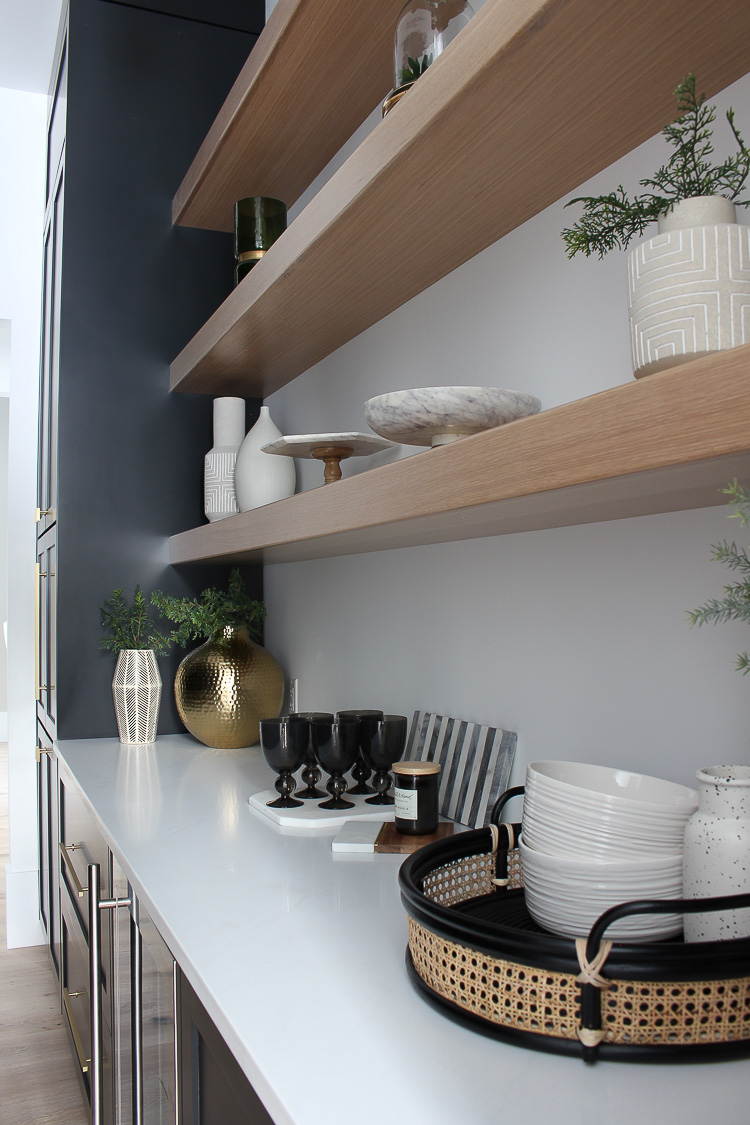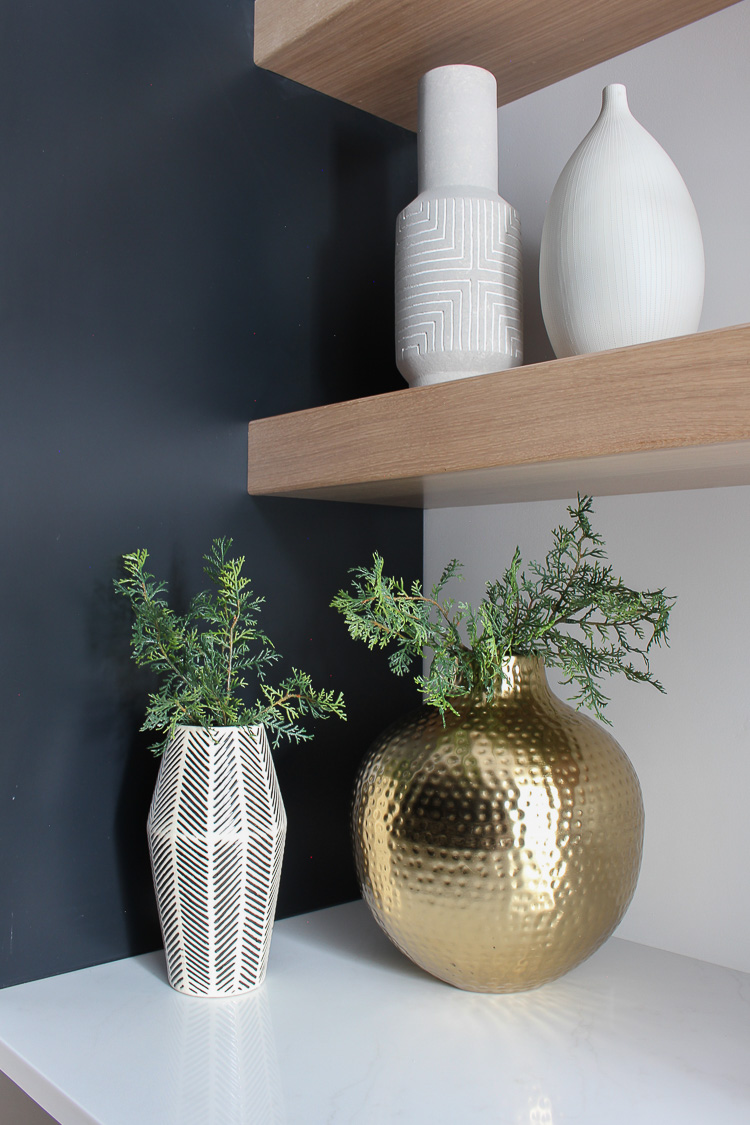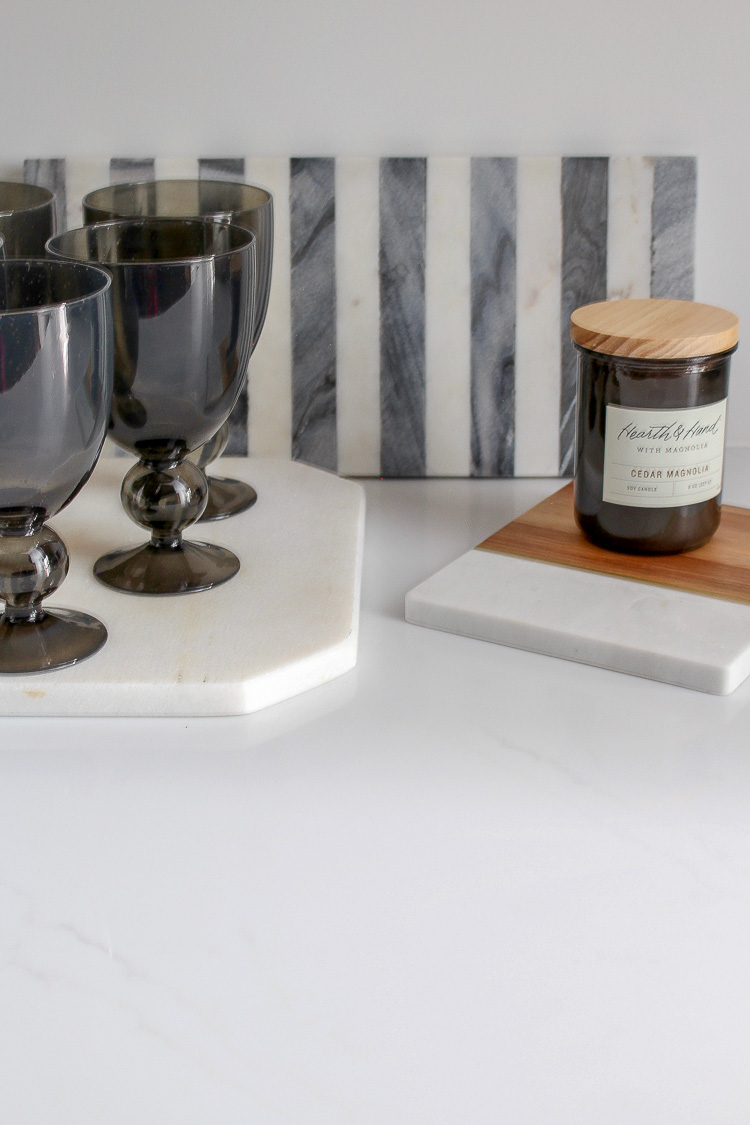 We had this same brand of beverage fridge in our previous home and it's one I continue to recommend. It's great for chilling wine or for storing water bottles and other drinks that I don't want to take up space in our main fridge.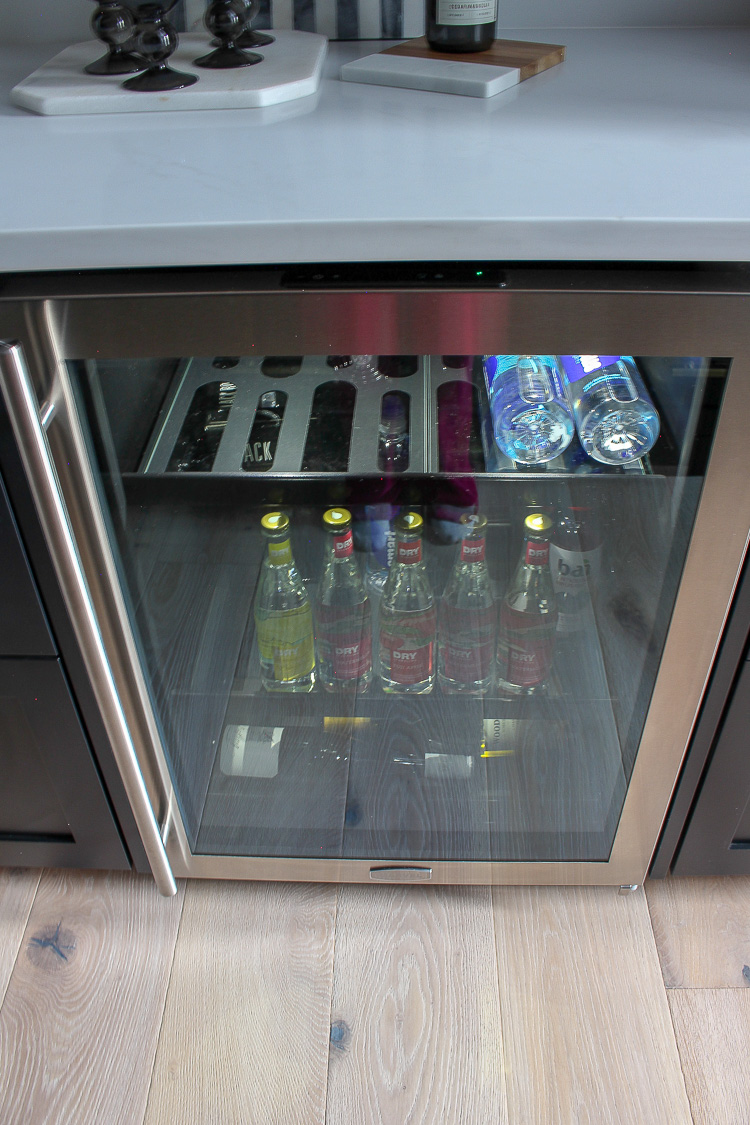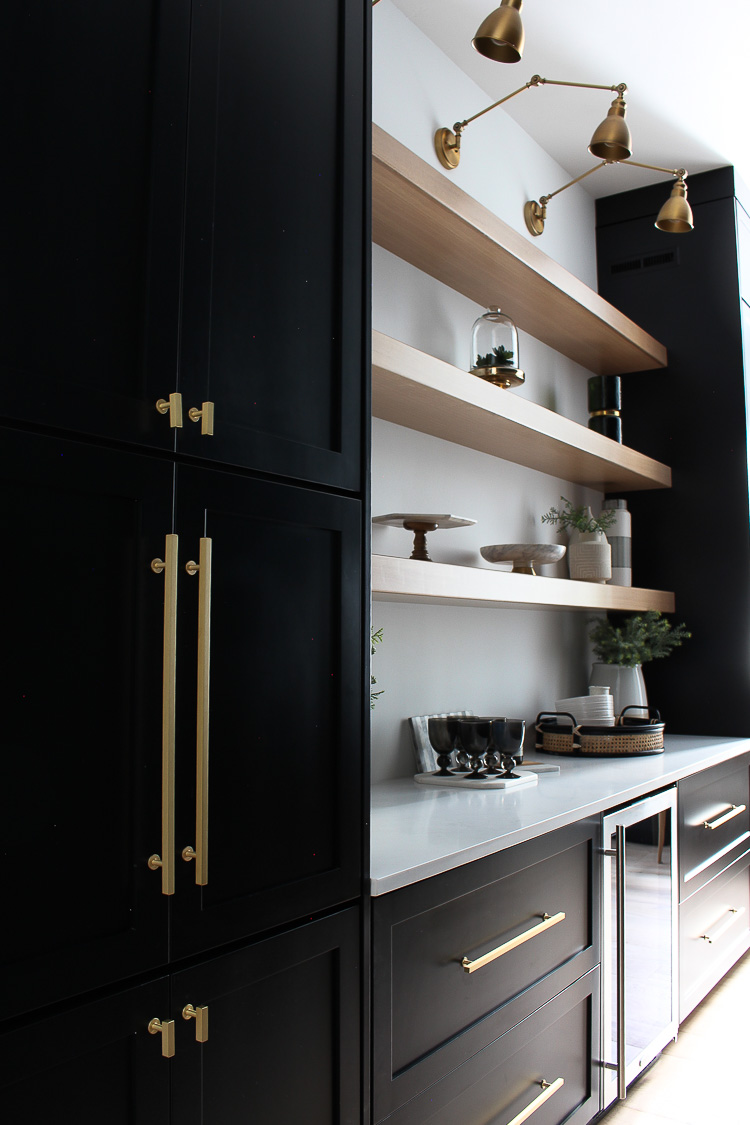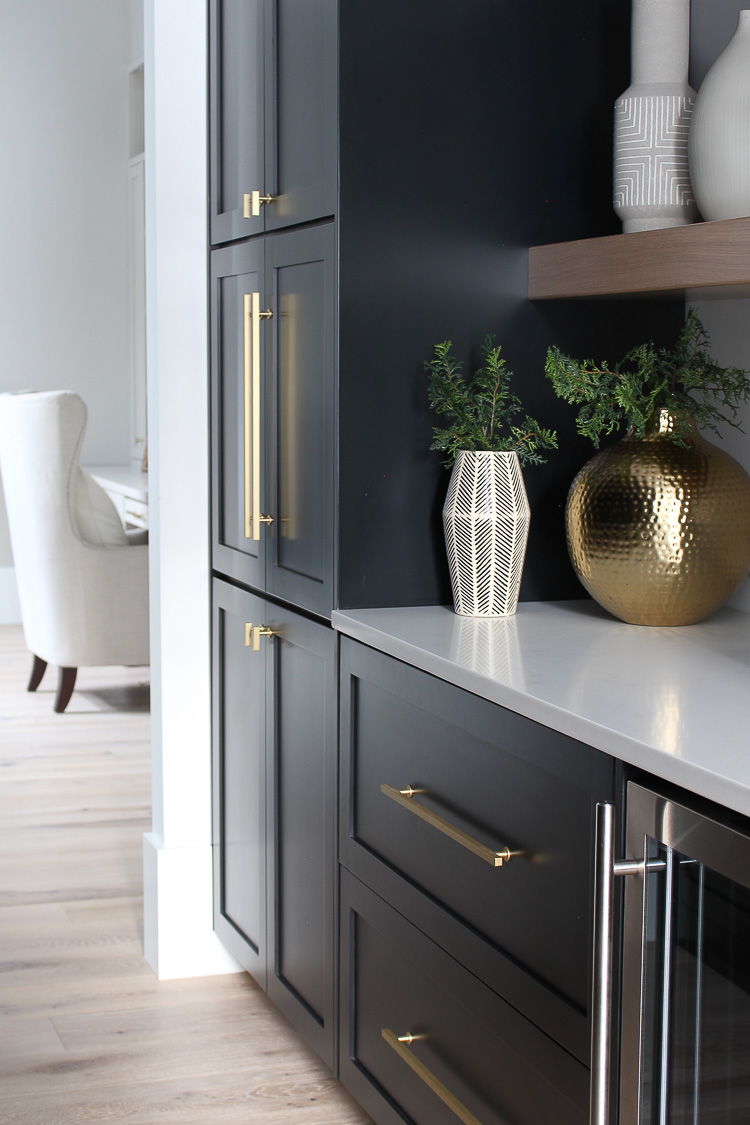 Our built in coffee maker is hands down one of the best decisions I made. Lattes, espressos, frothed milk and so much more all at the simple push of a button. It was a splurge but it makes getting out of bed so much easier for me every morning. Worth it. The drawer below it is sized perfectly for all my coffee mugs. One day I'll let you peek inside my drawers and cabinets.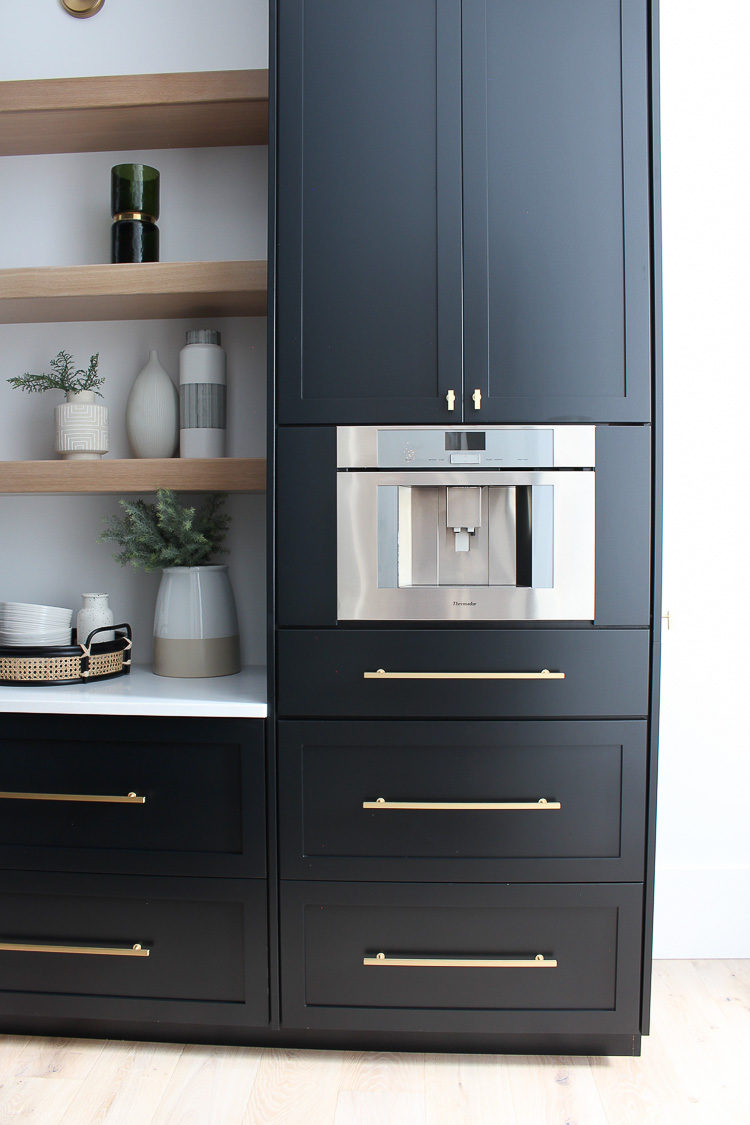 Another important aspect of our pantry is that it has a desk for the boys to do their homework and to keep all the normal paper clutter.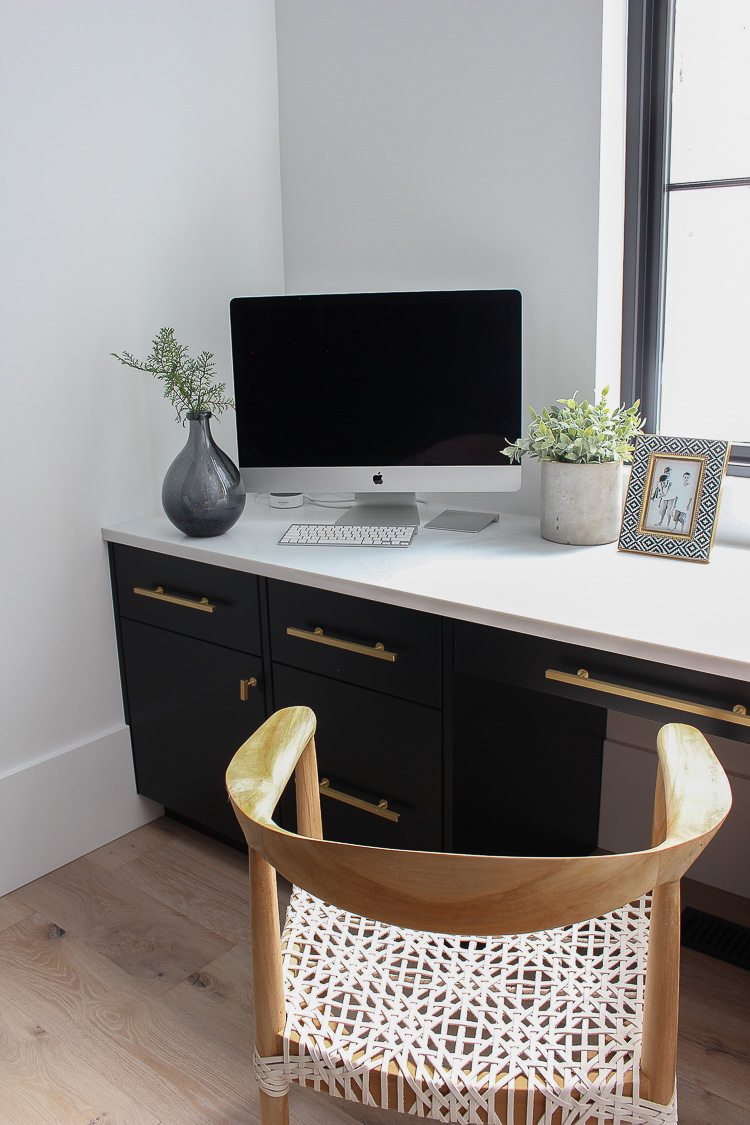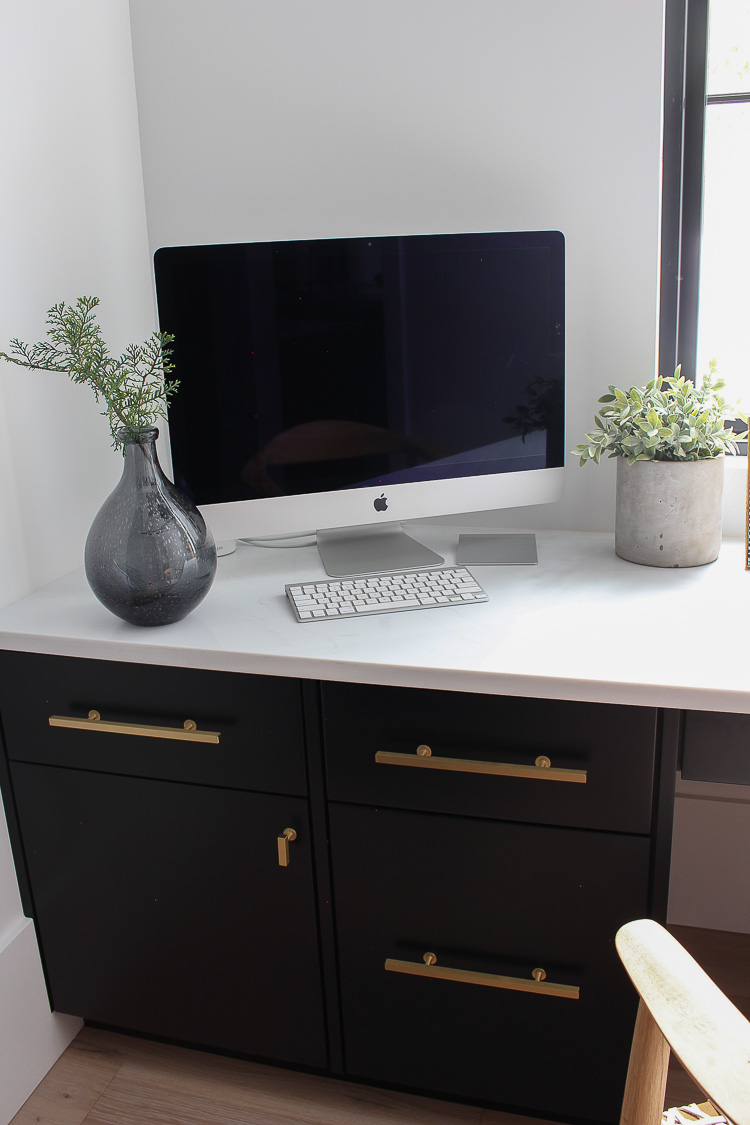 Sometimes I do my work here too. The view of those trees outside is so pretty to look at!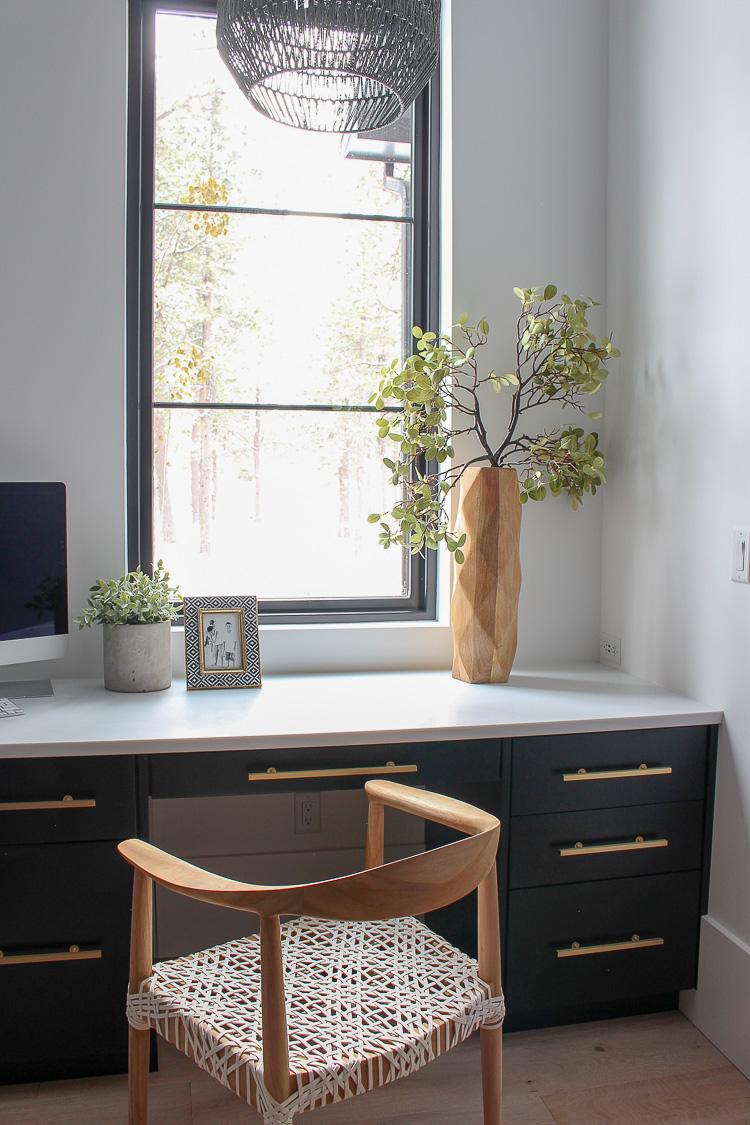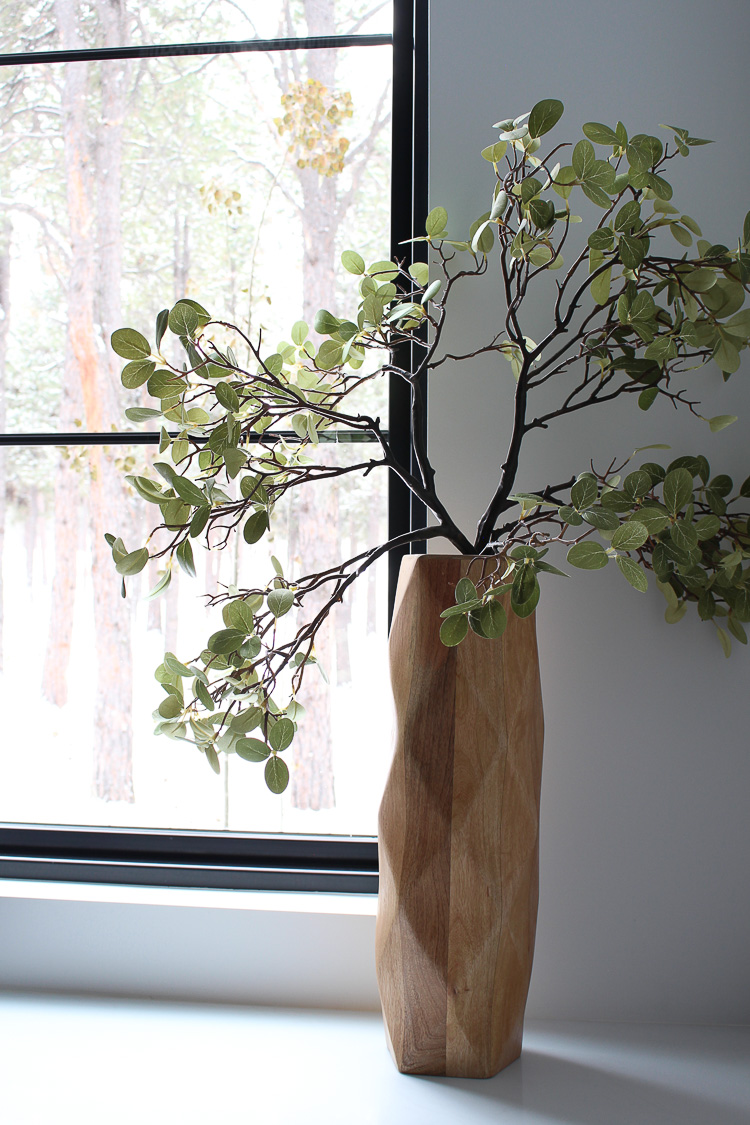 Here's a glimpse into our kitchen. Be sure to check it out HERE!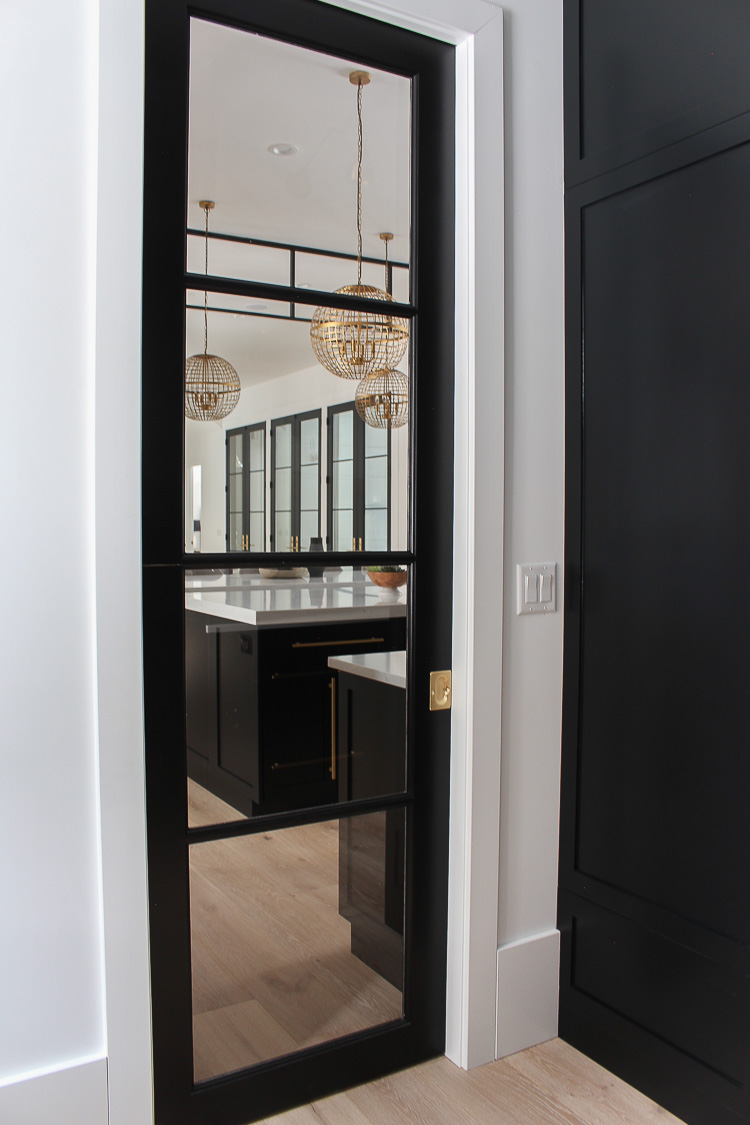 Additional Sources
Our built in coffee machine HERE.
Gold cabinet hardware: Drawer Pulls  HERE and Knobs HERE.
Cabinet Color: Our custom cabinet maker used M.L. Campbell Wood Finishing Systems varnish in color 25-17 Black. It's a true solid black with no undertones.
Shelves:  Custom made by our cabinet maker out of rift sawn white oak. He used a clear stain spray on application with just a hint of white paint added to break the yellow undertone. Shelves are 3.5″ thick. Distance between shelves is 17″.