The Laundry/Dog Room: Dark Green Cabinets Layered On Classic Black + White Design
Our home is pretty much all black and white with loads of natural white oak. It feels so soothing and clean, but if you've followed our blog since way back when, you know that I do love a pop of color in neutral spaces. What better place than in our laundry/dog room where there is lots of natural sunlight and it needed to be full of playful design. I need motivation to be in here as I fold laundry and bathe dirty dogs. A pretty laundry room was a must and so fun to design. Probably my favorite room of the house and one that our friends and guests get the most excited about. Go figure. The laundry room.
I'll let the photos do most of the talking, but I'll highlight a few details along the way. As you tour, take in that gorgeous (and fun!) black and white patterned tile on the floor, the classic subway tile with beveled edges on the walls, and those bold, dark green cabinets that I'm so happy I took a chance on. Not only is this our laundry room but also the "dog room."
Gucci and Kodak sleep in here at night and also hibernate here in the daytime when we are not home. As much as a nice looking laundry room was important to me, I also wanted our pups to feel comfortable in here as well. You'll notice we have a glass door so they don't feel so closed in and can look out into the home while we are gone (or when they are drying off from baths or just plain soaking wet from tromping through the snow). The subway tile goes all the way to the floor since Kodak had a previous history of chewing on our drywall in our former home when he was contained in a room. Thankfully he outgrew that puppy stage but we are still glad we went with tile on the walls to keep them cleaner looking and in case we ever get another puppy who decides to eat walls over food. #eyeroll
Not only is the black and white theme carried in here from throughout our home, you'll also see the same natural stain rift sawn white oak in our countertop that is also on our kitchen and pantry floating shelves and cabinets. Also, the use of gold hardware is a consistent them throughout the home. Natural, organic elements are brought in with baskets. One can never have too many baskets in my opinion.
**Affiliate links used. See photo policy and disclosure HERE.
Classic Black & White Laundry Room Featuring Dark Green Cabinets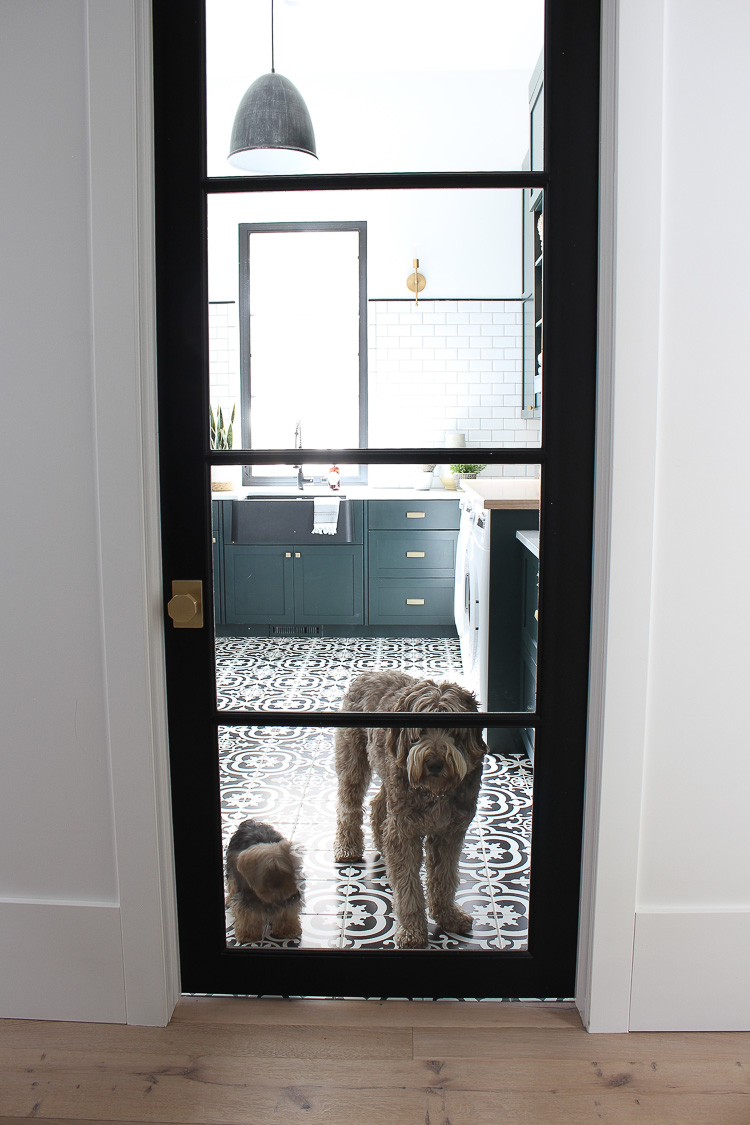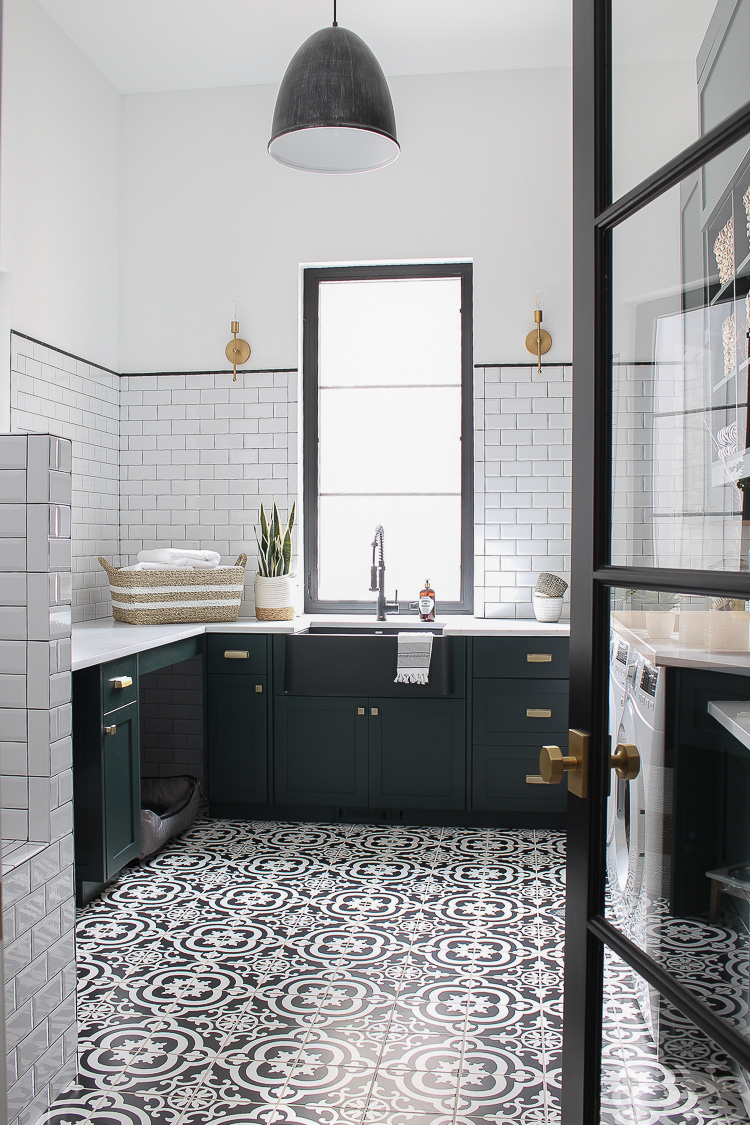 The black farm sink by Blanco is not only gorgeous but super durable to use as a utility sink. I love the sleek, angular design on the apron front.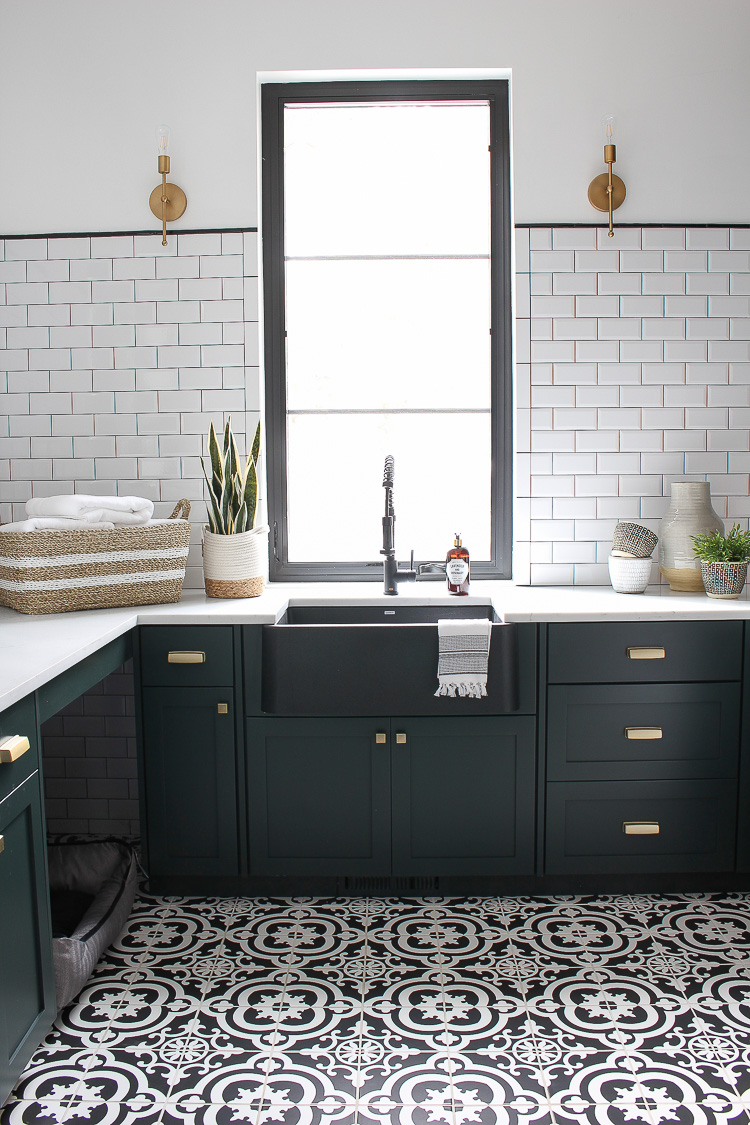 The dark green cabinet paint color is Pratt & Lambert Essex Deep Green.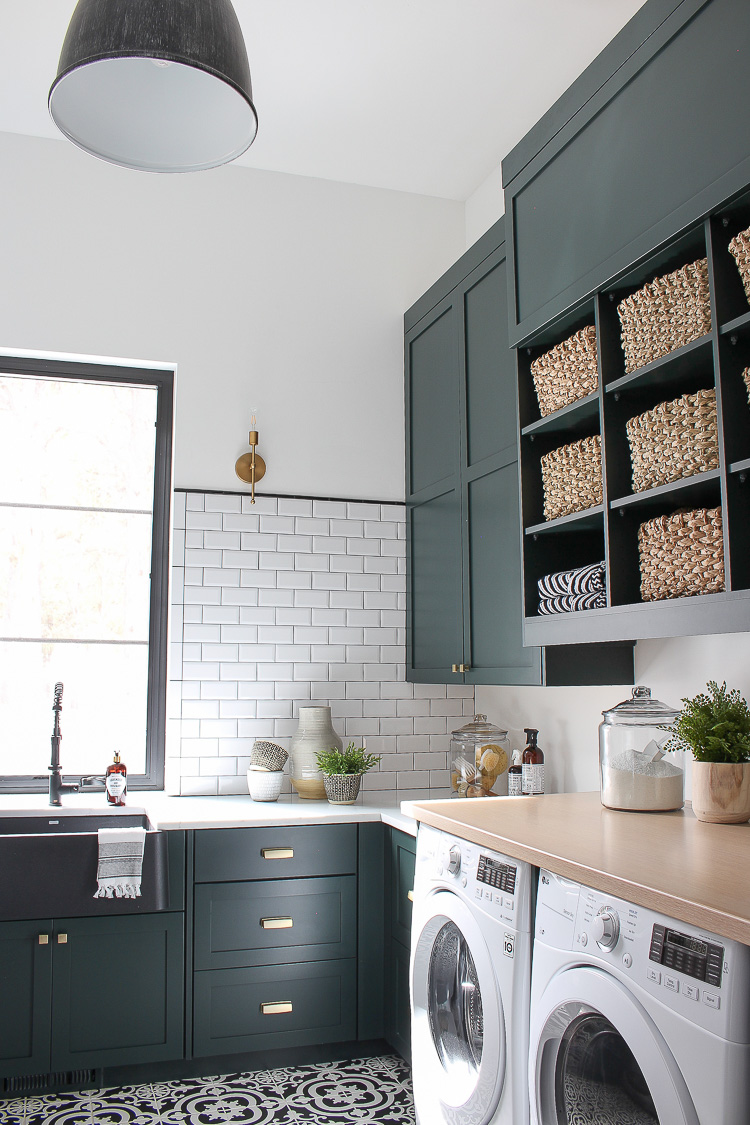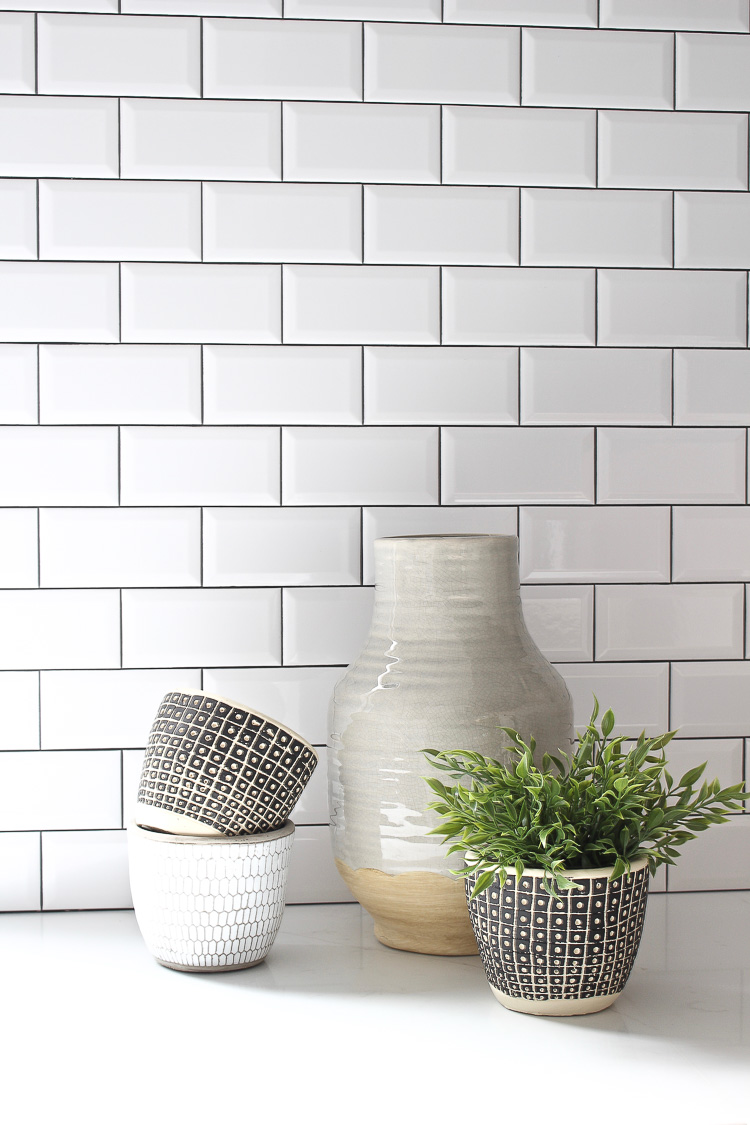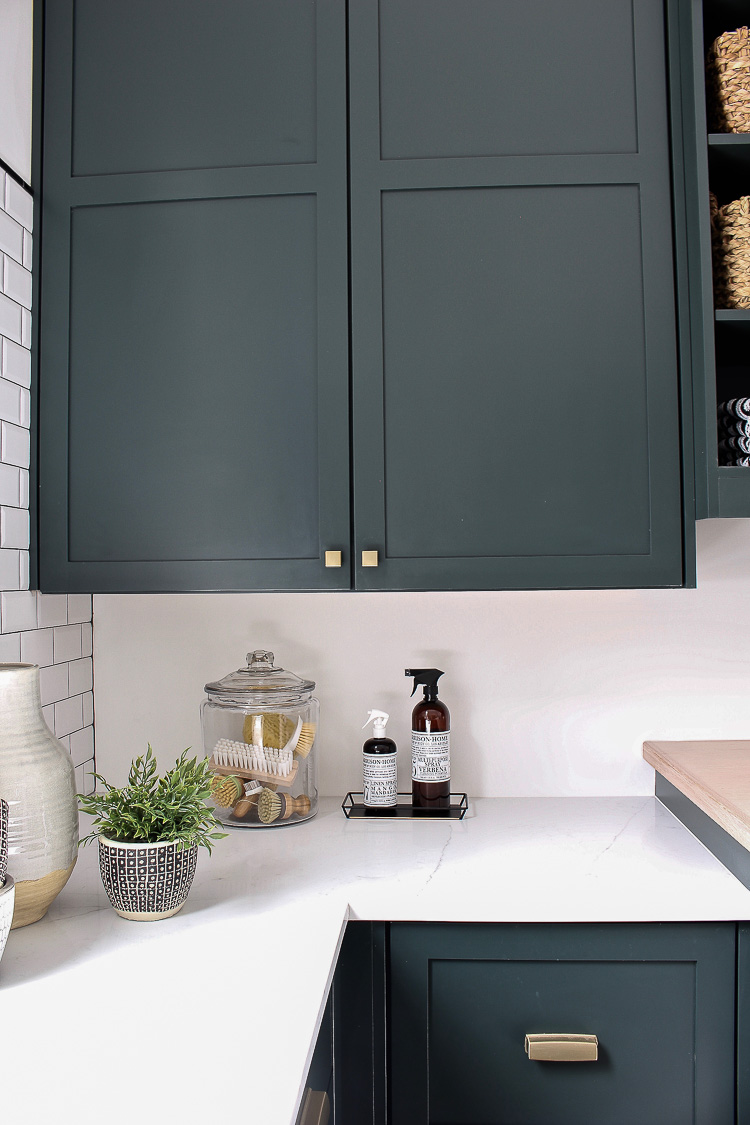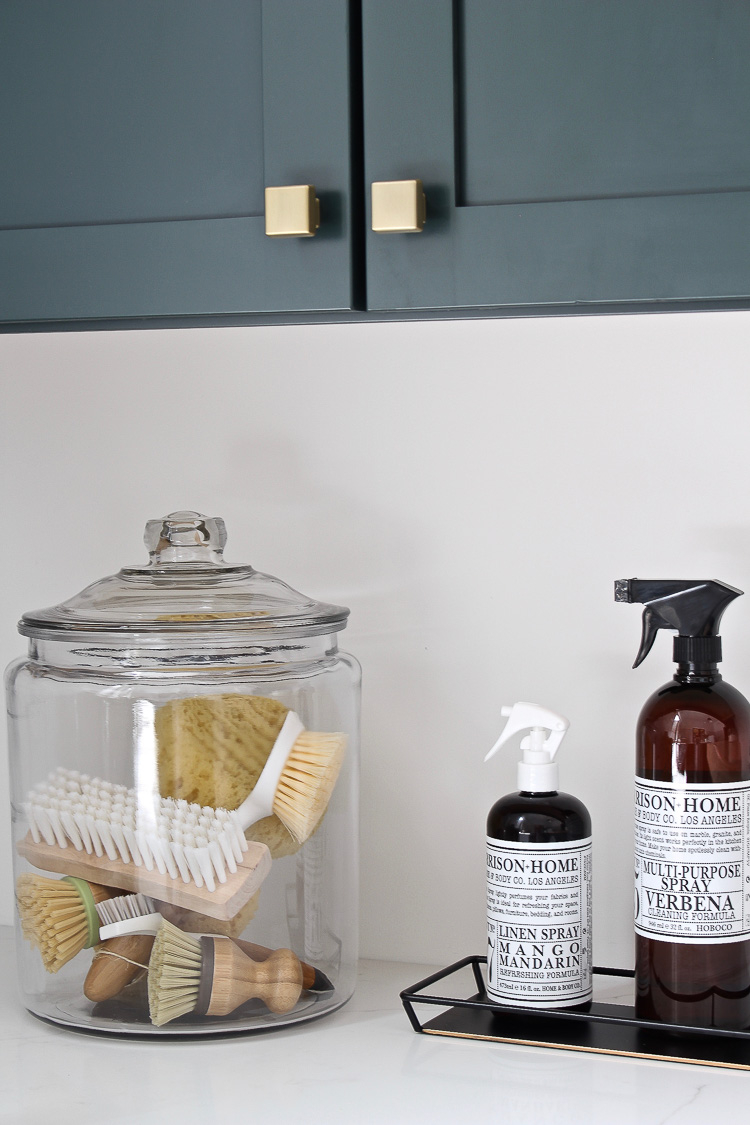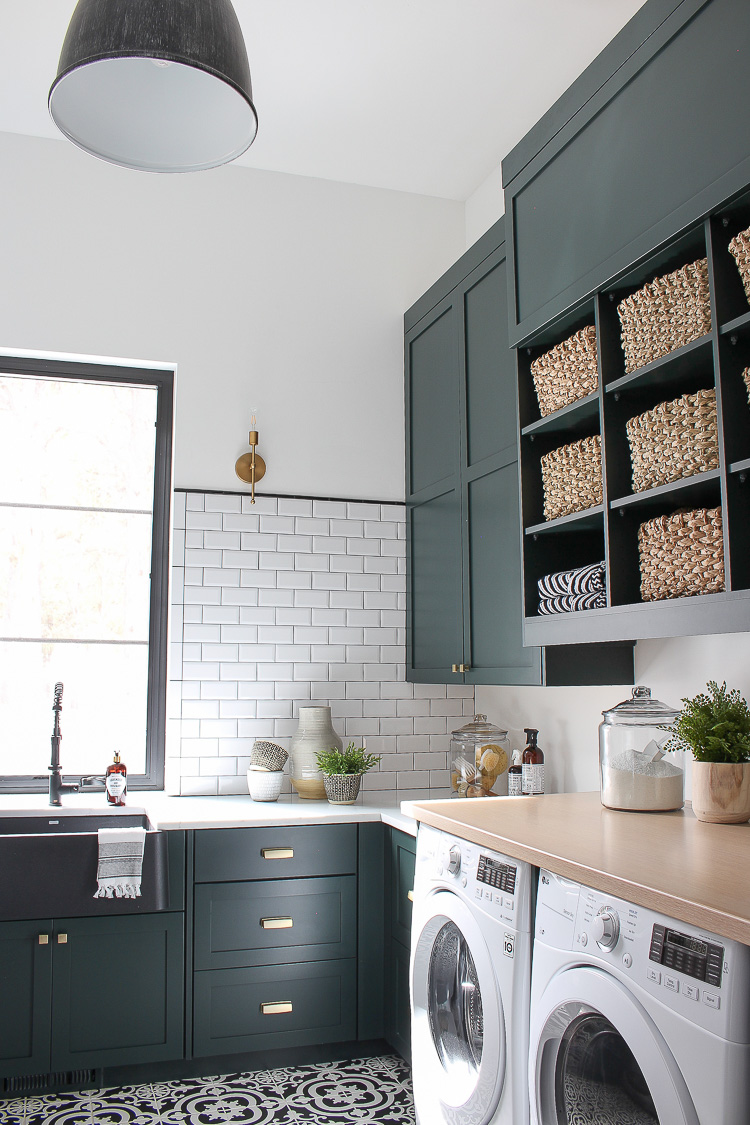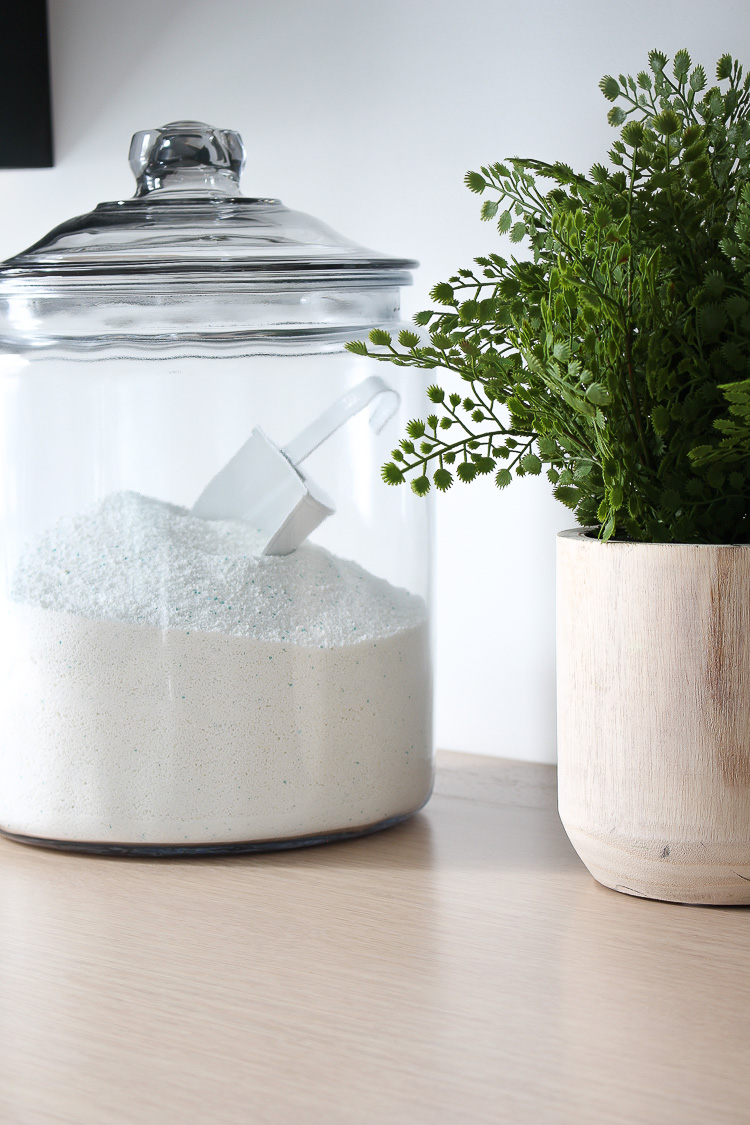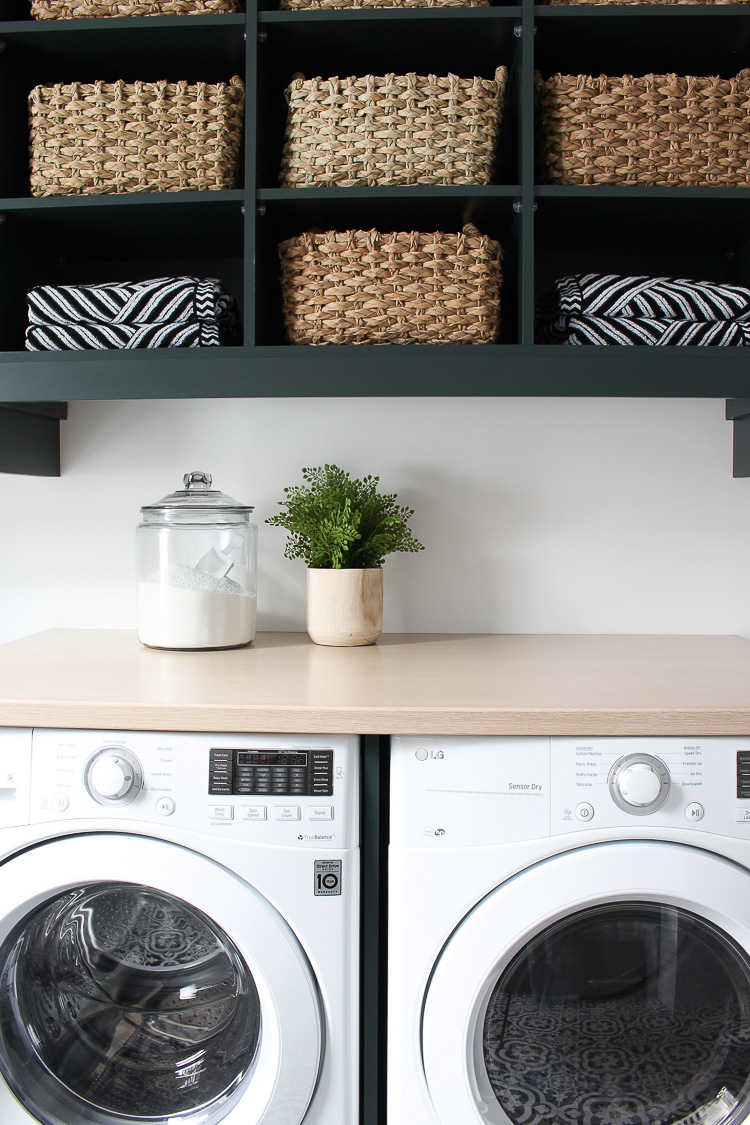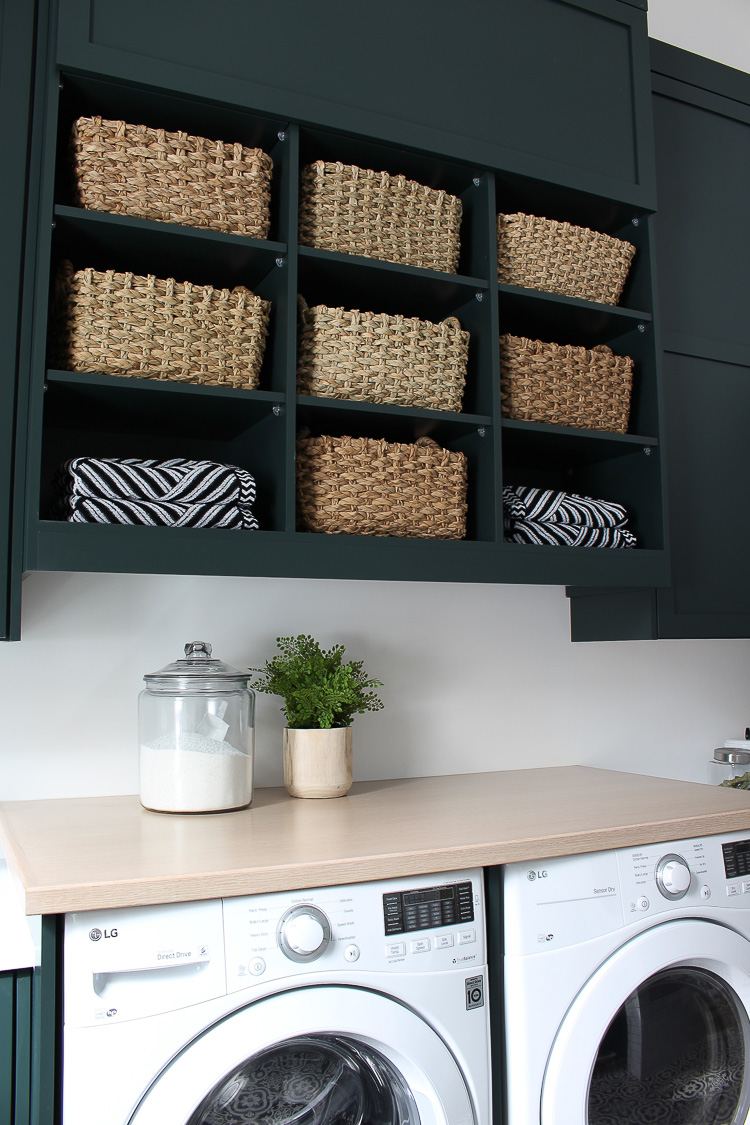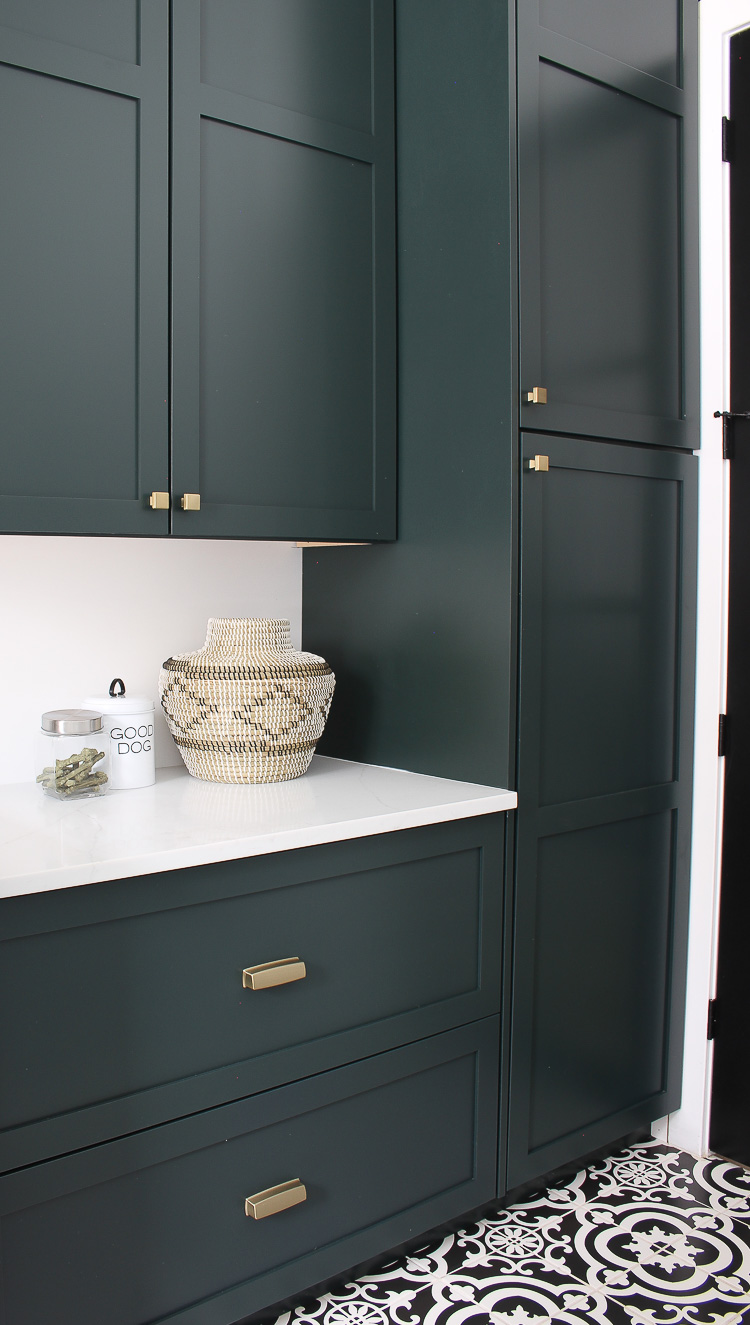 The brushed gold cabinet hardware really pops against the green.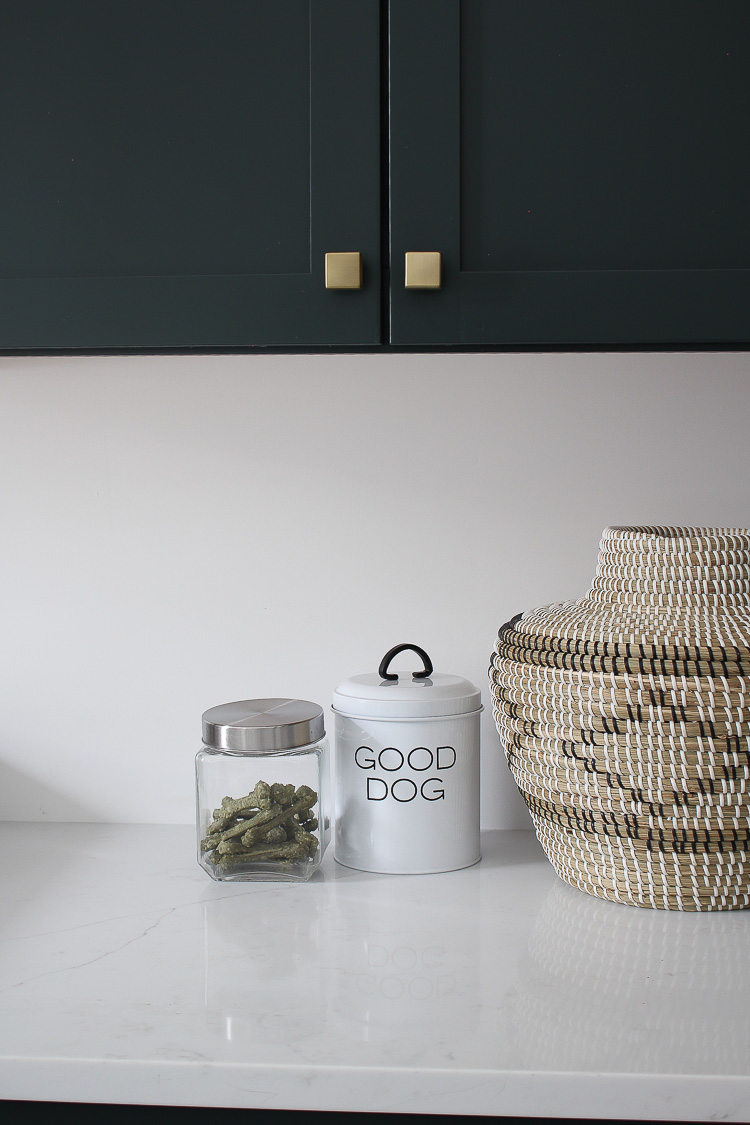 The satin gold door hardware by Emtek is the same throughout the home. It is striking against the black door, but we also have it on some gray doors you'll be saying later as I reveal more of our home.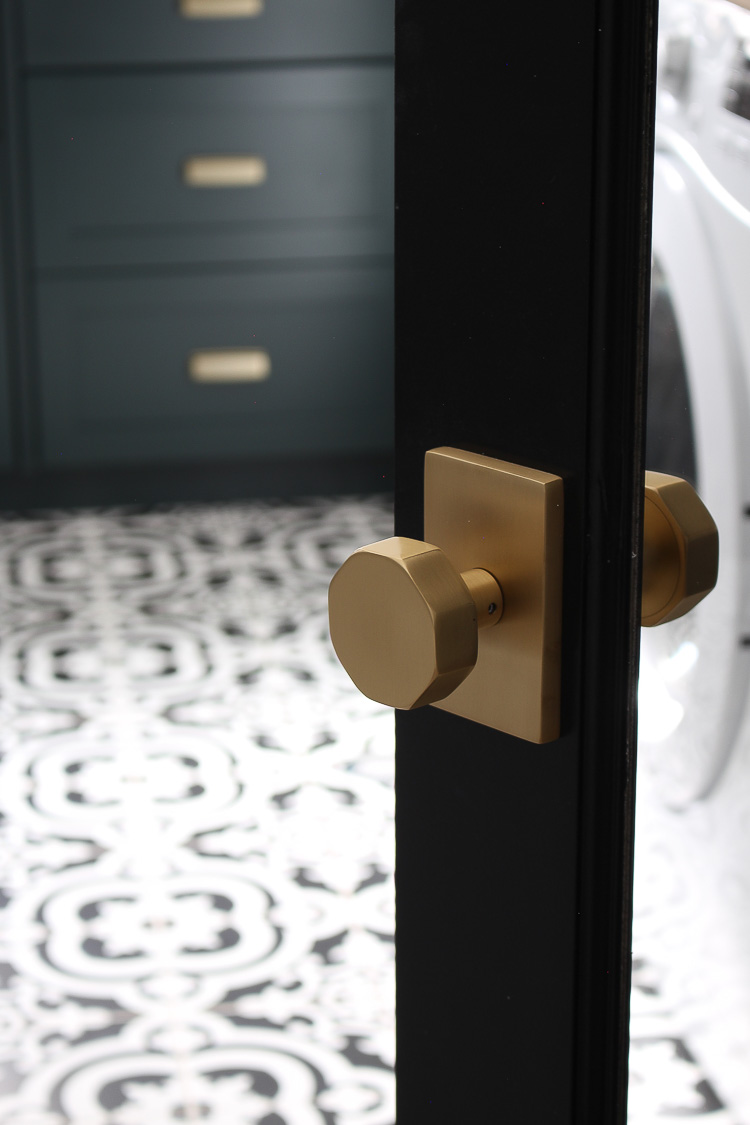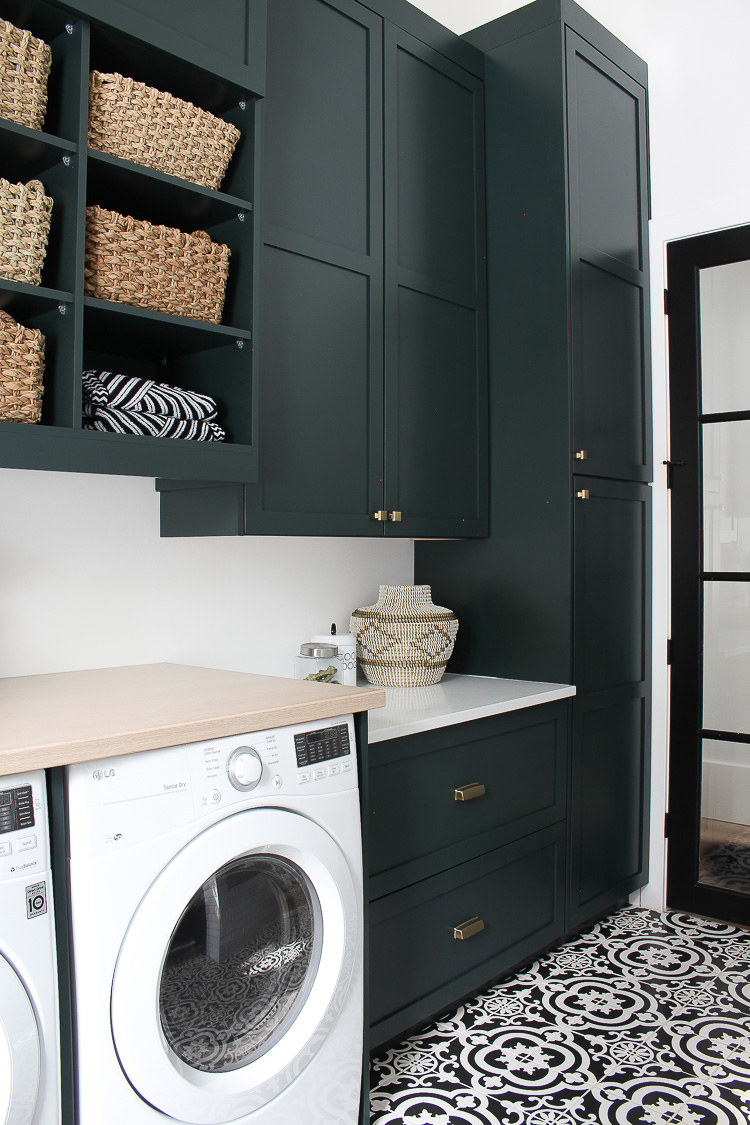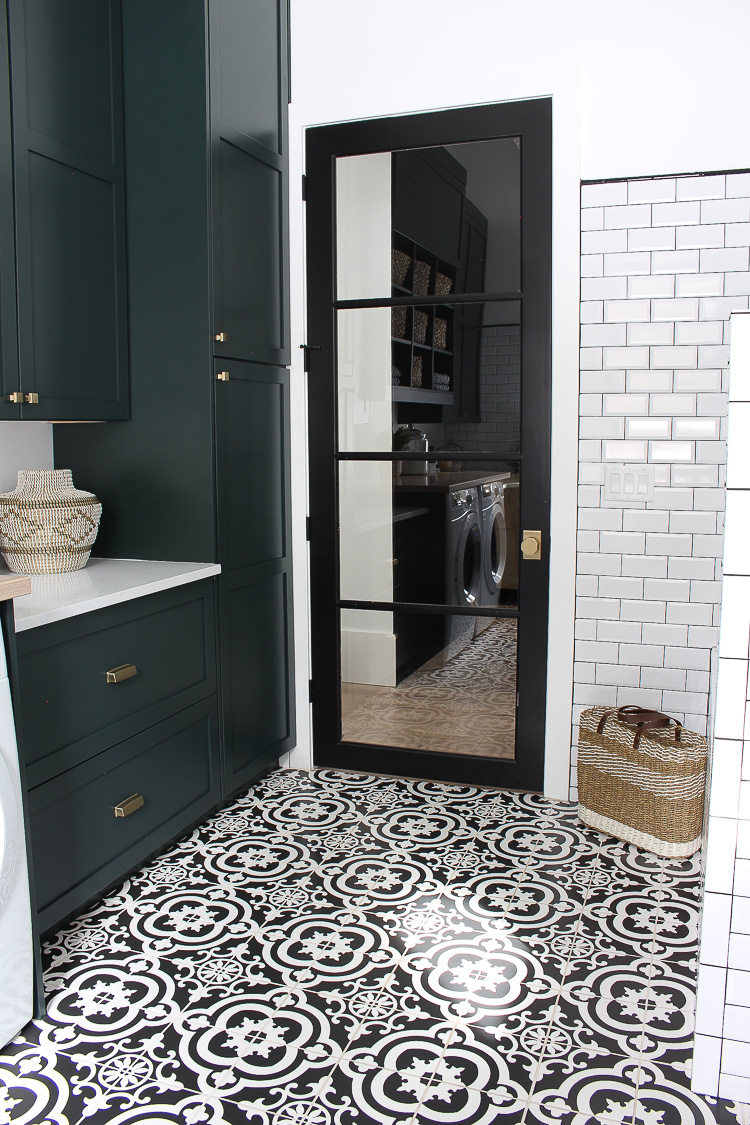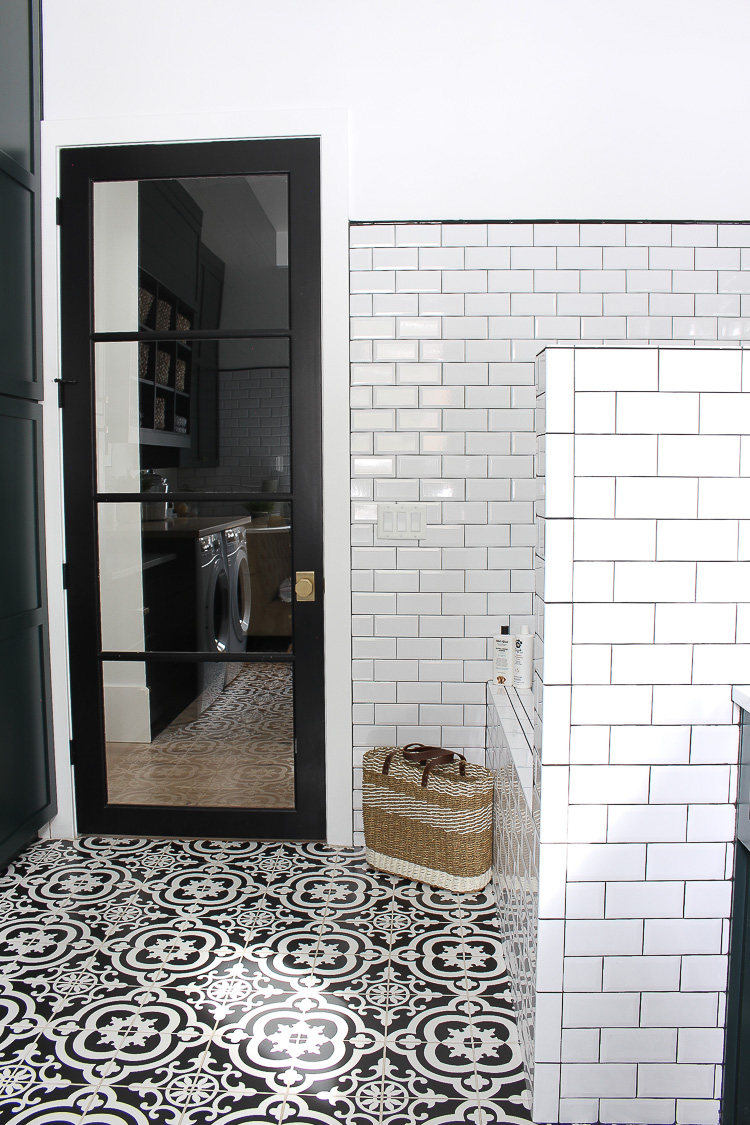 Having a designated "dog room" combined with the laundry room has its perks. For example, the room never smells like a stinky dog because the laundry detergent scent overpowers it. See how I plan these things?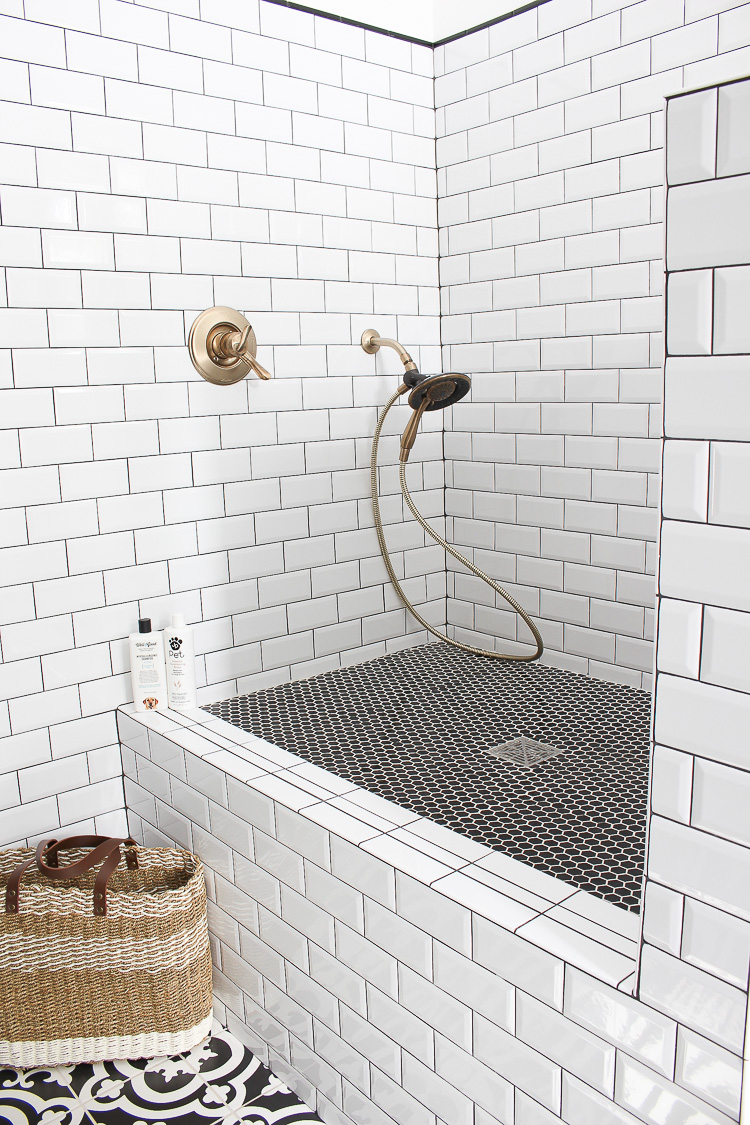 The dog wash is probably the smartest thing I did in this house. Especially where we live with natural land and the dogs paws get kind of grimy. We have a daily wash and rinse (at least the paws) session in here. I intentionally raised the height to save my back from leaning over. Kodak can jump in and out easily, although most days he's a big lazy baby and wants momma to lift him. You know they're totally posing for treats here. I bribe, what can I say. By the way, I think they're both due for a bang trim.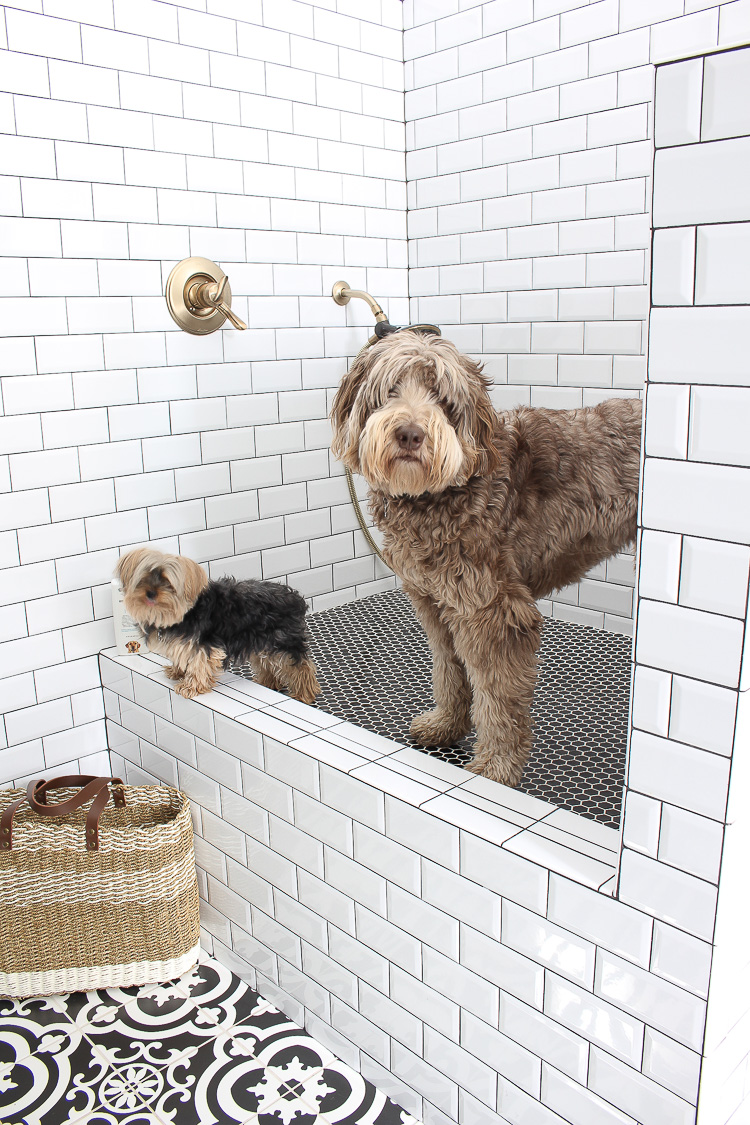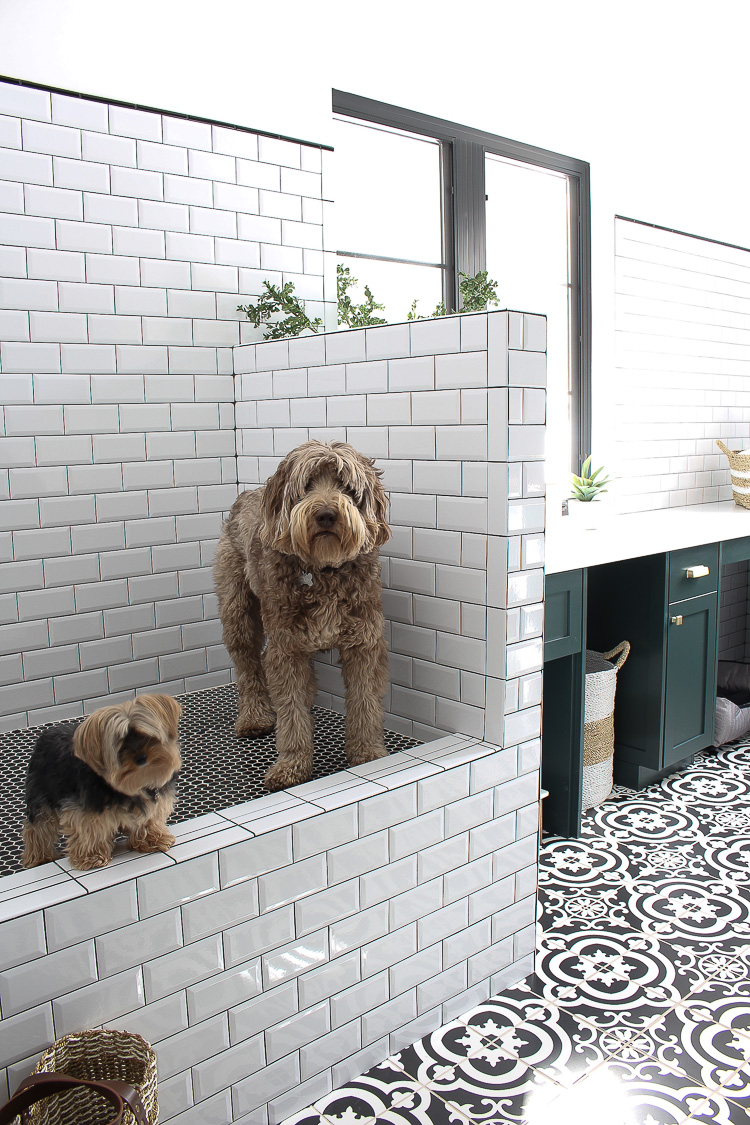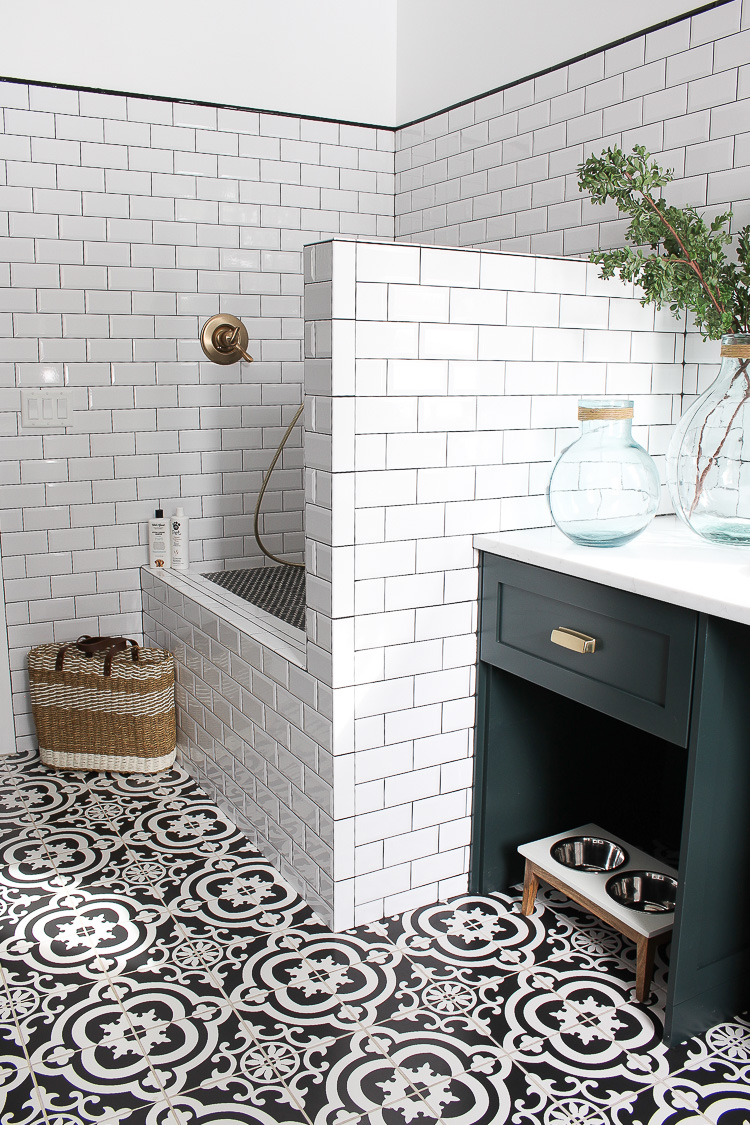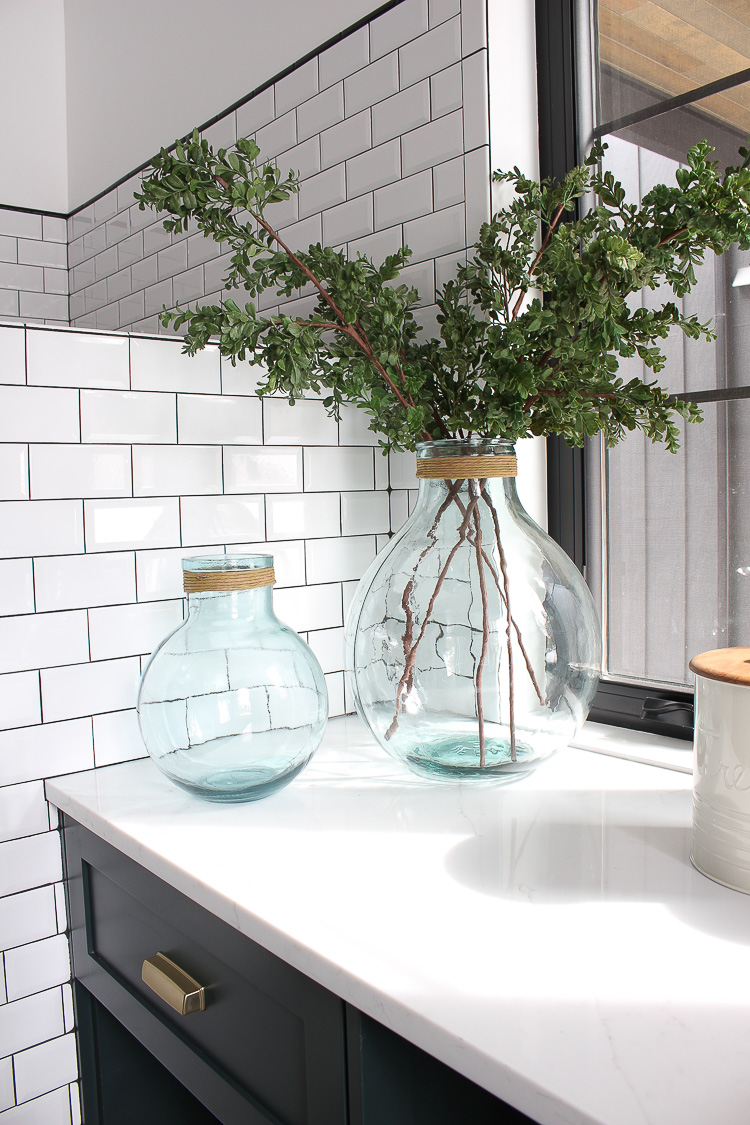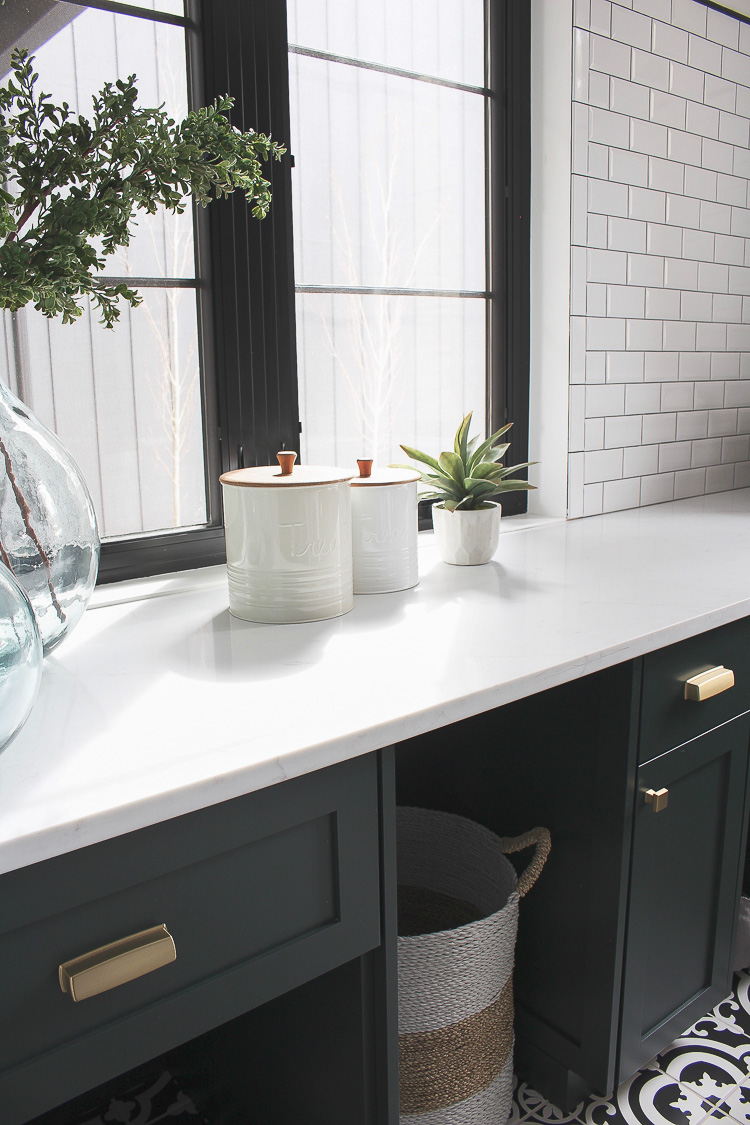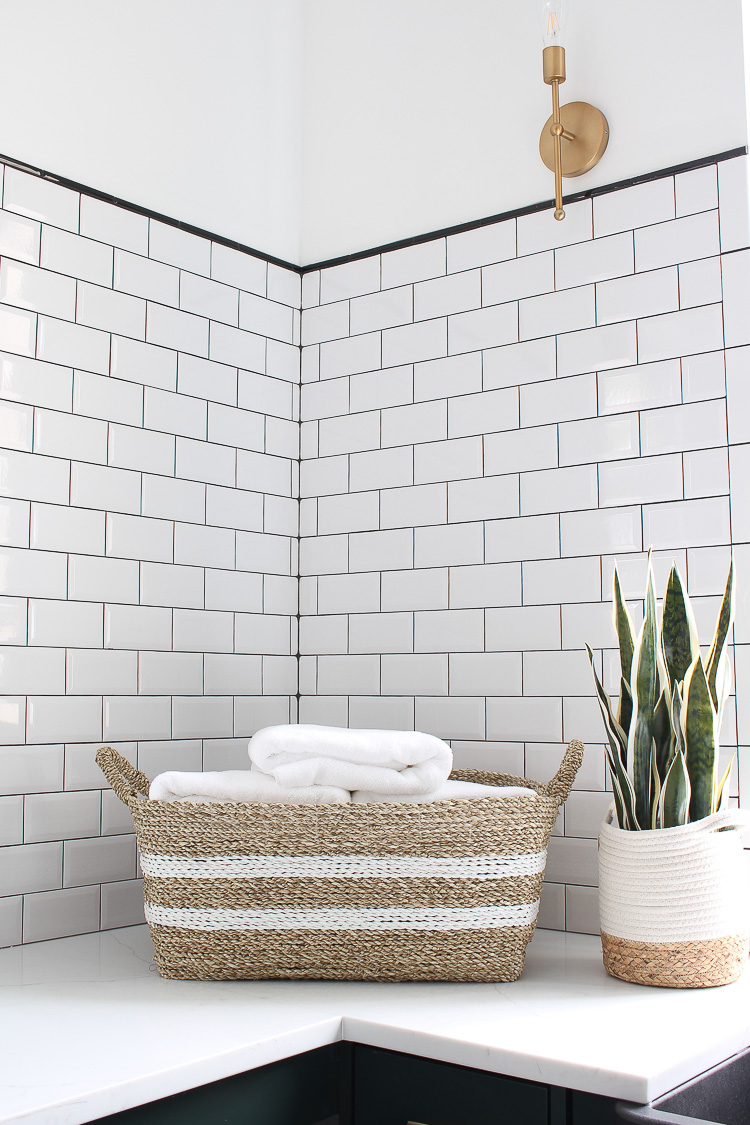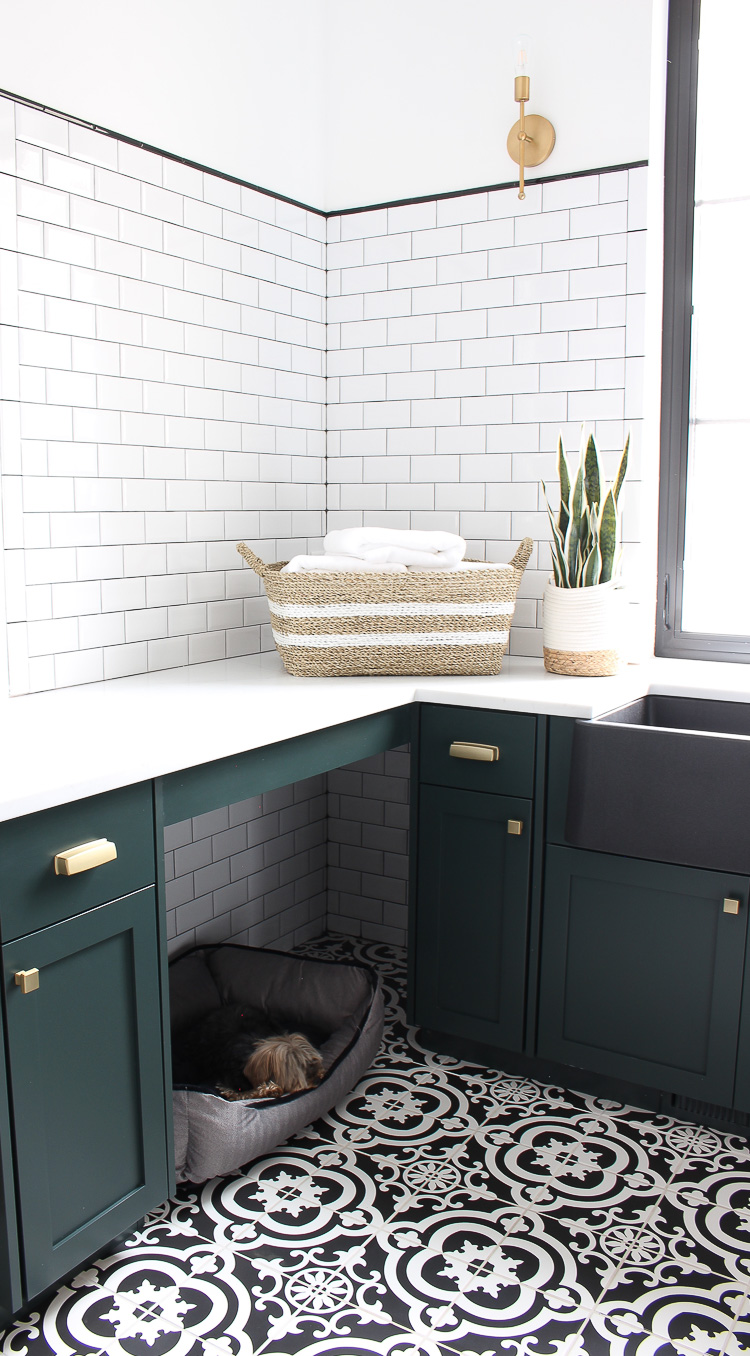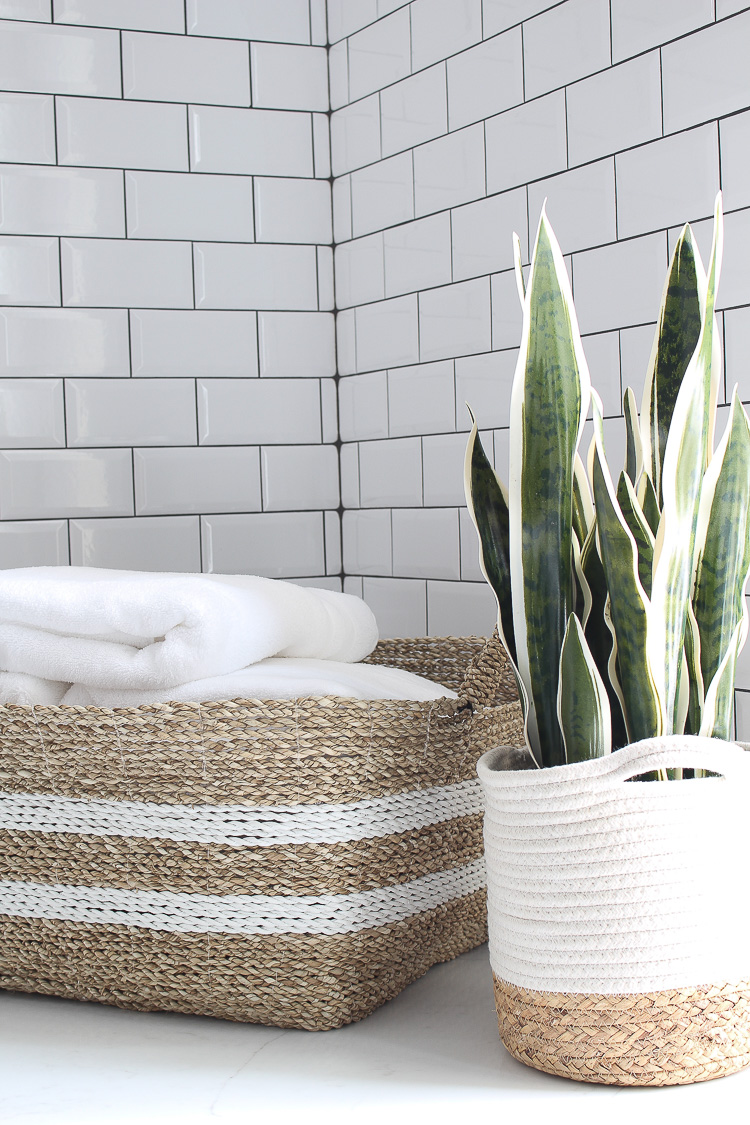 What do you think? Are you bold enough to go with dark green cabinets in your home? We played it safe with the traditional and classic white subway tile and played it up with the patterned tile floors. Bottom line, have fun with your home and take a few design risks. Those almost always end up being the best features! Thanks for stopping by! Sources are listed below.
Walls are Sherwin Williams Pure White
Floor tile // Subway tile // sink // faucet // dog shower faucet // drawer pulls // cabinet knobs // door knob // Pendant light // sconces // glass jugs/vases