Tips to Layering Neutral Rugs + Beach cottage living room update
Hello everyone! I'm back again at our beach cottage sharing a few tips on how I like to layer neutral rugs. Pulling the look together doesn't have to be expensive and can really add texture and warmth to any room. Layered rugs are definitely having a moment in design for a more relaxed style.
Our living room gets a lot of sunlight all day long. We have french doors in the front and also in the back facing the pool. I love the bright and airy feel and like to keep the style simple and natural. I gave the room a very simple update with big impact by layering the existing rug with a new, beautiful rug.
This post is sponsored by Wayfair and contains affiliate links. All photos, reviews and opinions are mine. Please see full disclosure and photo policy HERE.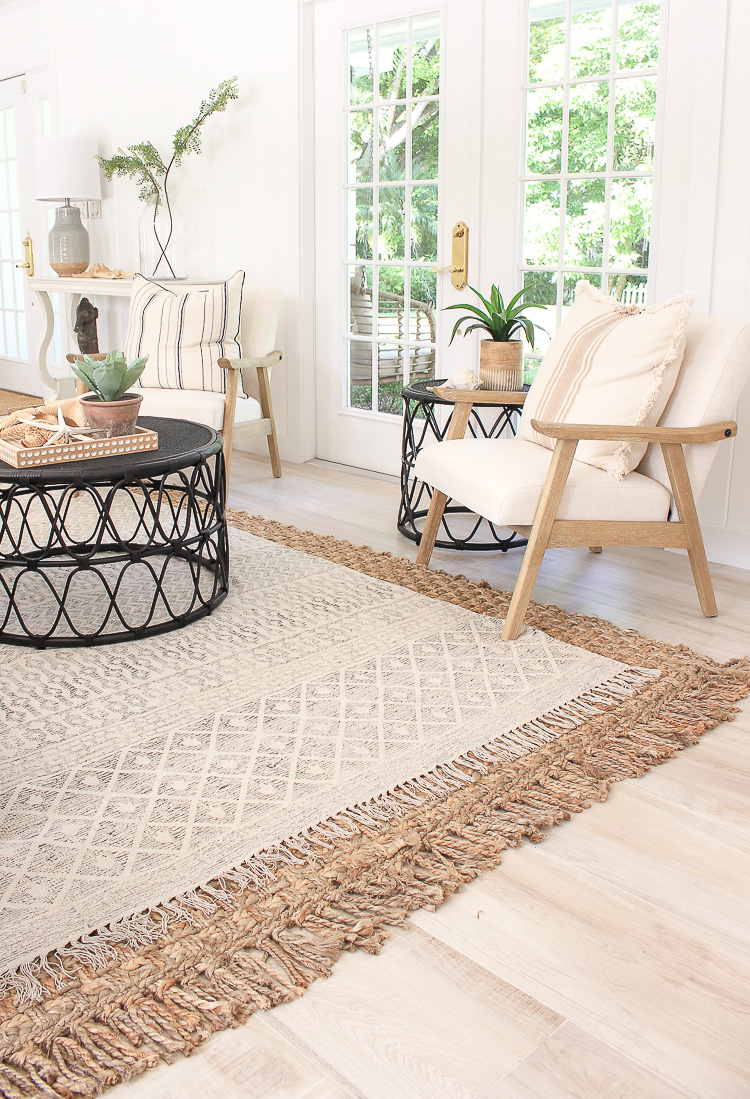 Tip One // Start with a simple, neutral rug for the base layer.

A simple, neutral rug as the base sets a good foundation to layer upon with a patterned rug. The base rug can also have a very subtle pattern like this rug or this rug. I also like this stripe outdoor rug.
Tip Two // the layered rug should be about 2/3 the size of the base rug.

For example, an 8′ x 10′ base rug would need a 6′ x 9′ layering rug. You want the base rug to "frame" the layered rug. I chose this beautiful flatweave rug which is available in different sizes but selling out quickly!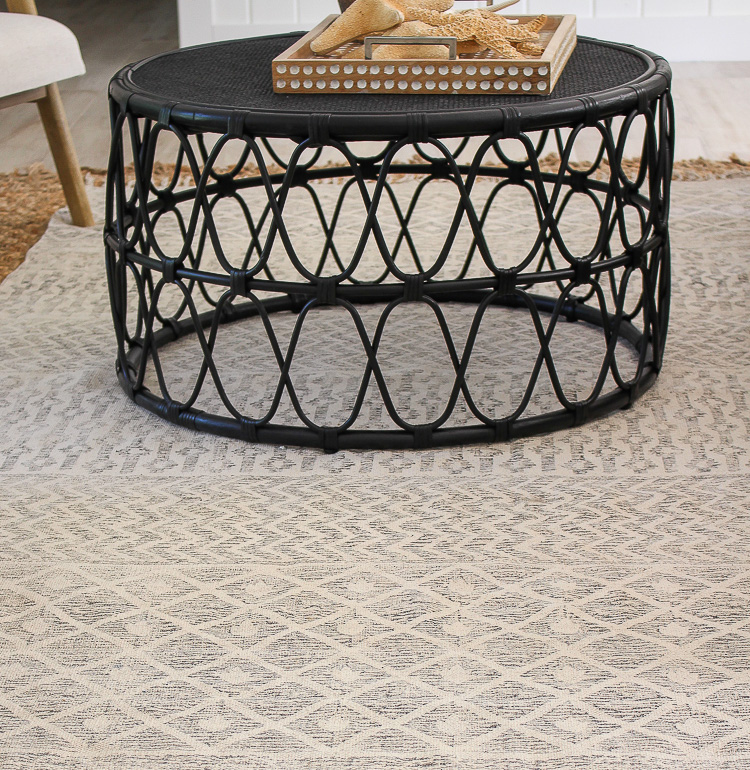 Tip Three // Choose a layering rug with pattern in neutral colors that compliment the room.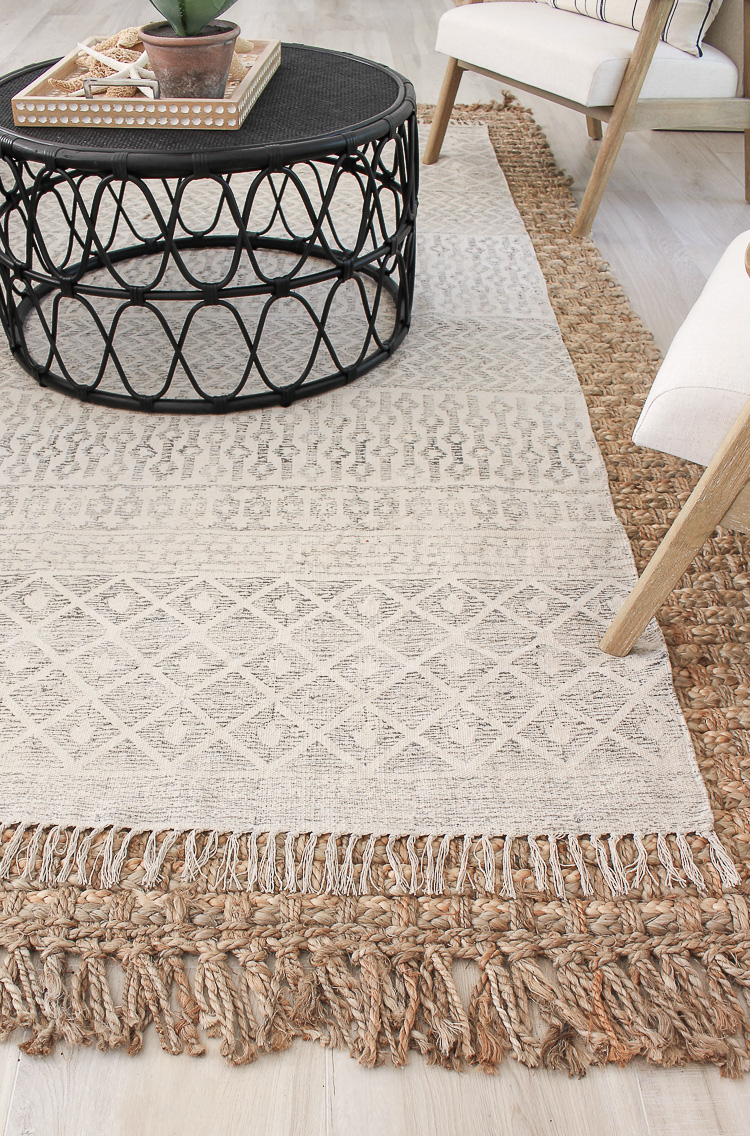 I love the subtle pattern and color tone of this global inspired rug. It adds another layer of design without being overpowering. Of course if you love more colorful rooms or would like to add a pop of color in an otherwise tone on tone room, then a colorful or richly saturated rug would be beautiful! Since the layering rug is smaller than a full size area rug it will be more affordable to even switch out now and then without breaking the bank.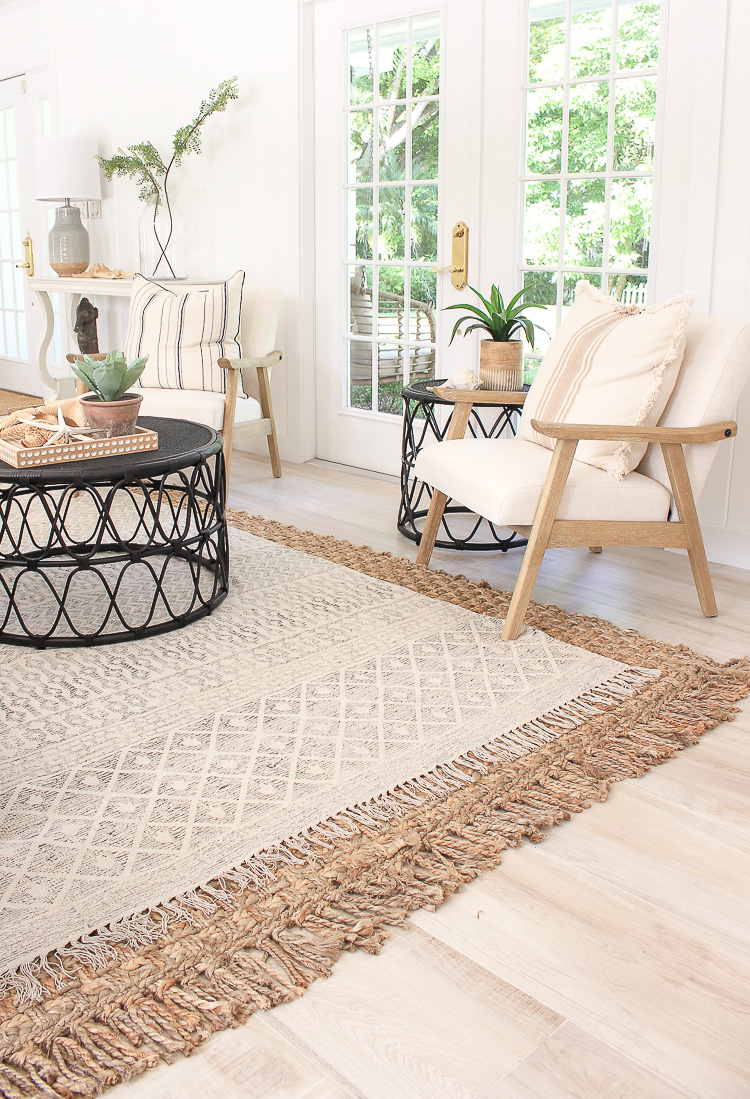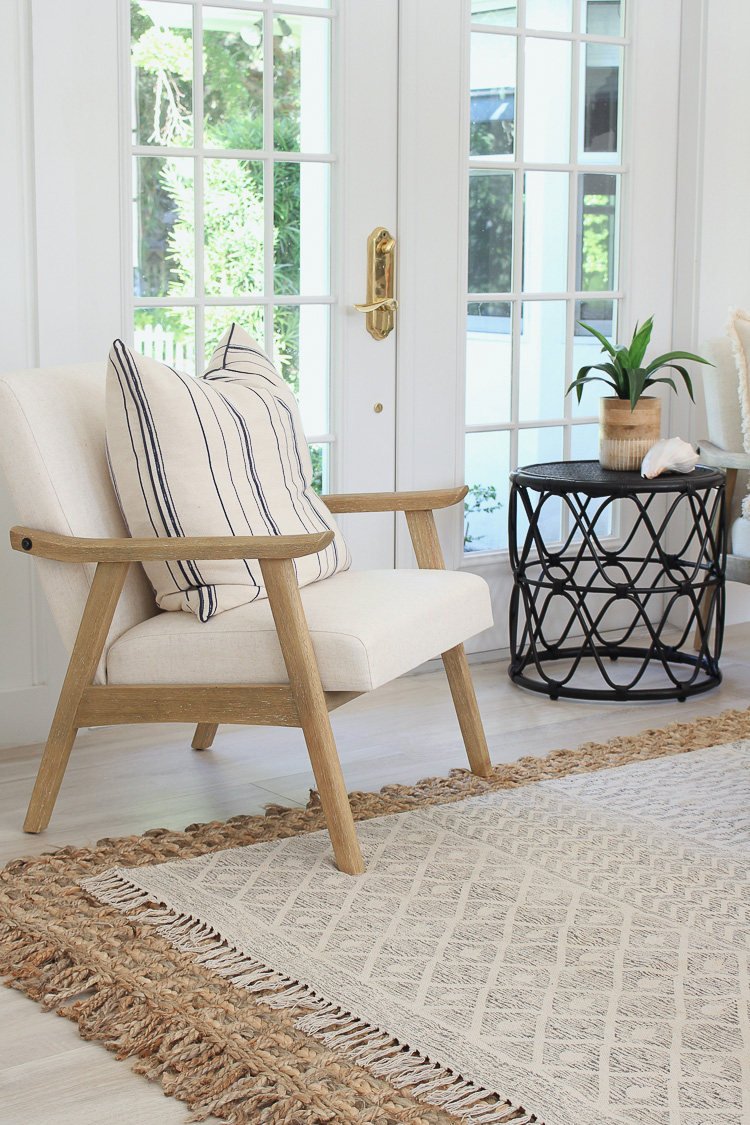 A good rug is the foundation of a well designed room. I love how just a simple rug update makes quite the impact! The layered look is just what our little beach cottage living room needed. Even better is that it'll help disguise the sand that inevitably falls from sandy toes.
Wayfair is one of my favorite online resources that makes it simple to create a home you love. I was able to get my rug with fast, free shipping which is offered on orders over $49. If you're looking for more items to style your home, be sure to check out their latest on trend updates from $39.99.
I've found even more favorite neutral rugs that can be used in every room, creating a cohesive look. A guideline I always follow when designing a home is selecting pieces that can be used interchangeably from room to room. Keeping the color tones uniform and balanced. This guideline works well for rugs, offering the versatility to shift a rug from one room to the next, yet remaining balanced within the overall aesthetic of the home.
SCROLL & TAP ON IMAGES TO SHOP: