Weekend Project: Painting The Front Door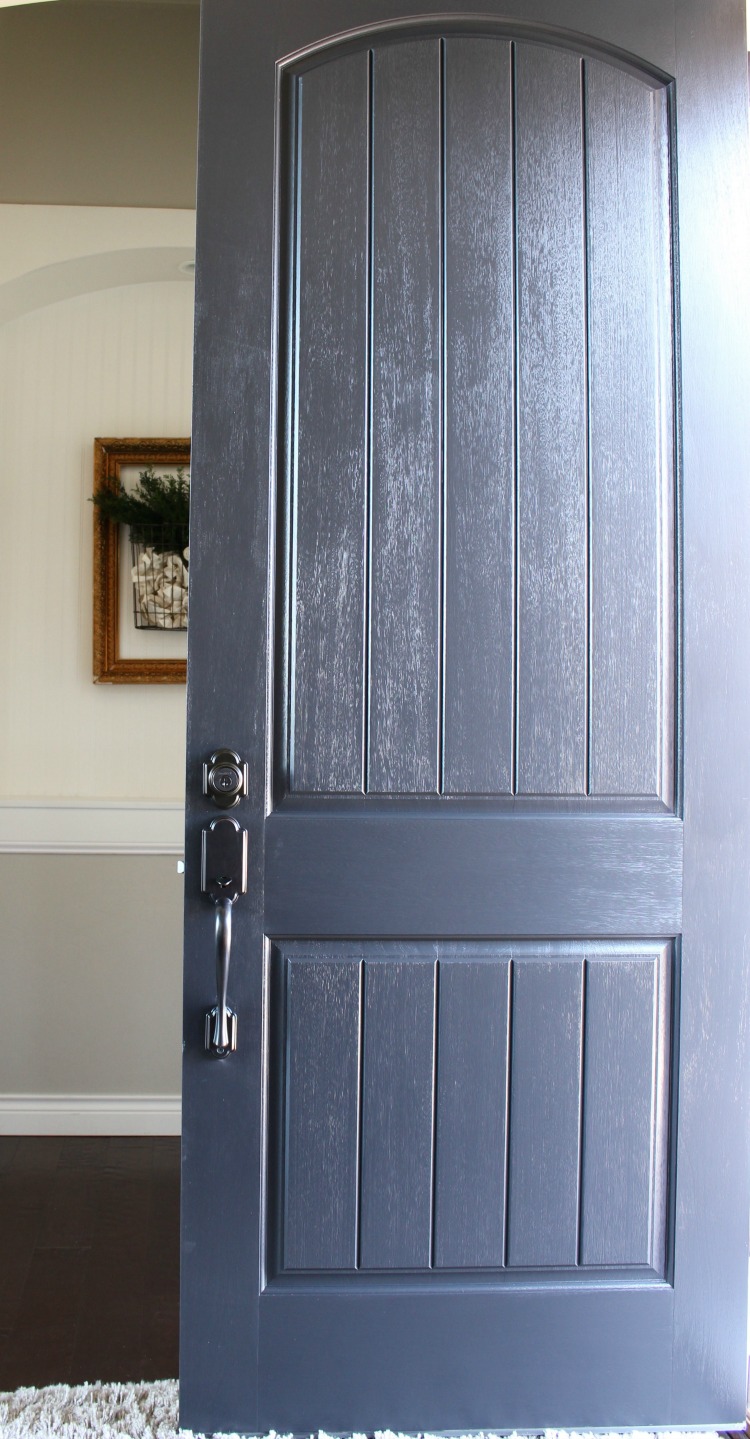 Over the weekend I spontaneously decided to paint my front door. Not that it was a spontaneous thought. I had been wanting to repaint the door since last holiday season when I realized my holiday wreaths looked awful next to my scratched up and faded door. With four fall home tours coming up in September (yes, I'm crazy for signing on to four, but I couldn't resist!) I wasn't about to let my front door leave a less than desirable lasting impression. My weekend project of painting the front door felt like a huge accomplishment but not without a minor paint catastrophe, I'll explain in a moment.
First, let's look at what the door looked like before the paint makeover.  It has taken a beating over the past six years and I'm still curious how it got so scratched up? It's not like we use our front entrance often, very little in fact. I think it's the 50 mph winds (I kid not) here in Colorado Springs that just beat my door to death.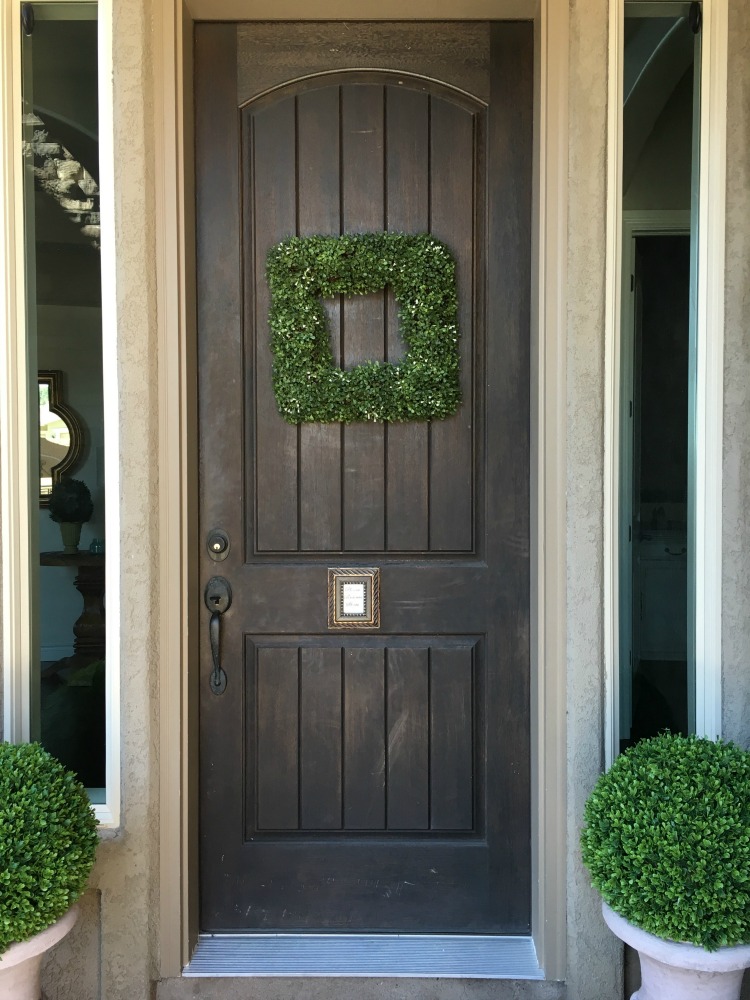 The little sign stuck to the door was one I made when we first moved in with a cheap frame adhered with that 3M heavy duty mounting tape.  I cannot believe it has stuck like glue to this door for so long with the crazy weather we have here.
Here's a funny sidetone. The thing that gets me is when someone comes to the door and upon entering the house, they ask, "do I need to take off my shoes?"  Um, the sign is supposed to do the talking for me and why would I have an ugly sign on my door if shoe removal was optional?? I admit, I'm a germaphobe but I don't think you have to be a germaphobe to realize that the nastiness on the bottom of our shoes is best kept outside.  Okay, rant over.  Back to the paint story…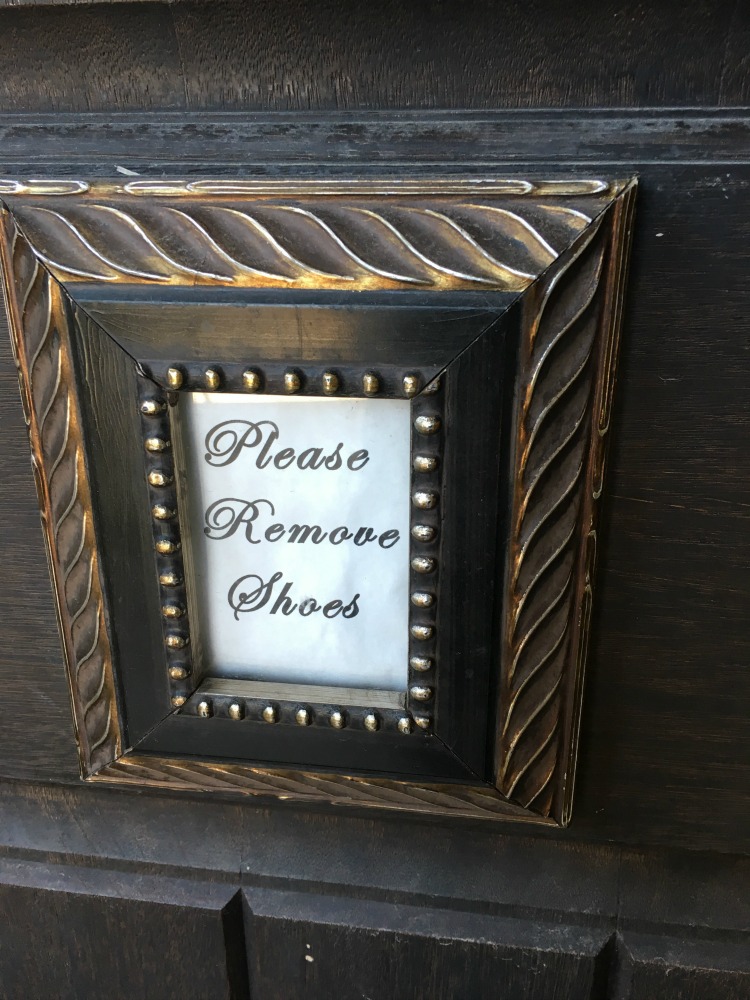 As I mentioned this was a spontaneous project. Not only did I decide in about 5 minutes that I had to paint the door ASAP before I could hang my pretty fall wreath (which you'll see next week!), but my paint color was decided in less than a minute at Lowe's.  Just as there are fifty shades of grey, there also seem to be fifty shades of black. I just needed basic black, isn't there such a thing?
Valspar Lincoln Cottage Black looked good to me! Fastest design decision ever!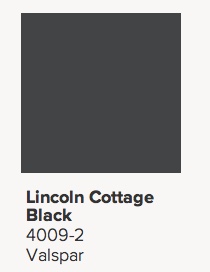 For the record, I do not like to paint.  I think it's because I don't like the messy process.  I want to snap my fingers and have the end result.  Painting the door was actually pretty easy.  After removing that shoe sign and lightly sanding which took about 5 minutes, I put my first coat of paint on.  I put Young House Love podcast on and went to work.  Listening to music or podcasts always make work so much more fun. Once I finished with the first coat, I stepped back and patted myself on the back that I didn't have any sloppy splatters on the floors. Great! time for a lunch break!
Then came the disaster…
When you paint a front door, you leave the door open to dry, right? Yes. I had put our metal bar stool in front of the door and set the closed paint can on top of it while I went to the kitchen for lunch. I would never leave a can of paint laying around if I had a toddler in the house. So you can imagine my surprise when I heard a disastrous sound and come to find out that someone in the house (no finger pointing…) decided to move the chair, with said paint can, onto the front patio.  I'm envisioning more like a chair was kicked onto the patio, because the paint went flying all over our concrete! UGH!!!  Black paint everywhere! I know Halloween is coming up but this isn't the kind of black decor I had in mind. I may have digressed to a few grumbling words and I'm pretty sure a few joy walkers on the street started running when they heard me.  The weekend paint project had all of a sudden become a nightmare.
Lesson Learned
Good news, the paint came out…shockingly.  Lesson to be learned, never leave paint sitting on a chair.  Now here's the end result. Doesn't seem a whole lot different from the original version.  The black is actually more of a dark charcoal grey, depending on how the sun hits it. I'm happy with the outcome and can't wait to hang my new fall wreath!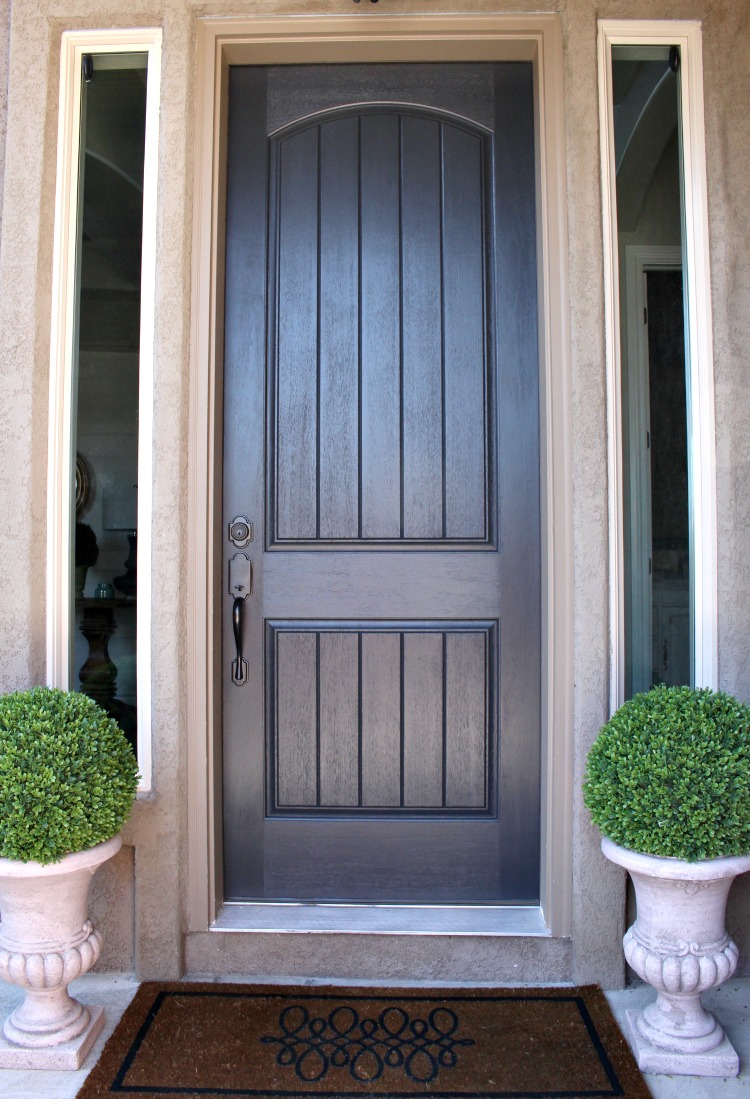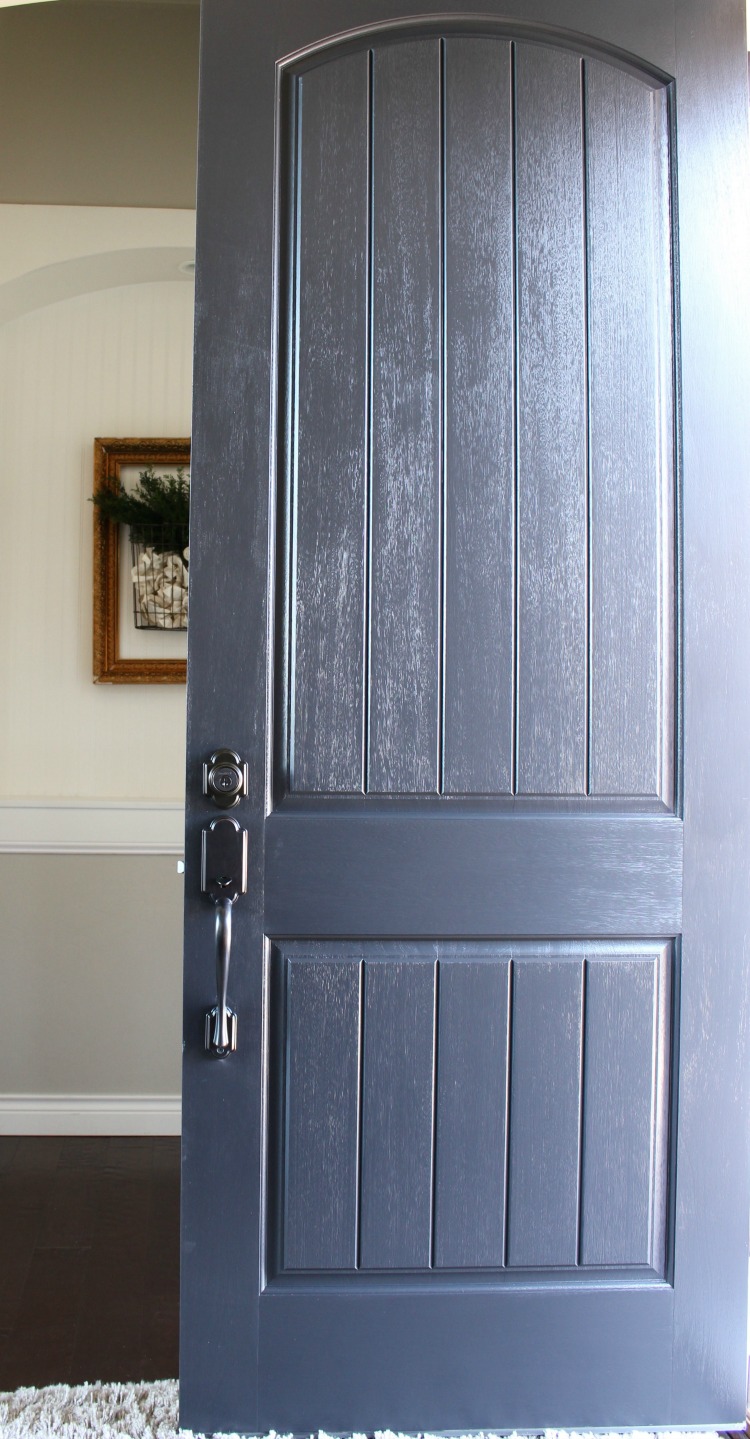 Oh! One more thing, I attempted to spray paint our weathered and faded door hardware.  Well that was a hot mess too, so Tim installed a new set. Some days, those projects have a few hiccups.  This happened to be one of those projects.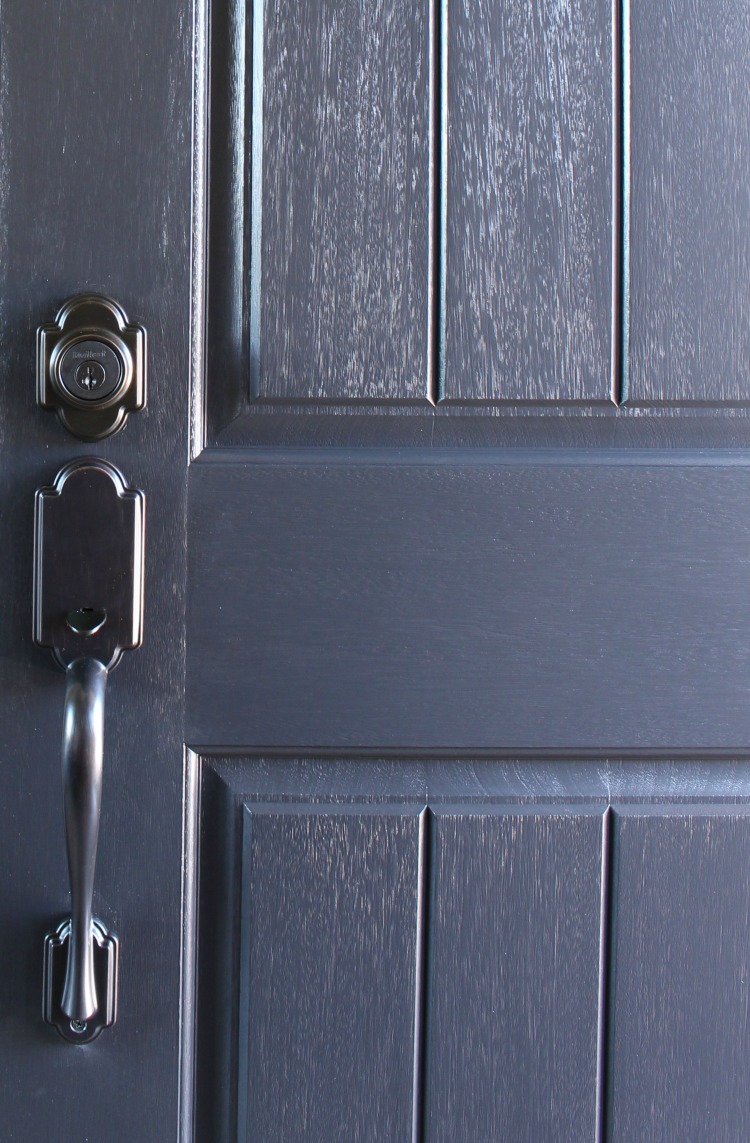 After I painted the front door, I looked slightly to the left of our courtyard and realized that the french doors that lead into our piano room should be painted too.  My whole Saturday was a paint day…sigh.  But hey, I saved money doing it myself and the satisfaction of tackling a simple job on my own.  At least that's what I kept telling myself by the end of the day.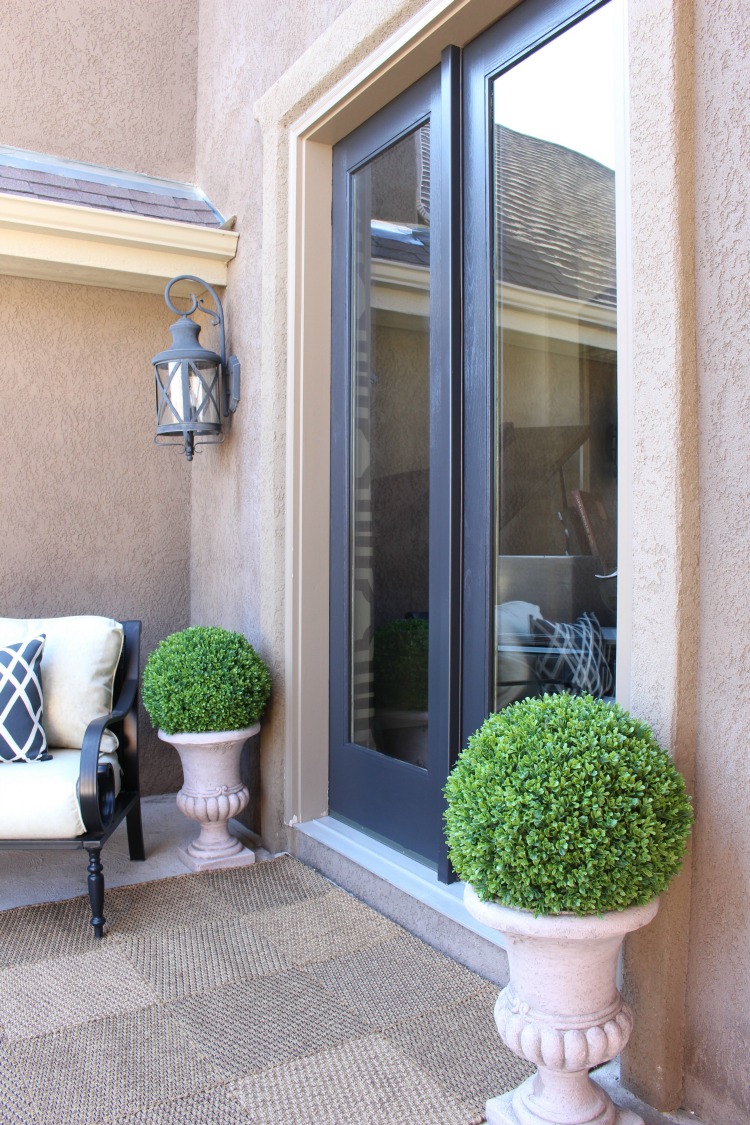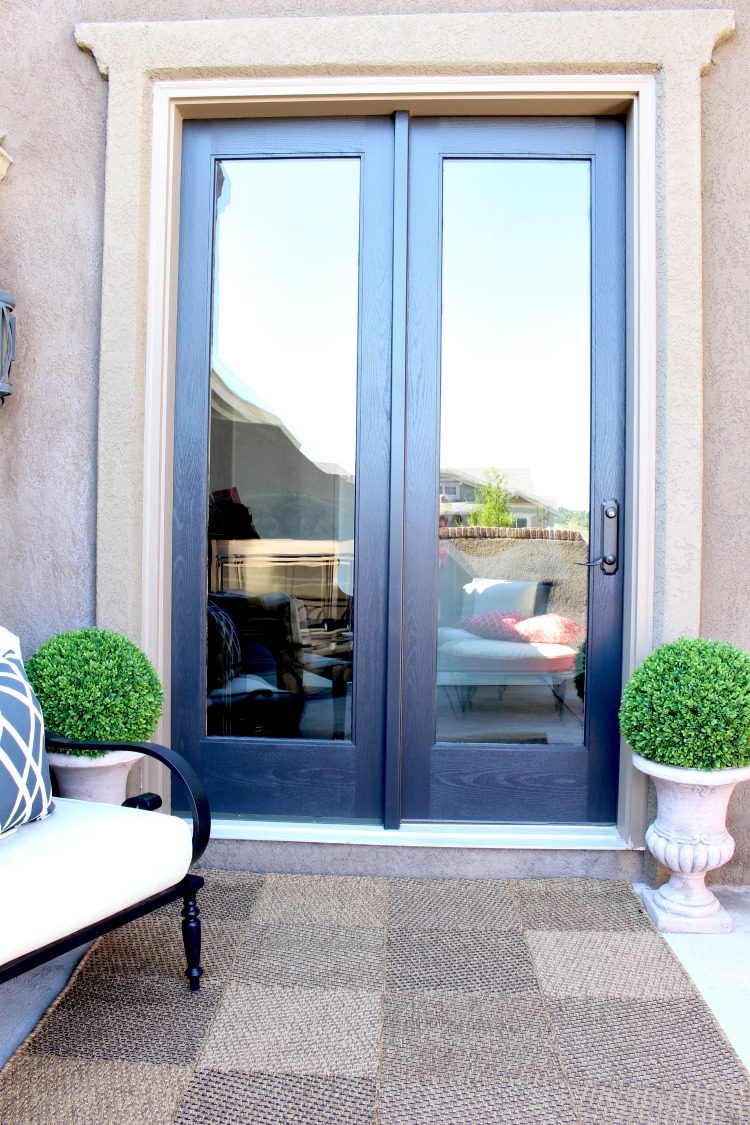 Rug (similar) | Topiaries (similar)
Next week kicks off the beginning of a series of fall tours in my home. Thank goodness the weather is cooperating with a chill in the air and I'm in fall nesting mode.  Stay tuned!