A Coastal Theme Bedroom Makeover at Our Beach Cottage
Our recent vacation at our beach cottage this summer was relaxing as usual, but not without working on updating a couple of rooms.  If you've been following along here for a while then you know all about our little beach cottage in Naples, FL. It went under a big renovation 4 years ago with the exclusion of one bedroom. Two of our three boys share this small bedroom filled with thrift store finds, including thrifted beds I bought for $10 each ten years ago. I'd say a coastal theme bedroom makeover was due.
Let's take a look at what it has looked like for the past ten years. Keep in mind, our boys were 4 and 6 when I decorated the room and I may have been a little too obsessed with all things beach decor. They are now ages 15 (almost) and 17.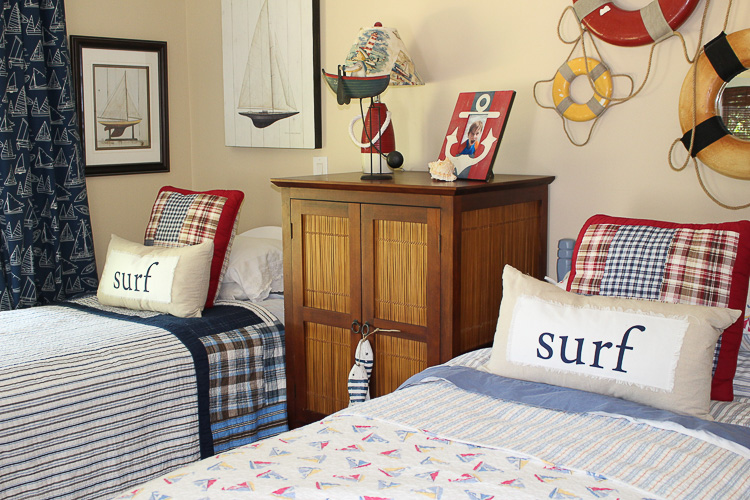 The bedroom is really too small for all the decor I had on the walls. It made the room feel even smaller. Those sailboat drapes, I sewed. I actually used to sew all of my drapery.
The beds and armoire were thrifted. Obviously, mattress and bedding were originally new.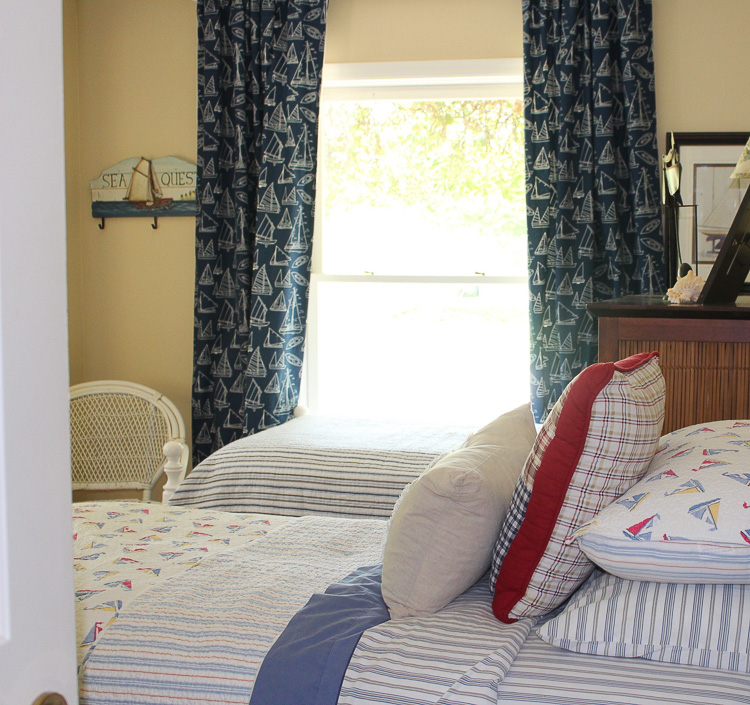 I have to say the boys weren't too thrilled I was disrupting their bedroom and all the memories it held. I guess they get their sentiment from me.
The biggest change was painting the walls white (Sherwin Williams Pure White). Then all the beach decor came off the walls (mostly) to brighten up the room. It's amazing how much bigger a room can feel with less decor on the walls.
This post is sponsored by Walmart and contains affiliate links. All photos, reviews and opinions are mine. Please see full disclosure and photo policy HERE.
Coastal Theme Bedroom Makeover
The new look is a laid back coastal vibe that's casual and comfortable. You'll see I kept a few items from old and incorporated a few new things.
The boys wanted to keep their original bed quilts so I made them look refreshed with new pillows. I found this cute blue fringe pillow from Walmart's curated collection of beachy coastal decor.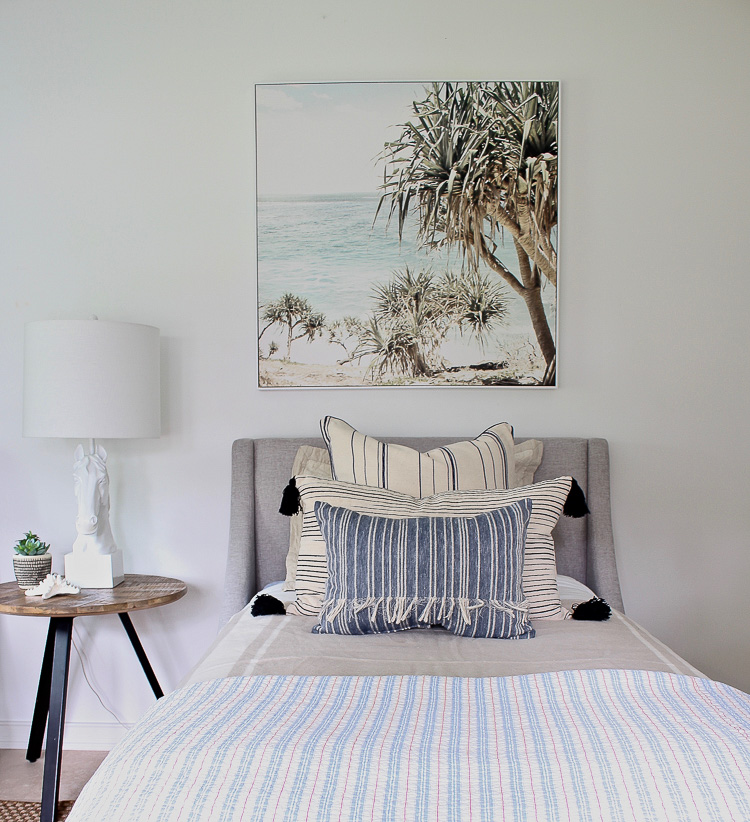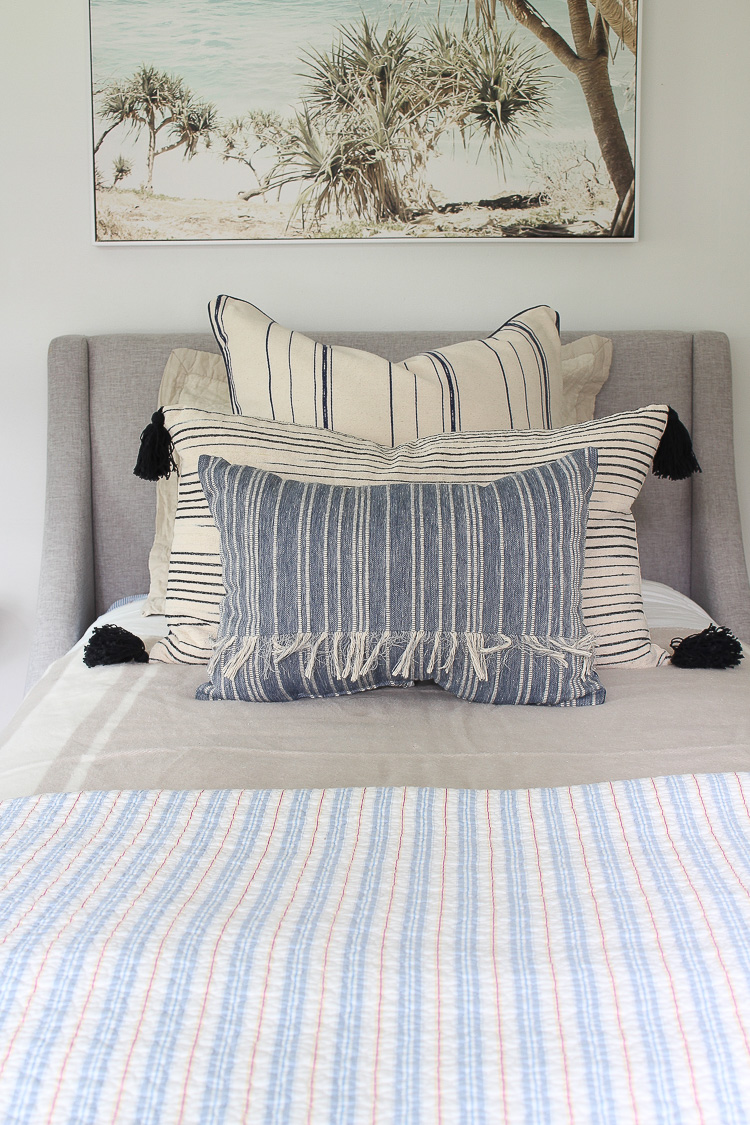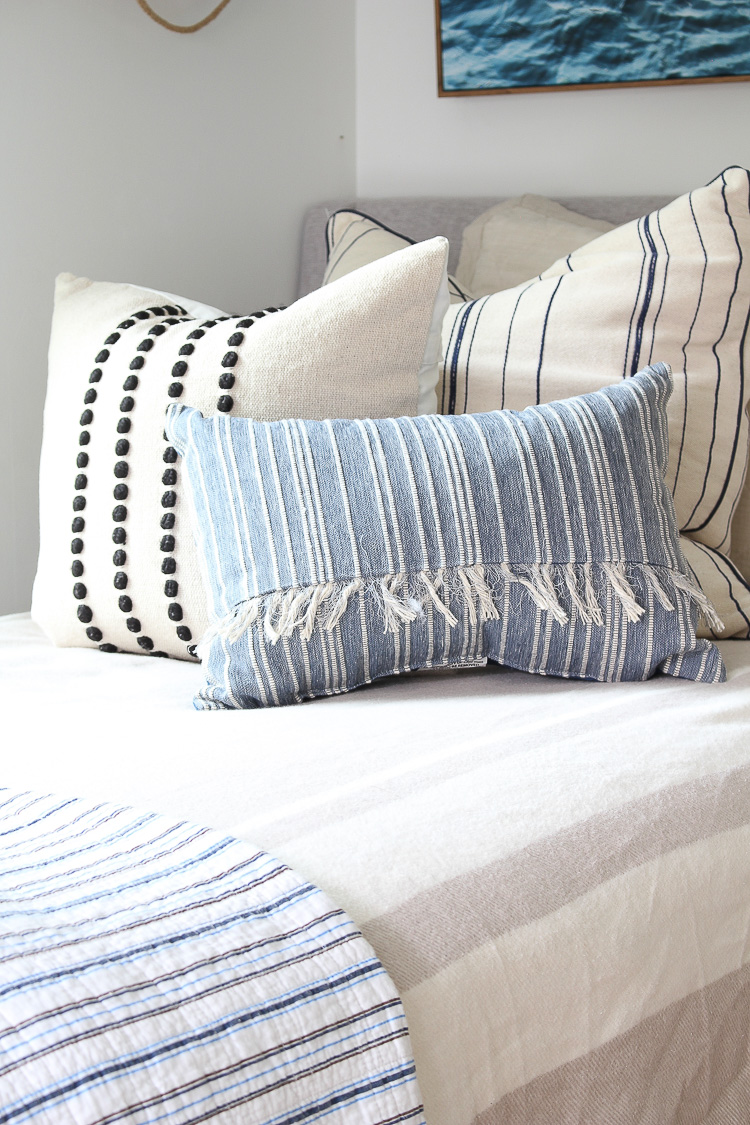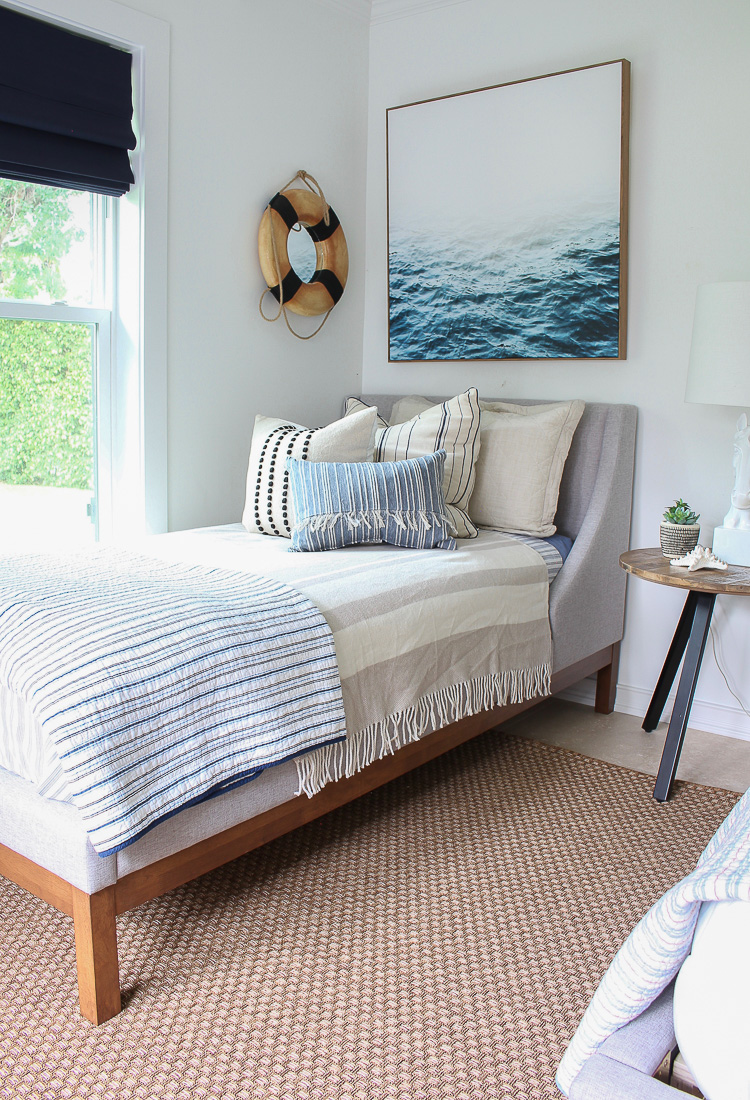 Notice I kept one of the old lifebouys on the wall.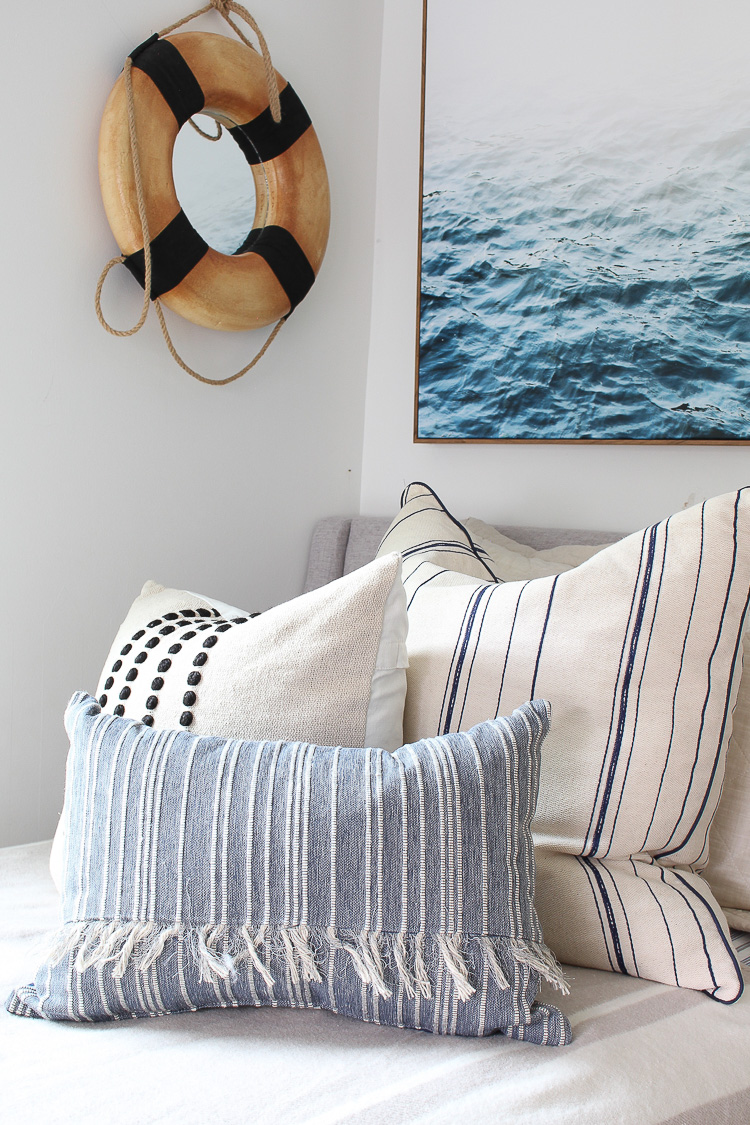 The old armoire remained as well but moved to a different corner. The small, cute blue ombre lamp is perfect for adding a little pop of color. I've always been a fan of placing a lamp on a stack of old books for interest.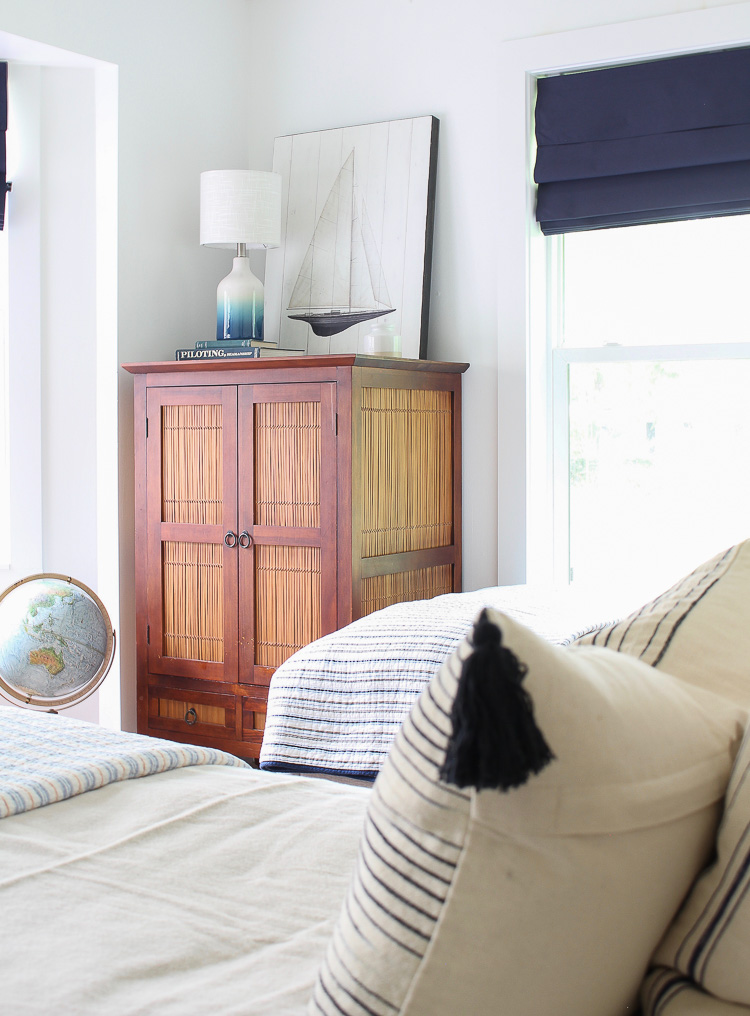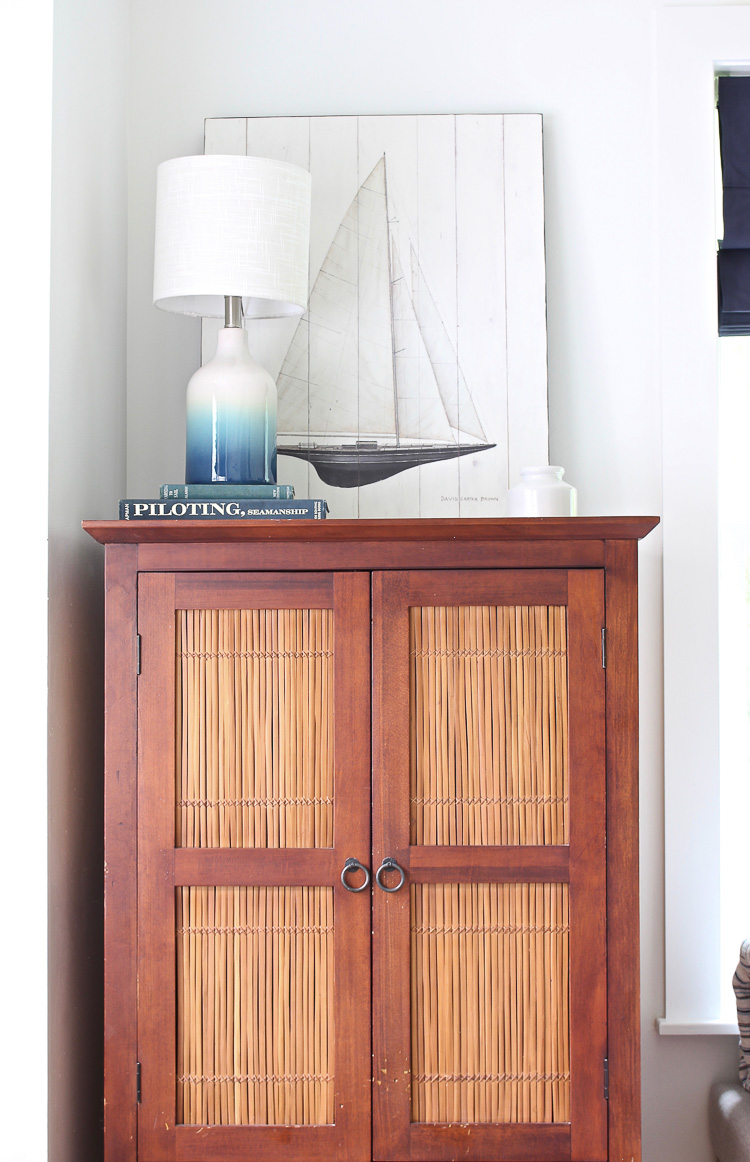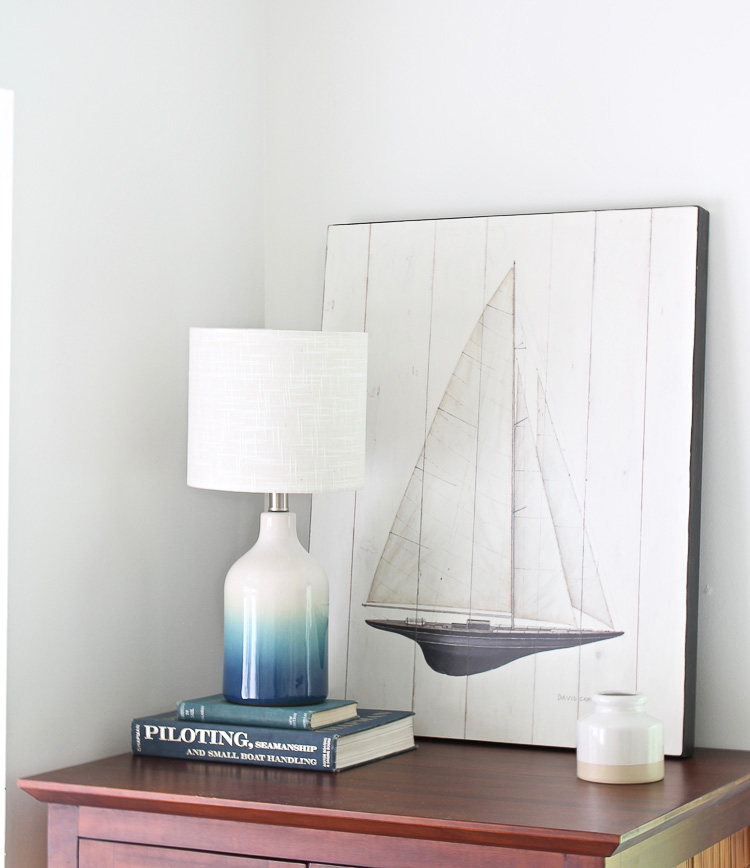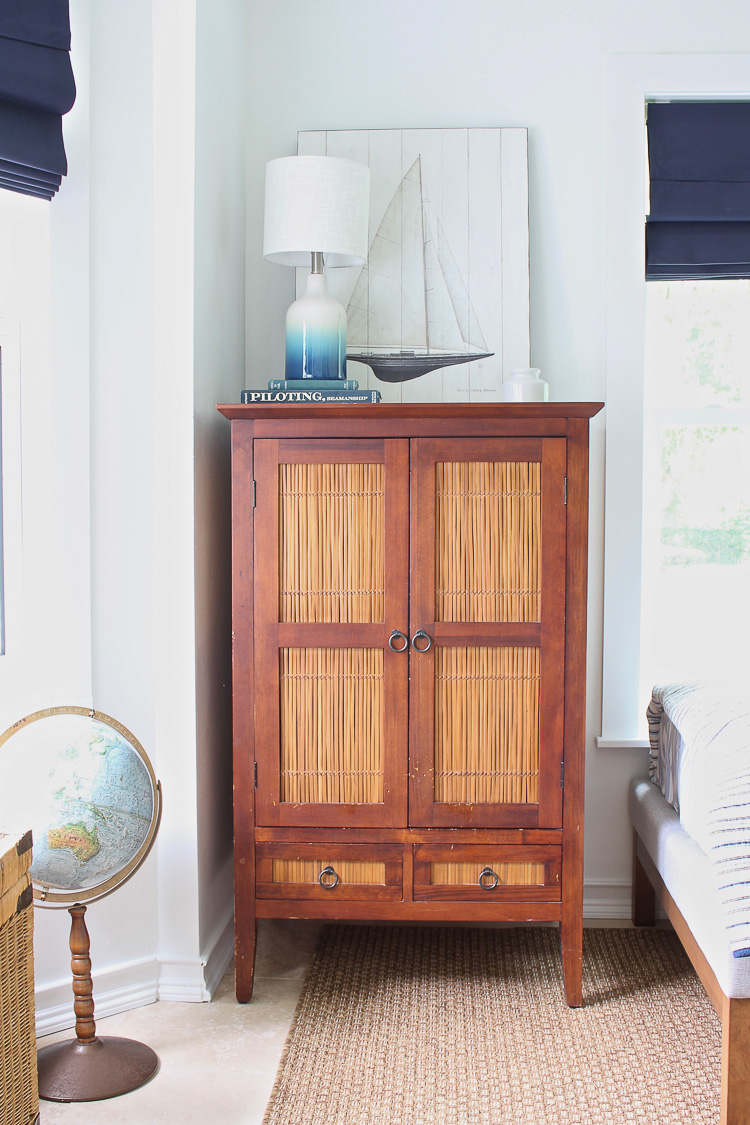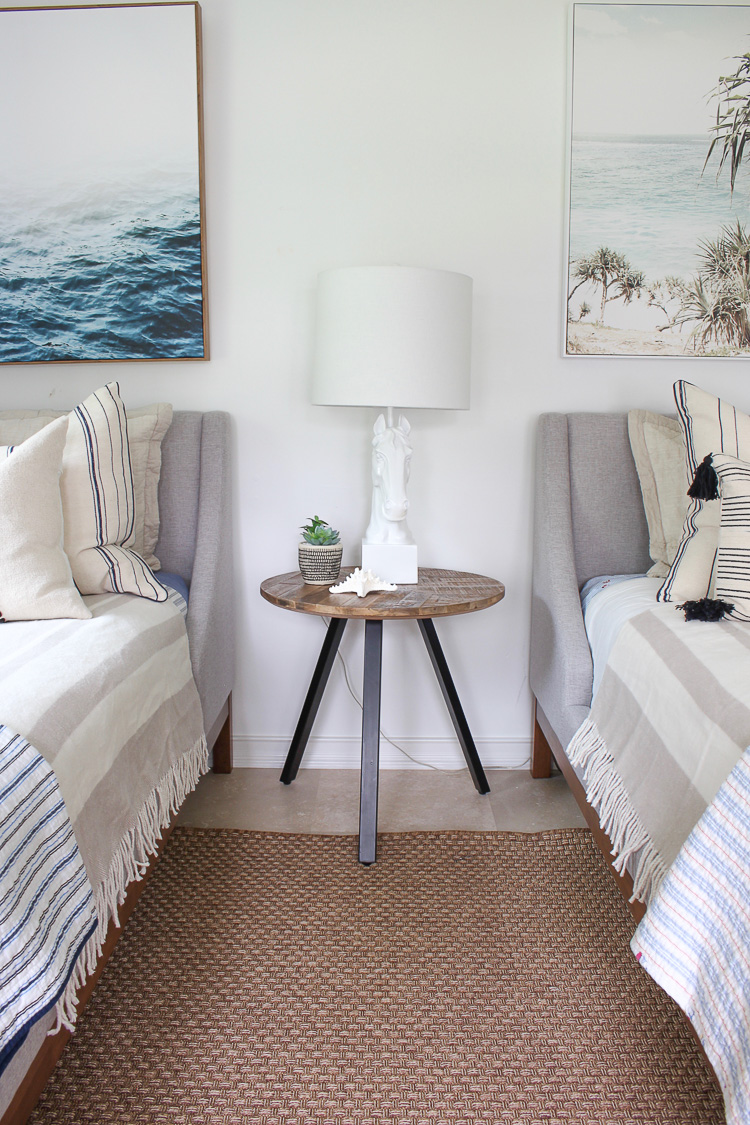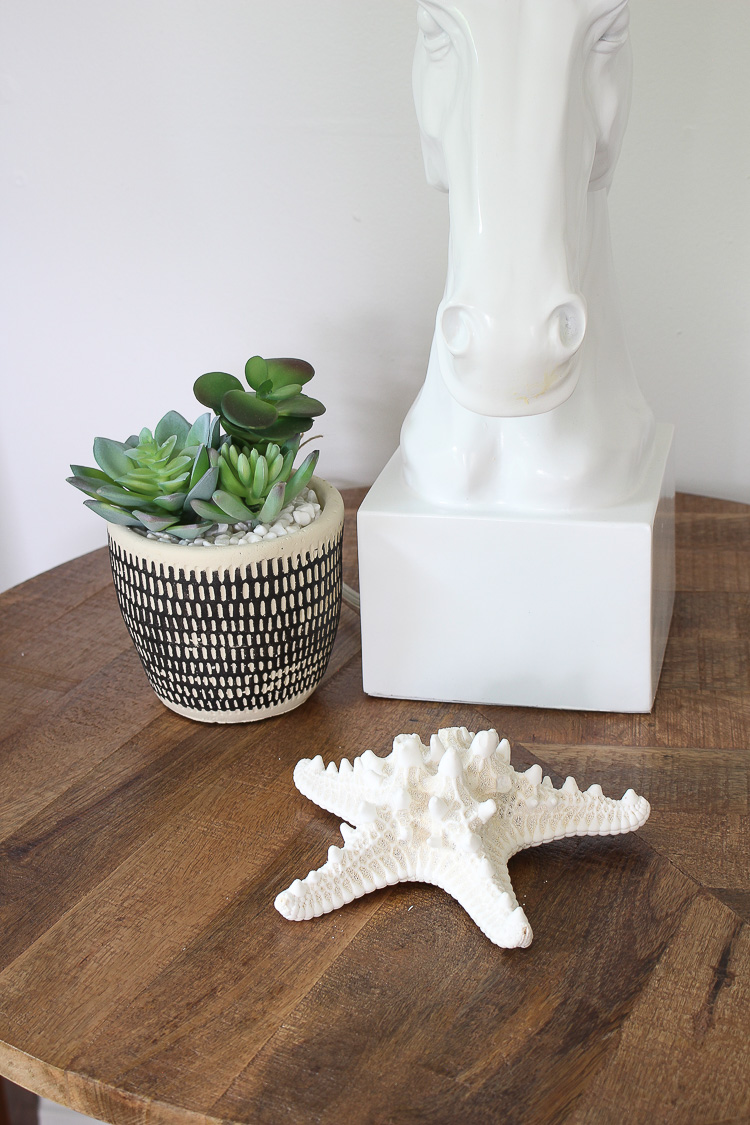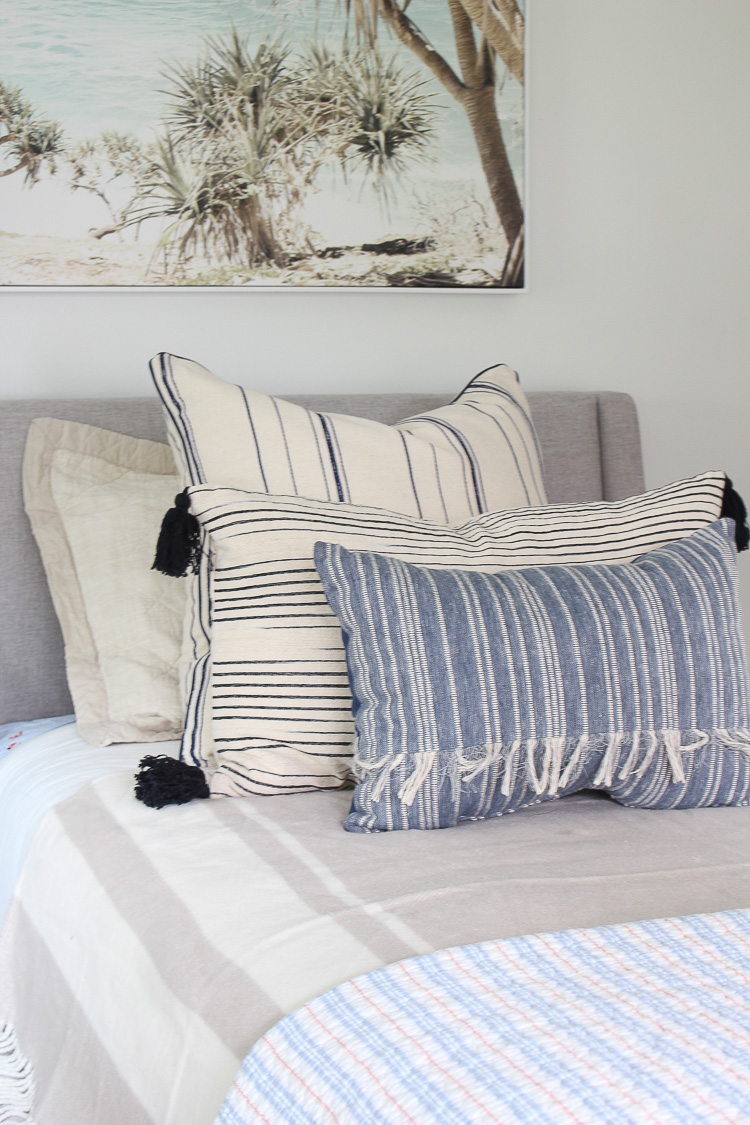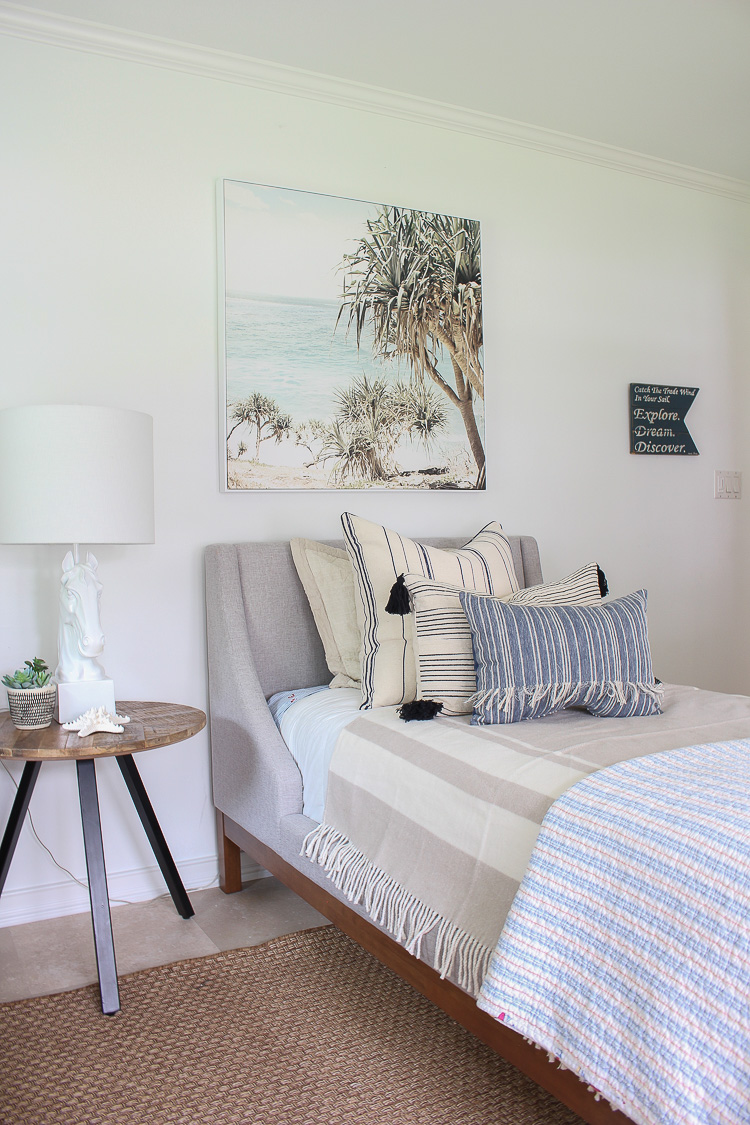 The boys' bedroom wasn't the only room to get a refreshing coastal theme makeover. Our master bedroom is getting a little spruced up as well. I emptied out the "sunroom" of old shabby furniture and am working on making this a more comfortable sitting area.
Just before our beach getaway ended, this gorgeous rug arrived. I rolled it out and snapped a quick photo.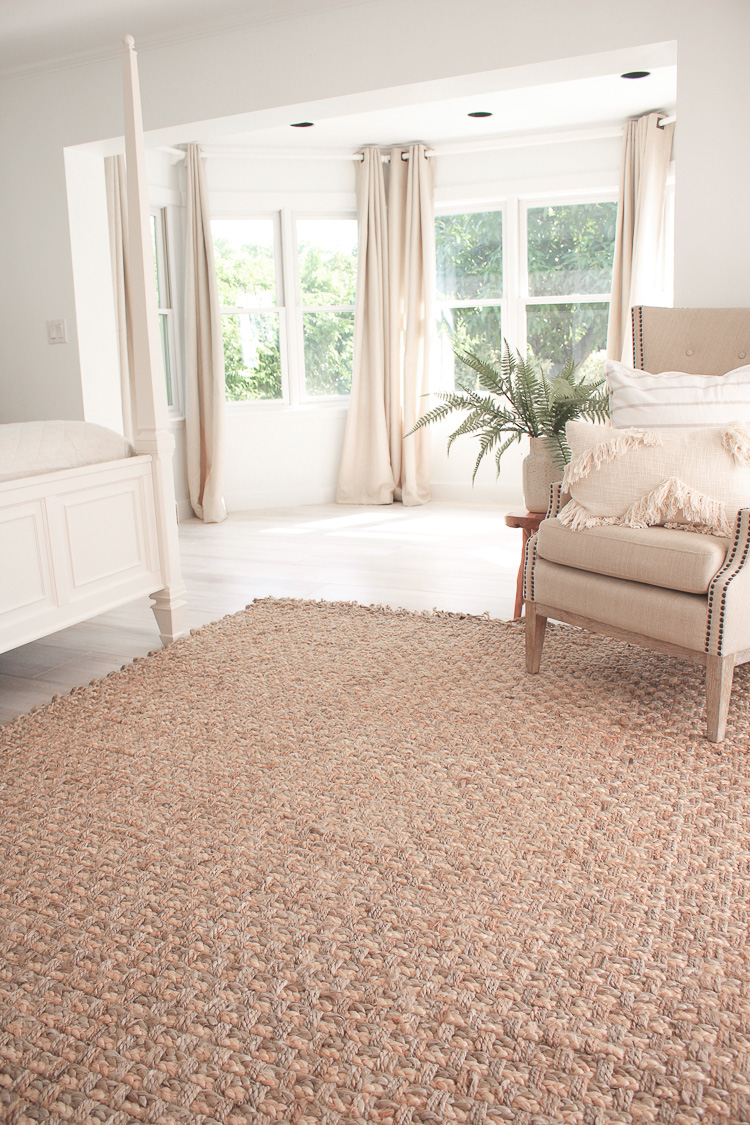 I absolutely LOVE it! It's a really good quality rug from one of my favorite rug brands. I love the tassel fringe edges and the extra thickness. Sure to hold up beautifully over time.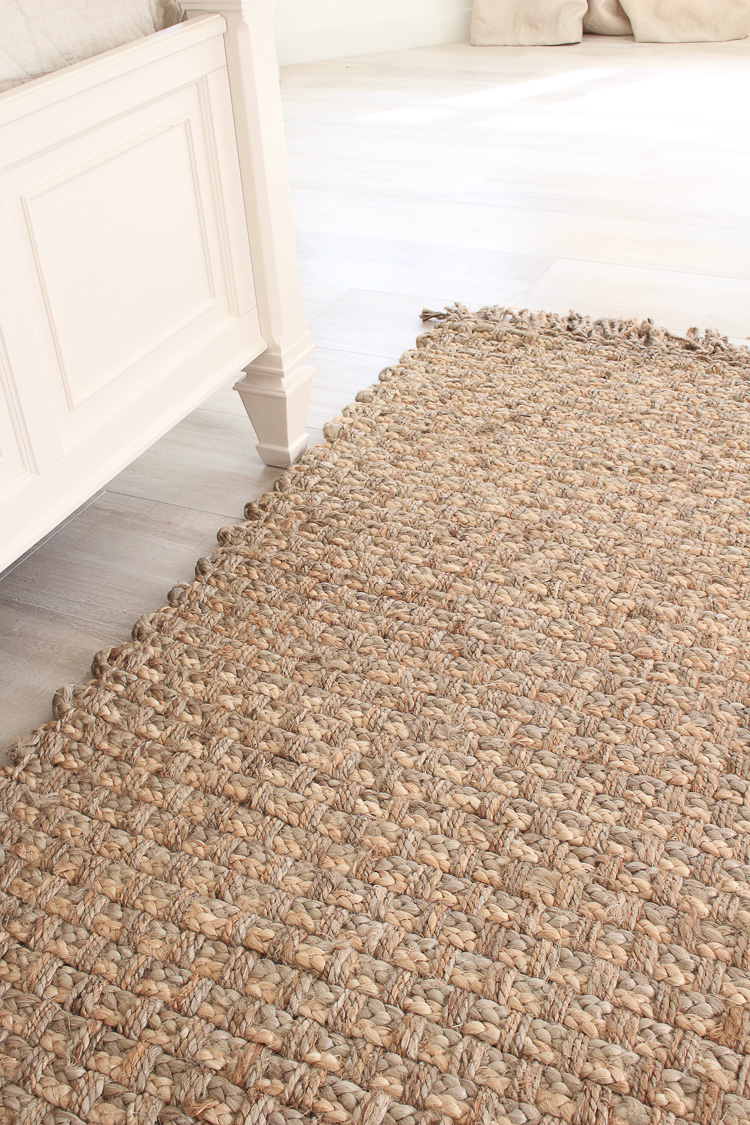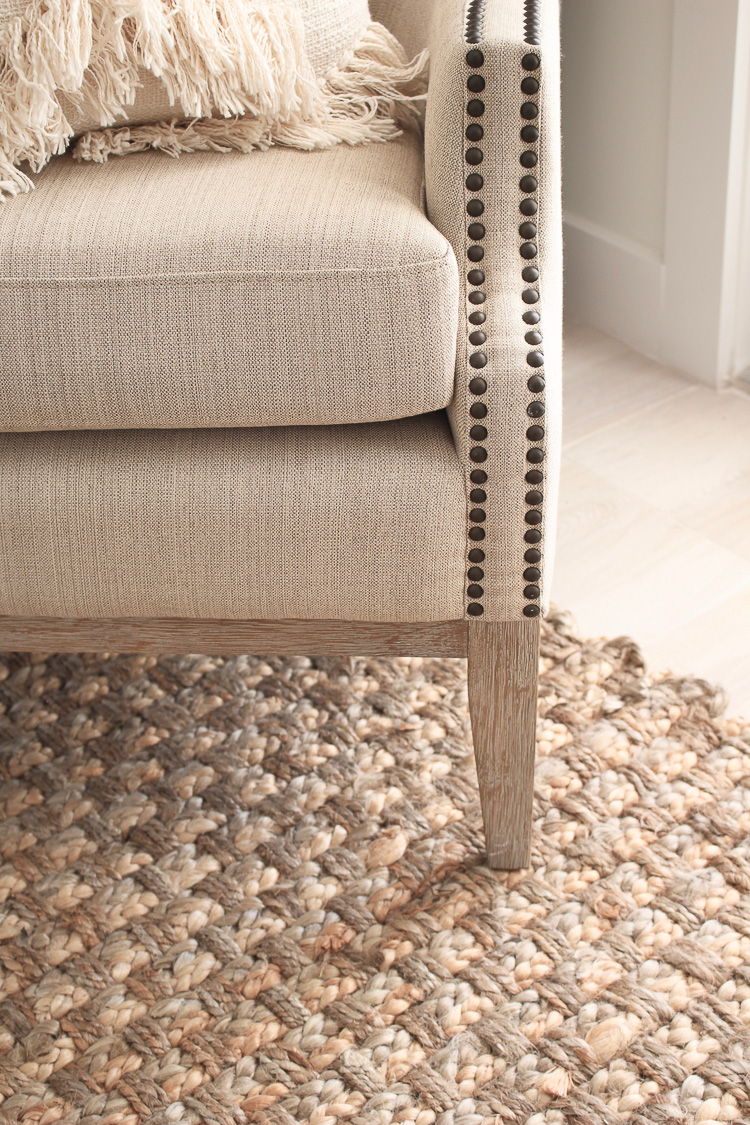 I ran out of time this trip getting the master bedroom done, but will be sure to share updates as they come.
If you're in the mood for a coastal inspired bedroom makeover, I created this design board.  All from Walmart.com for under $1600! Just click on the numbered links below to shop.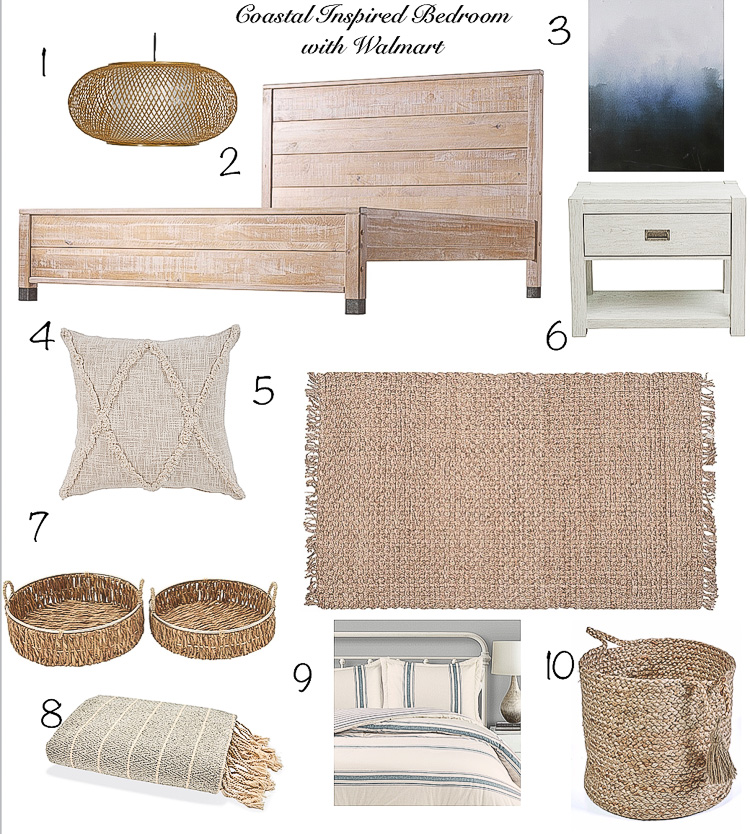 1// Lantern would look great flanking each side of the bed in place of bedside lamps.
2// Platform bed – has great online reviews and available in 4 finishes (depending on bed size). Can't beat the price either!
3// A pretty piece of wall art to bring in a pop of coastal blue color.
4// Love the linen look of this pillow with the pattern detail. I would pair 2 or 3 on the bed.
5// A great price on this natural rug!
6// Nightstand – I have my eyes on these for our master bedroom at the cottage.
7// Sea grass baskets – I like to use baskets like these or trays on nightstands or bathroom countertops to collect all the things.
8// A pretty throw blanket for any room.
9// Stripe comforter set – Looking at this set for another bedroom. Never can go wrong with classic stripes!
10// Cute storage basket –Versatile for any room. Love the tassel.