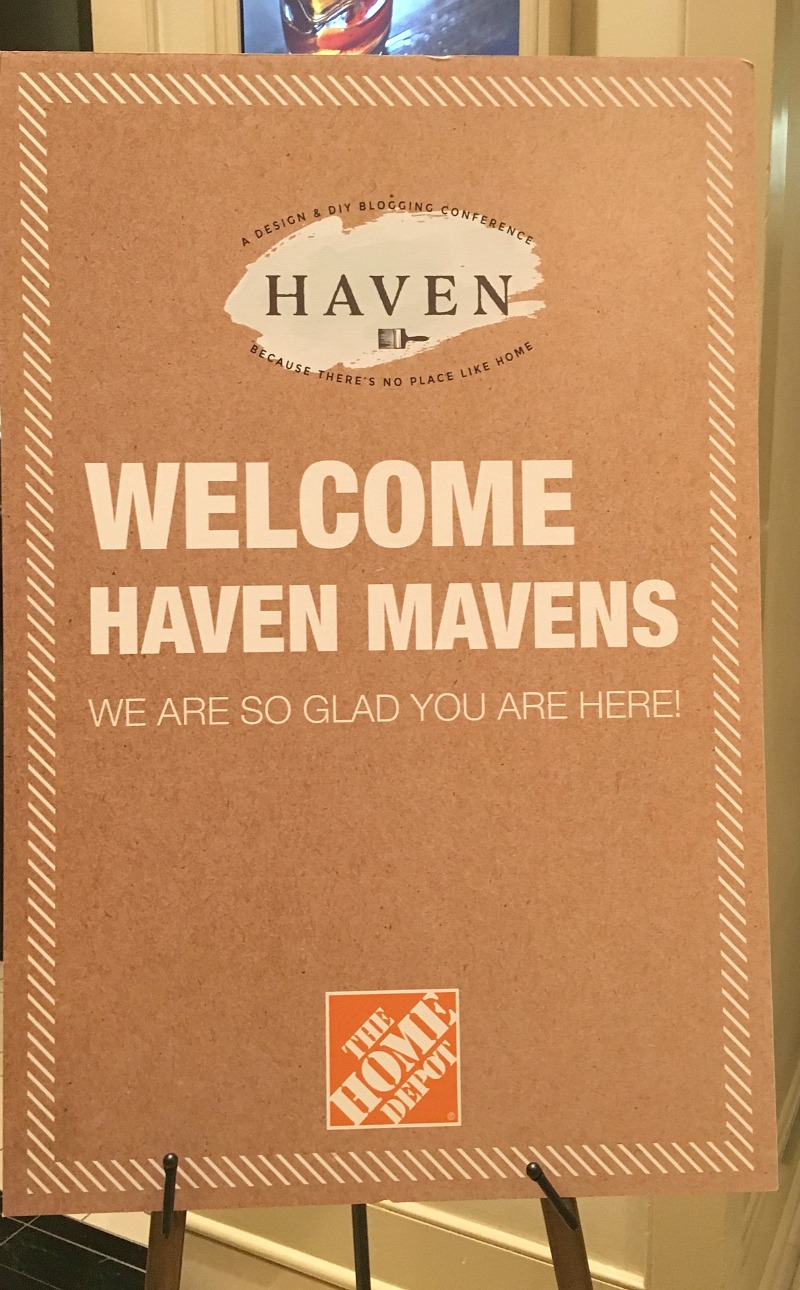 Hi friends! I've missed you! I feel like it's been forever since I've blogged.  I could hear the crickets coming from my Mac.  Silence over here always means there are good things happening.  I just got back from Atlanta and my heart is so full and my mind is exploding from the Haven Conference.  What a weekend to remember!
This was my first year at Haven so I really had no idea what to expect, other than there would be hundreds of bloggers.  That can be a little intimidating to a somewhat newbie blogger like myself.  I like to say I'm out of the pampers stage and maybe into pull-ups but I'm still learning and growing every single day.  I admit though that I packed my suitcase and marched into that big blogging conference world last Thursday with a face of confidence, but with trembling knees. Not only was this my first year at Haven, but it would also be my first speaking engagement as a guest speaker.
Haven had contacted me early this summer to ask me to speak on anything I wanted related to design. Well that's a big bowl of options to talk about! ha! I cannot even say how grateful I was to find out that I wouldn't be doing this alone. One of my dearest blogging friends, Brittany at Addison's Wonderland, would be speaking with me.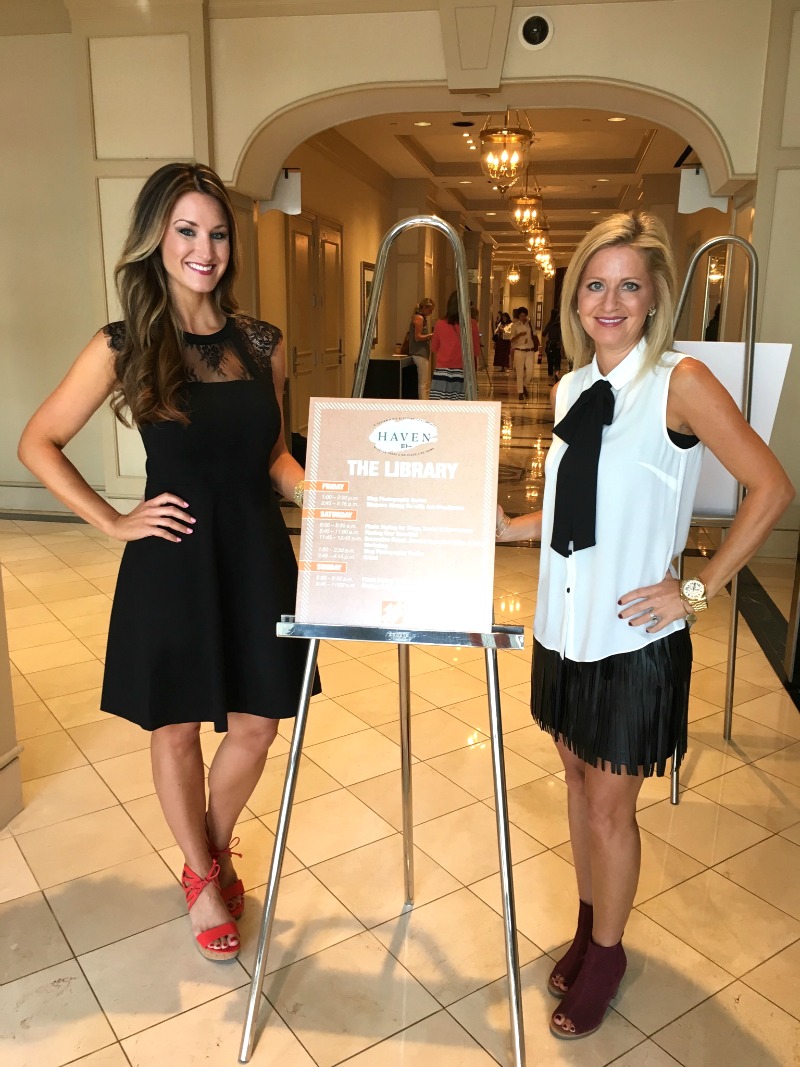 My Shoes/Shirt/Skirt (similar)
I've already mentioned before (HERE) a snippet of what our class would be about. Together we worked so hard collaborating over the phone and working on our 52 page powerpoint presentation via back and forth email. I can't believe how smoothly it all went! I feel like we had enough content in that hour long class to cover my blogging for the rest of this year. So guess what? I'll be rolling all that content out over the blog in a condensed version these next few weeks. But first, I want to talk about the whole Haven experience and why this trip was so special to me.
This beautiful, creative wood map represents all of the bloggers that came from all over the United States and even Canada.  We hung our little business cards on the state that we live in.  You guys, there were so many creative minds under this one roof.  It was completely surreal to finally meet so many bloggers I've followed for years and so many that I have recently met through social media.  This blogging world truly is a special place to be.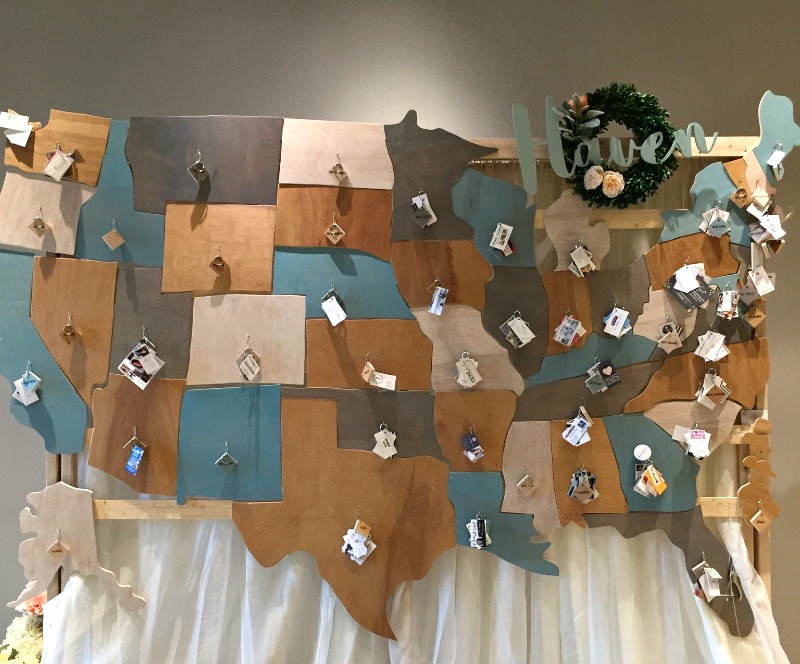 Before I even hit publish on my blog last summer, June 24, 2015 to be exact (that story HERE) I had already plunged into my social media platform on Instagram. That is where I met a special group of ladies who became my friends after continuous commenting on one another's Instagram feeds.  They became more than just a beautiful home through the lens of the tiny squares of Instagram photos.  They became real people with real families and lives. When I finally ventured into blogging, they came right along side me and continued to show their love and support. I didn't realize this a year ago, but I know now that blogging is so much more than my new career path. Blogging in and of itself is hard work. It's draining and life sucking, BUT it has opened the door for me to finally connect with so many other creative minds.  I LOVE that.  I keep pushing on, because I want to continue connecting with others who think like me and challenge me to do better.
So as I mentioned before, that I arrived at Haven with trembling knees, I felt an overwhelming comforting presence when these beautiful ladies arrived.  I knew that I'd get through the nerves of speaking in front of everyone because these friends of mine told me I would…and I believe in their words.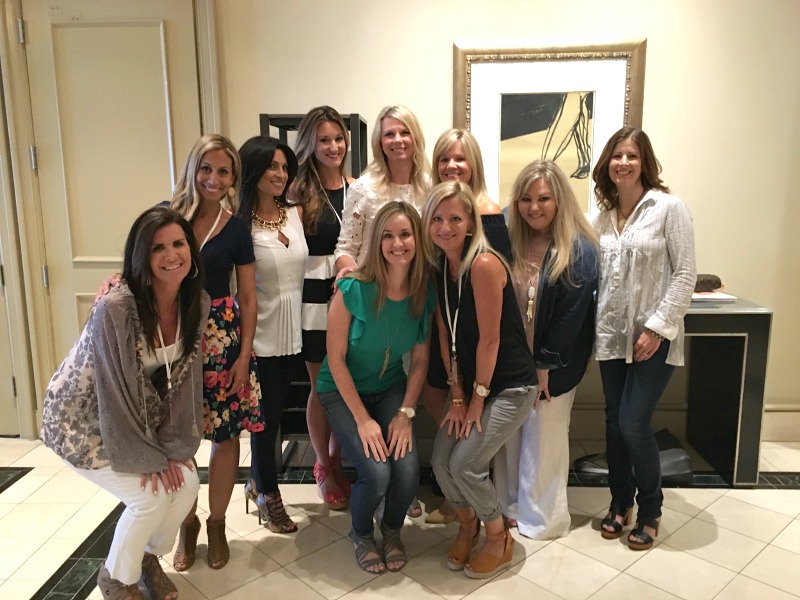 Left-Jennifer/Decorgold, Haneen/Haneen's Haven, Tamara/CitrineLiving, Brittany/Addison's Wonderland, Randi/Randi Garrett Design, Bree/Z Design At Home, Kelley/Kelley Nan, Chris/Driven by Decor.  Front Center, Erin/Sunny Side Up, and me.
For fear of sounding like a "clique" I feel the need to say that these girls are all just part of a bigger picture. They represent the beautiful side of blogging which is building friendships.  I feel so incredibly blessed to have made these connections and friends.  There have been days when I needed to vent and release the tension that often builds when there is so much pressure to blog and produce good content. These are the girls that can give me honest feedback. They are encouragers and that is what we all need in life, right? I have learned so much from each and everyone of them.
I thought it would be fun to share a photo from each of these ladies homes that is the one photo that captivated my design loving heart from the beginning, when I first discovered them. Let me just start with one of the most gracious southern gals out there.
Kelley at Kelley Nan is a true southern lady. She showed up to Haven with these beautiful gifts for each one of us. All I could think of when I was packing for Haven was making sure I brought ten pairs of shoes (not kidding!).  Kelley, on the other hand, was thinking of us and making sure we all had a nice welcome gift waiting for us when we arrived. How thoughtful!!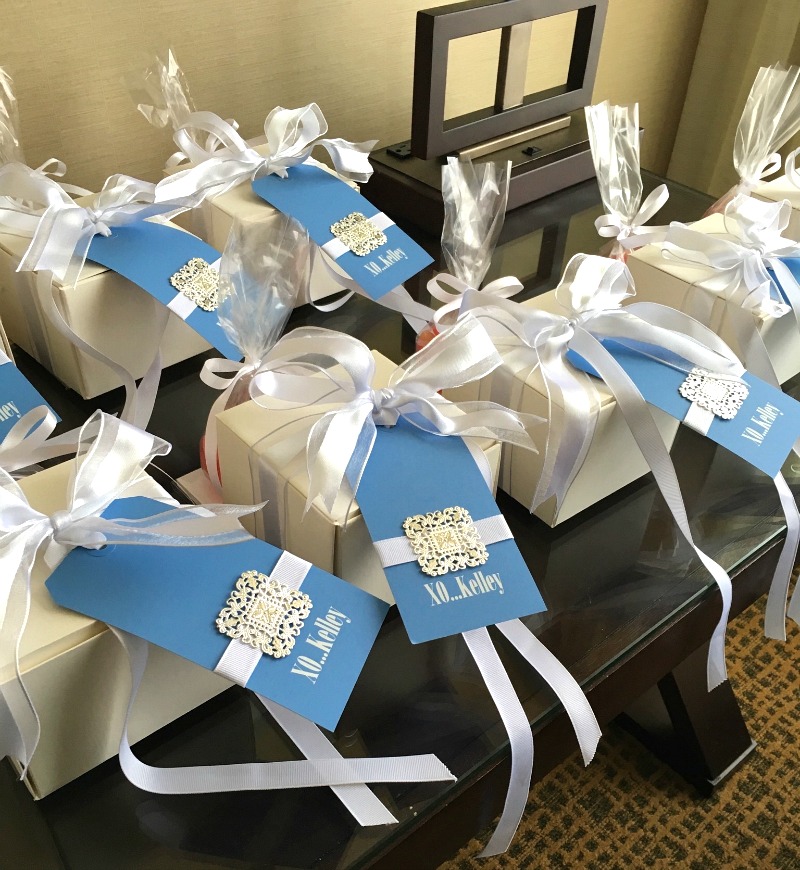 She's the queen of beautiful tablescapes which always leave a lasting impression. Her gracious living style is evident throughout her beautiful home in Georgia.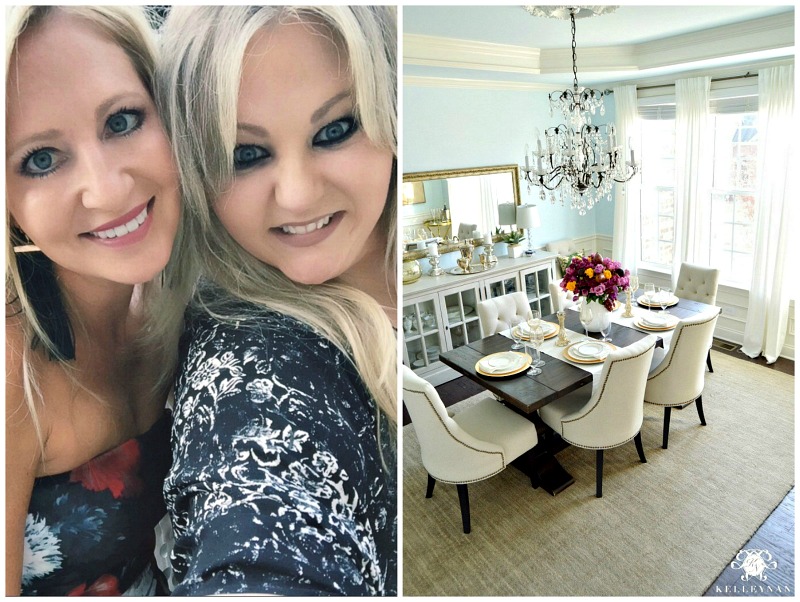 My next photo is from Jennifer at Decor Gold Designs.  I was so bummed to get home from Haven and realize that we didn't get one photo together besides a large group! She is a beautiful soul with a beautiful Texas home. This image from her dining room exudes romanticism and makes me want to just sit right down with a cup of coffee and visit with her all day.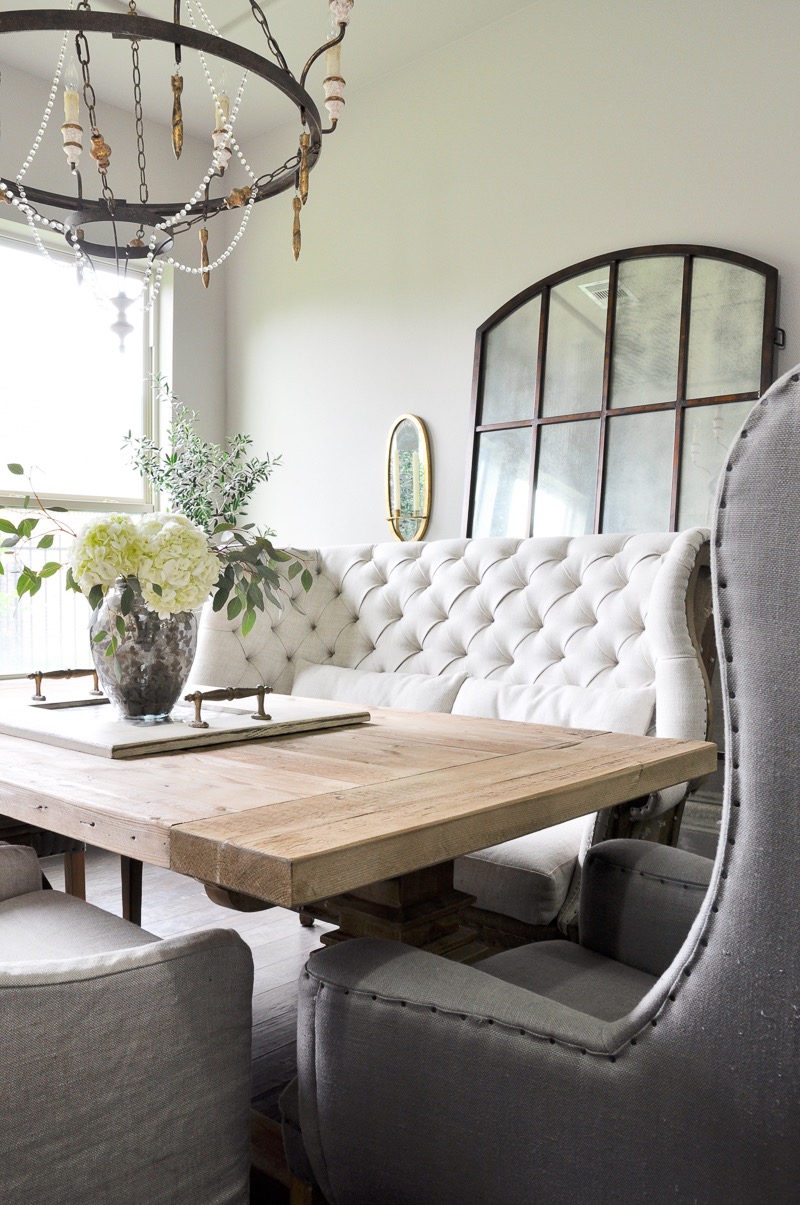 My friend who loves color…Haneen at Haven's Haven.  Her home in Michigan has always captivated my color loving eye.  Her home office is full of those moody colors I crave. She's a true artist in design and it shows throughout her home.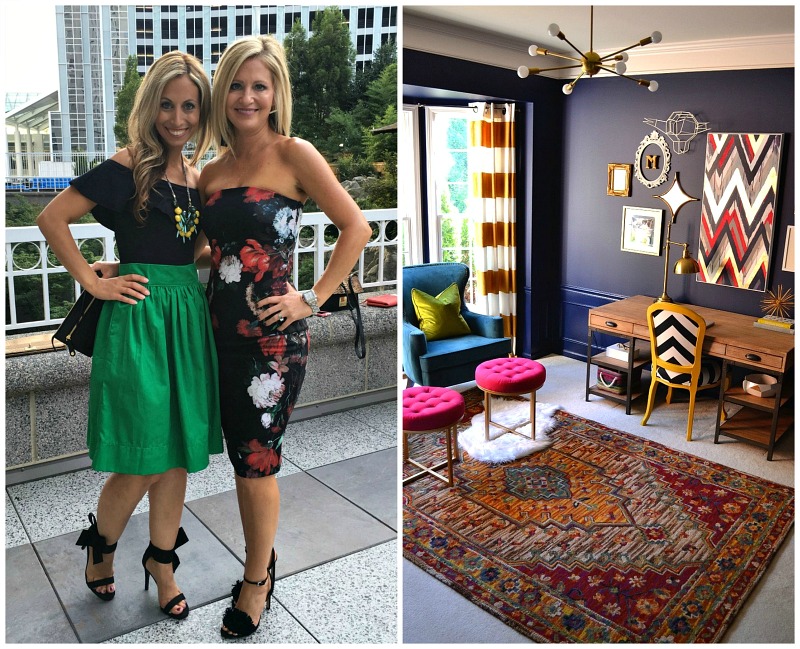 I was so thrilled that my friend Tamara at Citrine Living flew all the way in from Montreal, Quebec to be with us!  Her home nestled in a beautiful wooded piece of land is like a crowned jewel. Her kitchen has always been a favorite of mine because she designed it like I would by keeping the wall space above the countertop free of cabinets which opened up the kitchen to a beautiful masterpiece.  Plus she had me at those brass lanterns!!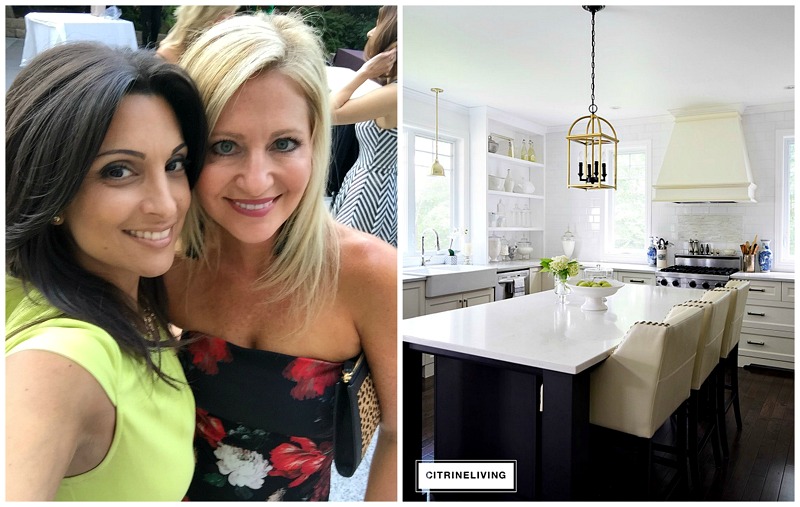 Brittany at Addison's Wonderland captivated my heart from the beginning with her unique use of mixing color and pattern. Her style and beautiful home in Georgia is truly a wonderland of her personality. I've been inspired by her in so many ways and was truly honored to be a speaker by her side this year. I'll never forget her and I rehearsing in our hotel room and rolling in laughter at how dorky we felt giving our presentation to the headboards in front of us…haha!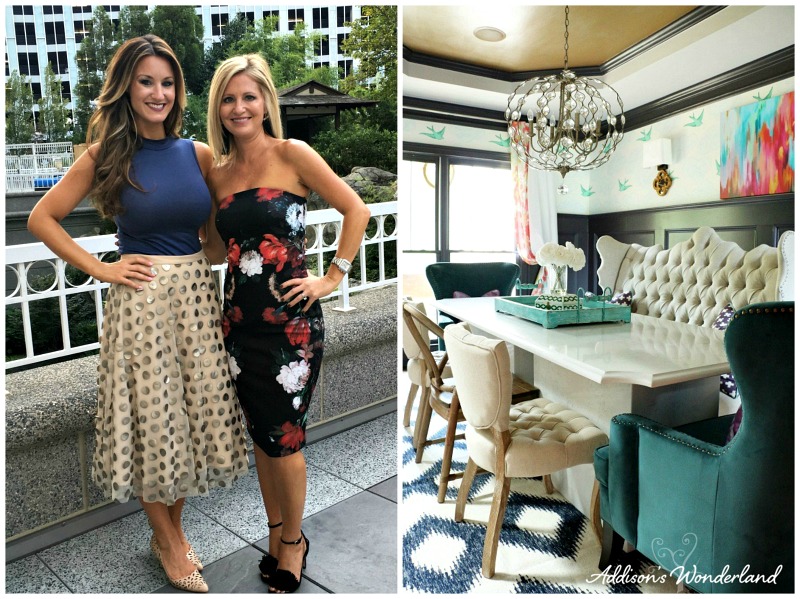 Meet my twin.  Randi at Randi Garrett Design. Okay, not my biological twin (I wish) but my hair twin, leopard lover twin, floral pattern twin, mix the leopard + floral pattern twin. Get that?? haha!  Her home in Arizona is like a beautiful french hotel. Her daughter's bedroom is the perfect elegant design for a little lady. Of course, Randi had me at that leopard pillow.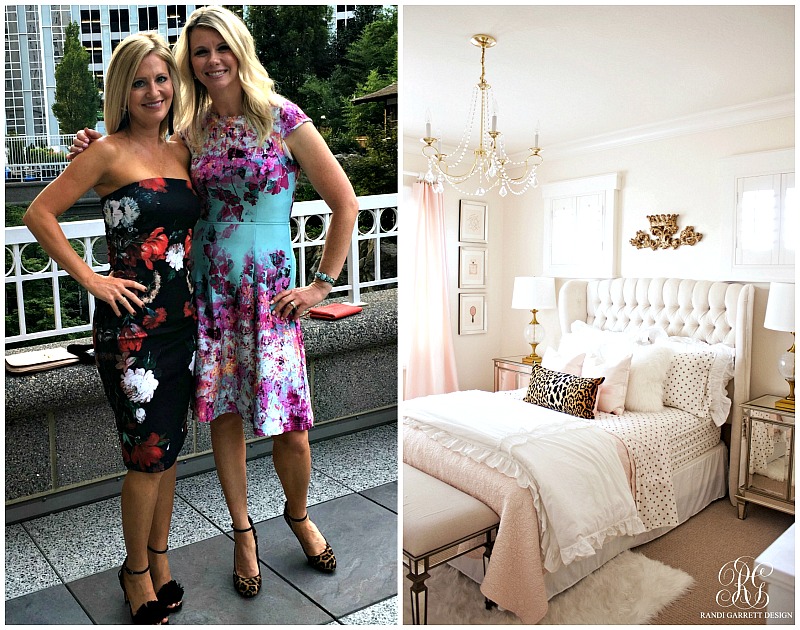 Bree at Z Design At Home is my sweet southern belle friend.  When I first discovered her on Instagram last year, I felt this strong connection with someone like me who loved modern transitional style. Her guest bedroom drew me in to the rich color on the wall and oh that velvety headboard! Her gorgeous Texas home has been one I've studied over and over again. I cherish the wisdom she shares with me when I've speed dialed her to get me through a few design dilemmas.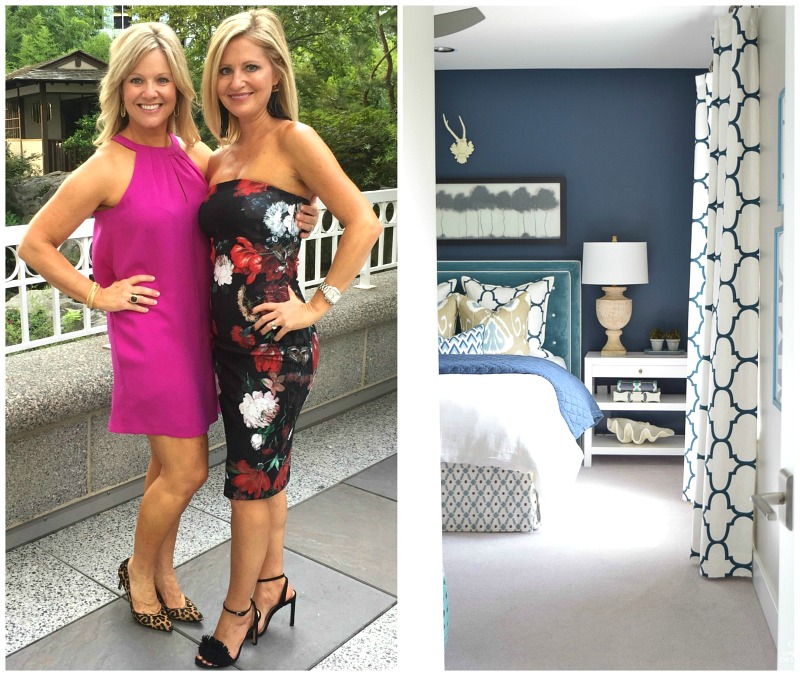 I've had a mega crush on my friend Kris's Connecticut home at Driven by Decor ever since I stumbled upon her dining room wall.  Those plates are just one snippet of the charming home she has. She knows how to take creative design to the max and make her home so warm and inviting. You should see her yard too! She's got some serious hydrangea love going on.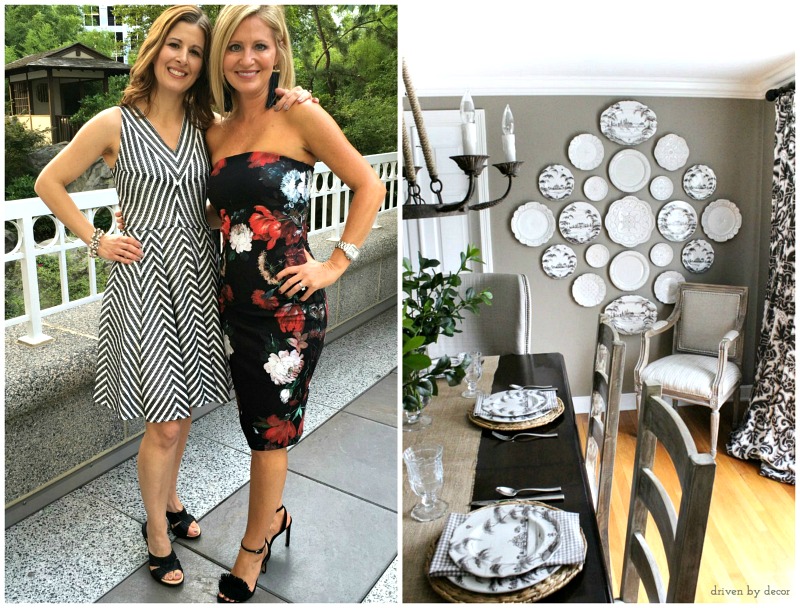 I strongly believe that your home should reflect your personality.  Erin at Sunny Side Up completely nailed it with her laundry room. Not a typical room to feature, but Erin's colorful, playful laundry room struck a cord in me from the beginning. Such a happy room which is EXACTLY Erin! She is so bubbly and full of life so of course I'd expect her home to match that. Those minty green cabinets are so unexpected and have truly sparked the imagination for me for my future laundry room design.  Better yet, "Erin can I just come do my laundry at your house??"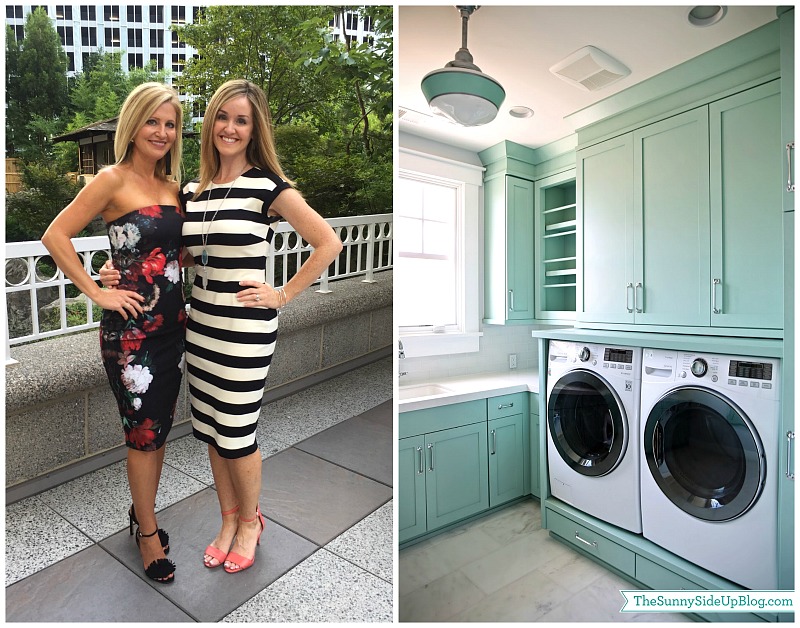 It was absolutely surreal and wonderful finally getting to hug these sweet friends of mine for the first time at Haven! I had already spent some time at the beach cottage recently with Erin, Bree, and Brittany (that trip HERE) so seeing them again was icing on the cake!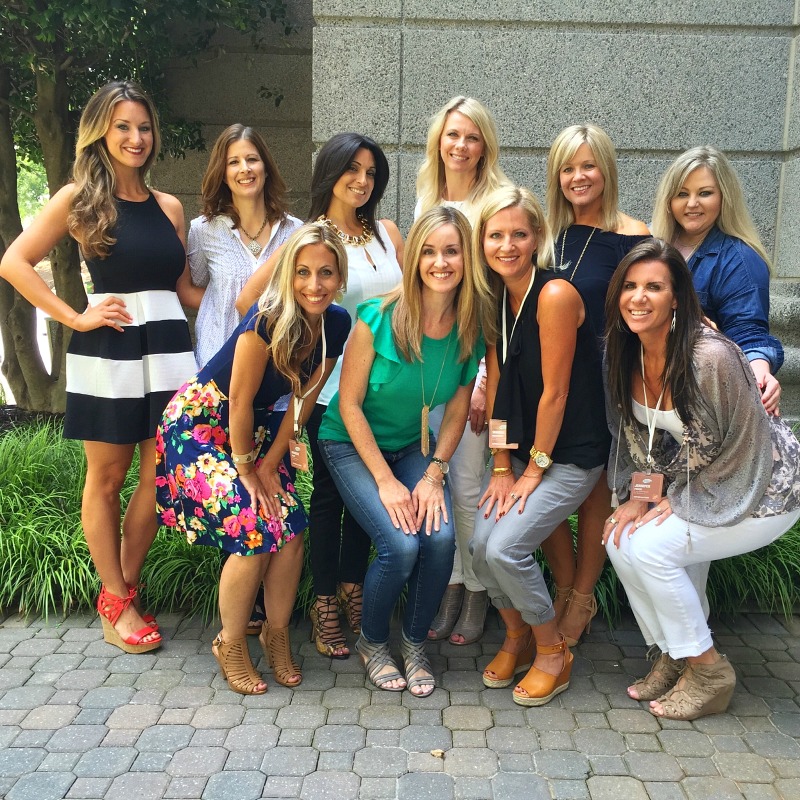 We "snuck" away one night and had a blast taking a few photos. Can you imagine all the photos?? We are bloggers, that means 100 photos taken around every corner…haha!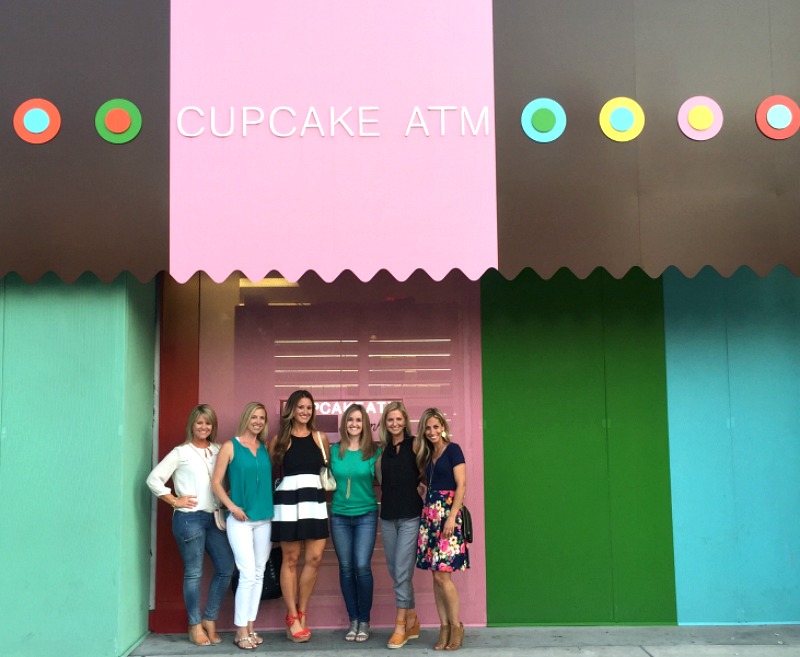 And then we found Anthropologie.  Oh for the LOVE!! Such a fun moment!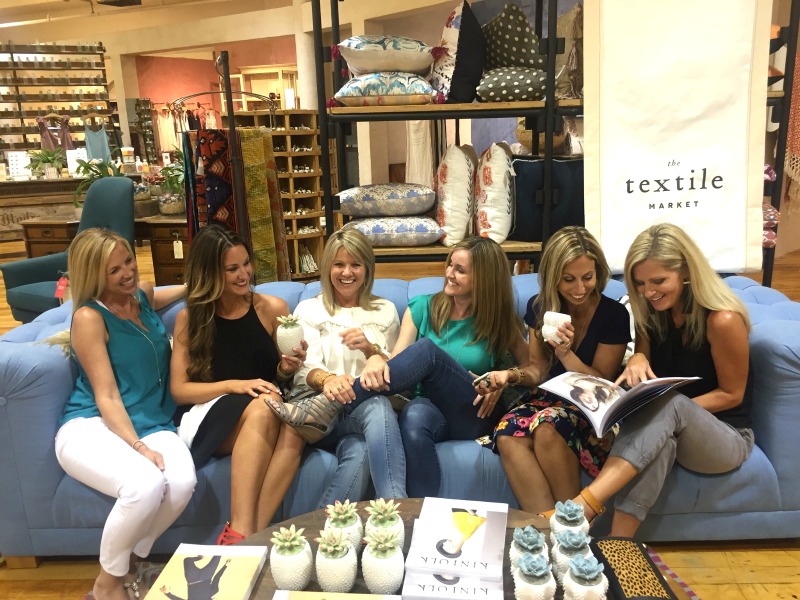 LEFT:  Samantha/Simply Organized, Brittany/Addison's Wonderland, Bree/ZDesignAtHome, Erin/Sunny Side Up, Haneen/Haneen's Haven, Me.
There were so many other friends that I also got to meet and get to know a little better that I didn't get a chance to get photos of. I just loved those moments of standing in the buffet line for lunch and feeling a tap on my shoulder from a sweet Instagram friend, or a cute little voice behind me saying, "Don't I know you?!" and turning around to see another long time Instagram friend.  It was a weekend of squeals in delight! I kept saying it felt like a high school reunion seeing everyone, yet for the very first time, but feeling like I knew them already from their blogs and Instagram.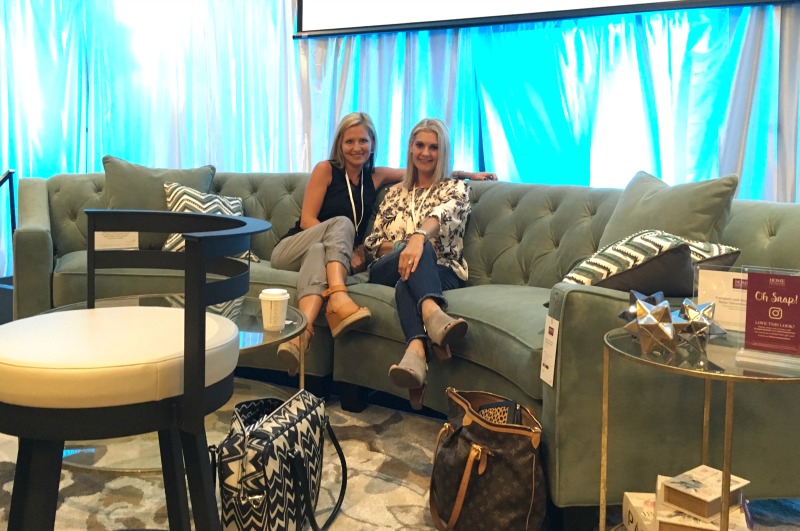 I got a chance to sit and chat with my cute friend Rebekah at A Blissful Nest one afternoon between sessions. I love this sweet girl and she has been so helpful in guiding me with blogging and all the marketing strategies.  I'm looking forward to seeing her again next month in NYC for the Better Homes & Garden's Stylemaker event. We get to be roomies! I'm sure we'll stay up all night chatting!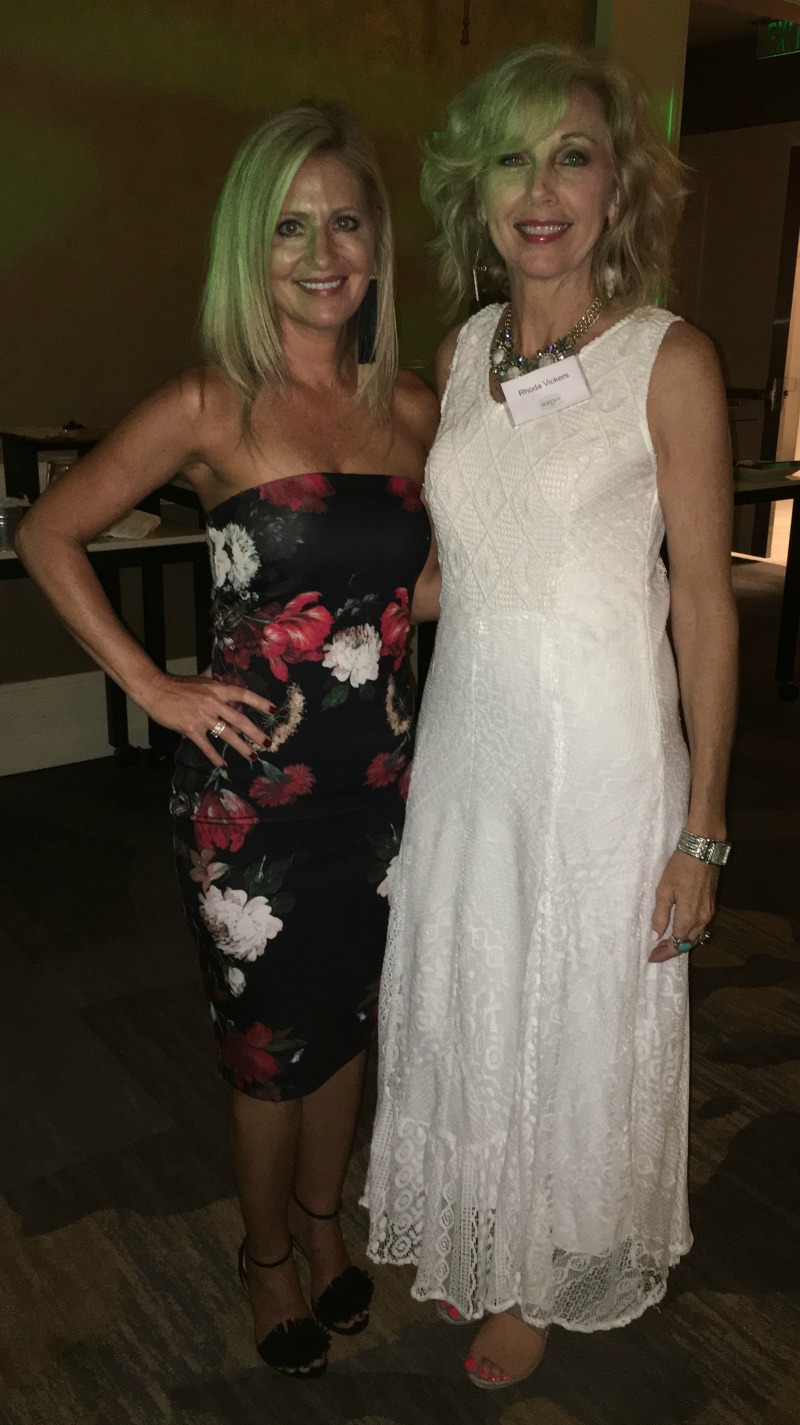 The last evening, Haven spoiled us and treated us to a big gala event! We got all dressed up and had a fun night of mingling and laughing. Always laughing!  I couldn't wait to meet my friend Rhoda at Southern Hospitality.  She has been so gracious and kind to me and is one of the founders of the Haven conference.  I have so much respect for her as one of the pioneers for blogging. I hope I can do blogging as gracefully and beautifully as she does.  For the record, I feel like everyone there had the cutest southern accent. I was wishing my early childhood days in Oklahoma would bring out my suppressed southern drawl, but it didn't. Darn it, I tried!! haha!
How did it happen that Haneen, Erin and I were always centered in the front, squatting for these photos. We laughed because our legs would be quivering during all this picture taking.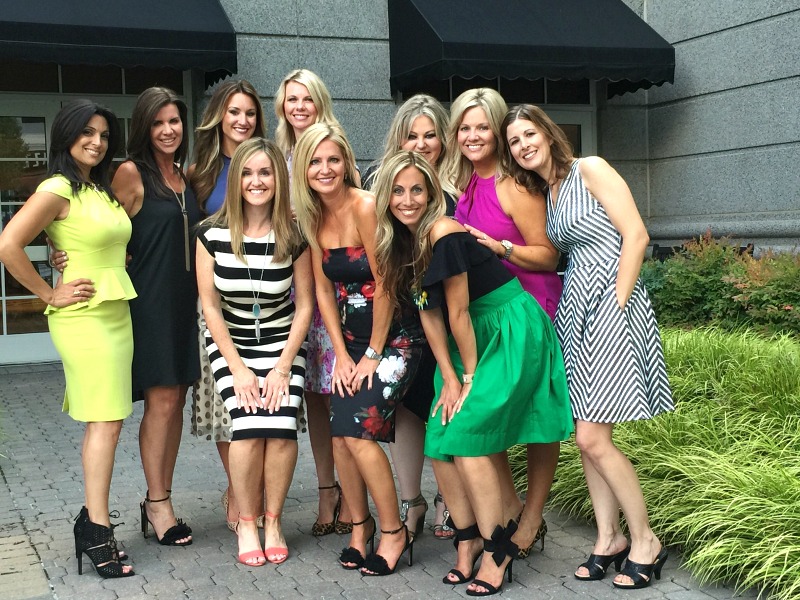 Didn't surprise me one bit that these girls love fashion as much as I do.  Jennifer, Randi, Bree and I had to get this insta-photo moment of our unplanned matching shoes.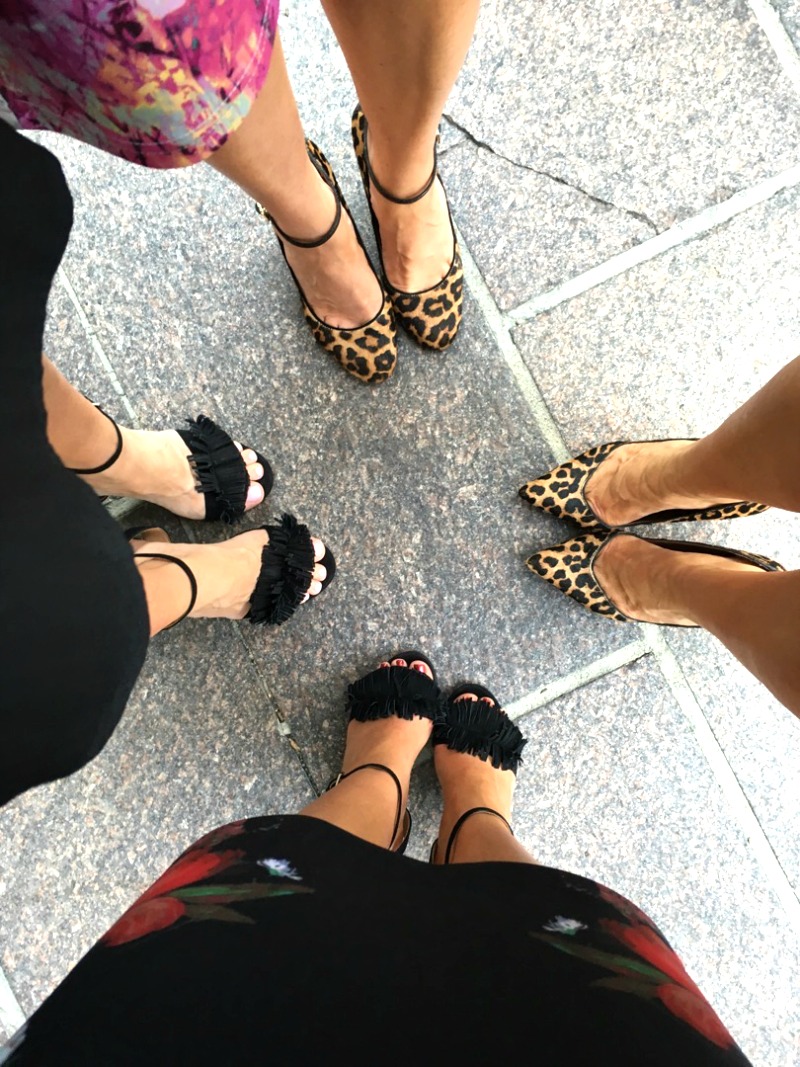 We took lots of selfies because we really loved to squeeze our heads together…haha!
My biggest takeaway from the Haven experience…
Haven is a place to meet other like minded people and an opportunity to mingle with Brands.  I found that I didn't have much time to go connect with some of the wonderful Brands that were there. Not that I wasn't interested in what they had to offer to us bloggers, but because I just feel value in connecting with friends.  I believe that blogging opportunities with the Brands come when the time is right. More importantly to me though is building friendships with all of you bloggers out there.  I love to hear everyone's stories of how they started and where blogging has taken them.  It's fascinating to me and was such a foreign world to me a year ago.  No doubt, my blog would not be where it is today without me taking the time to invest in these friendships. Every day I learn and grow from them.
My Best Blogging Advice
If you're considering starting a blog or perhaps you already have a blog but feel a little lost, then I strongly urge you to find some others within your niche to connect with. There is so much to learn with blogging and it is changing rapidly moment by moment it seems. Having a strong network is so beneficial in keeping up with blogging trends.  But more importantly, I love this blogging community and finally being able to connect with people who think like me.  The ideas and creations in my mind never shut off.  It's a good feeling to be able to hash those thoughts out with others.  I would have given up on blogging one month in if I didn't have a support network. I am so thankful to these women and so many others that I didn't get to share about today.
During the opening ceremony, this quote from Maya Angelou was on the projector screen…
"People will forget what you said, people will forget what you did, but people will never forget how you made them feel."
So much truth in that quote. This is the impression of what Haven was for me. Everyone was so gracious and kind. New bloggers I've never met and bloggers I've followed along the past year. This is why I keep blogging.  The opportunities of these gatherings are worth gold to me. I feel like I've come alive through my blog and being able to express what I love with everyone out there.
Last, but not least, we had the honor of hearing Sherry and John's story at Young House Love.  I own their books and have adored them from afar.  You all probably know that they reached a point in their long blogging career where they "hit a wall" and took a long break. Their story of that journey was exactly what I needed to hear.  They said something that really resonated in my heart, "remember why you started…".
I started blogging to inspire others. period. I had no clue that blogging would turn into a career and that even some money could be made. I'd be lying if I said it's been easy this past year. It's been so much work and honestly I feel like my family life and my health have been sacrificed at different points along the way.  Going non-stop, keeping up with the rapid pace of blogging, whipping up new content, and keeping a balanced life is a struggle. I don't want to quit however.  I just want to pause and prioritize.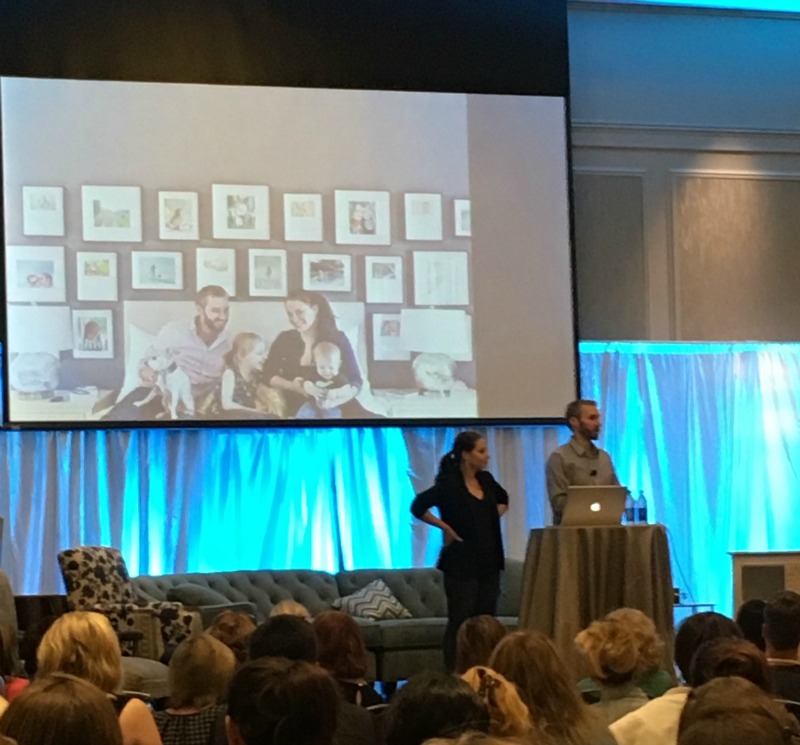 Inspire
Going back to the reason of why I started blogging was to inspire.  Even if that means inspiring just one person and making a difference in their life.I will continue to document all of my design journeys as they come. I have some big ones coming up that will be a lot of fun.  But there also has to be times when the blog may seem a little silent for a week or longer.  I realize now that I need those refresher weeks to rejuvenate me.  I want this blog to have longevity.
For those of you who are just getting to know me, I'm so happy you've come to visit The House of Silver Lining!  I'm just a girl that loves to create and decorate and I'm honored to have you stop by! I hope you keep following along in this design journey with me!