Art in our home + round up of my current favorites
Do you struggle with finding the right art for your home? I can relate. However, I have learned how to intentionally think through what I put on my walls since we built The Forest Modern. The first year in this home I don't think I put one nail hole in the wall. I loved the clean slate and sense of maximal minimalism. I'm here to say that your walls do not need to be filled with "eye clutter" to make a proper statement. When you do choose to put something on your walls, I have a few tips to guide you.
**Affiliate links are used in this post. Full disclosure HERE.
Art of Proper Scale & Size
When it comes to choosing art, I lean toward one large scale piece or two larger pieces together. Large scale pieces will actually make the room feel bigger. Consider the size of wall you want to adorn. In my office I have a 12′ ceiling, so I searched high and low for a tall piece of art that didn't break the bank. I found this art and love all the details from the natural wood frame, minimalist modern design and colors that are harmonious to our home.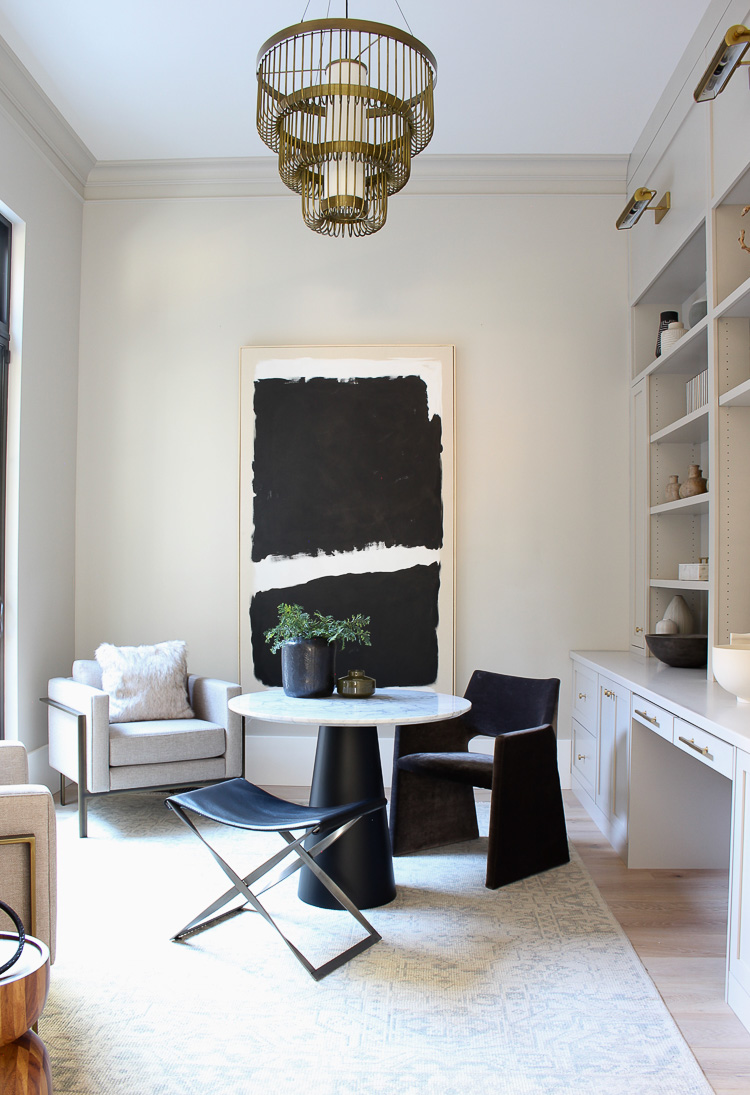 I am patiently waiting for the arrival of this large black art. I photoshopped it in the hallway where it will be going. A helpful tip is to do the same for a design piece you want to see in your space before purchasing. I simply download the image from the website and copy/paste it in the room I want to visualize it in.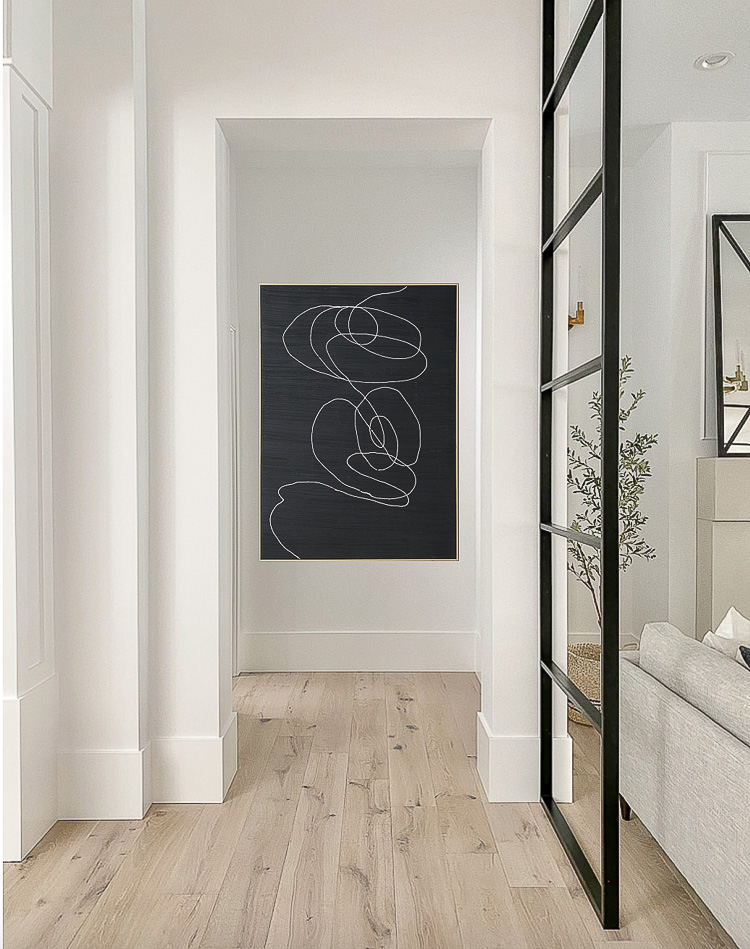 Art that resonates something within you
Not all art necessarily has to move you, but if you plan to begin collecting art for your home this may be something to consider. I love photography prints, especially of nature landscapes. I am mesmerized by a piece that sparks a significant memory of a time and place in my life.
I love this site for sourcing beautiful limited edition pieces of art from independent artists. This landscape art in particular resonates with me so much how it brings me back to my childhood and the landscape I grew up on.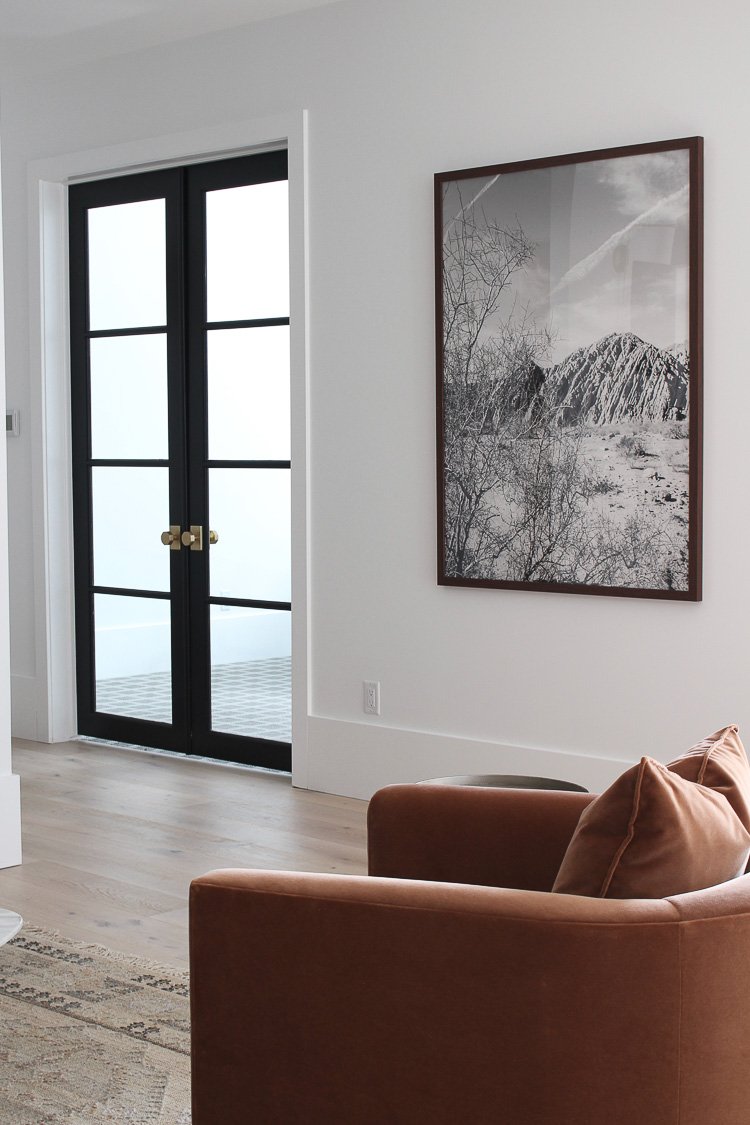 I lived in Utah a good part of my early life. This landscape looks practically identical to the land we lived on and what my "back yard" looked like. A desertous mountain with cliffs, tumbleweeds and scrub oak. A playground without boundaries that nurtured many years of adventure and created a kindred relationship with the great outdoors. My brother and I were always out exploring that mountain, scaling the cliffs, dodging snakes and basically spending our summer days outside from sun up to sun down. I look at this art and I can smell the hard cracked clay dirt, feel the prick of a tumbleweed and hear the stillness of the place I called home.
Art can be a great conversational piece as well. It can tell a story. The story that may spark conversation among your family and friends, giving them insight on a piece of who you are.
This landscape print is another piece I love. Feels very similar to the other one. For reference, the size is 40″ x 50″ and I chose a walnut wood frame. I also chose black and white prints, but the the color options are gorgeous as well!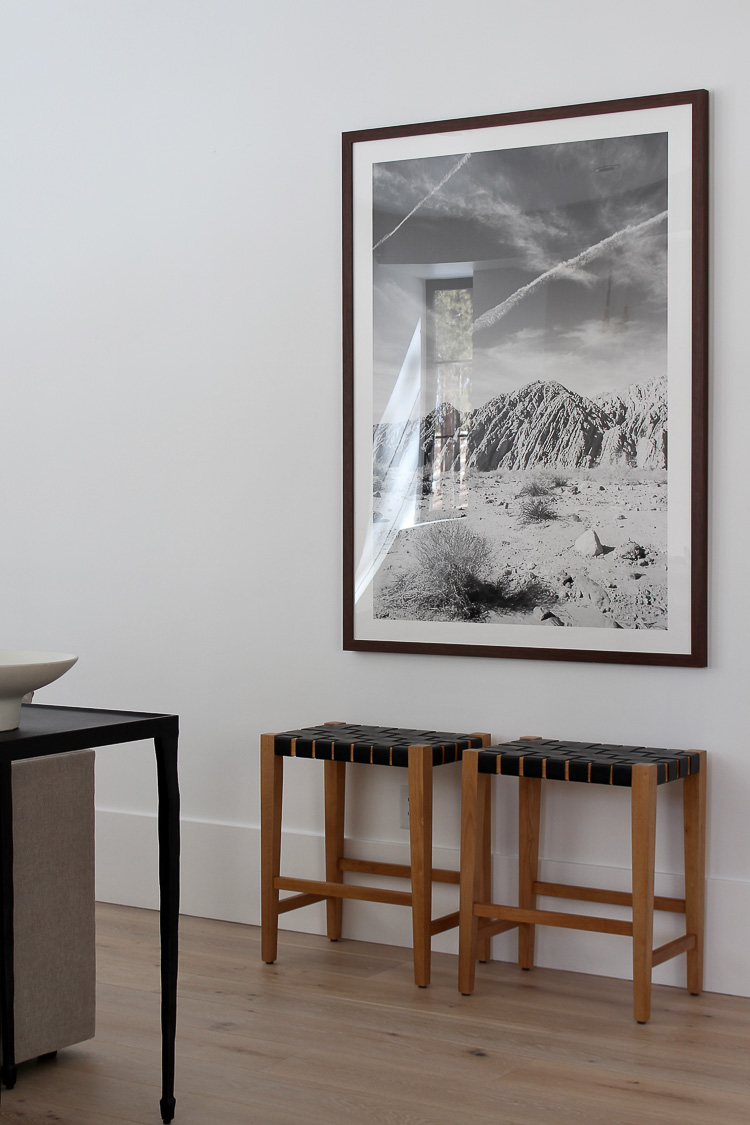 Art that adds a layer of texture
Recently, in this post, I shared all the projects we have planned out for 2021. Adding a layer of art to our home has now become my focus. I do not plan to add art to every room since I still love the clean slate of untouched walls. However, the art I have carefully chosen is meant to add another layer of texture.
This gorgeous canvas recently arrived and is having a moment in our moody black dining room. What I love about it is the brushstroke texture that gives visual interest to a white canvas. The natural wood frame is subtle yet harmonious with all the natural wood in our home.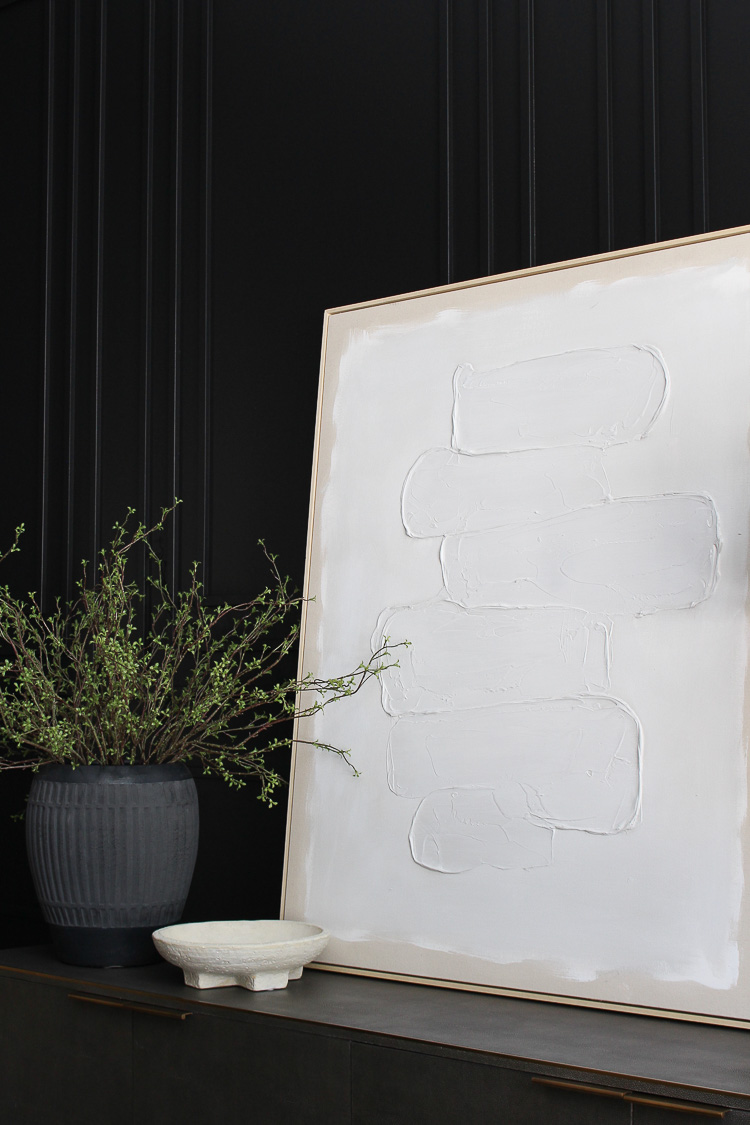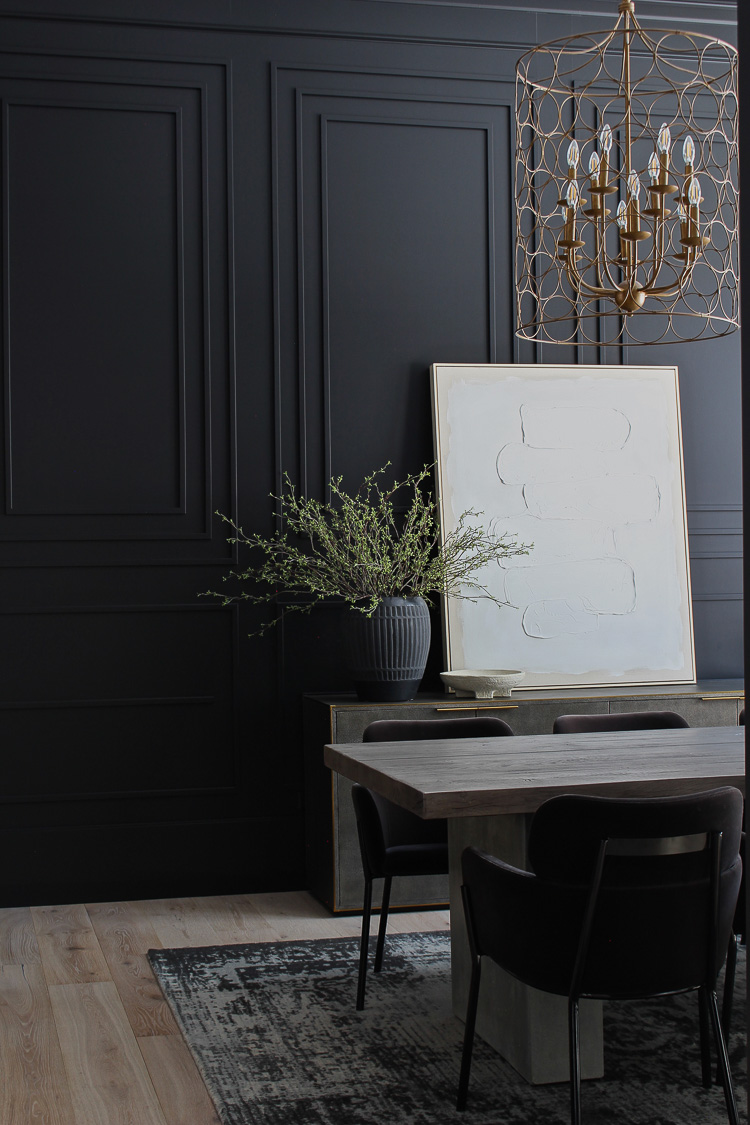 The original intent for this piece was for a hallway I'm working on. I temporarily placed it in the dining room though and loved it! Not sure if it will stay in here long term, but for the time being what do you think?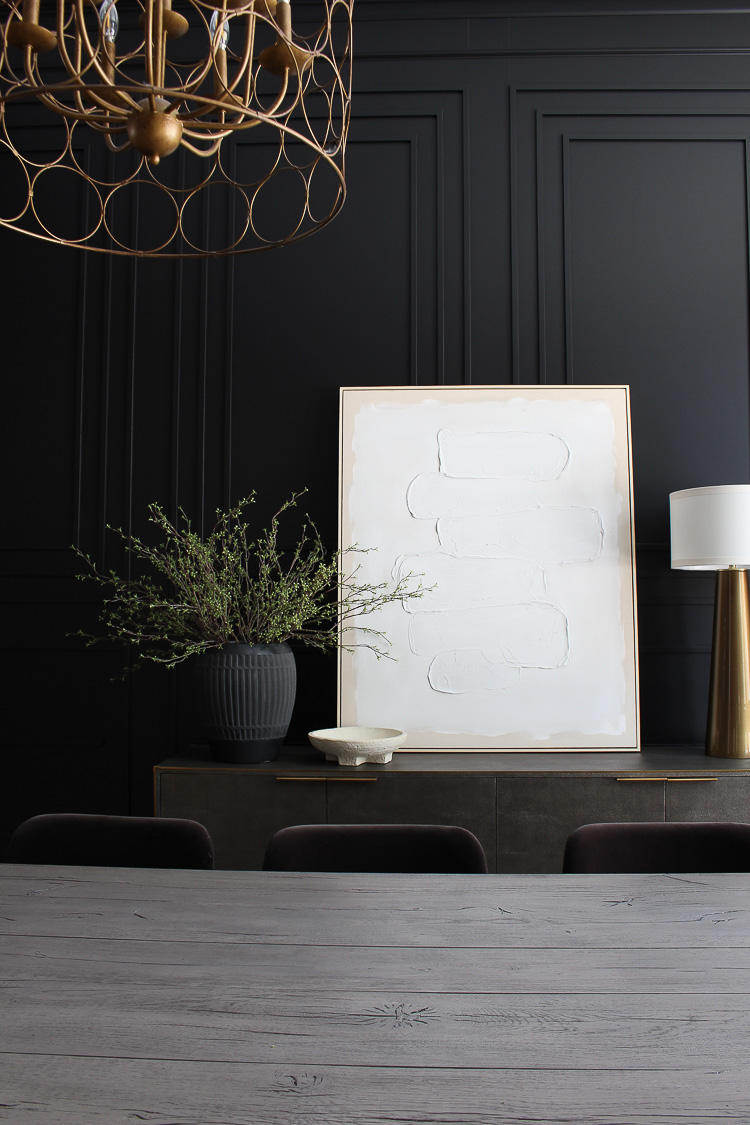 Art that compliments colors in your home
Whether you are drawn to a neutral color palette or a colorful one, choose art that compliments colors throughout your home. This tree ring art was the first piece I bought for our home shortly after we moved in. I guess I actually did put "one" nail in our freshly painted walls within the first year.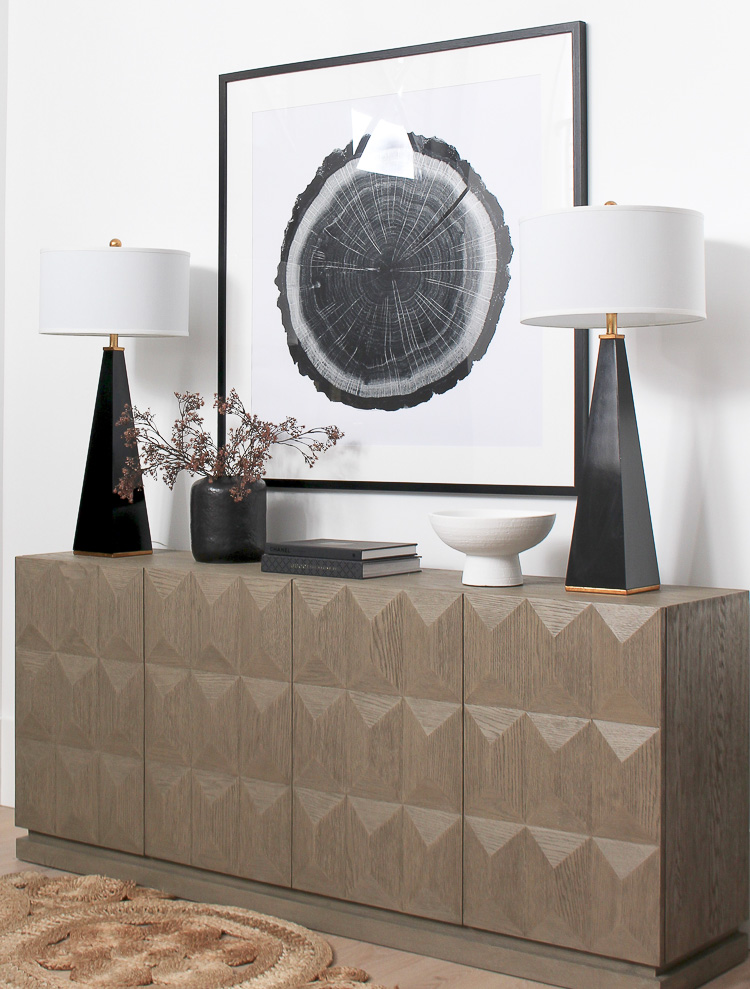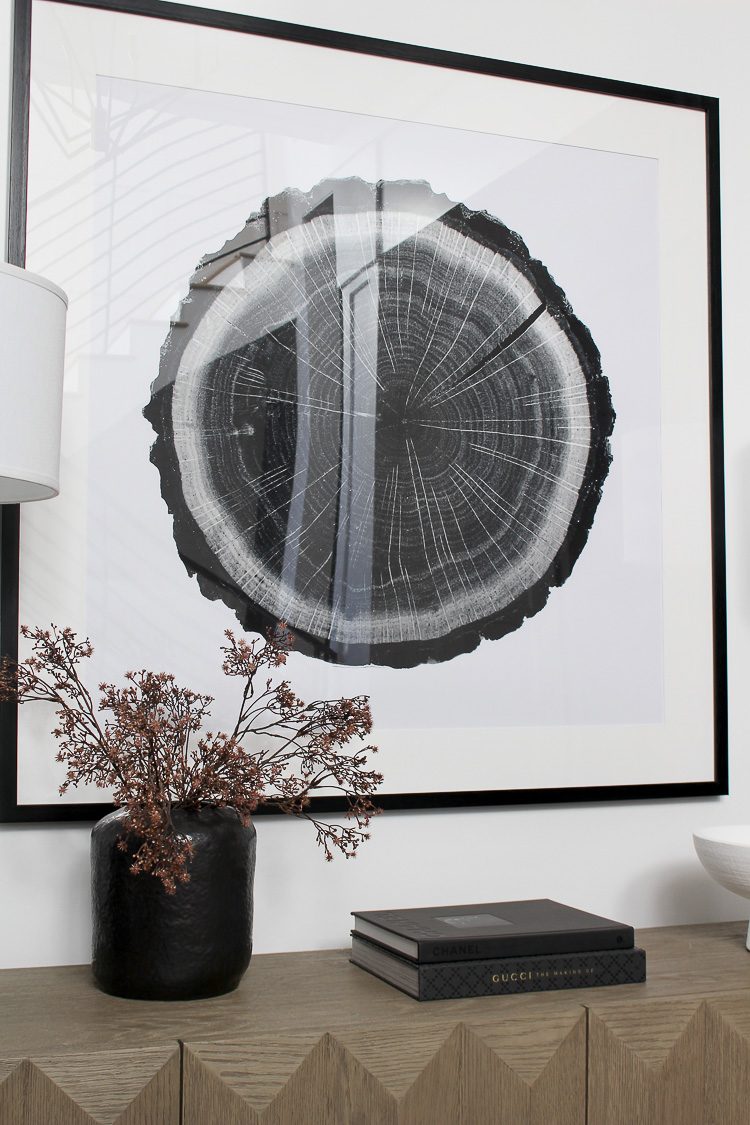 I recently found this similar art and love that it is available in a large size with the different frame options. Would look gorgeous with the walnut frame. I'm contemplating moving our tree rings art to a different room to give it a new life. That's the beauty of a curated home. You can pick up a piece from one room and easily transition it to a new room, as if it was meant for that space. Keep that in mind as you design your home.
Art doesn't have to be expensive to make a beautiful statement
I believe inexpensive art styled well can make a beautiful design statement. Here's the deal and my word of advice. If you love it, then it is valuable to YOU! Buy it and you probably won't regret it, nor will you feel the enormous commitment to it if you paid heavy for something you didn't love. I'm sharing the art in my home to help guide you as you may be approaching the design phase of adding that next layer. If you value spending thousands of dollars on a commissioned piece of art from your favorite artist, great! Whether you have the budget to do that or not, find the art that makes you feel something and that looks as if it was curated for your home.
I recently added this budget friendly art (here and here) in a little powder bathroom off of our mudroom. The matte around the print is an extra bonus to giving it a more expensive look. A design trick I like to do is to stack similar pieces of inexpensive art to give a grander statement.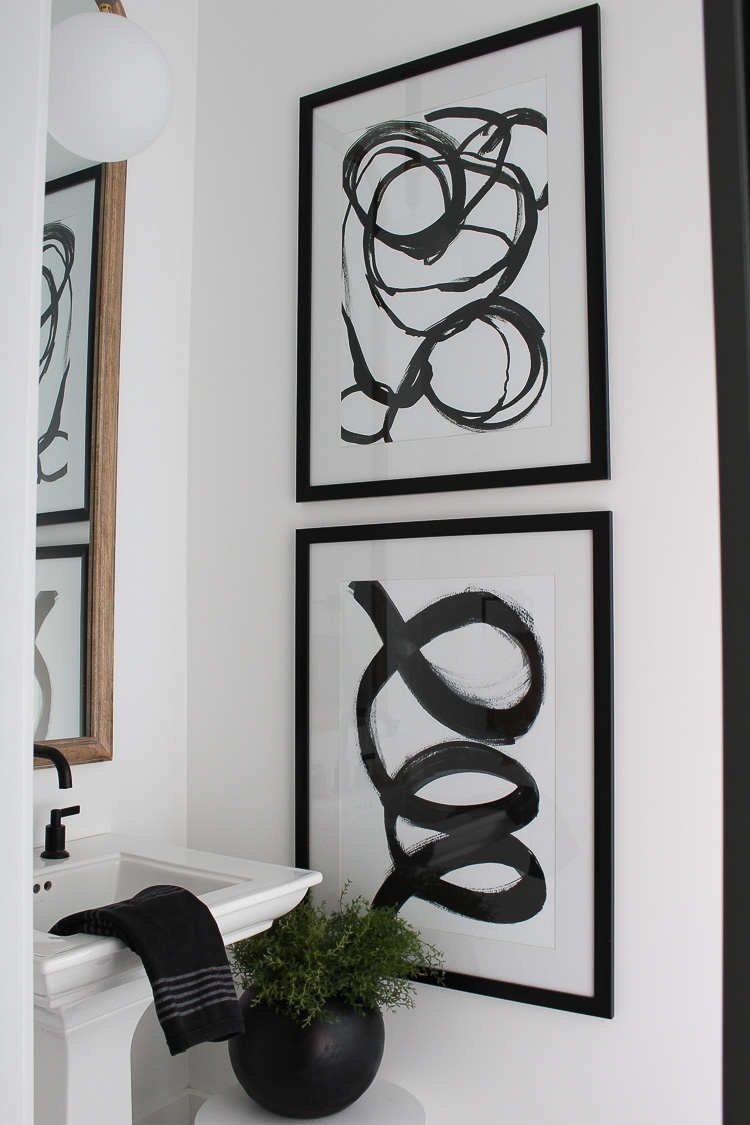 Art in our home + A few current favorites