2021 Home Design Projects
Hello and happy 2021! The design wheels have been turning in my mind and I'm excited to share with you all my plans for our 2021 Home Design Projects. We are going on almost our 3rd year in this home and I still have plenty of unfinished rooms. Some spaces I've never shared here before and then others you have seen but are ready for the next layer of design.
If you are building a new home, I'm here to tell you that it is OKAY if you don't have all the design elements figured out before you move in. I believe good design, that will have the most longevity in your home, is the design that has simmered for a while. Your home needs to speak to you as you live in it and sometimes that may take weeks, months or even years (in my case) to be inspired to finish a room. Also, be patient with yourself as you figure it all out and don't rush to just get the room "done." That will almost certainly leave you with regret on some design choices down the road. I've had a few of those too.
So without further ado, let's jump right in to all my aspiring design plans for the year.
**Affiliate links are used in this post. Full disclosure HERE.
The Mudroom
The highest traffic room in our home as it is where we enter the house through the garage. I love everything I designed in this space from all the cabinetry to the brick floor. It functions really well but it is ready for the next steps to completion.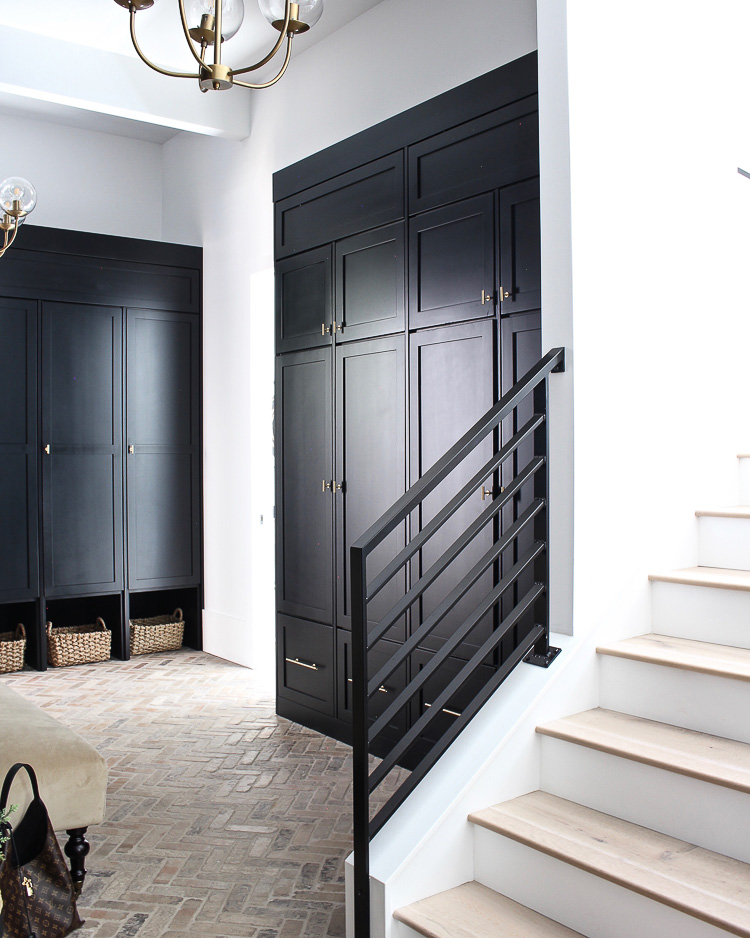 This big blank wall needs something. So may ideas swirling in my head. I like the idea of blown up poster size images of our travels (black & white of course). So a gallery wall of sorts but in large format, like 24 x 36″ frames.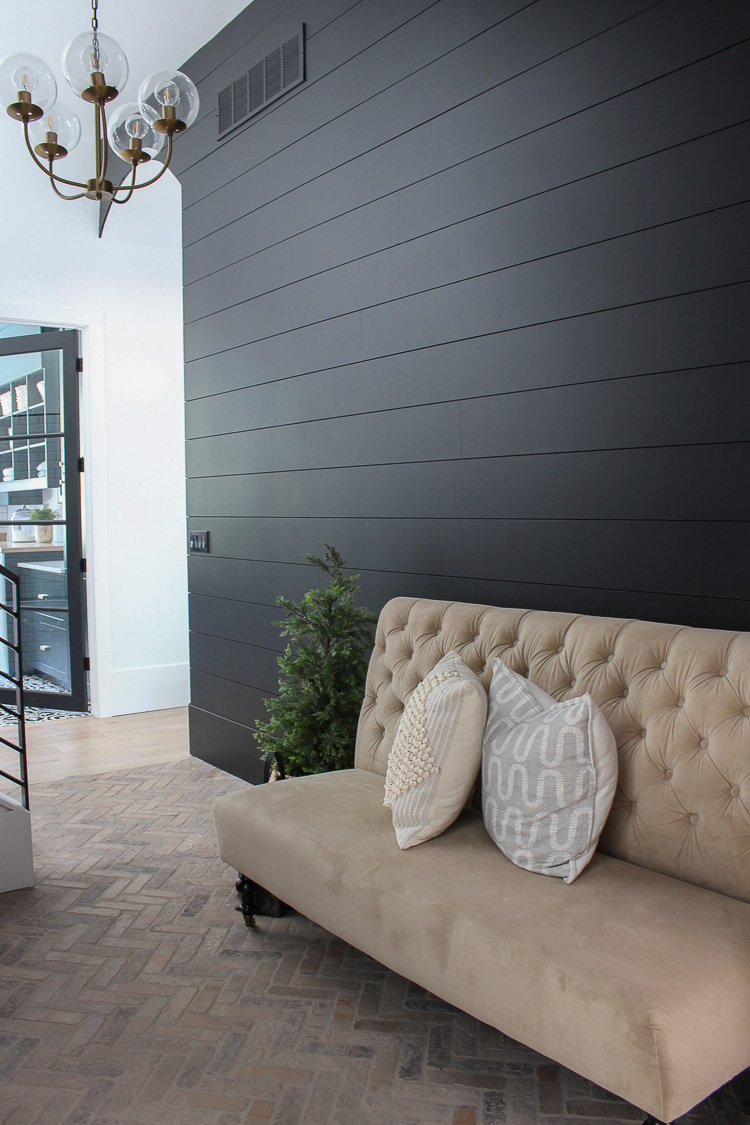 I do need a full length mirror in here to check myself on the way out the door, to see my shoes with my outfit (lol). Remember we don't wear shoes in our home so I'm always slipping them on as I head out the door. A large console table would also be nice as a place for me to drop my keys or handbag. Typically it all gets dumped on this old banquette from our old home. I love the lines and overall look of this console table, but perhaps in a different finish. What I love about it is that I could stick a full size mirror behind it and also tuck a couple of stools below to sit on for taking shoes on and off (per the hubby's request).
I also would love a lamp in here that turns on and off automatically in the evenings. There's something about walking into your home in the evening with the glow of a lamp to welcome you. I actually recently saw this wall sconce at CB2 and haven't stopped thinking about it and where I could put it in my home. The mudroom may be the perfect spot.
At this point I need to decide if I want to add the wall art or just keep it simple with the full size mirror, console and lamps. Most importantly this room needs to be functional.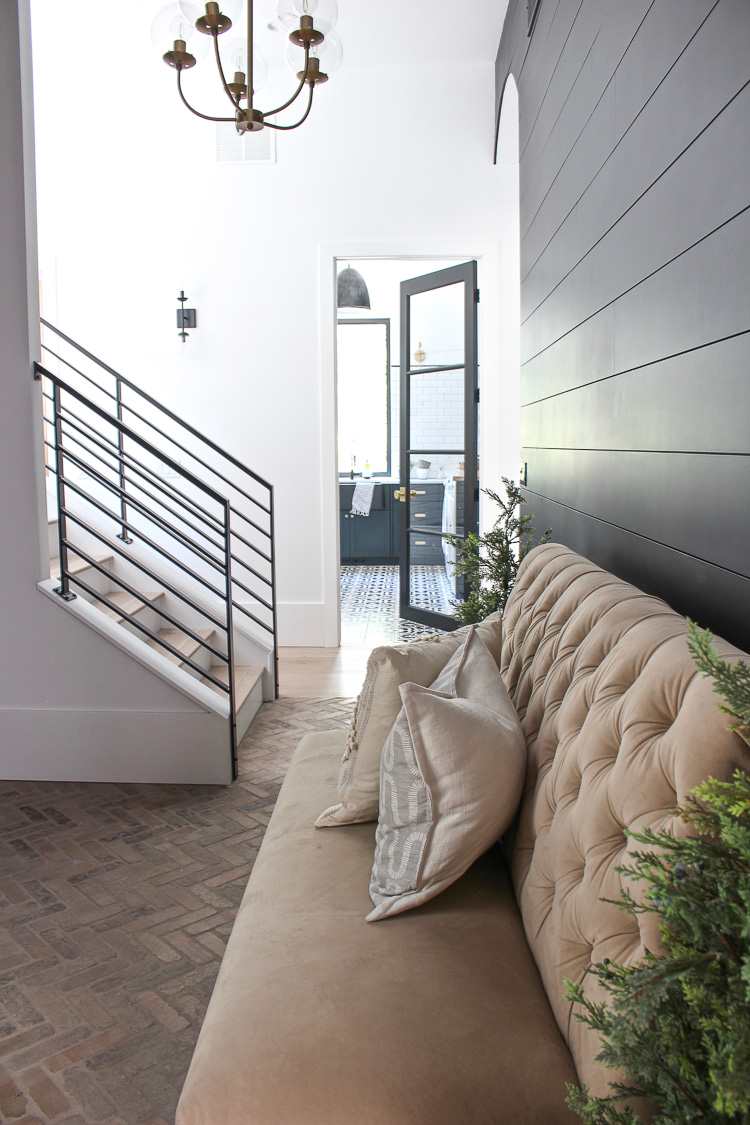 Powder Bathroom
Just off the mudroom is this small powder bathroom. A pocket door closes it off for privacy and it was smartly tucked in below our stairs. It has a cute sloped ceiling (from the stairs above) that soar up to 12′. I recently installed this tall wood mirror (pictured on the floor here) and can't tell you how much of a difference it has already made in making this space feel bigger.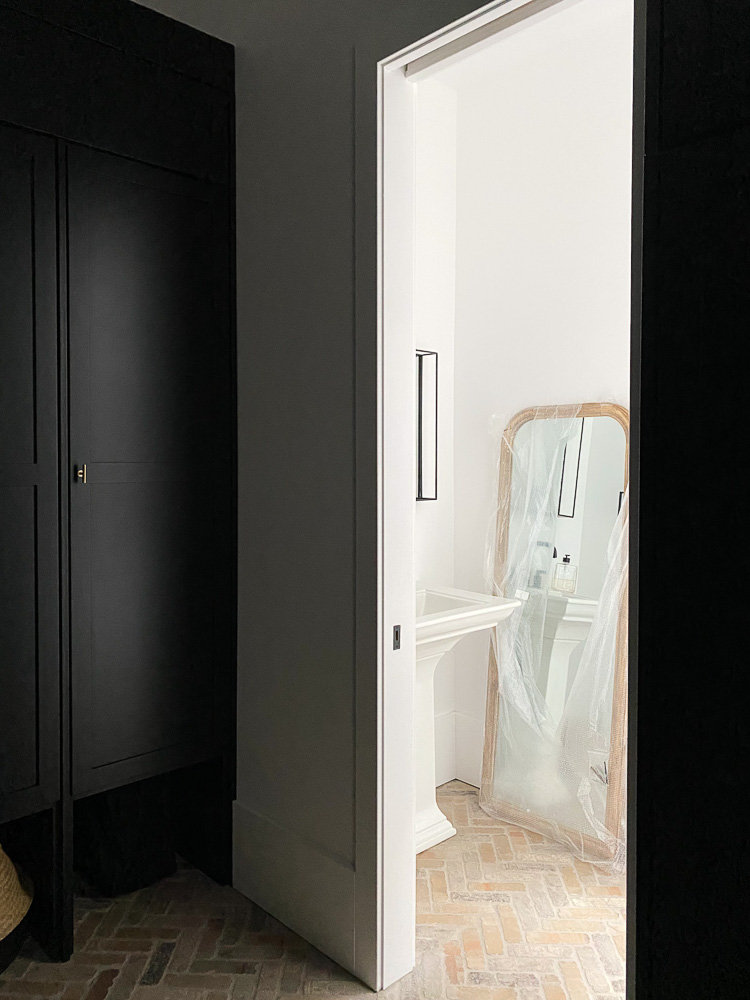 Just because a room is small doesn't mean everything inside it has to be. My 24″ square mirror is quite laughable in scale to the 12′ ceiling. Oh well, it served its purpose and no one complained. The new mirror is just over 5′ tall and brings so much more drama to the space. I'm excited to show you an update as soon as this pendant light gets installed and a few more pieces of design arrive. This room will be completed soon and I'll be sharing the full reveal so stay tuned.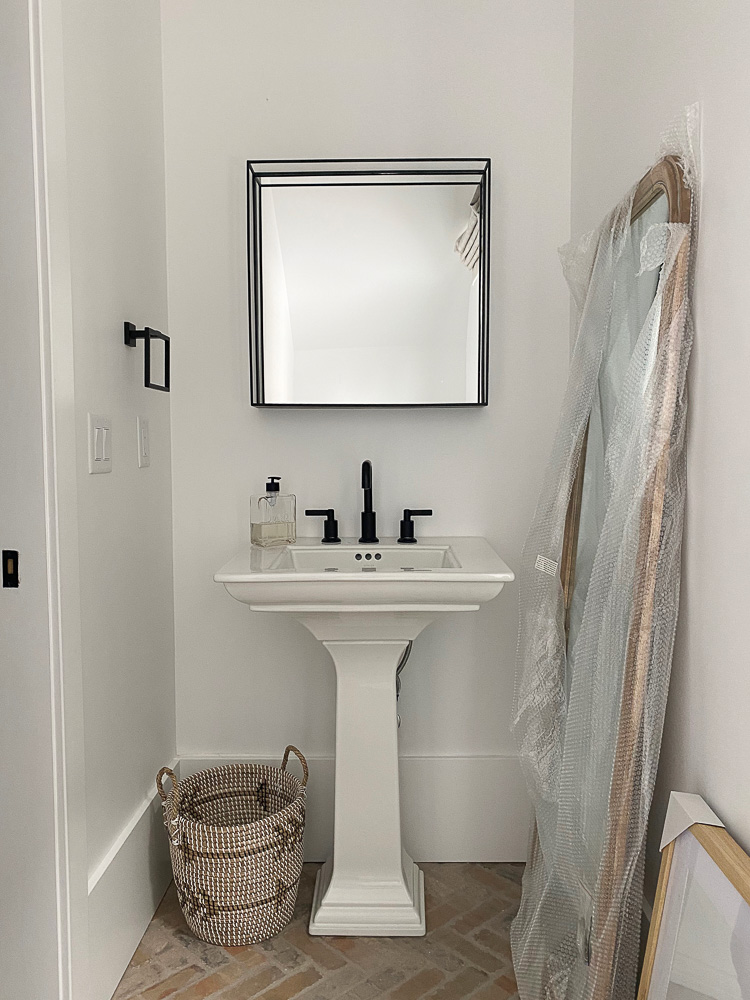 Hallway
Just off our front foyer, leading to the main powder bathroom is this "void" space. For lack of better terminology I just call it a hallway. It's white and sterile and needs something.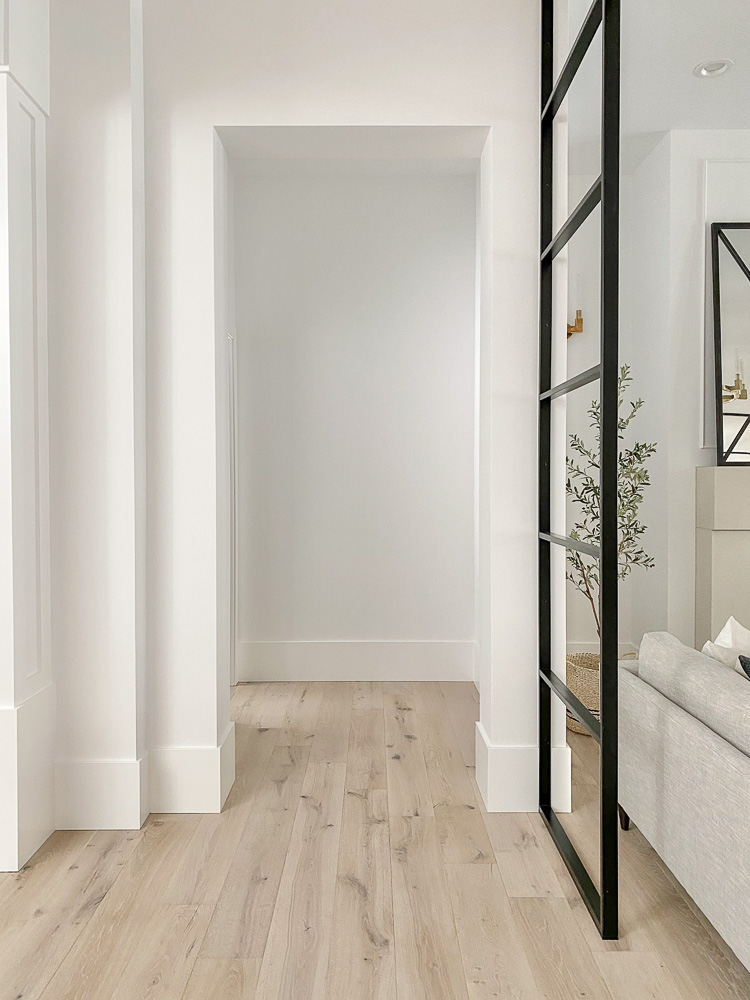 Step on in and look up and you'll see a lightbulb 12′ up, begging for a stately light pendant. I've been simmering a couple of different design ideas for this space. I thought about adding some pencil moulding to the walls, similar to our dining room here but more subtle.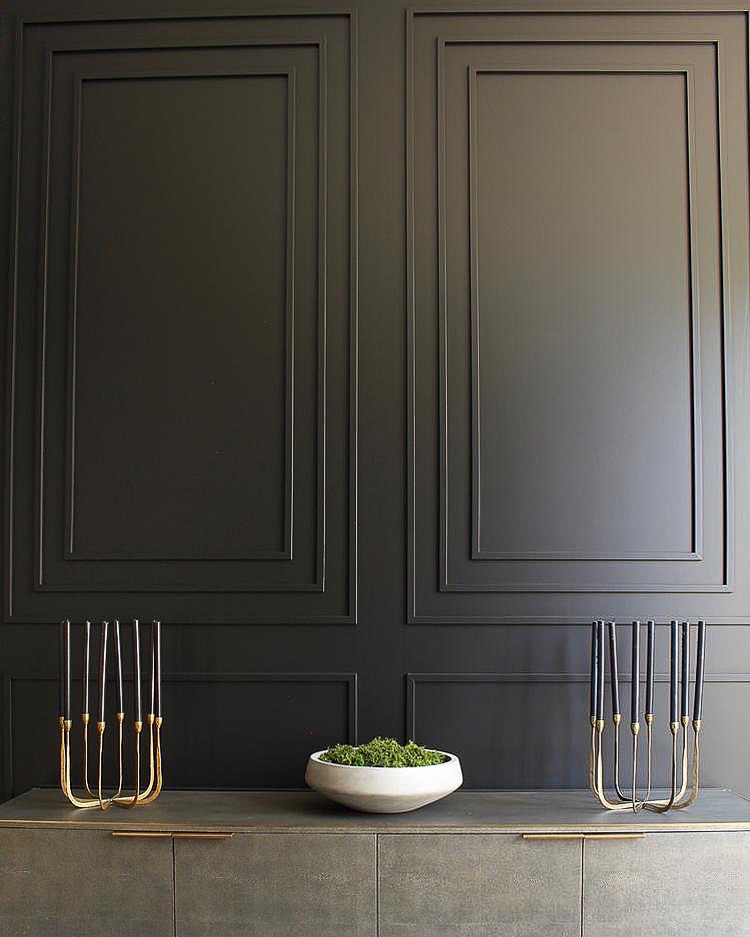 A beautiful grasscloth wallpaper has also crossed my mind. But then I keep going back to the modern minimalist, almost Scandinavian style I love. Simple white walls with large statement wall art. I recently ordered this beautiful, large art knowing if it doesn't fill this space as I imagined, I have a back up plan. I photoshopped it in this photo to give you an idea. Also, this is how I make a lot of my design choices. I copy and paste images into the room to give me a good idea of the overall look.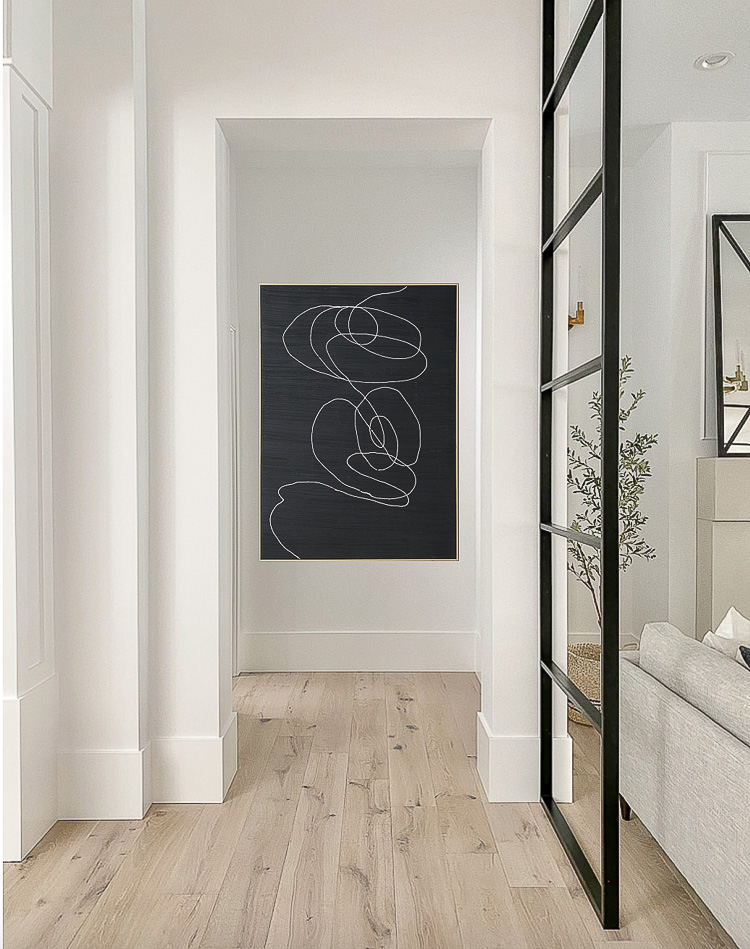 I also am waiting for the arrival of this gorgeous burl wood console table to place in this hallway as well. I may do a lamp in here instead of ceiling pendant. No need for too much lighting and I kind of like the idea of seeing a lamp lit up in here at night.
Pantry
I have tile on order for this wall behind the shelves. This is one thing I wish I would have done when we built but I think I just didn't really know what tile to go with and I didn't want to rush it. The tile I ordered has been on back order and I'm patiently waiting. Hopefully by next month it'll be finished and I can share an update. Fingers crossed!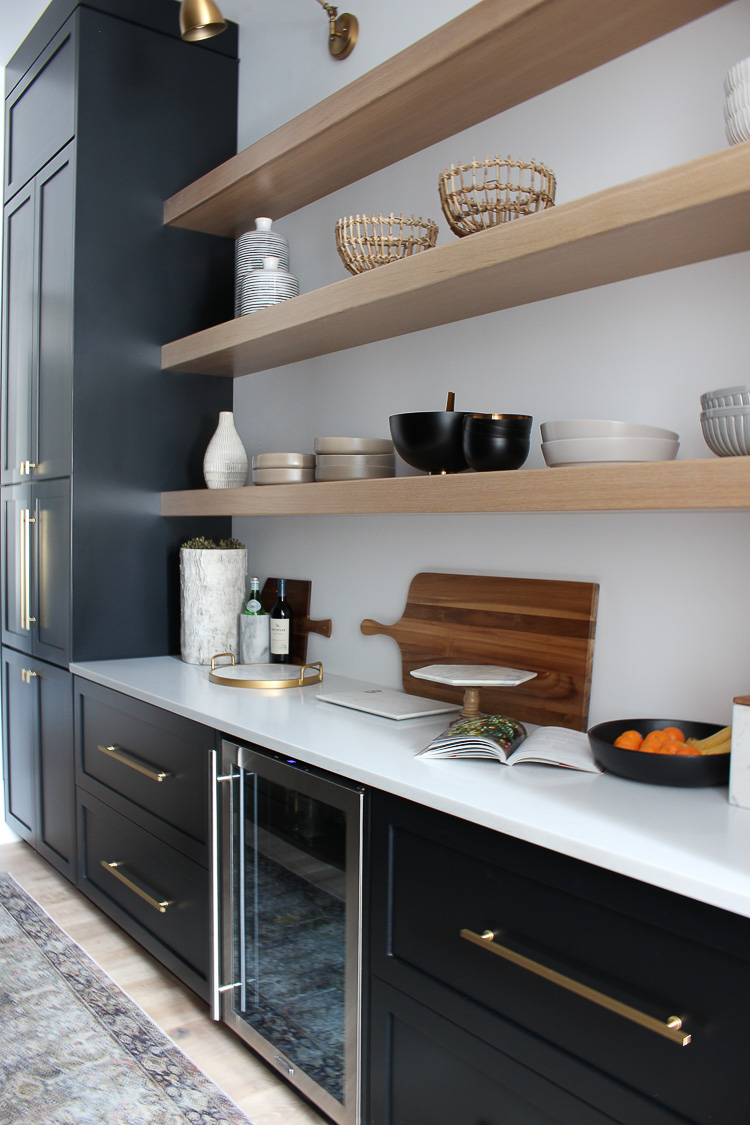 I also plan to tile this wall where the window is. It'll add a beautiful, subtle texture. I also ordered this oxidized pendant to replace the woven pendant. I felt like it was competing with the baskets on the wall so one of them had to go. Of course the new light fixture is backordered a couple of months. Thank you pandemic for making home design such a challenge these days!! I try not to think of the waiting stage, just place my order and wait for the happy surprise when it arrives a couple of months later when I forgot I even ordered it, lol.
Side note, little did I know when I planned this work station in the pantry that it would be so useful now with school being online this past year!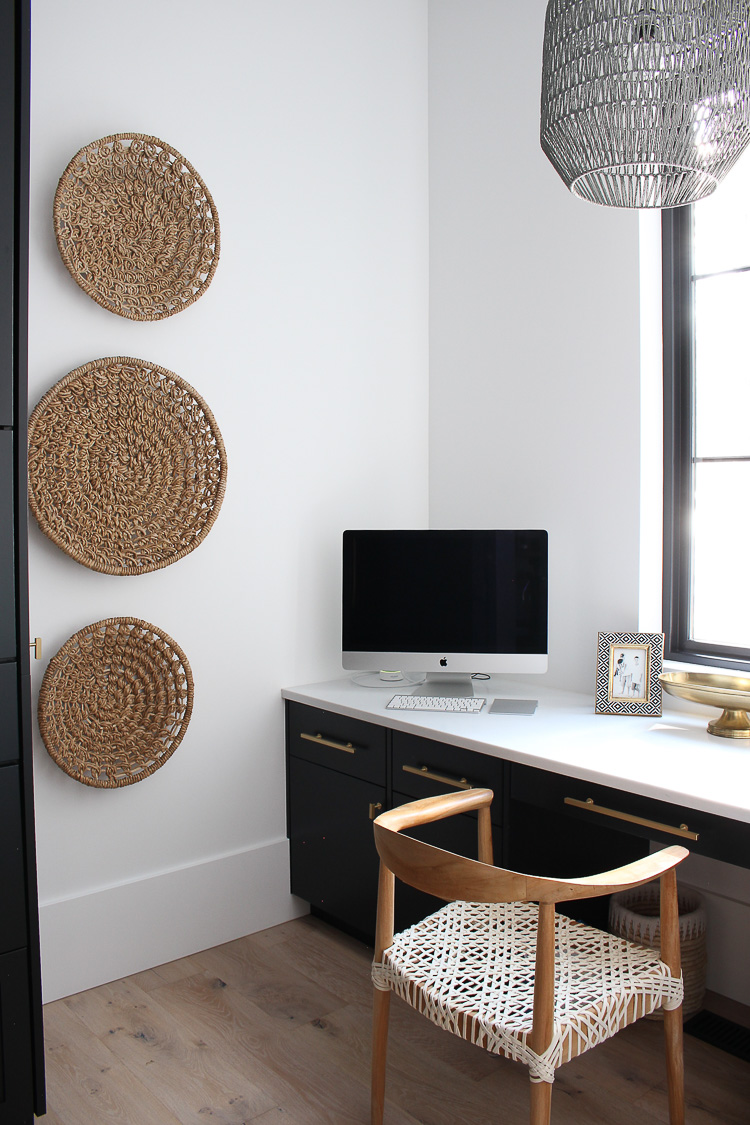 New Fabric for the Daybed
I pondered this one for quite some time. This daybed in our living room is the most used piece of furniture in our home. It has seen a lot of love over the past 6 or 7 years we've owned it. It's so comfortable and someone is always lounging on it. Kodak has claimed it as his bed. He's such a prince (eye roll).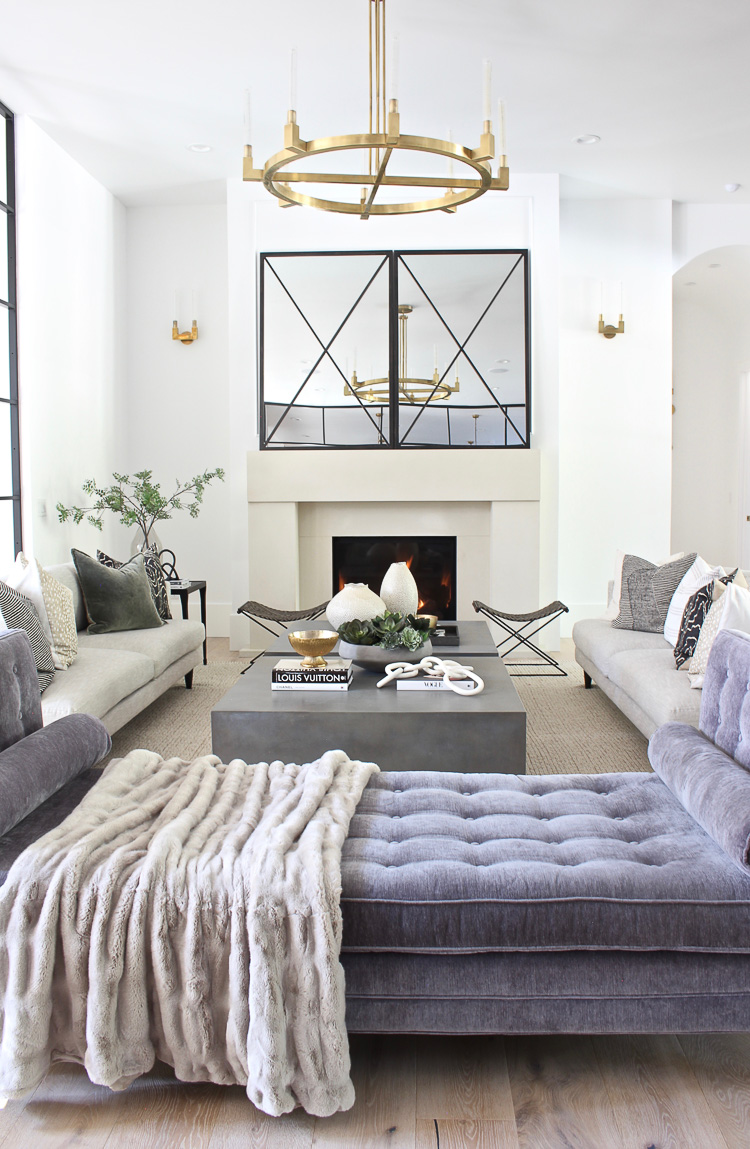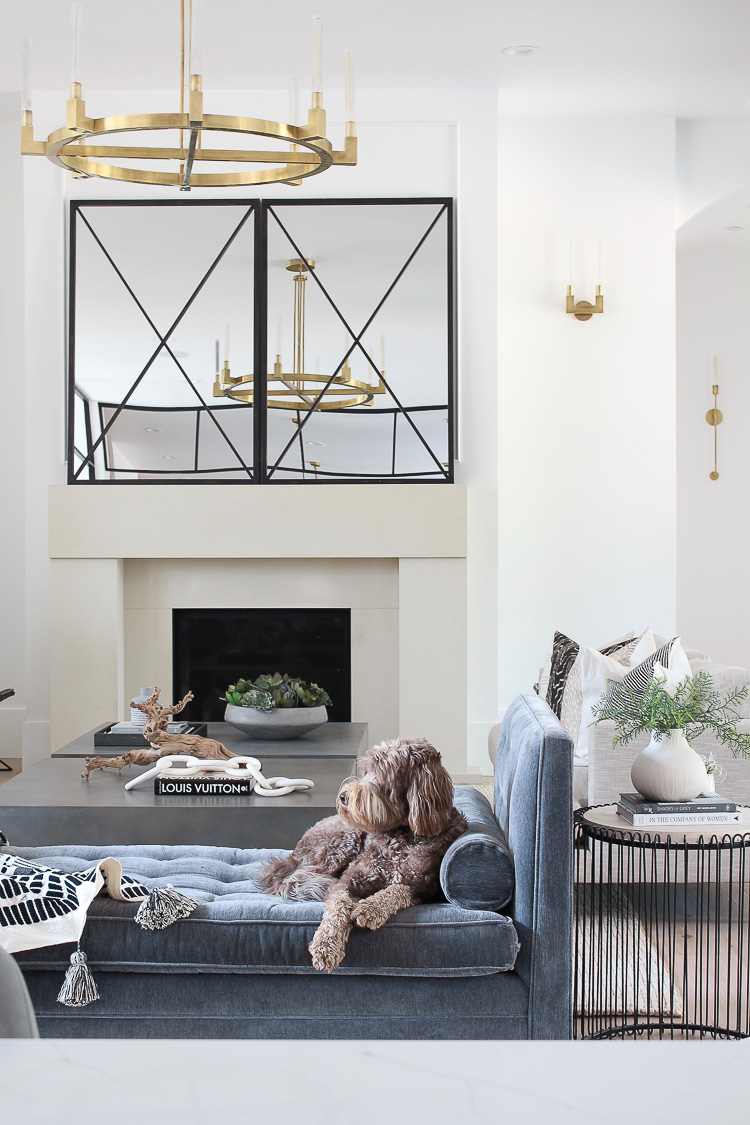 My issue with it is the color of the gray velvet. I have to say the velvet itself has held up beautifully over the years. Especially with a dog jumping off and on it all day long. I've just fallen out of love with the tone of the gray. In our previous home it sat in direct sunlight all day in front of large windows and has faded. I always struggle with it looking almost lavender in photos. I've even had readers email me asking where they can buy this purple sofa. Nothing against purple, but I don't think I'll ever have purple in my home. Although in our early years of marriage we had a purple sofa and I LOVED it! Times have changed.
I searched high and low for a new daybed that would be just as comfortable for the family to lounge on and really came up short. Nothing stood out to me. The family was not happy when I mentioned just selling it and getting a pair of chairs to put in its place. I couldn't find it in my heart to take their comfort away, nor mine! This is my favorite spot to cozy up and watch netflix on my laptop at night.
To keep this from being too lengthy, I'll share a more detailed post on the pros and cons of reupholstering furniture. I have chosen to reupholster this piece and it's actually getting done this week! I can't wait to see it with a new fabric.
Bar
I haven't shared much of our bar but it's one of my favorite spaces in our home. When we built, Tim installed the brick on the wall. I love the texture, warmth and industrial vibe. We actually have this brick in a few other places of our home that I need to show you.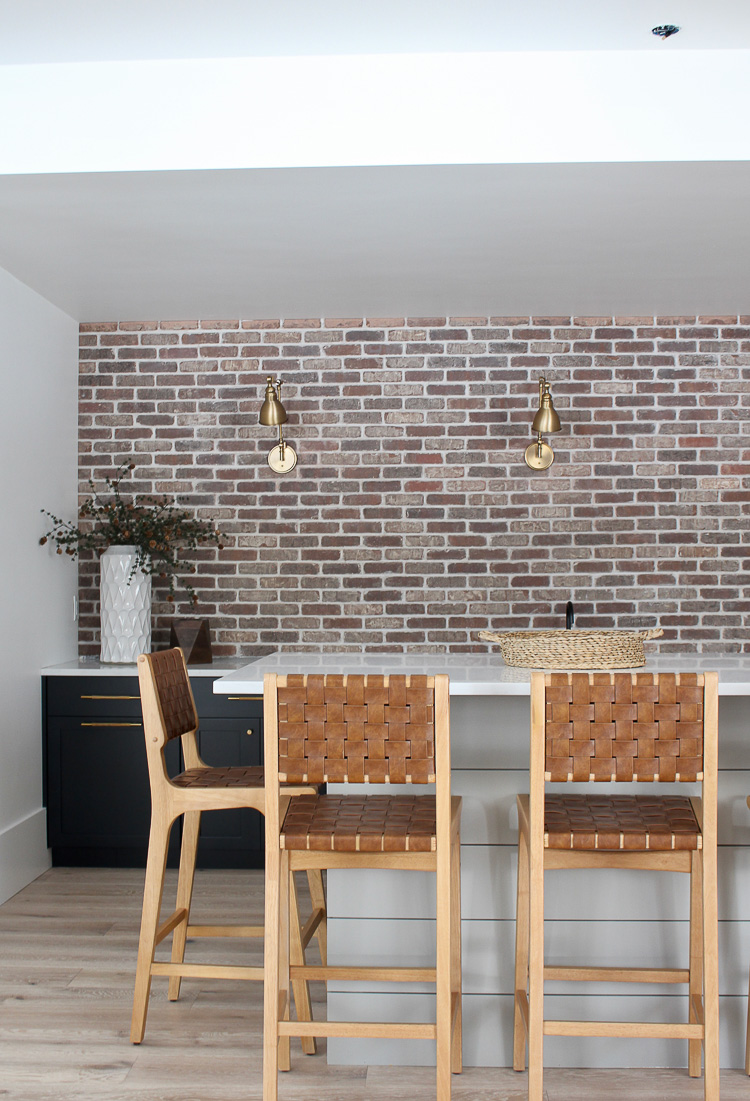 We haven't had a light above the bar island, but this gorgeous modern chandelier just arrived and is waiting for hubby to hang it. I have loved these bar stools that have gotten a lot of use over the past year as this has been a good spot for puzzles and a quiet spot for all those zoom classes for the boys. They are such a great price and have been durable. They seem to go in an out of stock so if you're interested you can sign up for email notification when they become available again. Also have the option of counter height as well.
I also plan to continue the brick onto this wall. We recently were at our friend's home playing darts and it made me miss having our dart board up. I realized though that I need to protect the walls from the person who struggles occasionally to get anywhere near bulls eye (that would be me). I haven't told Tim of this plan yet so I'm sure he'll be thrilled I just added more brick laying to his list. Our brick can be found here.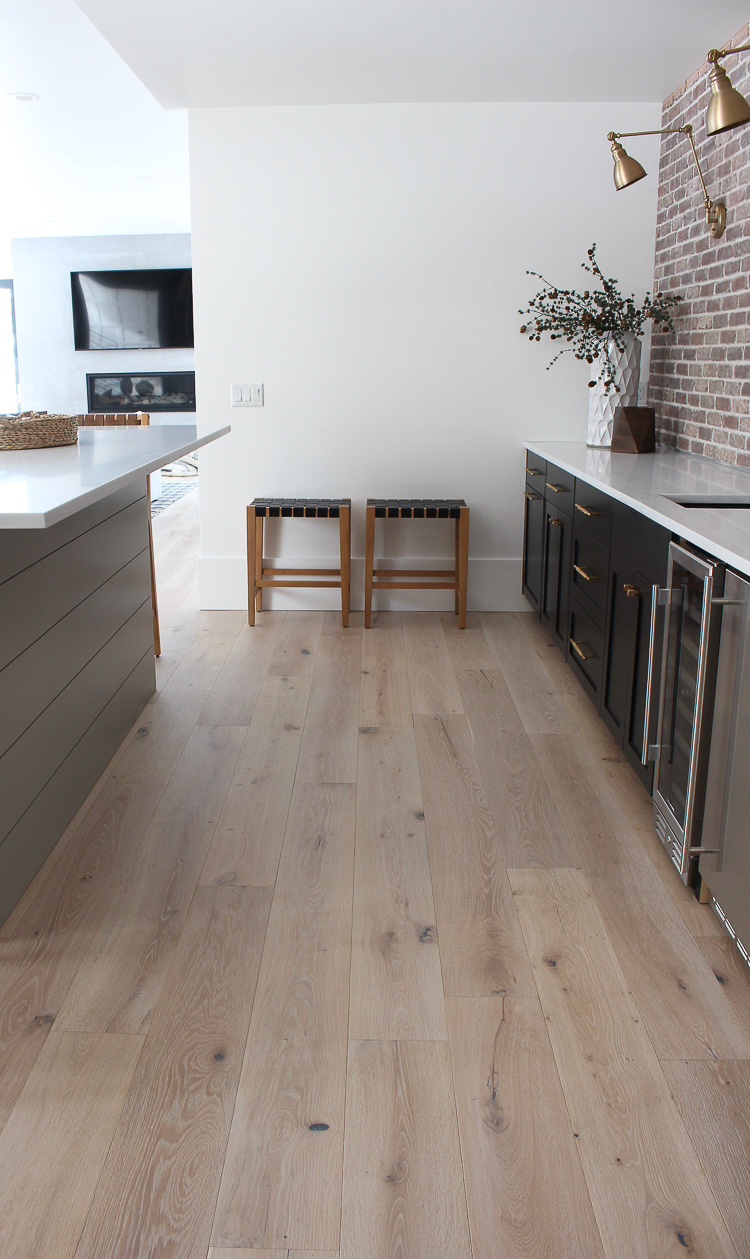 I'm on the hunt for a long runner rug to warm up this space. Stay tuned for updates as soon as it's all complete!
Wine Room
Technically, there is nothing about this space to consider it a wine cellar. We are not that sophisticated (or knowledgable in wine) but I love having this little space set apart to uncork a bottle and serve up some drinks. The only thing missing is tile on the wall. I'm really excited to show you what I picked out. It'll feel a bit dramatic but it's one small wall where the shelves are. I may just have to get a little fancier with my wine selections after this makeover. We have a trip planned to Napa this fall and I have a feeling I'm going to come back wanting to build a fancier wine cellar. Shhhh! Don't tell Tim!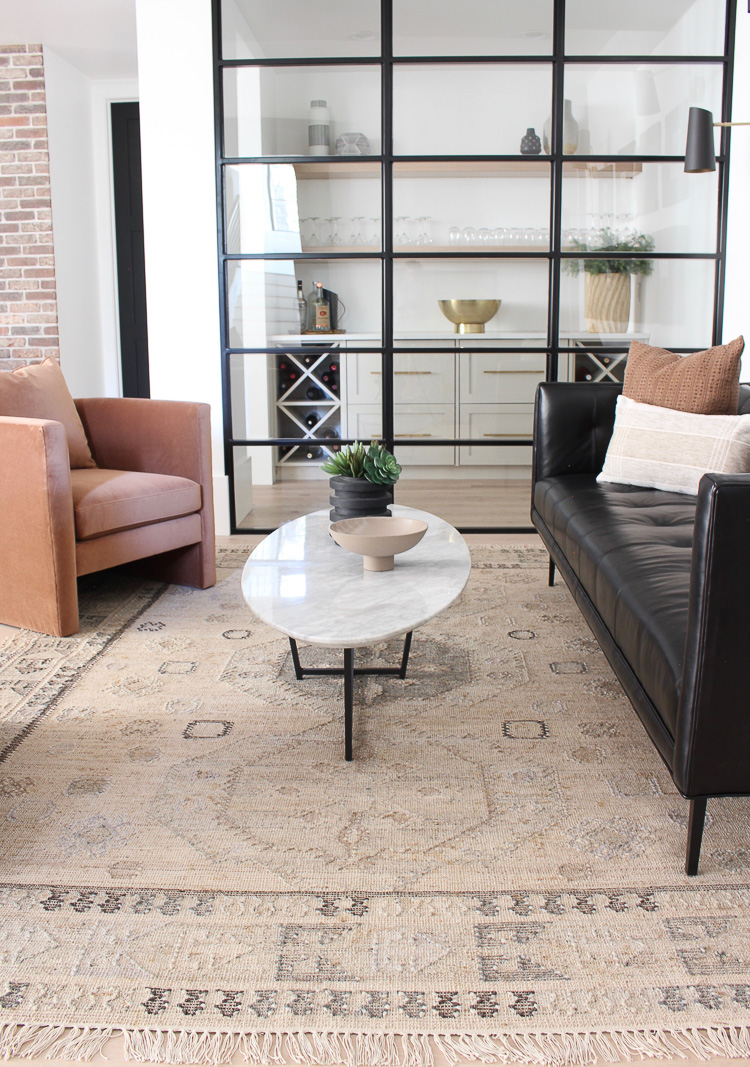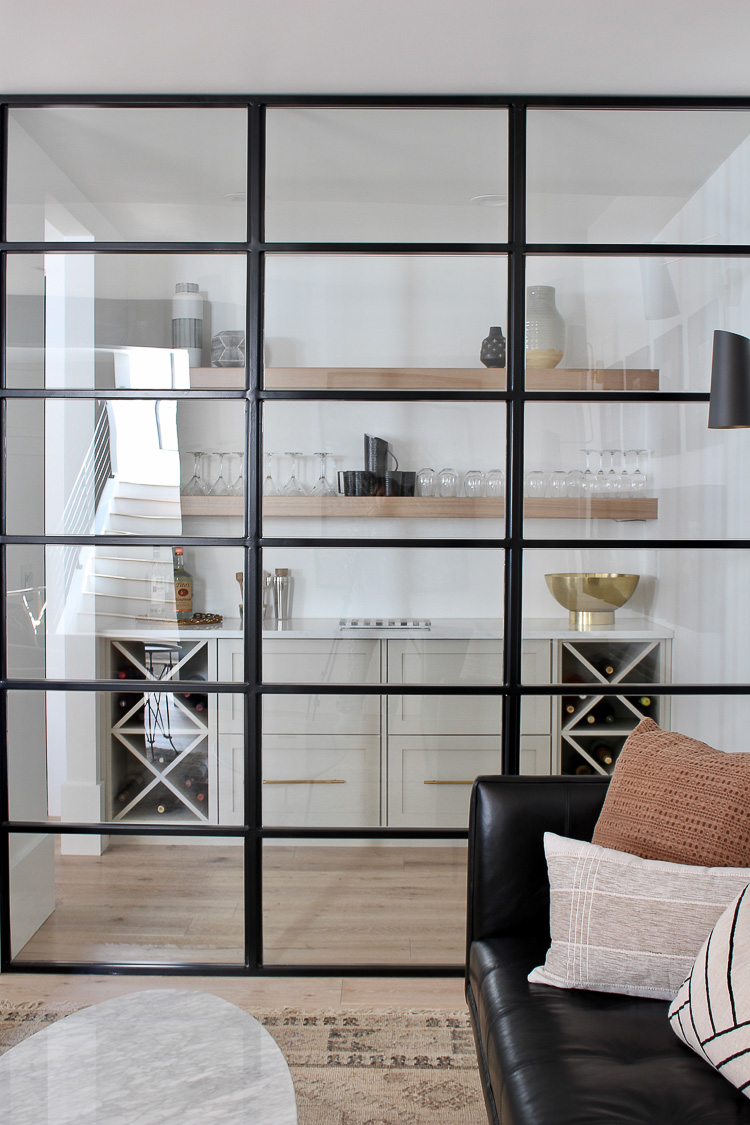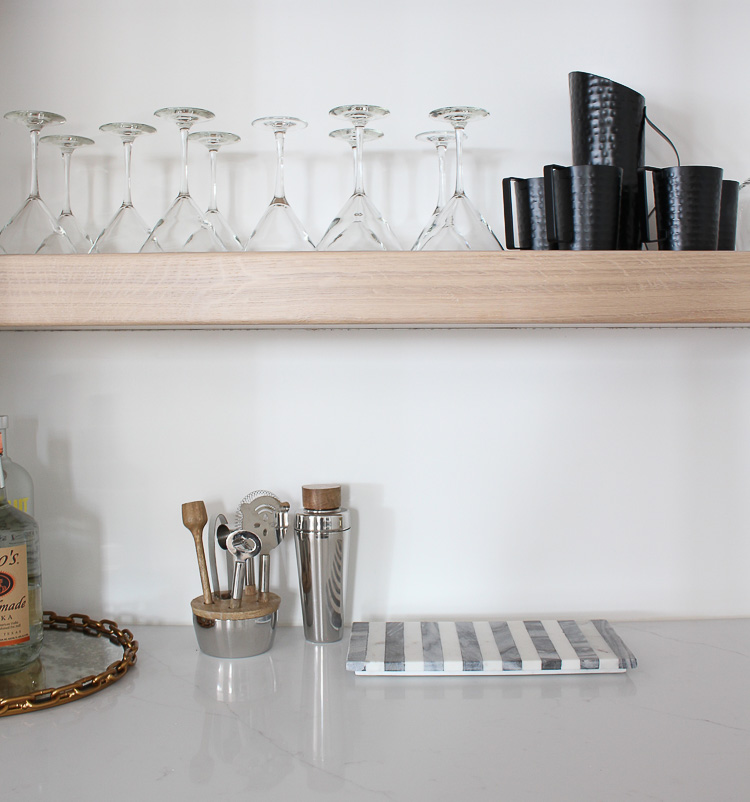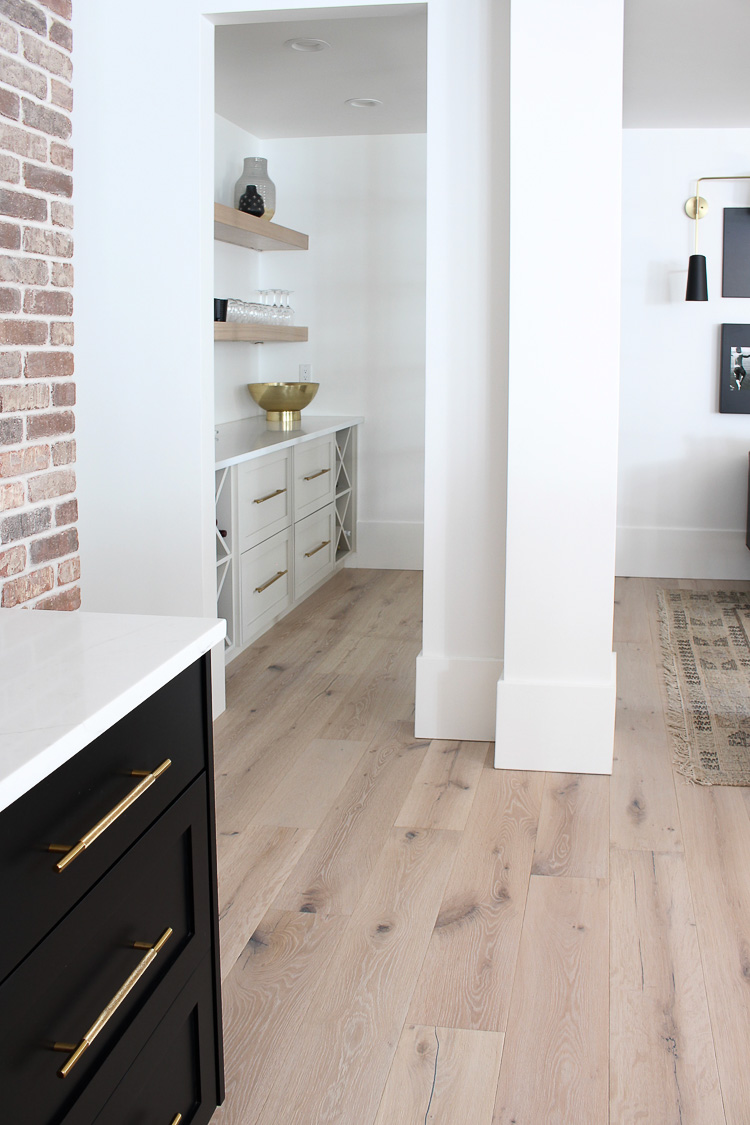 Tim's Home Office
This is definitely a room I'm ready to get a start on. Ever since I finished my office design last summer, Tim has been sneaking into my office more and more. Maybe he feels like he's in "time out" down in the basement, but it doesn't even feel like a basement. He actually has a really nice large room you can see there in the corner beyond those french doors.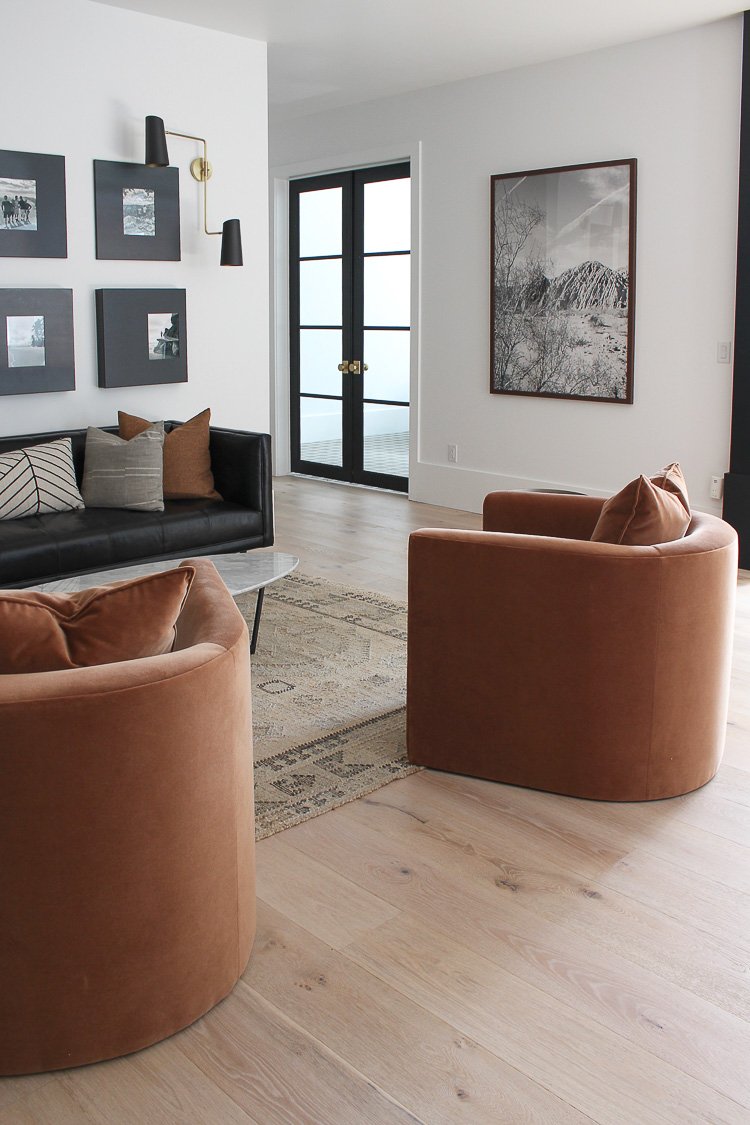 Sources: Art // All other furniture and accessories in this space can be found in this post.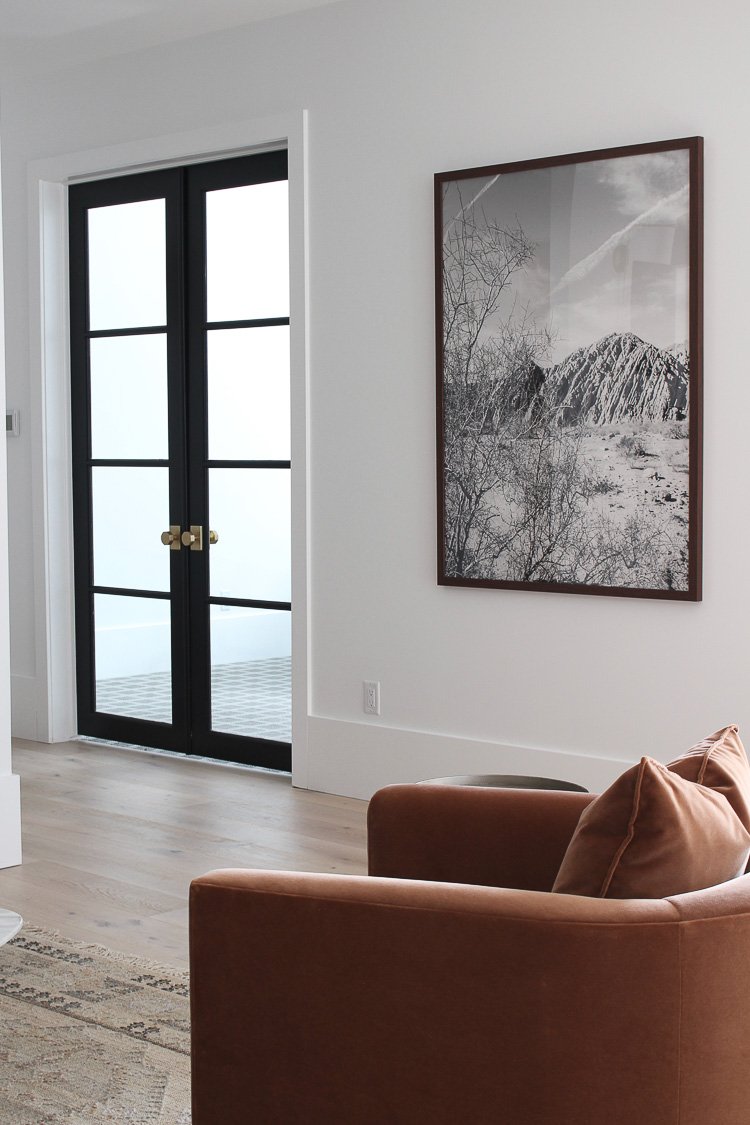 The room just needs some furniture for organization, a comfy desk chair and some sort of wall treatment. Not sure what yet, but I have a few ideas. Hoping this blog post holds me accountable to getting this project done this year. Also, hoping it doesn't involve settling and giving in to a poofy leather recliner. I told Tim the purpose is to have a room to get work done in, not to take a nap, lol.
The last goal for 2021 is not a project but to learn a new hobby. My grandmother passed down her gorgeous vintage grand piano years ago and I've never learned how to play it. My boys tinker on it some and friends have played it beautifully. I think it's time I give it some love and attention and learn how to play. Who knows, I may just be your next concert pianist! I've already mastered "Mary had a little lamb."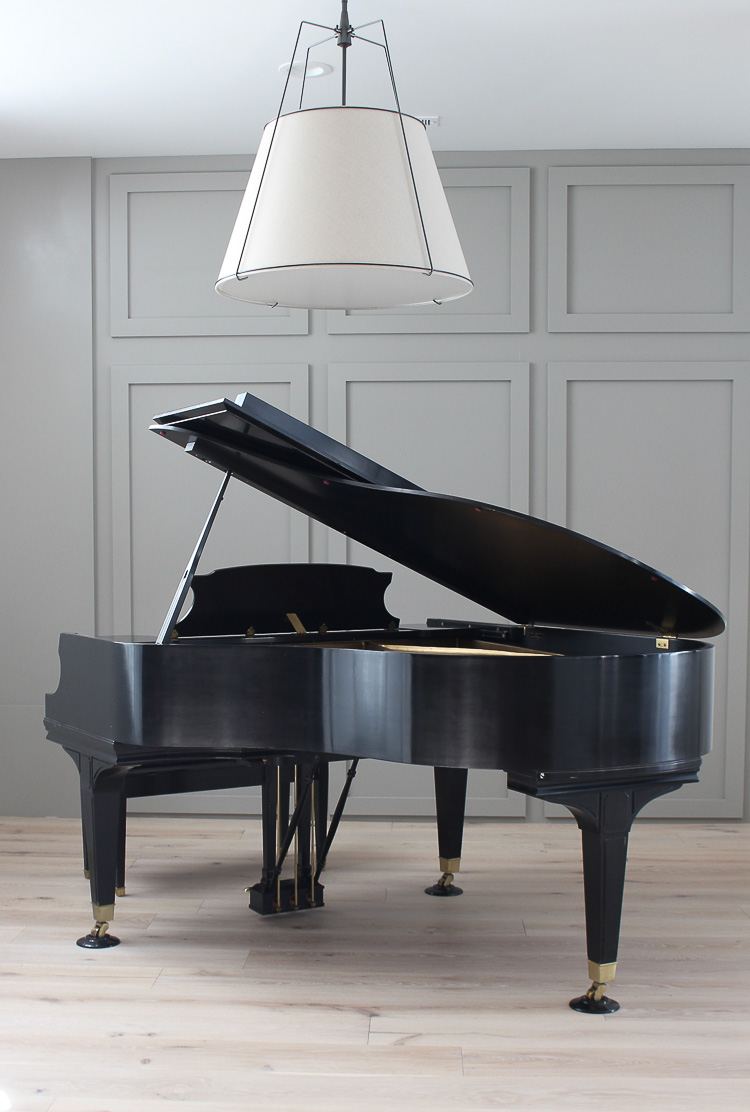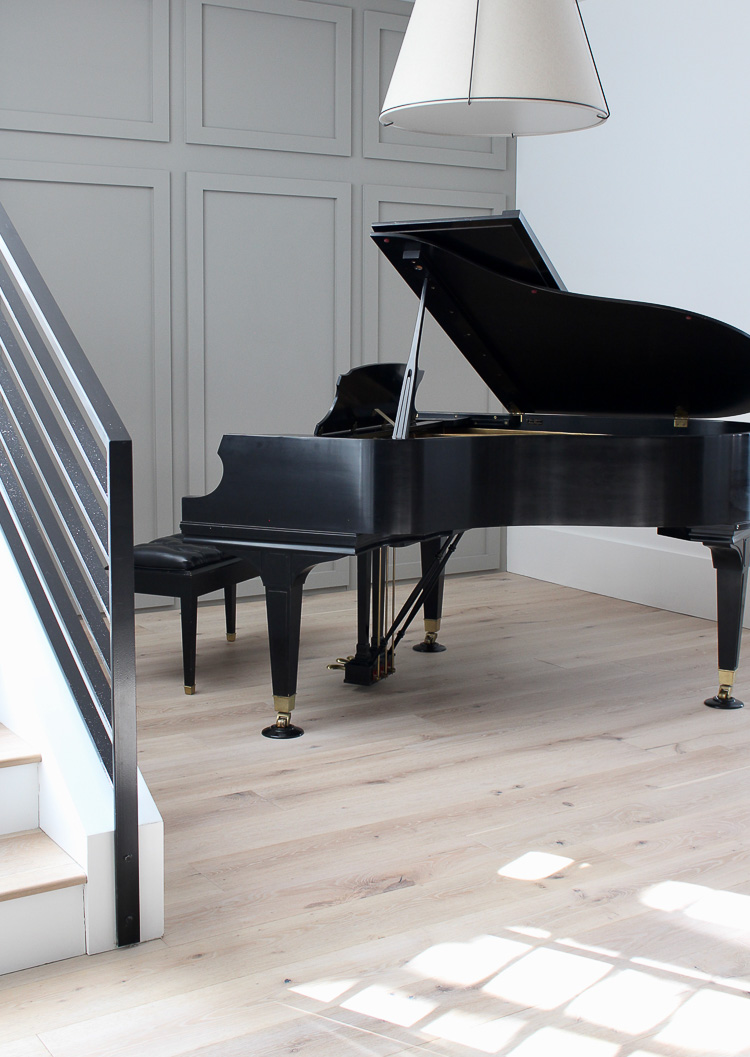 2021 will definitely keep us busy with these home design projects. We are going on our third year in this home and it is just now starting to feel complete. It's a journey and one to learn the value of patience. Can't wait to take you on our journey of finishing these spaces this year.