Black and White Modern Bathroom
Today we are looking at our boys' bathroom that also serves as our guest bathroom when friends and family come to visit.  We took a small bathroom and made some BIG changes.  The bathroom was actually in decent condition but just very dated in appearance.  It was so funny that our boys had a very "floraly" bathroom. With one big structural change and a little cosmetic reconstruction we turned this bathroom from floral nightmare into modern black and white!  I've been sharing with you along the way how the design has evolved starting from what it looked like our first demo visit HERE.  Let's see how close we came to my original vision for this 1960's bathroom.
I have seen this wallpaper resurfacing all over the design scene lately.  If I had girls, I may have even considered keeping it.  My reality however is three boys ages 17, almost 14, and 11.  Do you think they loved that wallpaper? Actually they never complained but I'm saying it bothered them just so I can get a new wall! Hehe! The linen closet and bathtub will be knocked out…wait for it.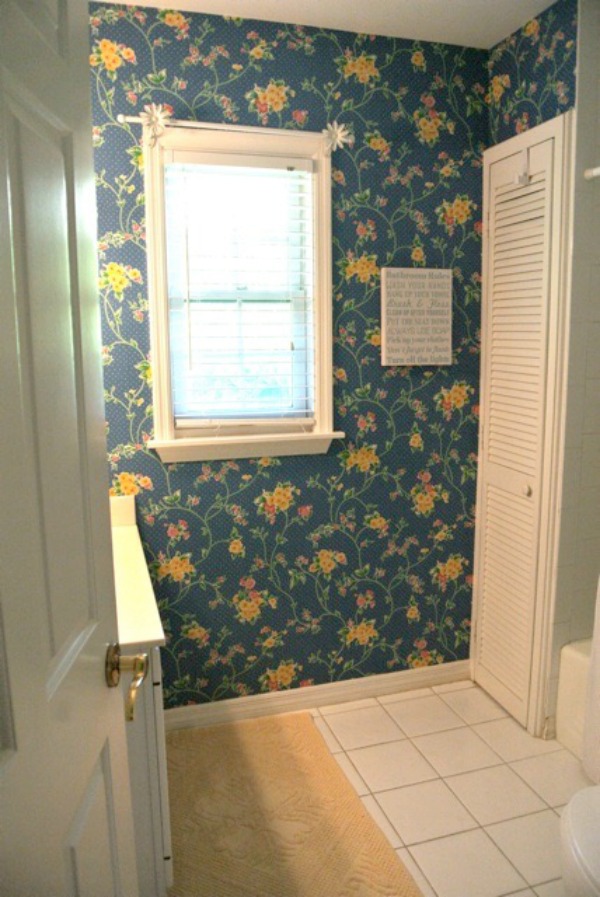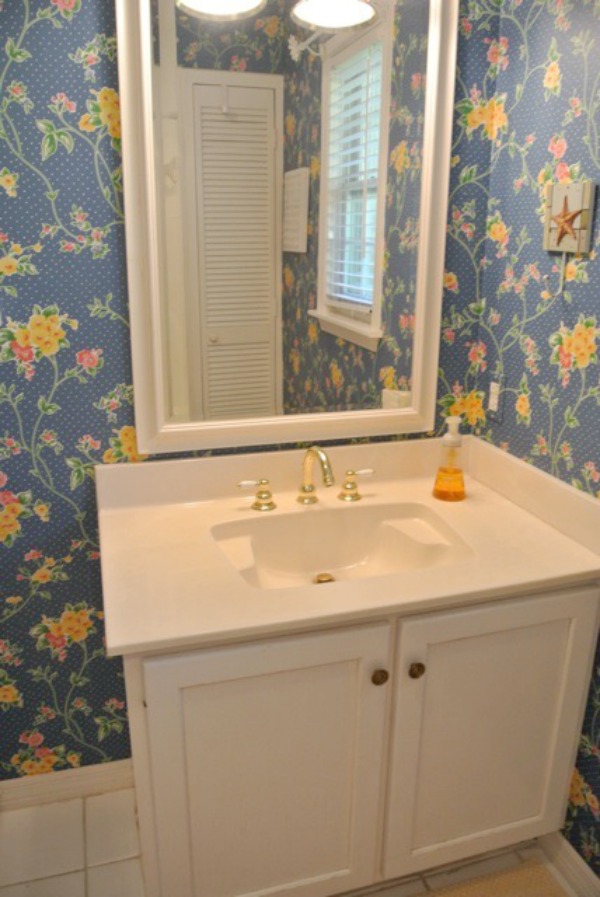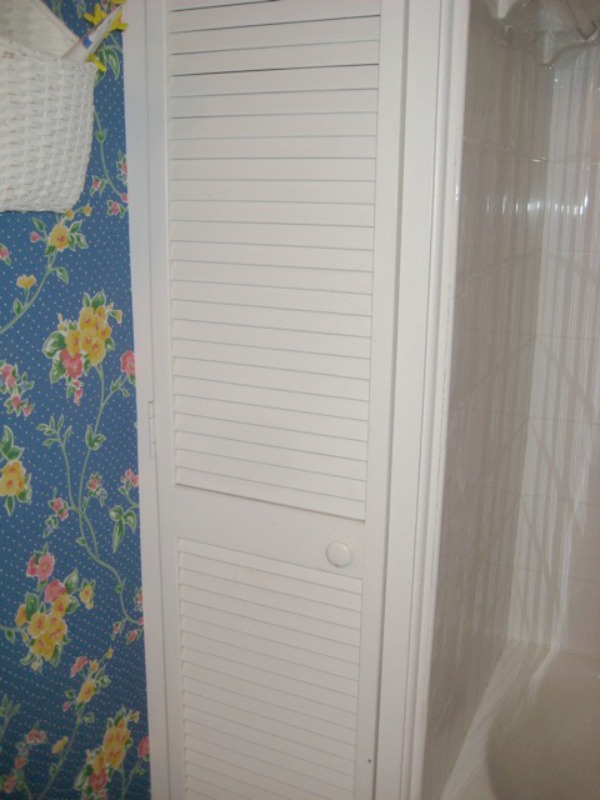 Not terrible, but certainly needing some cosmetic surgery.  I knew I wanted this bathroom to nod to the "vintage" era.  You know those mini black and white hexagon tiles you see in old buildings and homes. They never went out of style and are actually making a big debut again!  I LOVE black and I LOVE white, pair the two together and it's design heaven for me! Absolutely any color can later be added to that palette for visual interest.
Okay, are you ready to see the the horrific demo phase?  This is the part when I walk in and cringe and pray to Jesus that I didn't just ruin my bathroom to the point of no return. It always has to get really ugly before the pretty comes in.
Blue wall alert! Denim blue to be exact.  Don't fret, that went bye bye too!  Just a little shot straight into the bathroom with the old bathtub standing on end.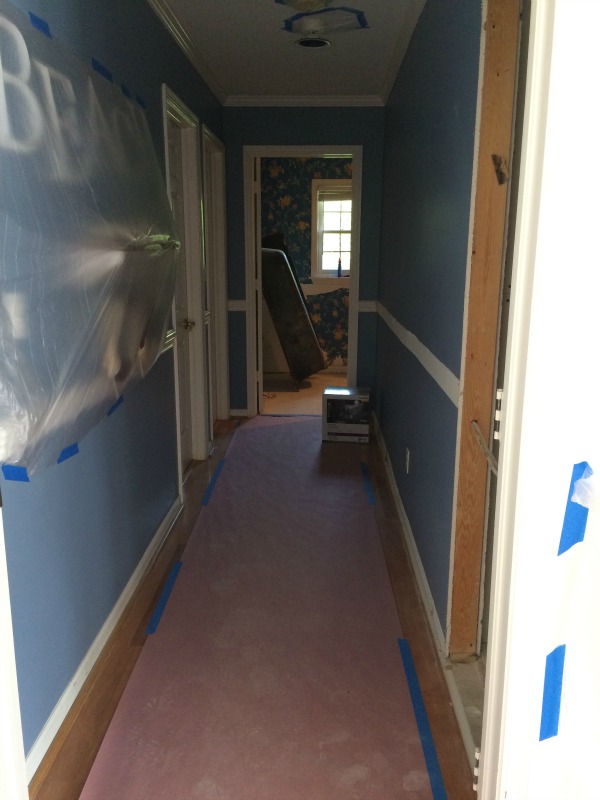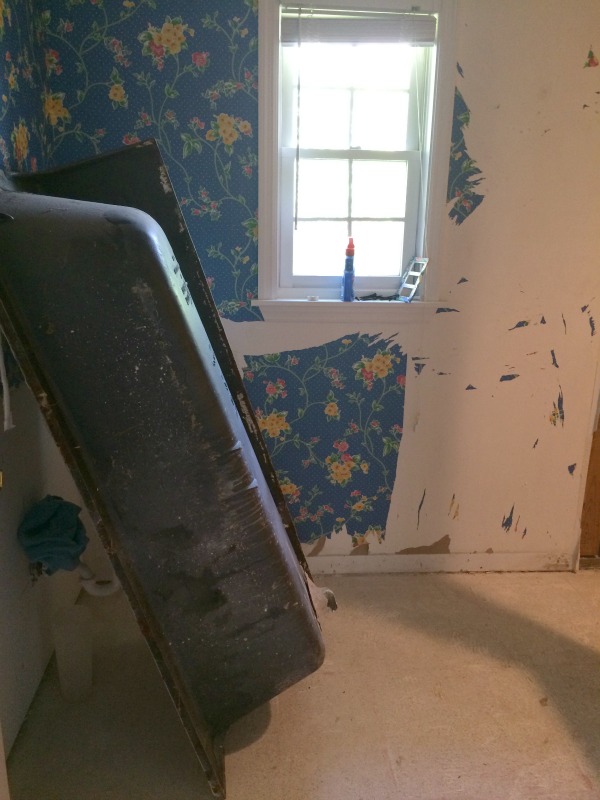 We removed the tub and the linen closet to open up the space for a walk in shower. I wrote notes on the 2 x 4's to the contractor since I wasn't able to come back to the cottage until after the renovation was complete.  Didn't want to miss any of those little details! Yes, that was stressful.  You can see that we made an attempt to remove the wallpaper to save on costs but it was shredding to pieces, just like the wallpaper in the new bedroom did.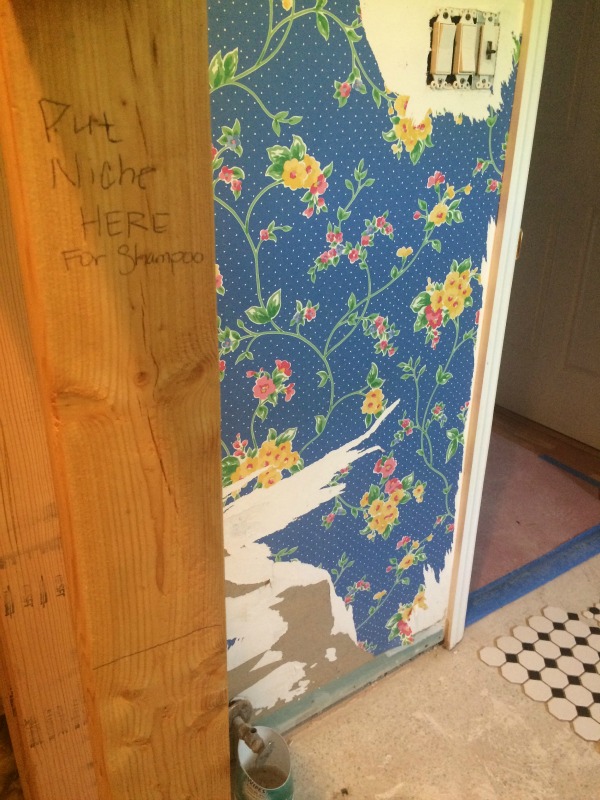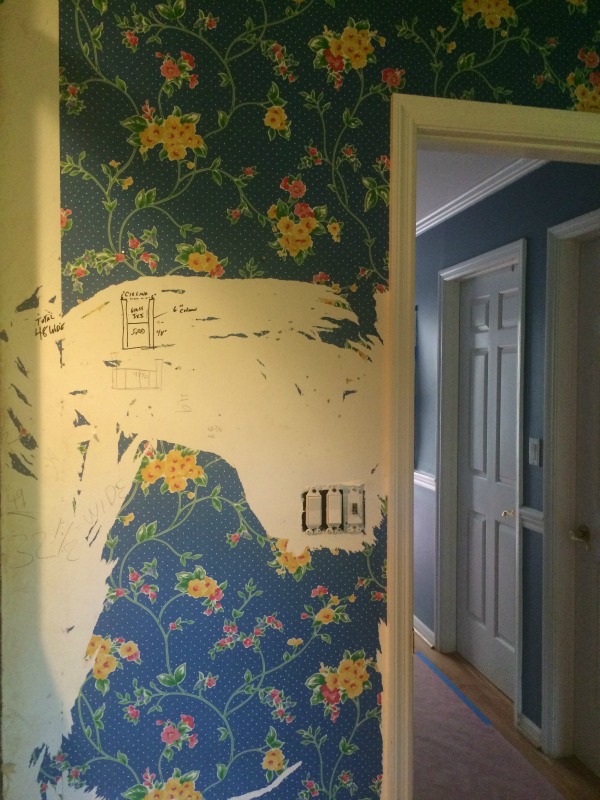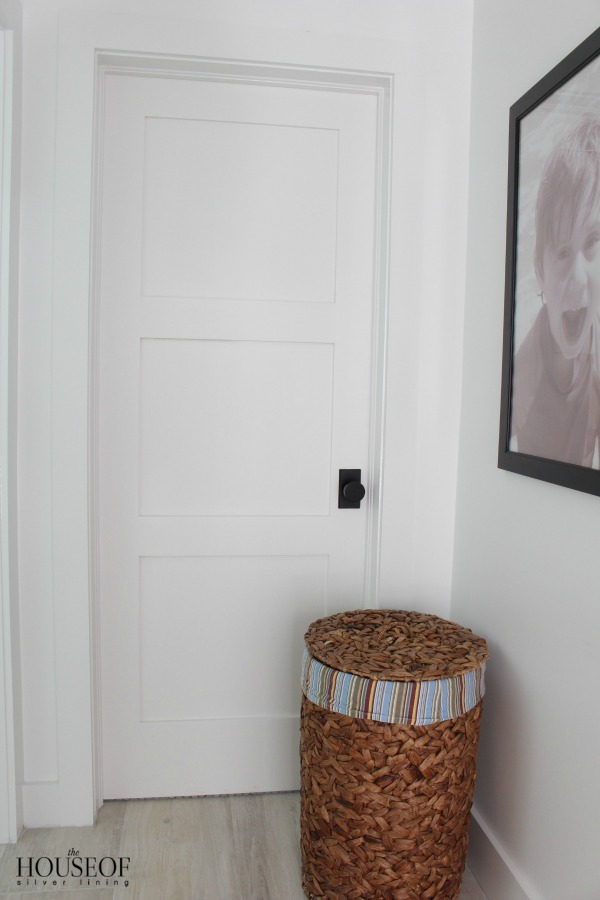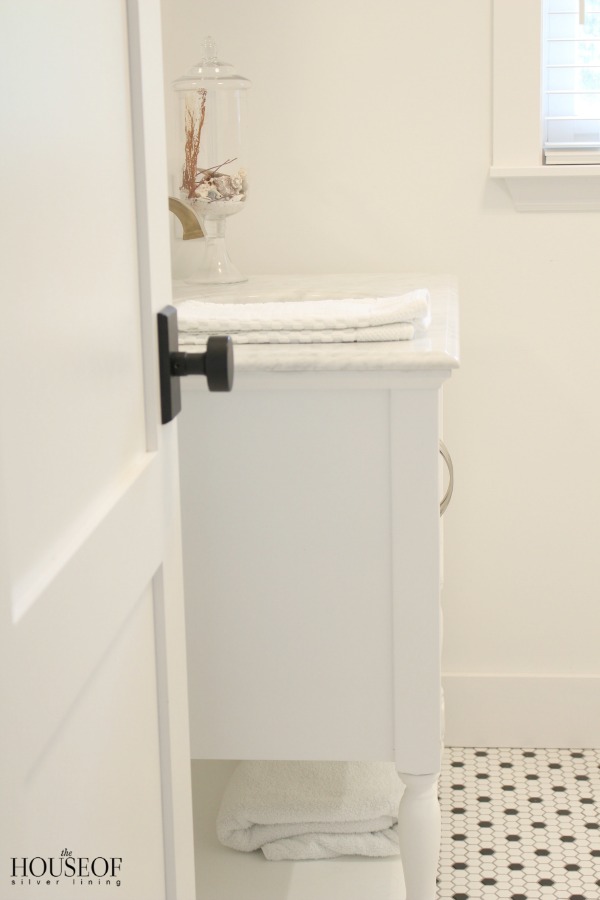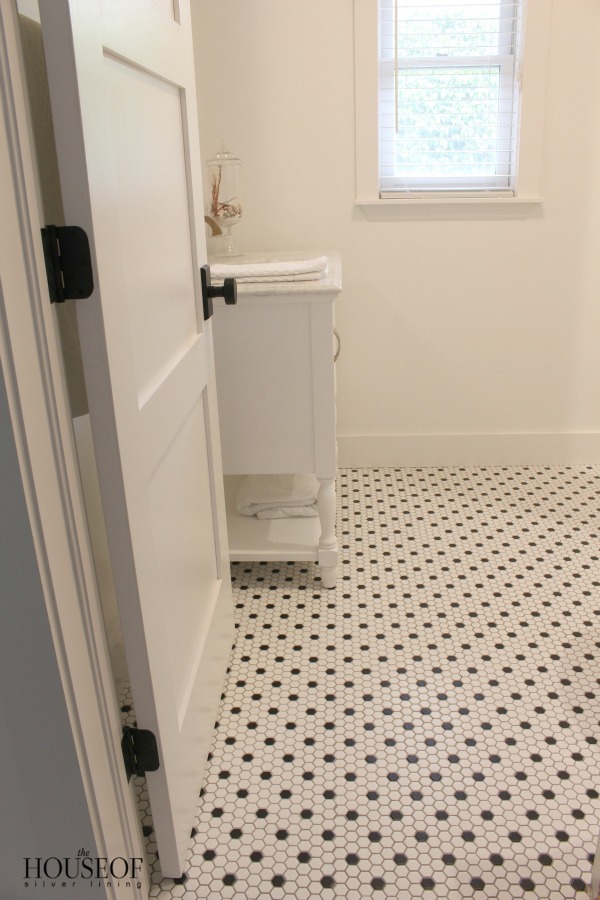 Where the linen closet once was is now the wal-in opening to the shower.  We built a wall between shower and toilet and added a fun little glass window.  This also helps the shower to not feel so dark and confined. Reminder, I just snapped a few photos to show progress. I'll style this bathroom more down the road when I can! Always so little time when we try to actually "vacation" here!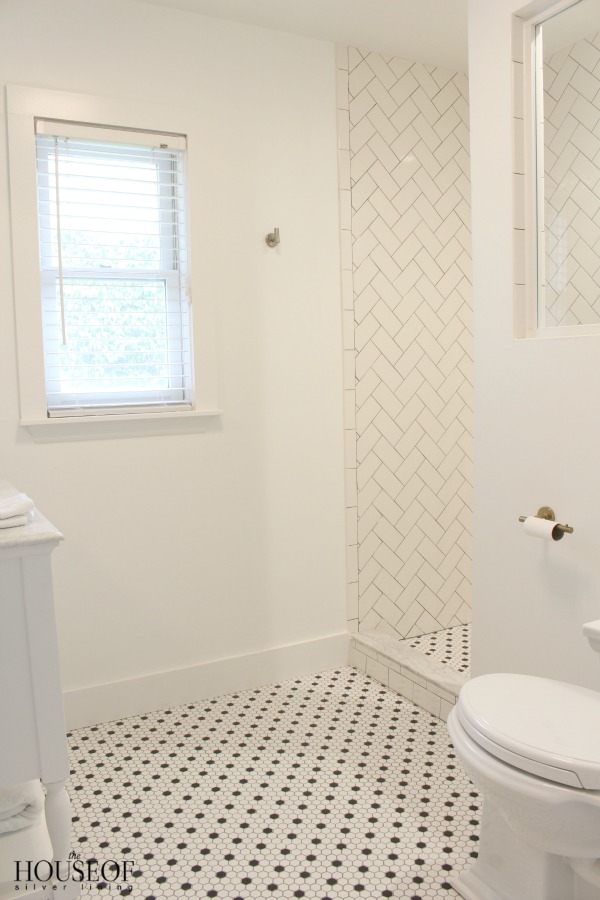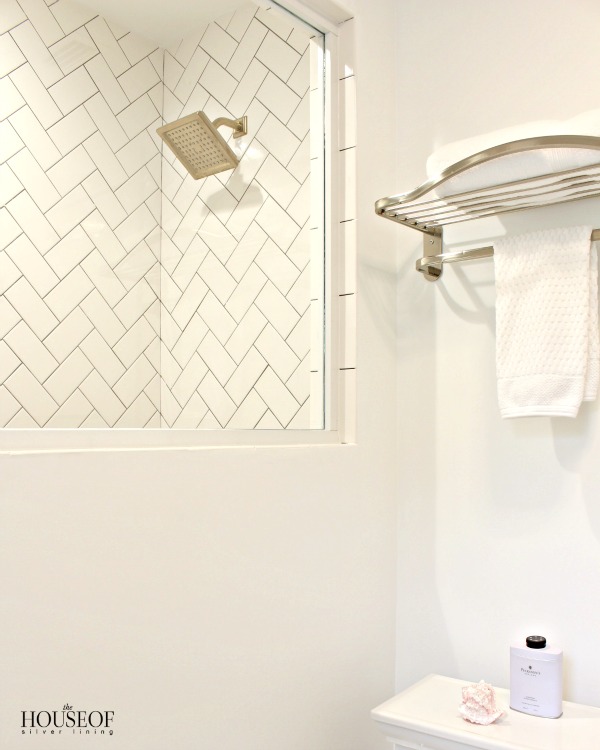 Stepping into the shower, I carried the same black and white mini hex tiles to give a more continues flow and make the bathroom appear larger.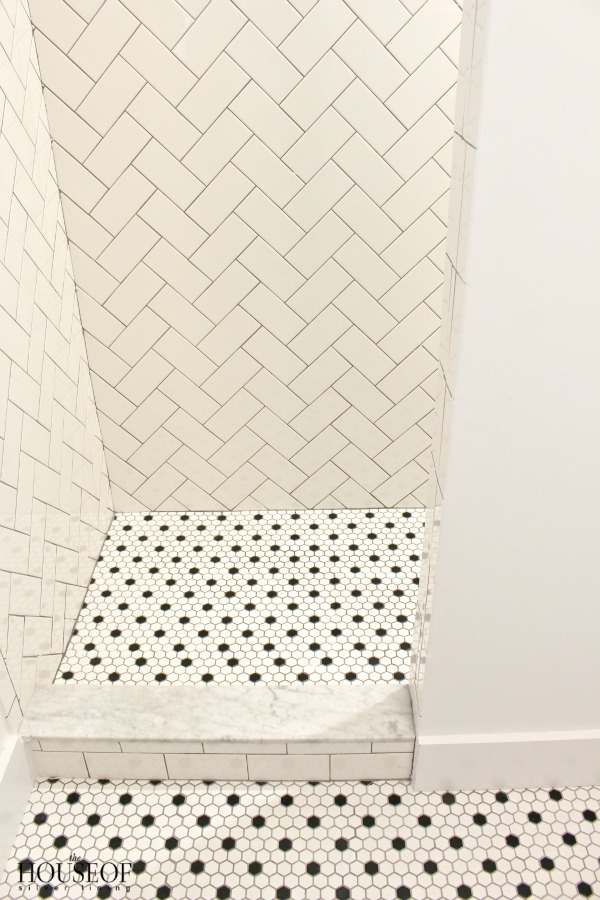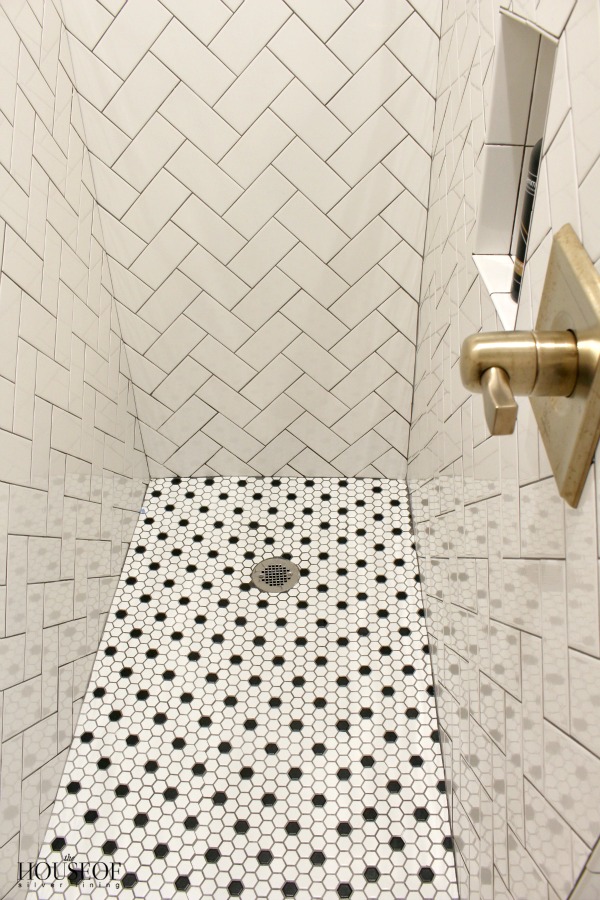 I used the same white subway tiles from the KITCHEN but switched up the look with this herringbone pattern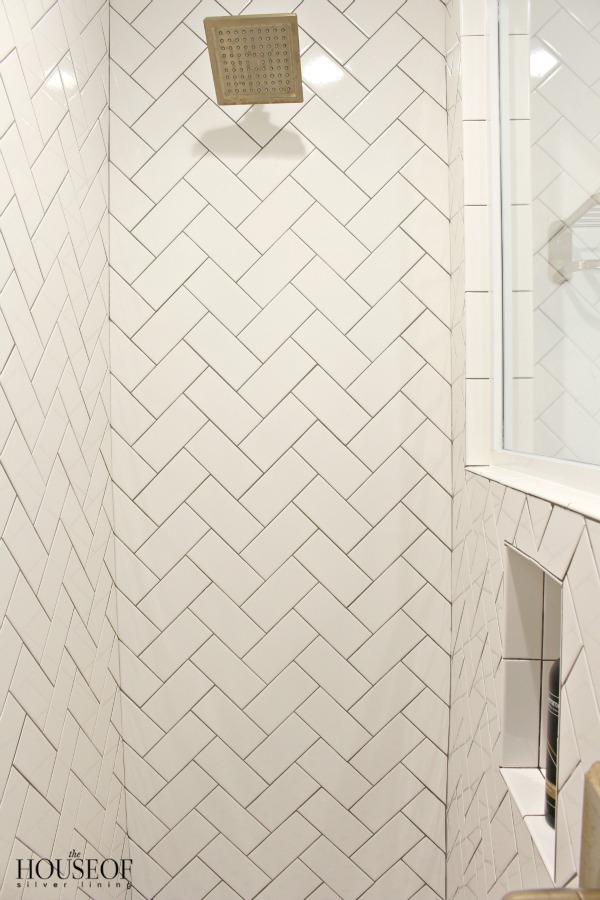 I stumbled across Triple Seven Home on Instagram and fell in love with their lighting.  I get REALLY excited about lighting! It's the jewelry of the room and can make or break a design. How perfect is this black + brass sconce with those floors.  Her name is FIONA and I'm in love with how she brings the modern element to this bathroom.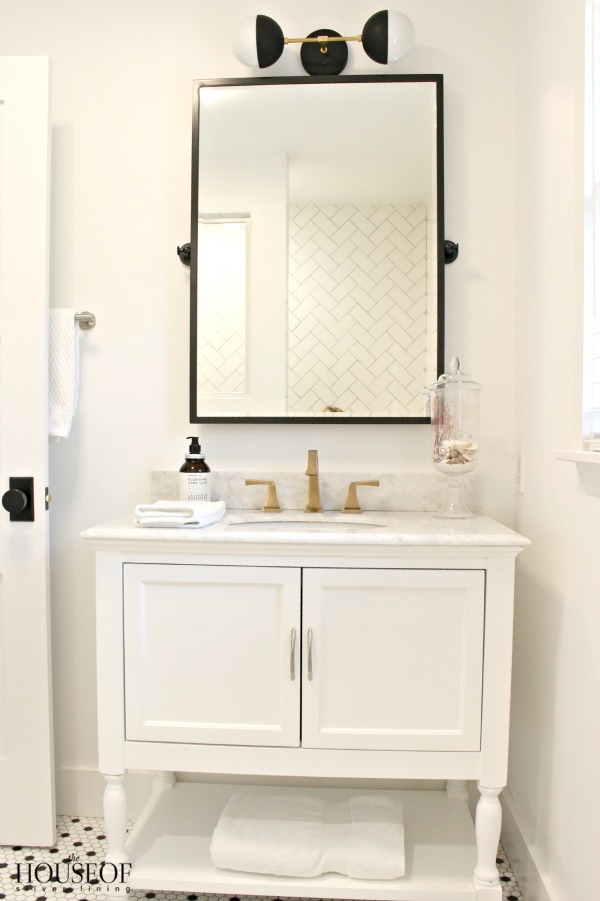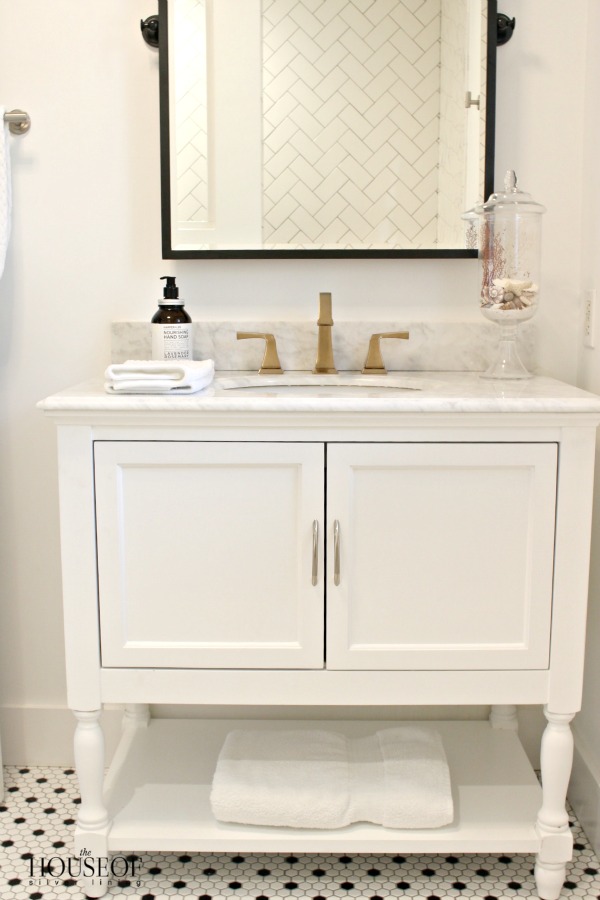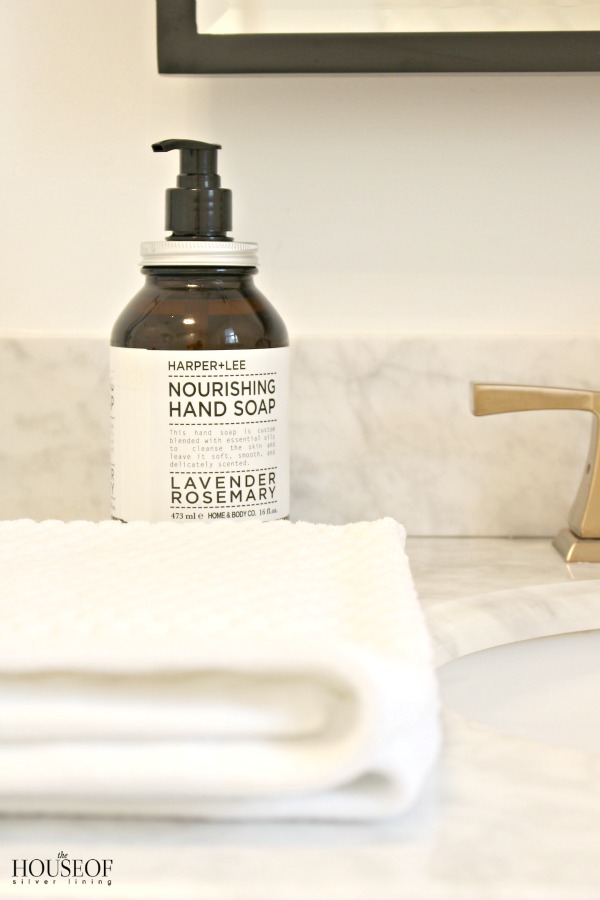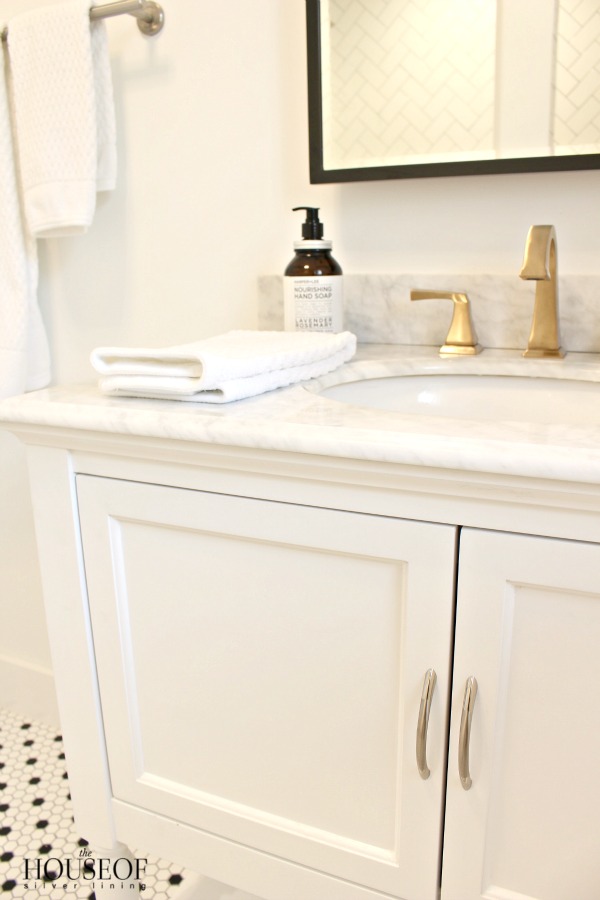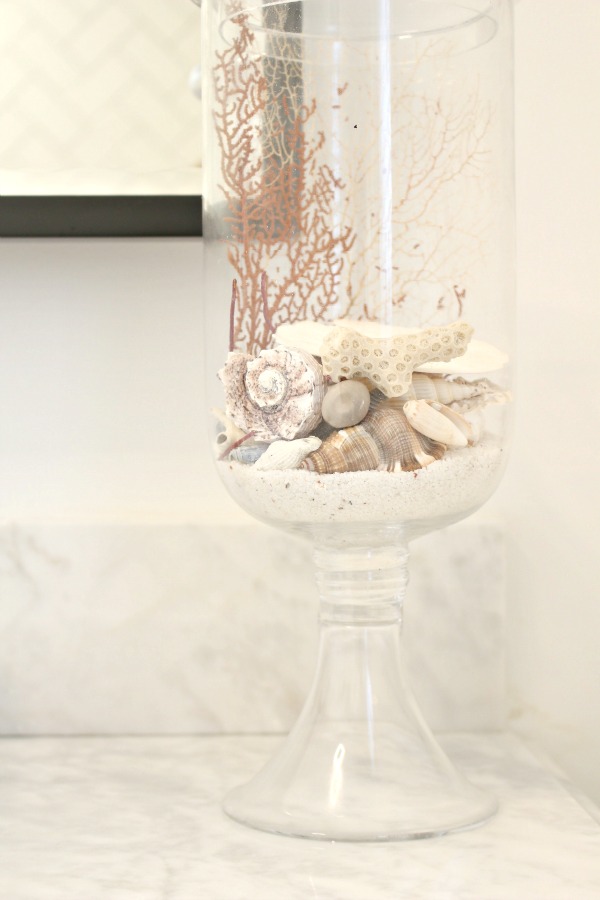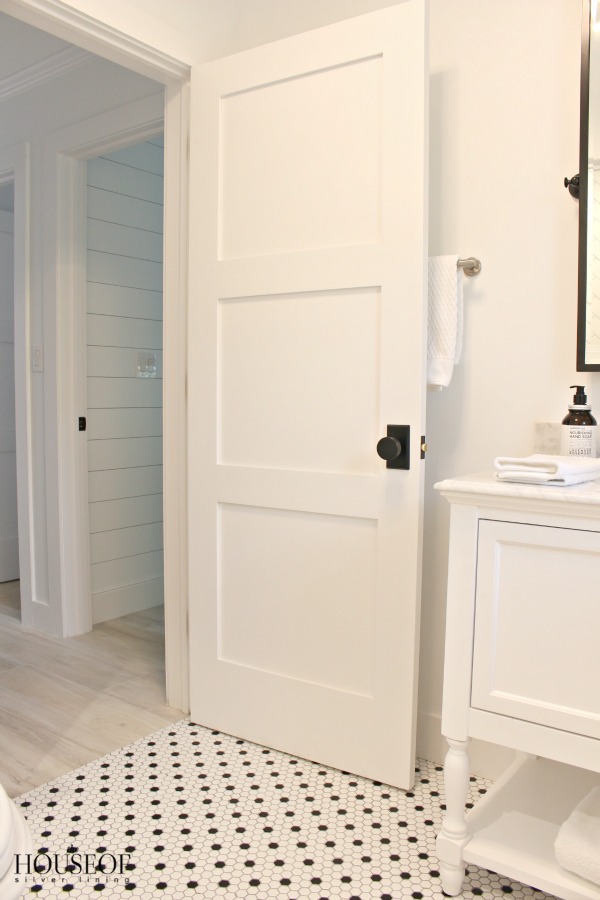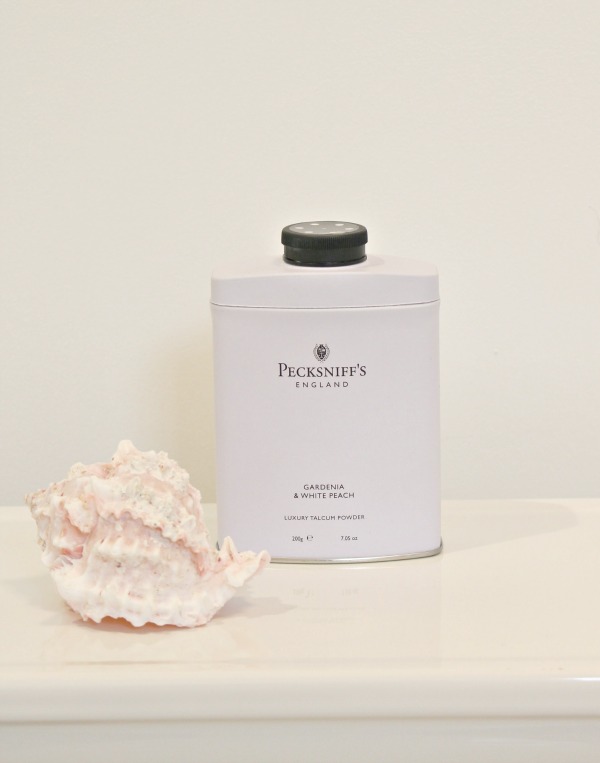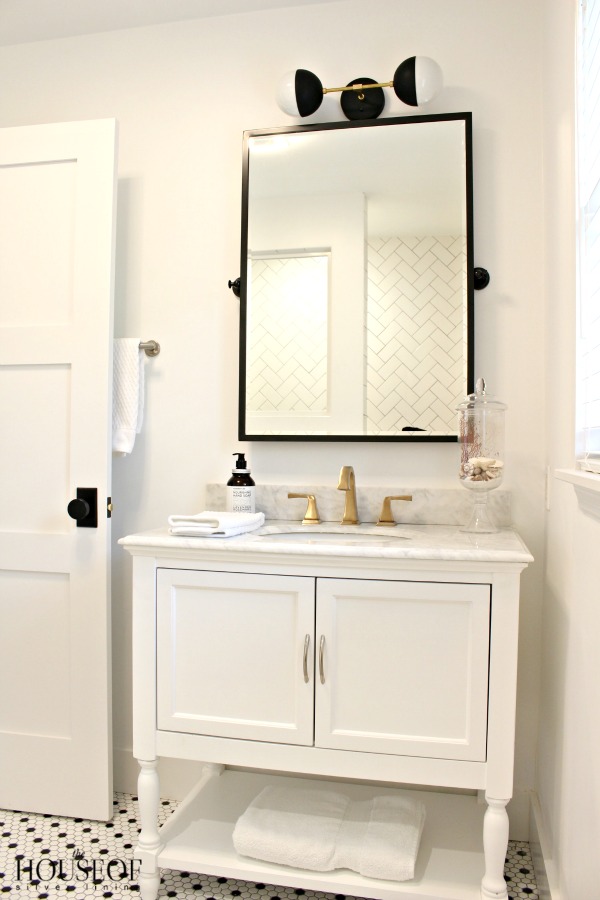 Window treatments are next on the "to do" list.  Just letting the new space rest a little before I start adding more design layers.
Be sure to check out these newly renovated rooms if you haven't already: KITCHEN, DINING ROOM, LIVING ROOM, AND BEDROOM.


Still to come this week…THE BEST!!! The master bathroom.  It's good!