Decked + Styled Holiday Tour: Our Master Bedroom
Hello & welcome to the Decked + Styled Holiday Tour!  After the four Christmas home tours I participated in last week you probably thought you'd seen my entire home. We can't forget about the master bedroom can we? Often, it's the most neglected room in the home to decorate. I almost didn't decorate ours this year because life has been a little bonkers busy lately. I always say I'm not going to decorate a room and then what do I do? I decorate. I can't help myself.
Our host, Bree at Z Design at Home rounded up a fabulous group today so please go visit her home along with all these other fantastic homes on the tour.  I've linked to them all at the end of this post. You may be visiting for the first time from Four Generations One Roof, I'm so happy you came on over! Jessica's home is always so fun to see during the holidays!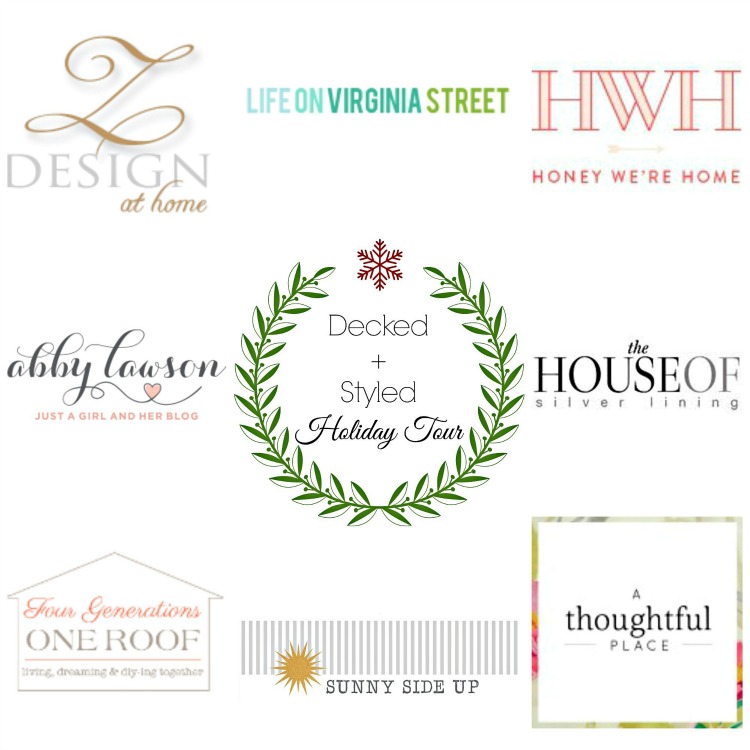 Come on into our master bedroom. It doesn't take much to add some Christmas cheer to a bedroom. For starters, simply switch out the pillows.
(affiliate links used in this post for your shopping convenience)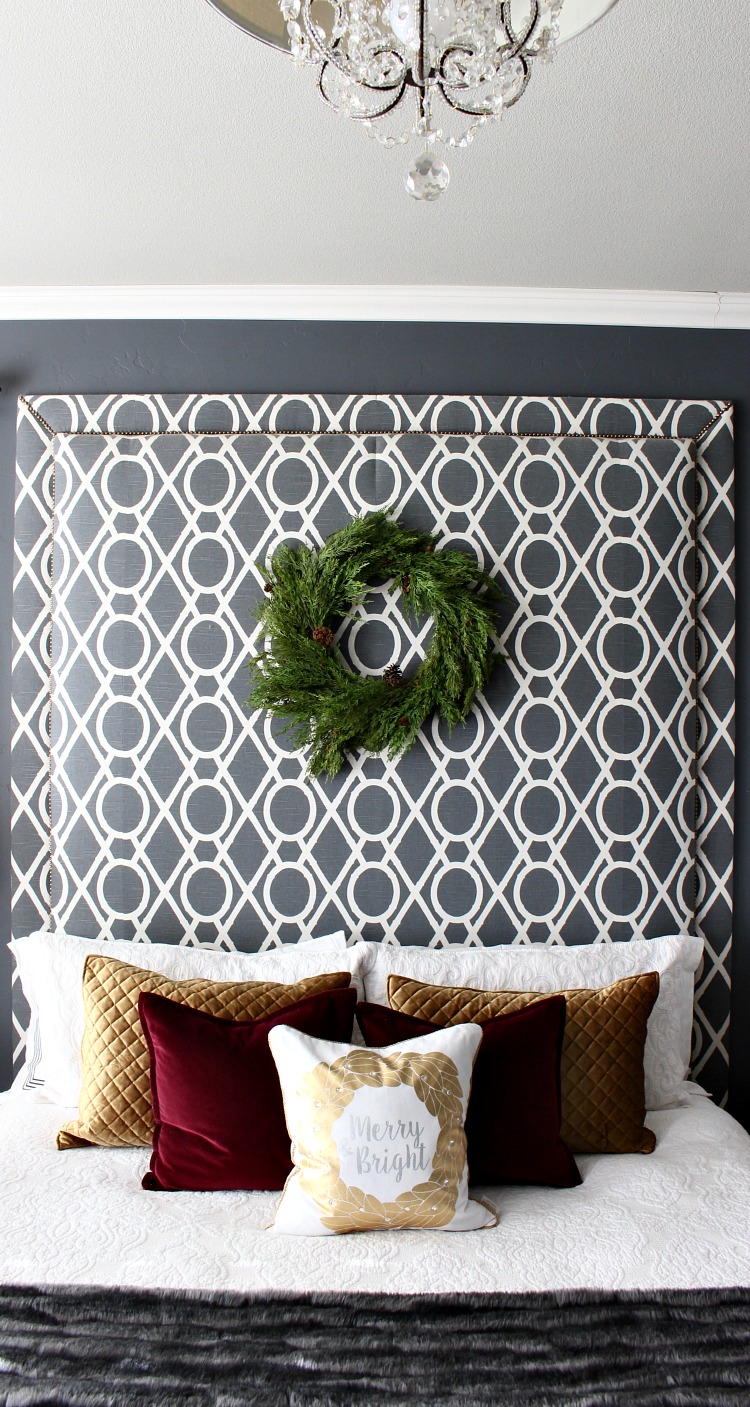 I borrowed these burgundy velvet pillows from our fall living room and mixed them with some velvety gold pillow shams and Merry & Bright pillow from Stein Mart. Lately, I have a big fat crush on velvet. I see a lot more of that in my future. The black faux fur blanket is helping me stay toasty warm on our cold winter nights.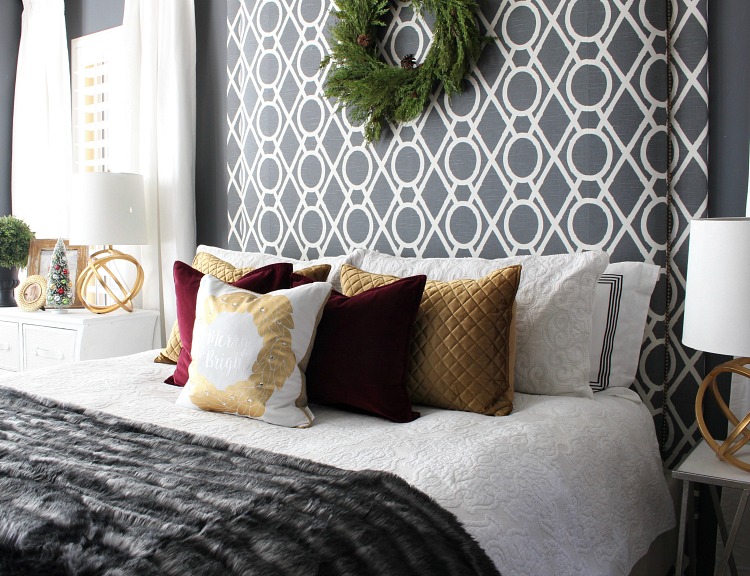 Wreath, lamps, faux fur throw – Homegoods
The wreath on our upholstered headboard looks so real. I had to sniff it to make sure it wasn't. I have a funny story to tell you about it in a minute, wink.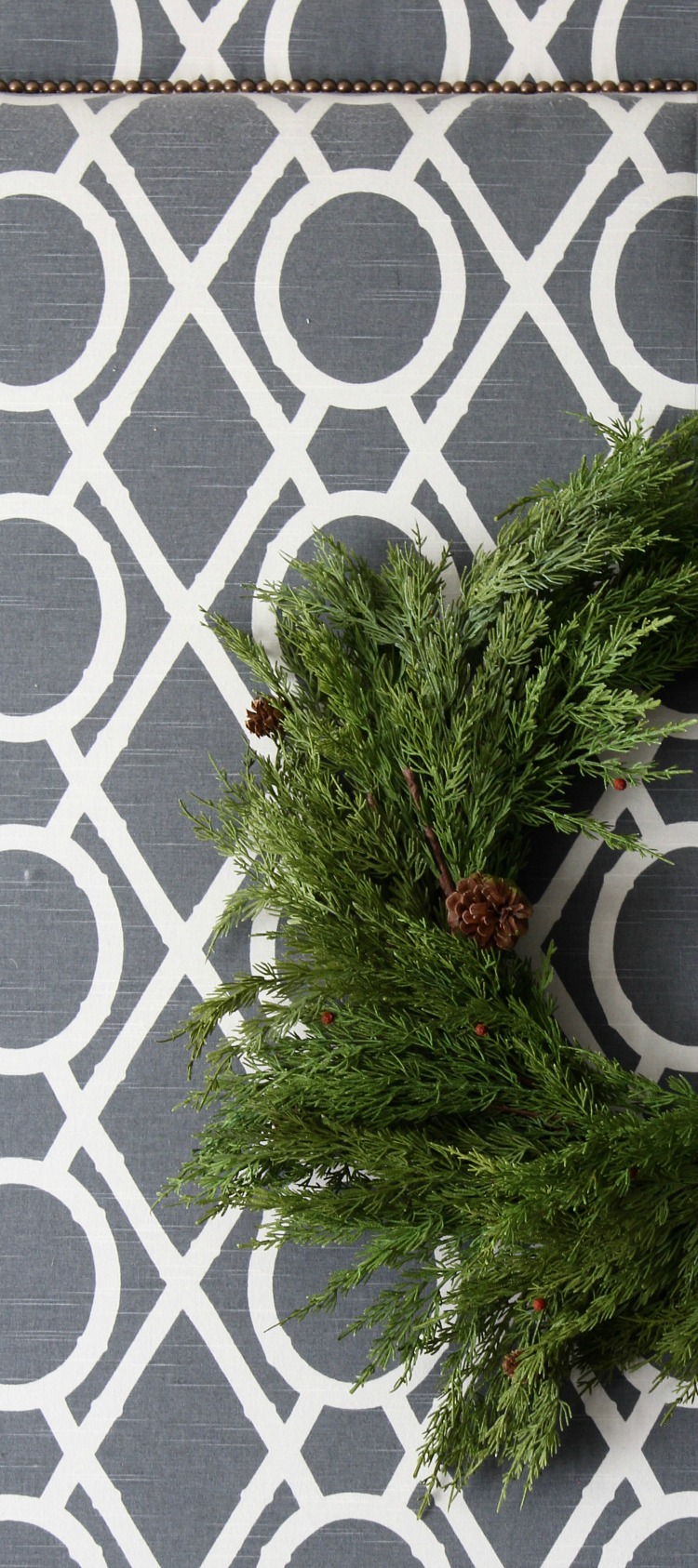 I collect these mini bottlebrush trees. You can see them scattered throughout our home in our kitchen Christmas tour, as well as our bar and guest bedroom.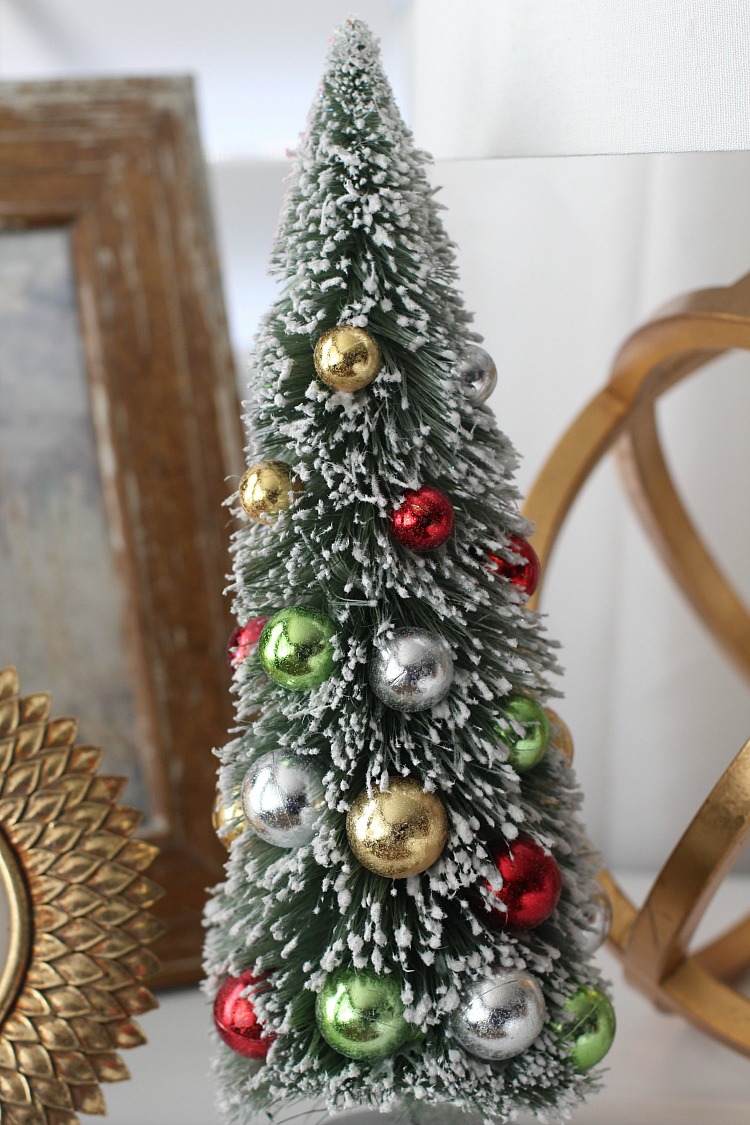 This is the first year I've ever put a Christmas tree in our bedroom. How did I go from not wanting to decorate our bedroom at all for Christmas to suddenly throwing in a Christmas tree? I had a spare in the garage (tree, not tire…lol) so decided to use it in here.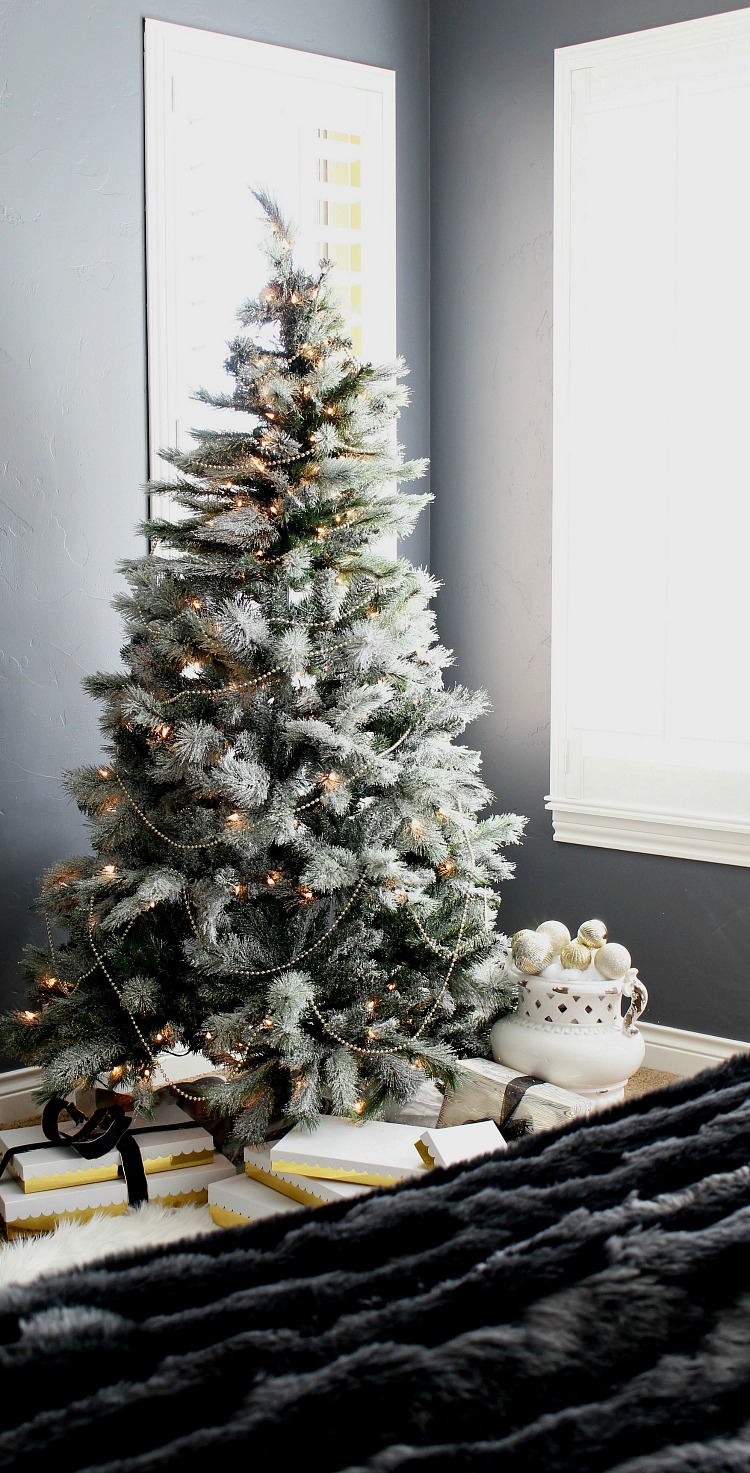 I have a very tacky name for this tree and told myself to never pull it out of it's storage box again. Imagine a snow globe that you shake up and snow flurries all around.  If you walked into our bedroom right after I took this tree out of the box you'd think you were in a snow globe. The flock was floating everywhere, so bad I vacuumed myself after setting it up.  It was even stuck to the walls. Oh the things we do to have a pretty tree, right? Hence, the name "dandruff tree."
That explains the simplest of simple tree adornment. All I did was drape strands of gold beads.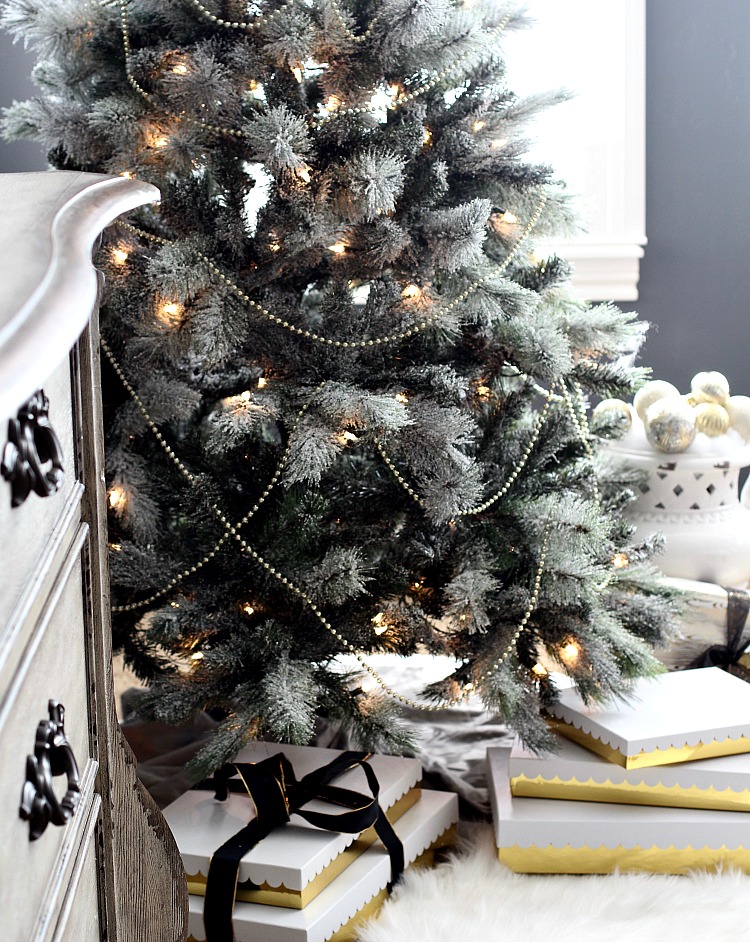 I'm perfectly content with the beautiful simplicity. It lights up the corner of our bedroom every night and I'm so happy I decided to give it one more chance.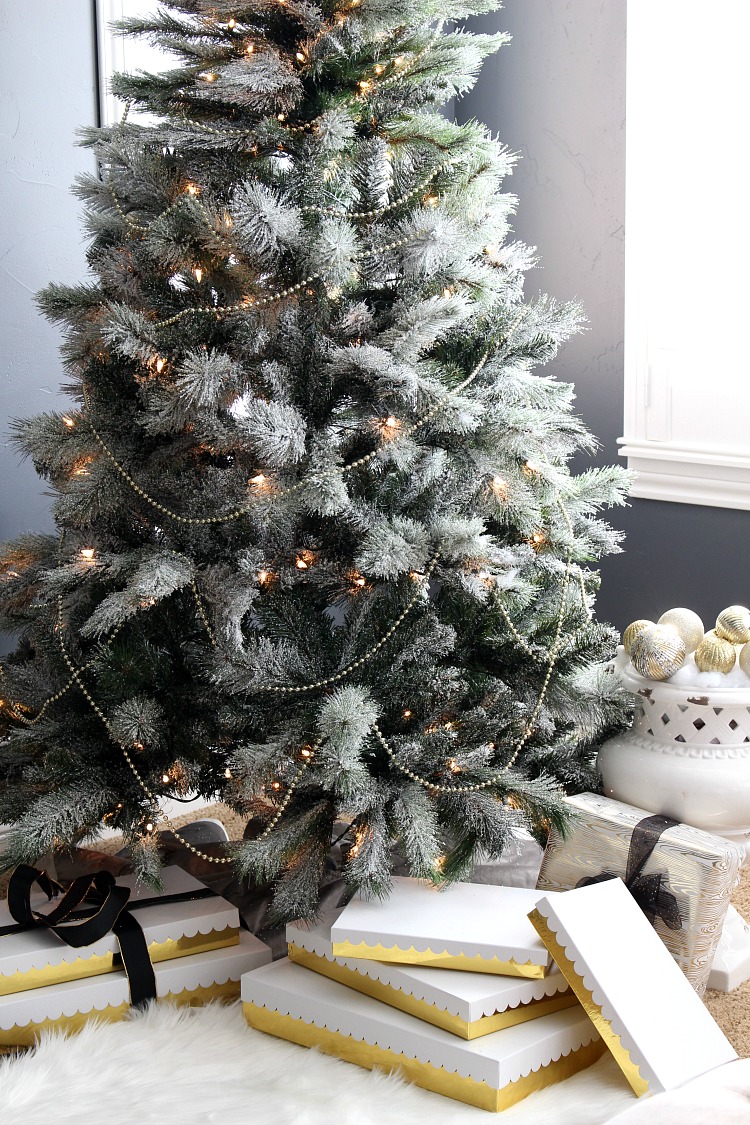 Next to our fireplace we have another mini tree. No ornaments, just twinkly lights. Isn't that a cute tassle pillow? I found it at Homegoods when I found my wreath and fur blanket.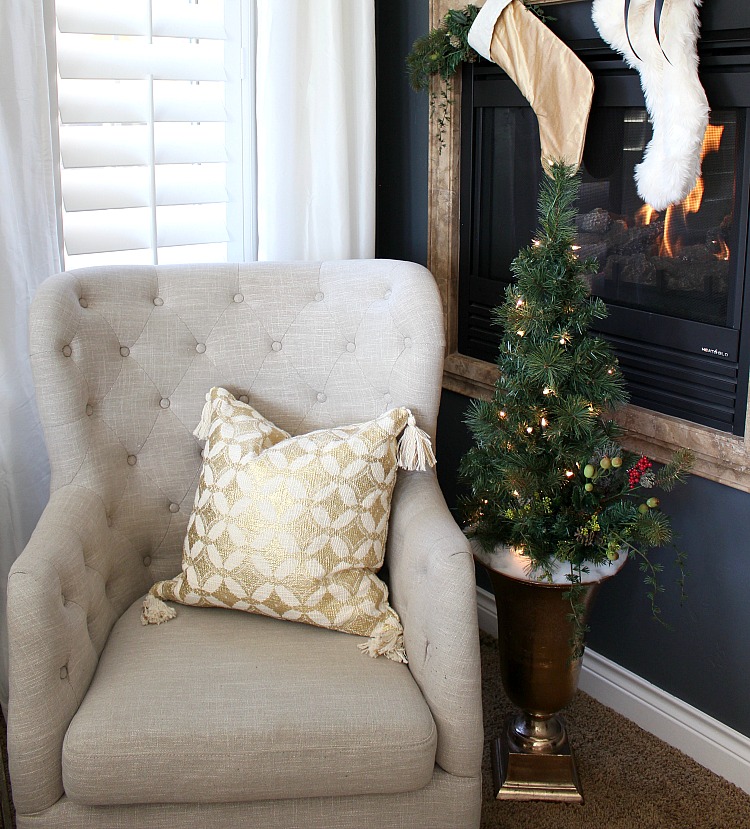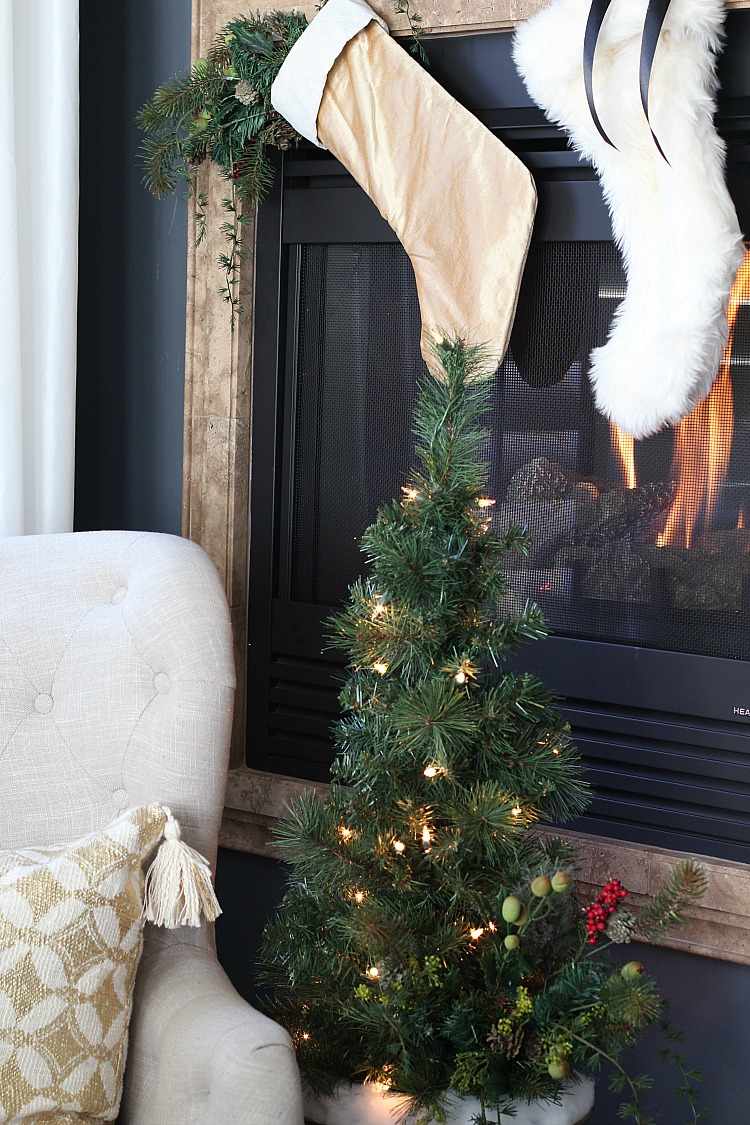 I love this little furry stocking. I tucked some old holiday sprigs in the gold stocking for Tim (he'd much rather candy I'm sure). They looked so festive while they lasted…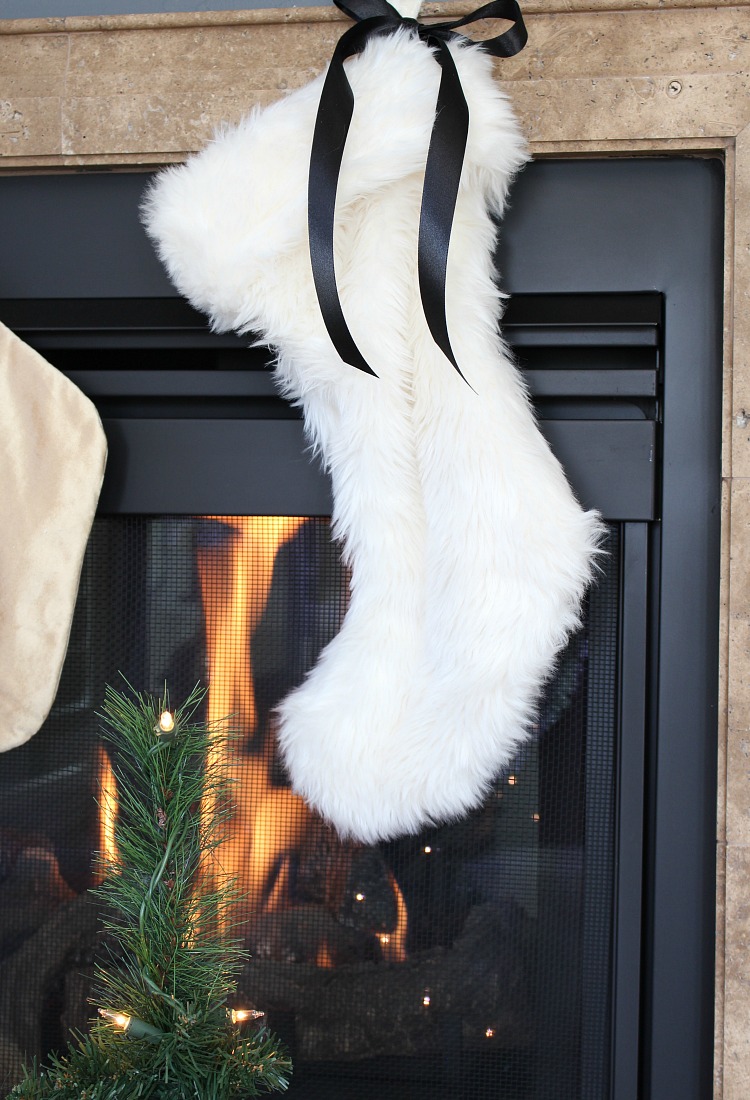 As I was taking photos I smelled something burning, looked over and sure enough those pretty, yet plastic sprigs, were melting from the fireplace heat. Yep, almost caught my bedroom on fire.
You know the classic movie "Christmas Vacation" with the Griswolds? I was having a Griswold moment in our bedroom. No, our tree didn't bust out the windows or even burn down but it made a hot mess of flocking. The "almost" fire with the stockings? #winning.  To top it off, last night as I lay in bed, my wreath fell on my head. #winning again. Maybe you'll see it on my front door tomorrow.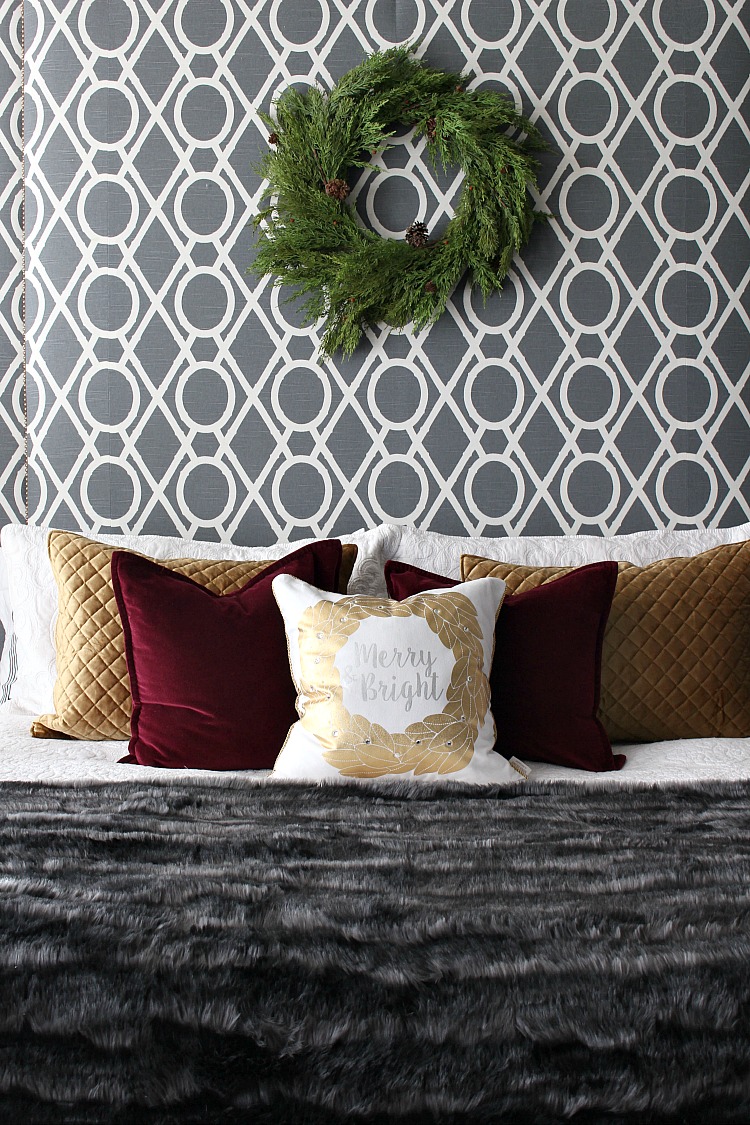 The "Griswold" moments all began in our kitchen with the poinsettia catastrophe for this Christmas tour.  So far so good down in our basement for this Christmas tour. The family room, bar and guest bedroom haven't had any mishaps…yet.  You can catch up on all our home tours from last week, starting with this one of our living room.
Next stop is Life on Virginia Street. I swoon over Sarah's home and holiday style! I'm sure she's had less mishaps in her decorating than I have.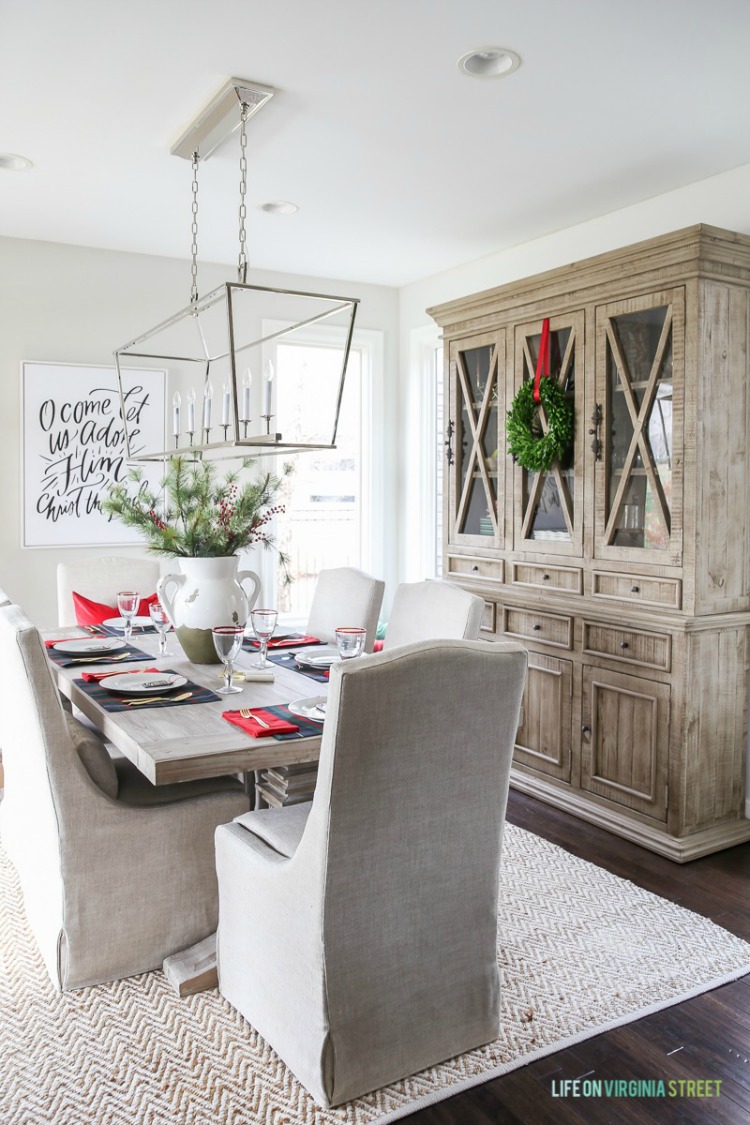 Don't forget to tour each of these homes!
Room Sources
(scroll & click on images)

**Similar items sourced where original not available.