Blogger Stylin' Home Tours Christmas 2016
Tis the season!! Today is the kick off day for the Blogger Stylin' Home Tours Christmas 2016! Our fabulous host, Lindsay at The White Buffalo Styling Co., has once again rounded up an incredible group of bloggers to participate. At the end of my tour you'll be able to continue on to the other beautiful homes so be sure to go visit them! I am so humbly honored to be amidst these blogging celebrities. I'm pretty much awestruck by them all. If you are coming from Cassie's GORGEOUS home at Hi Sugarplum, a huge welcome to you! Seriously, I have some mighty big shoes to fill after touring her home.
All week long I'll be sharing different rooms in our home all decked out for the holidays in a few other home tours I'll be in.  I'll keep my chatterbox to a minimum since, let's be real, you're here to see the pretty photos. Am I right? This post is definitely more photo heavy than my normal posts so go grab your favorite sip (mine is pumpkin spice latte) and come take a little tour!
The first room you see when you walk through our front door is our piano room.  Last year I found the ornament ball garland at Homegoods and Marshalls and had it on my stairs. This year, I decided to layer it over our tree and I'm loving the cascading effect. Easiest tree ever to decorate!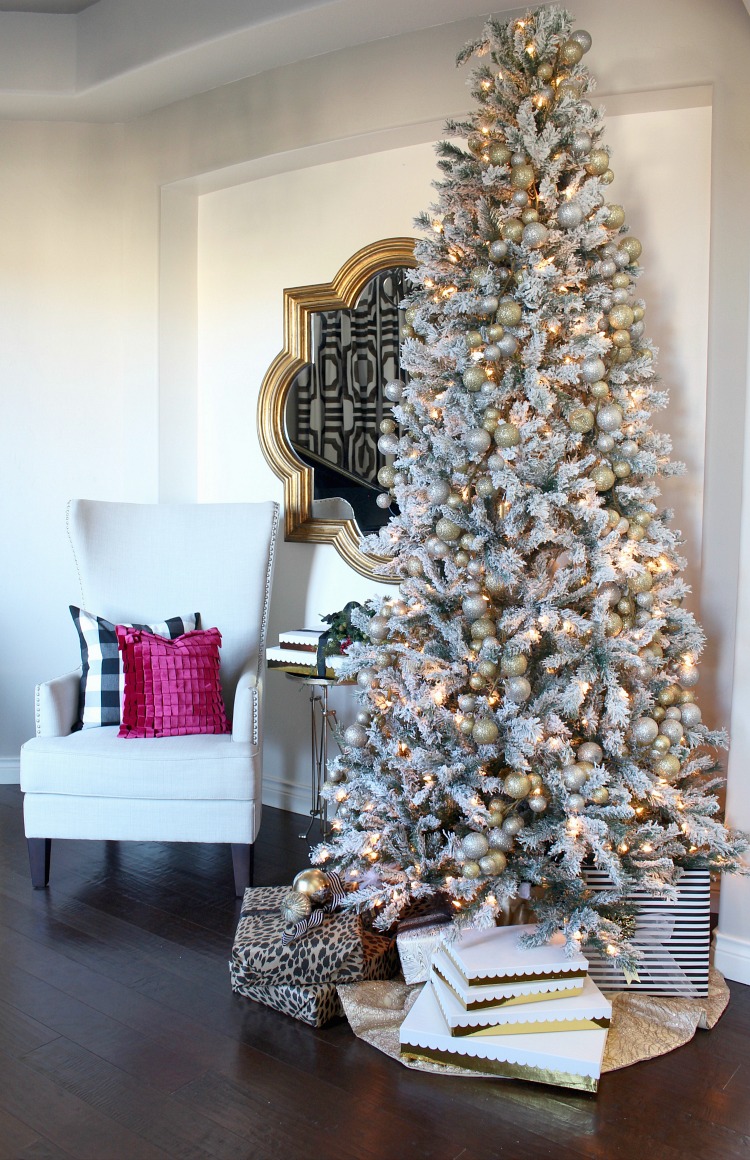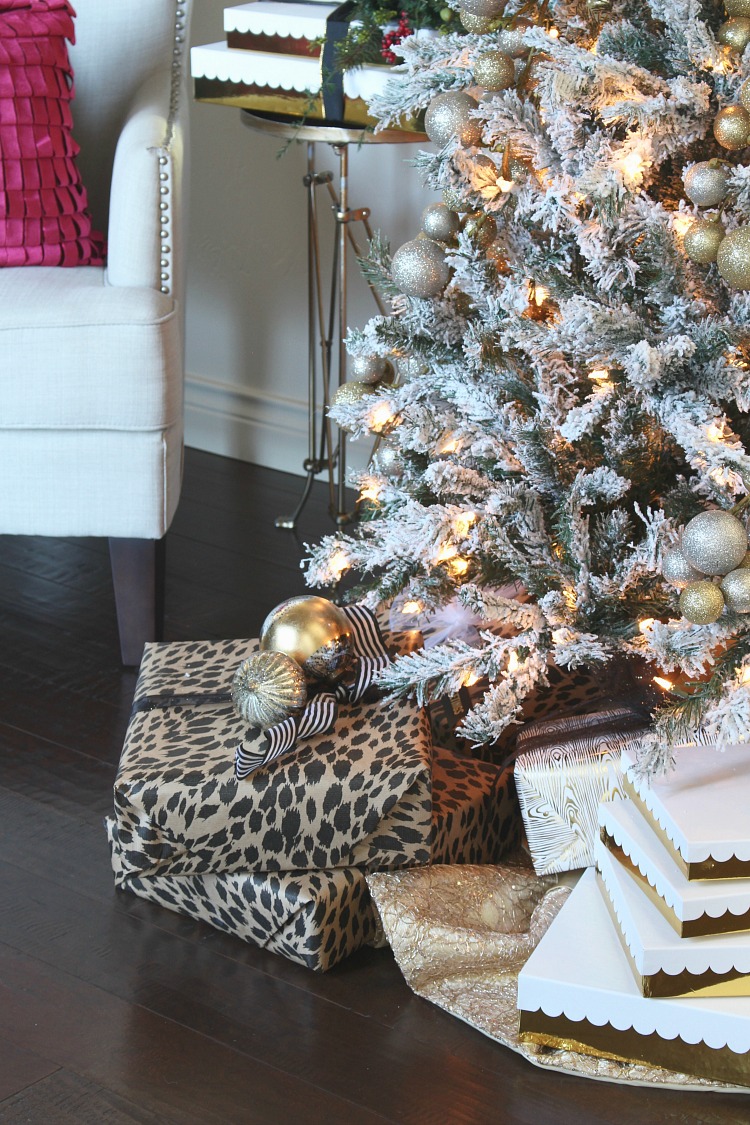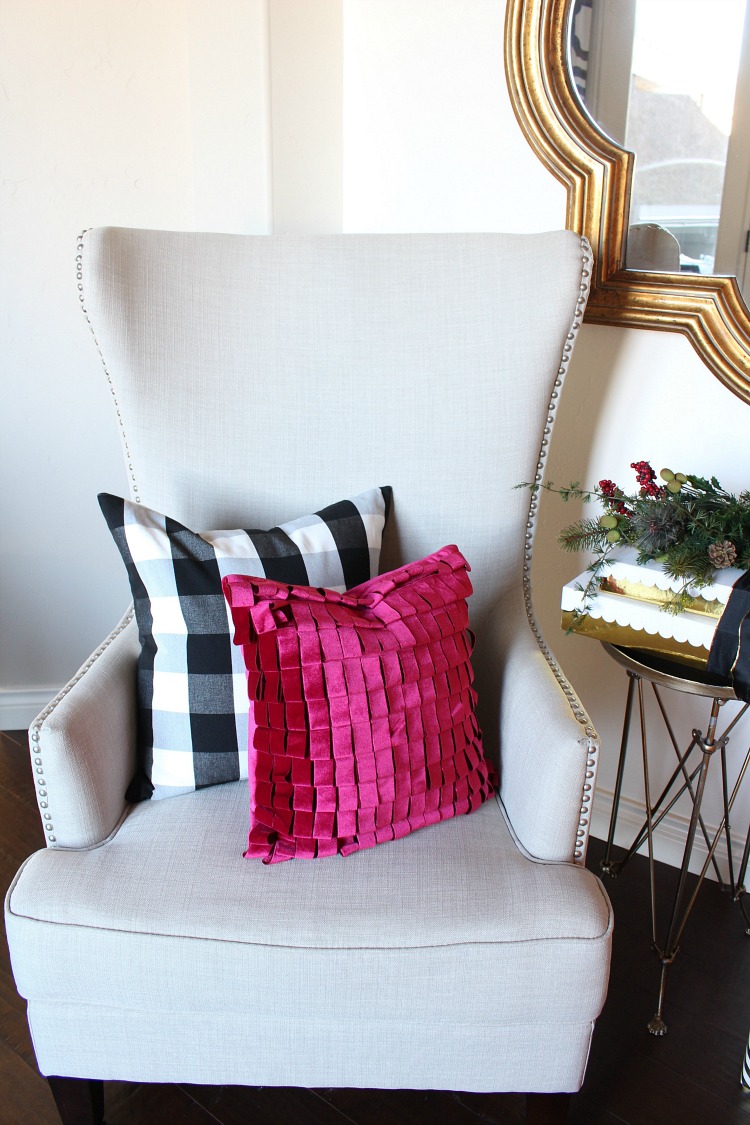 The grand piano is so very special to me since it was my grandmothers. I have memories as early as age 3 sitting next to her on that piano bench watching her beautiful manicured nails clicking on the piano keys. When she moved into an assisted living home about 8 years ago, she gave me this precious family heirloom as a gift and we moved it all the way to Colorado from Oklahoma.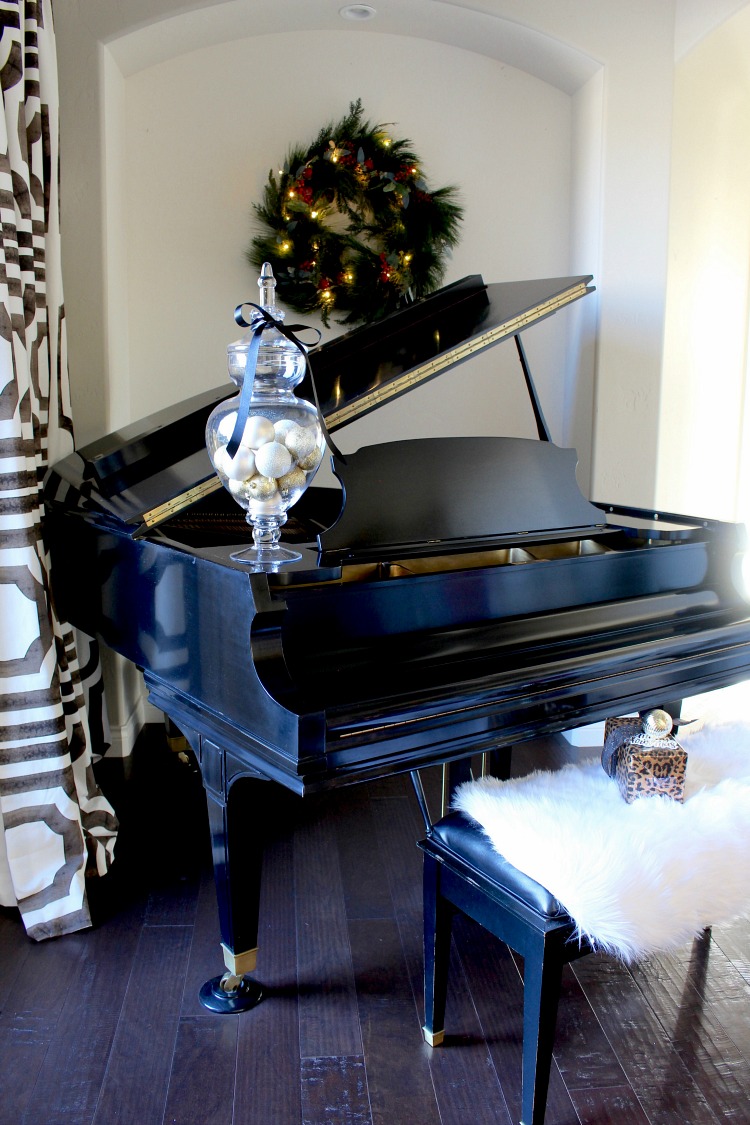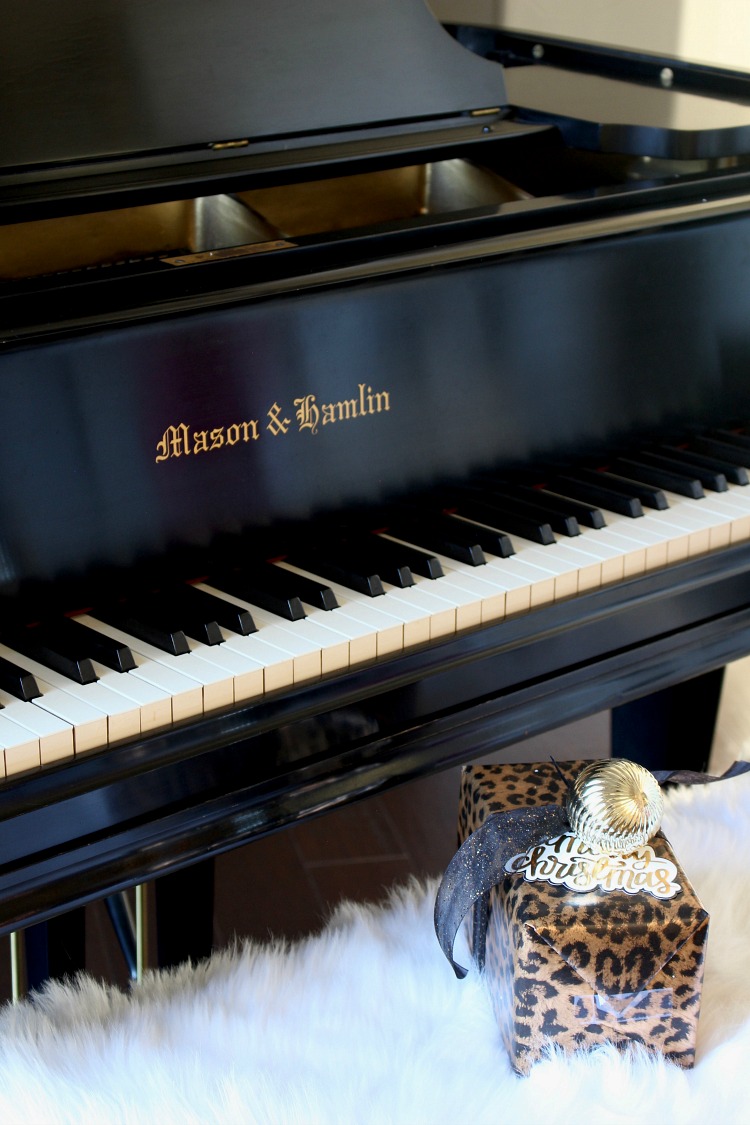 In this house full of boys (read more about our family HERE) I don't get to see much pink. I'm kind of giddy over this velvet pink pillow I found in my pillow stash.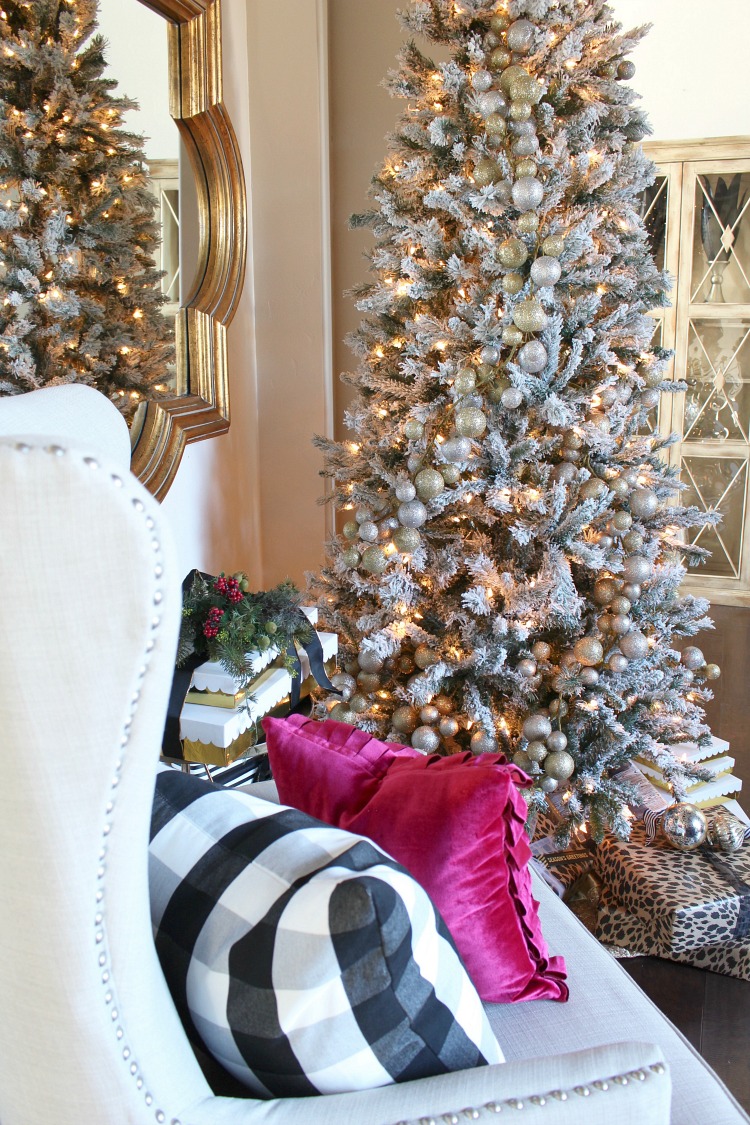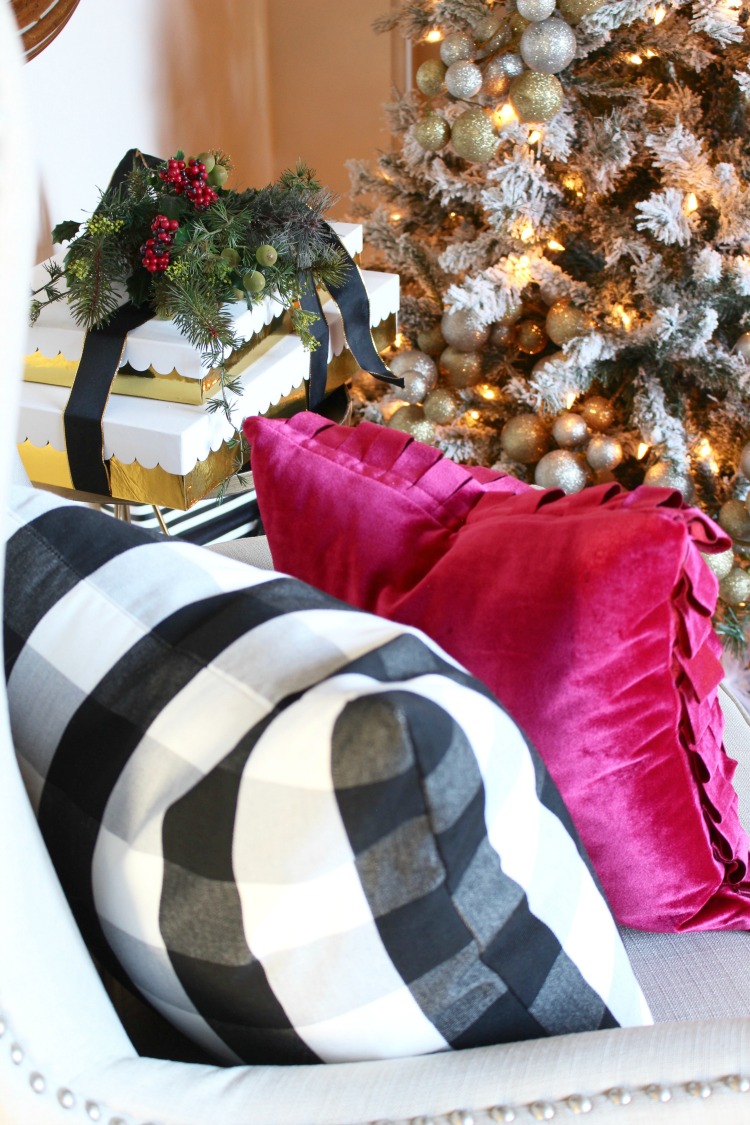 We have a total of 5 trees this year and I've been scattering the gifts under each one. On Christmas Eve we'll pick one tree to gather them all under to wake up to on Christmas morning. I got most of my shopping done already and presents wrapped. I'm so on top of things this year…ha! #hardly. I confess, some of those pretty gifts may be empty and I'm only halfway done with my shopping.  If you need some gift ideas for everyone in your life (and your home!) check out my Holiday Gift Guide!  Online shopping has become my best friend this season.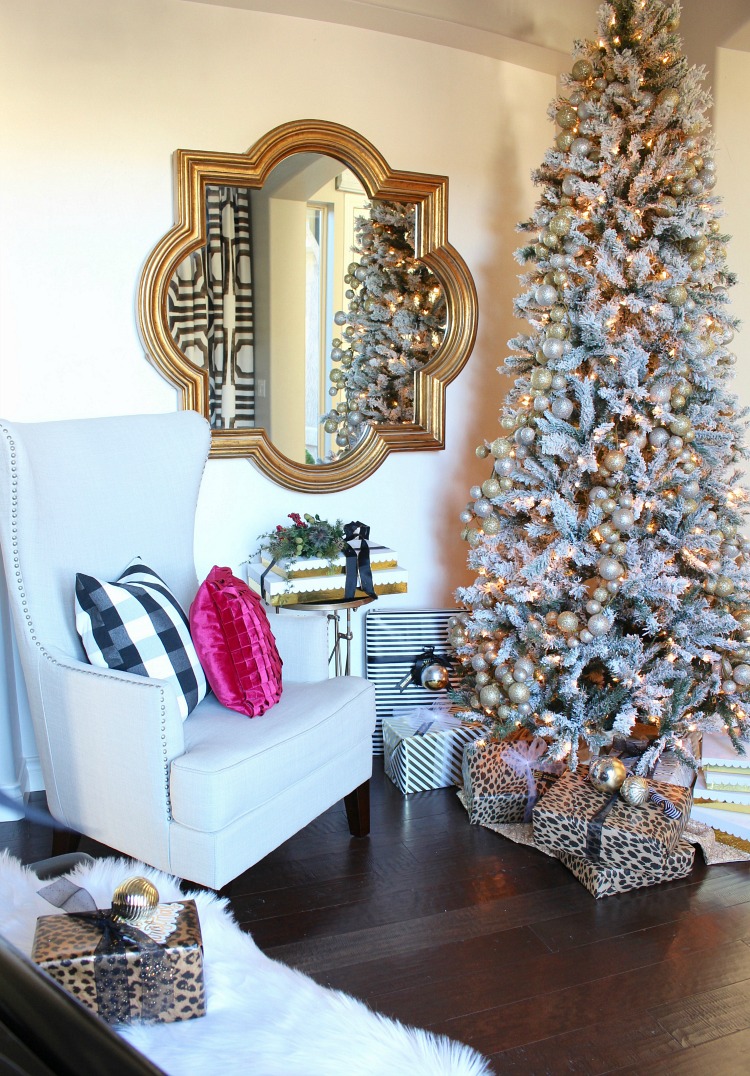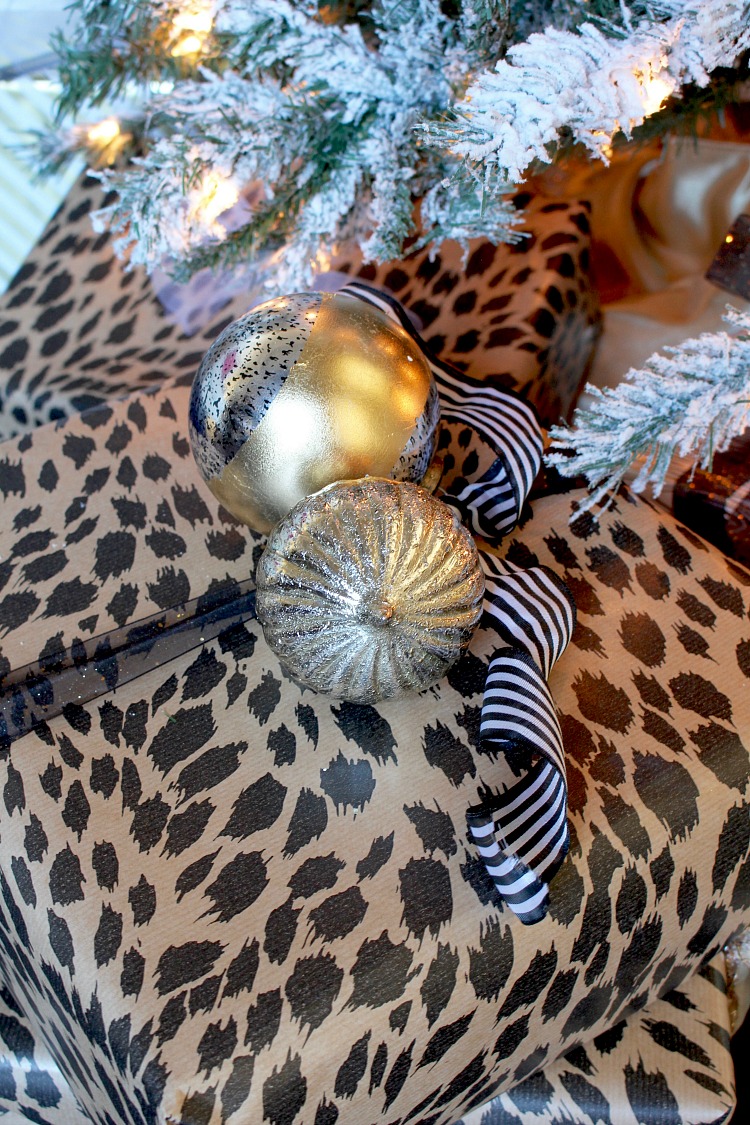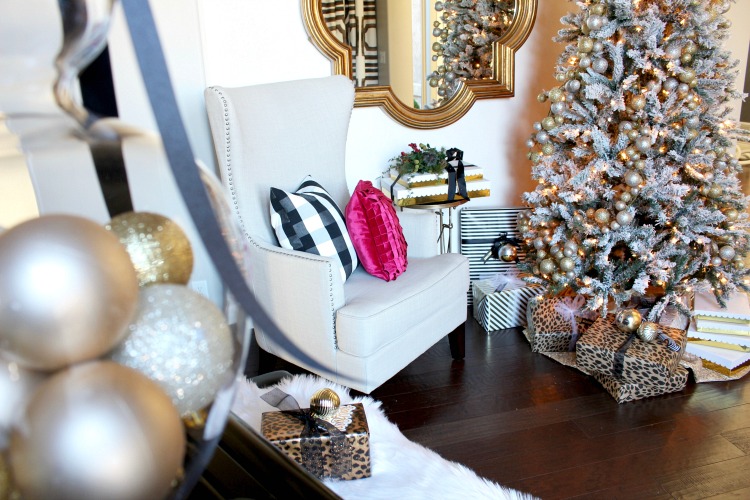 Moving beyond our piano room, come on into our formal living room. I call this the sunshine room because the sun pours in all day long.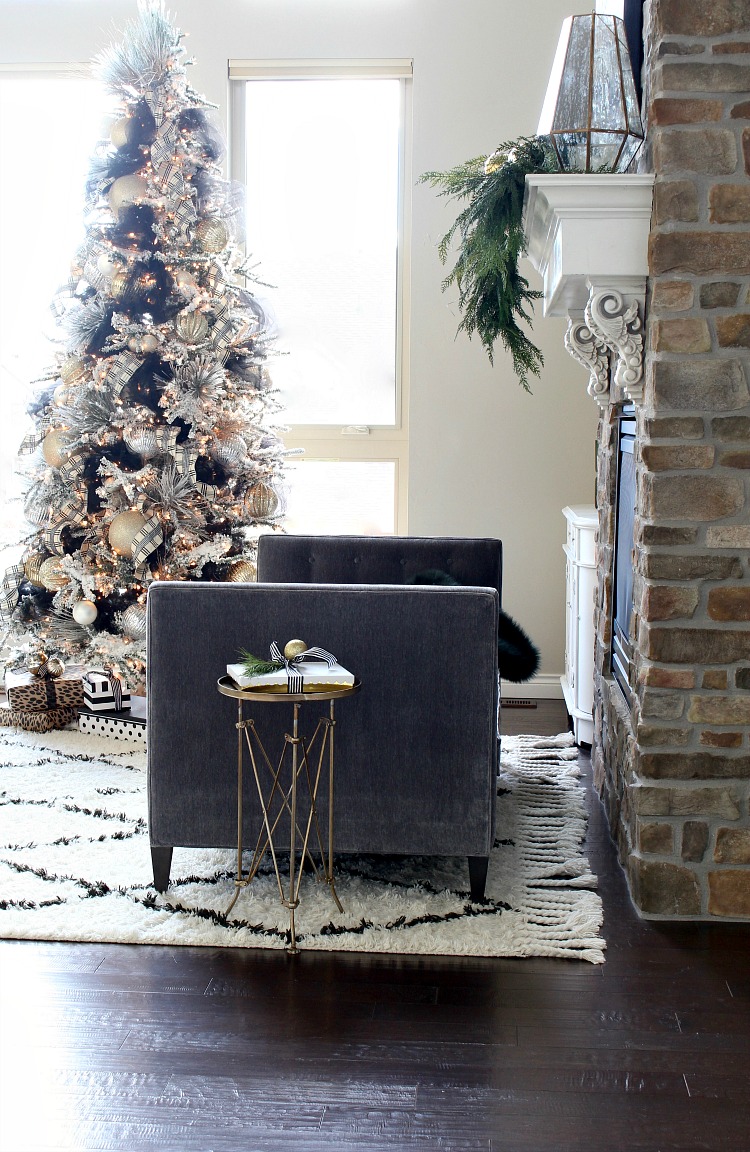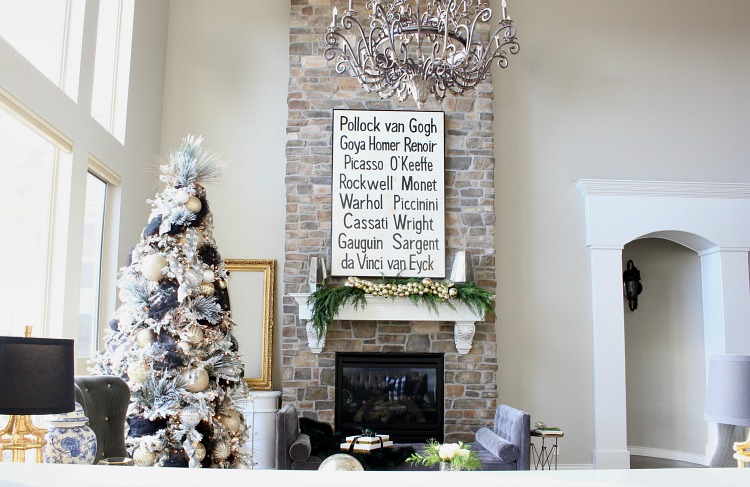 We've had some cold temps and a couple of snow flurries so the fireplace is getting its daily use around here.  My favorite spot to curl up is on this velvet daybed with that cozy emerald green fur.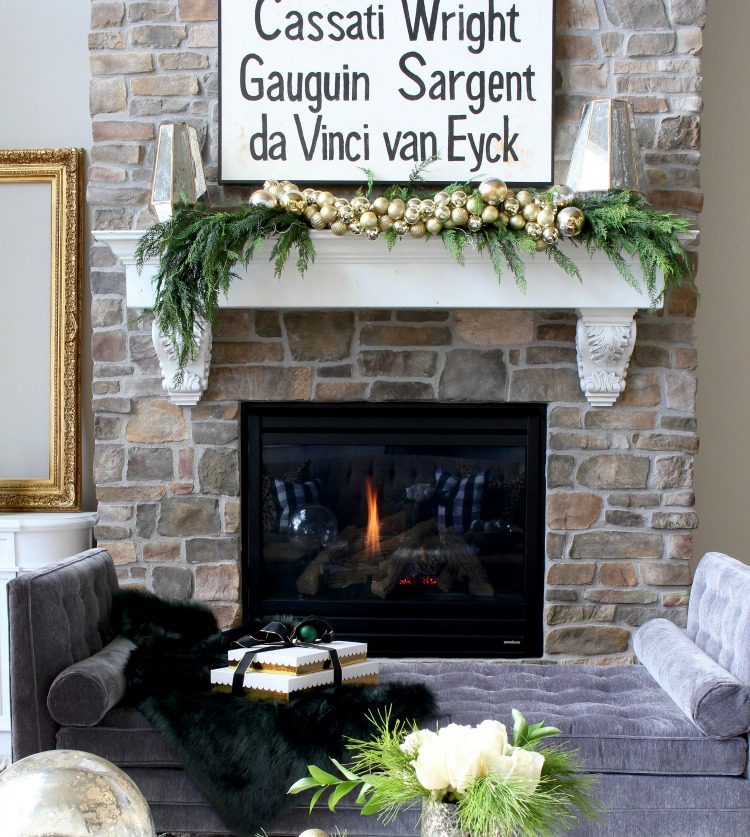 I tried real garland once a couple of years ago and realized that the beauty only lasts about 2 or 3 days max. Especially the garland above our fireplace with the heat rising on it.  I found a beautiful faux garland that looks like the real deal from Homegoods last year.  The ornament garland was a simple DIY I did by stringing fishing line through a whole bunch of gold ornaments.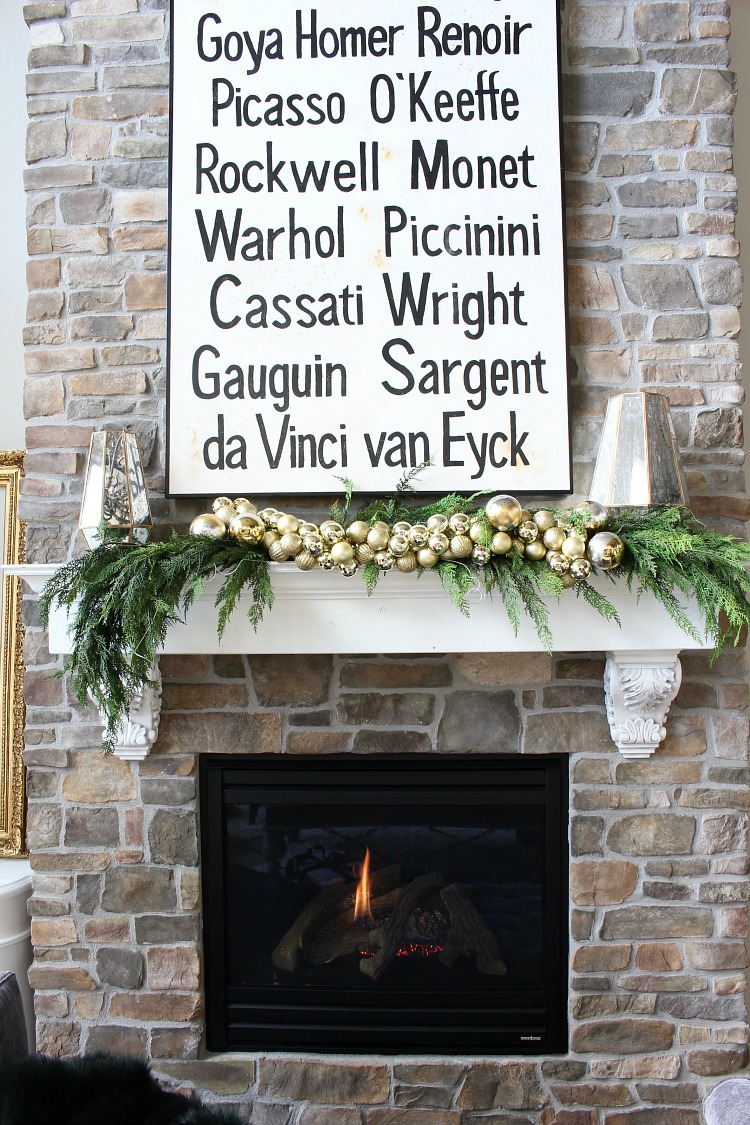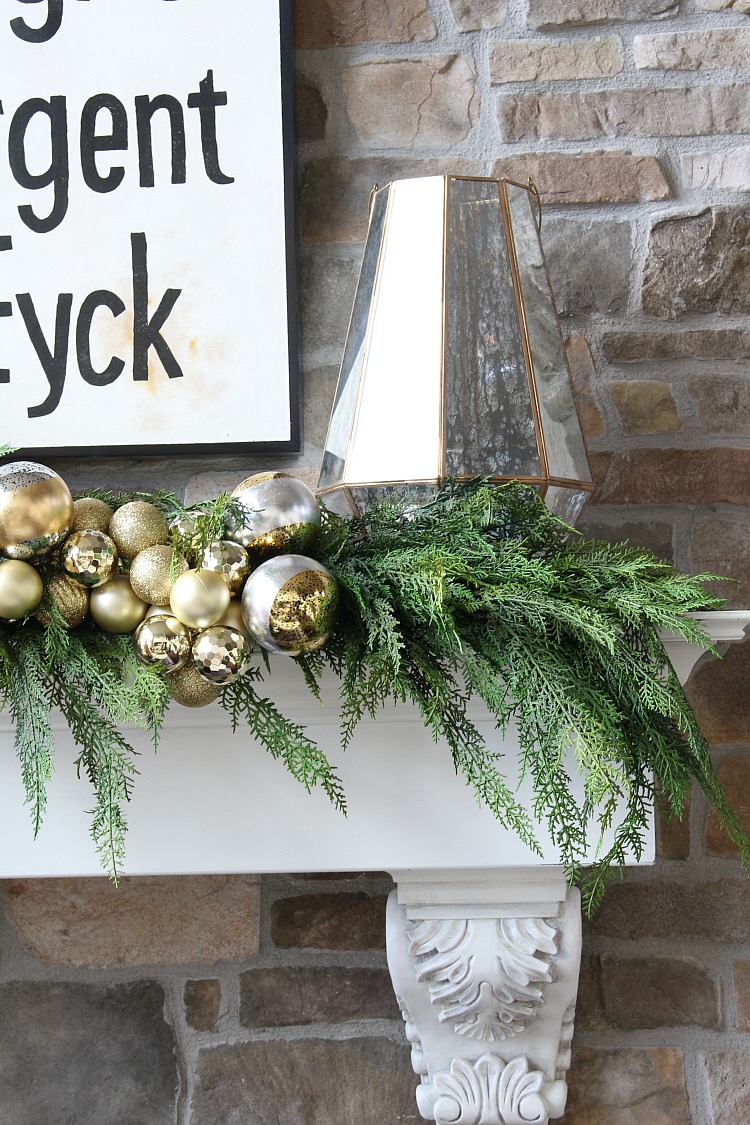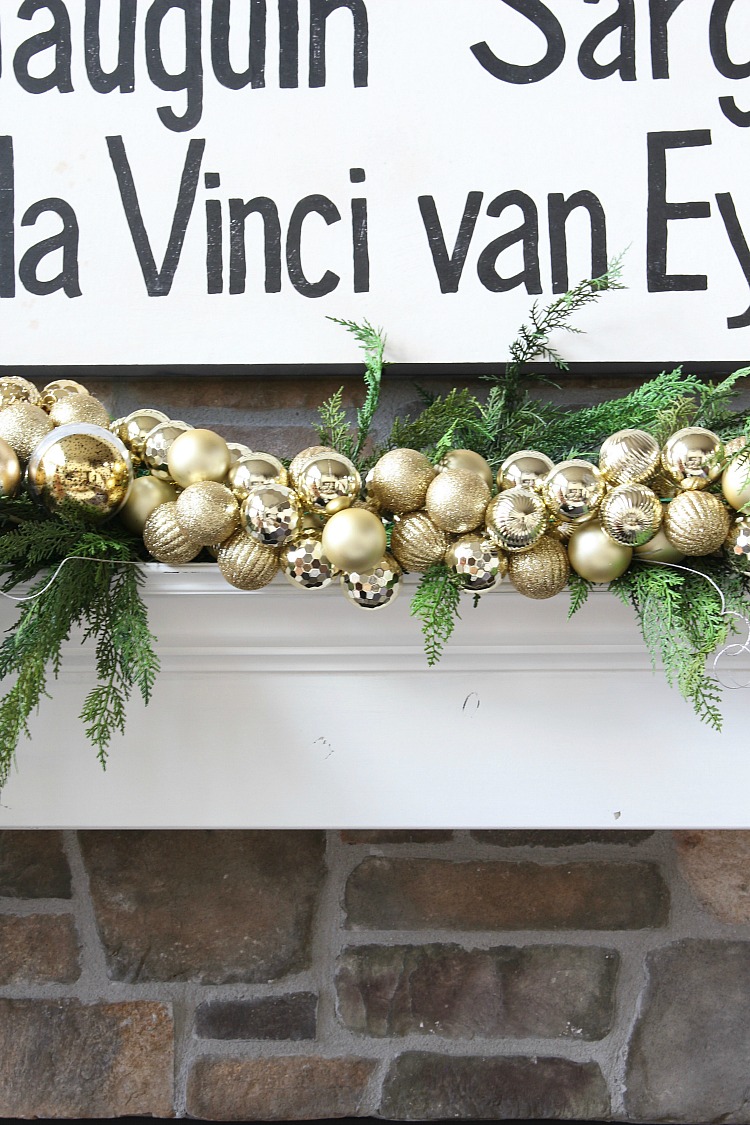 Our 10′ flocked tree looks a little different than it did in last year's tour. I embellished it quite a bit more with the largest ornament balls I could find, beautiful ribbon from Michaels and black tulle.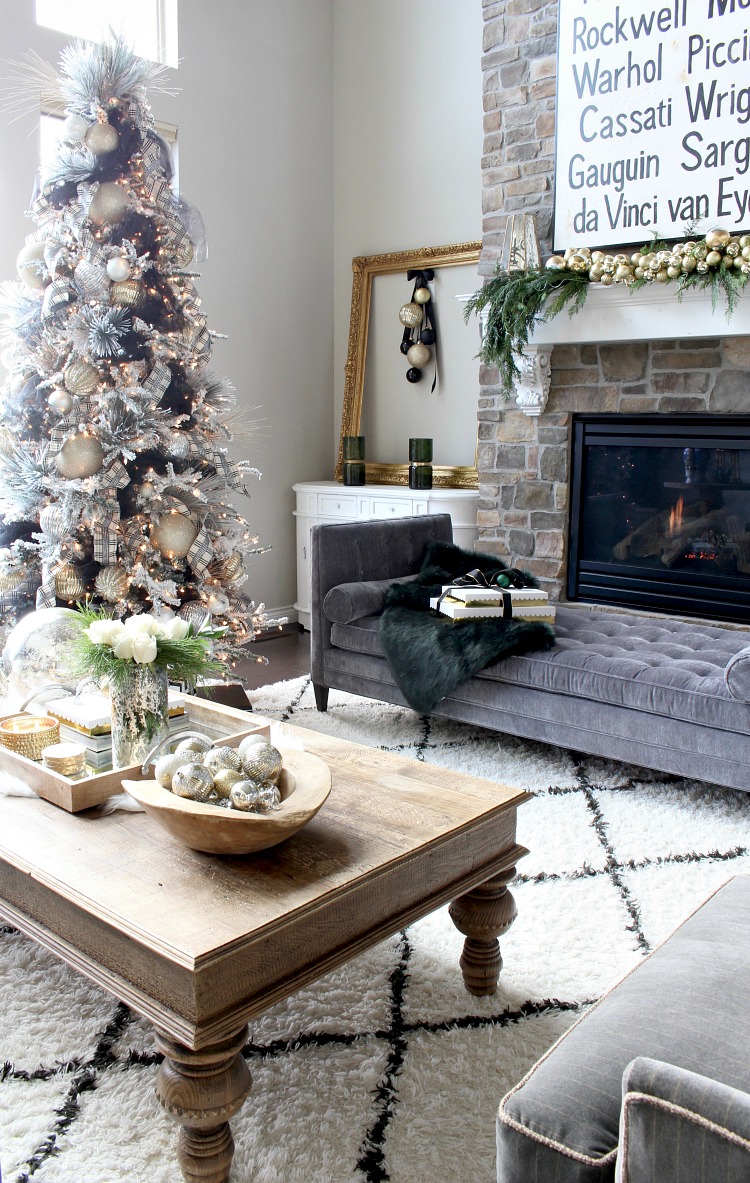 It has more of a crusty ice flocking. You know the kind after the big snowfall and it freezes over and crunches under your boots? Yep, that's the kind of flock this big beauty has.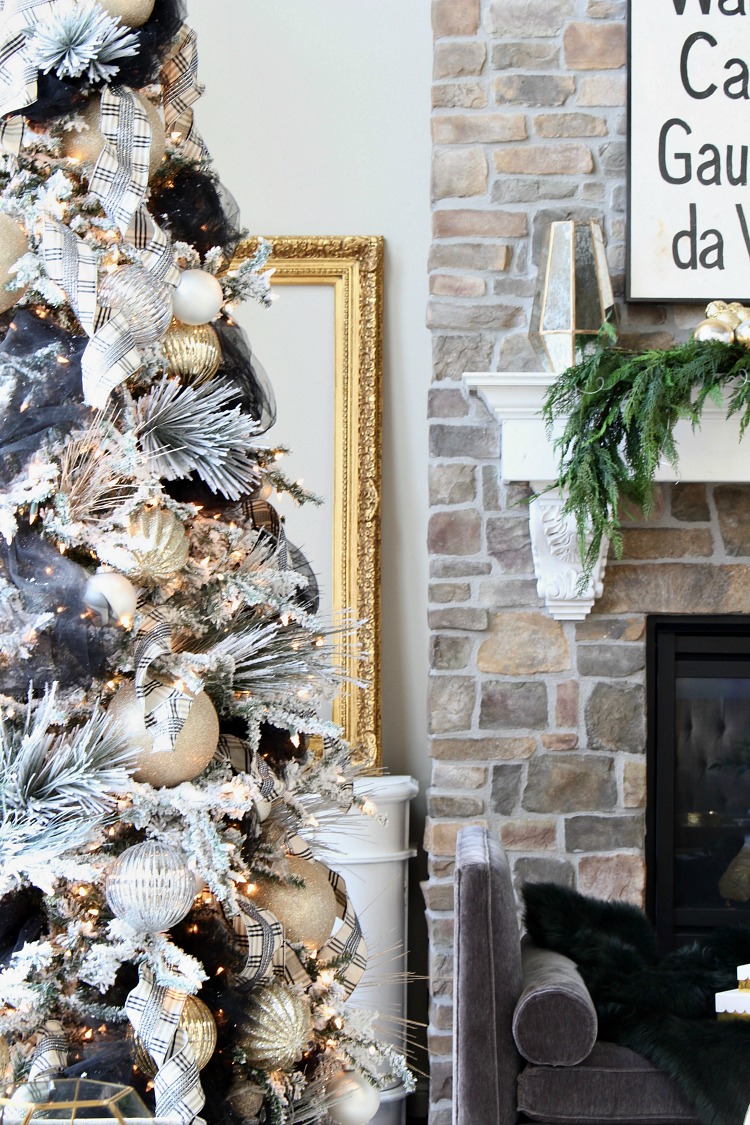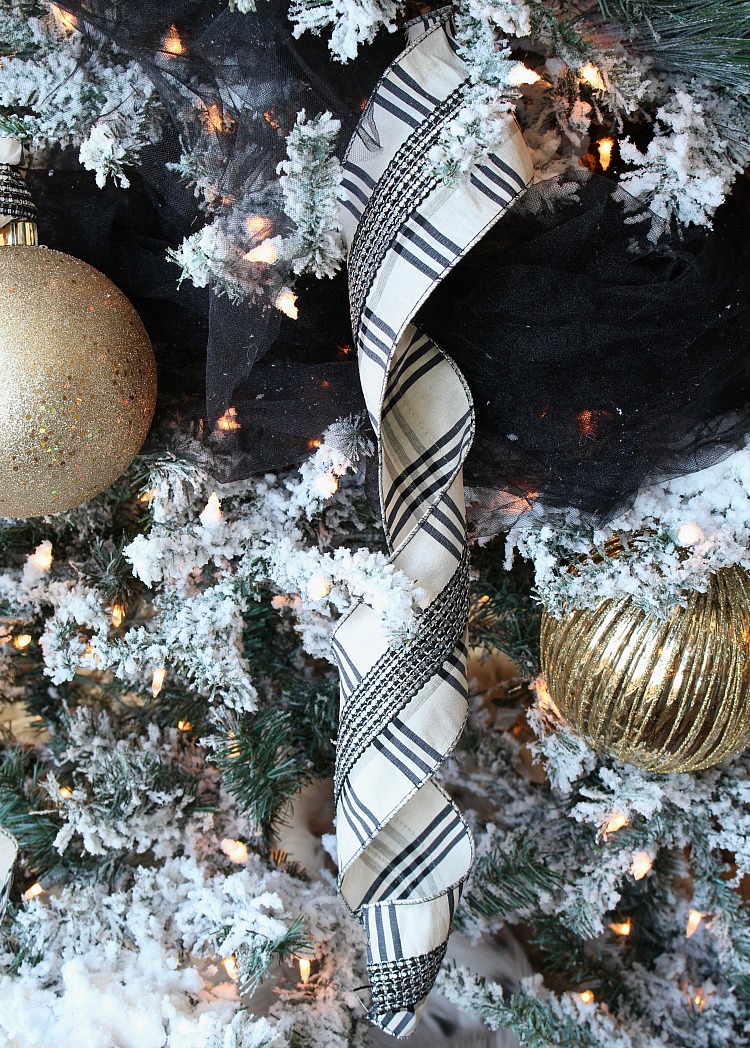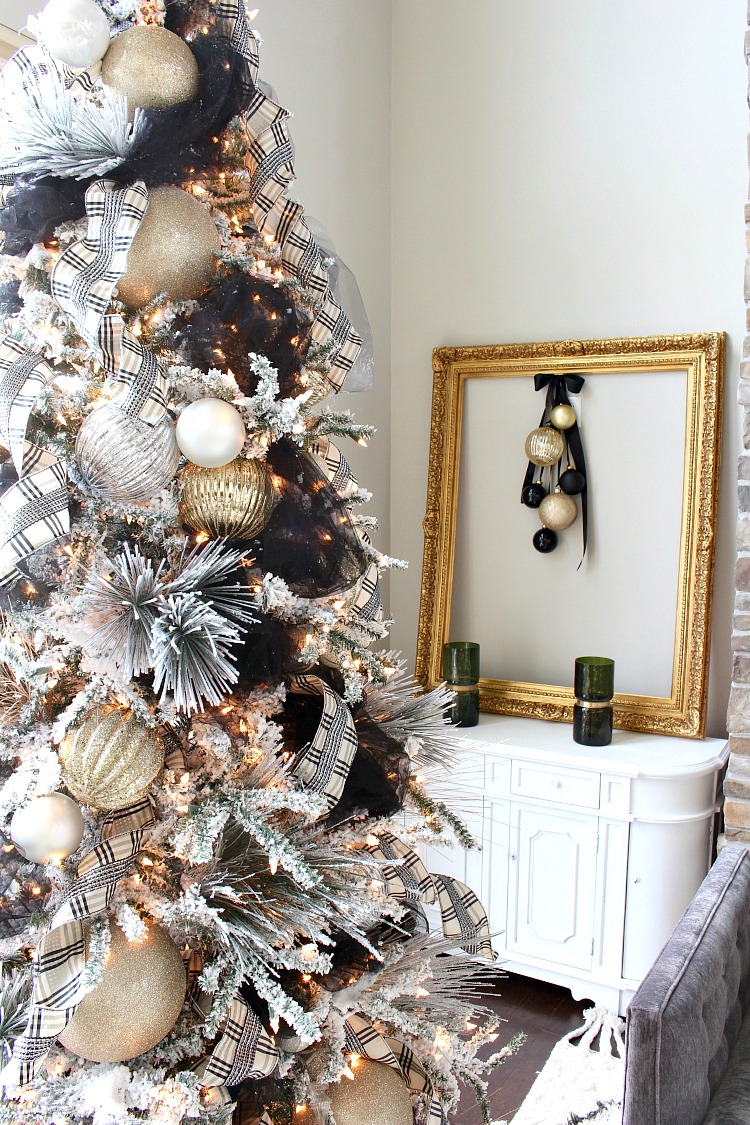 The large gilded gold frame was borrowed from my office.  Just a few ornaments on black ribbon completes this once empty corner.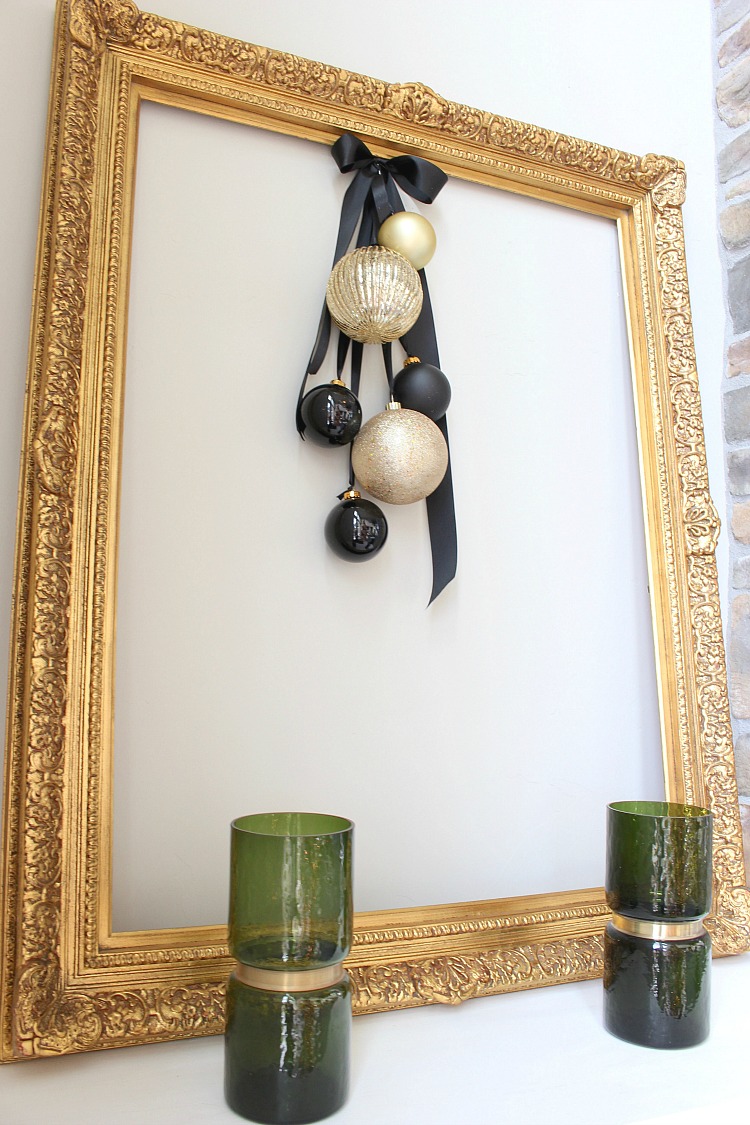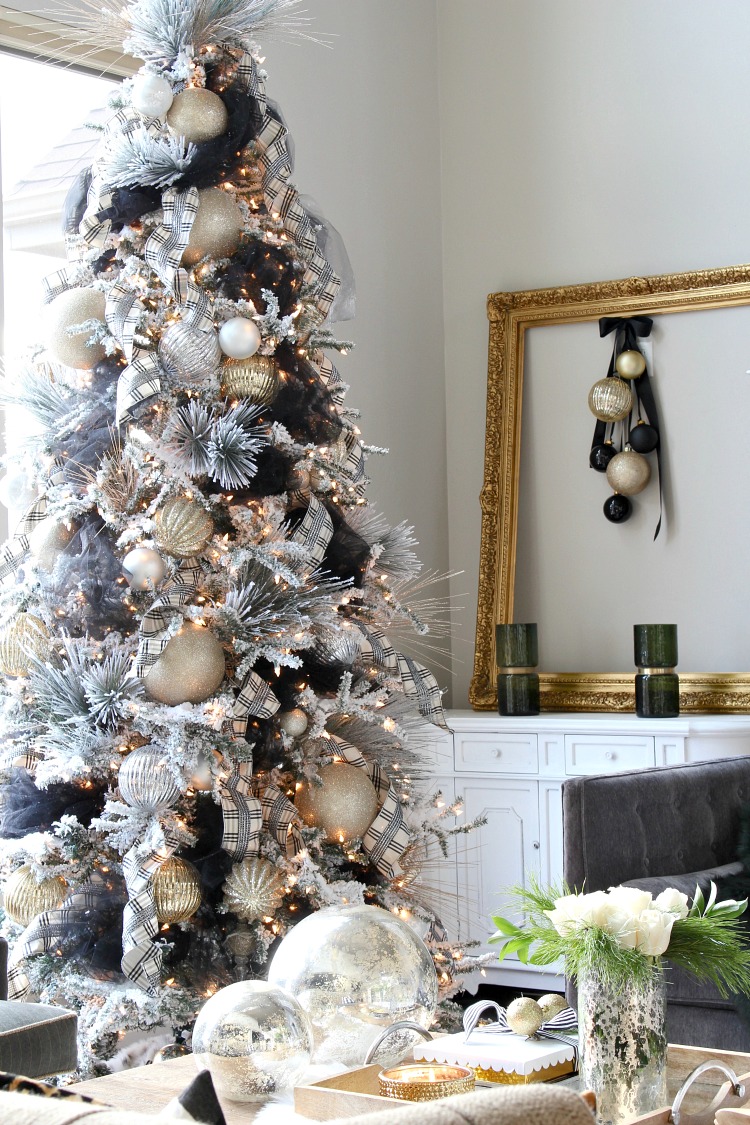 Our home is an eclectic mix of rustic glam.  I love to mix different metals of gold, silver and mercury glass along with velvet furniture and old distressed wood, like our coffee table.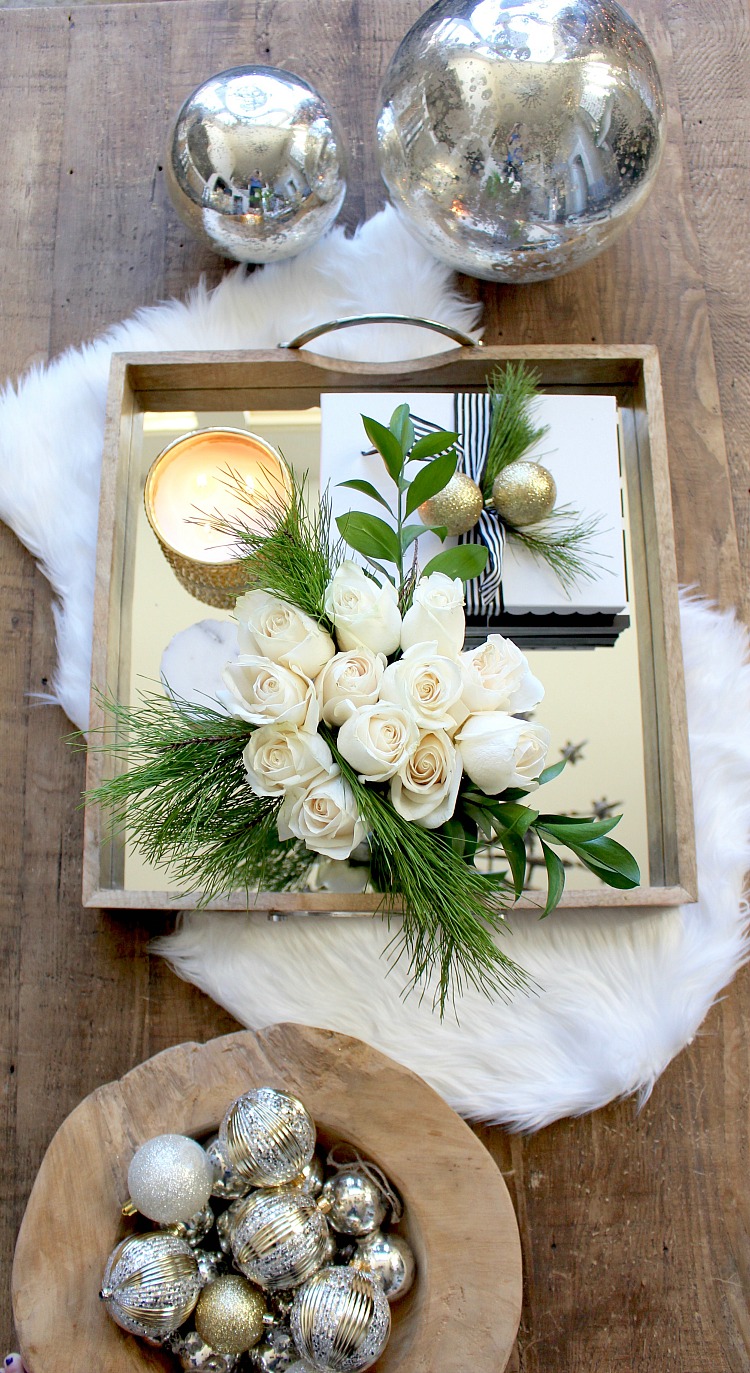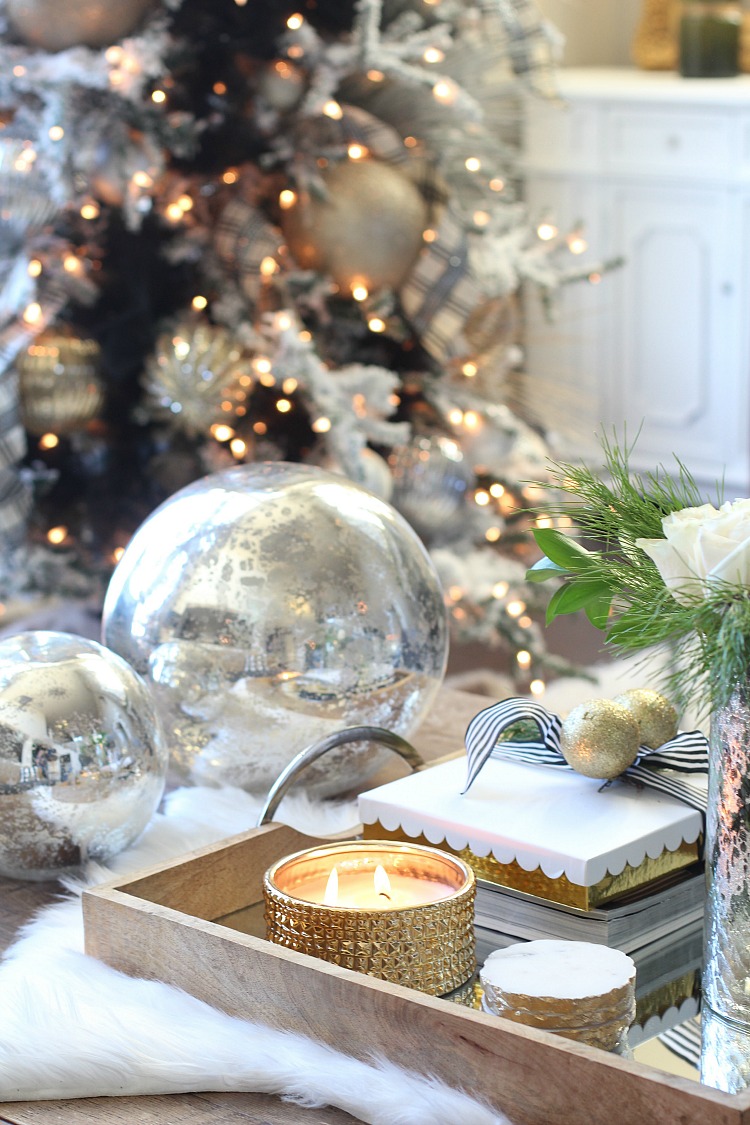 The green ornaments from last year's tree give that punch of color that I love to have in every room.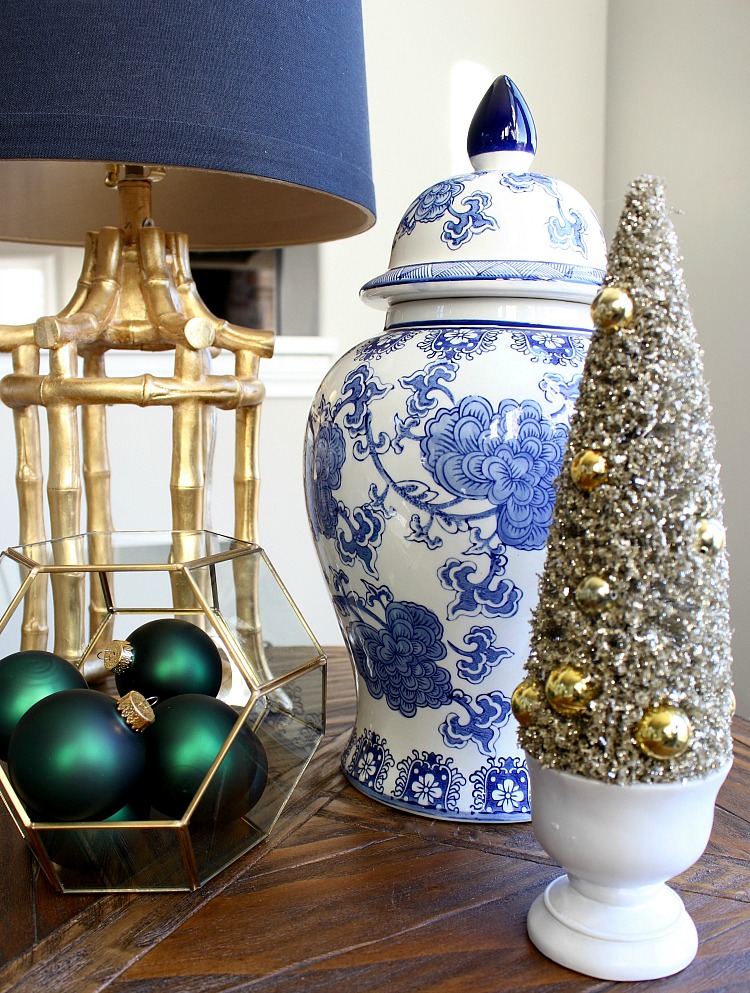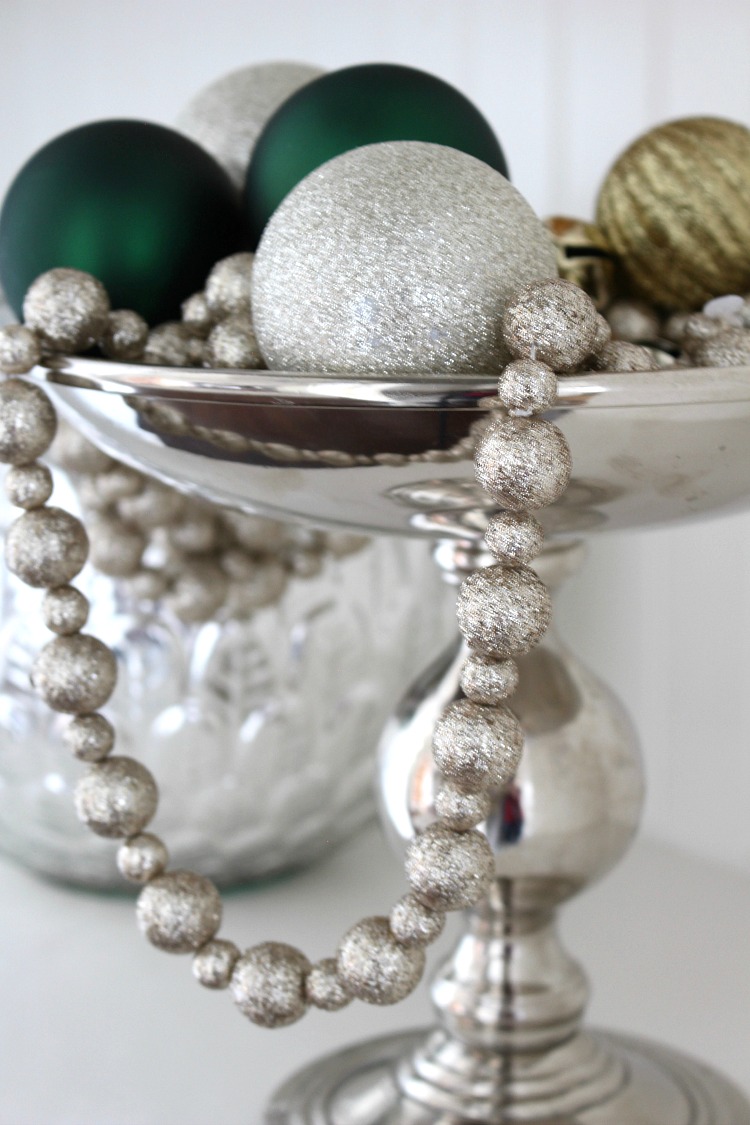 I have a thing for old, chippy gold frames and have collected a few over the years. Buffalo check is another favorite of mine that you'll see scattered throughout my home.  I couldn't resist buying this stocking!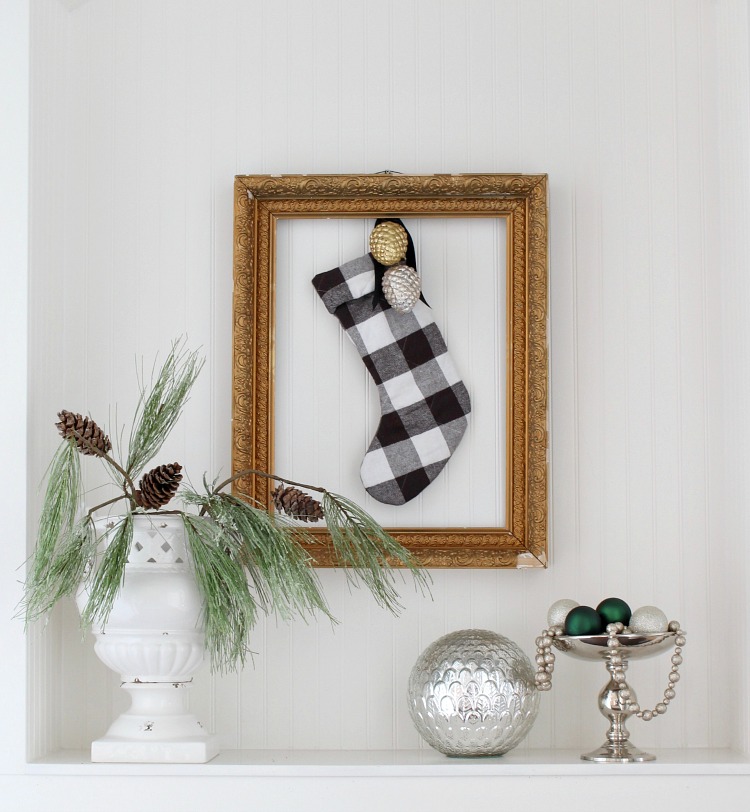 I hope you enjoyed my first Christmas tour for 2016! You can now see the rest of our home in these Christmas home tours:
Kitchen & Loft | Family Room, Guest Bedroom & Bar | Master Bedroom | Holiday Styled Front Porch
Next stop on the Blogger Stylin' Home Tour is The Inspired Room. Melissa is such a huge inspiration to me and I know you're in for a big treat on her tour.
Be sure to visit the rest of these homes on today's tour:
The White Buffalo Styling Co. || Julie Blanner || Hi Sugarplum || The Inspired Room ||Restless Arrow || Cuckoo For Design
A special thank you to Lindsay at The White Buffalo Styling Co. for inviting me on this tour!
Dining Room Sources (scroll and click on image for source)

Living Room Sources

**affiliate links used in this post. Similar items sourced where original no longer available.