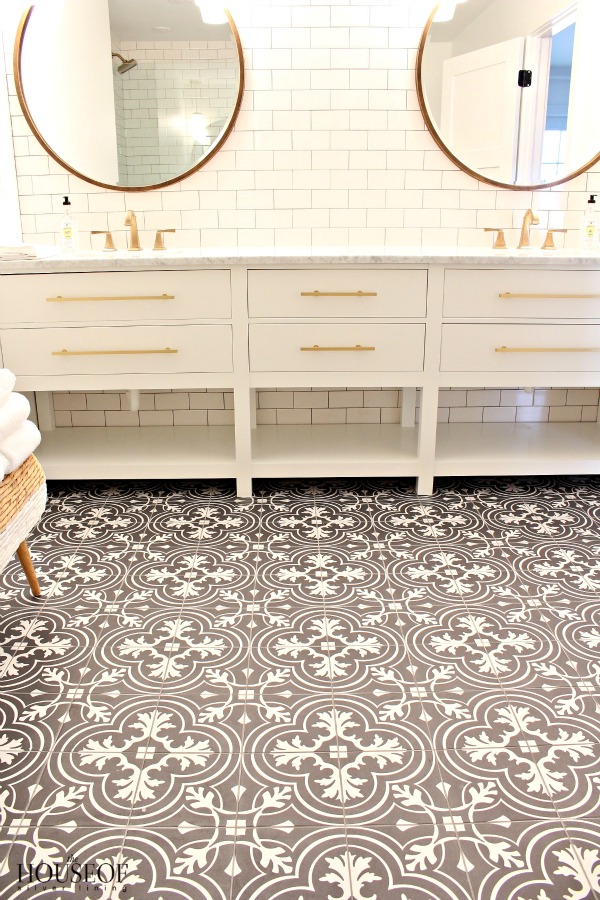 Today, I'm sharing a few design tips in choosing chic tile for less! We all have budgets and of course want to get the best bang for our hard earned dollars, right?!  When I designed our beach cottage master bathroom, I had a vision of a modern chic vibe.  The very first feature of the new design that would lay the foundation of the whole look of the bathroom was our floor tile.  Talk about a statement!  I've been in vintage inspired floor heaven ever since!! SOLD on this tile, like I need to find another room to put it in! Let's back up to one of my inspiration photos I found on Pinterest.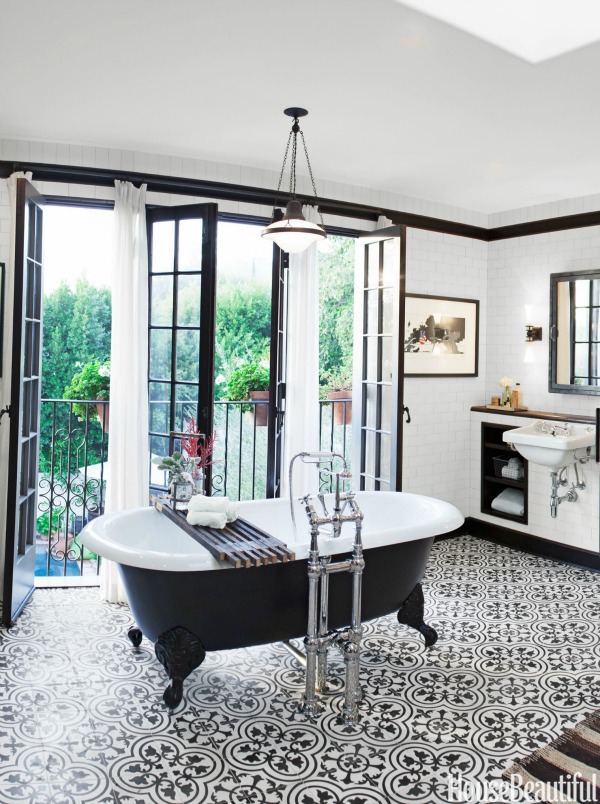 There's just something about this vintage floor that is really so timeless.  Some may argue it to be a bit busy, but I disagree.  Now if it were full of color with all that pattern, then maybe.  But black + white is a timeless, classic appeal that will never go out of style.  Once I get my mind set on something, I'm slightly or maybe even obsessed. Problem is I love high end looks, but darn it I refuse to pay high end prices.  So the hunt began for these tiles to go in our bathroom.  I came across many options of similar patterns and was blown away at the cost!  Cement tiles can drain a budget in no time!  We had a lot of floor to cover since we were carrying this tile all the way into our walk in closet.  Being our vacation home, I couldn't splurge on my floors.  I wanted to have the budget to splurge a little more on other areas of the bathroom (we'll get into that more later).
The cost comparison from the high end tile vs. the budget tile is quite significant!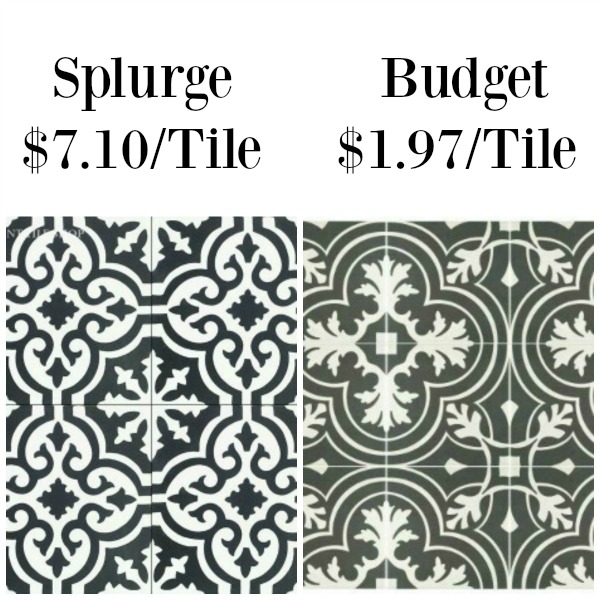 The gorgeous splurge is from a wonderful company called Cement Tile Shop.  They have so many selections of tile that my head spins! The difference between the two tiles above I would say comes down to the actual shade of black.  The splurge tile is darker in comparison to the budget tile.  But I actually like the more matte finish on the budget tile which seems to tone down the pattern a bit.  So what's this winner budget tile?? I found it at Home Depot!  Yep, good ol Home Depot!  I searched the internet for vintage tiles and there it was!
Design tip 101:  Do Your Homework! If you have a high end budget and can splurge then go for it, but if you want to come as close to possible to that high end look and save a little or even a ton, then just do your homework.  Search the internet. Just because something is cheaper in cost doesn't mean it's cheaper in quality.  You've heard me say that before and I'll always preach that.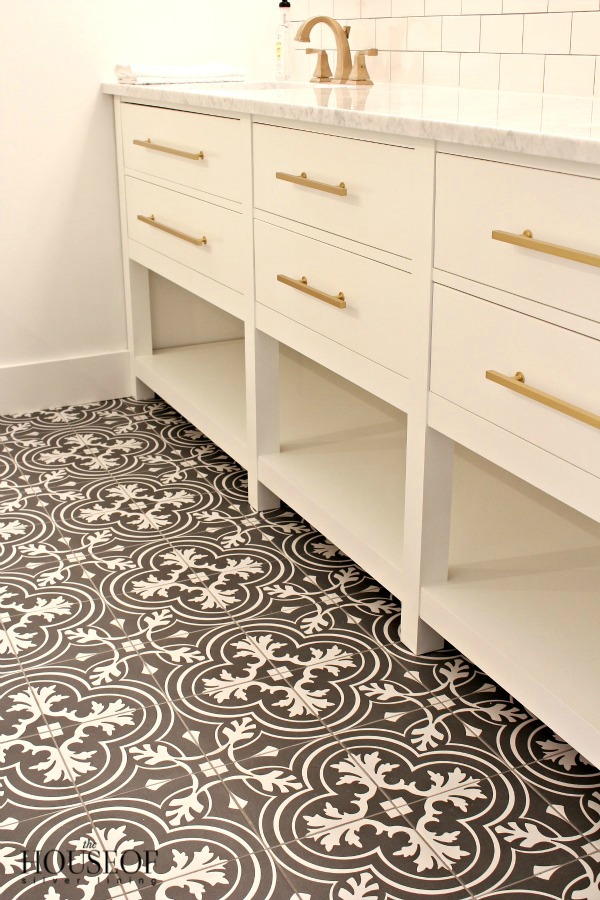 Another design tip for bathroom floor tile is picking the right grout color.  The darker the grout the cleaner it looks.  Meaning it hides normal wear and tear that may cause an otherwise light grout to appear dingy.  I chose light pewter for my grout.  I also carried that same grout to my white subway tiles.  No more mildew stains in the future!  Of course that doesn't give an excuse not to scrub the shower tile and keep it clean, but over time the build up can still stain.  I just like to camouflage those stains if they show up.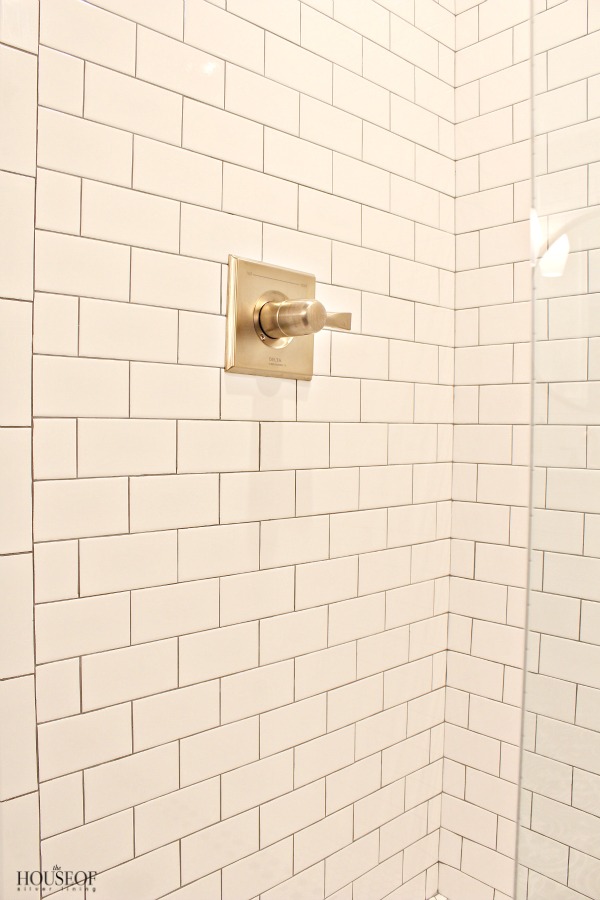 You can see the full master bathroom tour HERE and resource list HERE!  I hope you walk away with these design tips in mind for your next project!