Hello & welcome to our fall home tour! I am so thrilled and honored today to be participating in the Homegoods "Make Home Yours for Fall" fall tour!  My friend Jessica at Four Generations One Roof kicked off the tour yesterday in her beautiful home.  Please be sure to go visit her home as well as the other participating homes that I will send you off to at the end of mine. Each blogger on this tour is giving away a $100 Homegoods gift card (thank you Homegoods for the generosity!).  So be sure to enter after touring each home for 8 chances to win!  Now it's time for some fall touring fun! For those of you coming from the stunning home of French Country Cottage, a huge welcome to you! Isn't Courtney's home absolutely breathtaking?
My name is Shauna and I live in Colorado Springs, CO with my husband, 3 boys, and a pint size yorkie named Gucci.  I love, I mean LOVE to decorate my home and work on the ever changing design projects that go on around here. Fall is my favorite season of the year, especially living in Colorado. The weather is changing, the temperature is already dipping to low temps and the leaves are beginning to turn beautiful shades of autumn. The scents of fireplaces burn in the air and the aroma of pumpkin spice candles announce that our long winters are soon to come.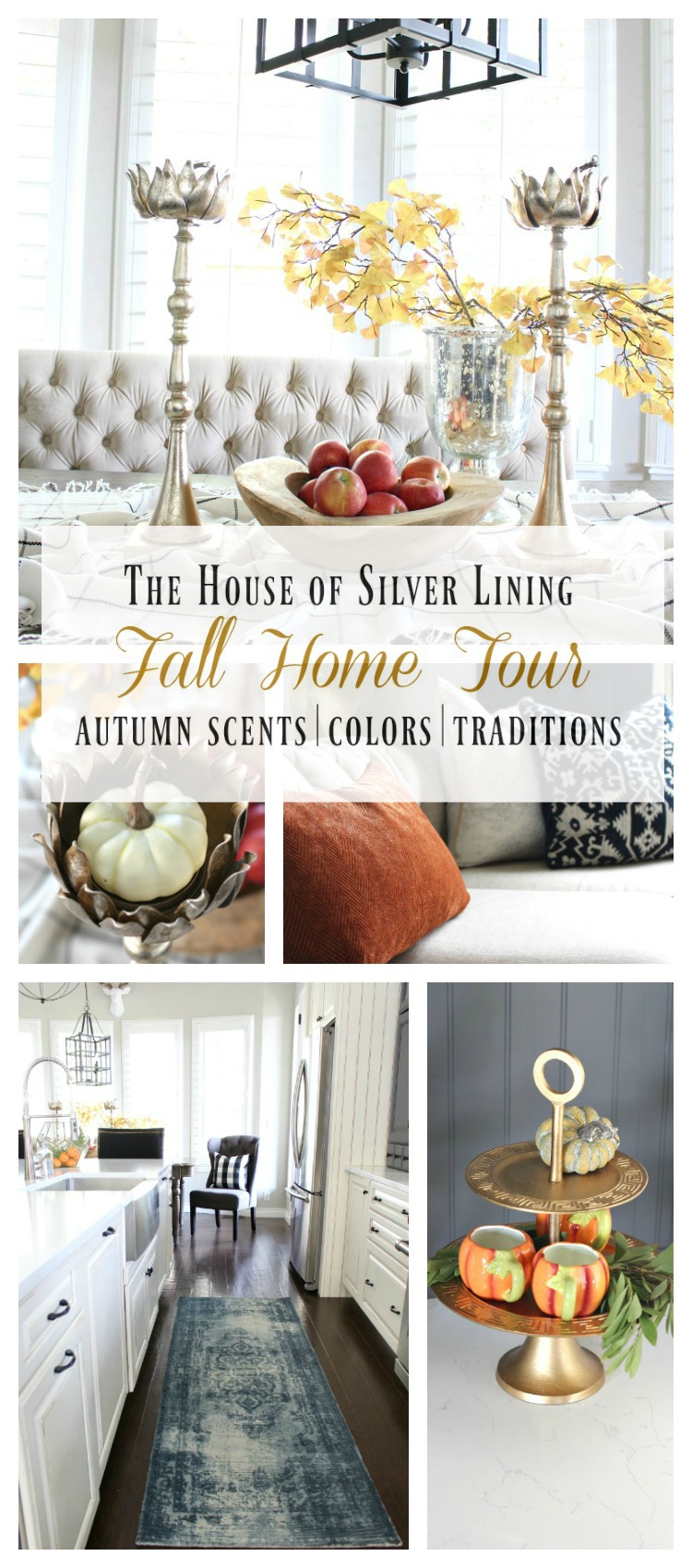 Every fall I go into full fall nesting mode and decorate every room of the home. This year I've taken a more simple approach by infusing our home with some new rich, warm colors and velvety textures.  You'll see some traditional fall colors of gold and burnt orange, a few scattered pumpkins (no luck finding the real ones yet!), yummy autumn scents and traditional treasures for our family.  Now come on in, I've been waiting for you!
What better way to welcome guests to your home than with a simple fall wreath.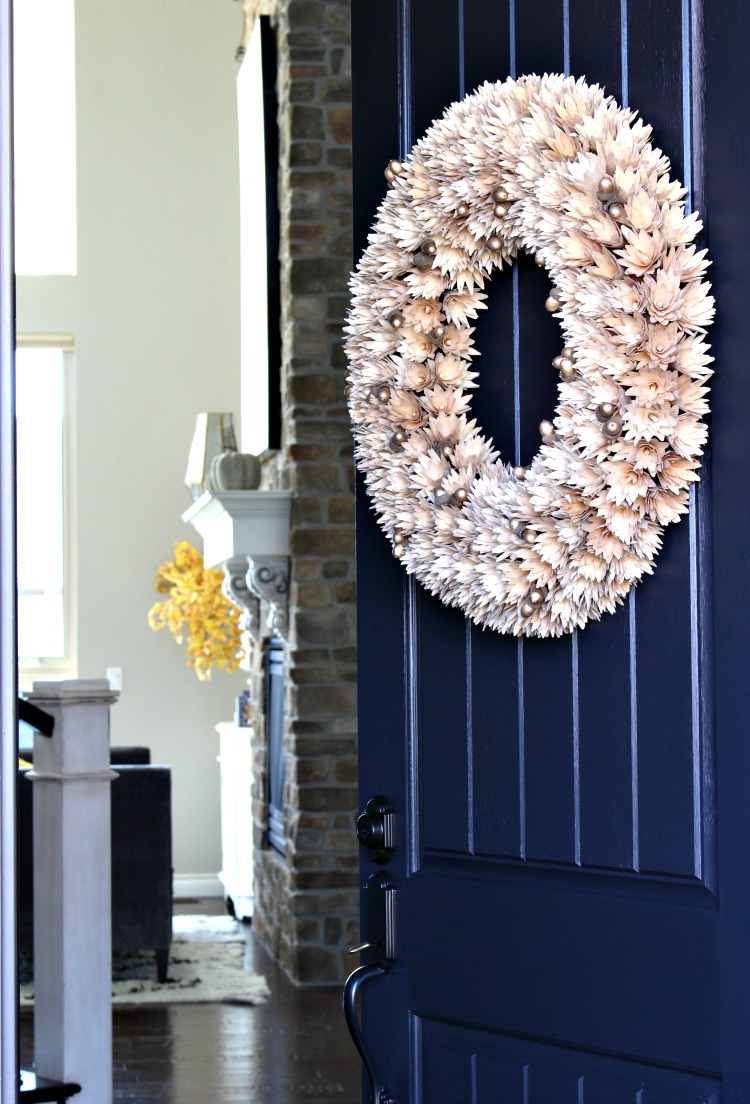 Wreath – Homegoods
The Kitchen…hot apple cider, glowing candles, harvested apples
The kitchen is the heart of our home.  A place where we come together as a family every night to have a meal together. With three boys and hectic sports schedules, sometimes that means a quick dinner around the island.  Gathering together every night, even if for only 20 minutes is so important in our family and a time to connect with one another.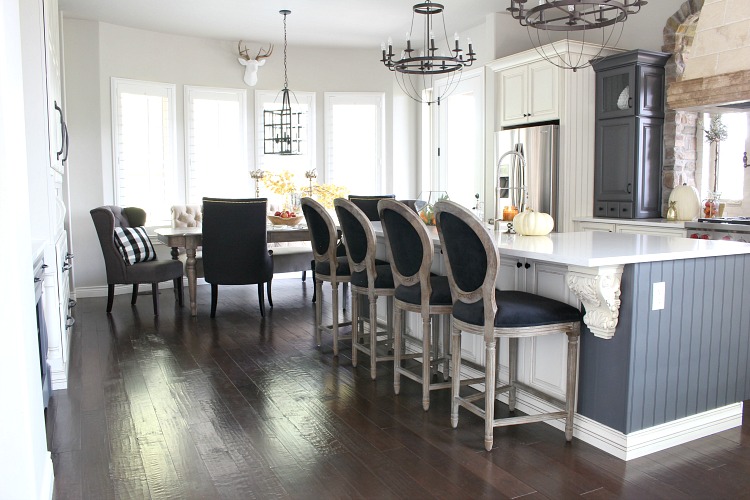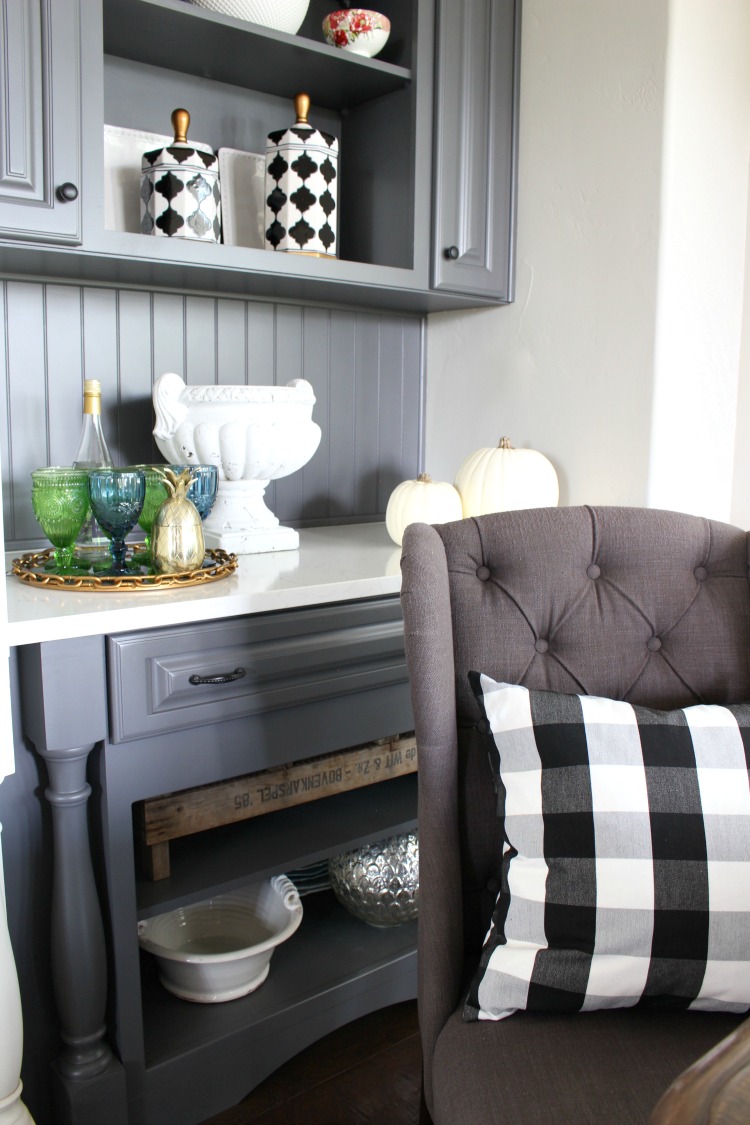 I'm looking forward to using my new blue and green wine glasses for Thanksgiving.  Most of our meals are pretty casual, but the holidays call for pulling all the pretty dishes out of the cabinets and put on display.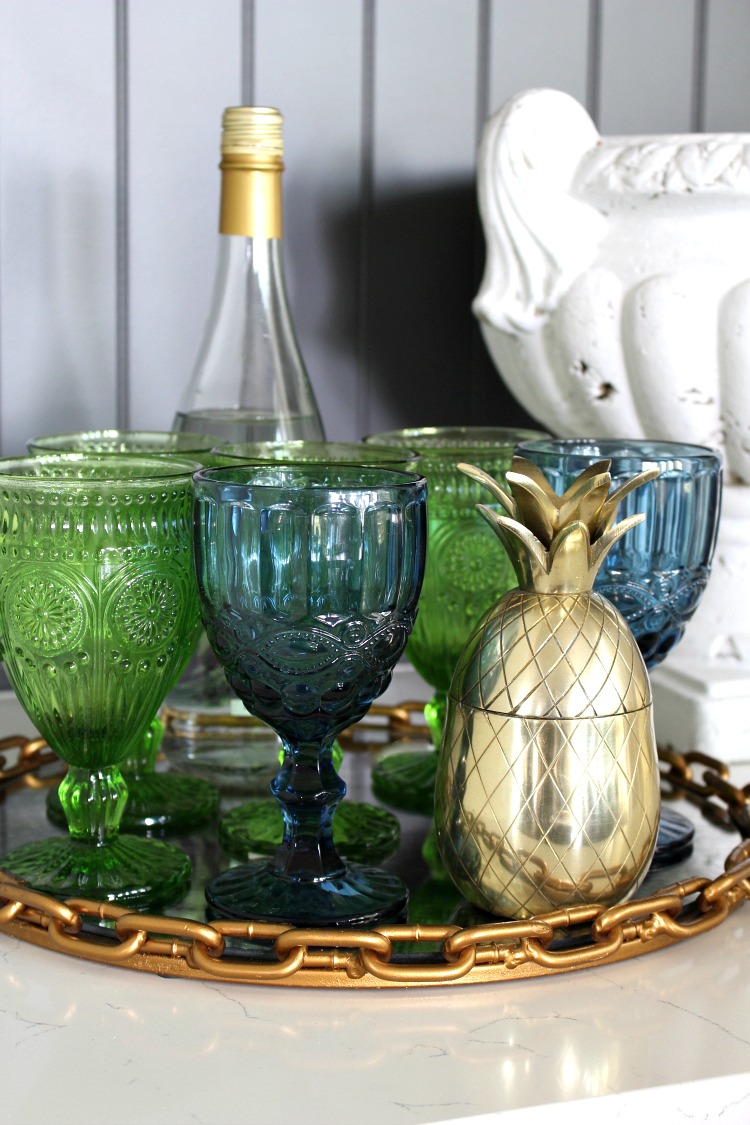 Wine Glasses & Tray – Homegoods
I wish you could scratch & sniff this photo because this pumpkin candle is scrumptious!  You'll always smell a burning candle in our home.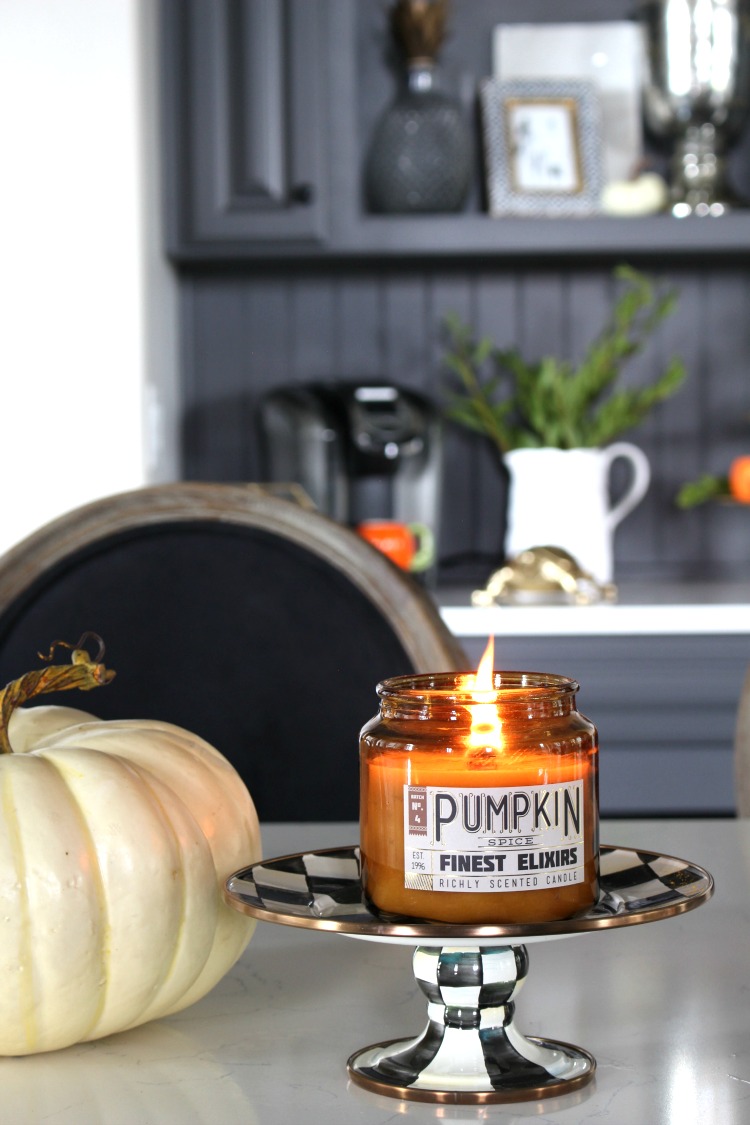 Candle | Pumpkin – Homegoods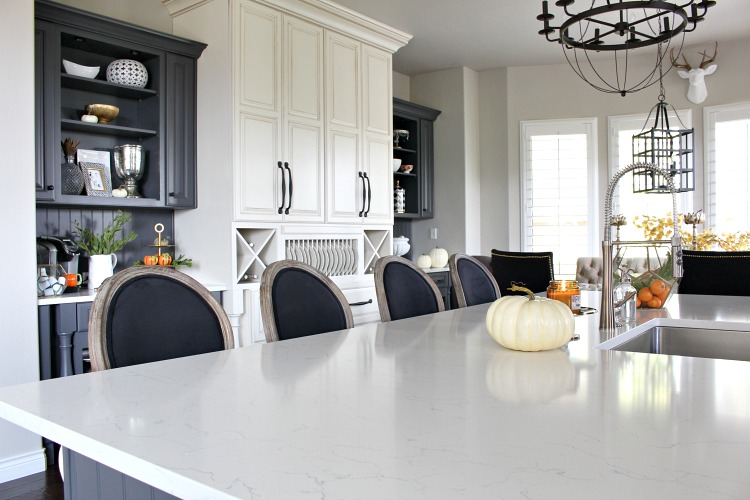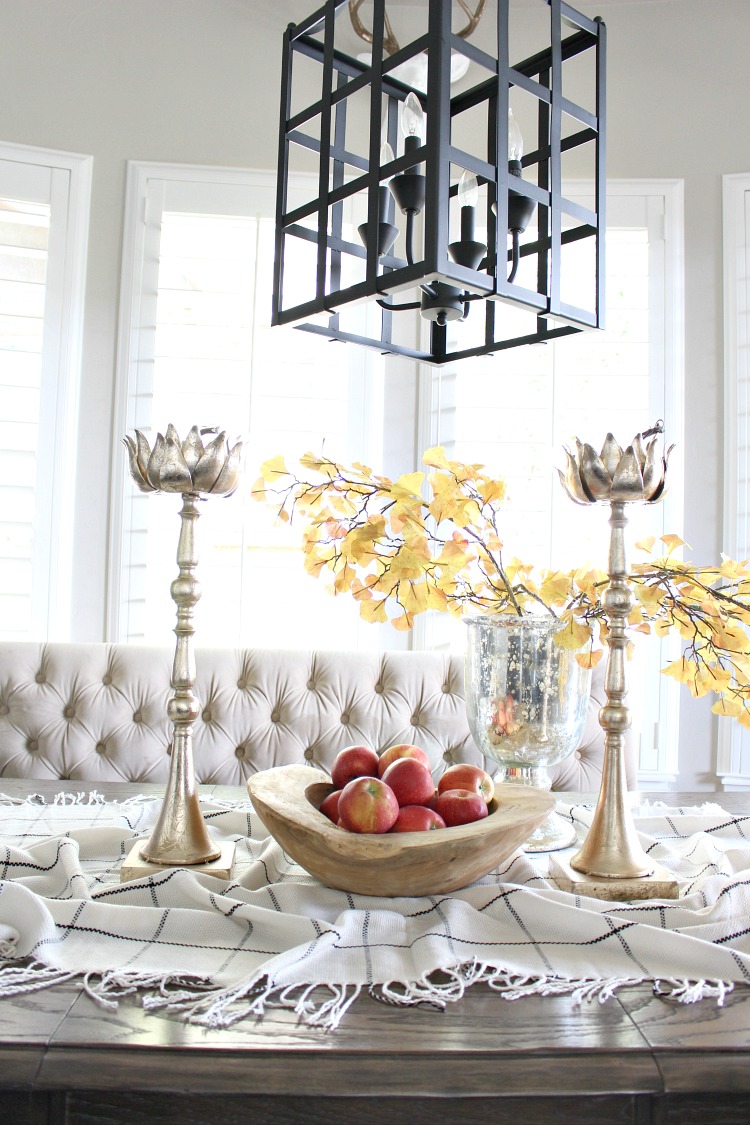 The colors of seasonal fruit like these harvested fall apples are simple, yet pretty, displayed in a wood bowl.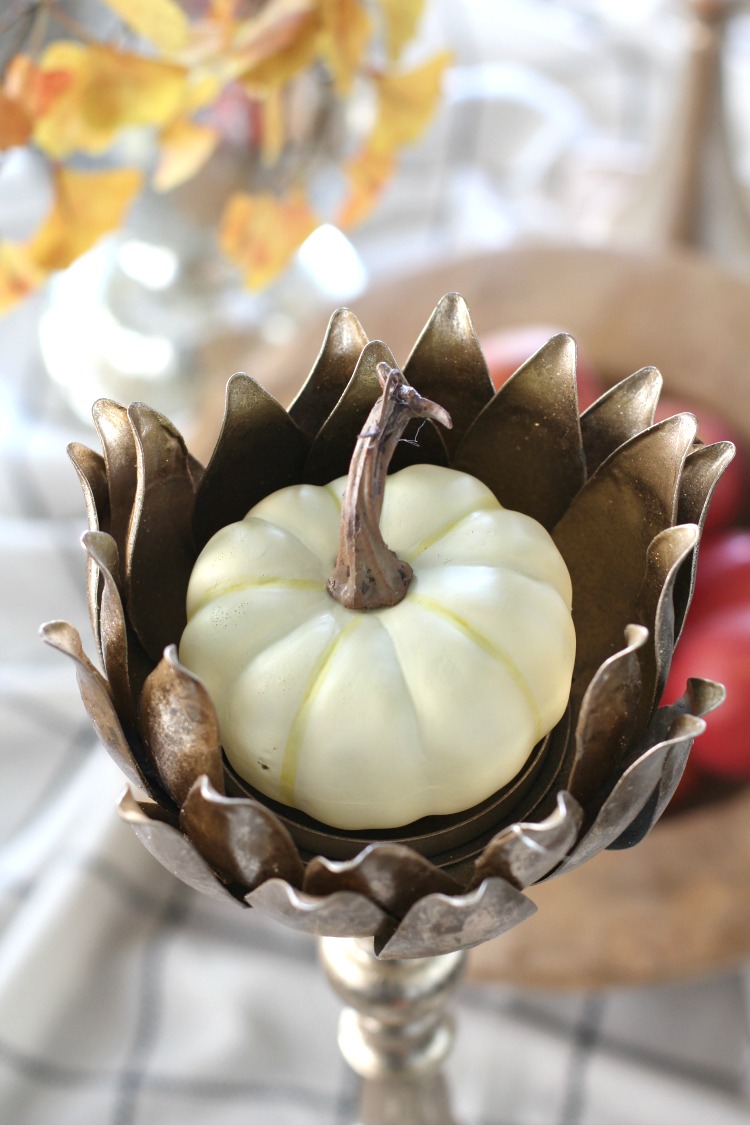 Wood bowl | Candle Holders – Homegoods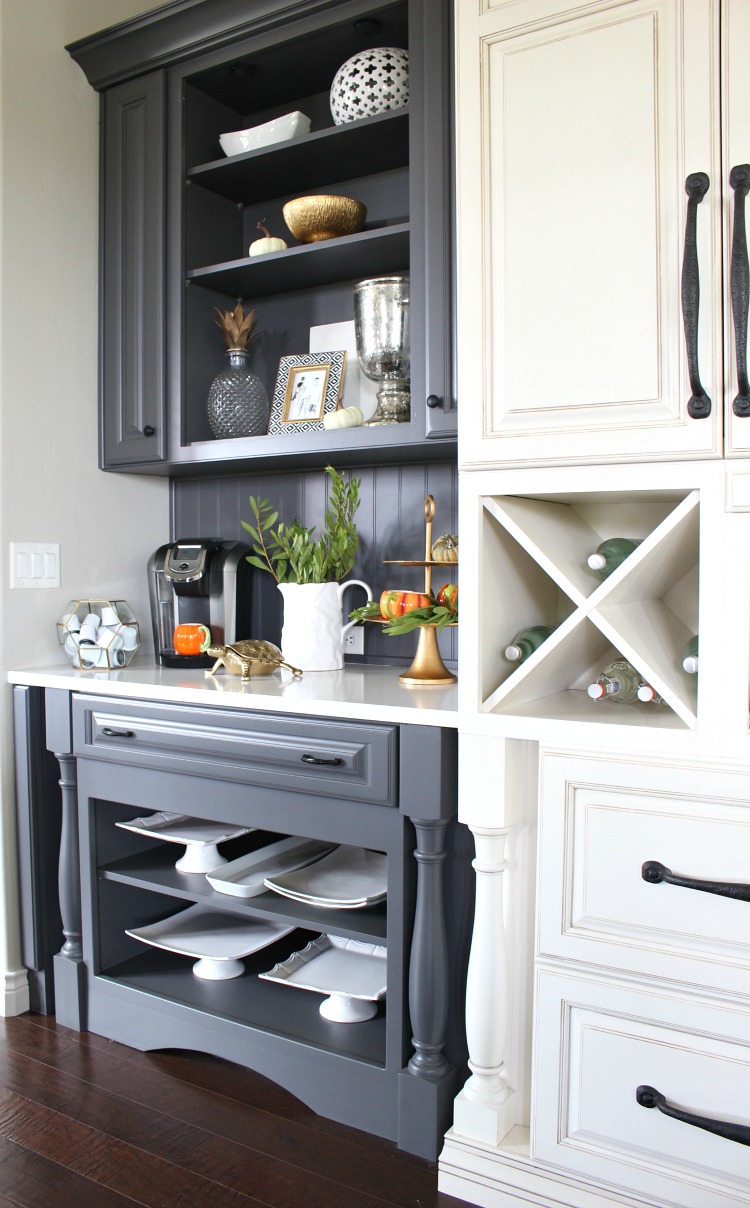 The pumpkin mugs hold nostalgic memories of years past.  Memories of our boys once chubby toddler hands embracing the mugs of warm apple cider.  I love holding onto pieces that have sentimental meaning and bringing them out every year.  Simple traditions give my heart that warm & fuzzy feel.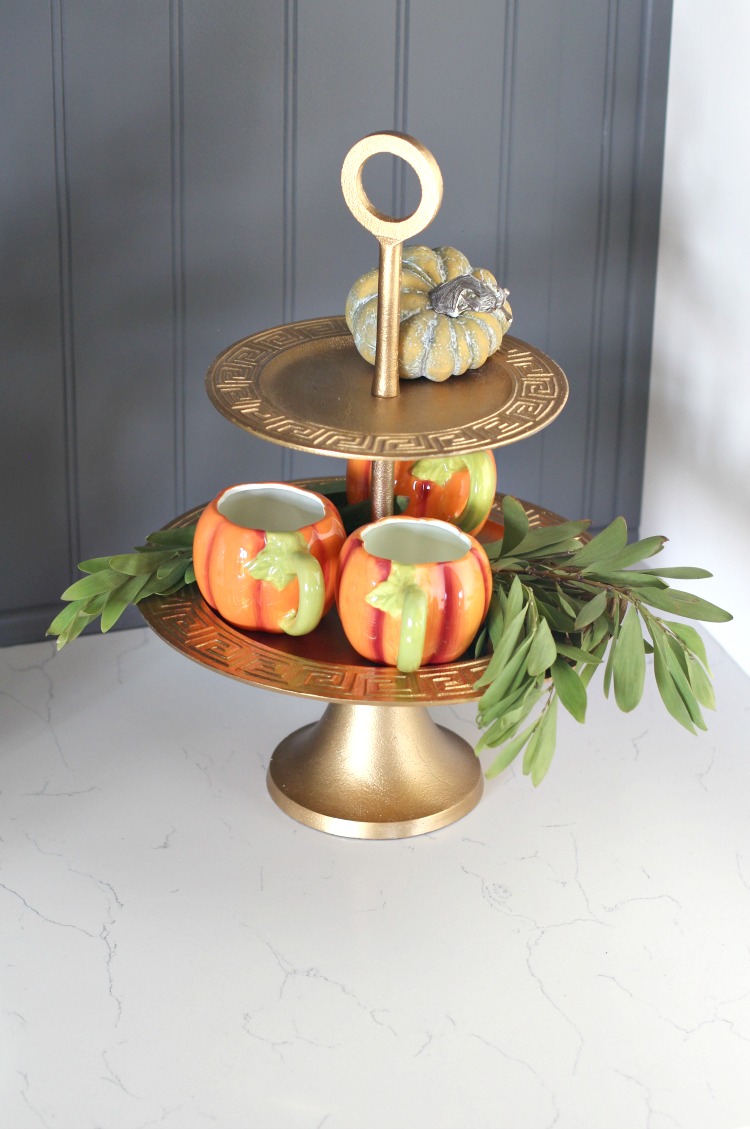 Old family photos are another piece of nostalgia that I like to display throughout the home. Open kitchen shelves can display anything with meaning, not just pretty dishes.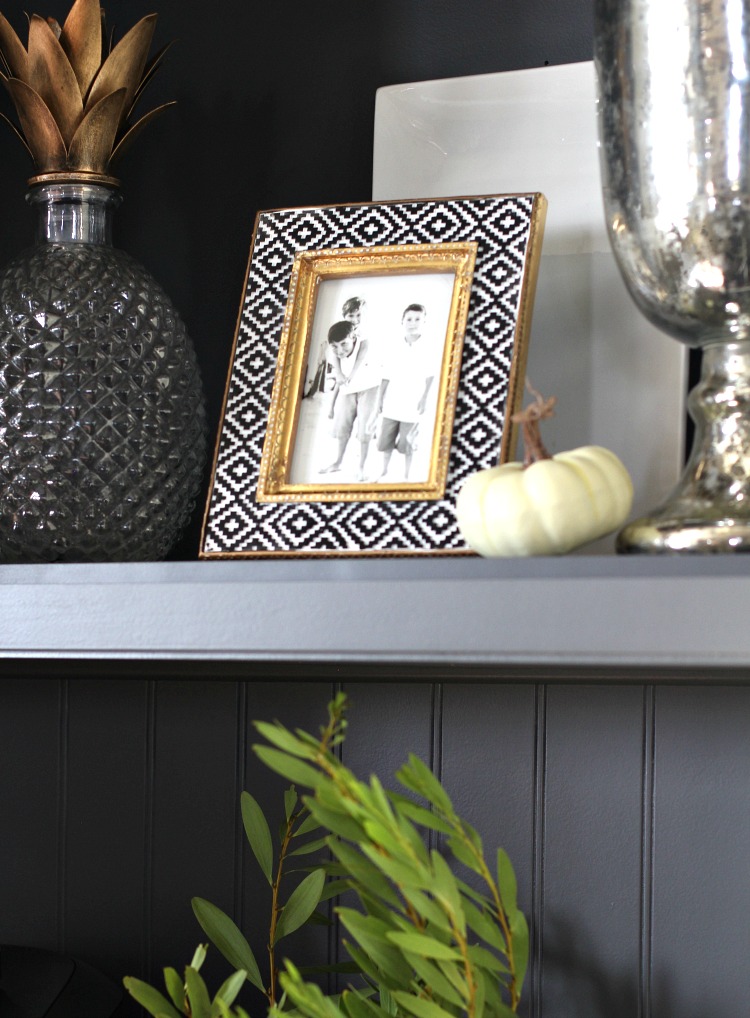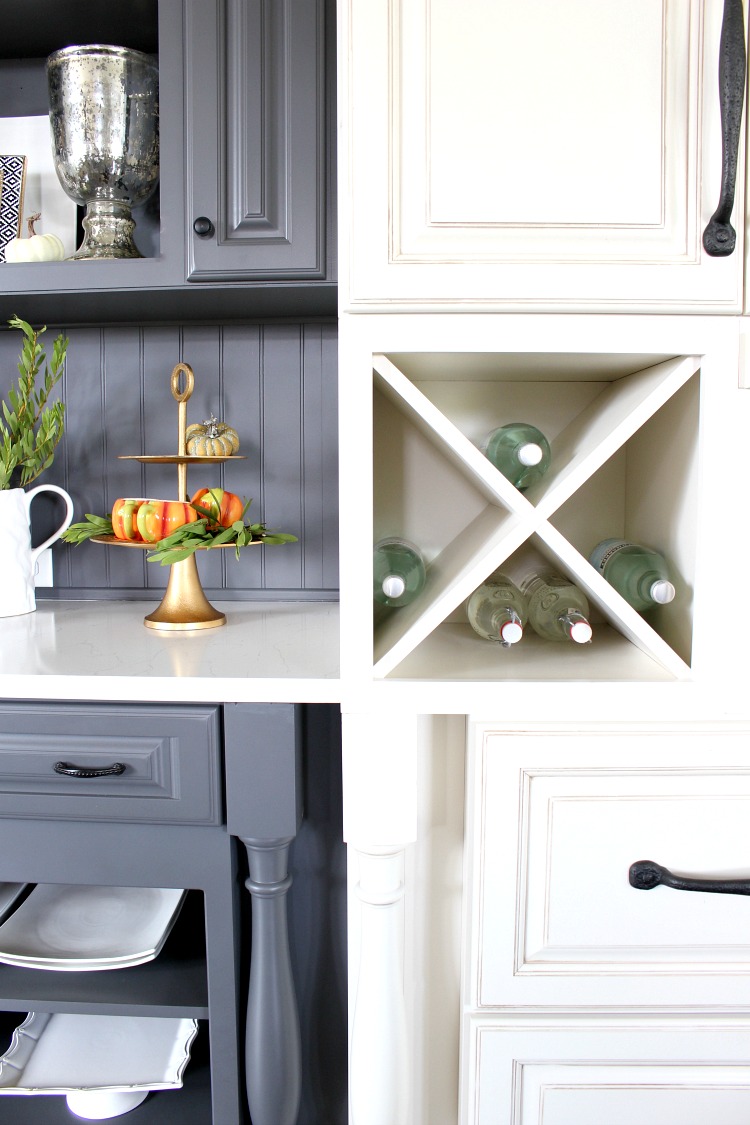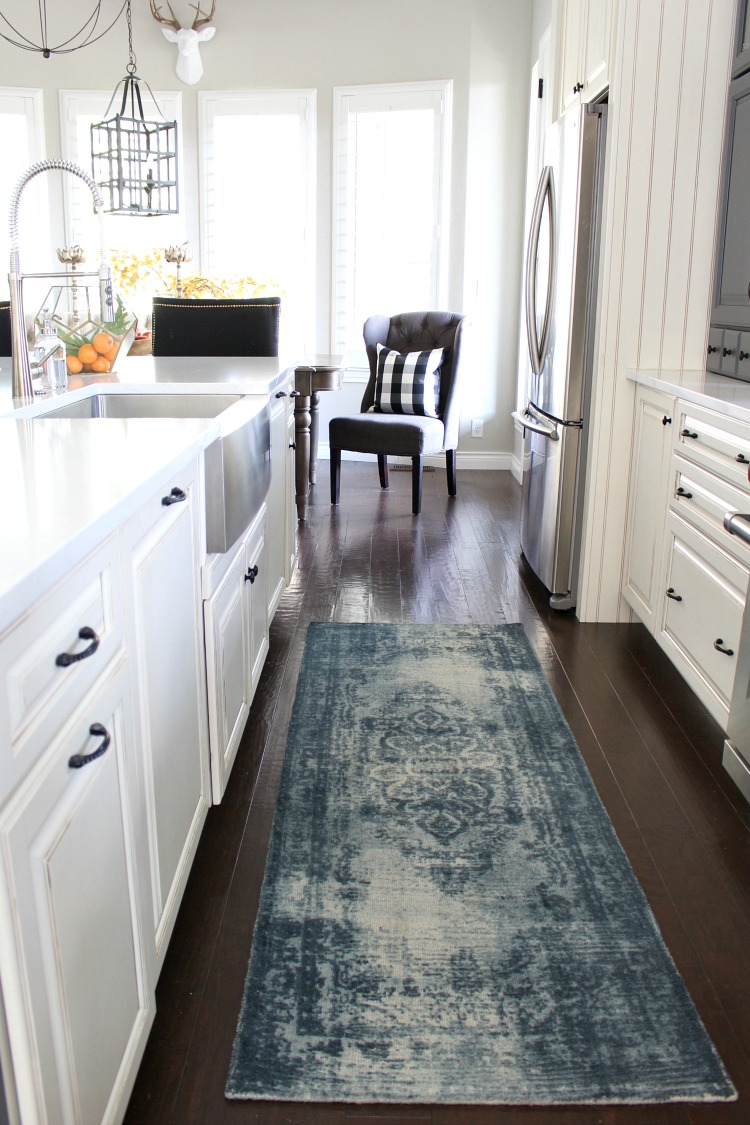 The Loft…burnt orange pillows and mini pumpkins. The place where "It's the Great Pumpkin, Charlie Brown" will be watched on repeat.
Our upstairs loft recently got a big makeover and has now become the coziest hang out spot for our boys.  This time last year, I had emptied it of all it's old furnishings in hopes to give it a new facelift. That project ended up getting put on hold for almost a year.  I'm happy to finally have it complete since this is the time of year that we curl up more on the sofa to watch Sunday football and all of our favorite holiday movies.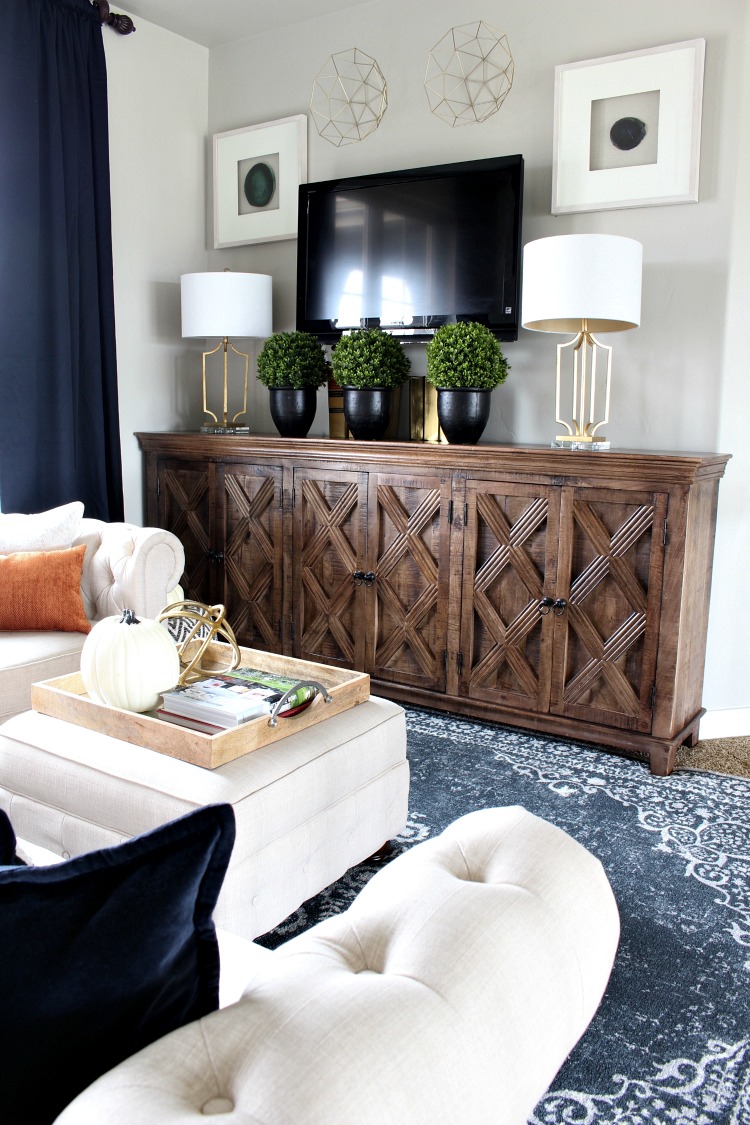 Rug | Orange & Metallic Pillows | Navy Print Pillows | Lamps | Tray |Brass Orb – Homegoods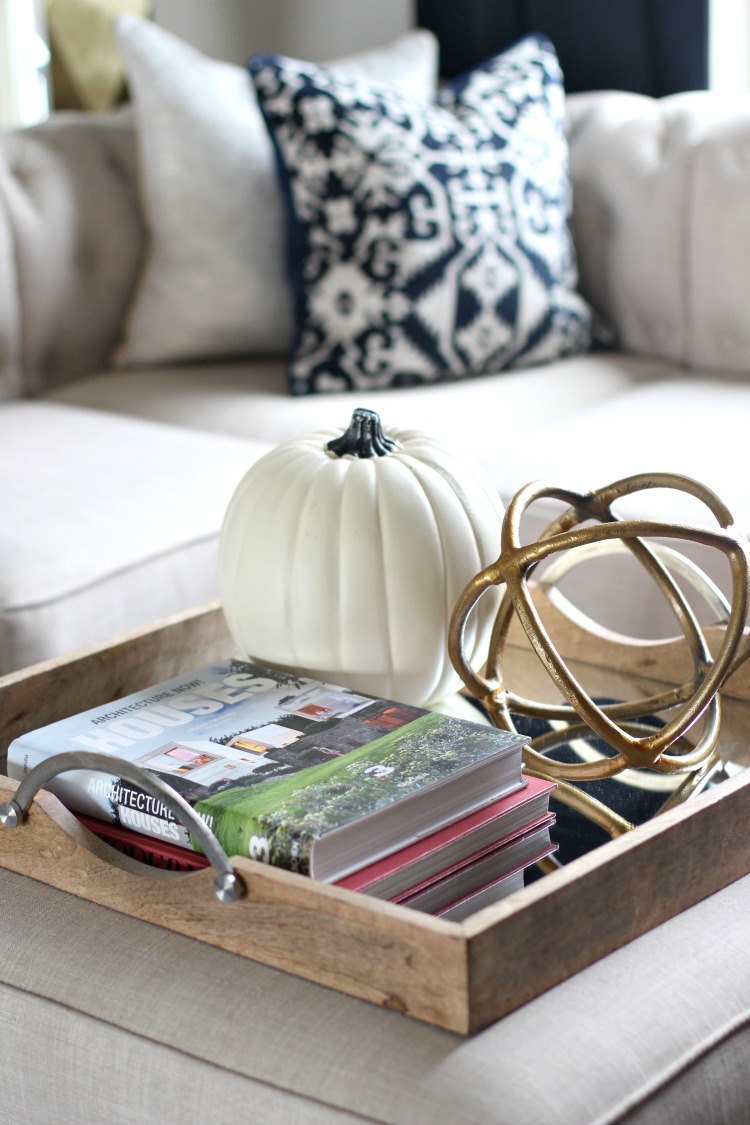 Burnt orange is a new fall color I'm loving in this room.  I've tried it in other rooms of the house in previous years and haven't quite liked it.  With the stark contrast of the neutral linen sofa and the navy blue drapes, rugs and pillows, orange has found it's home..at least through the fall season.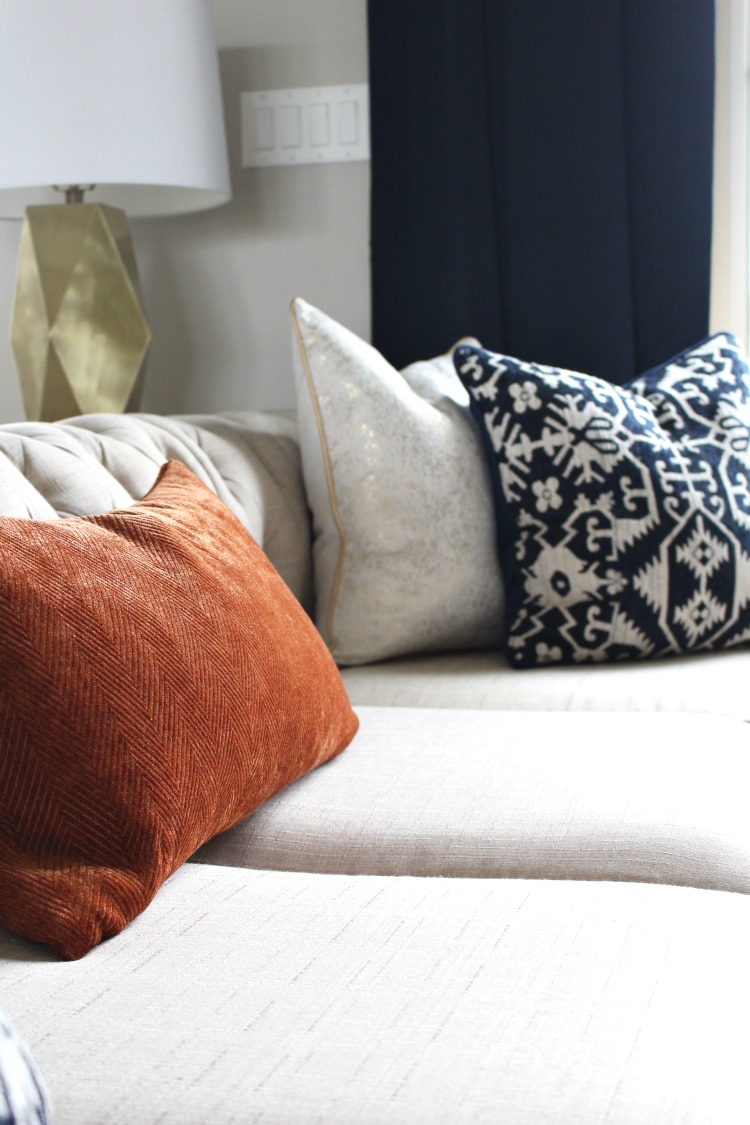 Add in my love of brass and metallics for that sparkle.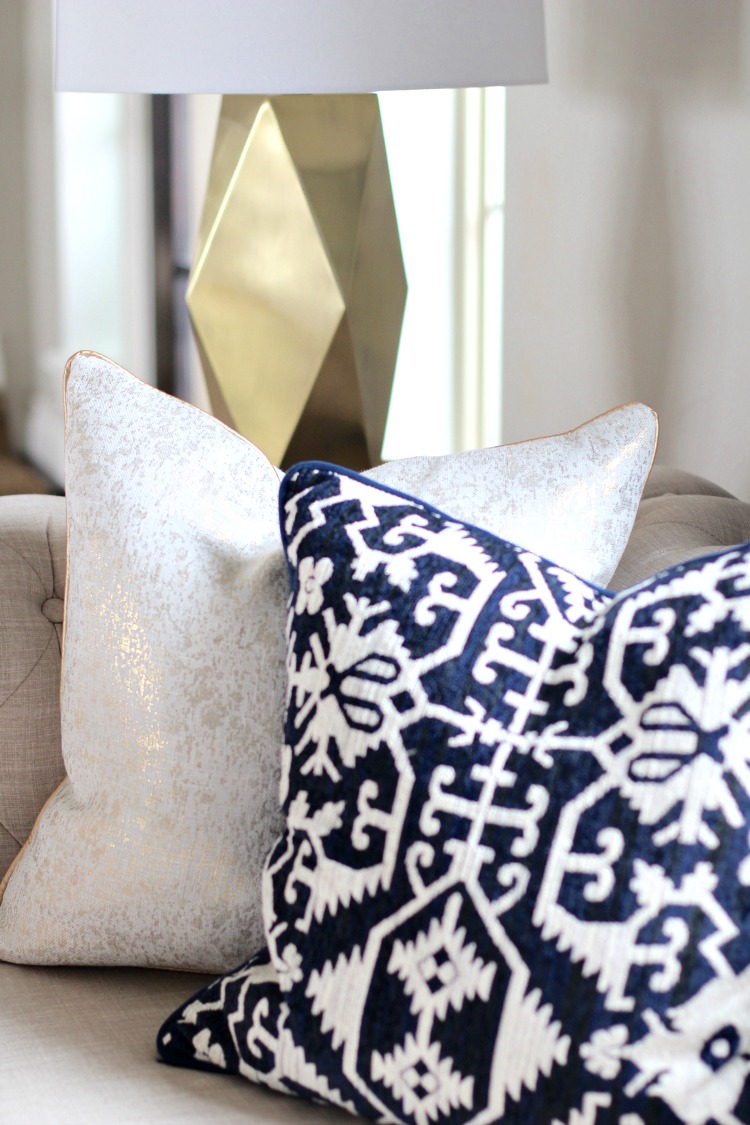 There's something about old books and fall decor that go hand in hand. Maybe it's the colorful bindings or the gold lined pages.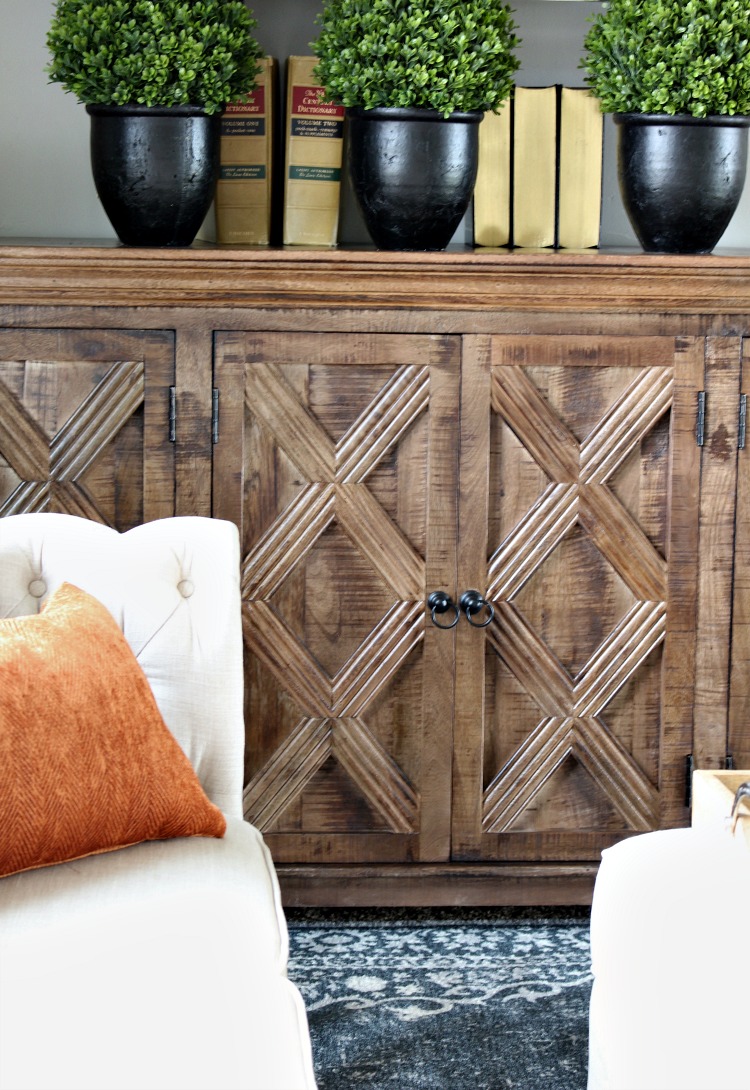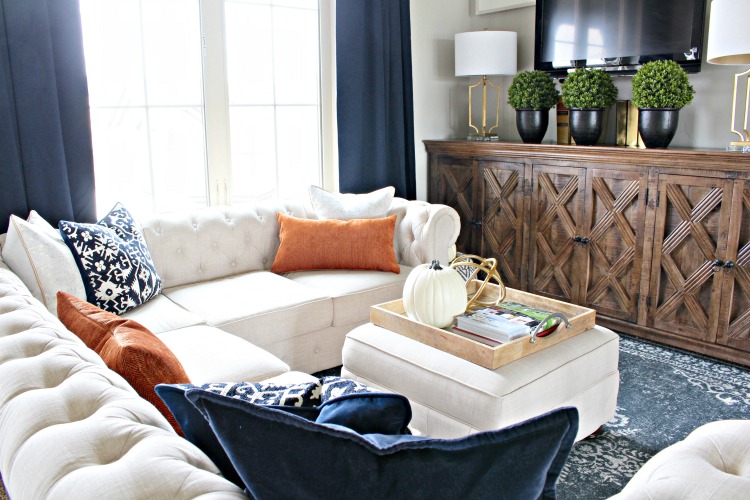 Thank you so much for stopping by for my first of 4 fall home tours. Next week, I'll be sharing more of our home, taking you into different rooms with simple fall decorating ideas (and hopefully some real pumpkins!) I would love for you to continue to follow along with my weekly design journeys by signing up for my newsletter HERE.  We have some super exciting projects in the works that I'll be revealing soon!
Would you like to see the rest of our fall home tours? You can see our fall family room HERE, our glam cozy living room HERE, and our fall porch & bar HERE.
A $100 Homegoods gift card could be on its way to your home next week! To enter to win, use the entry form below.  Extra bonus points for subscribing to my weekly newsletter!
Please be sure to visit each of these homes as you continue on with the Make Home Yours for Fall tour! I've been inspired by each and every one of these bloggers and their homes will be all decked out with loads of great fall decorating ideas…you don't want to miss!
A big thank you to Homegoods for sponsoring & partnering with me on this fall home tour.  All photography and opinions are my own.
Additional kitchen & Loft sources can be found on my SOURCE page HERE.