The Forest Modern: Exterior Paint and Stone
Hello. After taking a much needed extended break from blogging I'm back with some all new updates to The Forest Modern!  When we first started this journey of building our home, I had high hopes of blogging about every detail. I wanted to take you through every phase and "behind the scenes." Then, it happened. I saw this tsunami tidal wave coming right at me and ultimately closing in. That tsunami happens to be this house that has unexpectedly consumed all of my time. Not just because I've been the solo designer on the job.  I wish that was all I had on my plate but unfortunately, our reality has been far from easy building this house. To say it simply, Tim and I have been "putting out fires" there almost weekly. Of course there are always issues when renovating, remodeling, or building a new home. That is always to be expected. We just weren't expecting all of the issues we've faced. It's almost ironically comical, except we are not laughing yet.
Needless to say, the house is still slowly moving along and we hope to move in by end of March.  So without further ado, I'm excited to share with you our exterior paint and stone.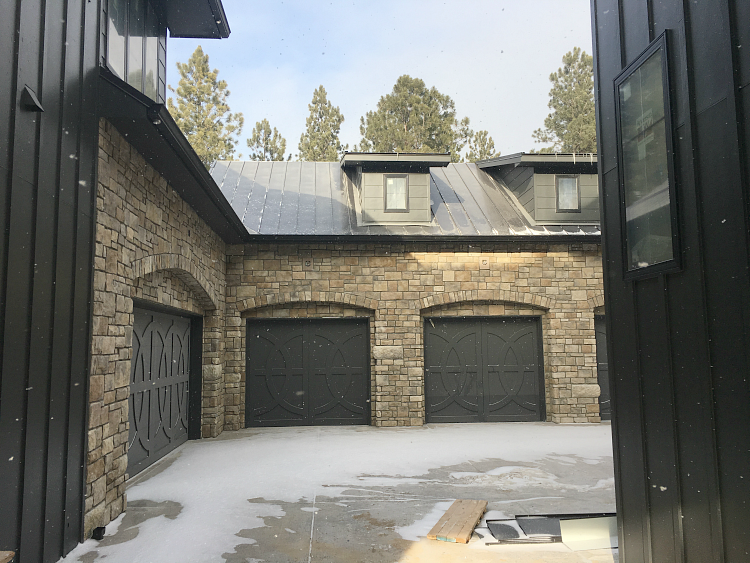 We chose Iron Ore by Sherwin Williams and couldn't be happier with it! It's a very dark charcoal gray and almost looks black depending on the time of day. I toiled over a dark house for months during the summer. Scared to take the plunge but knowing I had to do it! Nestled in a wooded forest, I can't imagine any other color.  The day it I took this photo of our garage doors, it was lightly snowing. Can you see the tiny snowflakes in the air? Magical when it snows in our forest. Did you notice our black metal roof too? GAH!!! Because a black house wasn't black enough…ha!
When we traveled the Pacific Northwest last summer, I was so inspired by all of the dark painted houses. In fact, have you seen HGTV's most recent dream home??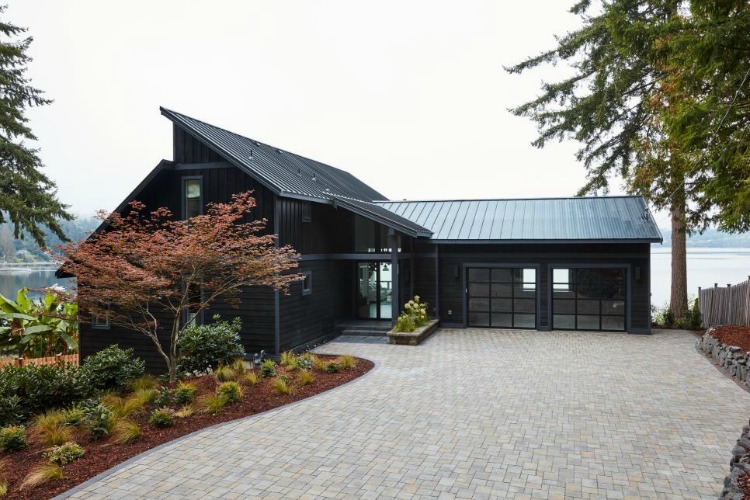 If there was ever a doubt in my mind about choosing to paint The Forest Modern dark, Brian Patrick Flynn just made me feel like a rockstar on that decision! He doesn't know this but he's really my design BFF. I read this interview with him where it said his design inspiration comes from being in a remote place and letting the ideas come to him. I'm actually the same, expect slap a pair of running shoes on me and send me on a running trail for miles. My best design ideas have always come from those quiet moments (okay, maybe 80's music blasting in my headphones). Maybe it's the endorphin release that gets my creativity going. I much prefer that over hours on my laptop looking at Pinterest.
My iPhone photos will have to do for now. I snapped these pics in the morning so everything is a little dark. We have all those trees shading large areas of the home and casting shadows. Oh how I love those trees though!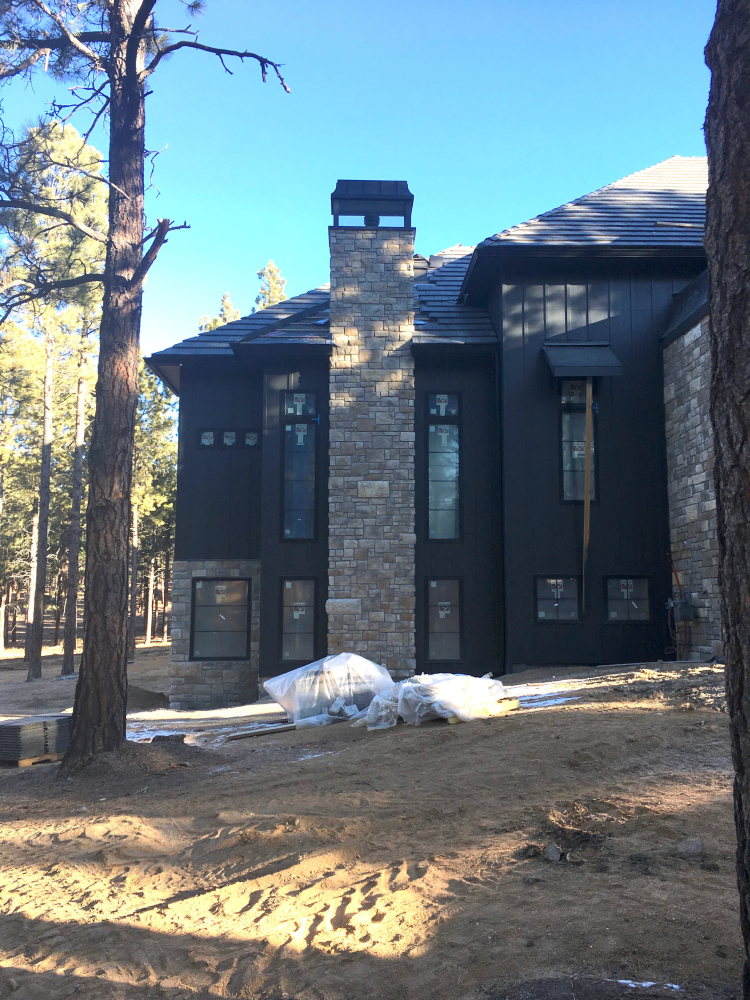 Our stone was custom made by a local stone fabricator. I'm thrilled with how it turned out! Wish I could say all the stone is complete on the home but it's getting installed in phases. Some days I show up and feel like I'm a kid on Christmas morning. Progress is so fun to watch!
Back view of our garages.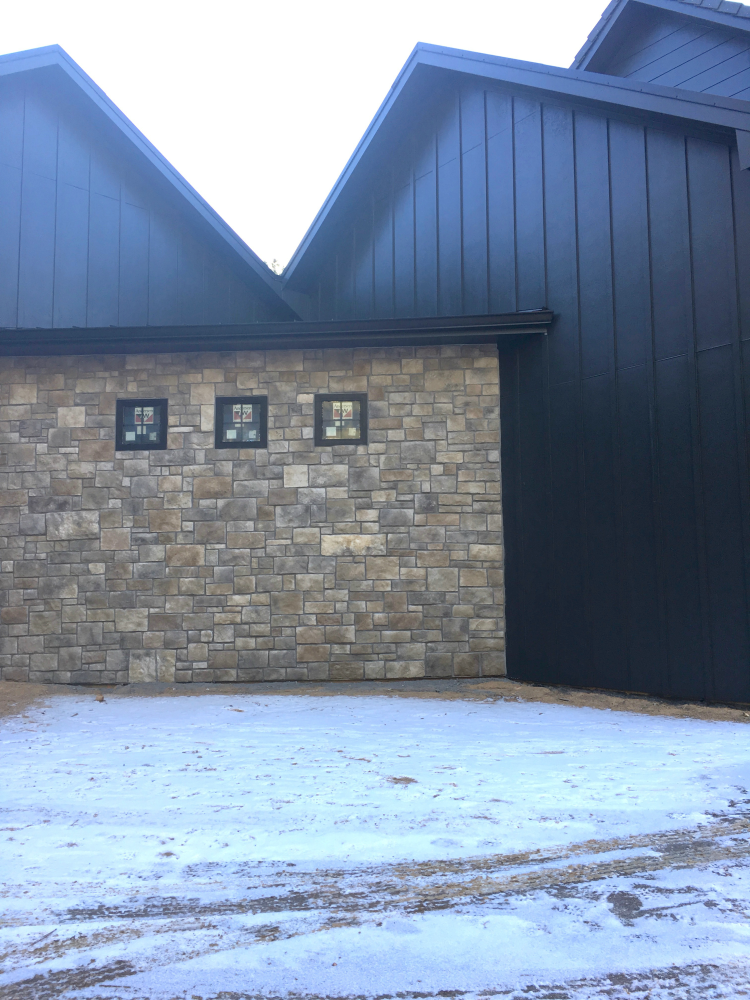 Inside our back covered patio. Master bedroom door is to the right.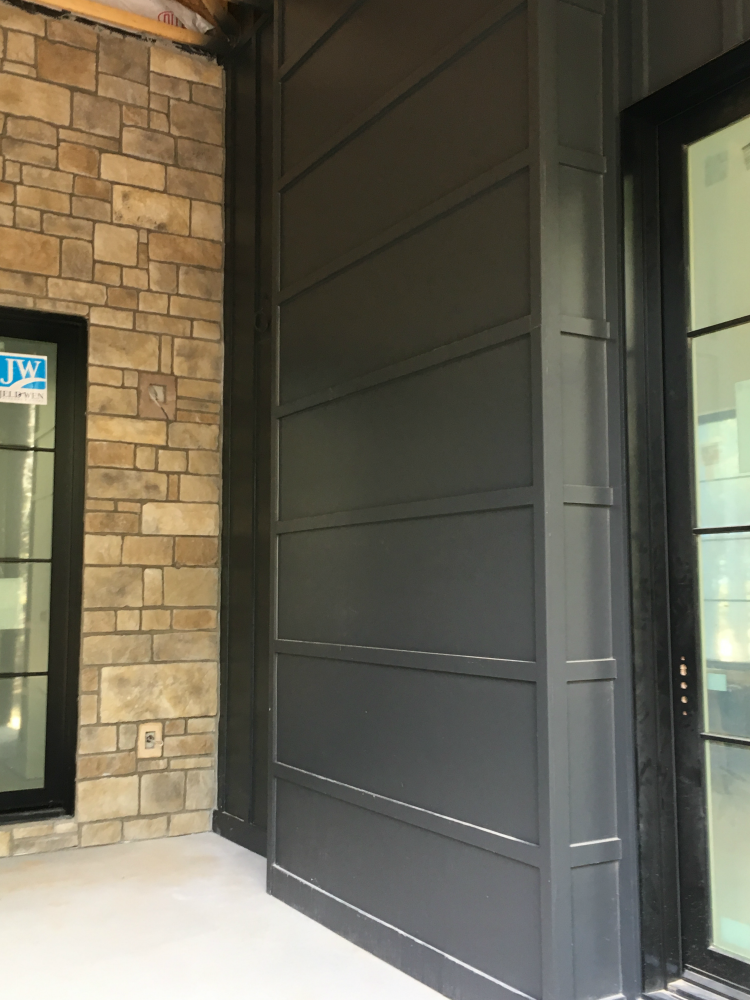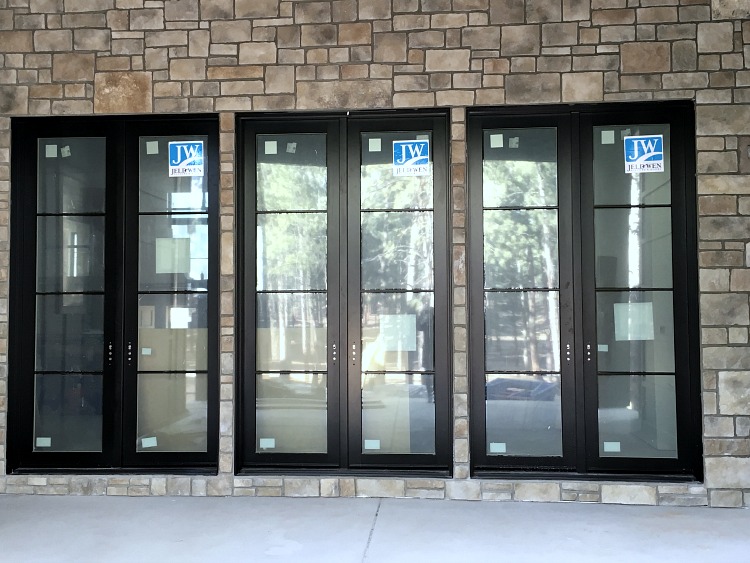 You can read more about our doors and windows HERE.
Tim built those retaining walls. There will be large stone steps wrapping around to the side of the house where our walk out basement entry is.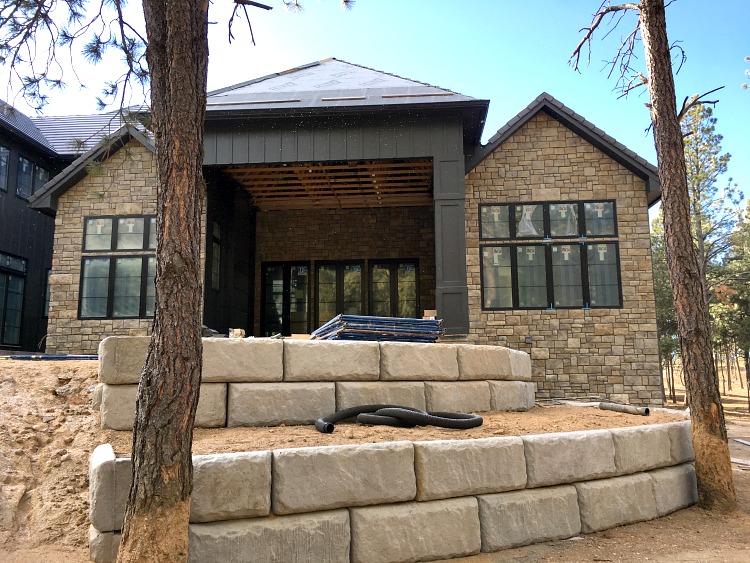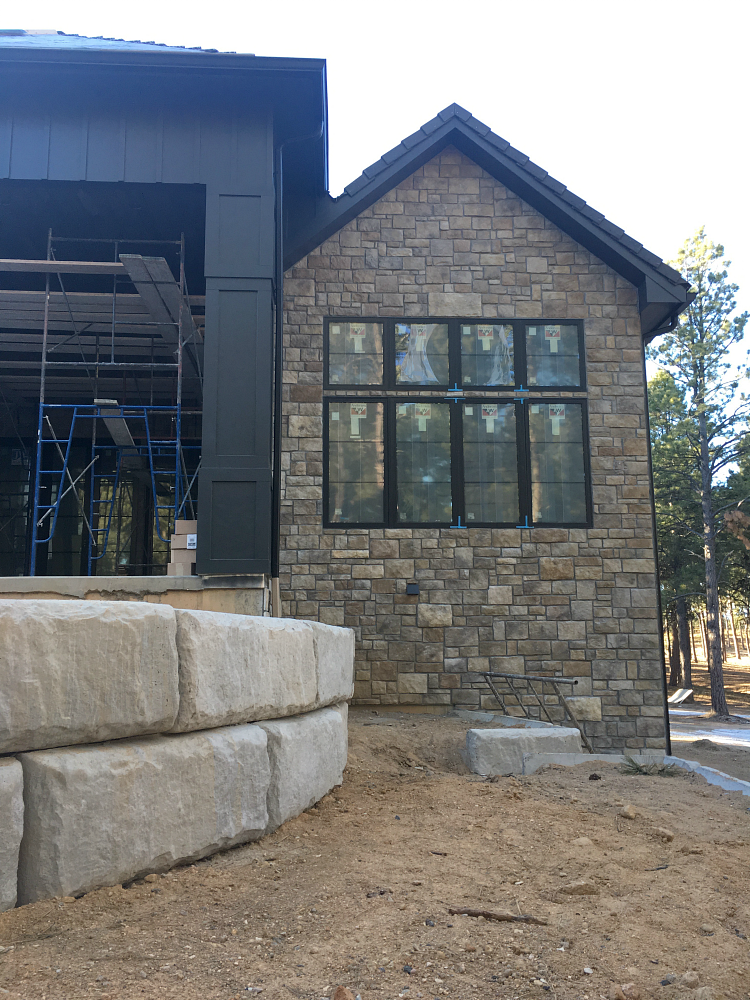 You know what I love most about this home? It's different. Not what you typically see here in Colorado Springs. I revolted against the standard stucco that most homes have. Not to say stucco is a bad choice, it's just not what I wanted. I also think new modern exteriors will be taking the scene soon. Metal, natural wood planked siding, concrete, oh the things you could slap on the side of a house. The Forest Modern birthed a feeling very early on in the design phase. Something I felt the moment I saw our wooded acreage. It had to be dark and moody. Something unexpected. Bold yet beautiful.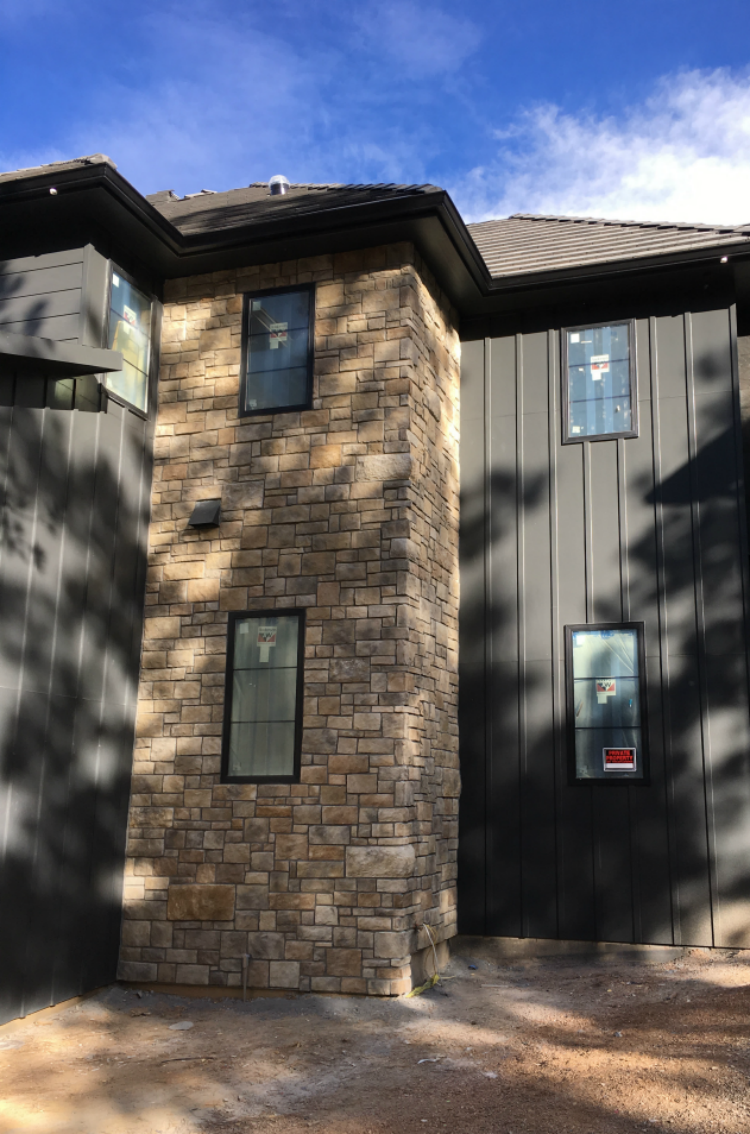 We have so much progress to share and can't wait to start unveiling this home with you over the next few months! Thank you for following along! If you're new here, catch up from the start of The Forest Modern HERE.
SaveSave
SaveSave
SaveSave
SaveSave