The Forest Modern: Windows & Doors Installed!
It seems like when I leave town, soooooo much progress happens at The Forest Modern.  Maybe I should just go on vacation more, right? As we were in Florida last week, our windows & doors were installed! You don't even know how much of a milestone this feels for us right now! I researched windows and doors for months before making my final selections and I am thrilled with how they turned out!
Doors
You may recall back in April, I was discussing what I really wanted for exterior doors in this post. I finally came to my senses and realized that those are highly impractical in our Colorado climate. After all my research, I decided to go with the Jeld-Wen Siteline aluminum clad doors.  I was able to customize the grid pattern design for a modern, sleek look. They came with a black aluminum clad exterior finish and we will have the interior wood portion painted black as well.  They are 6'w x 10'h each and I absolutely LOVE the dramatic statement they make in our living room!
If there weren't so many workers on site when I saw them for the first time, I would have hugged those beautiful doors. I also had the ability to change the hardware to anything made by Emtek. I wasn't fond of the original door hardware that came standard so, I found options. Wait til you see the beauties I have selected! Definitely, another hugging moment when those get installed. That'll be towards the finish line of this home, so you'll have to wait a few more months to see them.
Windows
Moving on….windows!  I die.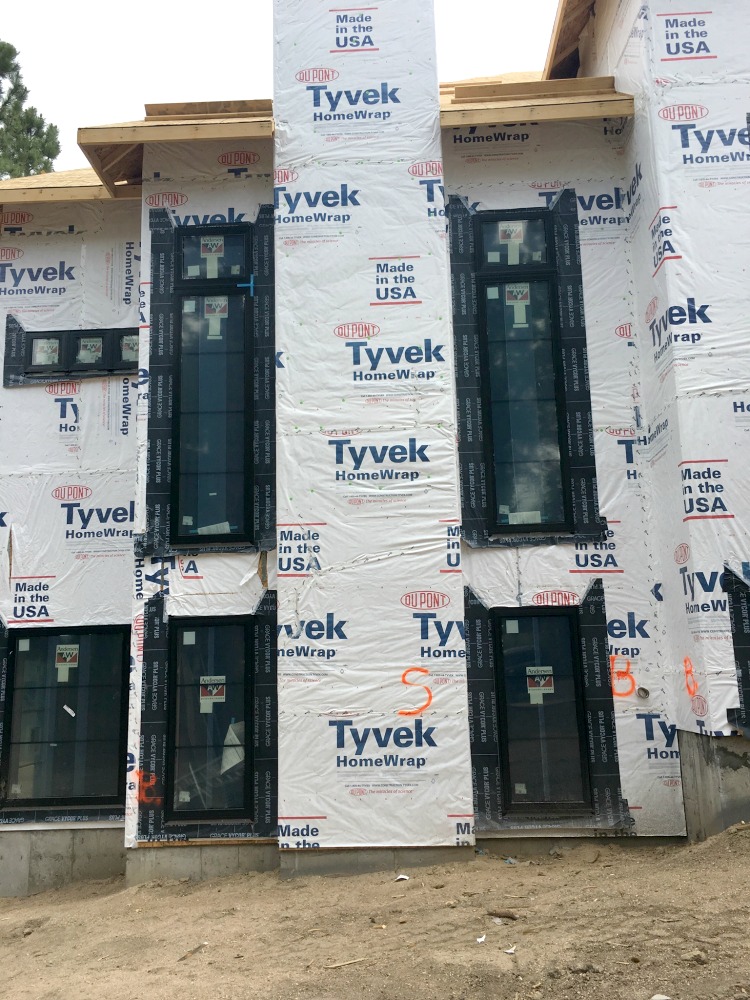 I've dreamed of having black windows for a few years now, even considered painting the windows in our current home black before we decided to move. These are modern, sleek, and sophisticated. We went with the Andersen 100 series that just rolled out the new windows with black exteriors and interiors. Perfect timing for us! I was able to customize the minimal grid pattern design on every single window which ended up being tricky due to all the varying window heights and widths. We have a ton of windows. Calculating the grid spacing for each window was enough to make me go rock myself in the corner, possibly under the table. Now that they are all installed and look AMAZING, I feel like I just gave birth! Yes, I'm THAT relieved!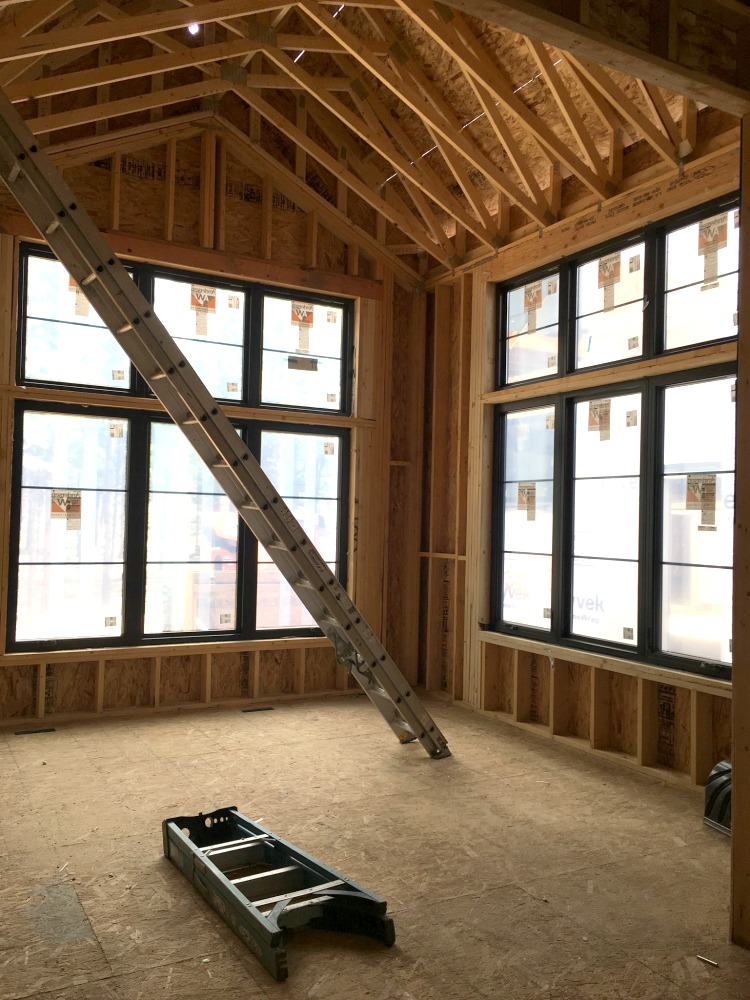 I know it's hard to see how pretty they really are in this dark photo, but I wanted to show you the wall that we knocked out and added more windows. Last time we chatted, I showed you this room without the new opening of windows (see in this post).  What a HUGE difference it made to this space!
I added a lot of windows over the last month and I'm so happy I made the choice to let more light in! I know some of you may be thinking, "that's a lot of windows to cover for privacy…"  That's the perk of living nestled among a lot of forest trees.  I only plan on covering the bedroom and bathroom windows, others will be flanked with drapery but for aesthetic purposes, not privacy.
It gets even more exciting! I'm just really giddy with all this progress, can you tell?
Garage Doors
Remember when I talked about garage doors in this post?  I had them custom made by a local garage door company.  The word "custom" always seems to have tons of $$$$$ signs attached.  You'd be surprised sometimes that by doing research, you can get the look you want by a local craftsman for sometimes less than having it made by a large production company.  We went with a solid quality steel garage door and had this cedar wood overlay adhered on top. I have plans to paint them, so you are actually seeing them currently in their raw condition.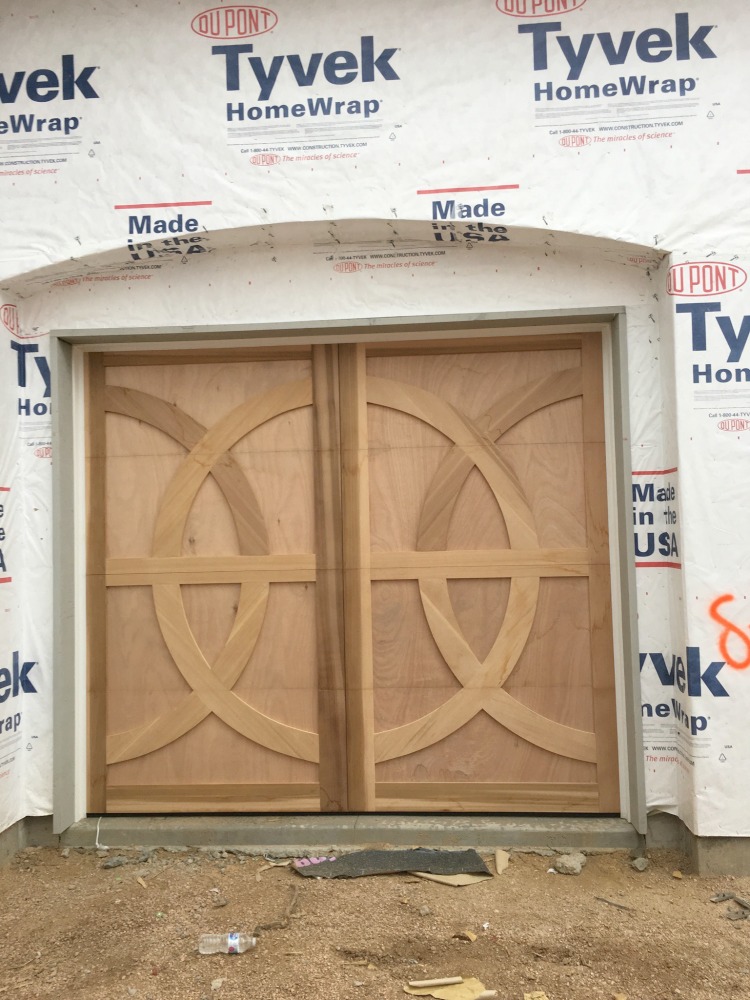 Every home needs that statement piece, that conversation piece, that "stop me in my tracks as I'm running by kind of piece." I think these will do the trick.
Thanks for following along!
SaveSave
SaveSave
SaveSave
SaveSave
SaveSave
SaveSave
SaveSave