Halloween decorating is hands down my absolute favorite time of year to decorate! If you read my recent post, you know that I've had to put aside my obsessive decorating tendencies to focus on the building of The Forest Modern. You know, that house we're building that seems like it's taking a decade to build.  I wasn't even going to decorate for halloween this year…gasp!! Until, well, I got an exciting email from Better Homes & Gardens wanting to photograph our home for their Halloween Tricks & Treats special edition magazine.  You better believe I said yes and got busy styling! It's like a final farewell to halloween in this home that we have loved for over 7 years. You'll have to wait until next year to see what they photographed, but for now, let's take a look at some Halloween styled shelves of curiosities I whipped up.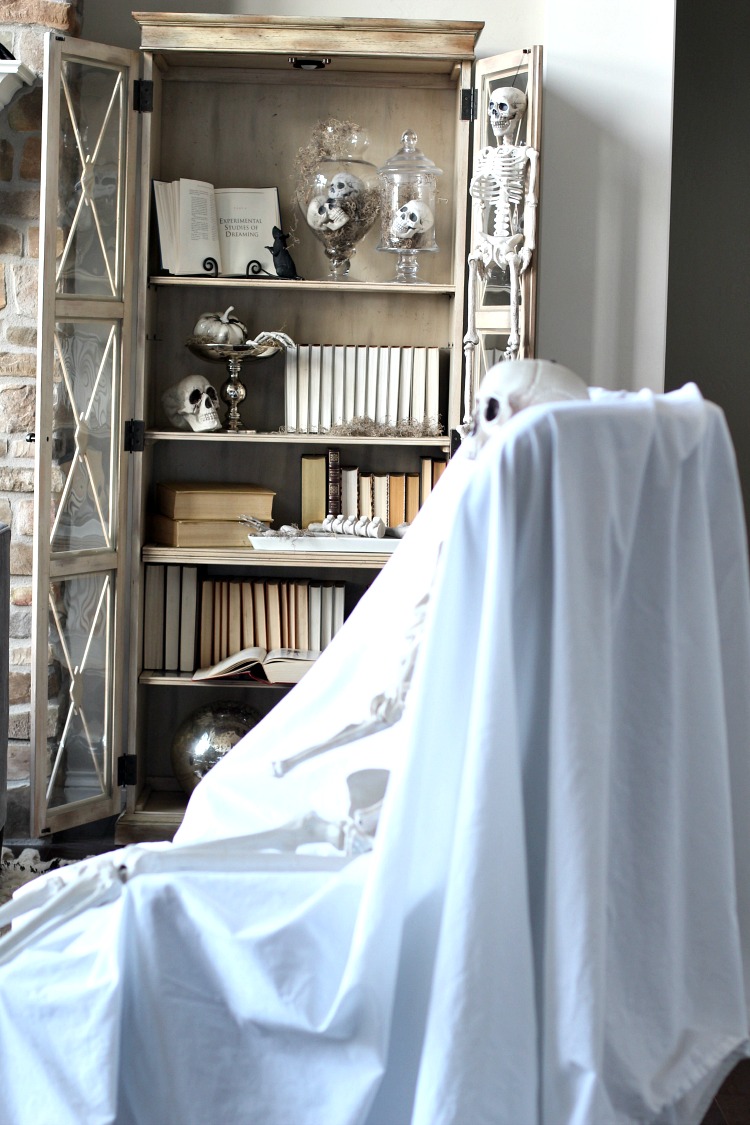 Over the years I've collected quite a stock pile of items that are fitting for halloween decorating. I love to shop my home for fun accessories to style my shelves rather than go out and buy more stuff that I have to store 11 months out of the year.  The curio cabinets in our living room got some spook adornment with old books, skeleton bones, skulls and some simple curiosities.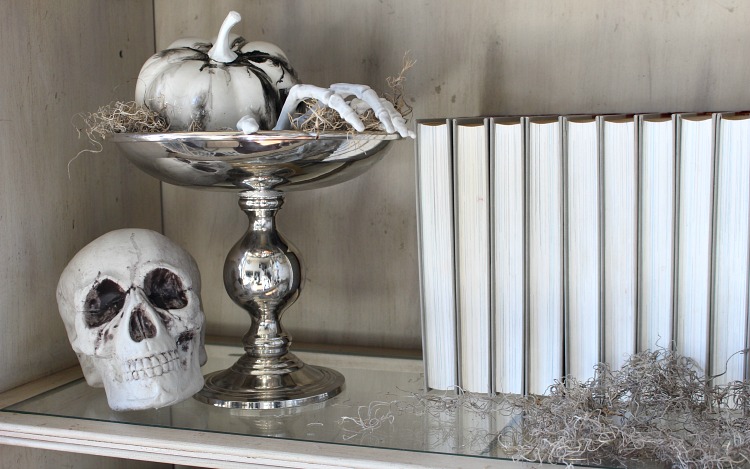 Most of my books are from Goodwill and other thrift stores. I like to collect book sets that have black or neutral color spines. They can be used anytime of year for decor. A fun little trick is to flip the books around so you see the pages rather than the spines. If you could scratch and sniff these photos, you'd smell the dusty, old book smell. I've always loved the smell of books. It's a family joke that we laugh about still to this day of how when I was a kid I used to sniff every single page of the book when I'd turn the page after reading it. Odd. Call me a book sniffer.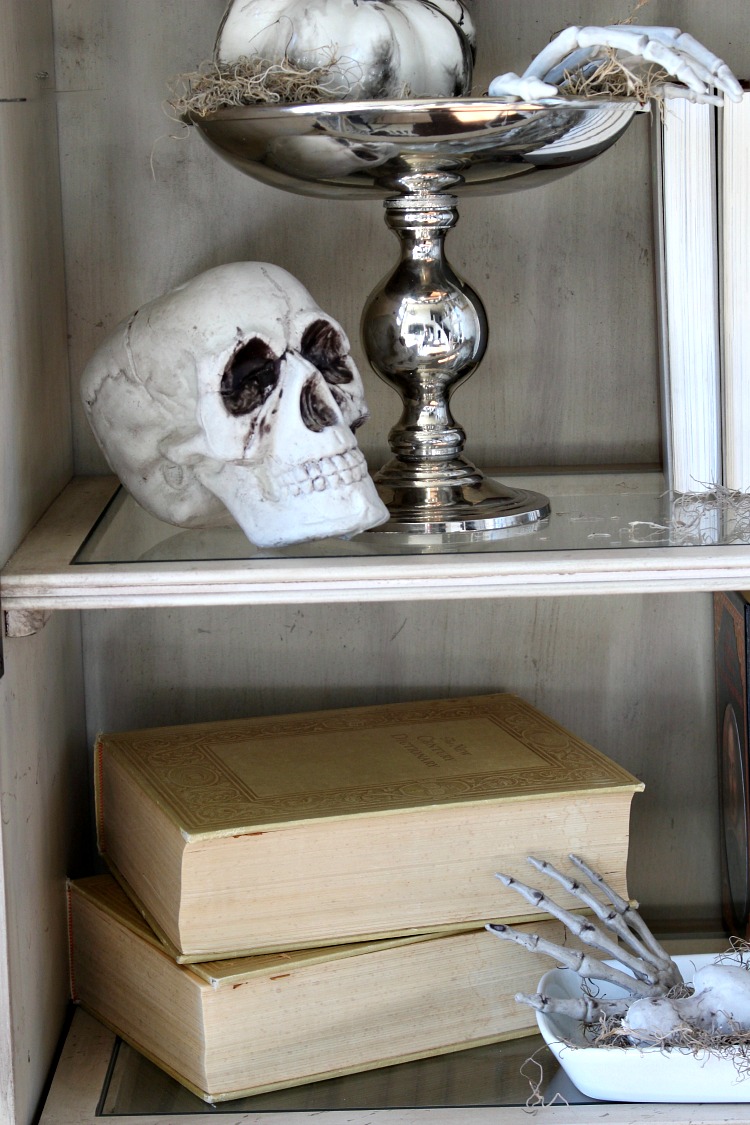 It's a bonus when I flip through these old books and find images that are perfect for the halloween setting. Like this skeleton playing not one, but two horns.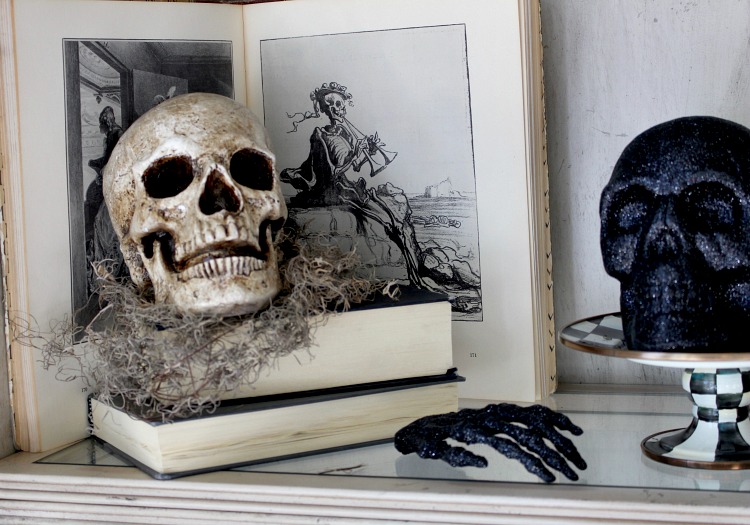 An old webster's dictionary sharing an image of a black widow. Add some mice for a dose of curiosity.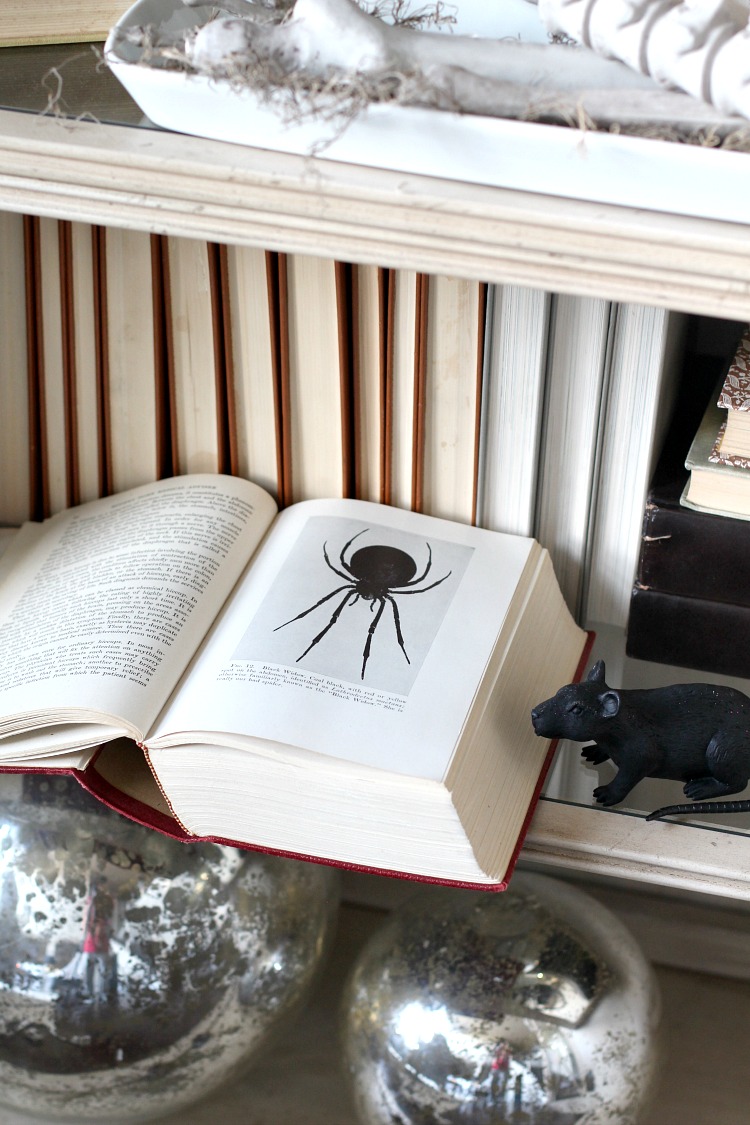 An old psychology textbook from college days.  I went through a phase where I was so intrigued with dreams.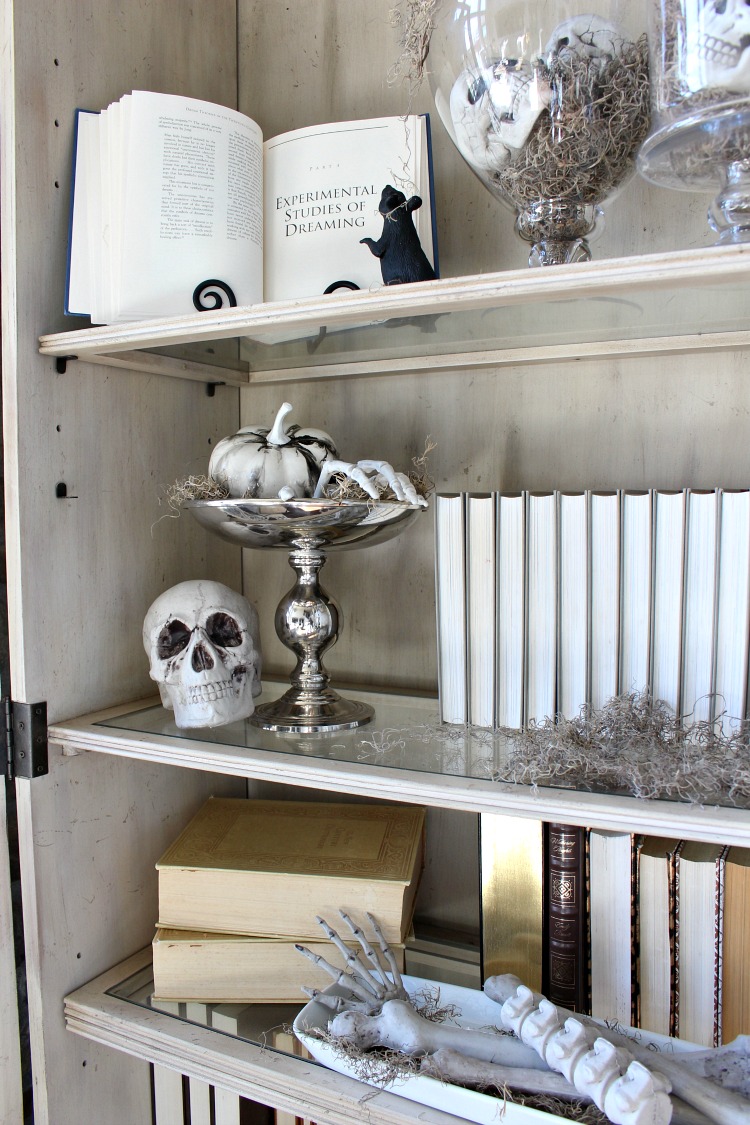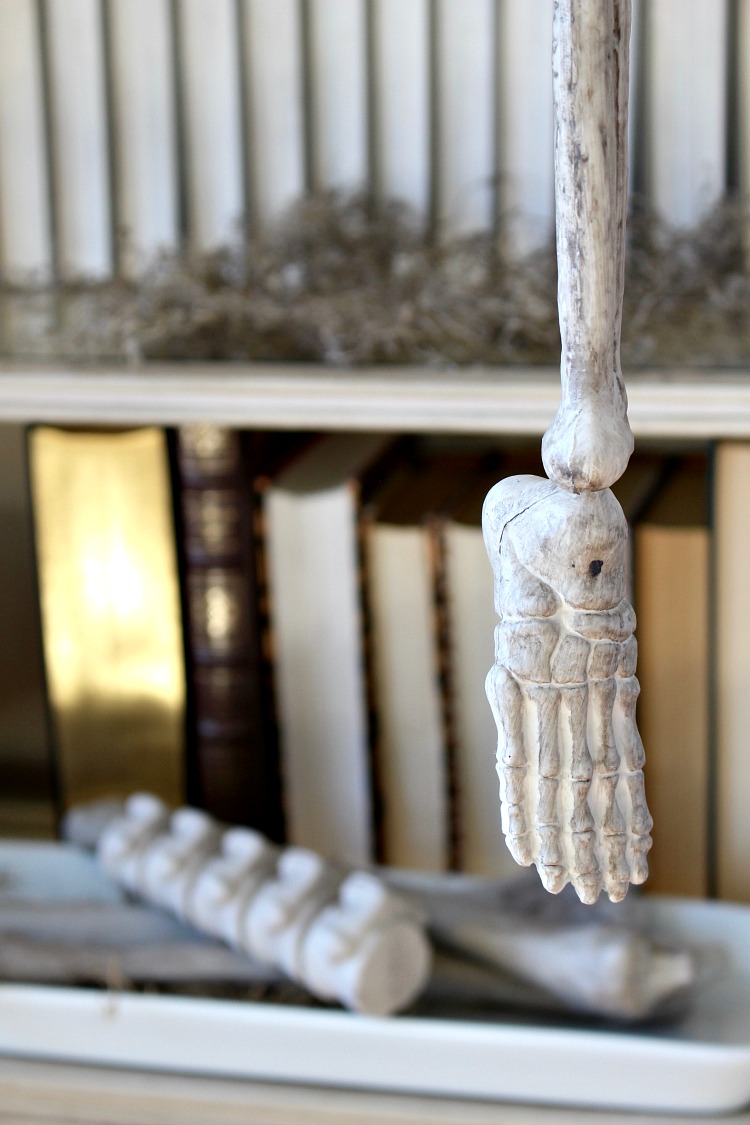 Spanish moss was added to give the effect of old, abandoned shelves in a haunted mansion.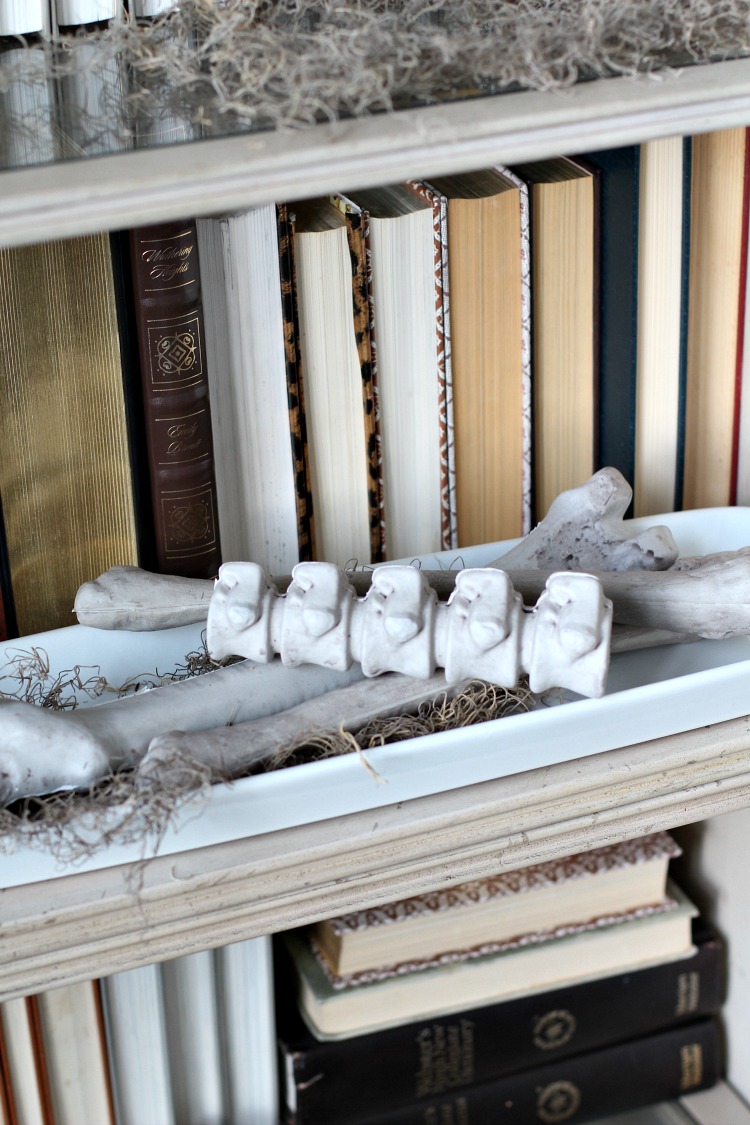 I gathered apothecary jars, platters, and cake stands from the kitchen to "fancy up" my skulls and bones.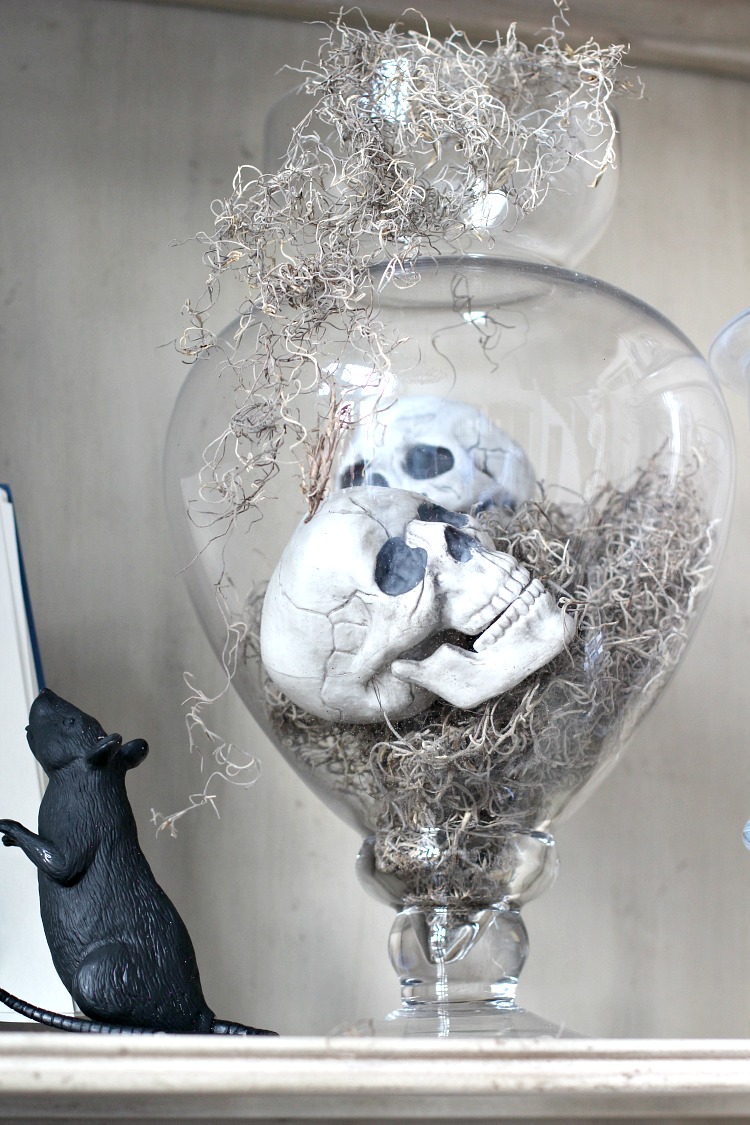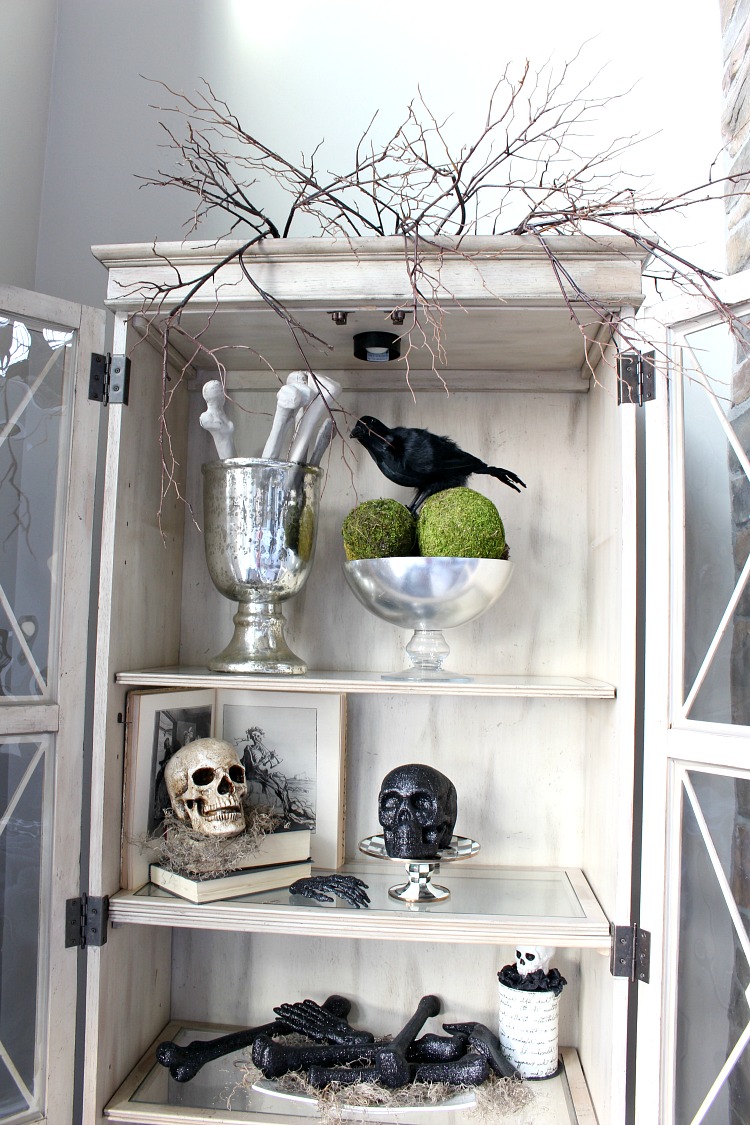 The black crow is a hint of what my halloween mantel will be displaying.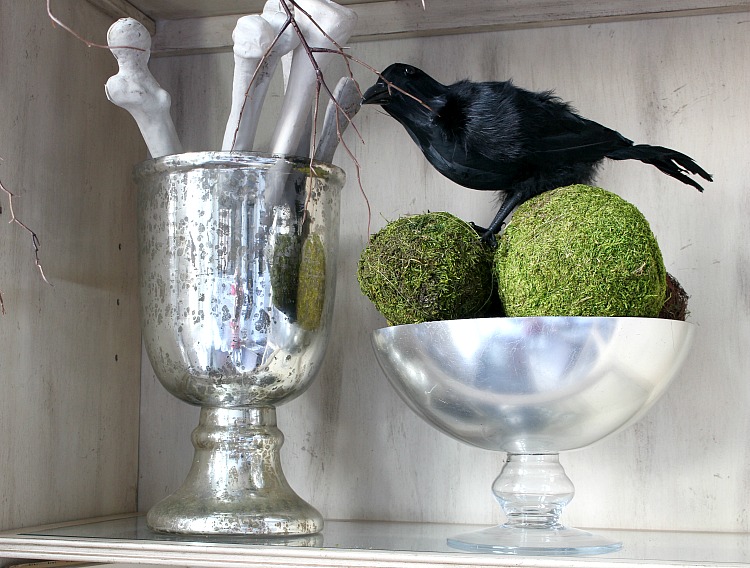 Need some last minute halloween decor ideas before the final weekend in October?  Just type in "halloween" in the search bar to see our halloween tips, tricks and decor from previous years.
I'll be sure to let you know how the photoshoot goes with Better Homes & Gardens later this week! They come tomorrow!  EEeeeeek!