Happy New Year From The Beach Cottage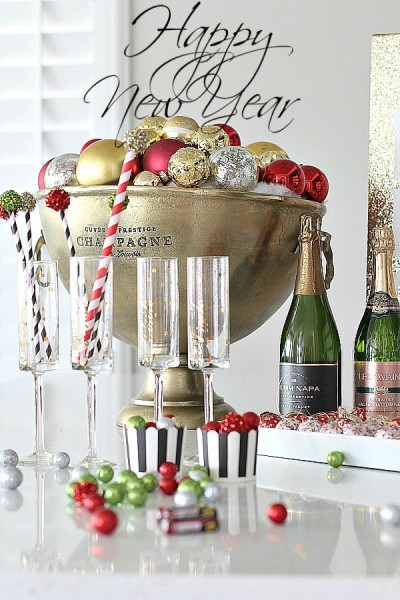 Hi friends! Happy New Year from the beach cottage! I hope you all had a wonderful Christmas!  Ours was great and got a little crazy with some spontaneity!
We decided to change our flights to the beach cottage and arrive BEFORE Christmas!  Just couldn't take the cold in Colorado another day and with the cottage beckoning us to come see her extreme makeover, we couldn't resist!  So I literally unwrapped all the presents we had under the tree, shoved them in a suitcase and hoped they'd arrive smoosh-free (and they did!). We missed our connecting flight by 4 minutes (big sigh!) and got to spend 7 hours in Detroit (yes, clearly out of the normal path) and listen to travelers singing Christmas karaoke in the middle of the airport…splendid.  We arrived at the cottage just past midnight, the wee hours of Christmas Eve, and of course had to pull out our old Christmas tree, blow off the dust and fluff the branches. When it's 85 degrees outside and palm trees are swaying, the tree had to go up ASAP to remind us that it is December and not summer.
Christmas came and went and we feel so blessed to have our little slice of paradise in Naples, FL to escape to for holidays and vacation. We will be ringing in the new year on the beach and I wanted to pop in and say HAPPY NEW YEAR to all of you from the beach cottage! I am so incredibly grateful for all of you following along with this little blog of mine since the summer and have grown quite fond of you, especially when you leave little comments and send me emails. Thank you from the bottom of my heart!!
If you're new to the blog, you can read the story behind the beach cottage HERE and see the beach cottage home tour HERE.  Charming before renovations, but wait until I show you the new reveal coming up some time in January! What started out as a bathroom renovation in September turned into a whole house renovation by mid October. You can read how that happened HERE.
For the next week I will be taking time off from blogging to spend time with the family for the remainder of our vacation.  Make sure you are following me on Instagram where I'm sharing sneak peeks of the cottage before the big reveal!  I'm so excited to show you!
Wishing you a safe New Year's Eve and a Fabulous 2016!!
Ps. the above photo is from my Colorado Christmas Home Tour but I had to repost the champagne since that's how we'll be ringing in our new year! Cheers!