Modern Industrial Lounge Reveal!
The time has come I can finally share this beautiful space in our home! The Forest Modern Industrial Lounge REVEAL!! After living in our home for two years, we are finally finishing off some living spaces in our basement. I partnered with one of my favorite brands, Room & Board, to bring this lounge area to life. A cozy conversation spot just off of our bar/wine room.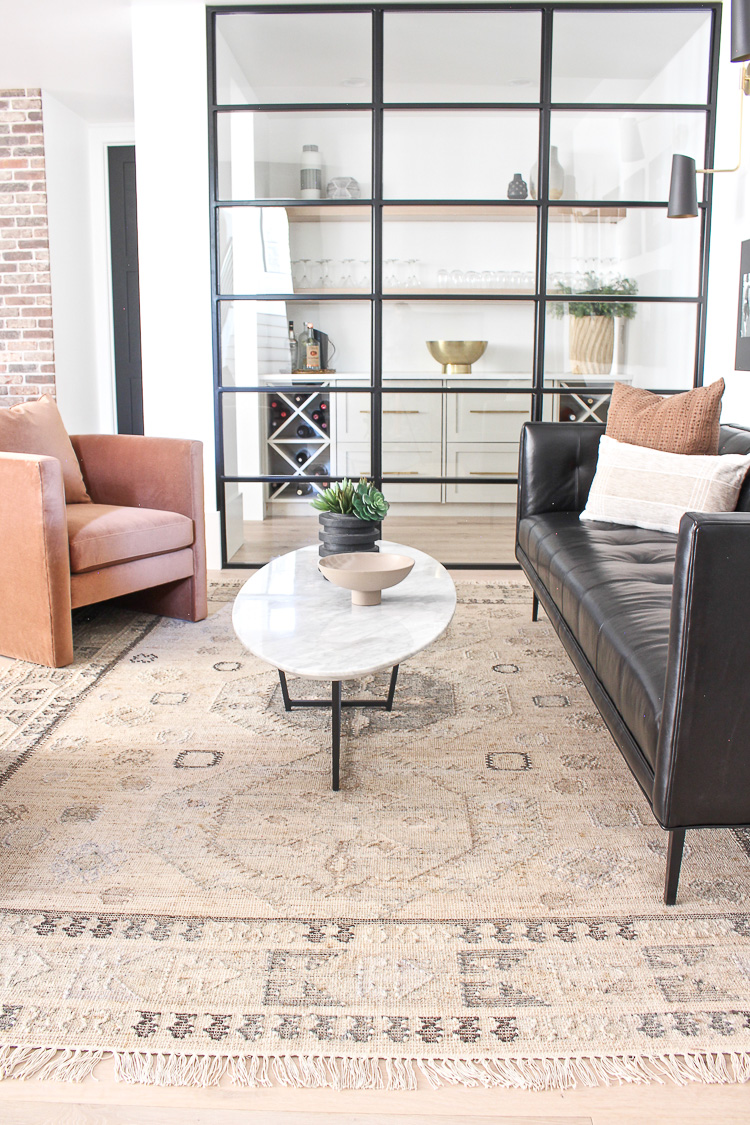 This post is sponsored by Room & Board and contains affiliate links. All photos, reviews and opinions are mine. Please see full disclosure and photo policy HERE.
I wanted this space to feel cohesive to the rest of the home, yet with an edge. The organic, earth tones are so warm and inviting and soften the industrial elements of the steel/glass wall and steel gallery wall (more on that showstopper in a moment!).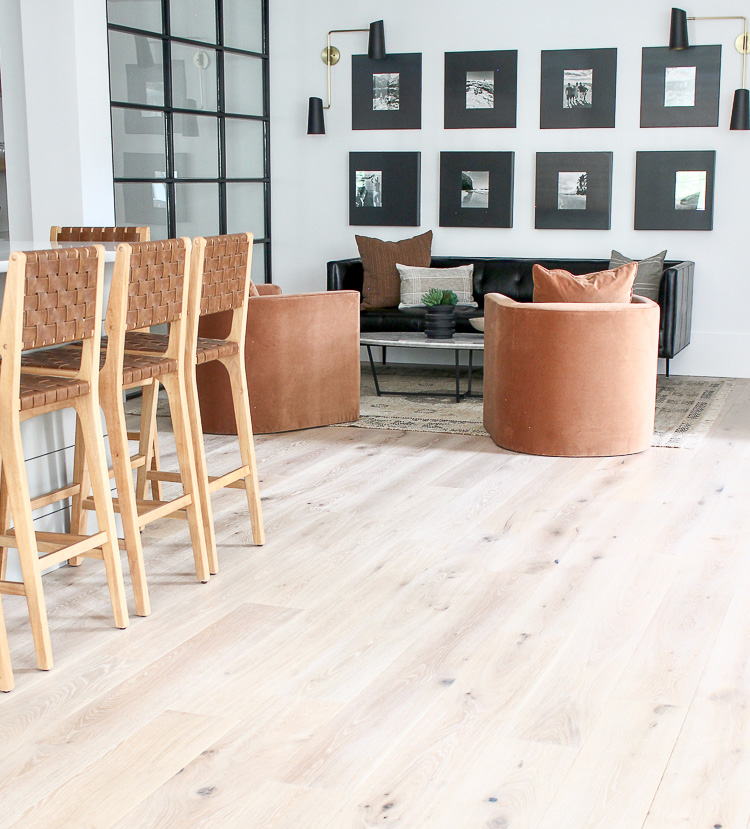 I fell in love with these gorgeous velvet chairs in this muted cognac color that give the space a substance of color. They look fabulous against the brick wall in our bar area. They are really comfy for conversation chairs and I have a feeling my friends will be battling over who gets to sit in them next gathering we have.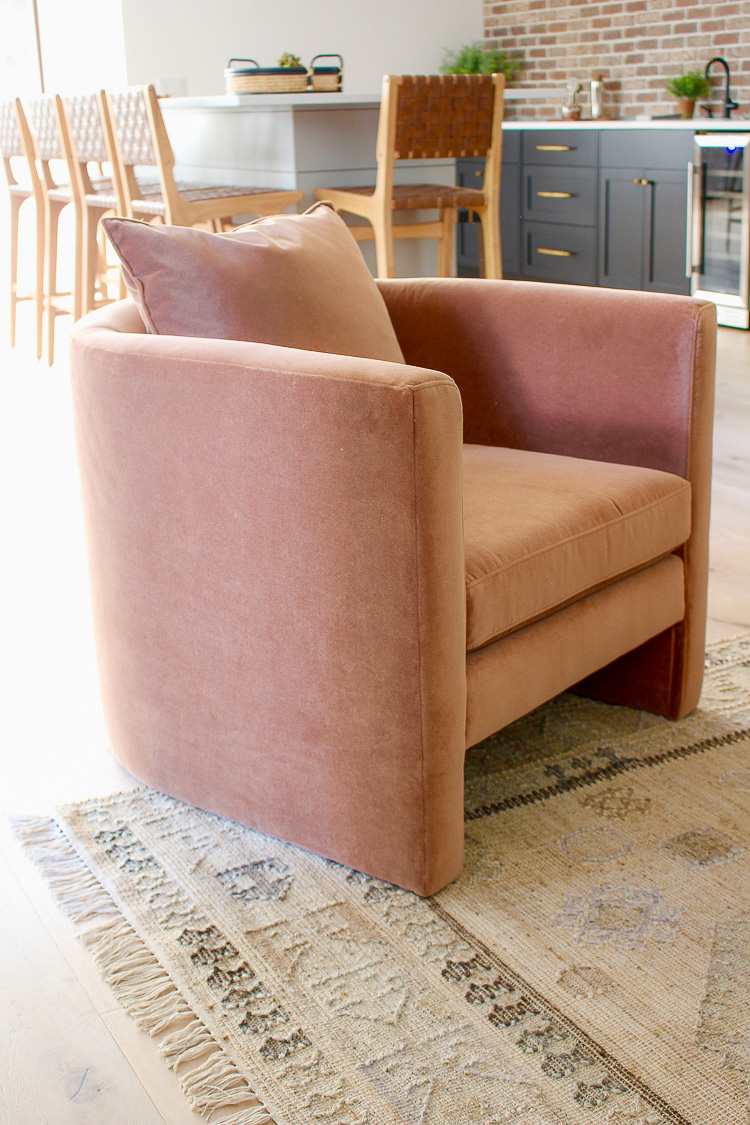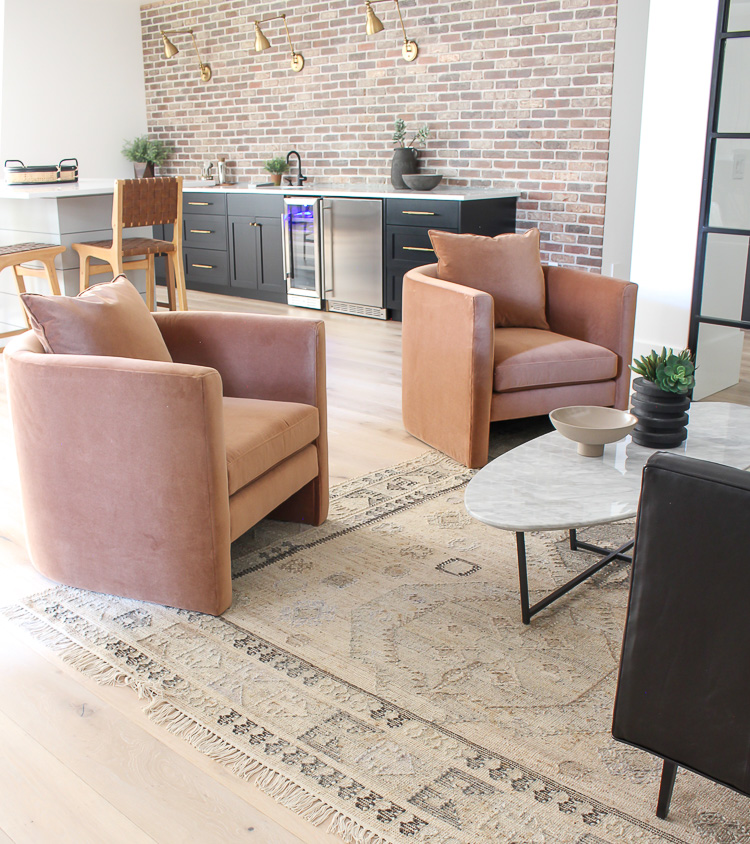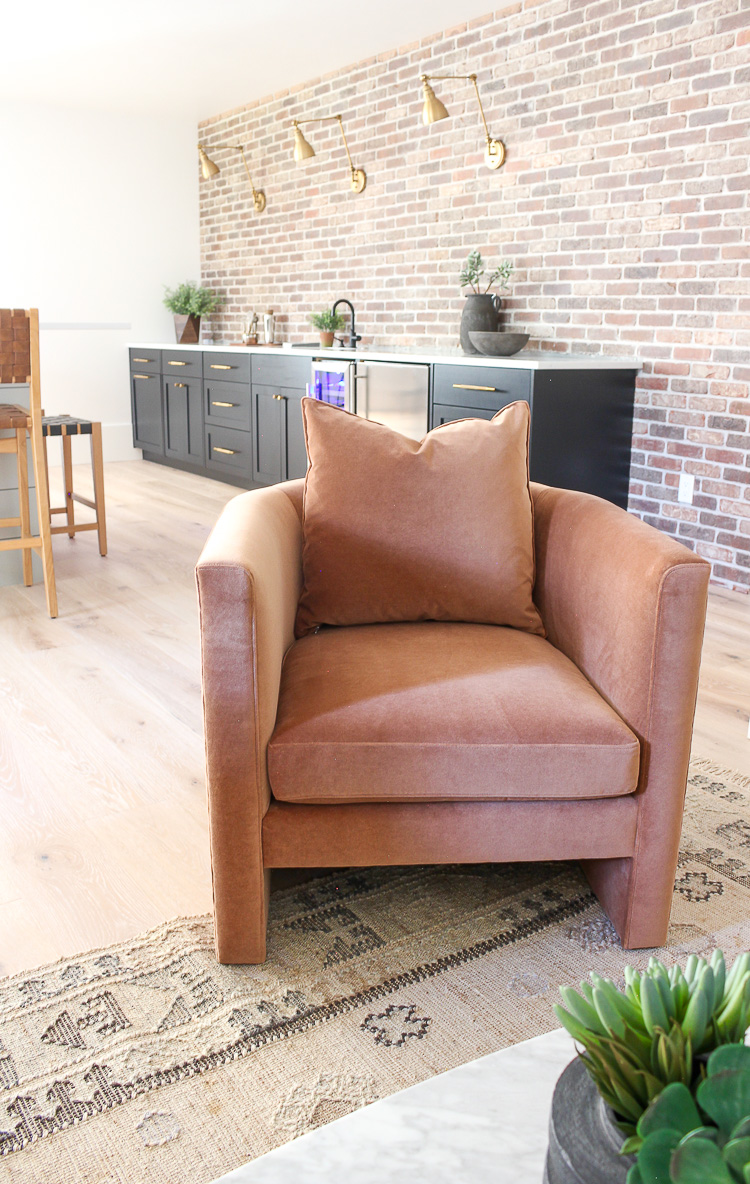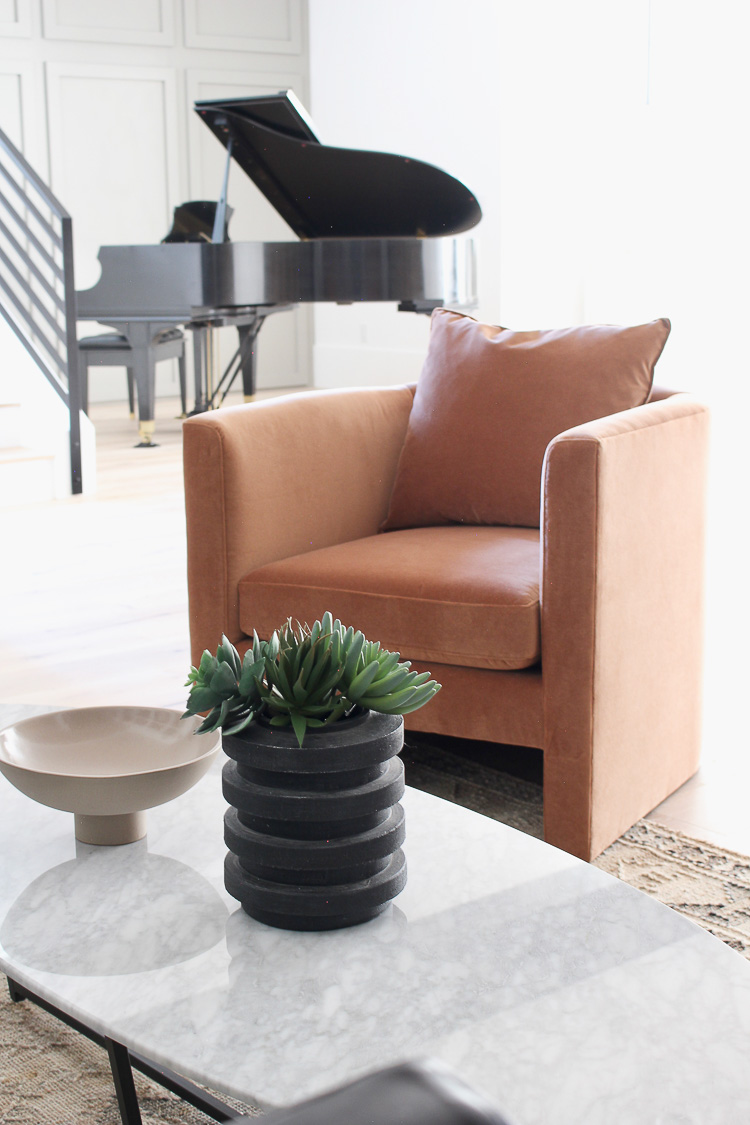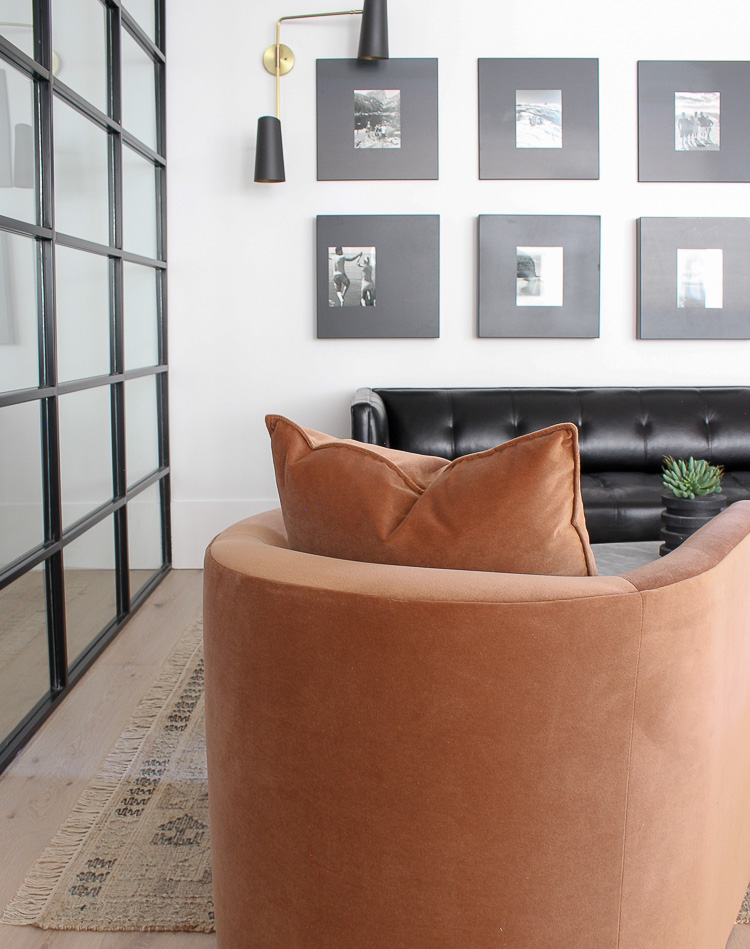 The black leather sofa is sleek and sophisticated. I was able to fully customize it with this rich black leather (color is Vento black) and those stiletto black legs. I'm obsessed with how good it looks against the steel frame gallery wall!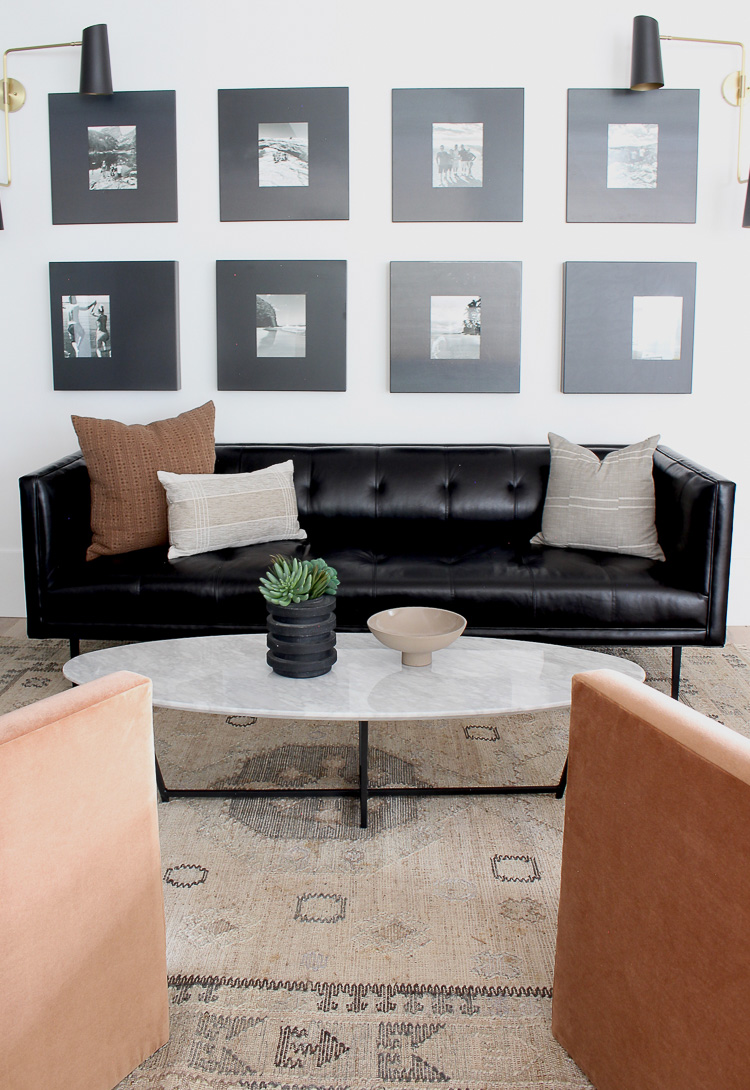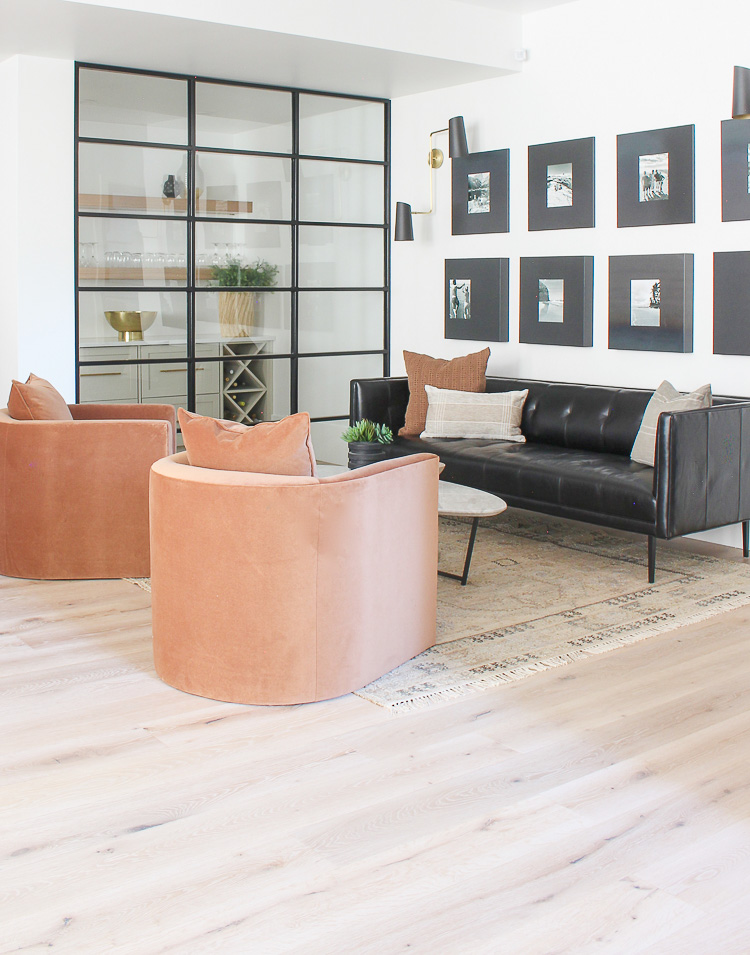 I've been dying to use these steel frames for a gallery wall in our home for a long time now. They have such an incredible presence with their urban, industrial feel. They are available in different frame size options. Unfortunately, the box frames on the lower half are not available anymore in the natural "black" steel, but the thinner profile top row of steel frames are still available.
You'll notice that two of the frames have off-centered photos. That was intentional. I like to break up monotony for visual interest. Black and white photo prints of some of our favorite hikes and beaches with each having a story to tell. Great conversation pieces and a stroll down memory lane.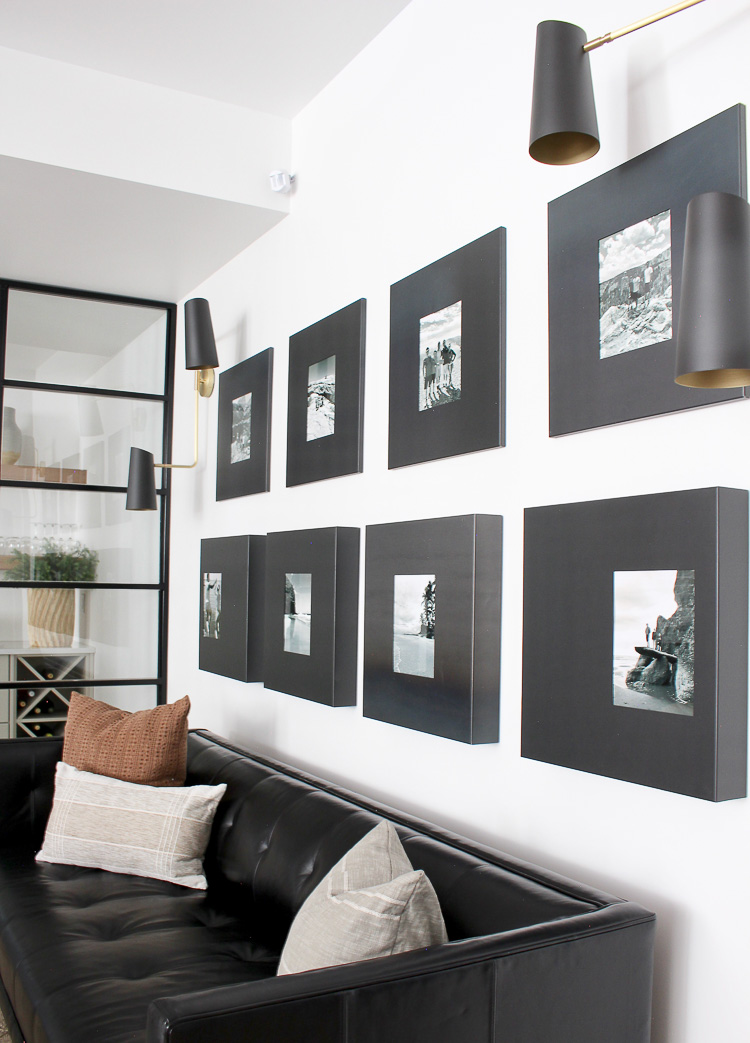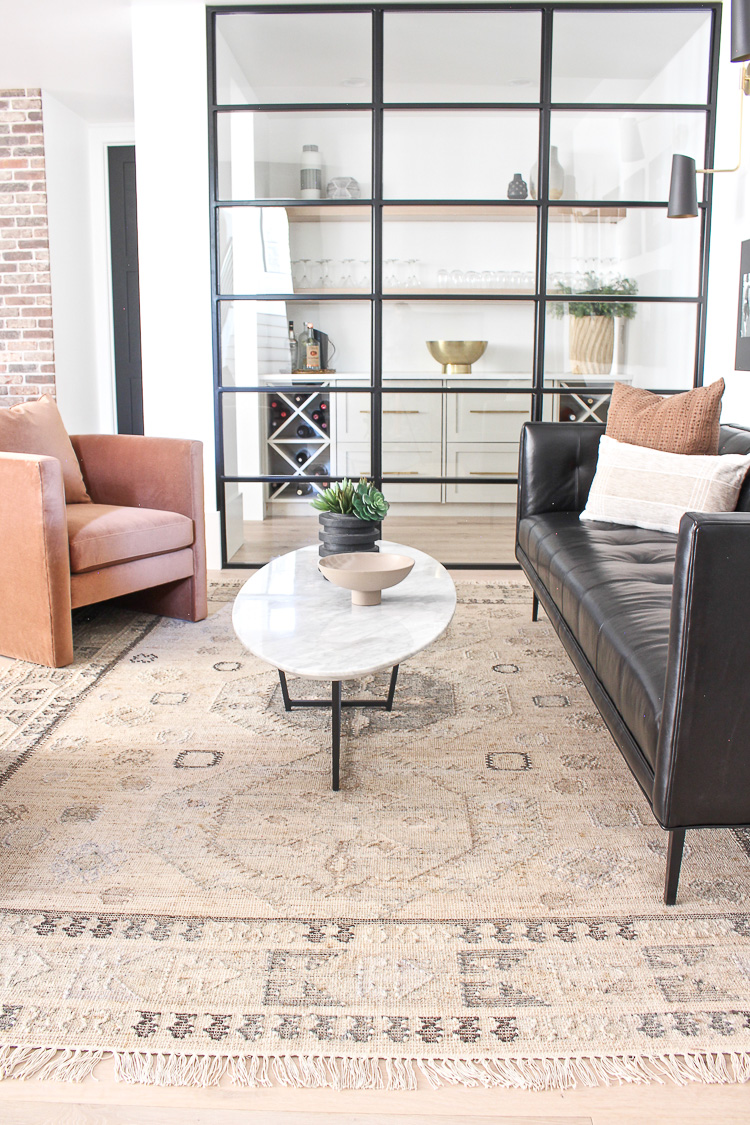 This kilim rug has such beautiful muted earth tones and it brings warmth and texture to the space. The mid-century style marble/steel coffee table is the perfect resting spot for all of the bar beverages. I'll have a lemon drop martini please!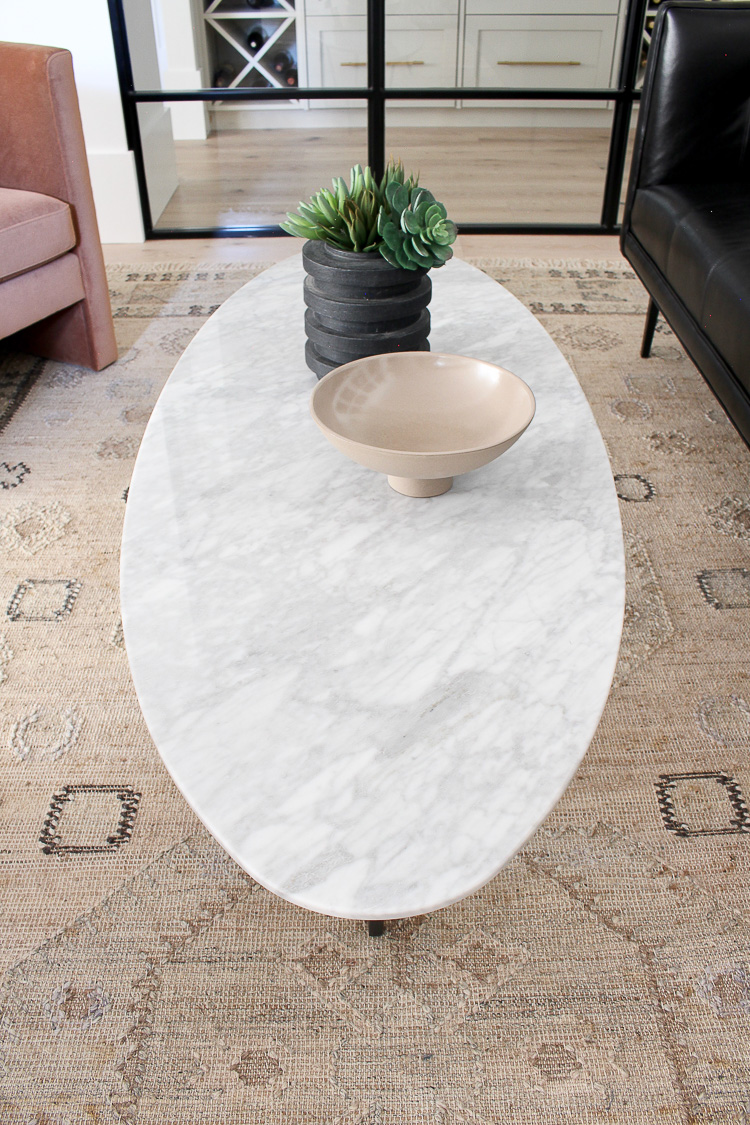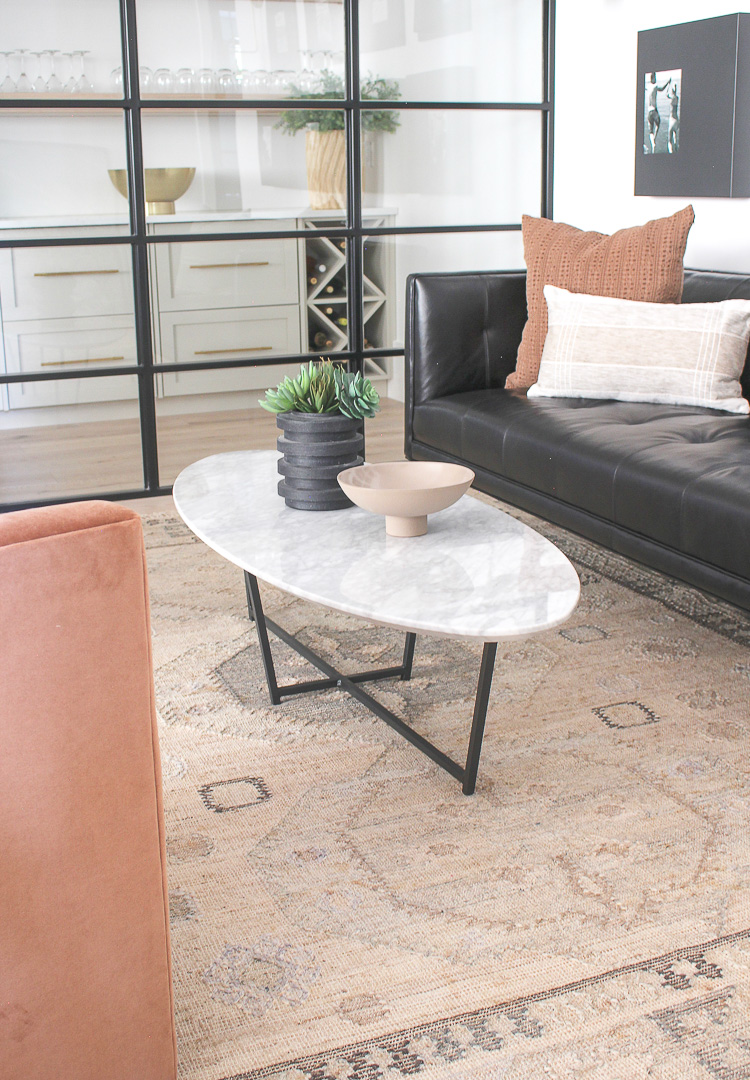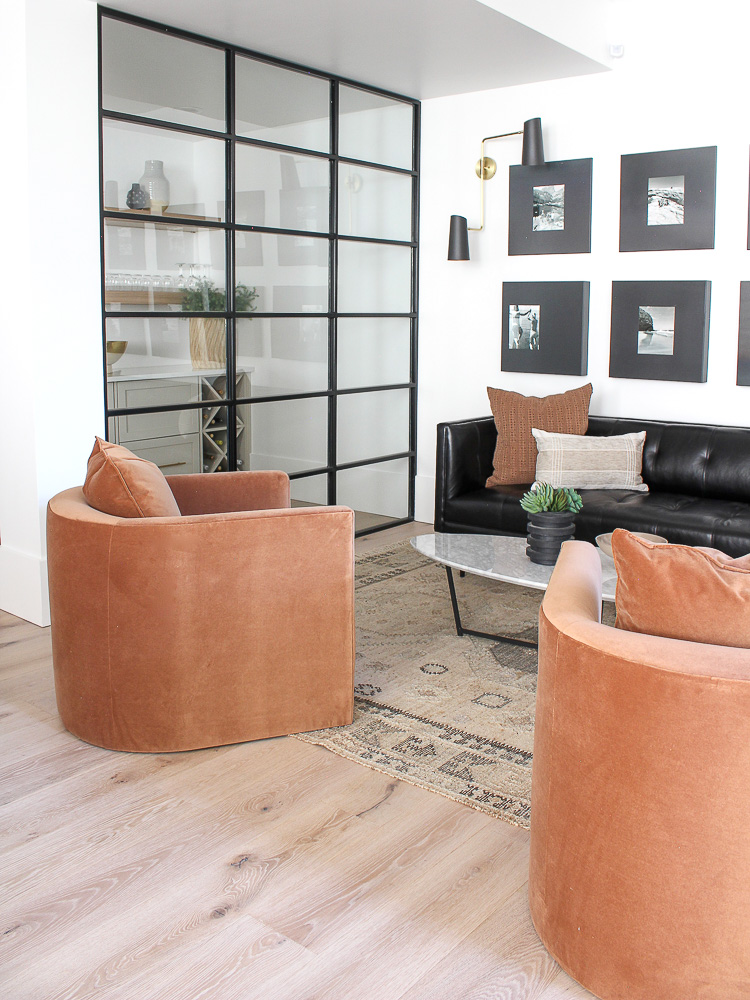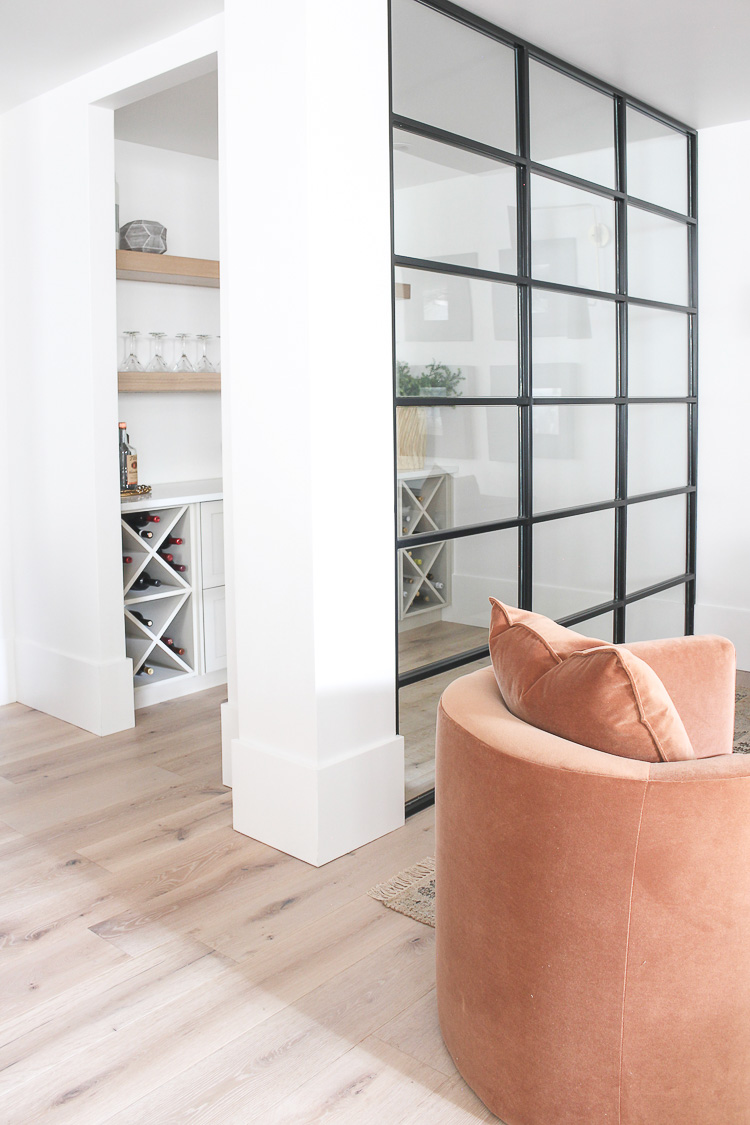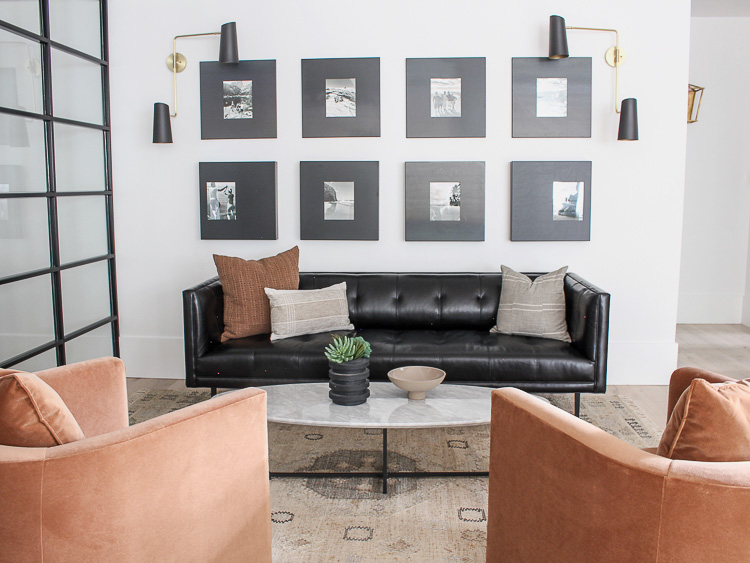 I hope you love our modern industrial lounge as much as we do! This part of our home is the perfect example of how good design can take some time. It took me two years to wrap my mind around what to do in this corner of our open layout. It turned out even better than I imagined!
-Sources-
Leather sofa // chairs // rug // coffee table// gallery wall frames // wall sconces // black vase // clay bowl // lumbar pillow // sage pillow // bronze pillow