Our New Modern Kitchen: The Big Reveal!
I'm just a big bundle of nerves as I'm about to present to you the BIG REVEAL of our brand new modern black and white oak kitchen at The Forest Modern!!!  When I started designing our new custom home over two years ago, I had no clue what I wanted our kitchen to look like.  I knew I wanted it to feel modern yet comfortable.  The kitchen is the heart of our home, isn't that true for most homes?
If you have the opportunity to work with a kitchen designer that does those fancy (and so helpful) renderings, I'd highly recommend that route. That was not the case for me.  I worked with a local "old school" cabinet maker who basically sketched very basic cabinet dimensions per my guidance with basic kitchen layout that I had designed. I relied on a few photos to show him for specific looks I was trying to achieve like our specialty rift sawn white oak cabinets and paneling. More on that in a bit. To design a kitchen this way is risky, but I had to trust my instincts and pray that what I was envisioning in my crazy design mind would actually look and feel how I wanted it to.  There were a few key elements that were a must for our kitchen.
Bright, airy and open
Our former kitchen felt a bit closed off from the main living area so I wanted this one to feel like just an extension of our living room space.  We have 12′ ceilings throughout the whole main floor.  Those can be a blessing and a curse all at the same time when dealing with design challenges. I love ours though and I worked through those "challenges."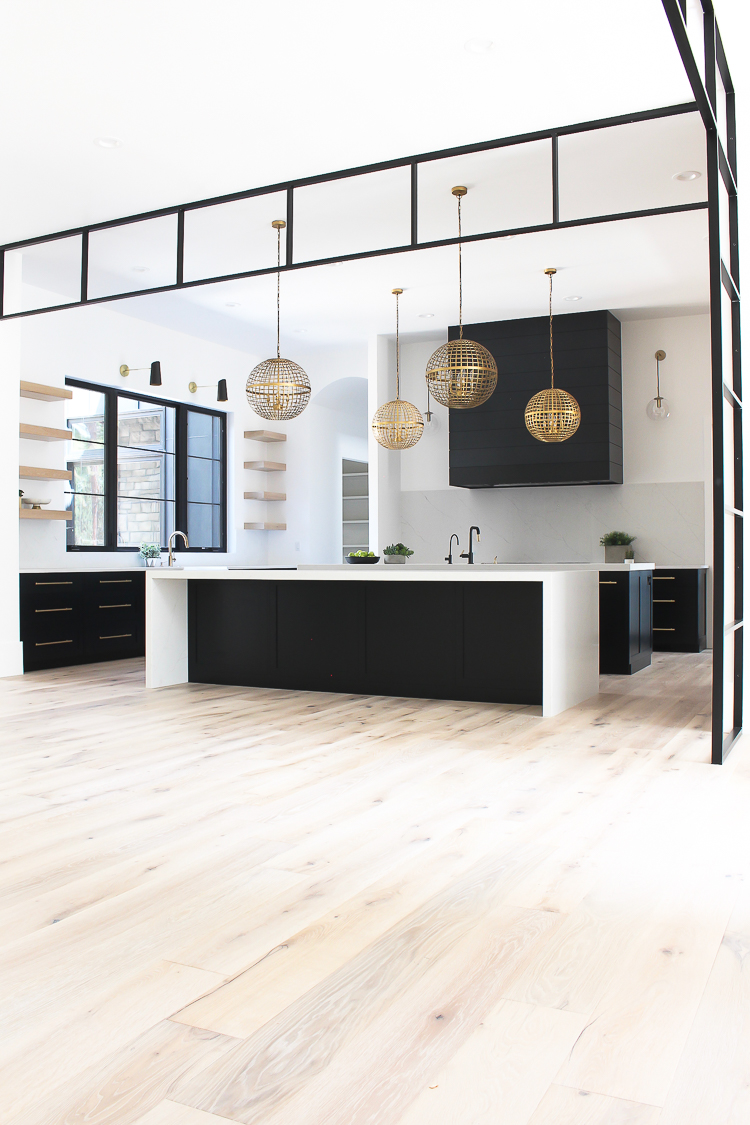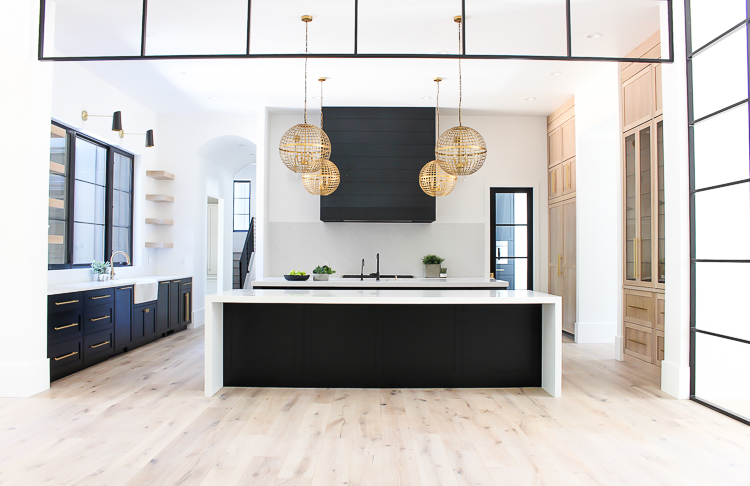 Notice there are no upper cabinets (other than our built ins).  I made smart decisions regarding storage solutions in all the lower cabinets in order to have no need for uppers.  I've loved the look of open shelving for a few years now. I can't wait to get busy styling those shelves with practical daily dishes as well as fun, yet simple, accessorizing. Even the shelves were custom made by our cabinet maker.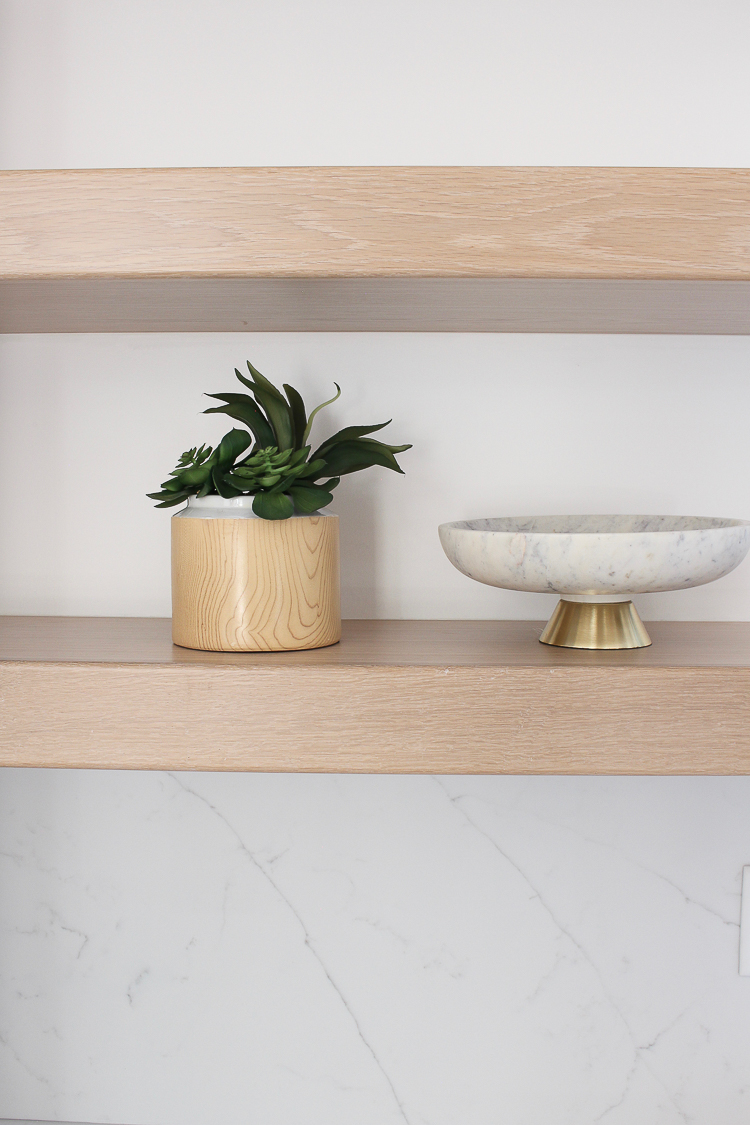 Steel Transoms
I didn't even know I needed these in my life until I started researching ways to delineate two spaces without obstructing views. The kitchen needed to feel defined within a space yet not bound by it.  Originally there was a two foot dropped down soffit between the kitchen and living space and I hated how it felt. So we knocked it out and I worked with a fantastic local metal fabricator who designed this steel transom based off some sketches I gave him. Nailed it!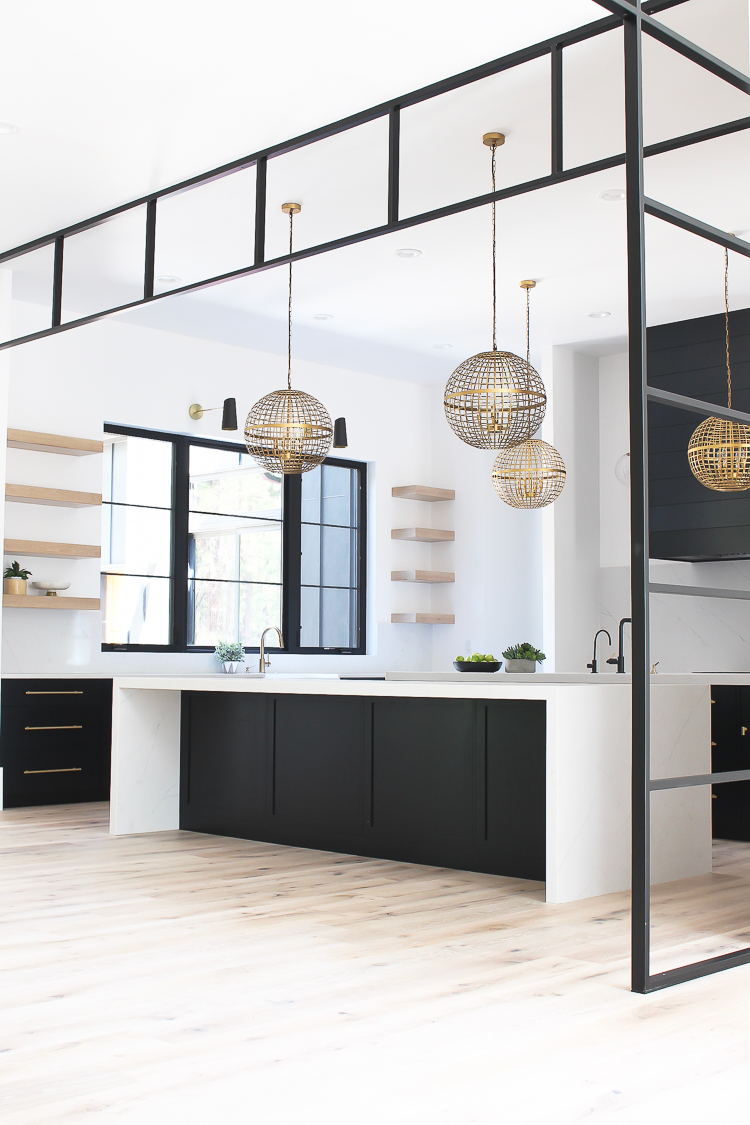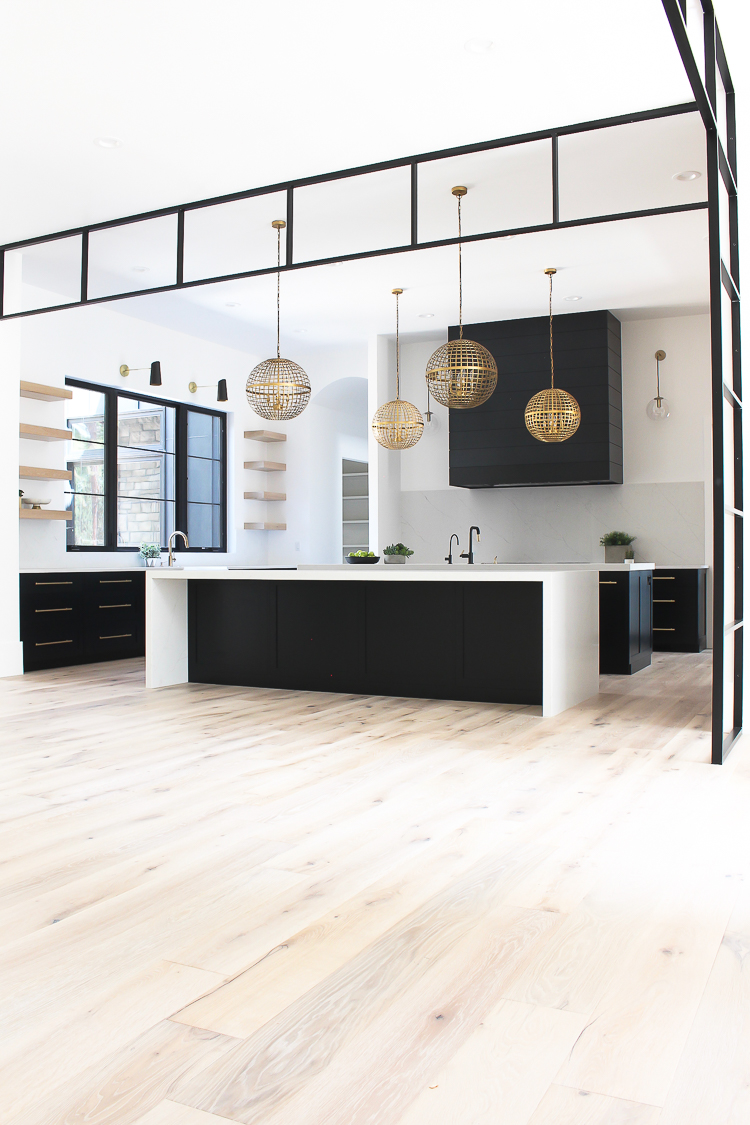 Bold Cabinets
With all the rage about white kitchens these days I felt the need to rebel and go opposite. Don't get me wrong, I love those dreamy white kitchens yet I knew I wouldn't get the butterflies in my tummy if I designed a kitchen based on popularity. Always always always go with your instinct!!  Black is my favorite color. I feel most comfortable when I'm wearing it and I knew that I would feel edgy and bold living in it in my kitchen. The black pops so beautifully against our crisp white walls.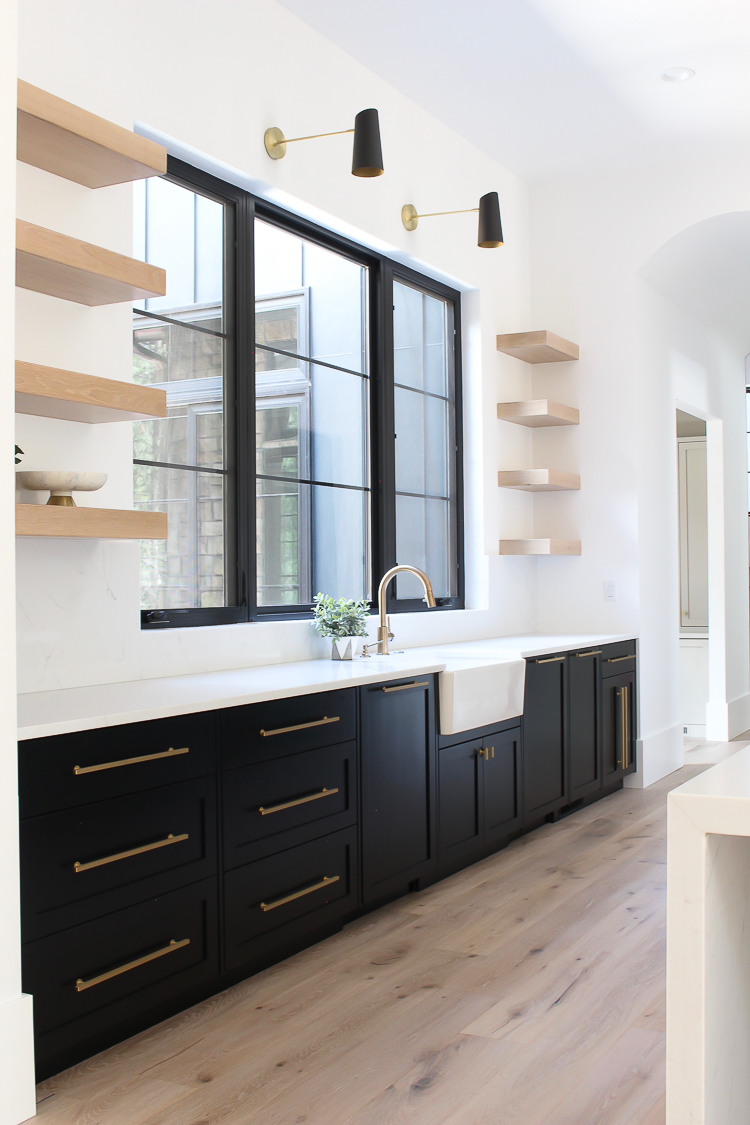 All appliances are hidden behind cabinet panels so everything looks sleek and integrated. You better believe I put two dishwashers in again! Best tip I can give on kitchen design if you have the space.  Helps keep that gorgeous farm sink clean and clear of dirty dishes.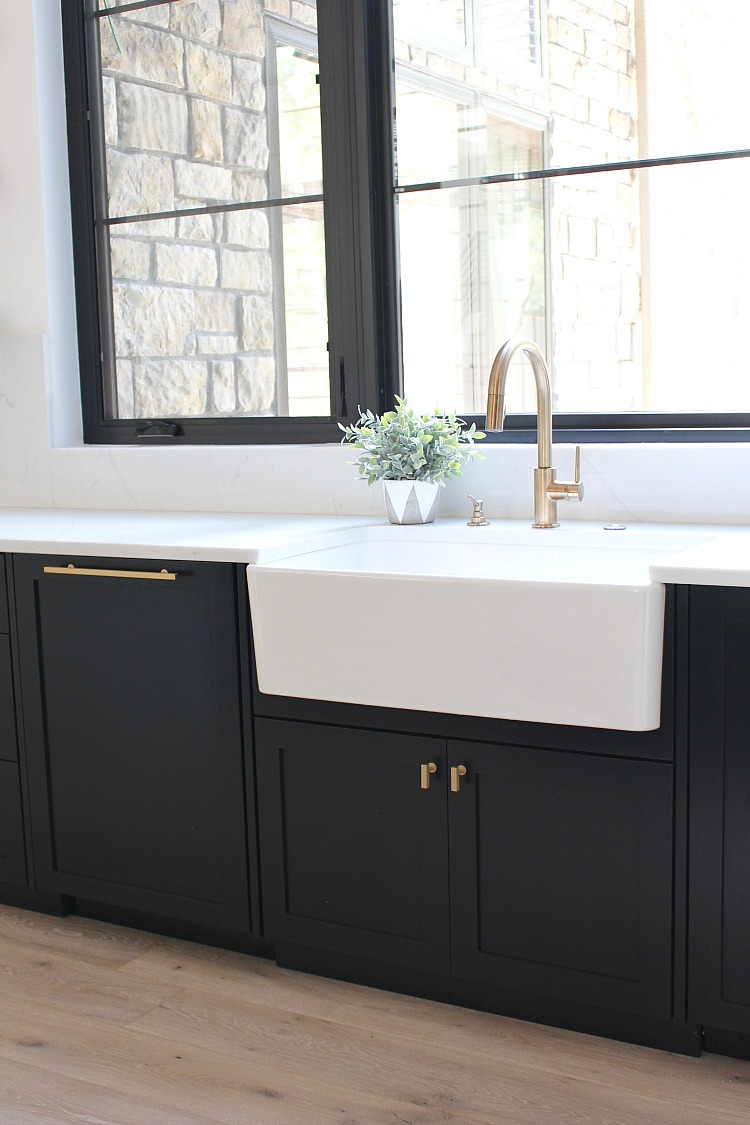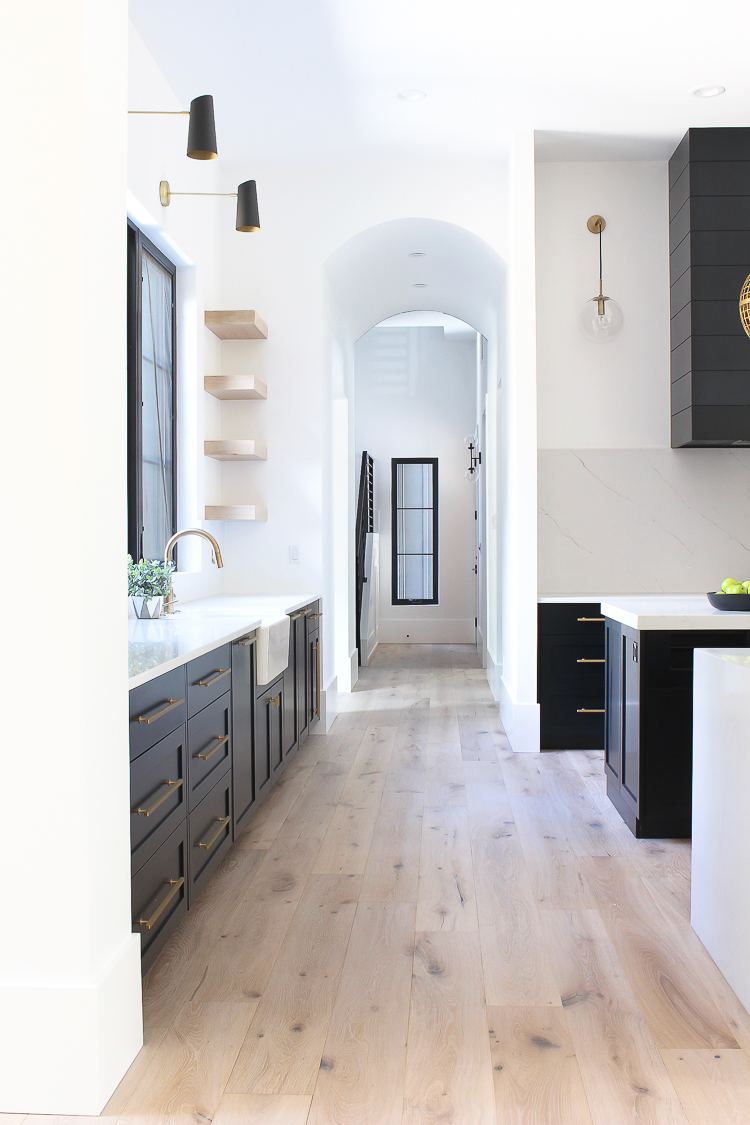 Quartz Backsplash
In keeping with the concept of sleek, modern and minimal, I didn't want to introduce a separate backsplash against our marble looking quartz.  So I floated it up the wall. There are some details to consider when doing this that I'll get into in a later post.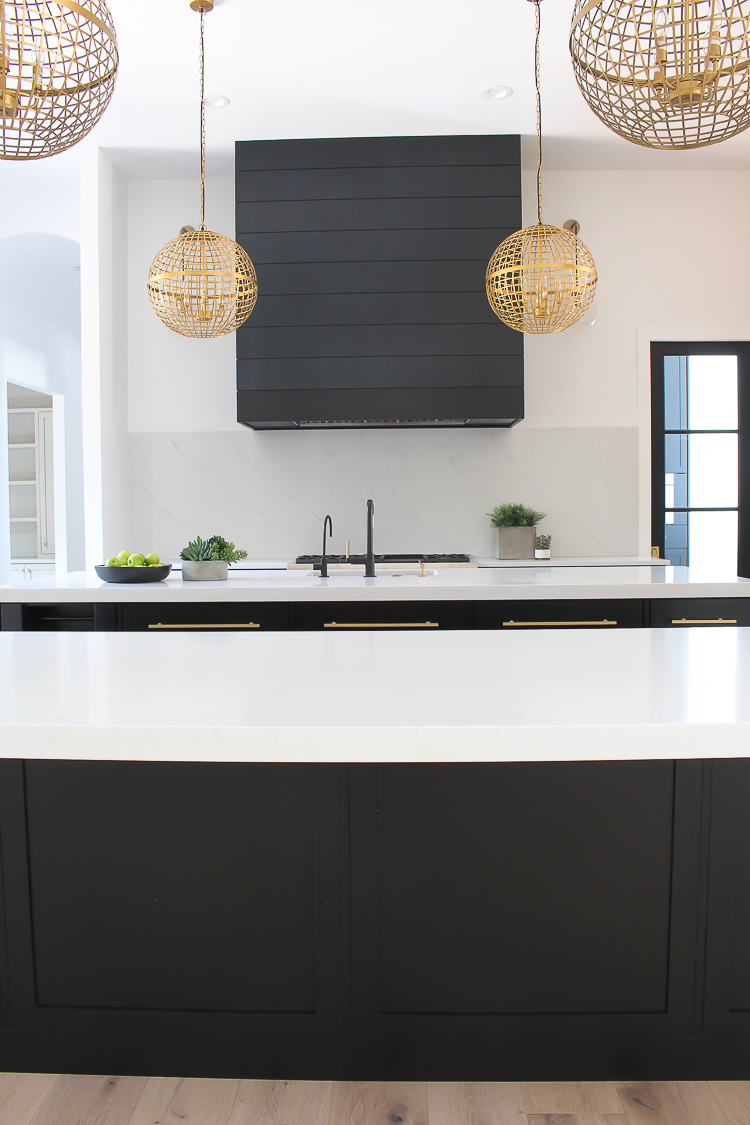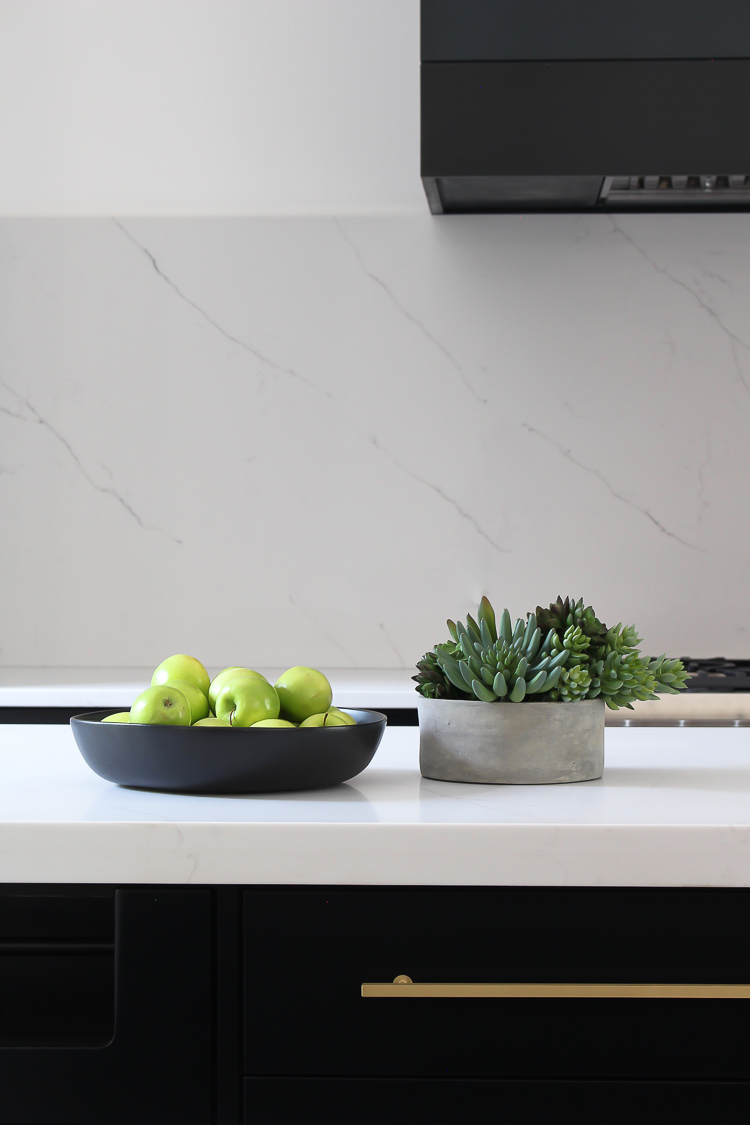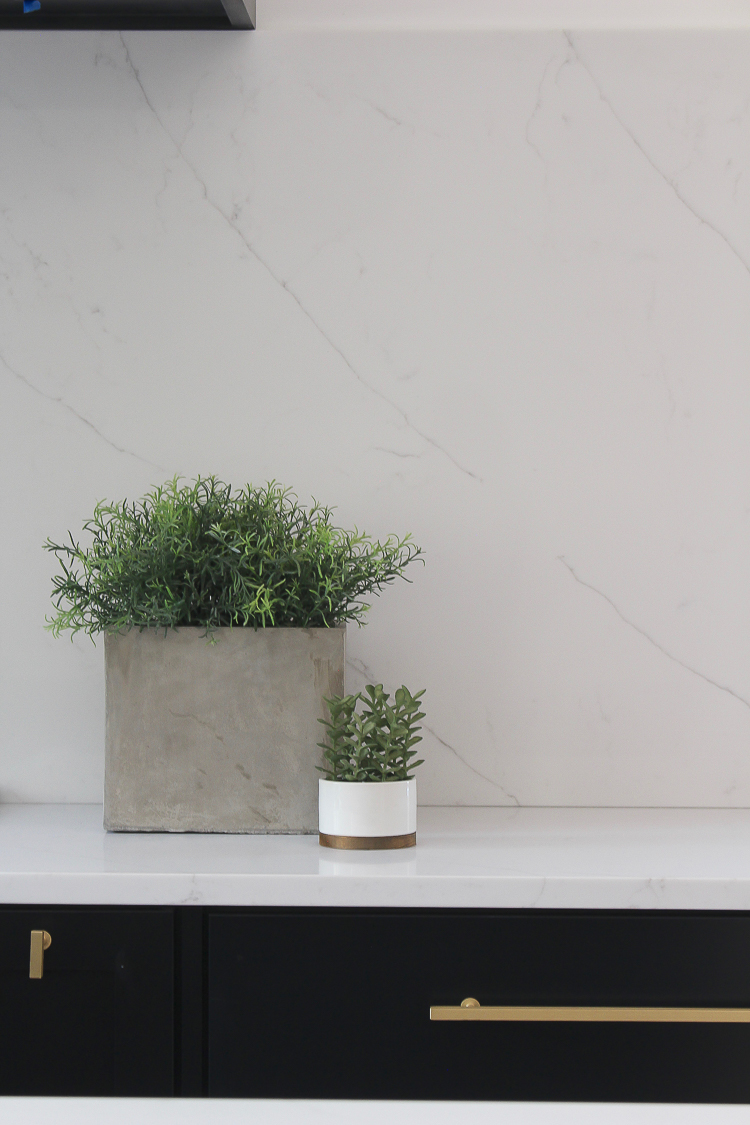 Black and Gold Faucets (that look like jewelry)
I love glam so why not glam up our faucets. You guys, that knurled gold faucet head!!!  Feels like I just slapped a gorgeous 14 karat gold bracelet on my kitchen.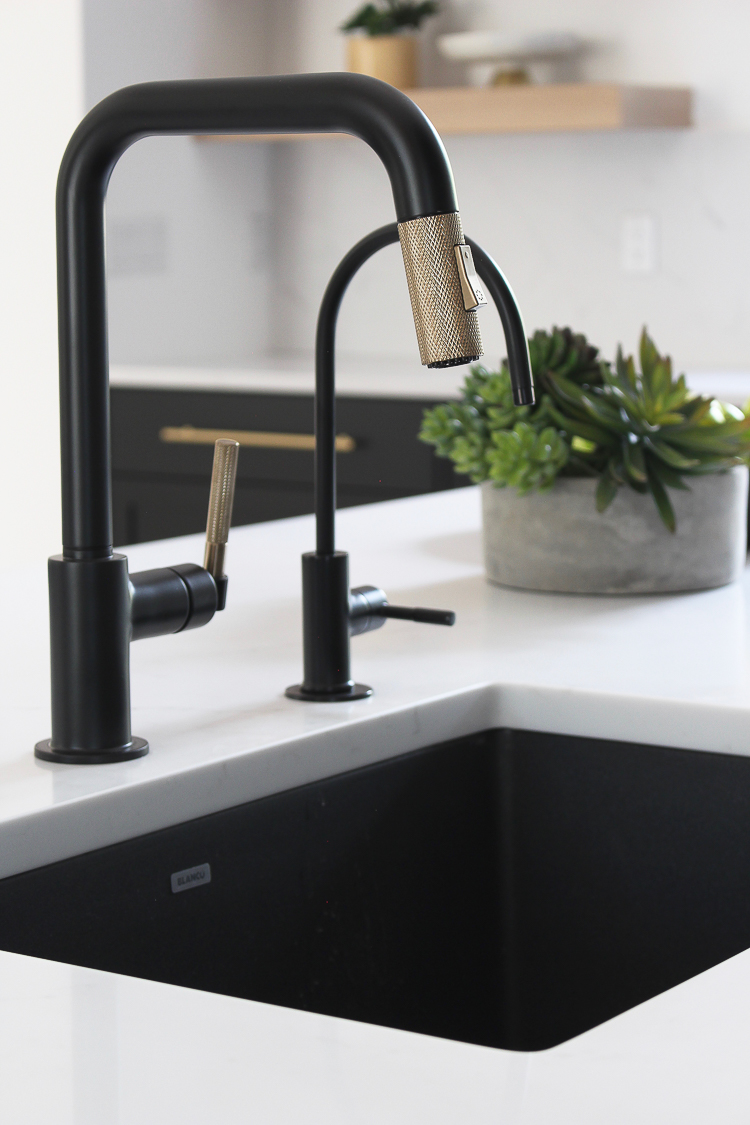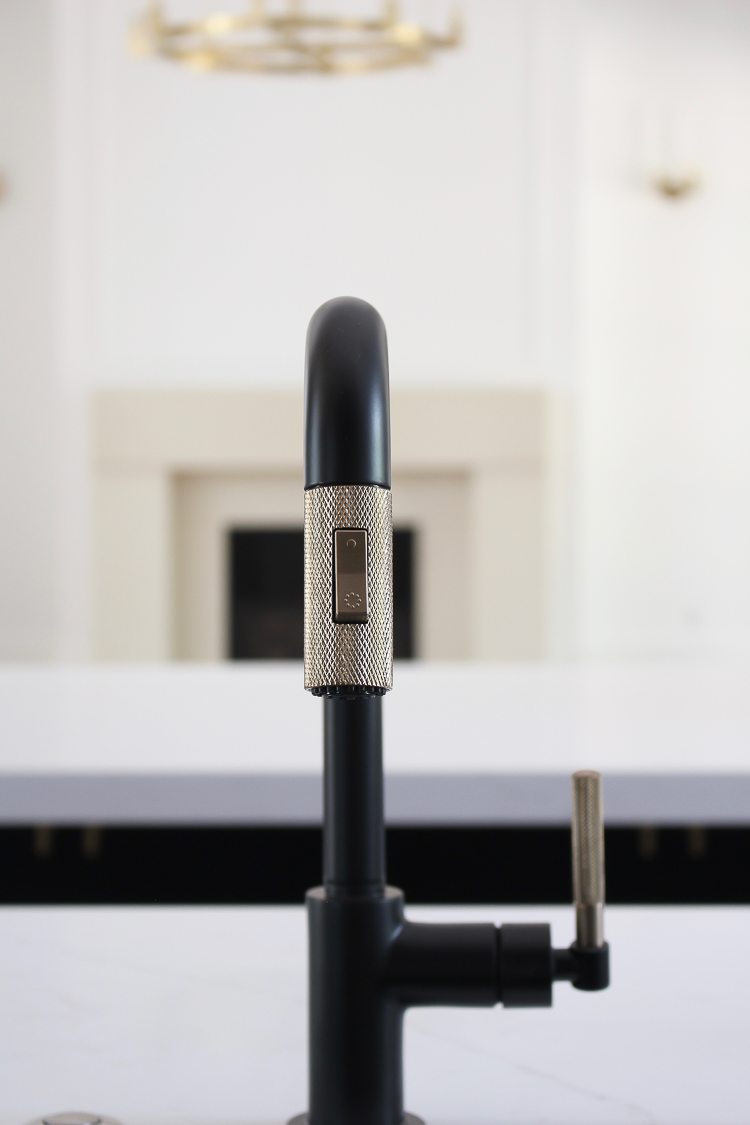 Rift Sawn White Oak Cabinets/Paneling
If you're wondering what the heck rift sawn is, I had no clue either.  I just knew in my design that I was drawn to kitchens that had a juxtaposition of bold and natural.  Never ever ever did I think I'd put oak in my kitchen. This is not your setback to the 90's era oak cabinets. Rift sawn describes how the lumbar is cut from the logs.  Without getting too technical and boring you to tears, rift sawn oak eliminates the typical "cathedral" patterns on the face of the board which is what we saw commonly in basic oak cabinets. Rift sawn cuts produce a linear grain which is more modern.  How did I figure this out? Research. Obsessive research until I figure out how to get the look I want. Those sleepless nights paid off.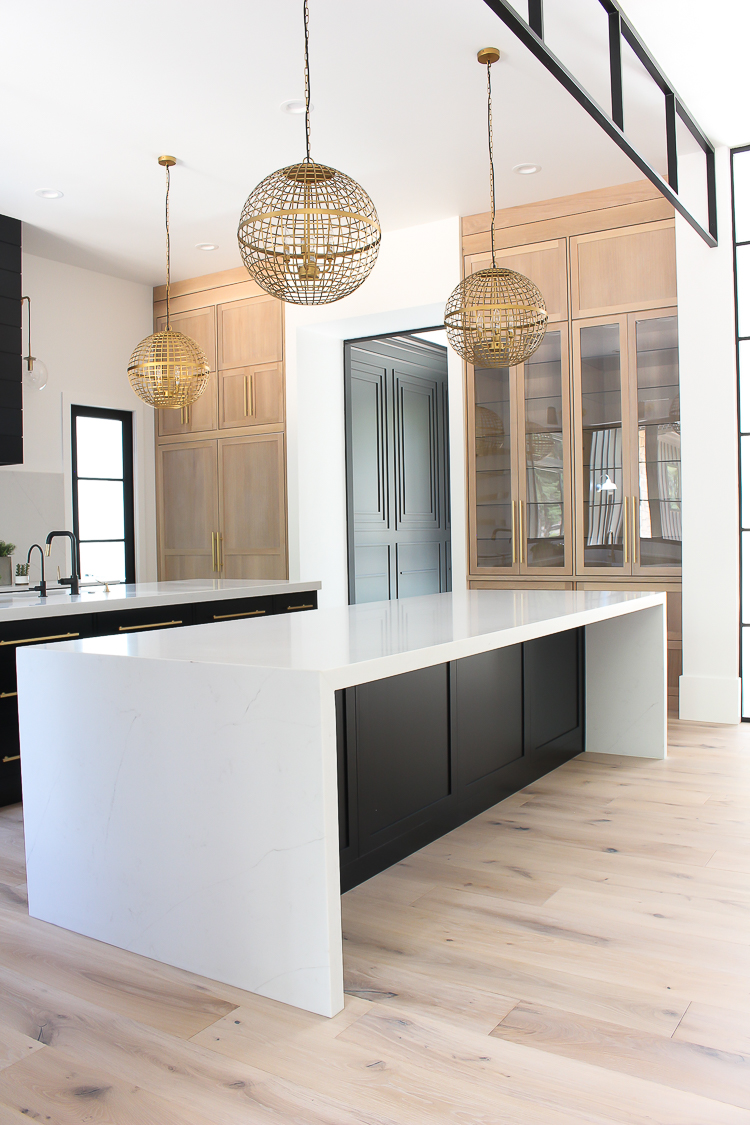 Let me insert here that the double islands were a very last minute design shake up. Originally I had planned on one massive island, but how impractical is that? The waterfall quartz island will now serve as our eating space that smartly seats 10 people! Bonus, there's even more storage underneath.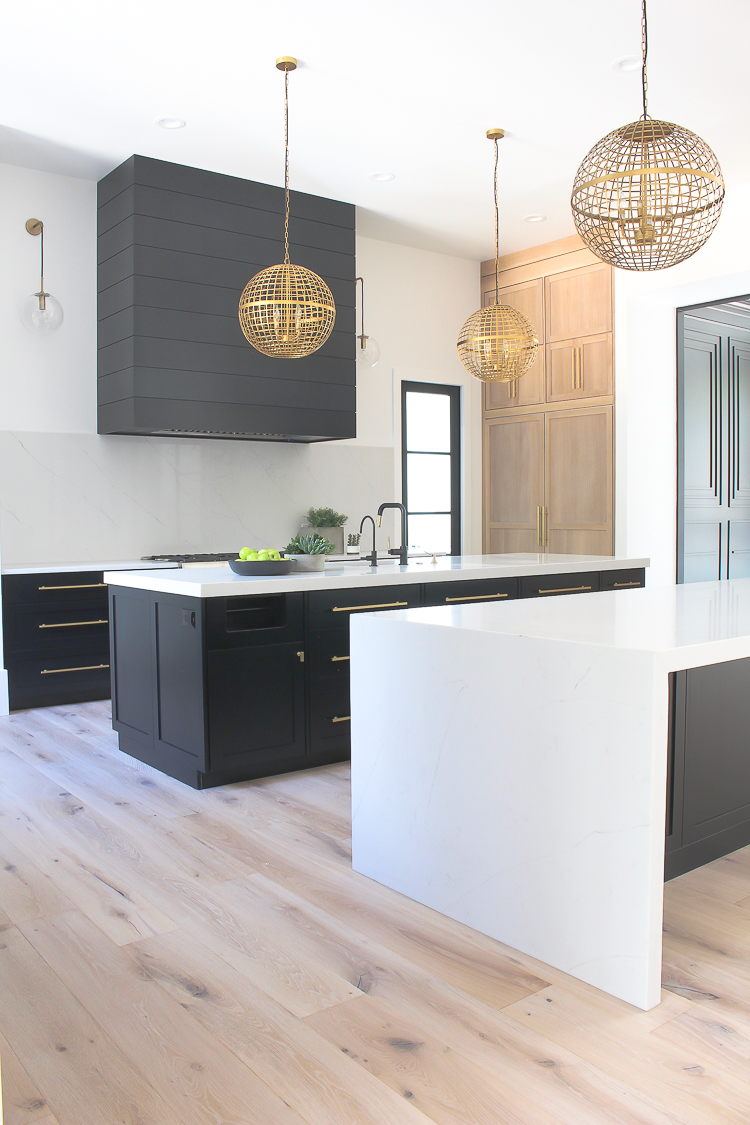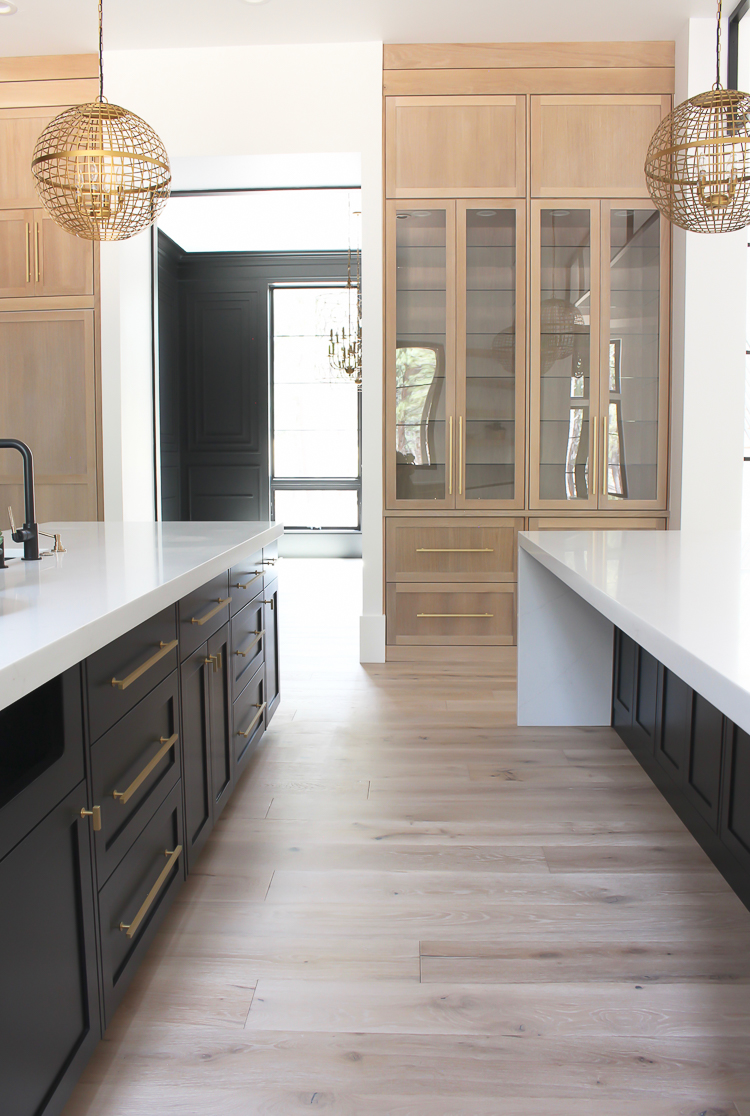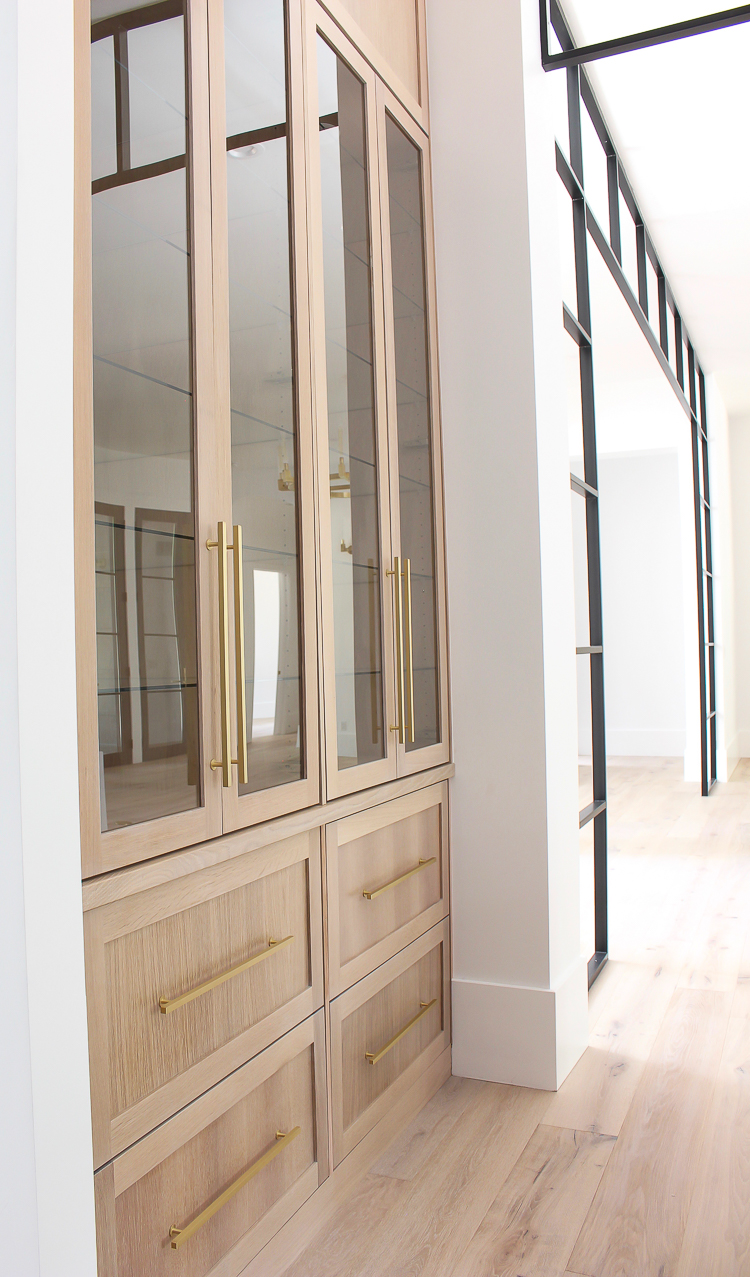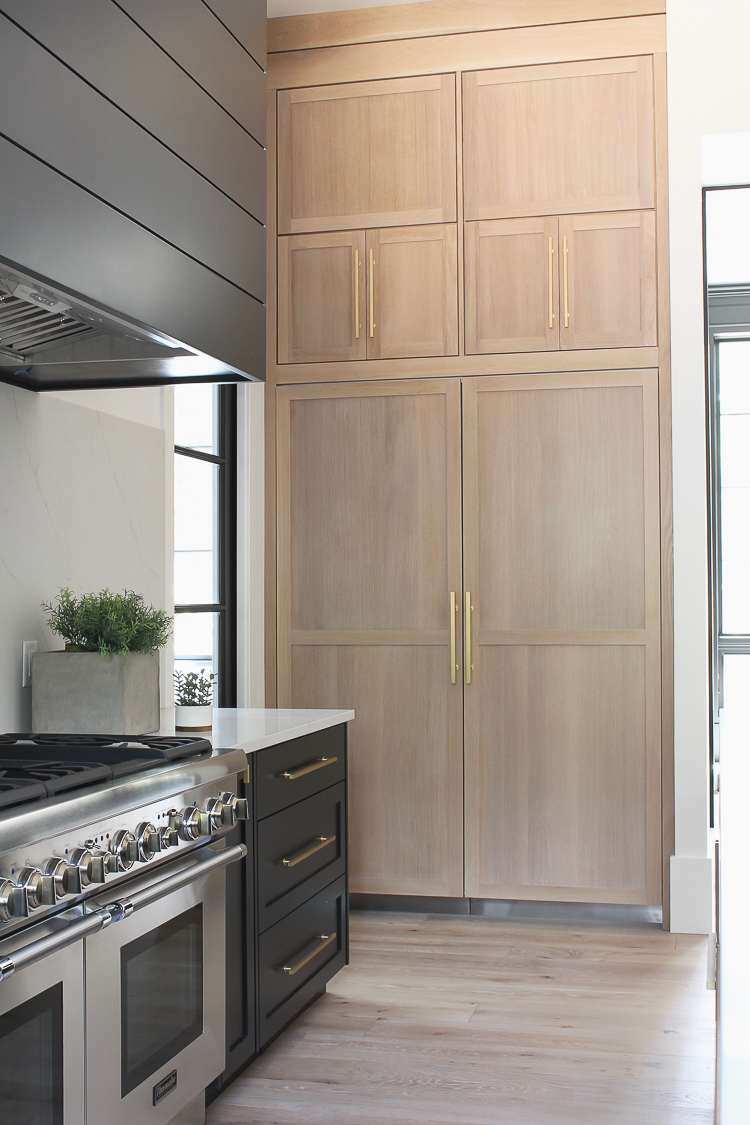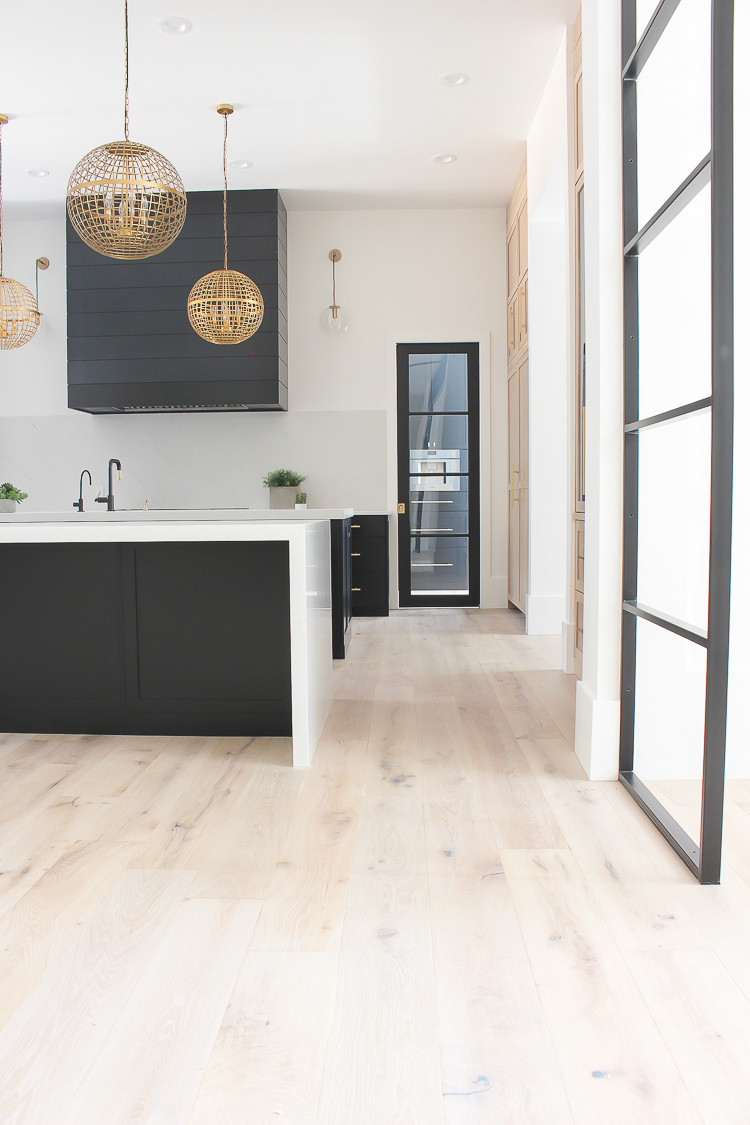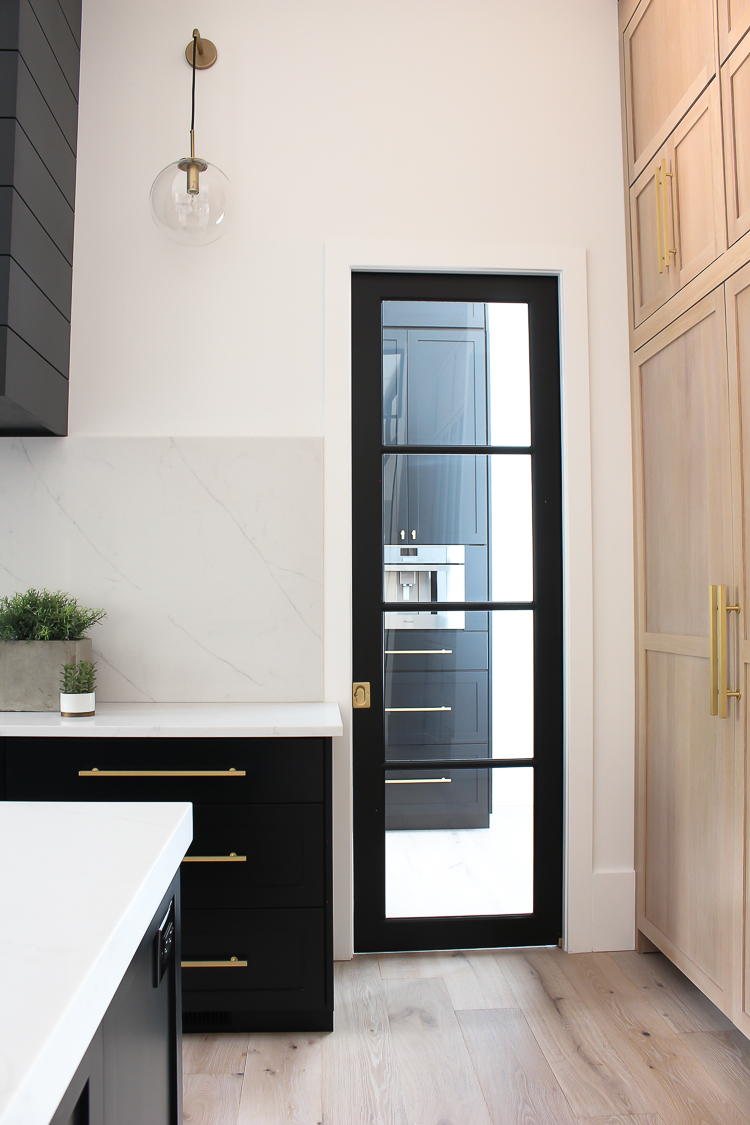 Gold Hardware and Lighting
I have this same cabinet hardware in our beach cottage.  Love it that much.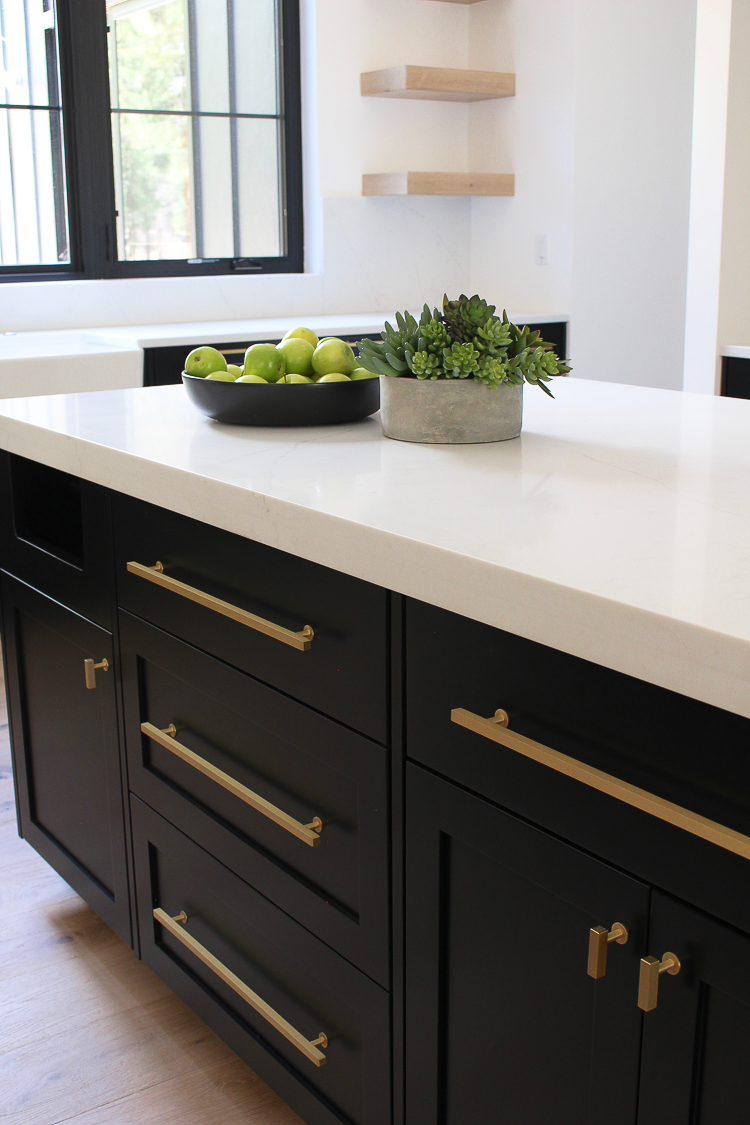 I have a huge crush on gold light fixtures. I think it's here to stay for quite some time, especially when balanced with elements like our rustic natural white oak floors.  There again, mix elements…glam with natural. Bold with subtle. With 12′ ceilings statement lighting was a must. You won't believe what I paid for these gorgeous gold orb chandeliers. (all sources are listed at the end of this post!)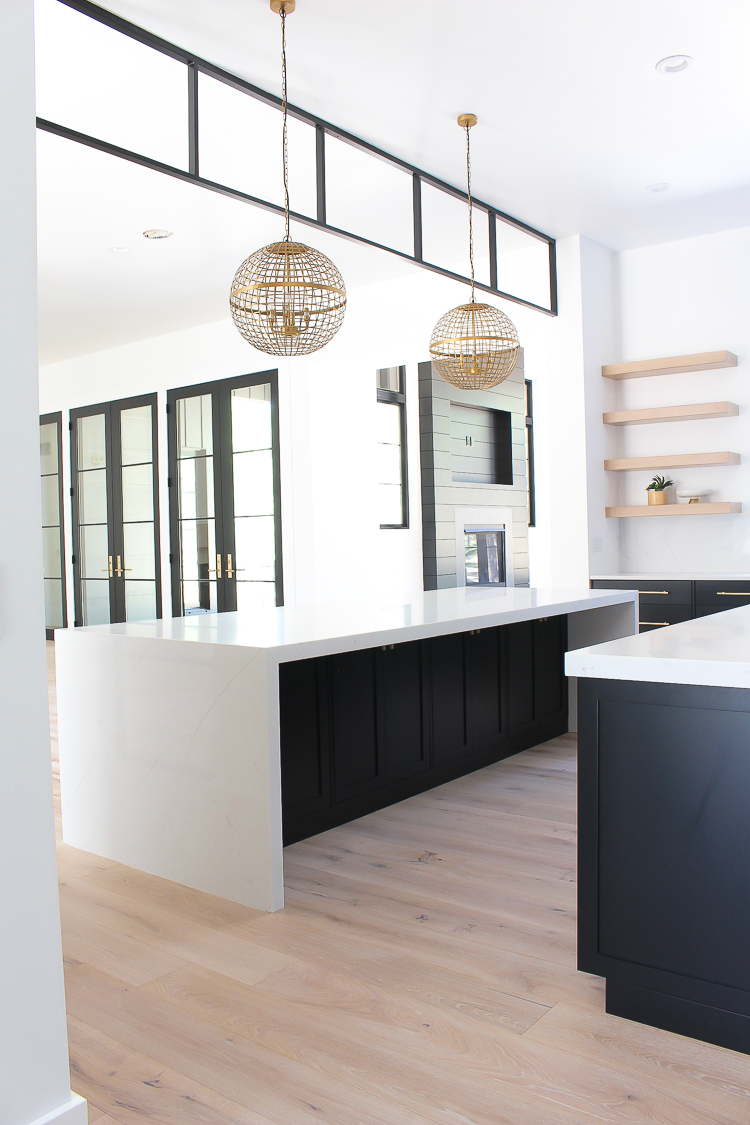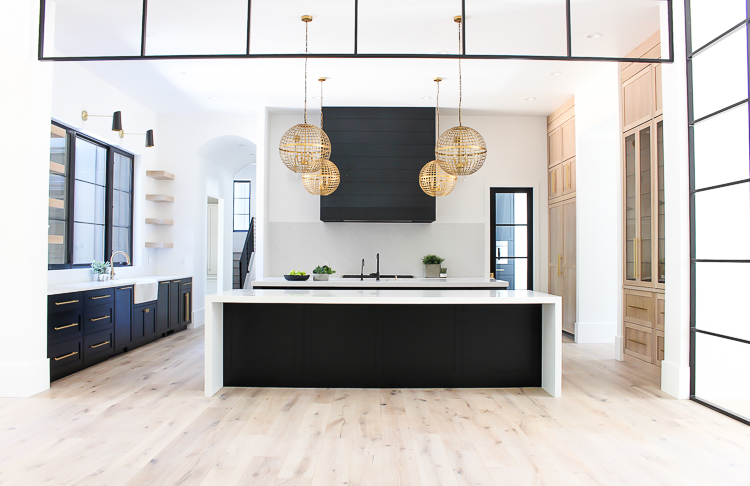 I can't wait to get this kitchen accessorized and styled! We are taking our time though and enjoying just having a finished home. New counter stools are ordered for the island so I'll be sharing those later this summer!
In the meantime, decorating is very simple and minimalistic. I think I love it.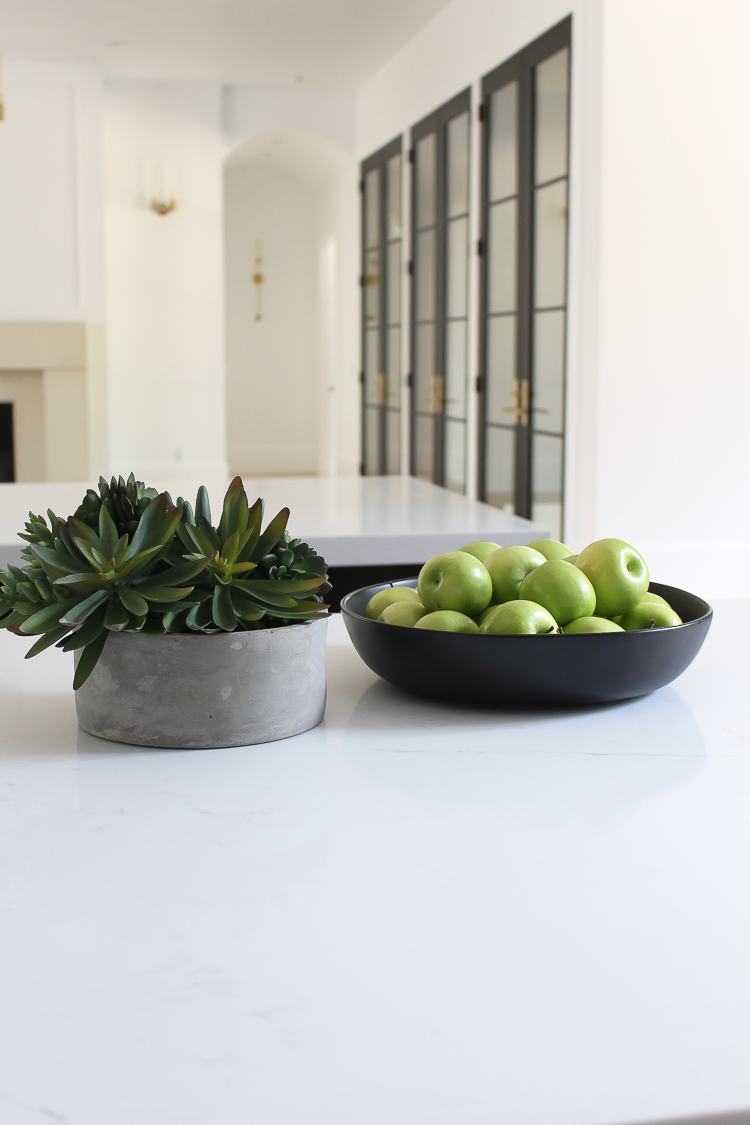 *affiliate links used for your shopping convenience. See our full disclosure policy HERE.

Thank you so much for following along with our design journey! I hope you love our new modern kitchen as much as we do!
If you'd like to catch up from the beginning of building our dream home, you can do so HERE
SaveSave