New Roman Blinds: Beach Cottage Kitchen
I'm excited to share with you today a little update we recently did in our beach cottage kitchen with some new fabulous roman blinds! Designing a room is a journey and I'm definitely one to take my own sweet time letting the room transform, however long it takes.
When we gutted our beach cottage kitchen just over a year ago, we decided to keep our bay windows unobstructed to the views of the beautiful greenery of our yard outside. However, the time had come that we needed to get some sort of privacy on those windows and something to help keep the temps down in the kitchen when the hot Florida sun beats in.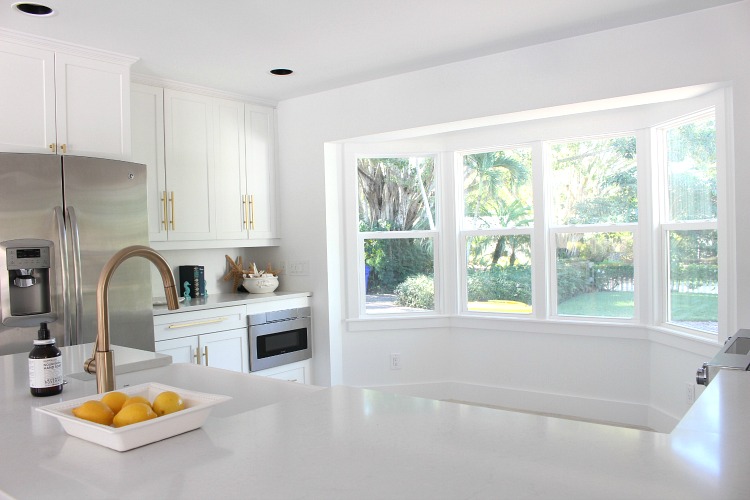 I love looking out those windows at the palm trees and massive banyan trees that line our street. Oh, and that white little picket fence that stole my heart from day one. So I didn't want to put shutters in here because they would block too much of that beauty. Roman blinds seemed like the best option since I could raise them up high and still see my views.
I have been a huge fan of Tonic Living and was thrilled for the opportunity to work with them on designing our roman blinds. They are a family owned business out of Toronto, Canada that specializes in modern and curated collections of fabrics, as well as specialty sewing services.
In keeping with the black + white color theme throughout our home, I chose this stunning fabric that stopped me in my tracks the moment I saw it.  It's called Flock Onyx and is part of the Genevieve Gorder collection. The birds reminded me of all the birds I see flying on our beach.  The raised velvet texture of the birds is one of the best features of this fabric.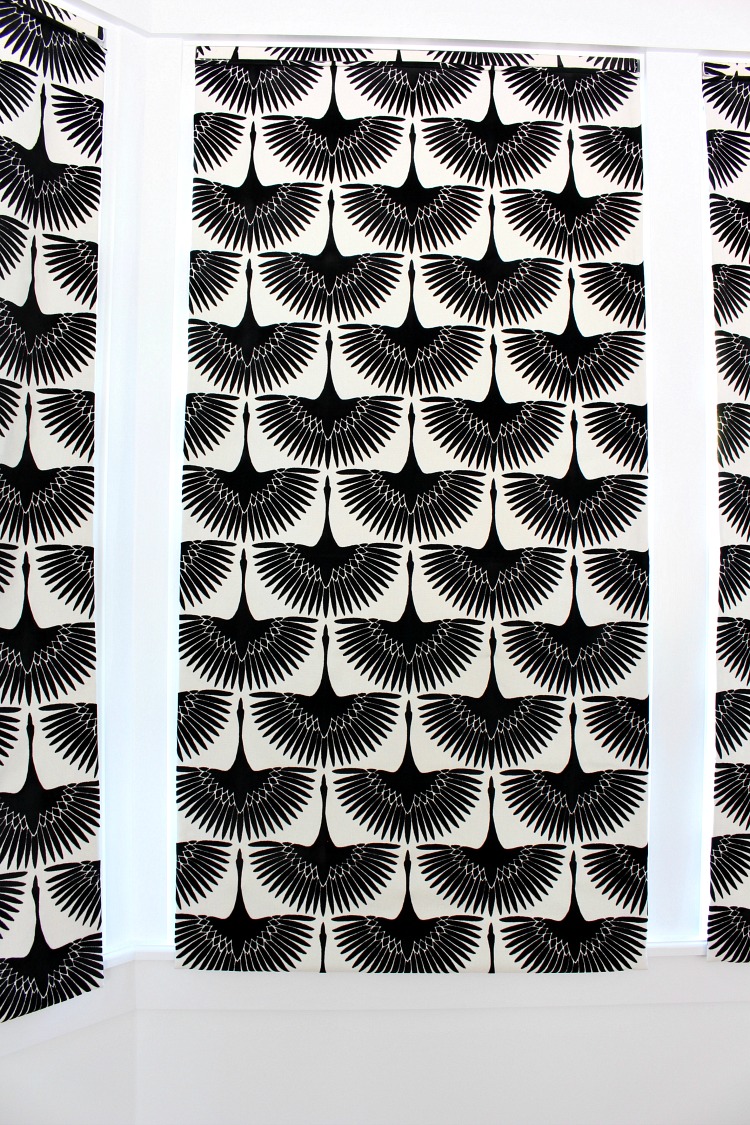 Most of the time we'll have them drawn up so not to block our views but I'm obsessed about the wow factor they just added to our kitchen.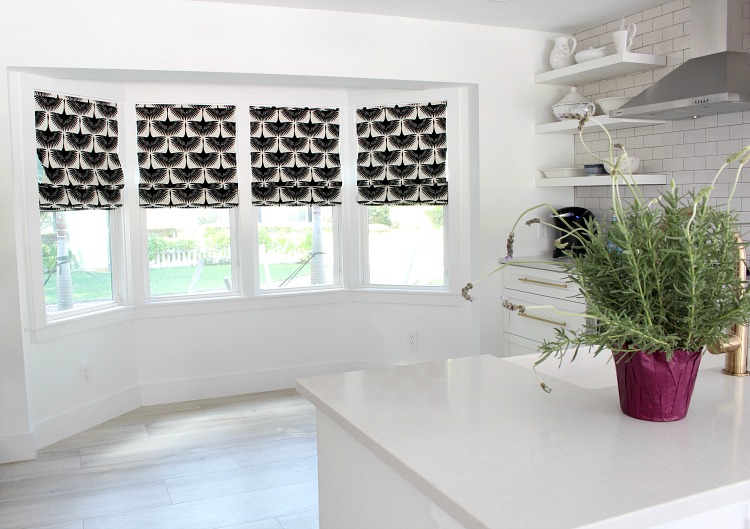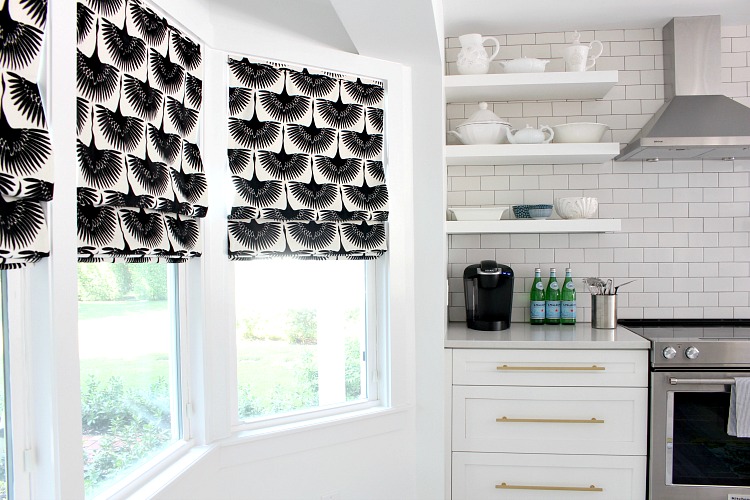 Tonic living offers two styles of roman blinds and we went with the flat look. That means the fabric folds up nice and flat when they are drawn up to let light in. We also opted for the black out lining which blocks 95% of light and outside UV rays.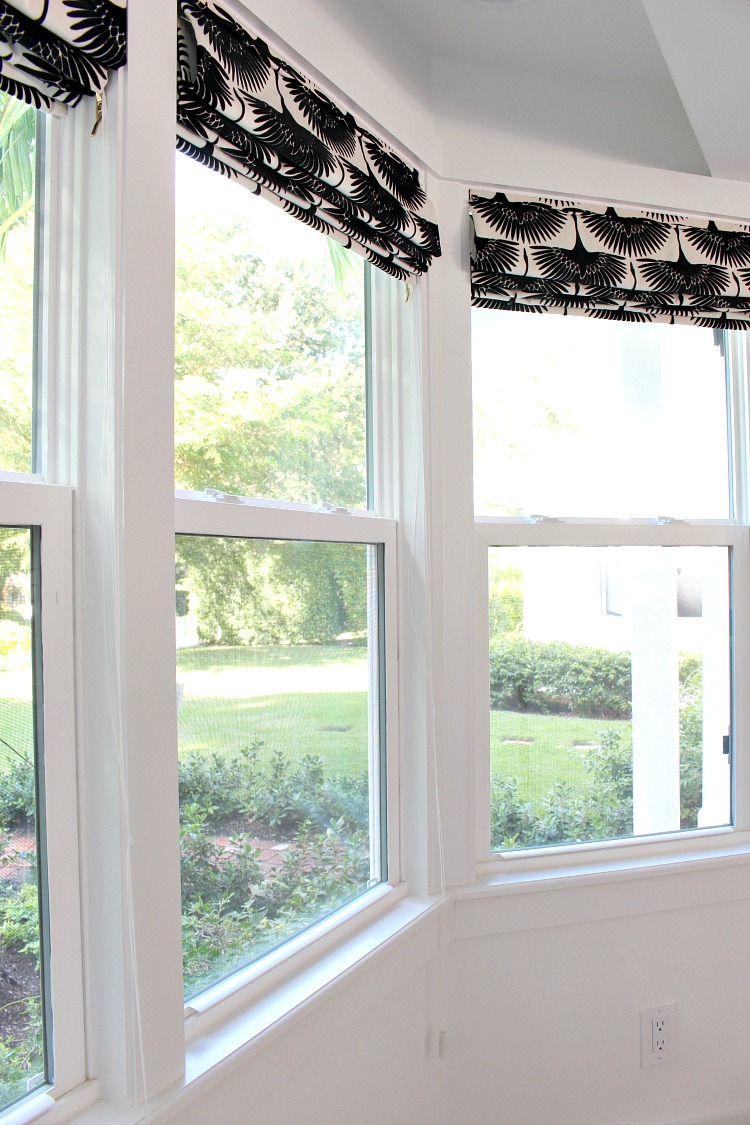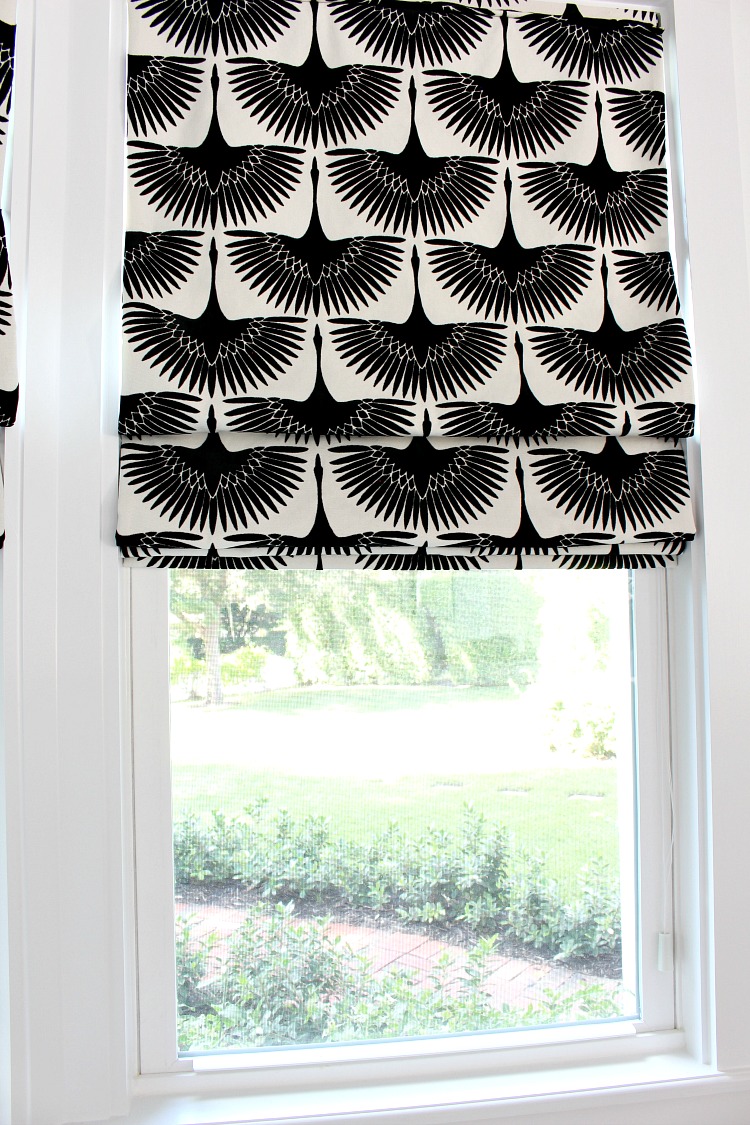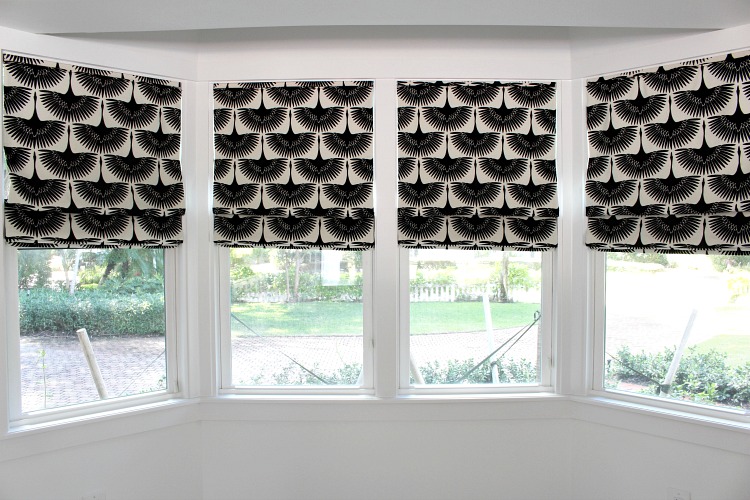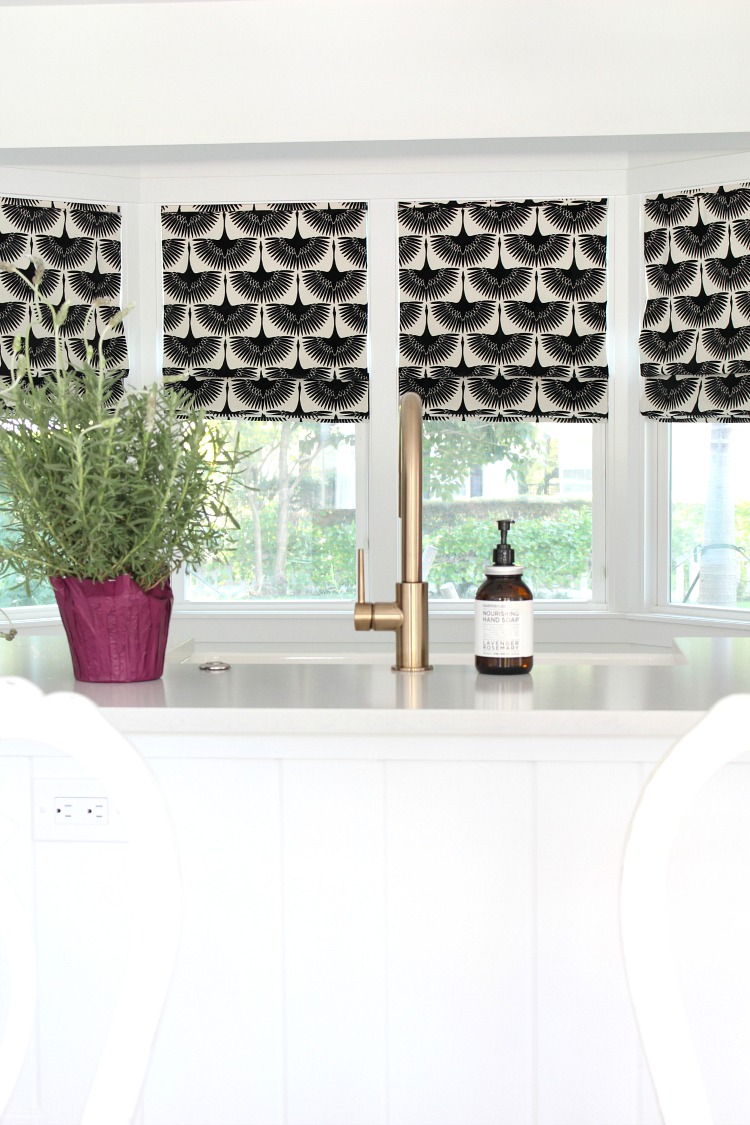 The kitchen was feeling just a tad sterile before we softened it up a bit with the fabric. Much better, don't ya think? I'm obsessed.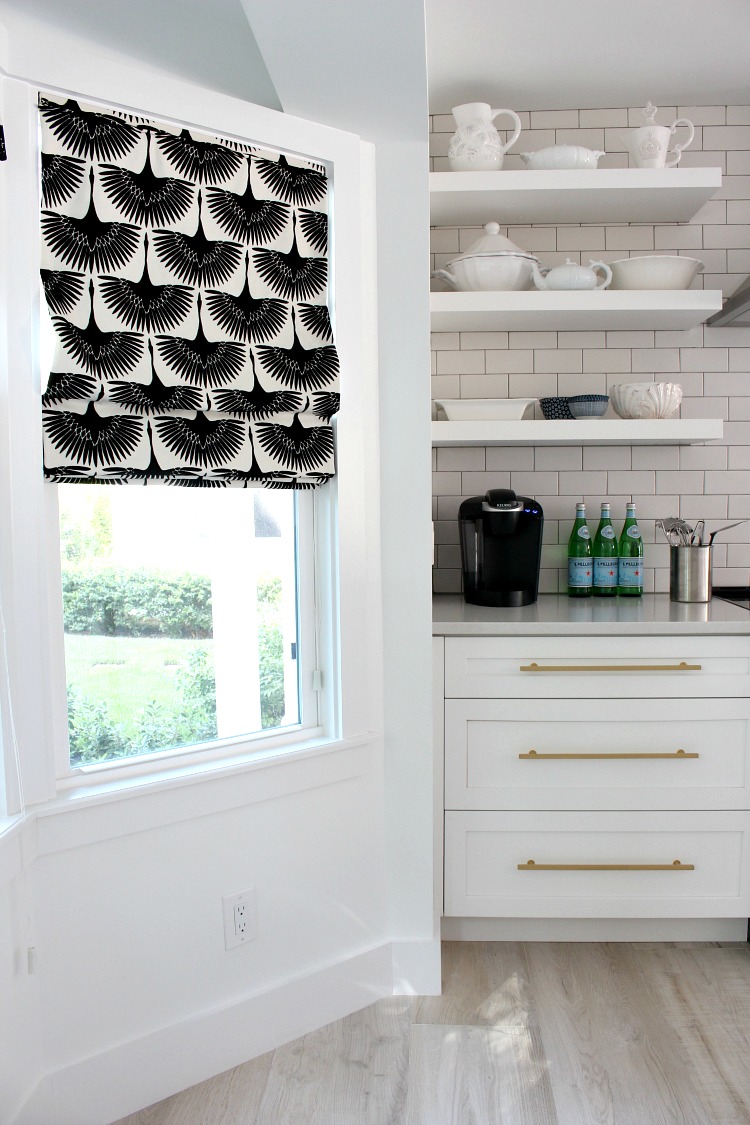 Tonic Living was such a pleasure to work with and I can't wait to work with them again for more drapery and pillows in my home.  If you're new here and would like to see the rest of our newly renovated kitchen, check it out HERE and a full beach cottage home tour HERE.
A complete list of kitchen resources can also be found on my HOME SOURCES page HERE.
A big thank you to Tonic Living for partnering and sponsoring product for this post.  All opinions and photography are my own.
Disclosure:  affiliate links used