Hi friends! I hope you had a wonderful Easter weekend! We took a quick road trip to Fort Collins to spend the day with family.  The weather was gorgeous (yay!!! finally!) and we were able to do an outdoor egg hunt for the younger cousins.  I'm so bummed we didn't get a family photo but I managed to get this one with our big fur baby, Kodak.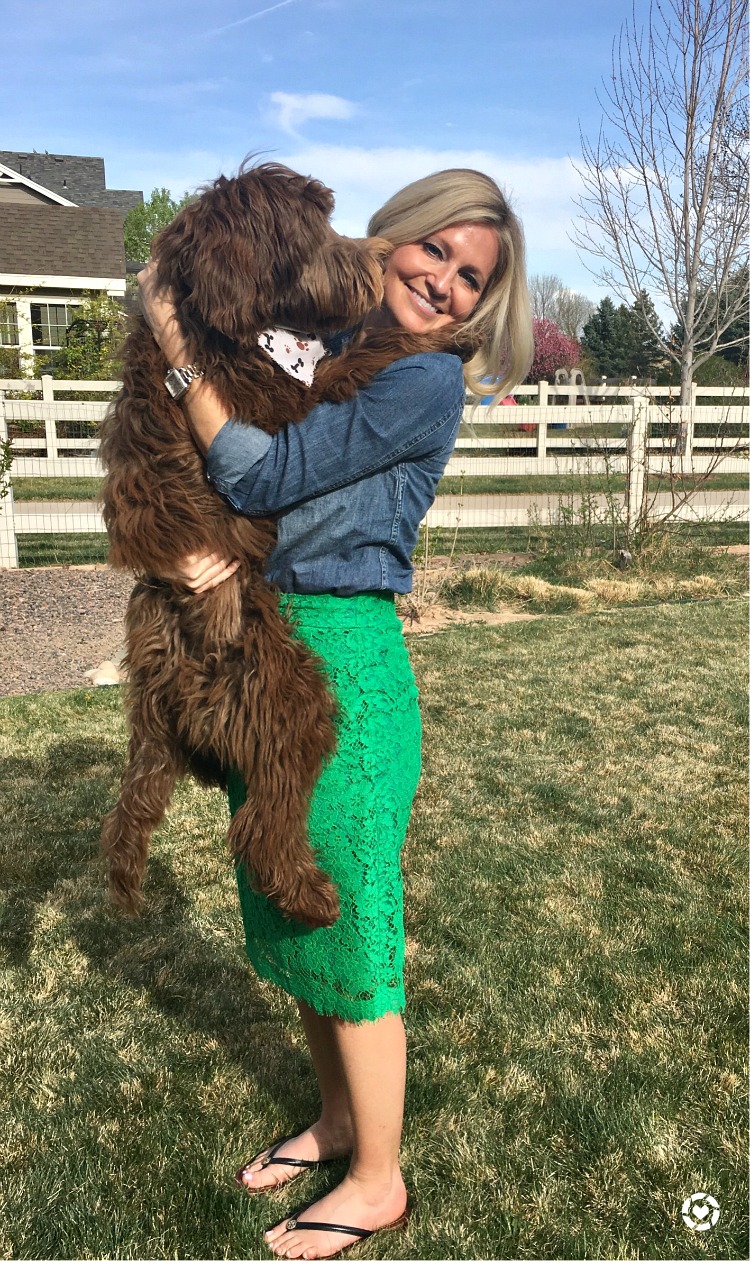 Top 25% off | Skirt | Flip Flops
I posted this photo on Instagram last night and got so many questions about this skirt. Unfortunately, it's currently sold out but I hope it comes back in stock since every girl needs this one her life! Kodak jumps in my arms like this all the time…lol.  Not sure how much longer I can hold him up!
Life has gone from busy to full throttle BUSY the past couple of months. I knew this year was going to be a big year.  It's a milestone year for us and I feel like I literally take one day at a time with a deep breath. All good, wonderful things!  The Forest Modern is moving fast, more on that in a moment.
Today, marked the beginning of an emotional month to come. Exactly one month from today, our son, Austin, graduates from high school.  I remember the feelings vividly of dreaming what our lives would look like when this time of our life would come. Holding Austin as a newborn, 5 weeks premature, so fragile, knowing that being a mother was what had always burned in my heart. I prayed then and have prayed throughout his life that God would shape and mold him into the young man He has planned him to be.  I find it surprising when quite a few people say they are ready for their kids to go off to college. Tim and I are far from ready. We would put Austin and his brothers in a time capsule and keep them forever in our home if we could.  Yet, the time does come to let them spread their wings and fly.
We are so incredibly proud of this young man of ours. So when graduation day comes, I know that we will cry tears of joy and utter gratitude to God for giving Austin to us to raise. The pre-graduation festivities kicked off today and we enjoyed a nice senior luncheon at The Broadmoor (beautiful & historic hotel in Colorado Springs).  I think the school plans this event for us parents so we can get a head start on all the tears to be shed.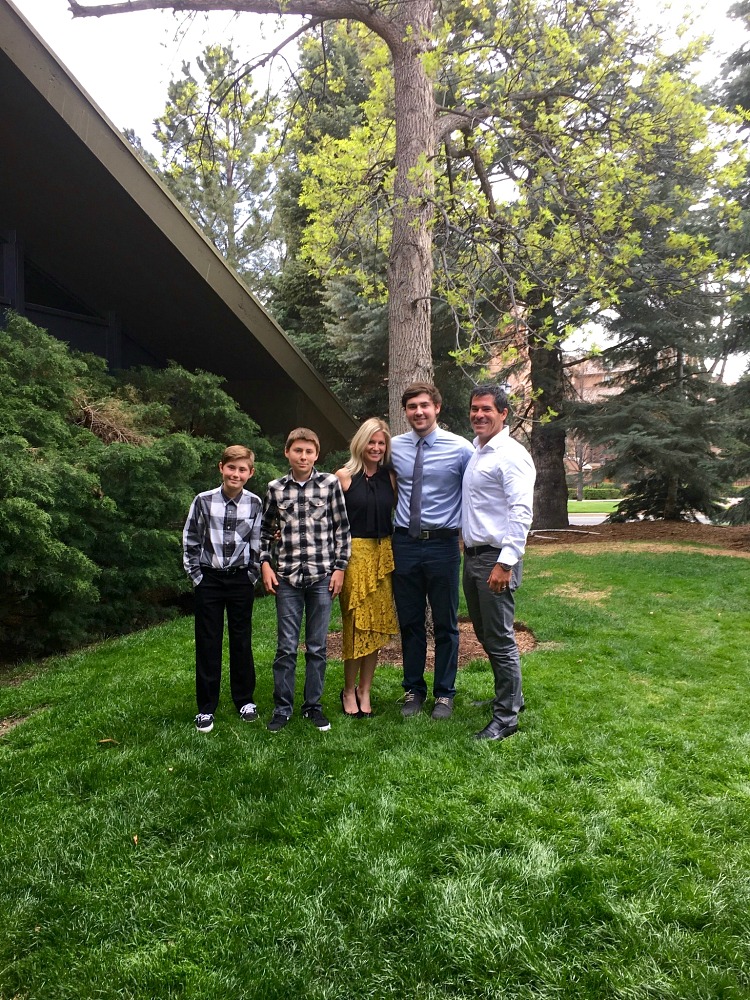 Austin chose his baby brother, Dylan (far left) to cap him today.  Listening to his words of why he chose Dylan (because of his happy spirit and constant positivity), my eyes swelled and the tears flowed. How did these 18 years pass so quickly? I could go on and on of all the reasons why this kid is so special but I'll spare you the sappy mom moment. Wait, I think I already wrote a sappy mom moment. So this next month will be focusing on all that graduation brings.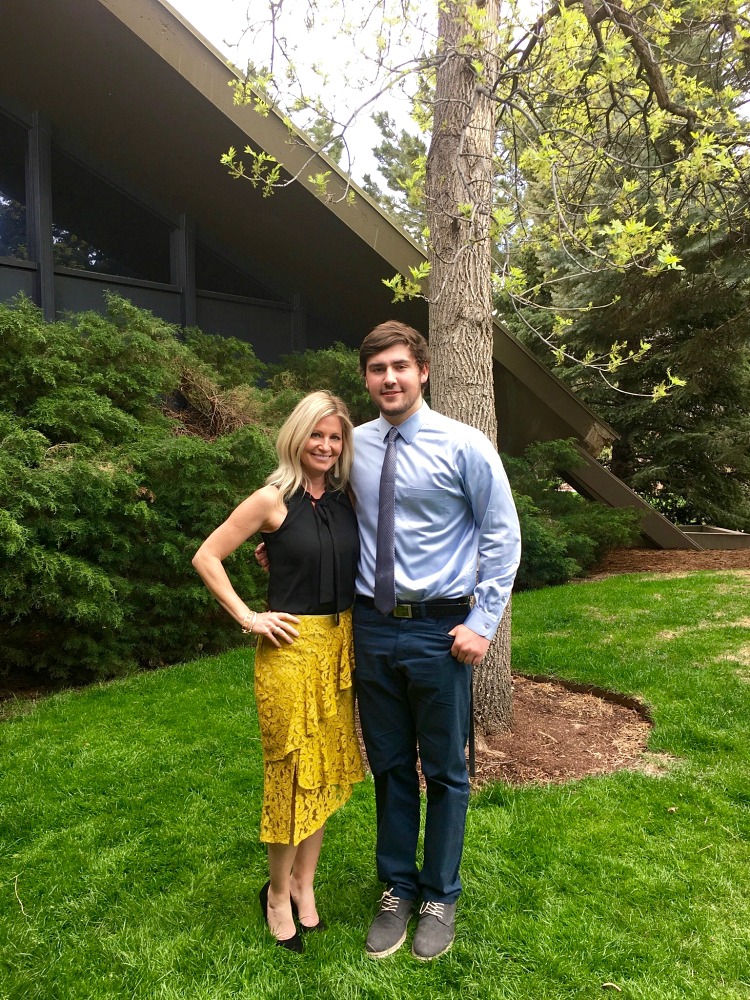 Skirt (40% off!) | Top (similar) | Shoes
We have family coming in town and staying with us. My house looks like a train wreck at the moment so I have tons of cleaning and sprucing up to do before all 30 arrive.  Yikes!! A big graduation party will be at our home as well, so that means I need to plan to feed anywhere up to 200 people.  Can I click my heels right now and have a chef magically appear! I seriously get heart palpitations when I think of making good, edible food. If I baked a cookie, someone would most likely break their tooth.  Lots of party food planning is in my very near future.
Now, about The Forest Modern!  Over the past week, I've been burning the midnight oil making final modifications because framing begins tomorrow…TOMORROW!!!! Not excited or anything.  So in the past 7 days, I've knocked out a planned hallway, moved a fireplace, added about 6 more windows and my builder is being VERY patient.  These changes are making a big difference and I am starting to get super excited to see it all framed!
Right after Austin's senior luncheon today, I went home and changed out of my cute skirt, put my "dust" boots on (I love these boots by the way!) and met our builder at the house to review some final plans.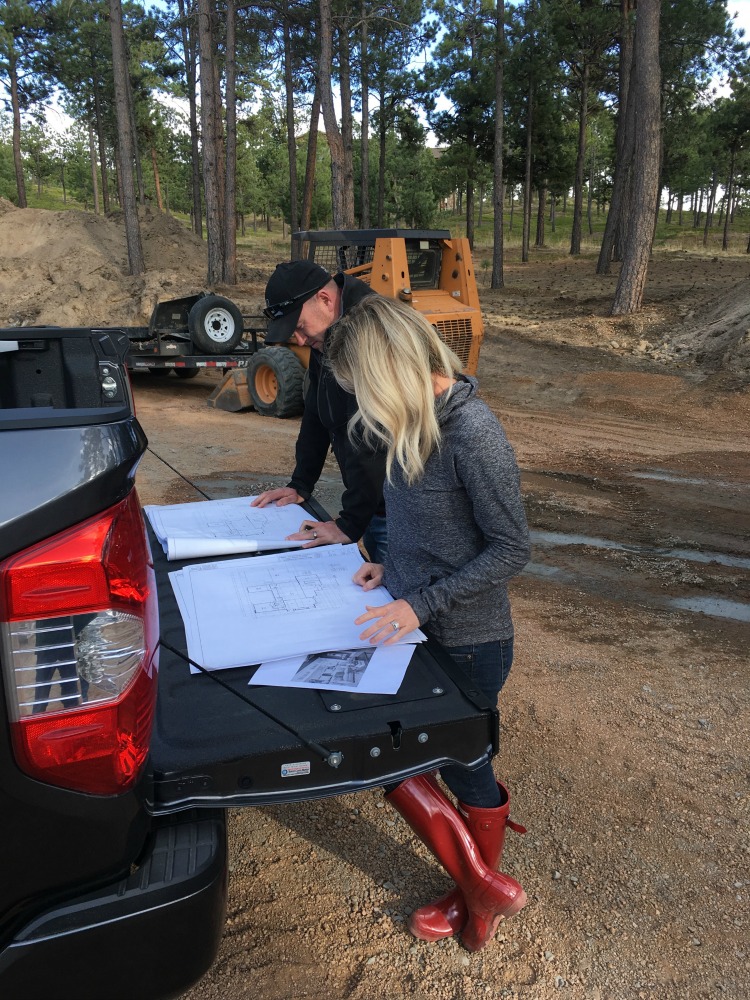 The foundation floor was poured today!  Kind of looks like an ice skating rink doesn't it?? haha!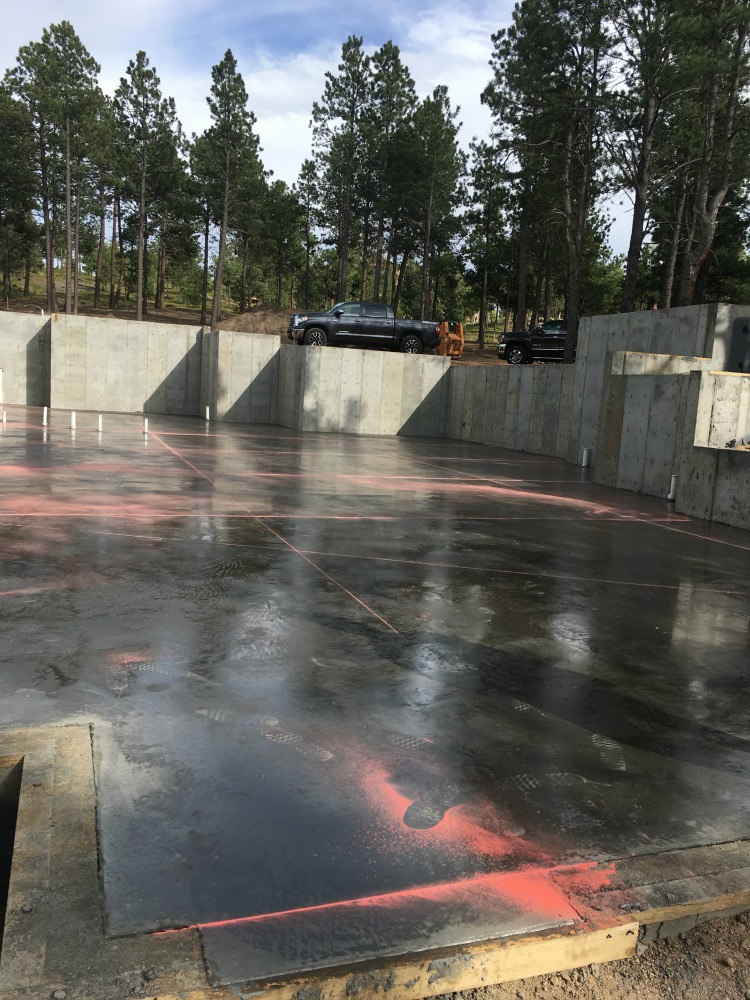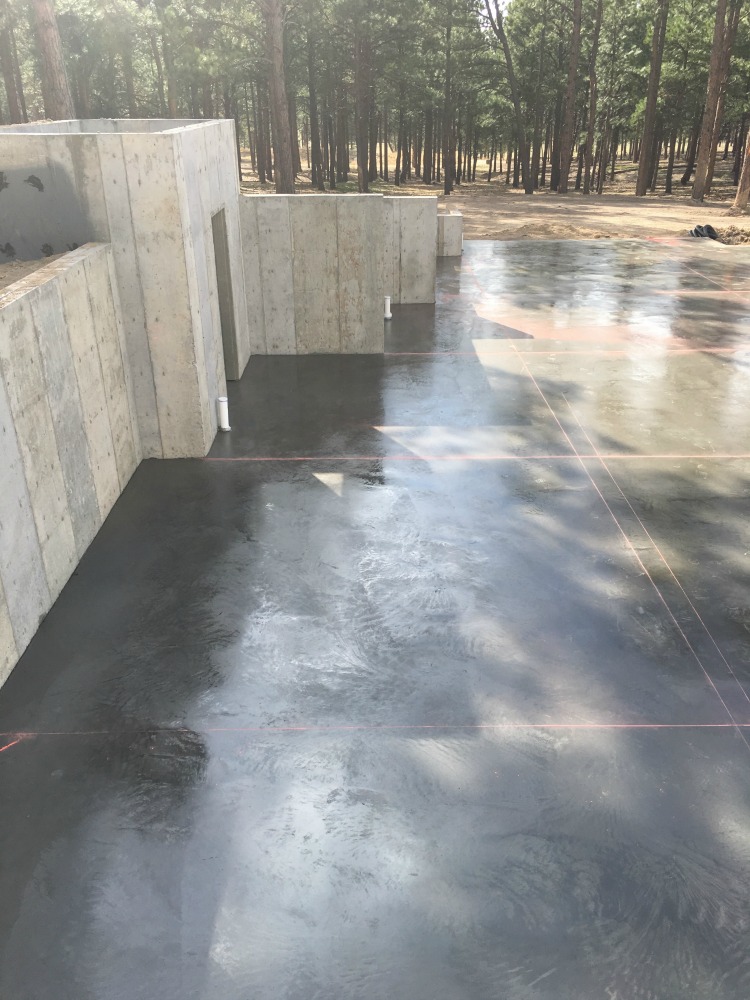 Framing is expected to take 2 months.  That means I have my work cut out for me in designing every little nook and cranny from here on out. Last Friday, I met with our cabinet builder and have some good direction with the kitchen design.  I'm a little nervous because I feel like this is the most important room in the home. It'll be very different from our current kitchen (see it in our recent spring home tour HERE).  If you have any suggestions about great ideas for kitchens, let me know! I'd love to hear your tips on creative storage or even your favorite appliances! I'll be picking those out very soon!
So many of you have asked where I get my design inspiration from and my answer may surprise you.  I run.  I totally believe that all those endorphins that get released when I run mile after mile, gets all the creative juices flowing in my mind. I crank up the music and get lost in my run as I design a room. It makes the miles and hills go by much quicker. I love that our middle son, Ethan, loves to run too and we are actually training for another half marathon together in 3 weeks.  At his first half marathon last May.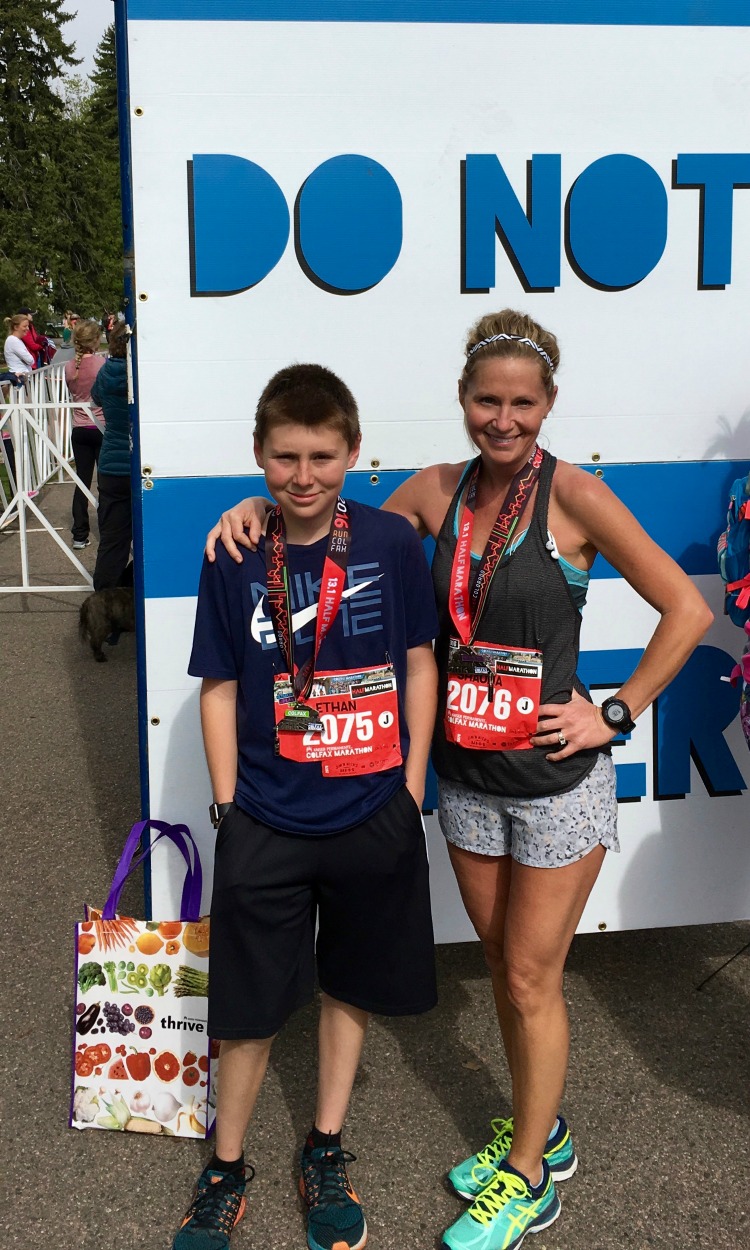 If it weren't for him, I probably would not be committed to training time with all that we have going on, but I can't pass up running a race with my boy. It's our little thing that we have in common and I love it! He's already planning a full marathon next year. Bless him.
As the title of this blog post says, I'm taking it all one day at a time. A very big year, new beginnings, and so much to be thankful for!! Thanks for following along in our journey! Your support means the world to me!
xoxo