Spring Home Tour 2017: Simple Spring Styling Tips
Hello & welcome to The Decked and Styled Spring Home Tour!  Even though it doesn't feel like spring here in Colorado, I still like to make our kitchen and living room feel like a change of season with a few simple spring styling tips.  A big thank you to Bree at ZDesign At Home for organizing this tour. Please make sure you visit her beautiful Texas home along with the 10 other fabulous blogger homes that I'll link to at the end of my tour.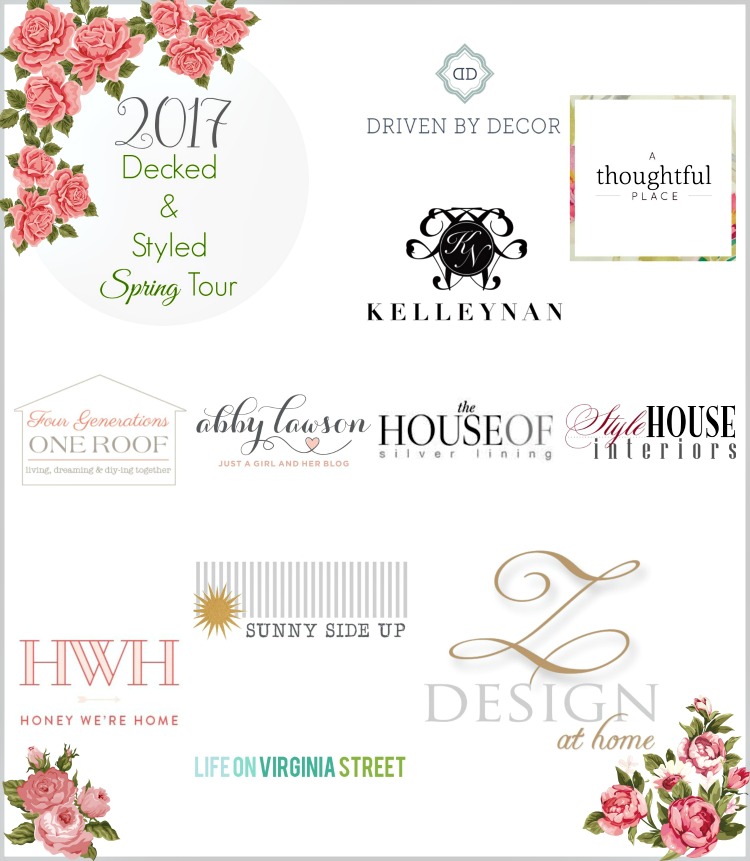 For those of you coming over from my sweet friend Erin's home (Sunny Side Up), I'm so happy you've stopped by! Doesn't she have the cheeriest home on the planet? It's a total dream! I actually get to go see it for reals this weekend! Someone pinch me! So Excited!! I'm heading to the Design Bloggers Conference in LA so I decided to make a detour to her house first. I'll be sharing more about that trip next week!
Spring in our home this year is actually a little bittersweet. Just a few days ago I gave this BIG ANNOUNCEMENT!  This will be our last spring in our home that we have lived in for 7 years. By this time next year we will just be getting moved into our new home in the beautiful forest!  So much planning has already gone into our new home over the course of a year that I can't believe it's actually happening! I'd love for you to follow along with our new home journey if you're new here today! It's going to be the funnest year ever for the blog and I can't wait to take you through all the ins and outs of building a home.
Well enough said about all that excitement! We've got some spring touring to do!  Let's start with my greeters, Gucci and Kodak "Dak." They love to get their photos taken and are welcoming you into our piano room, which is the first room you see when you enter our home.
Affiliate links used in this post for your shopping convenience.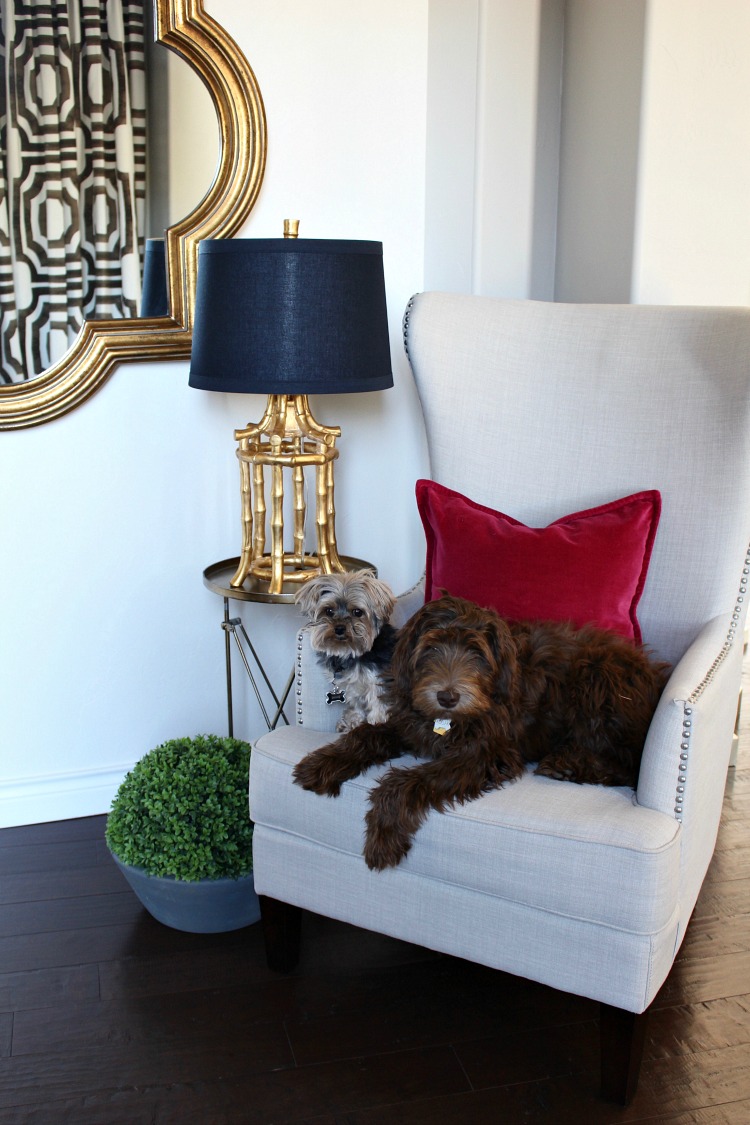 Since we brought our new puppy (he's the big one!) home a few weeks ago, we've had to puppy proof the house. All of my pretty area rugs are stored away and I've had to rearrange a few lamps since he's already pulled this one off of the table when it was in our living room.  So having a new pup and being completely consumed with new house plans, I've had no time hardly to do much to our home for spring.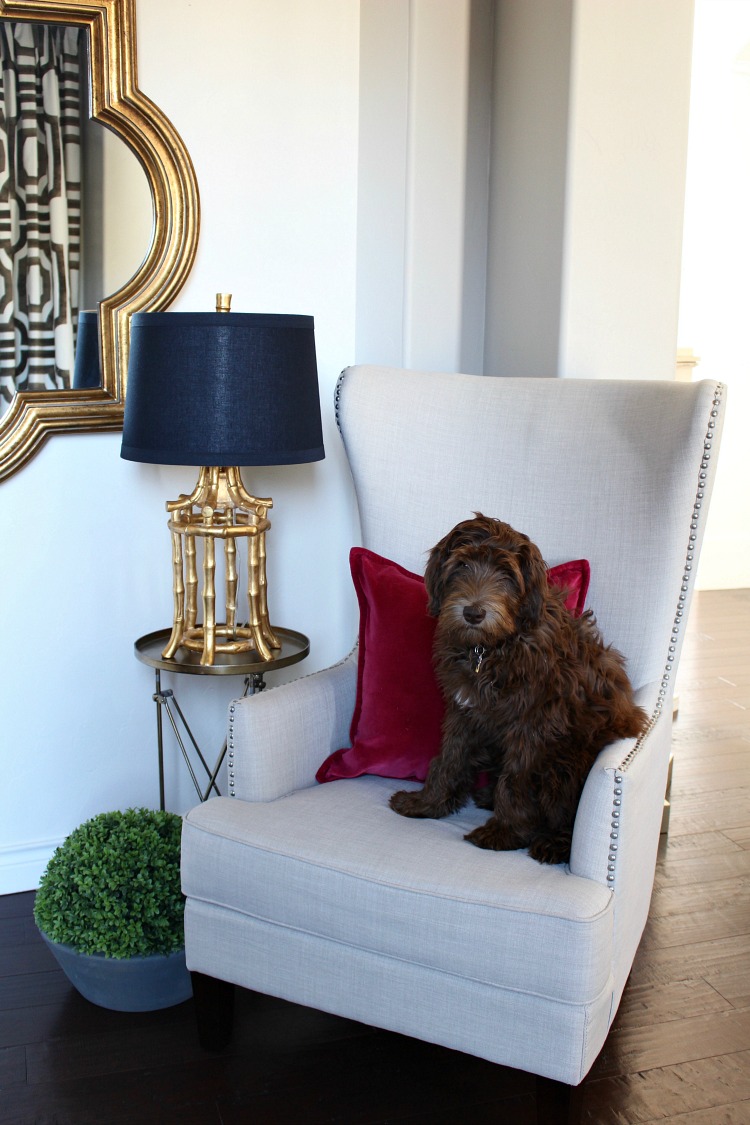 I really don't think you have to go spend money frivolously to update your home for each season. I have a few simple tips on some things I do for every change of season.  Some are as easy as shopping in your storage closet of unused decor.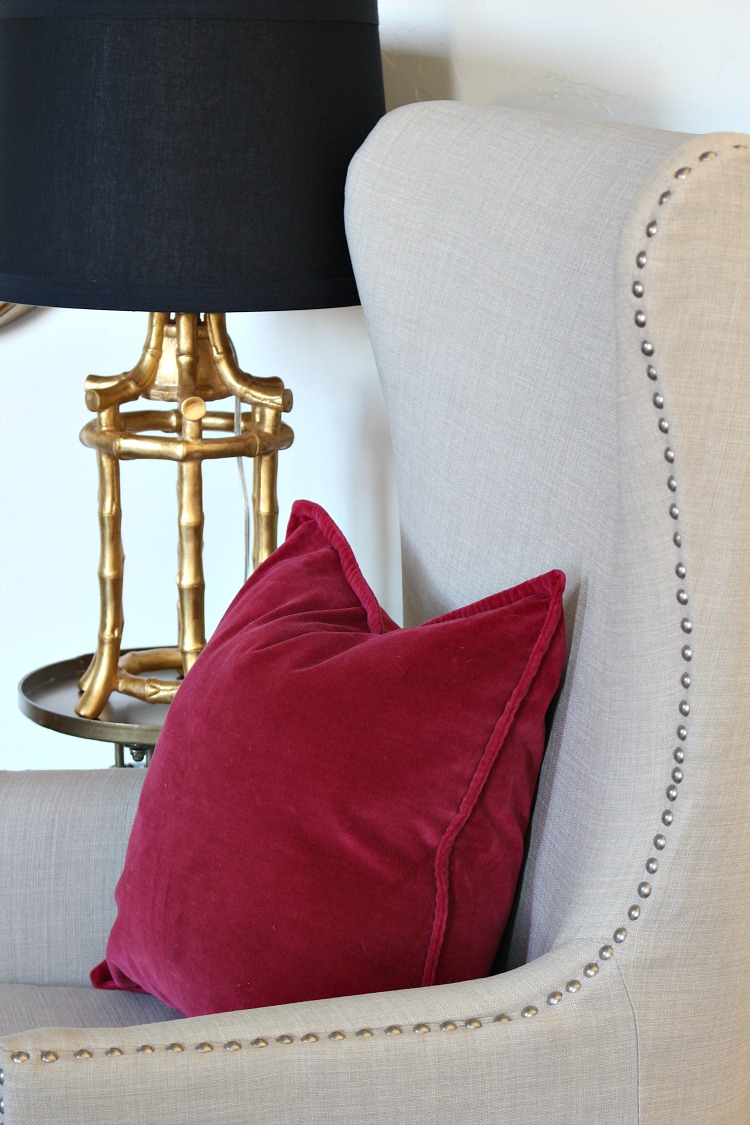 With season's change I don't necessarily want new things, especially when I've been decluttering and purging. I find that simply pulling items from different rooms in the home can make a space feel refreshed and new again. I pulled out this fuscia velvet pillow that I used during the summer last year in our family room. I always love a pop of color in a room.
And this pink ruffled pillow in our living room has been around since our Christmas home tour two seasons ago. I got it at Tuesday Morning, a place I don't happen to shop at a lot only because it's not close to my home. I've had so many questions about where I got it and wish I had an updated source for you. I love how it pairs with my favorite leopard pillow which is a neutral and can last through each season.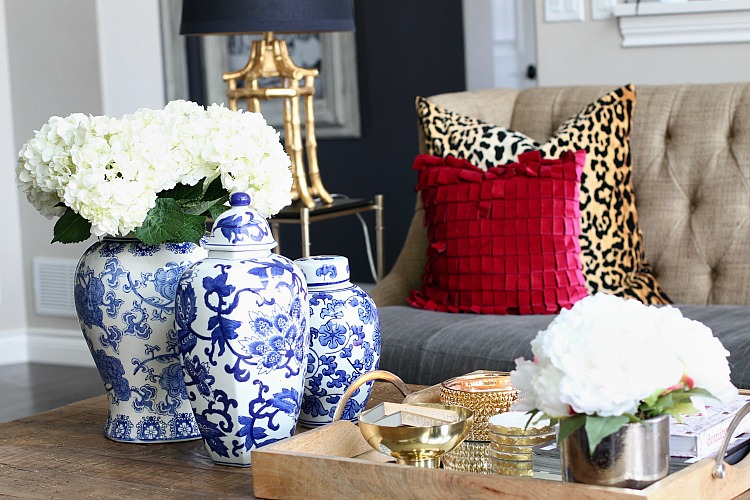 Another simple spring styling tip is to display books with spring colors. My coffee table tray always houses a few of my favorite design books. If you want the perfect "how to" guide to styling, this Domino book is a winner! So many great ideas in there and don't you just love the pretty colors? Perfect for spring and coffee table styling.
Here's a few more design books that I love and have placed throughout my home:
Scroll & Click on link to shop

While we're focused on the coffee table tray, I think these match boxes are the cutest! I always have a candle lit in my home and now I have cute match boxes to go with them.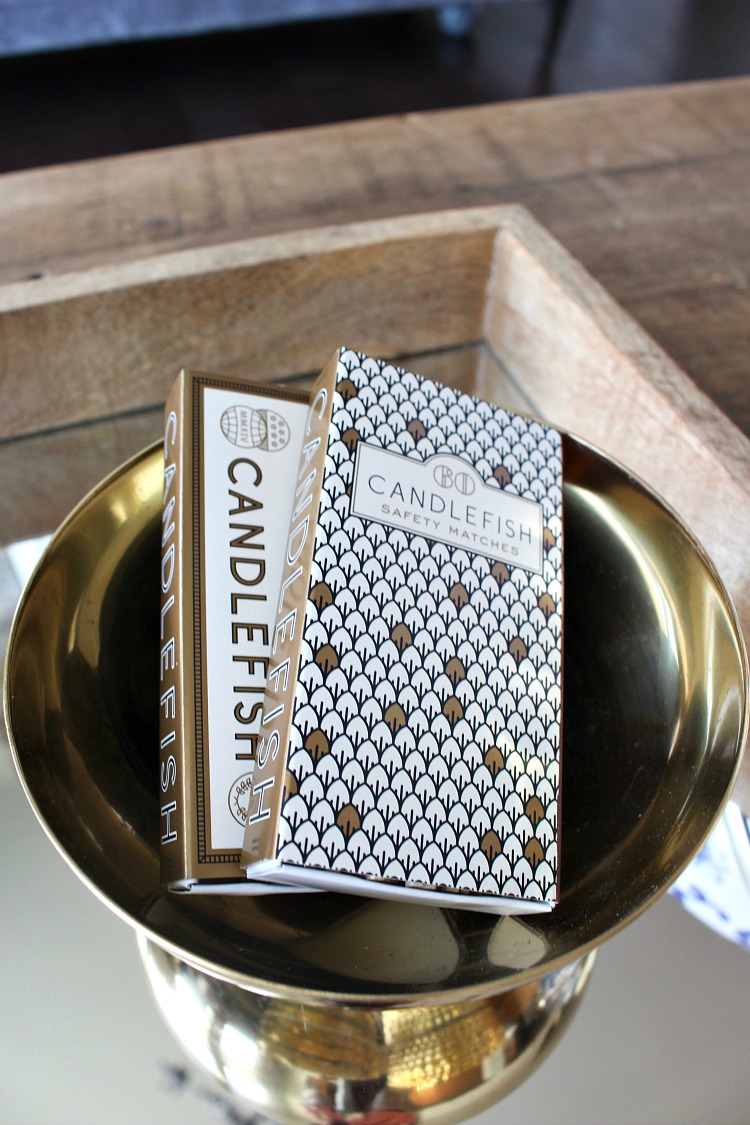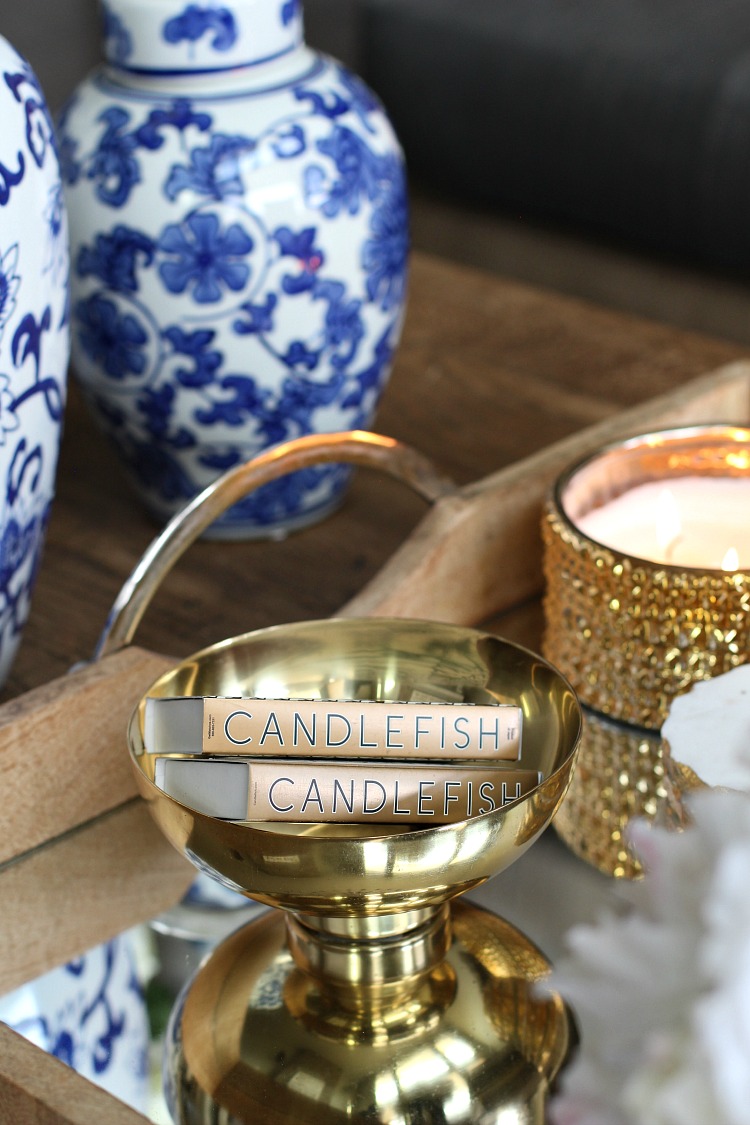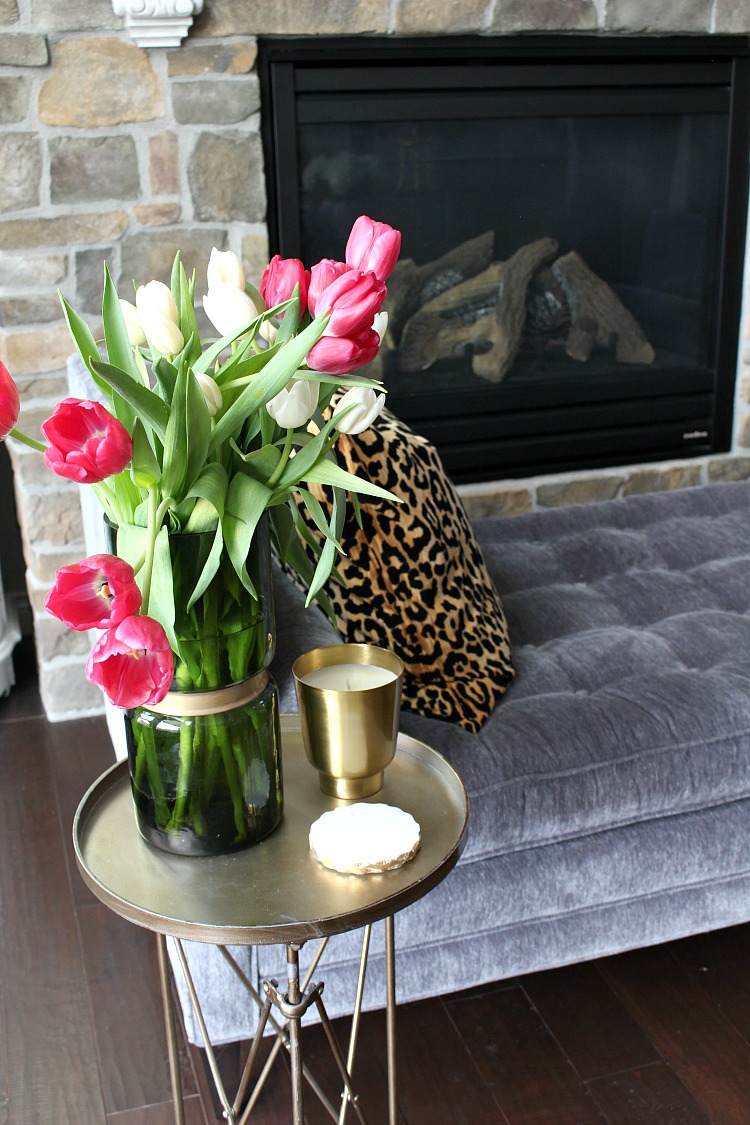 I finally burned the last bit of my balsam fir candles from Christmas and have now moved onto this scrumptious new candle.  Loving the brass container it's in too.  The tulips almost convinced me that there was not snow on the ground outside when I took this photo.  Almost. Until I opened the front door and Antarctica hit me in the face. We really don't get a spring here.  But I'll pretend with tulips.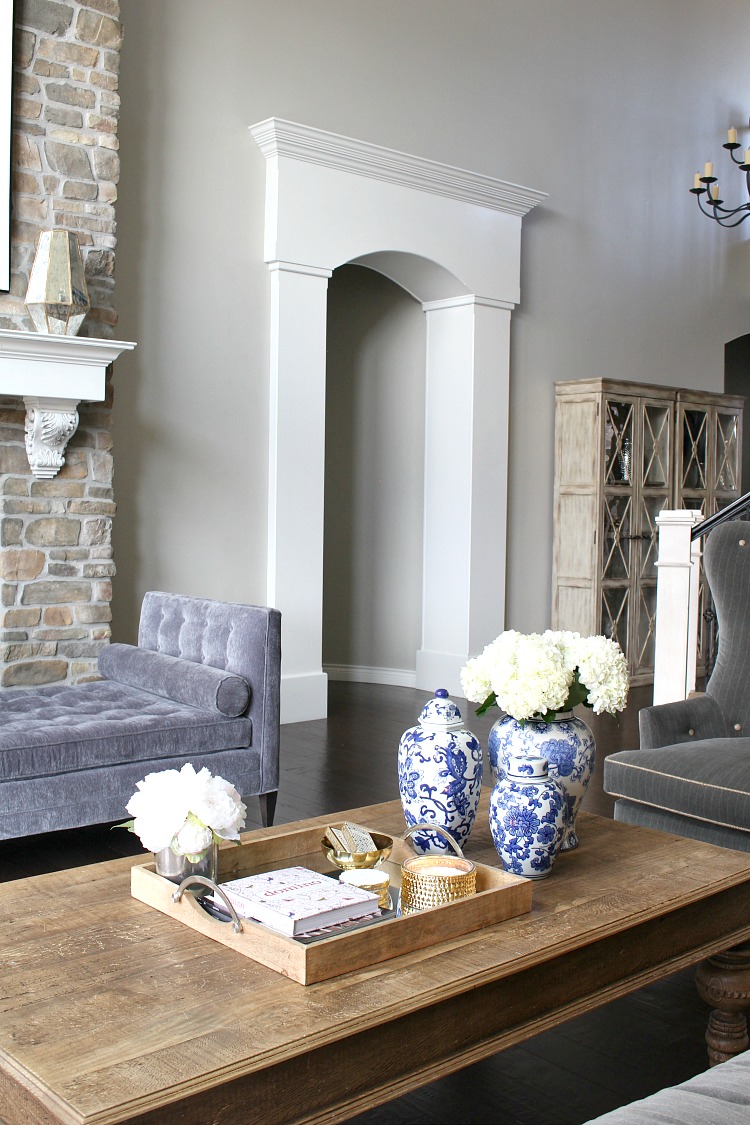 I rarely buy flowers for our home. I admit mostly during a blog tour or if we are having a special occasion in the home.  I don't like to spend money on something that dies quickly and for some reason I can't keep a flower alive.  I admit though, when I do fill some vessels and vases with flowers, my house looks so much better! I could get used to this!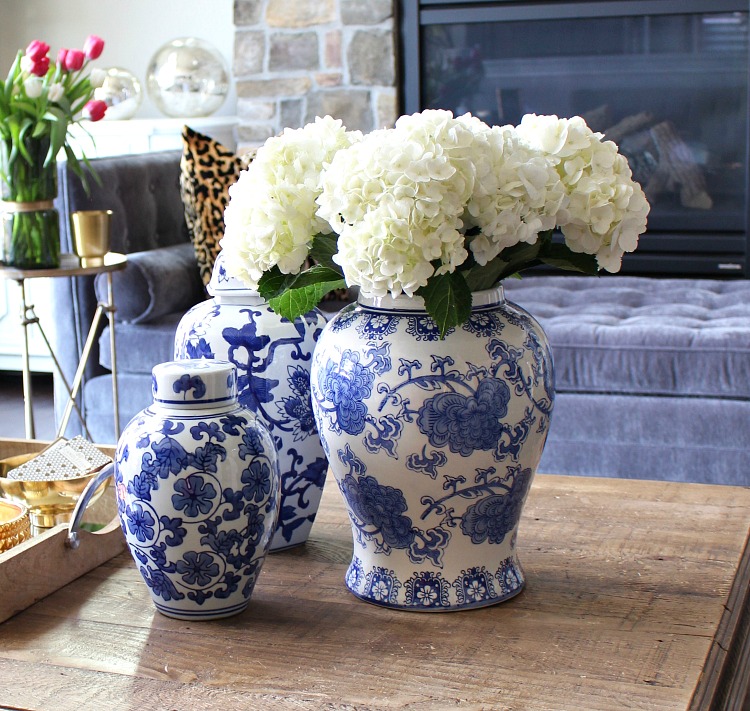 Moving on into our kitchen you can see I added even more flowers. I guess I'm making up for never having them.  I've been babying these hydrangeas for over a week now and I haven't killed them off yet!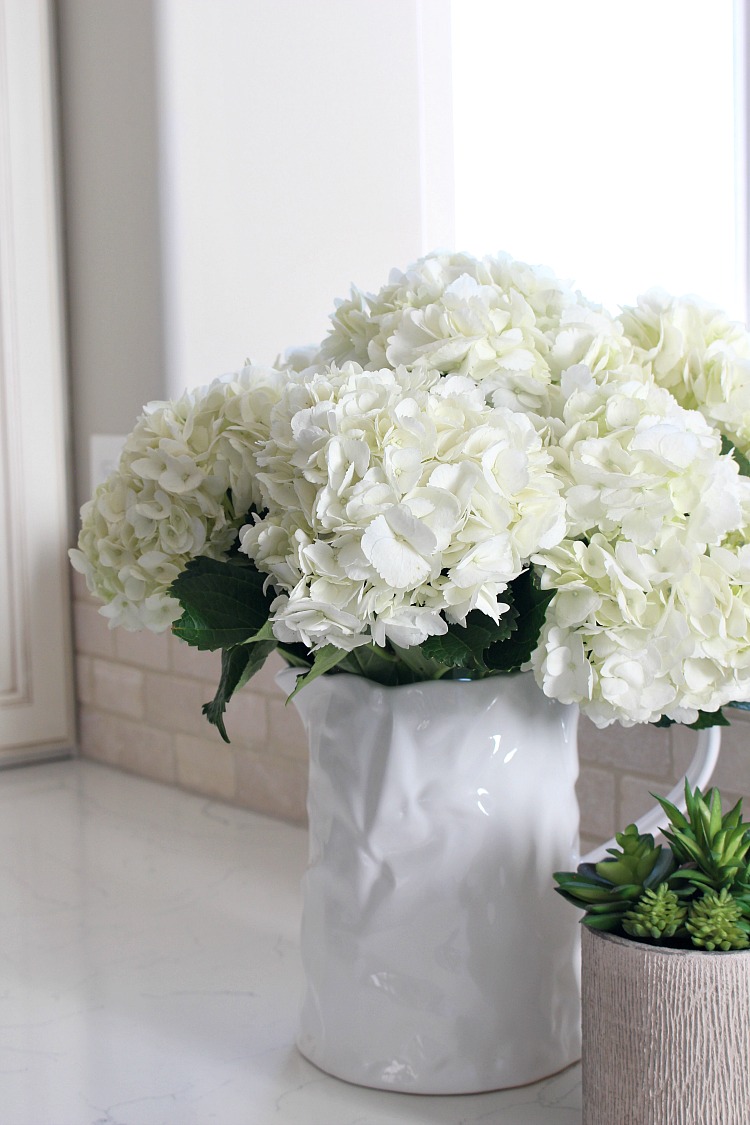 These new pinkish vases are what motivated me to buy flowers in the first place. Sometimes when I love something I have to buy two.  You'll see a lot of "pairs" in my home. Two is always better than one, right? Recently, I rounded up my favorite vases for spring and summer in this blog post. You can find a few of my vases there if you want to check it out and get some for your home.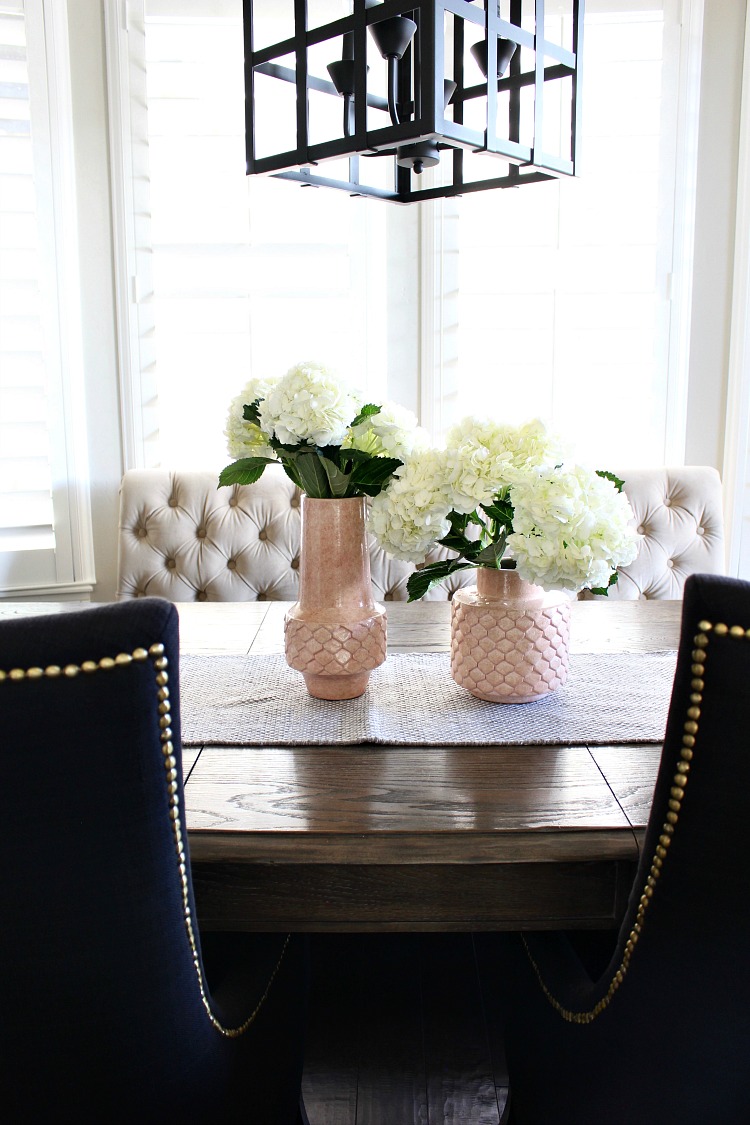 These spring branches are a mix of some old apple blossom branches I've had for years mixed with some new green blossoms I found at Michaels.  The glass vase is a first for me and I'm loving the simplicity of it.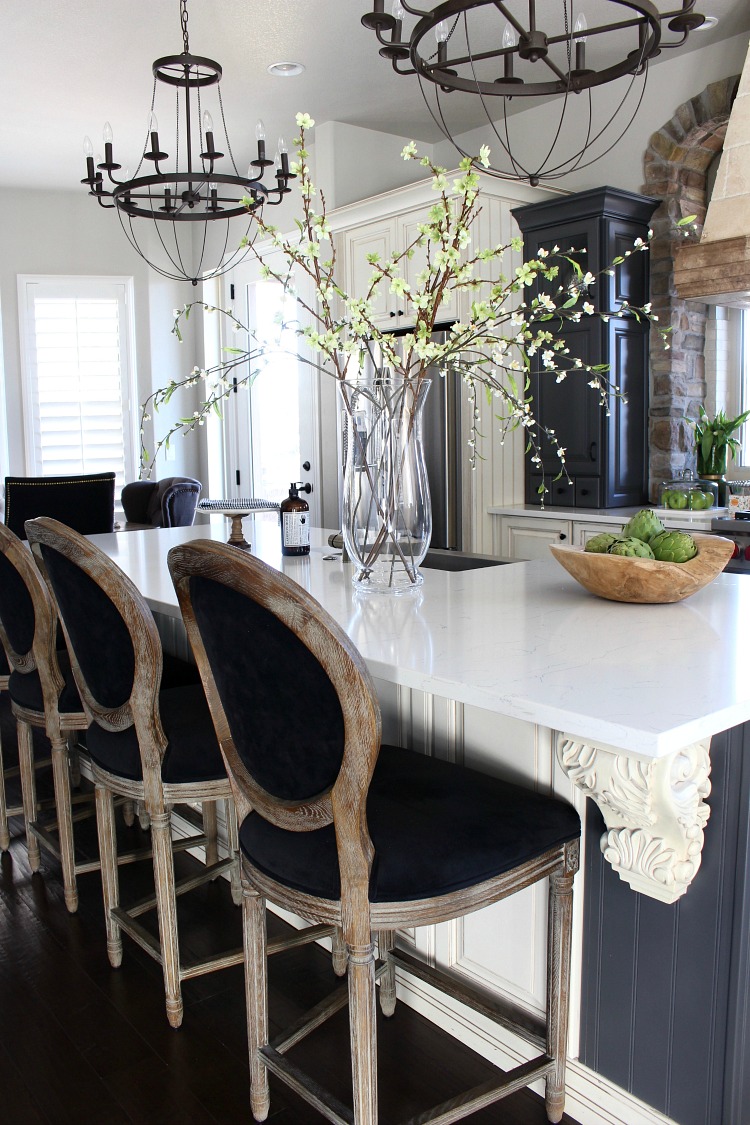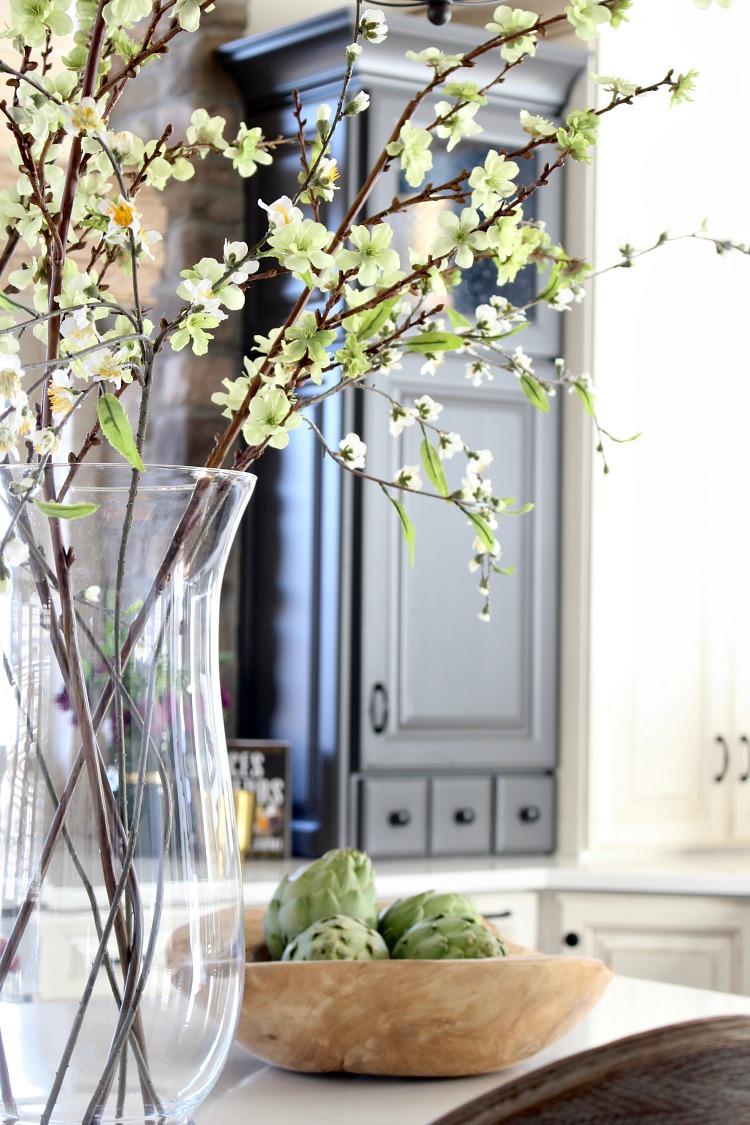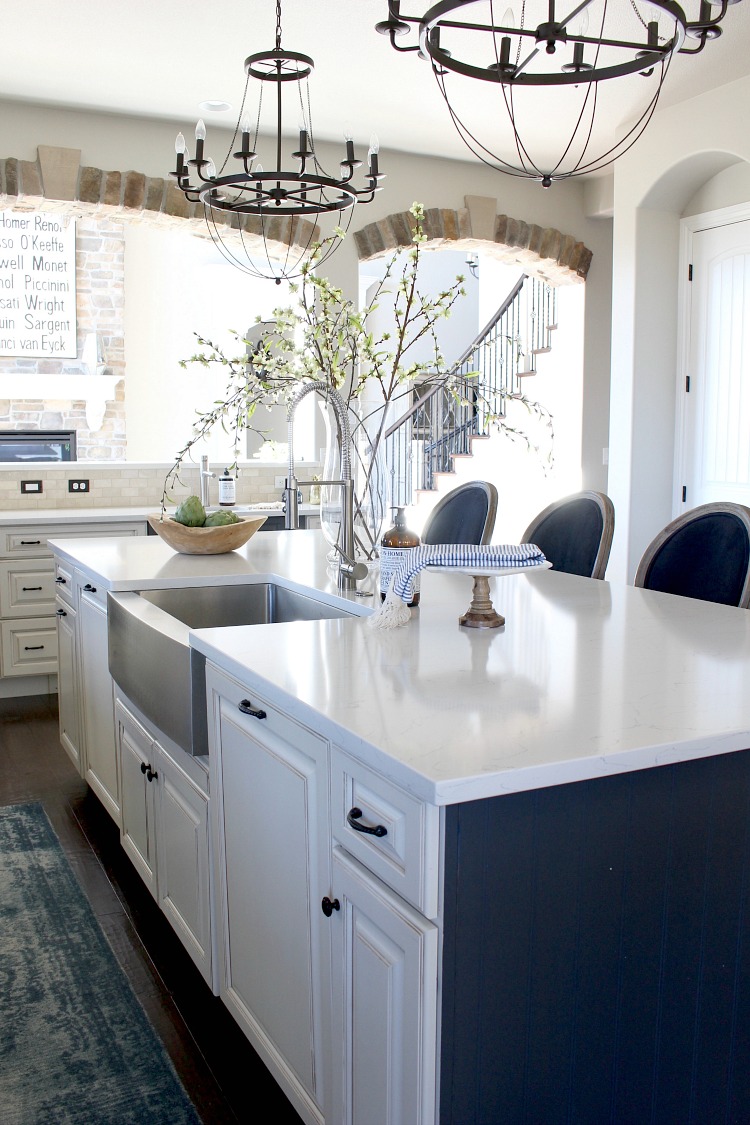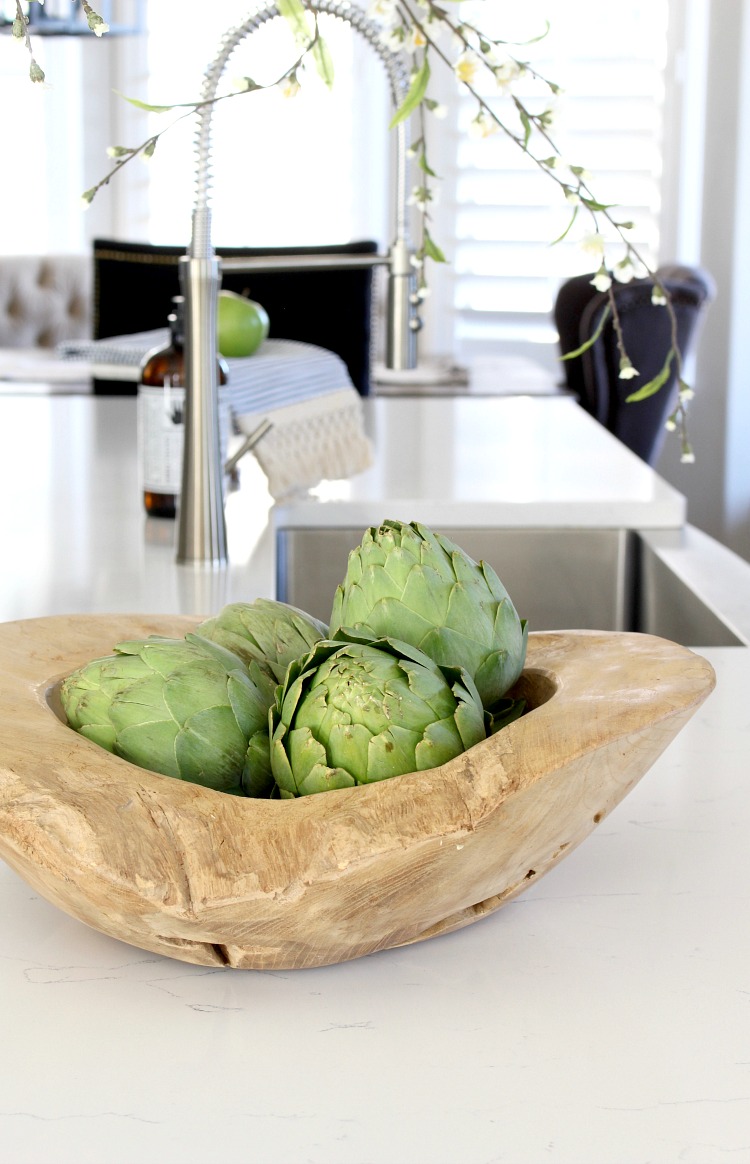 Simple, yet so pretty, can be fruit or vegetables displayed in the right bowl.  I found this wood bowl at Homegoods last fall and have used it for so many things. I've sourced this similar wood bowl for you since I've had so many questions on where to get it.
The boys eat apples every day in their school lunches so I always have bowls of them on the counter. I switched it up a bit and put them on a marble tray with a glass cloche. Ya know, to keep the dust off them.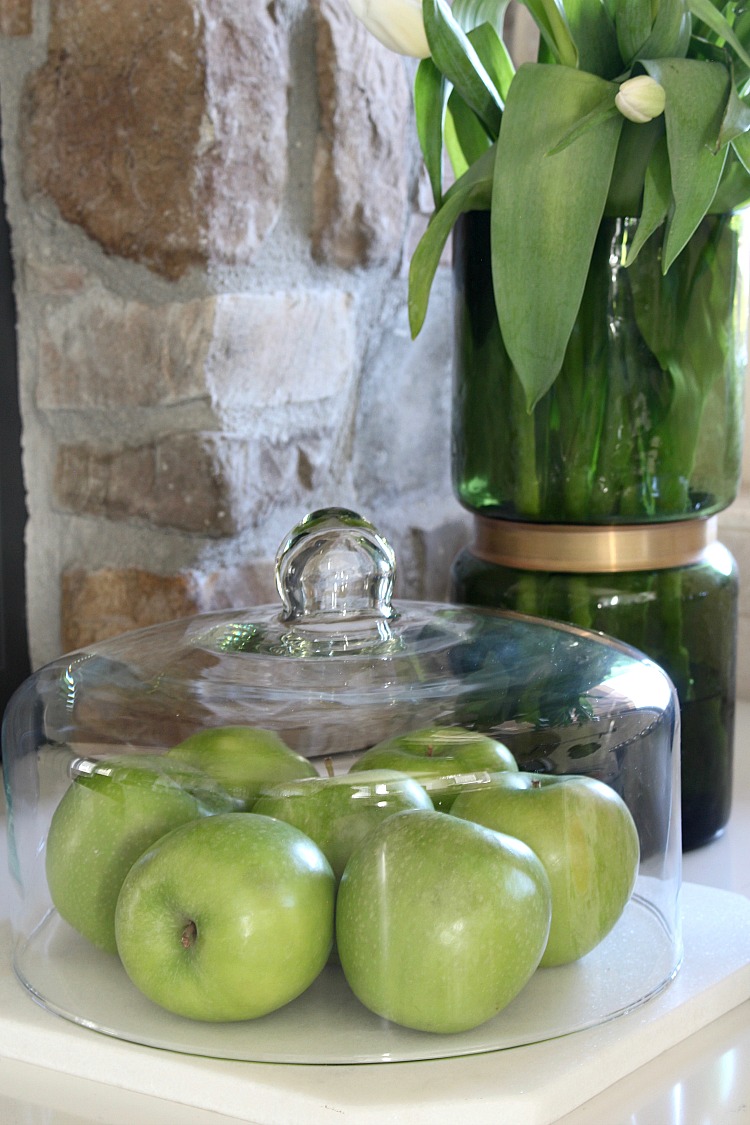 On the other side of the kitchen I have some lemons on a tray.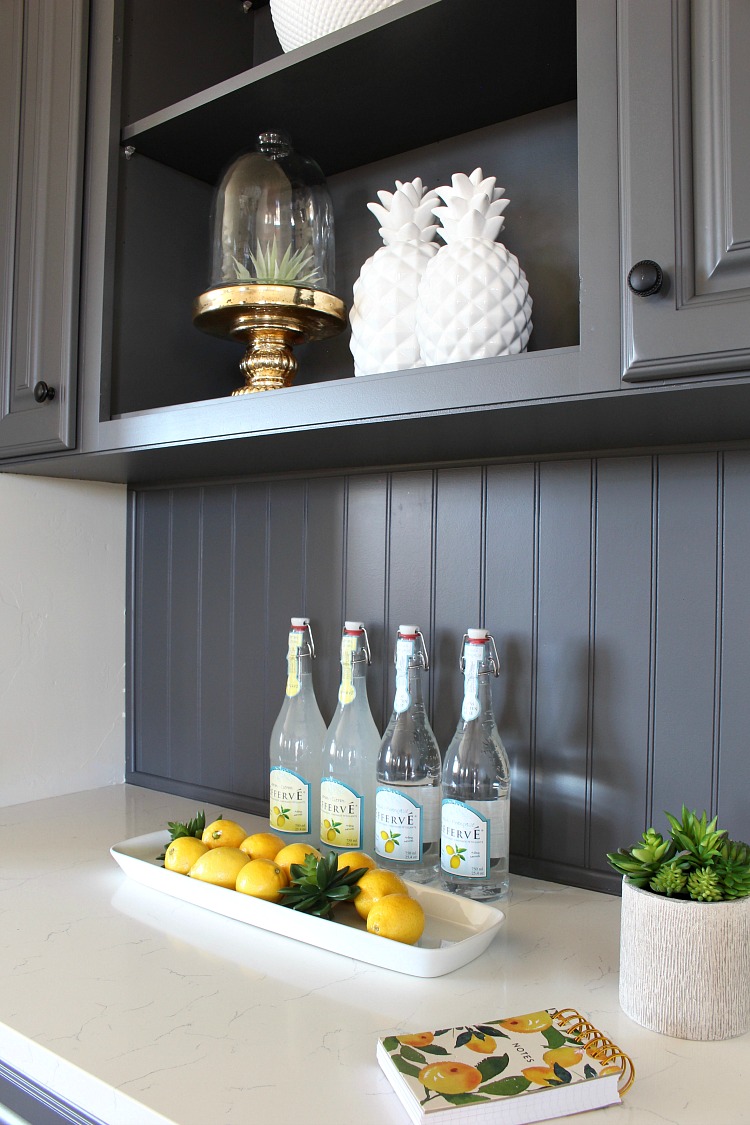 I tucked in mini faux succulents just because.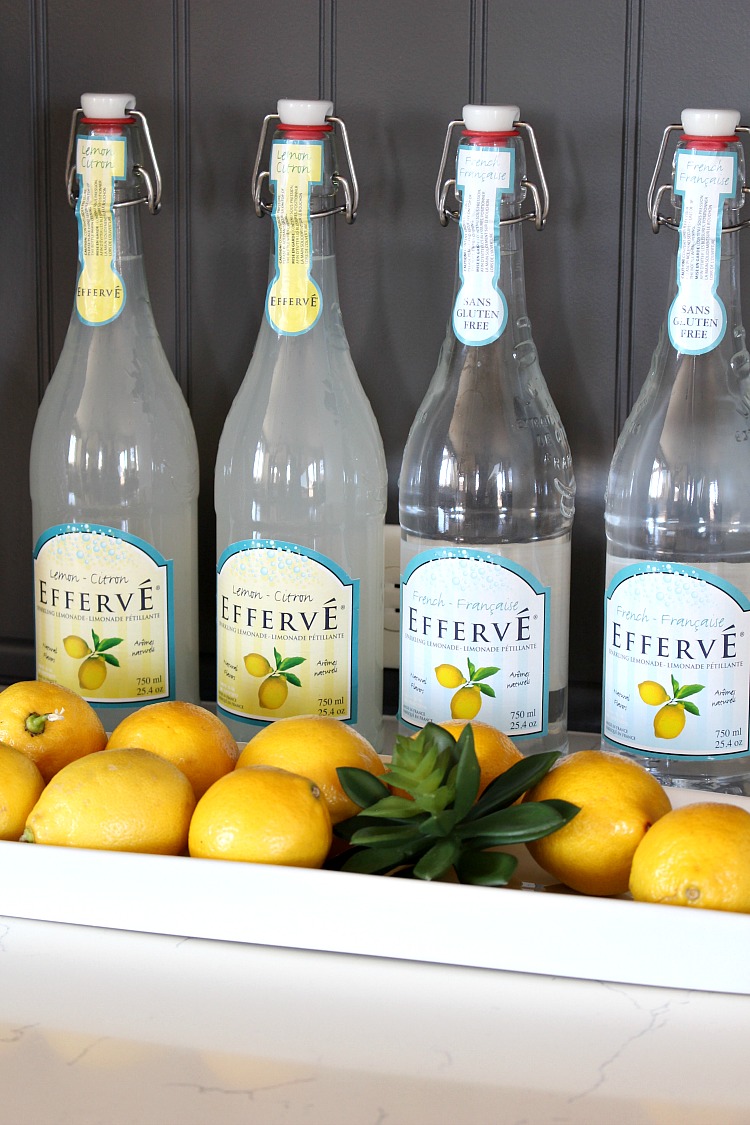 I am constantly making lists of things that I need to do or grocery lists. I found this cute little lemon notebook and couldn't resist sitting it next to my lemons. Now if only I could actually remember to tear out my shopping list before I go to the grocery store. Anyone relate??  Look close and you'll see puppy chew marks on it already. #dakthedoodle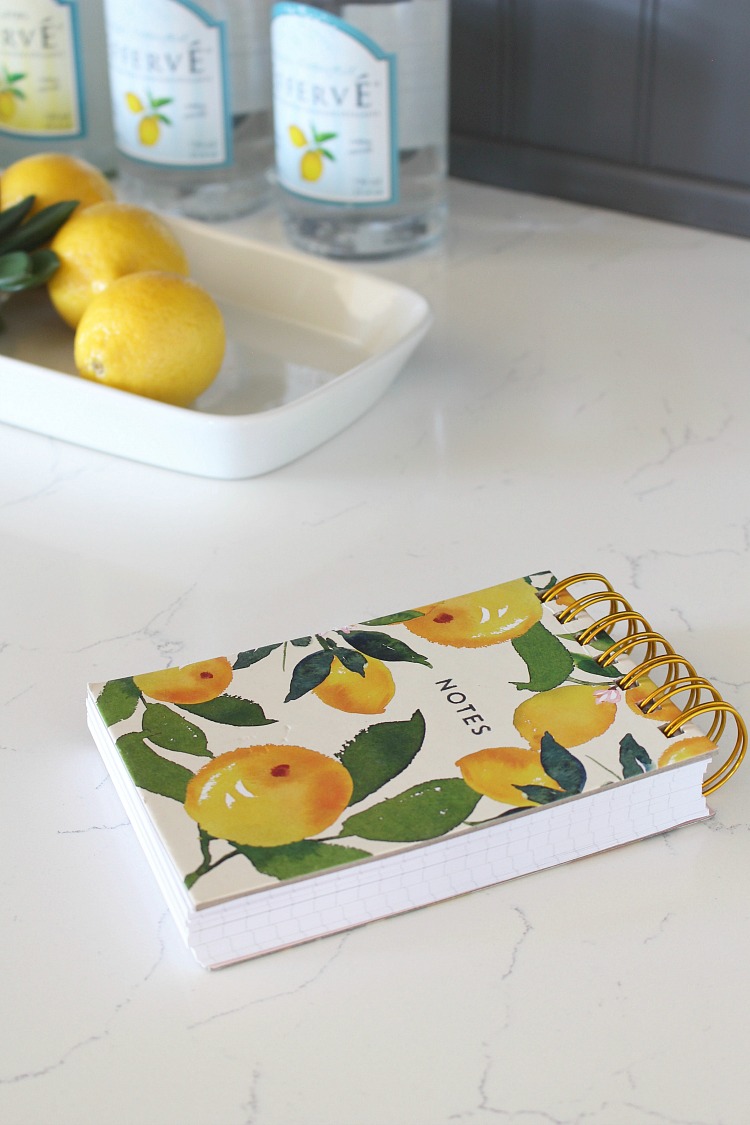 It's the little things that make me smile when I walk into our spring styled kitchen, like this pretty dish towel.  The fringe, the stripes, what a cute combo.  It's definitely more decorative. I keep the less attractive dish towels folded in a drawer next to the sink and pull them out when I need to dry a few pots and pans. A pair of these would be cute hanging over a stove handle too. Did you notice I said "pair?" Two is better than one! 😉
Another tip is to elevate items on display. I often use little cake stands or trays.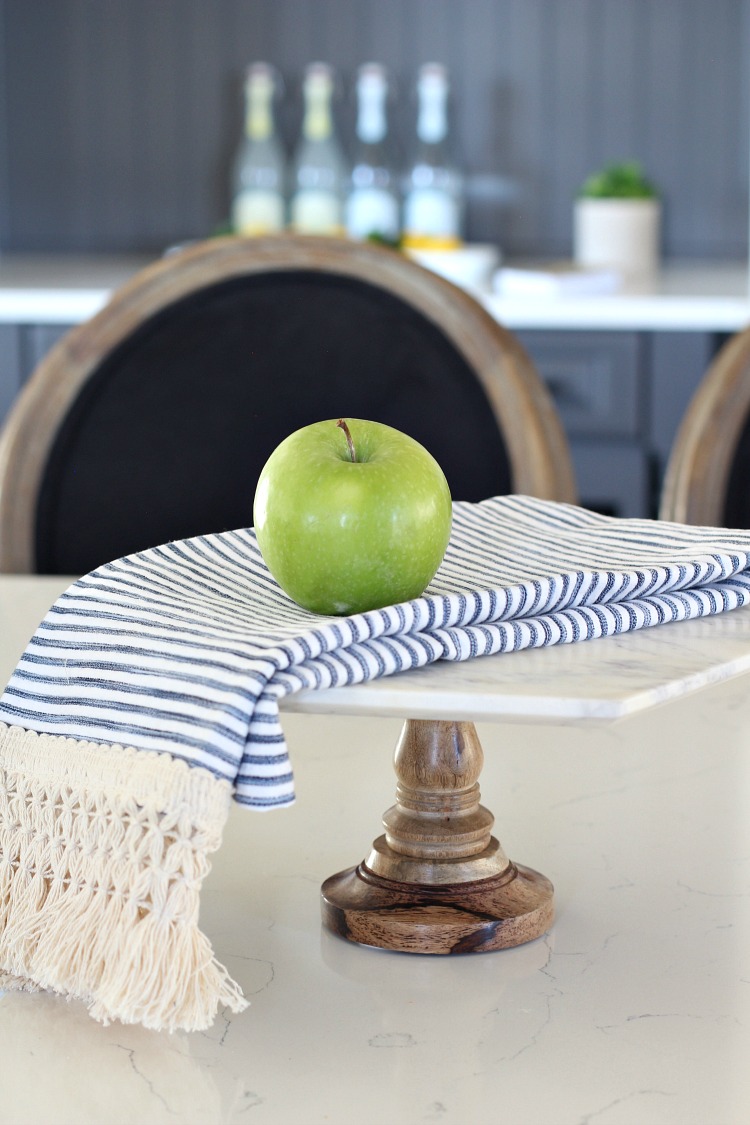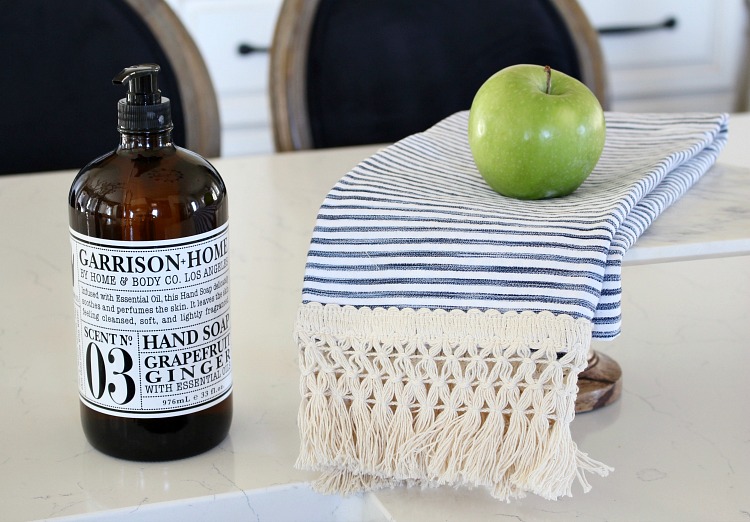 I always stock up at Homegoods with this soap. I love the large glass bottle along with the black and white label. Just by having a fresh, new bottle of hand soap on the counter makes the space feel new and clean.
I hope you got a few ideas to get your home in the spring mood with my simple spring styling tips.  Thank you so much for stopping by! With life being a bit busy now with building a new home, training a new puppy, along with all the other day in and day out activities, I'm winning if I can keep my kitchen clean every day. Double win if I can keep my tulips and hydrangeas alive just a day or two longer as well!
Next stop on the Decked and Styled Spring Home Tour is my friend Jessica's home at Four Generations One Roof. As you can see from her family room, her and I have the same love for those vases. Great minds think alike!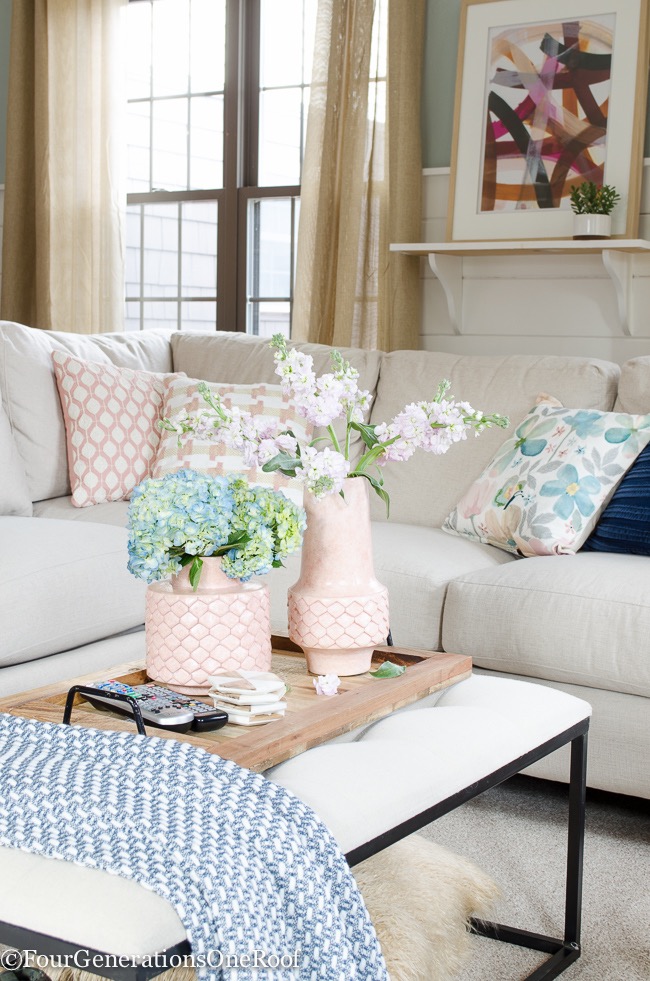 Be sure to stop by each of these homes on the tour today!
ZDesign At Home
Just A Girl And Her Blog
Sunny Side Up
Four Generations One Roof
Life On Virginia Street
Driven by Decor
Kelley Nan
A Thoughtful Place
Style House Interiors
Honey We're Home