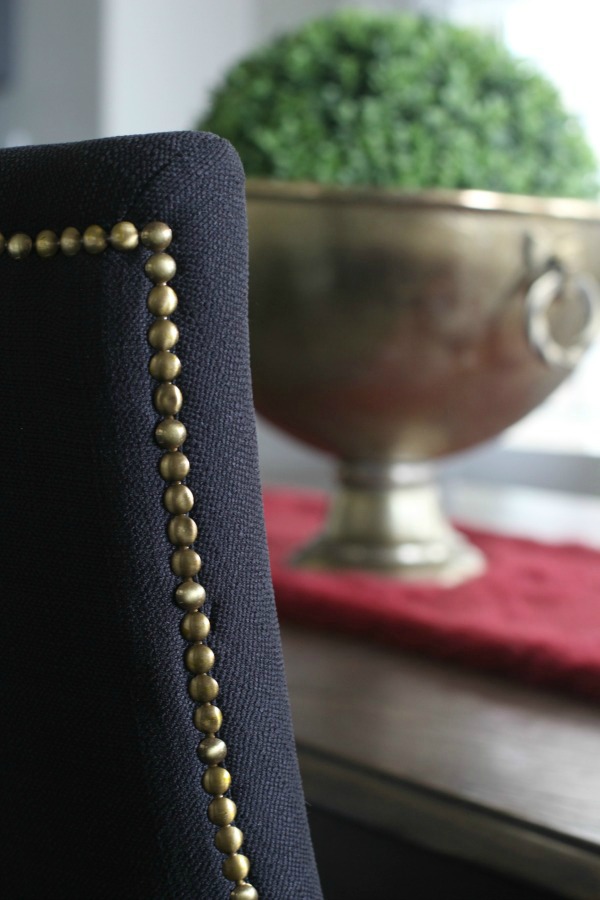 One thing about my home is that nothing stays the same for long. Our kitchen is one room that has gone through two big makeovers in six years.  I plan on sharing the biggest design mistakes I made in here and how I fixed it.  But first, let me give our Colorado kitchen a formal introduction.
Enter through the stone arch from the living room to a grey and white kitchen with stone accents (ps. I added that stone to add character to an otherwise "ho-hum" walk through).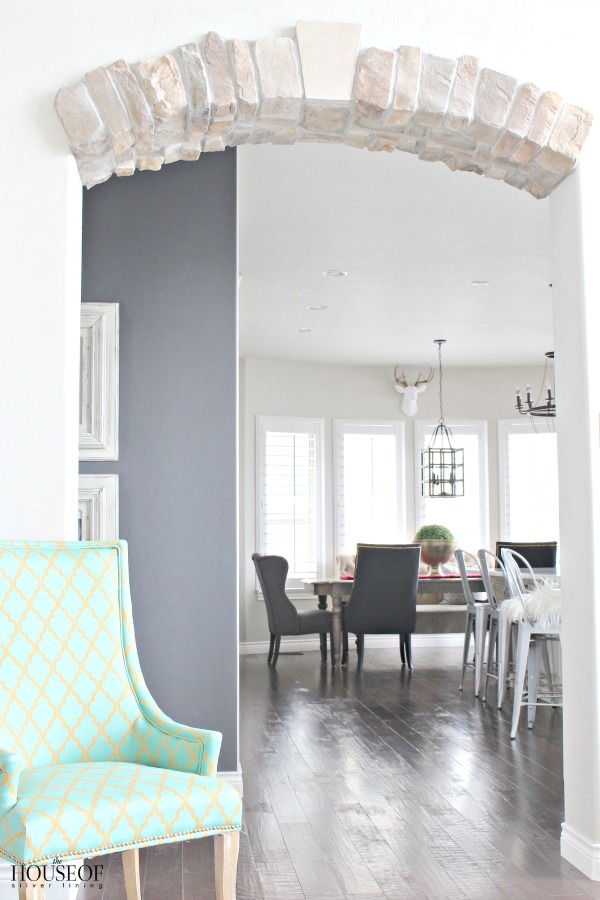 Our kitchen is not married to a particular style but more of an eclectic mix of furnishings and cabinetry.  When I originally designed the kitchen six years ago, I wanted a bit of old world charm. The travertine tile hood and stone accents around the windows pull in that character.  I've always been drawn to ornate details like these island corbels.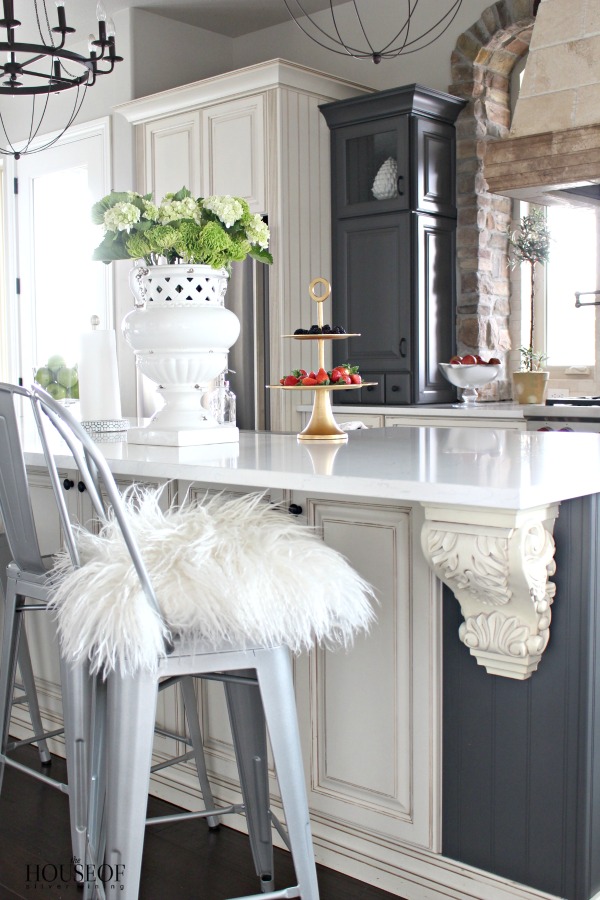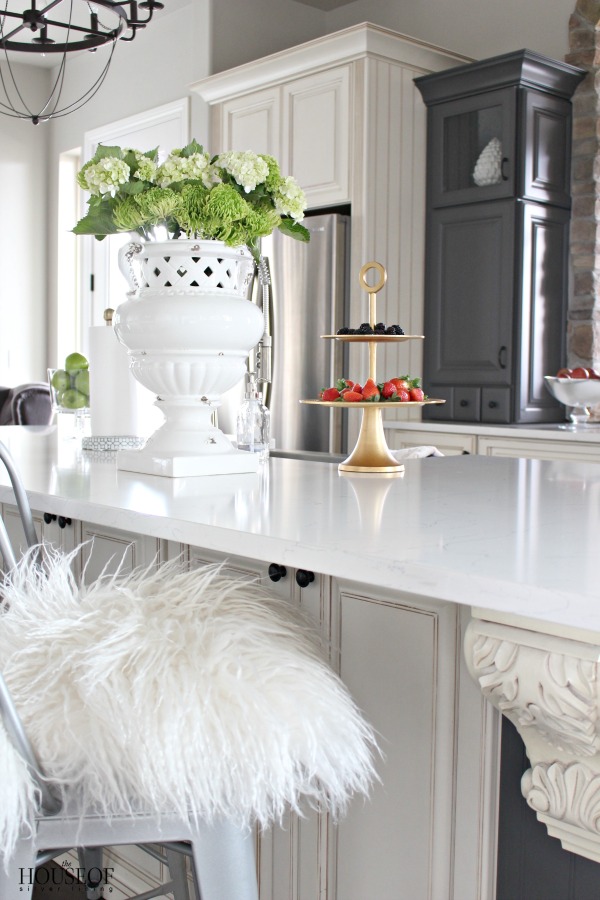 Since we have a large amount of countertop space I chose to have a couple of cabinets sit directly on the countertop.  Just a little feature to add some visual interest.  The mix of charcoal grey and antique white cabinets help break up a large kitchen with a lot of cabinetry.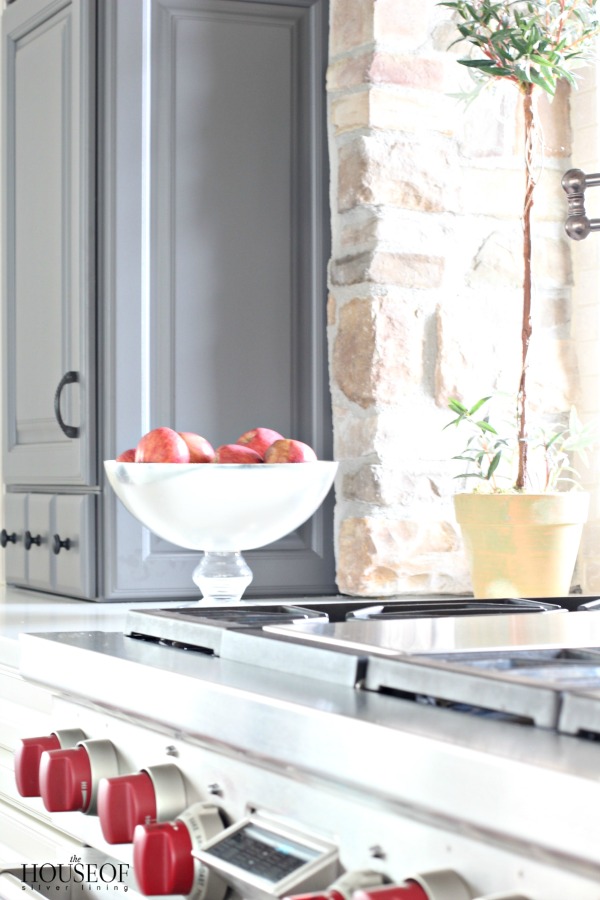 My favorite feature of the kitchen is this huge "armoire."  I have so much storage space in these cabinets. The original builder floorpan for this kitchen was to have this wall be a long row of lower and upper cabinets and one long continuous countertop. We have 10 foot ceilings in here and I knew that the original design would have no wow factor.  I was really fortunate to be able to design and piece my cabinetry together.  By taking the armoire cabinets all the way to the ceiling, I doubled my storage.  Yes, I have to stand on a ladder to get anything out of the top cabinets but mostly party and holiday items are up there.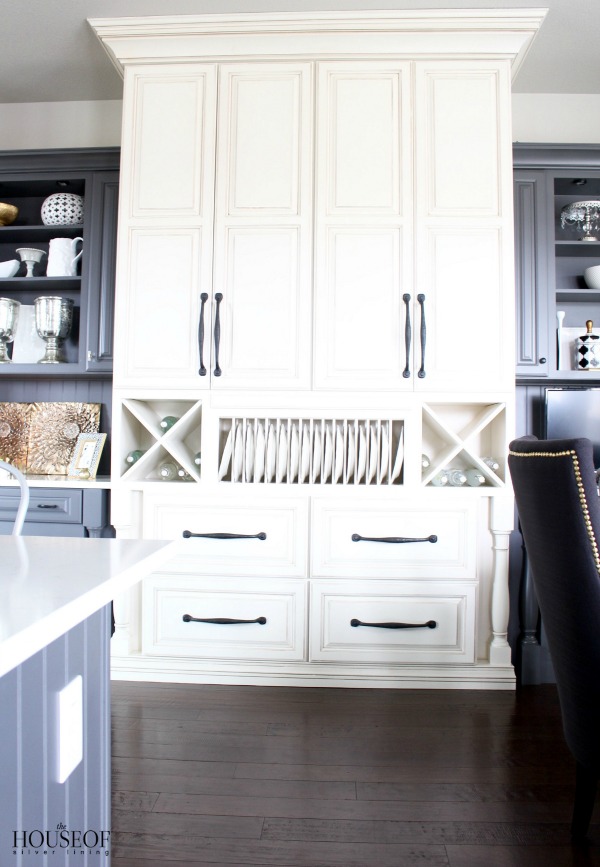 The grey upper cabinets on either side of the white armoire used to have doors but I decided to take those off last summer.  You can see what they looked like before I removed them HERE.  I'm loving the open shelf look that makes this wall appear even more custom. I designed the lower cabinets to have that open concept as well.  I have a collection of white platters and serving trays and love how they look displayed against the dark charcoal grey.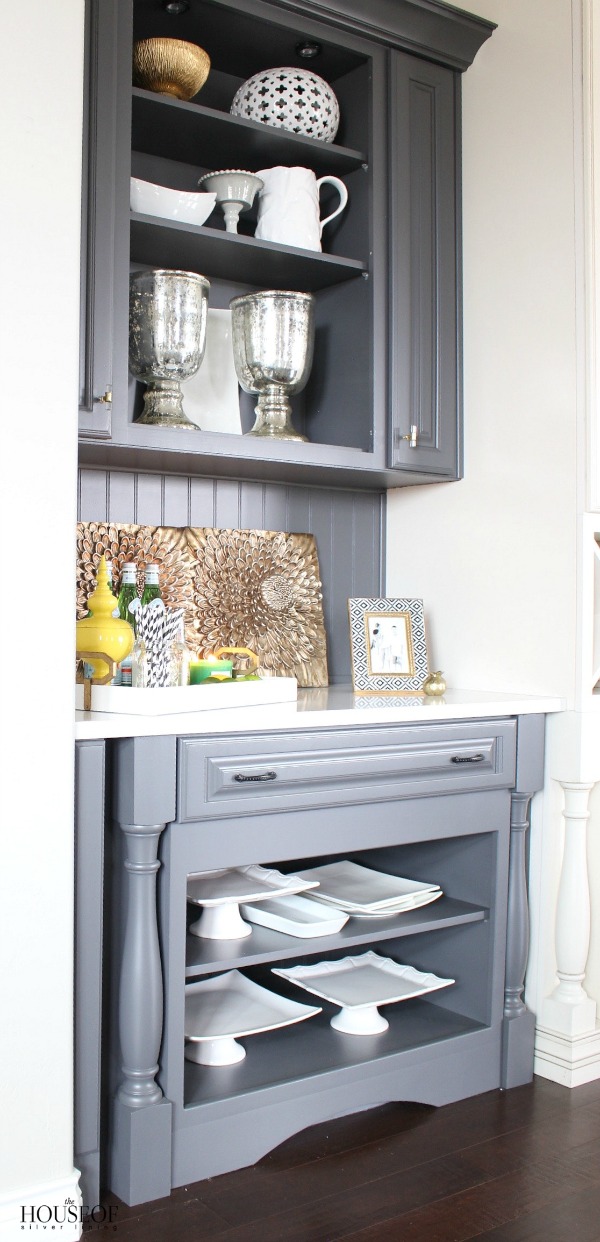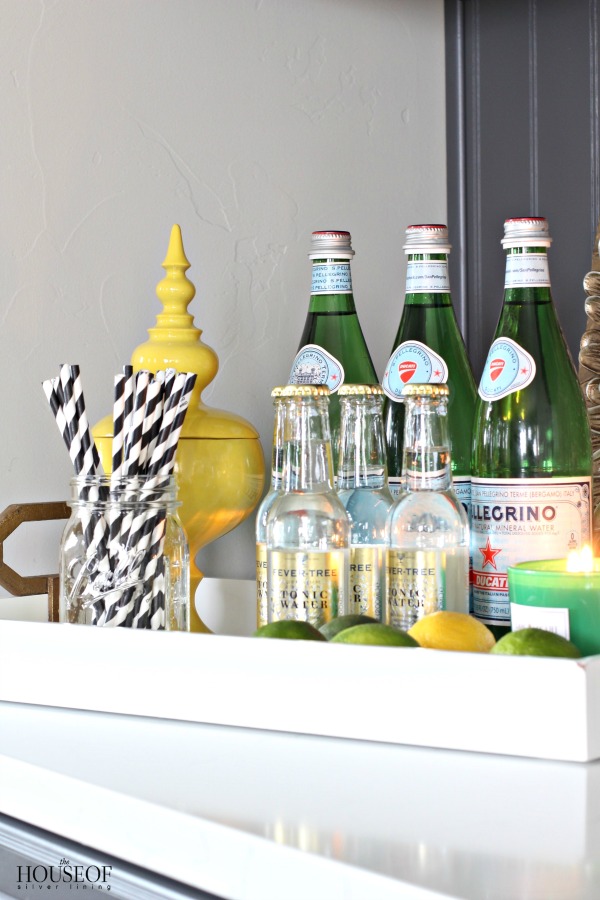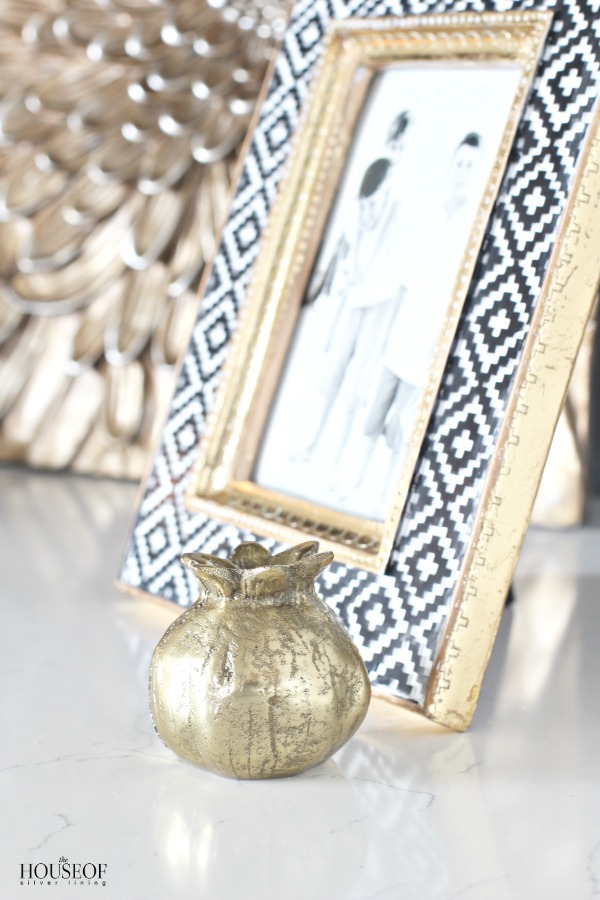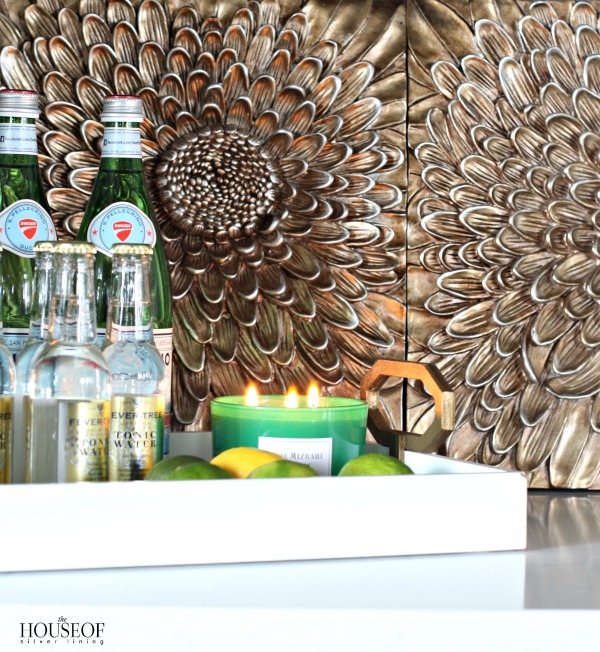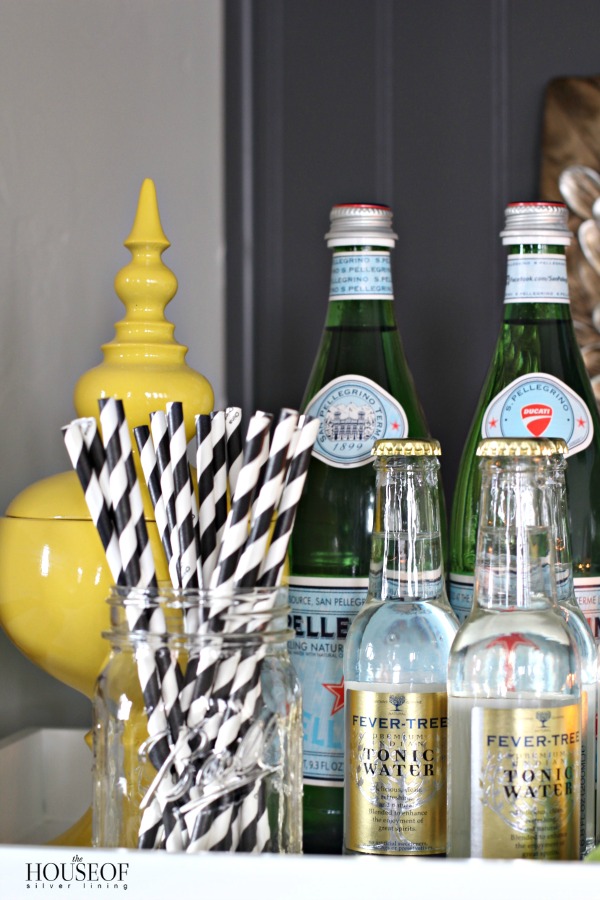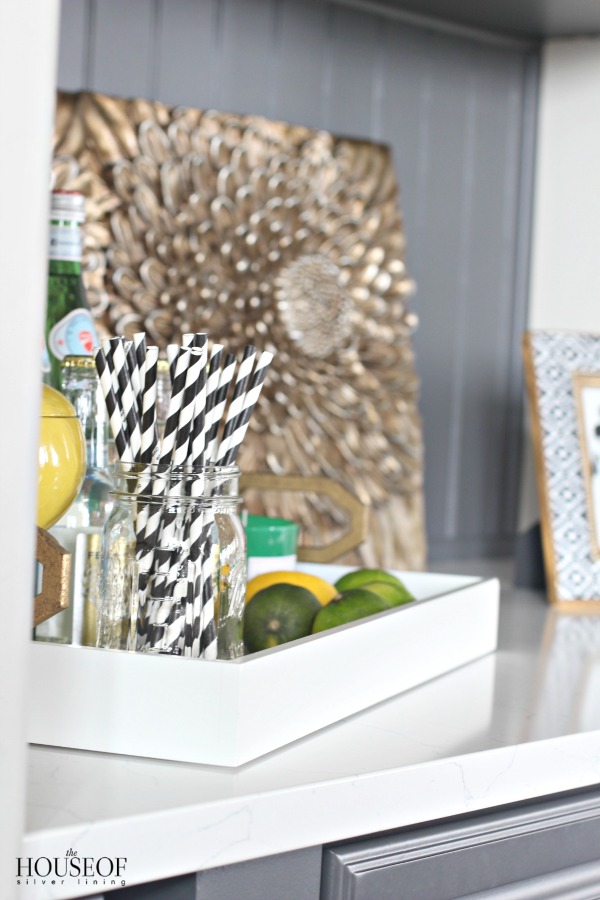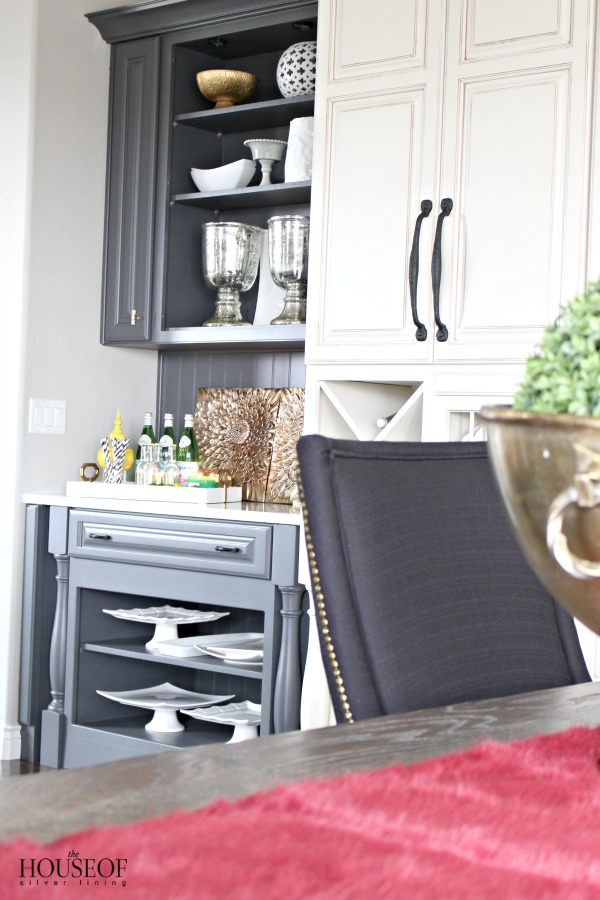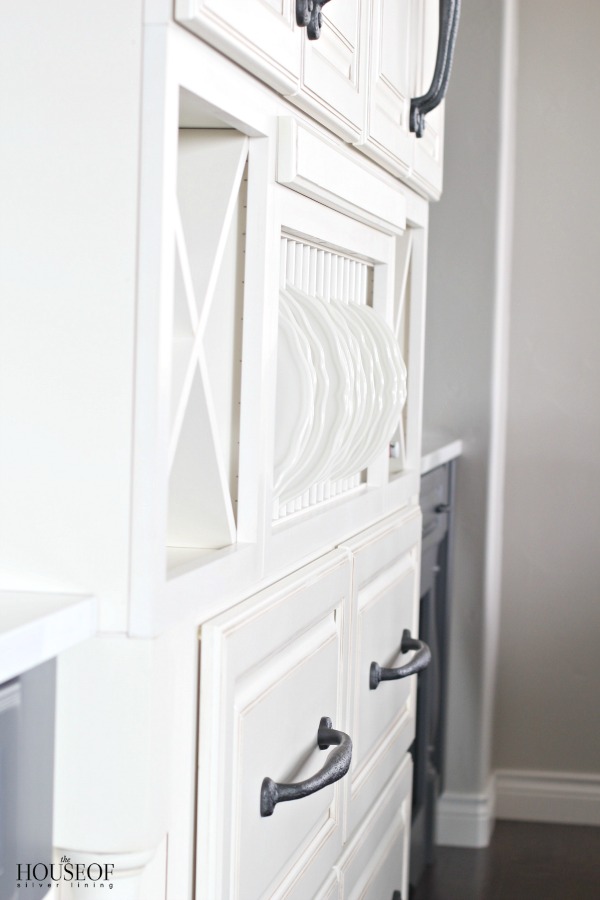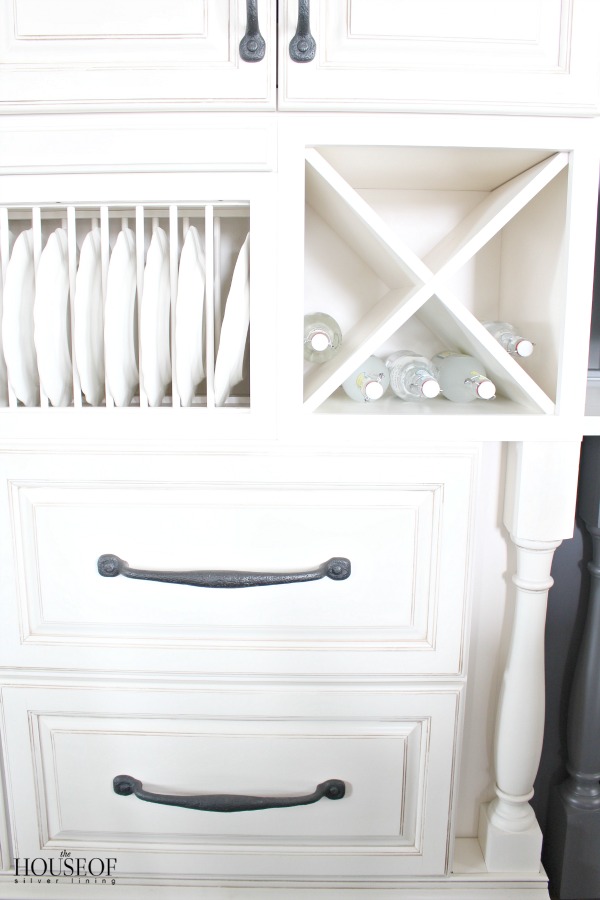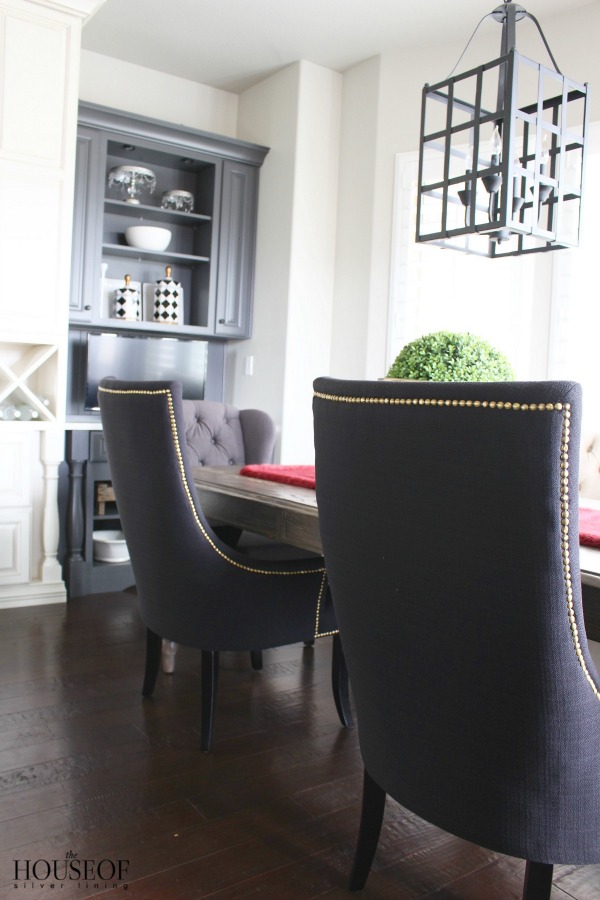 The dining table and chairs are an eclectic mix of tufted chairs and generous size settee.  I recently purchased the black with brass nailhead chairs to bring a little sophistication to the table.  Black is coming back to my home.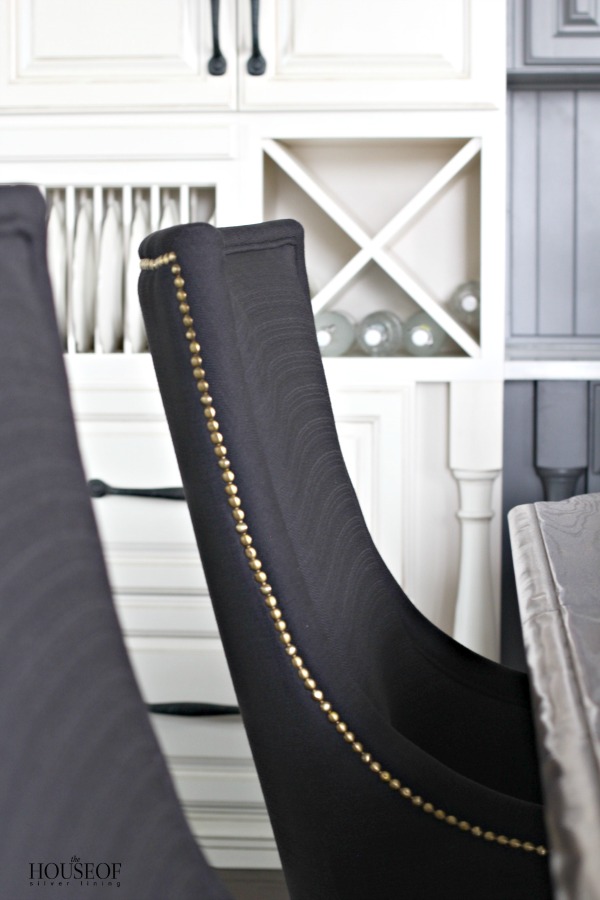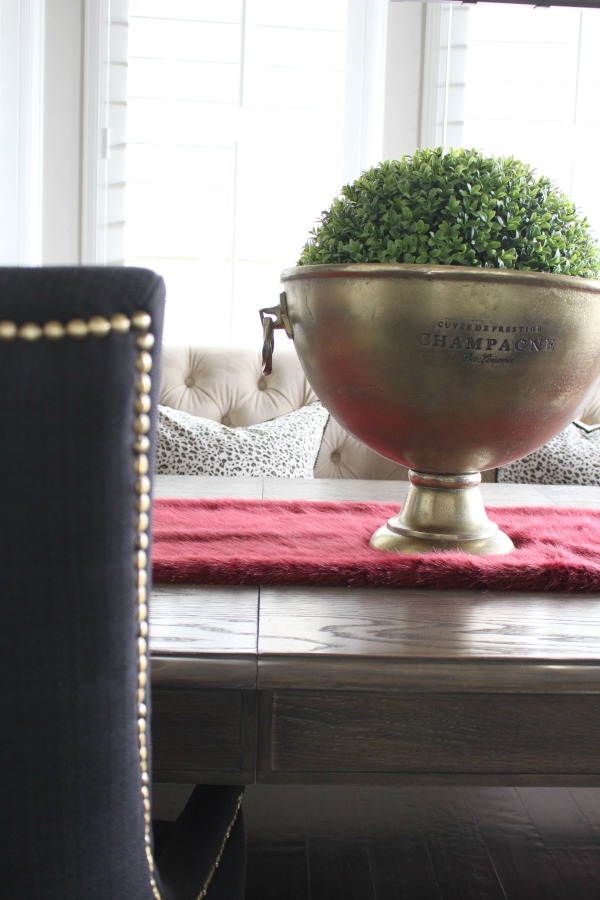 I still have my furry red table runner displayed from Christmas.  I love rich jewel tones and plan to add more of those colors to my home this year.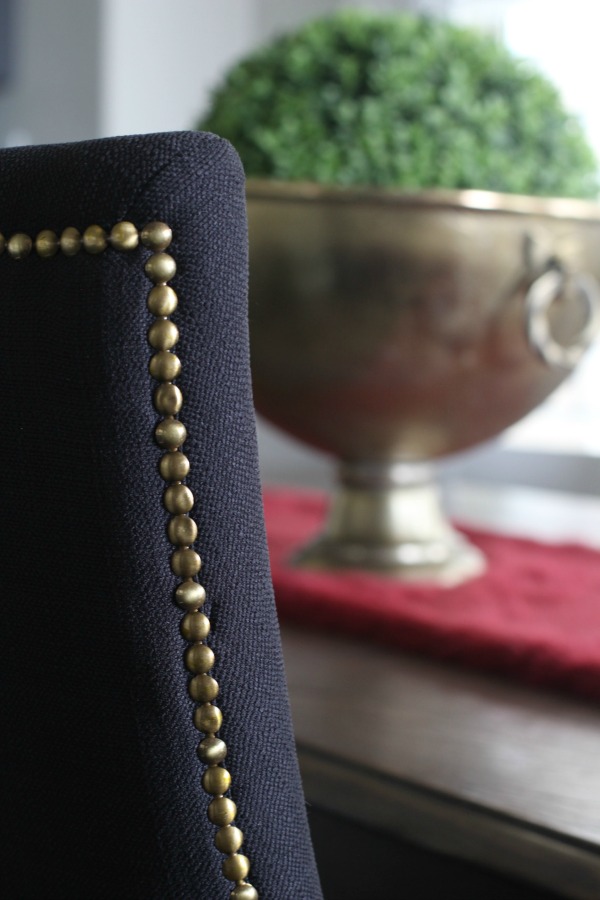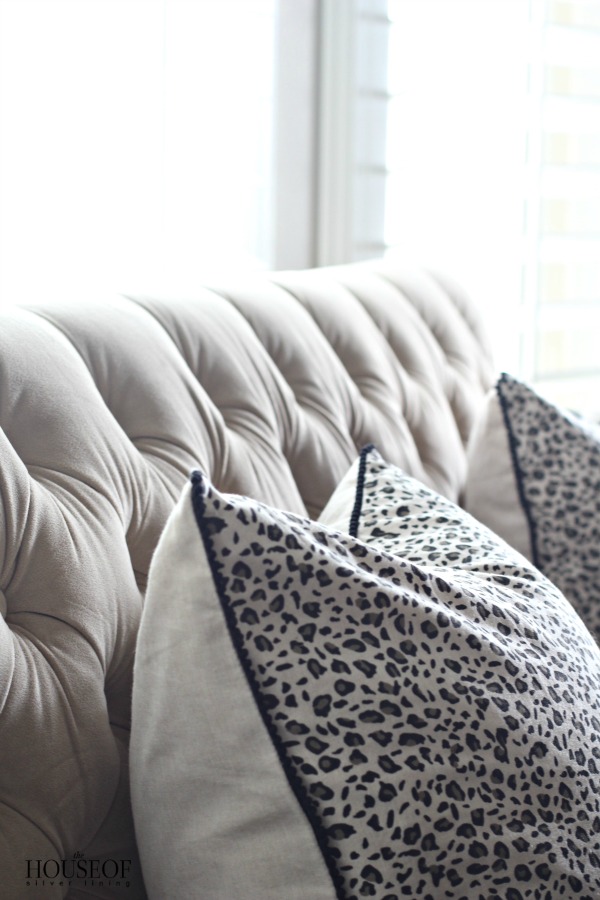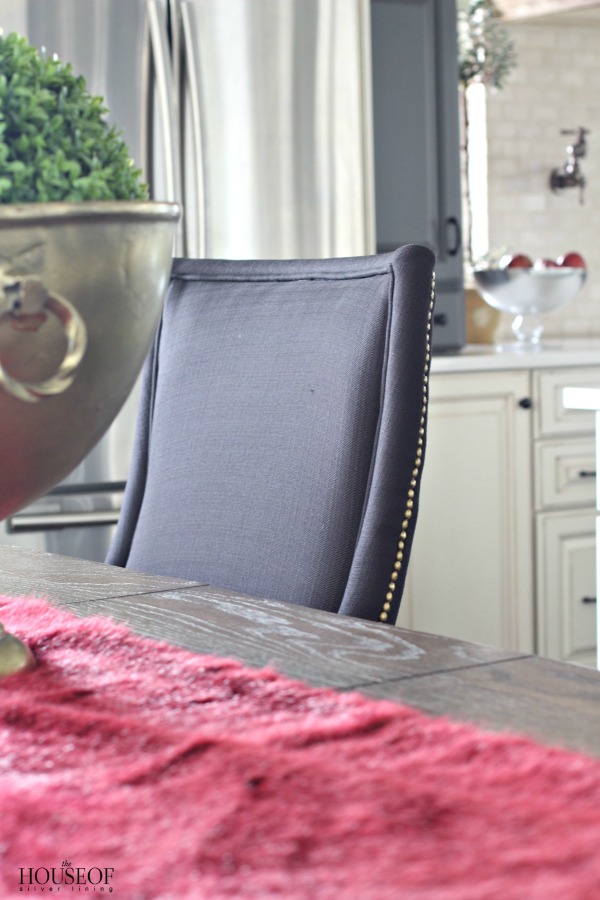 Most nights we end up eating meals at the island.  It makes cleaning the kitchen super easy.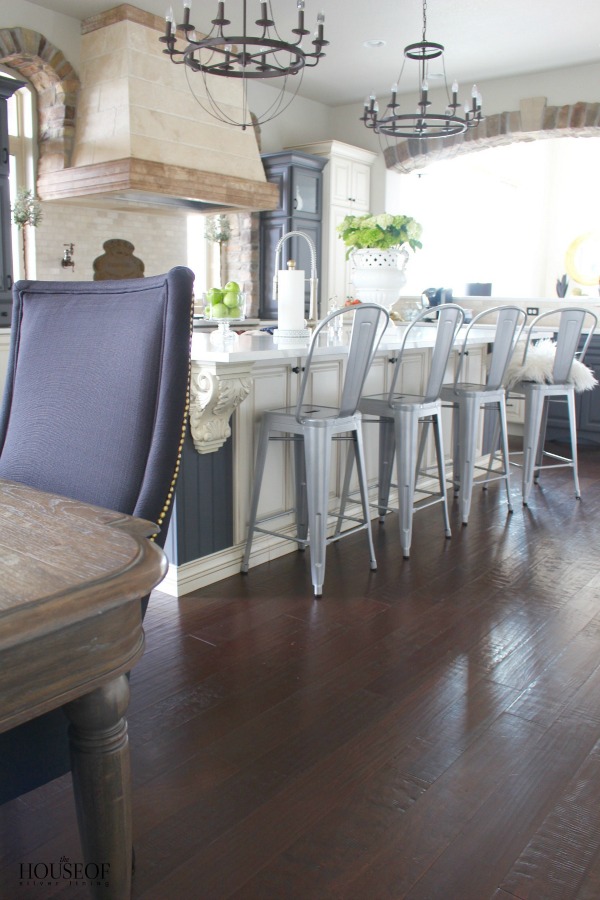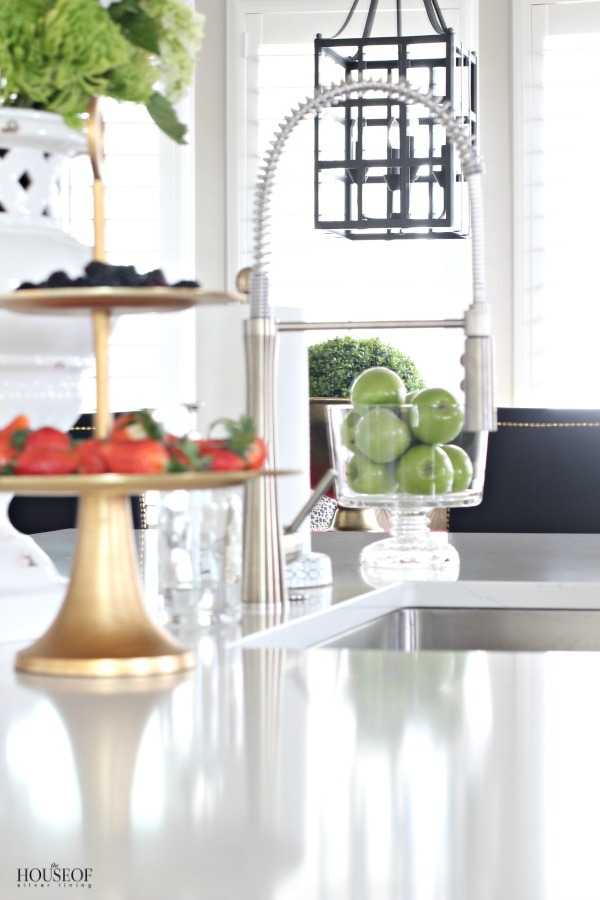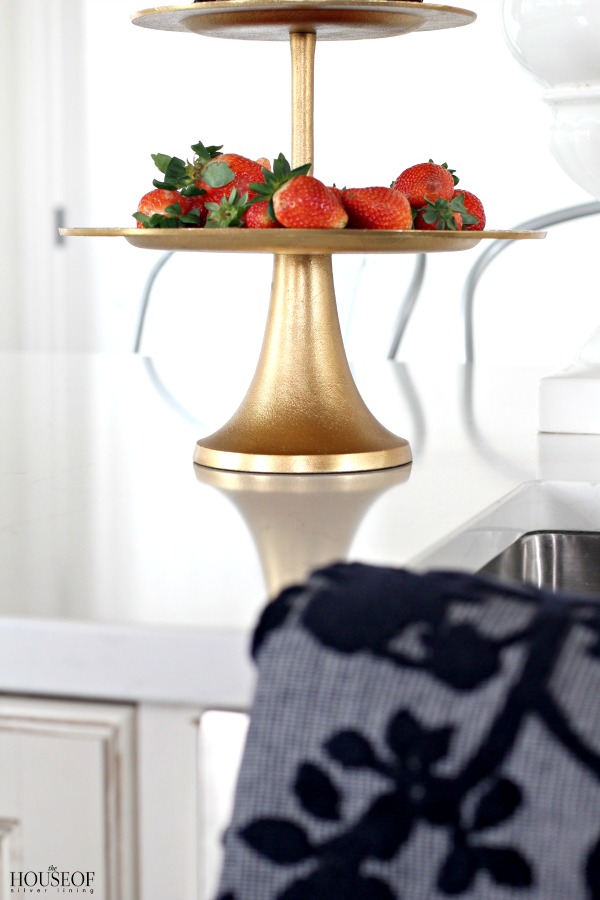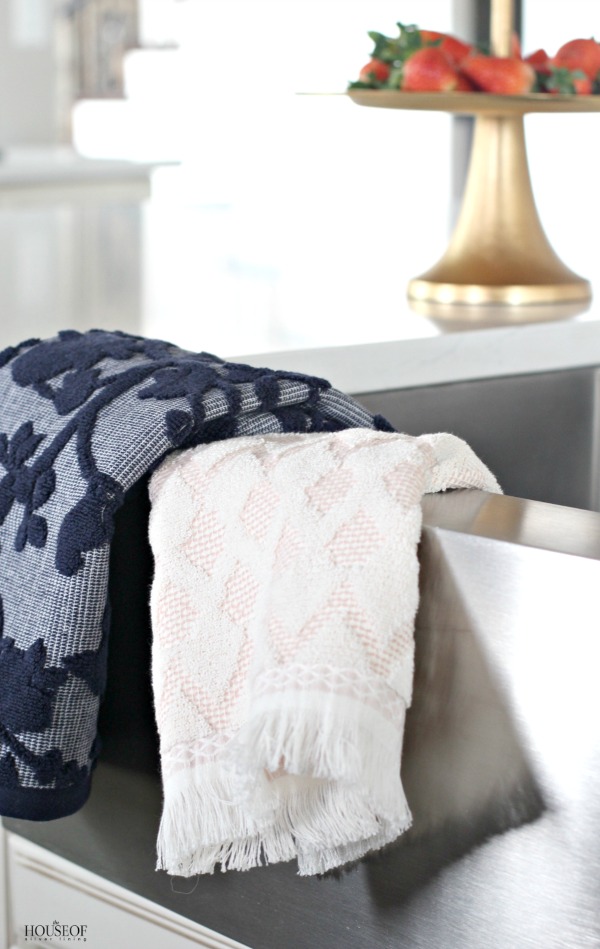 I love to keep our fruit displayed on pretty serving dishes.  That's the best way to bring color to a kitchen! Those granny smith apples are the perfect shade of green.  I recently found this greek key brass serving platter on clearance at Hobby Lobby.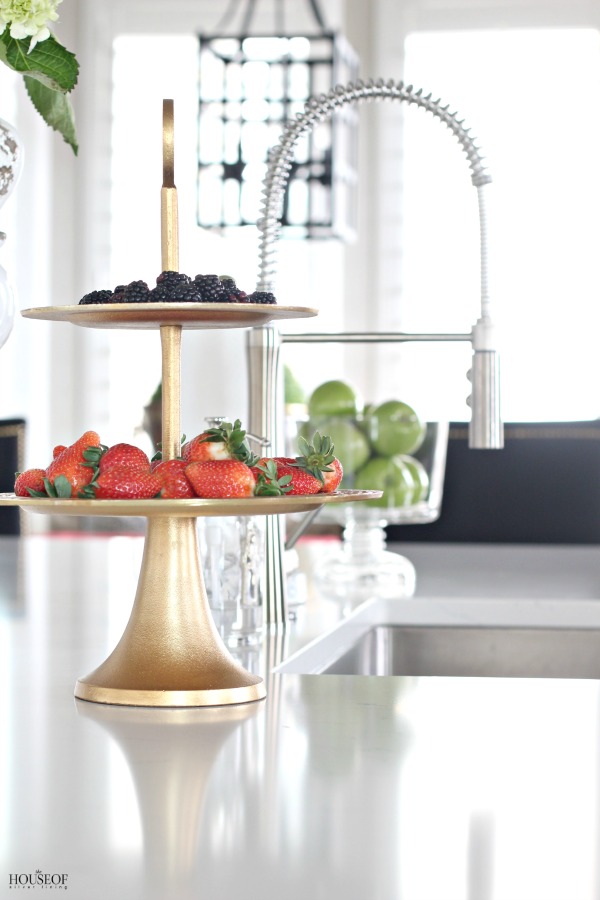 One of the best inventions ever is a microwave drawer.  I love how mine is tucked under the cabinet and out of the way.  I admit that most of the time my Keurig is sitting in my pantry.  I had outlets put in there just for my coffee pot and I typically don't like to have any appliances hanging out on the countertop.  I'm just a little big neat freak.  I found this cute little turtle and that geometric terrarium and thought they would be fun to display my k-cups and tea packets.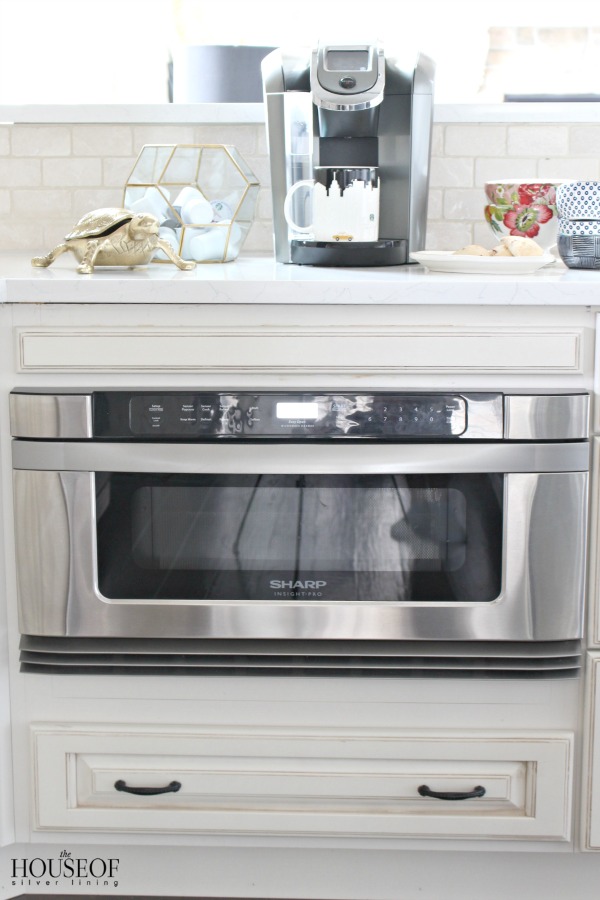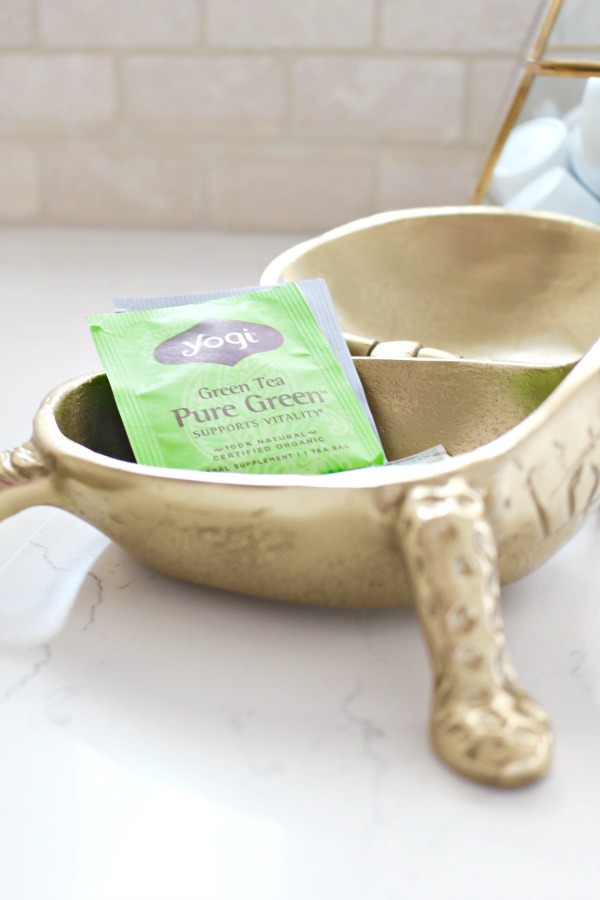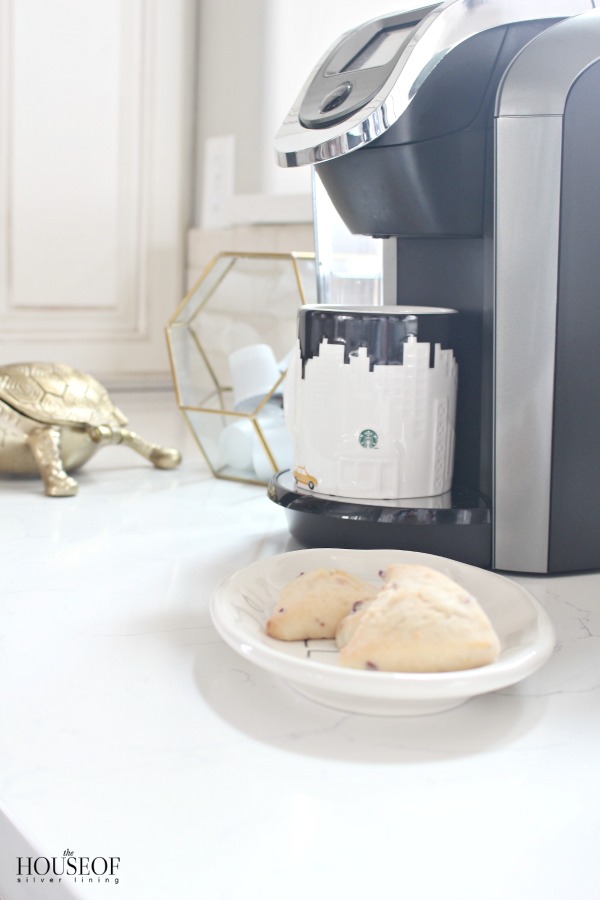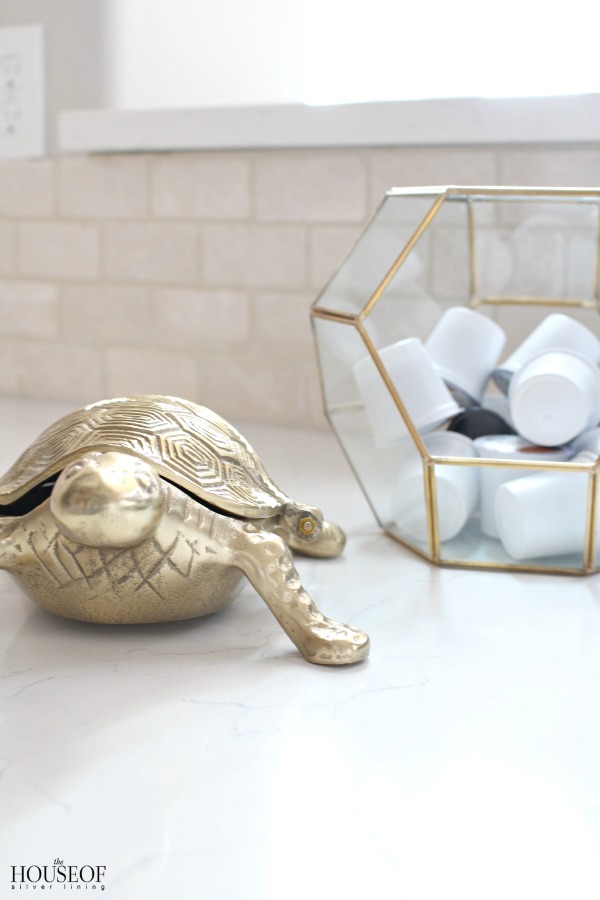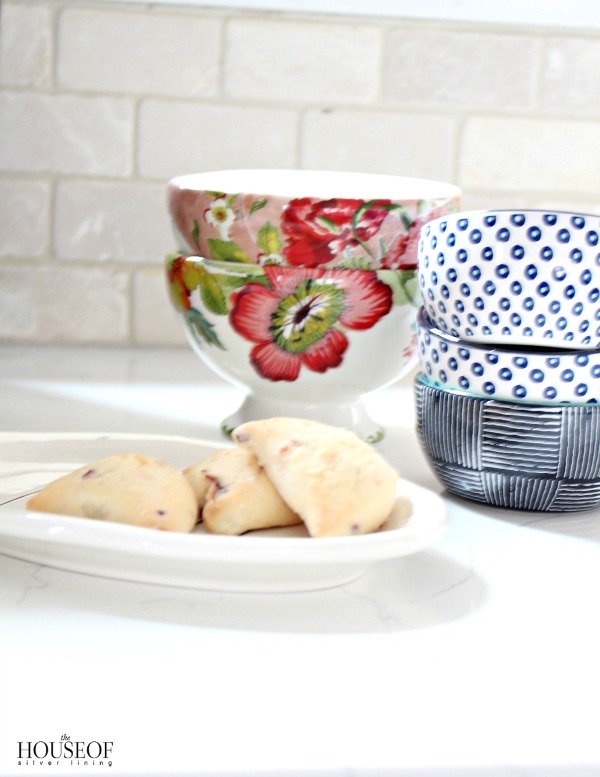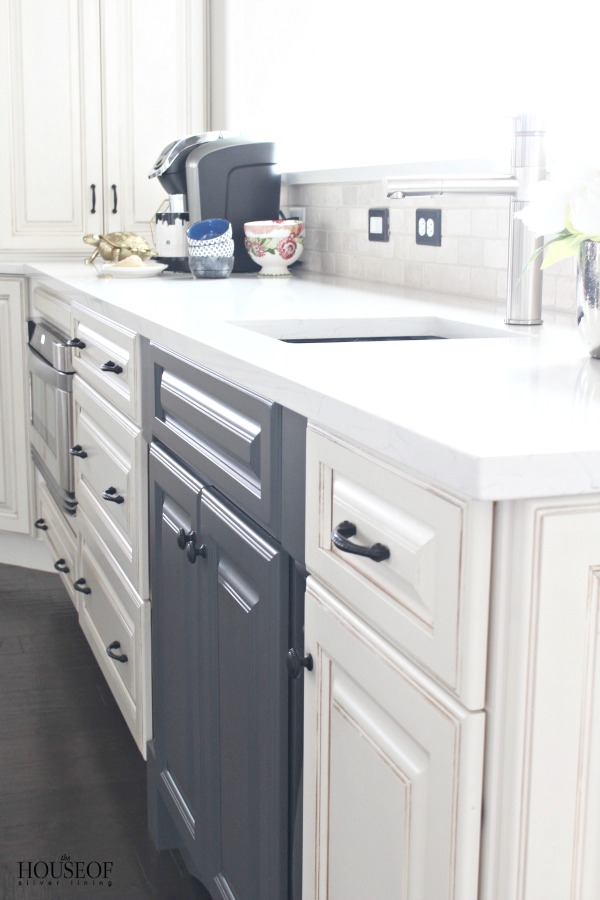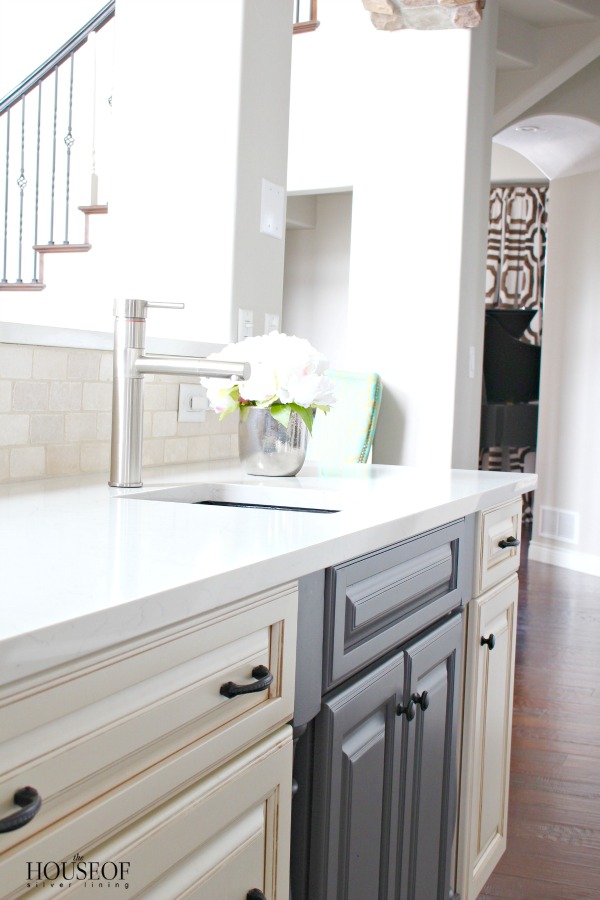 The second sink is handy for throwing large parties and when extra food prep is required. Not that I'm a chef and prep a lot of food.  I really just put one in because…why not?  I wish it inspired me to cook more!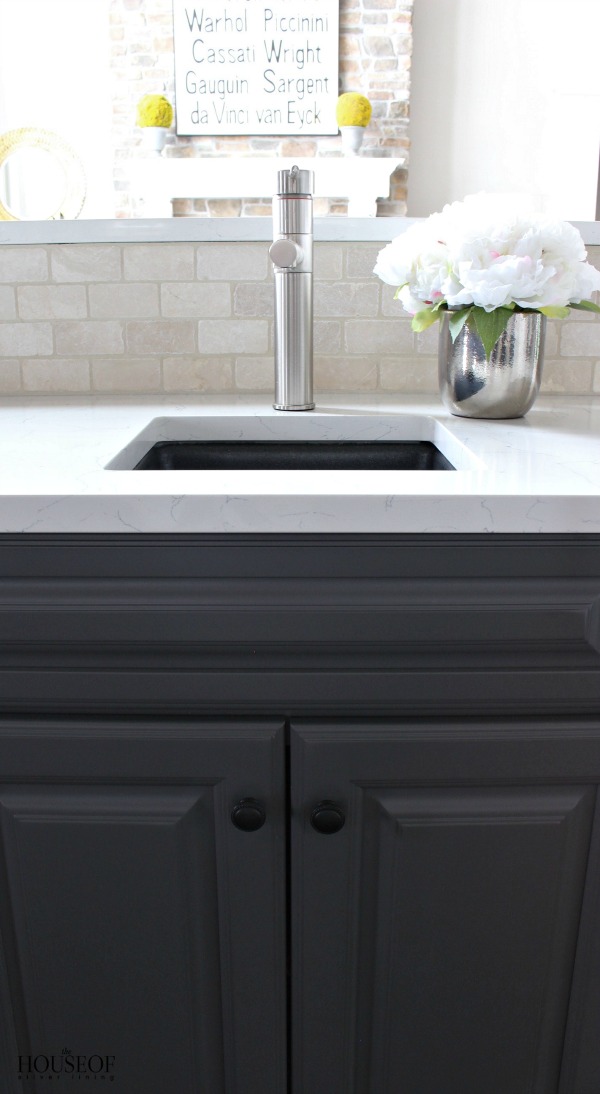 Later this week I'm going to break down the biggest design mistakes EVER in this kitchen, how I fixed them and what I learned. Sometimes we have to get it wrong before we get it right!  Make sure to come back so you can avoid the same mistakes!
SOURCES:  BLACK DINING CHAIRS | GREY TUFTED CHAIRS-Similar |TUFTED SETTEE-Similar | METAL COUNTER STOOLS  | CHANDELIERS | LANTERN CHANDELIER-Similar | DISH TOWEL | BLUSH DISH TOWEL | WORLD MARKET BOWLS | MINI BOWLS | CHAMPAGNE BUCKET-Similar | FUR TABLE RUNNER-PHOTO FRAME-PILLOWS – HOMEGOODS | BRASS TURTLE | BRASS & GLASS TERRARIUM | NYC COFFEE MUG | KEURIG COFFEEMAKER | FARM SINK | FAUCET | IKEA FAUCET | MICROWAVE | ARMOIRE HARDWARE |DRAWER PULLS | CABINET KNOBS
*affiliate links used