Our Loft Makeover: The Boy's Zone
Hi friends, welcome back! Our loft makeover has been long overdue and I'm so happy to say that this area in our home is almost complete.  You know how I love to show a good "before and after" so be sure to check out yesterday's post HERE to see how far this room has come.
I call the upstairs level of our home the "boys' zone."  They hang out up here quite a bit, more so than our cozy basement. You would think that I would have spruced up this fun little loft a long time ago, but it just always kept falling to the bottom of my priority list. Last year I went on a huge purging spree and pretty much sold everything in my home that I wasn't loving.  That included our 12 year old sofa in the loft that the boys informed me (after I sold it) that it was sentimental and I should have kept it. I think to even prove a point they chose to lay on the floor to watch tv. No pity from mom however, we have other tv's and cozy sofas in the house (eye roll).
Working with a blank slate actually made this area pretty easy to pull together.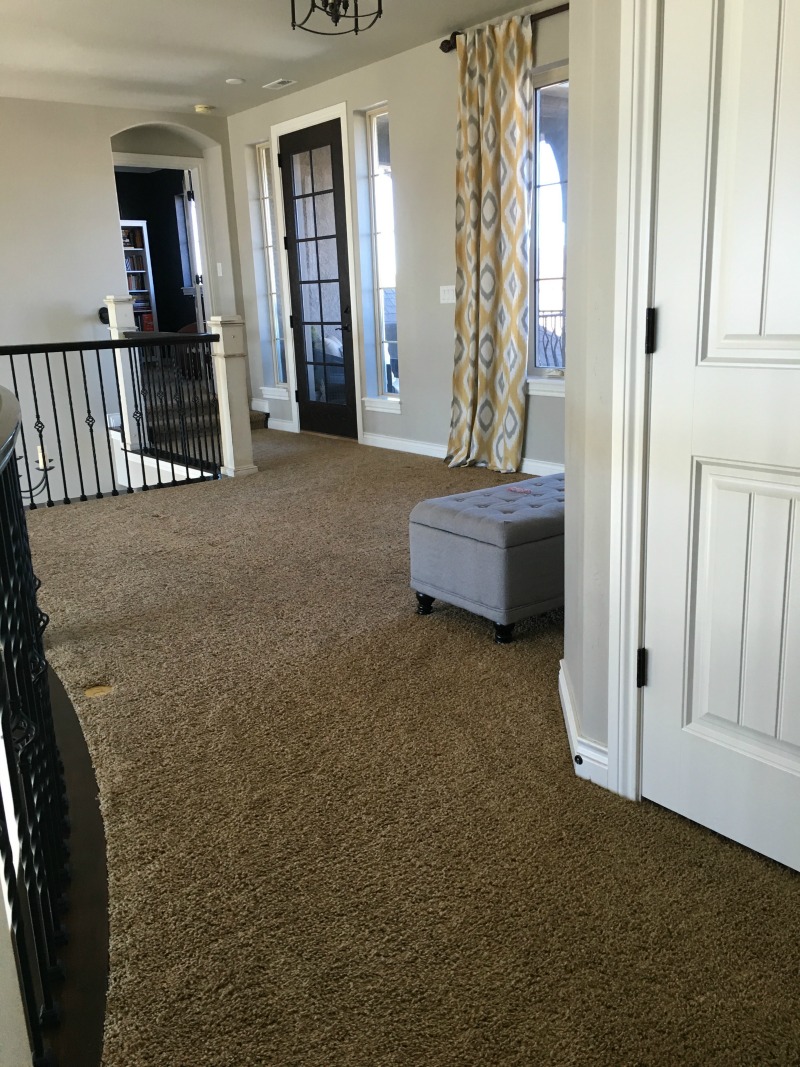 Let's take a peek at what the loft looks like now.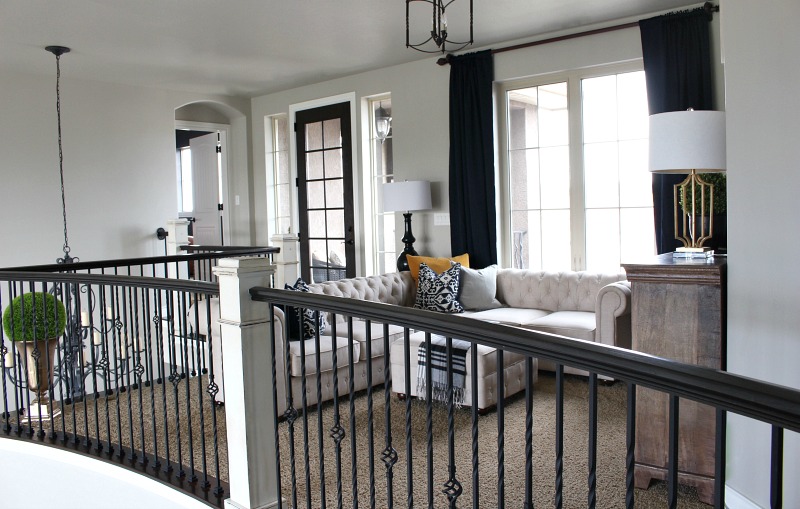 Clearly, Gucci felt the need to be in these photos. Sorry, but he is thrilled with the new sofa since he can look out the front window on it.  Speaking of sofa, I scored big time on this one!  My dear friend gave it to me…brand new. When she realized it wasn't the most comfortable height to lean back on for her family room, she decided to go with a different sectional. I happened to need a sofa for the loft so I was thrilled to give this one a go!  It actually is the perfect size for this area since it is definitely a "small" sectional. As far as comfort is concerned, it's not super comfy, but most of the time it's just one of the boys stretching out on it with all those pillows and it's plenty comfortable in that respect.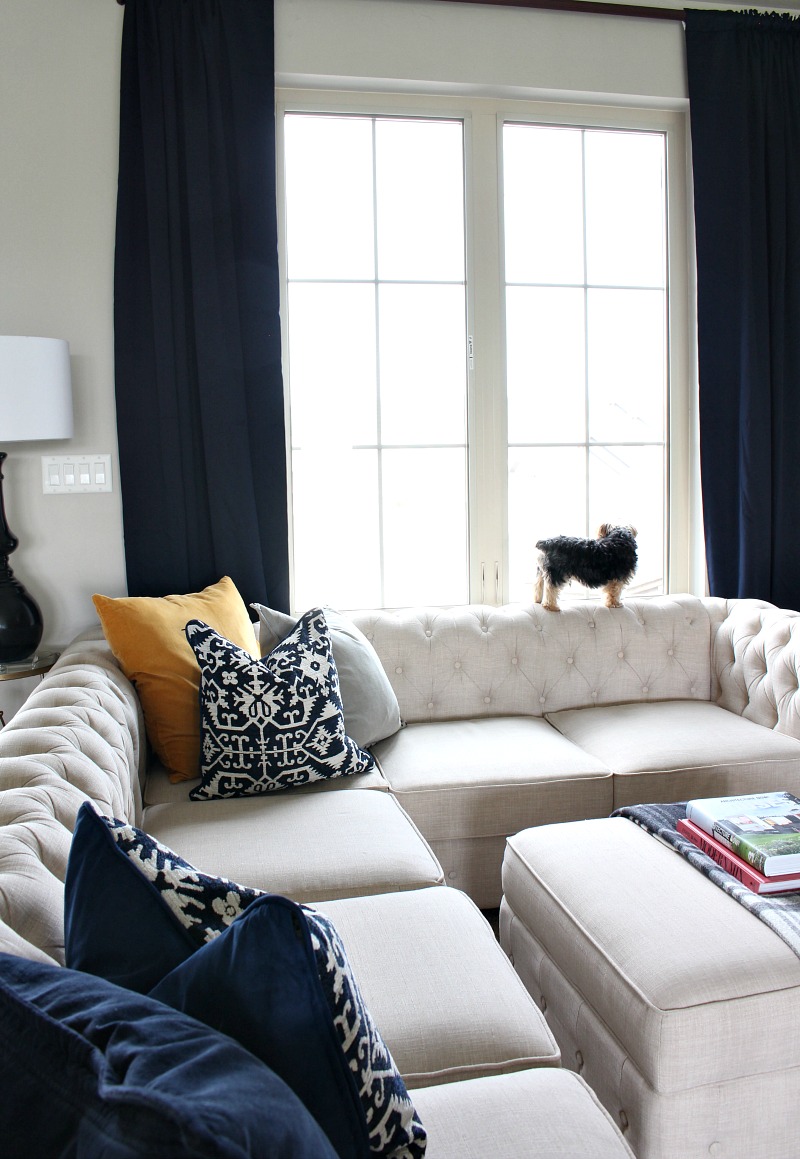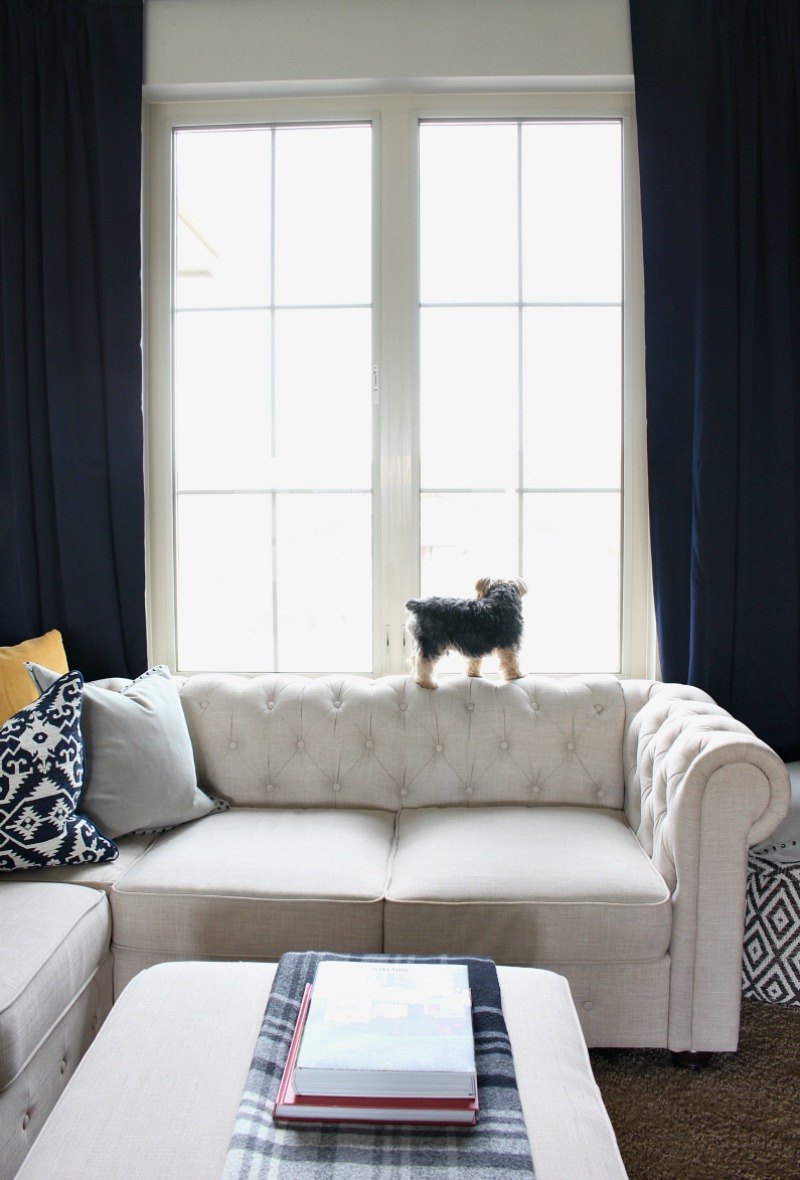 A new color I'm introducing to our home is navy.  I am IN LOVE!!  Surprising because I didn't think I was a navy lover, but it's slowly making it's way into each room, like in our rug in the living room HERE. The navy drapes we're my starting point and from there I added the navy pillows.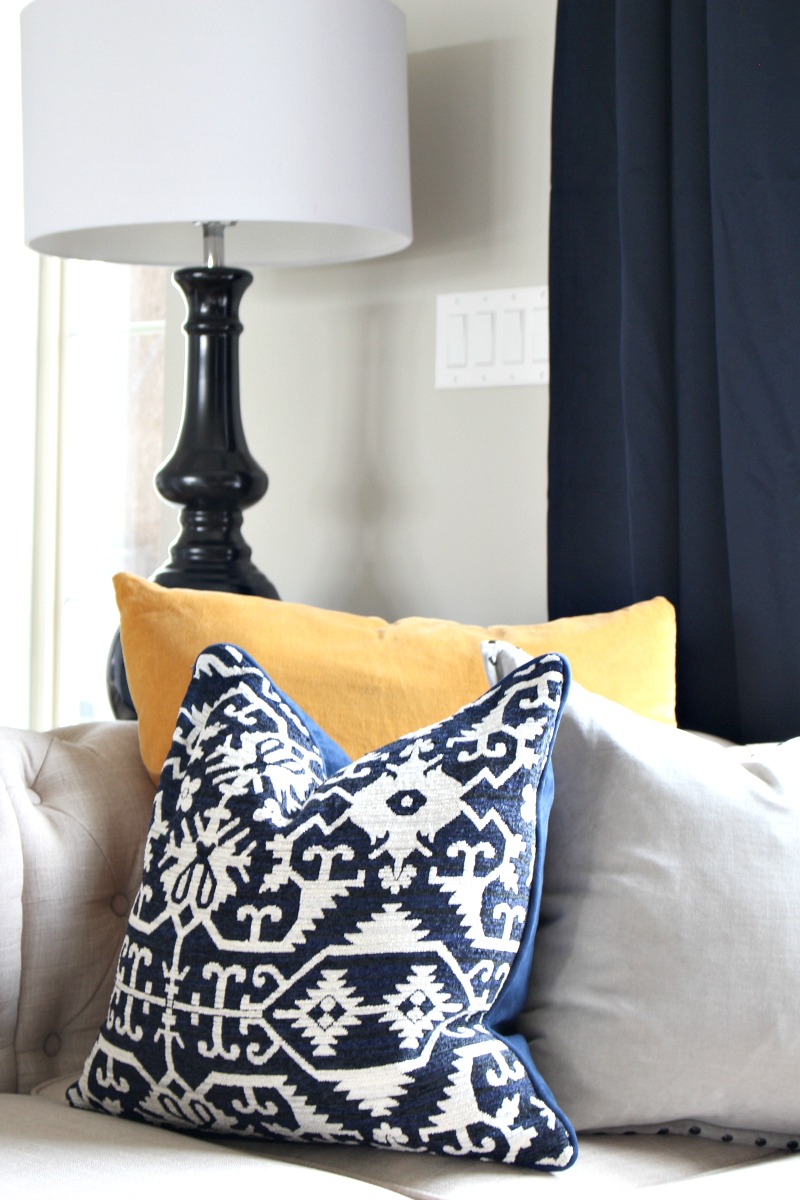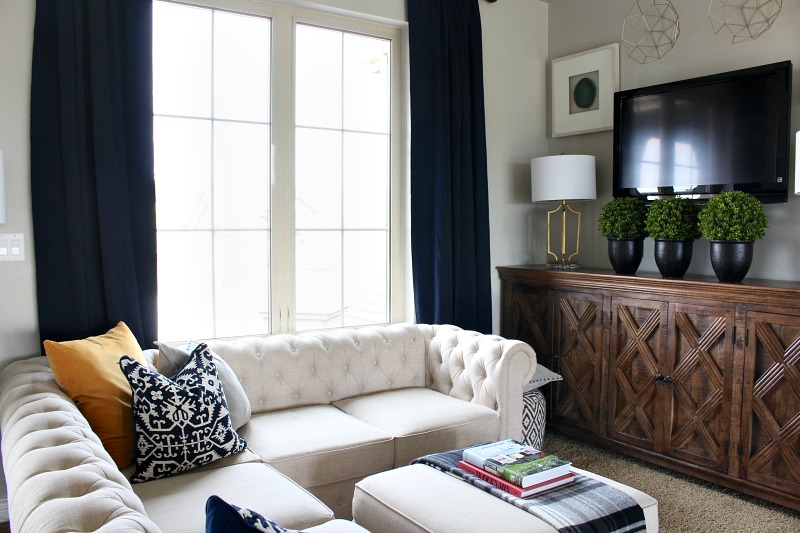 I'm not a fan of TV's hanging on walls, unfortunately, there is no way around it here. When we built the home we had HDMI cables (that's what the hubs calls it…I have no clue) for the TV running through the walls into inconspicuous areas like closets.  Well, this means that the TV has to hang in a certain spot. Way too high in my opinion. So comes the dilemma of styling around that big black eye sore.
I found this beautiful sideboard at a local furniture store, American Furniture Warehouse. They always have unique large pieces of wood furniture that have revolved through my home over the years.  It happened to be the exact length of my wall so really fills this space nicely and gives a solid base to balance that wall and the TV (pssst….those gold items on the wall may look blurred in this photo, it's their shadows on the wall…dealing with sun shining right on them..just needed to clarify that my photography hasn't gone south..ha!).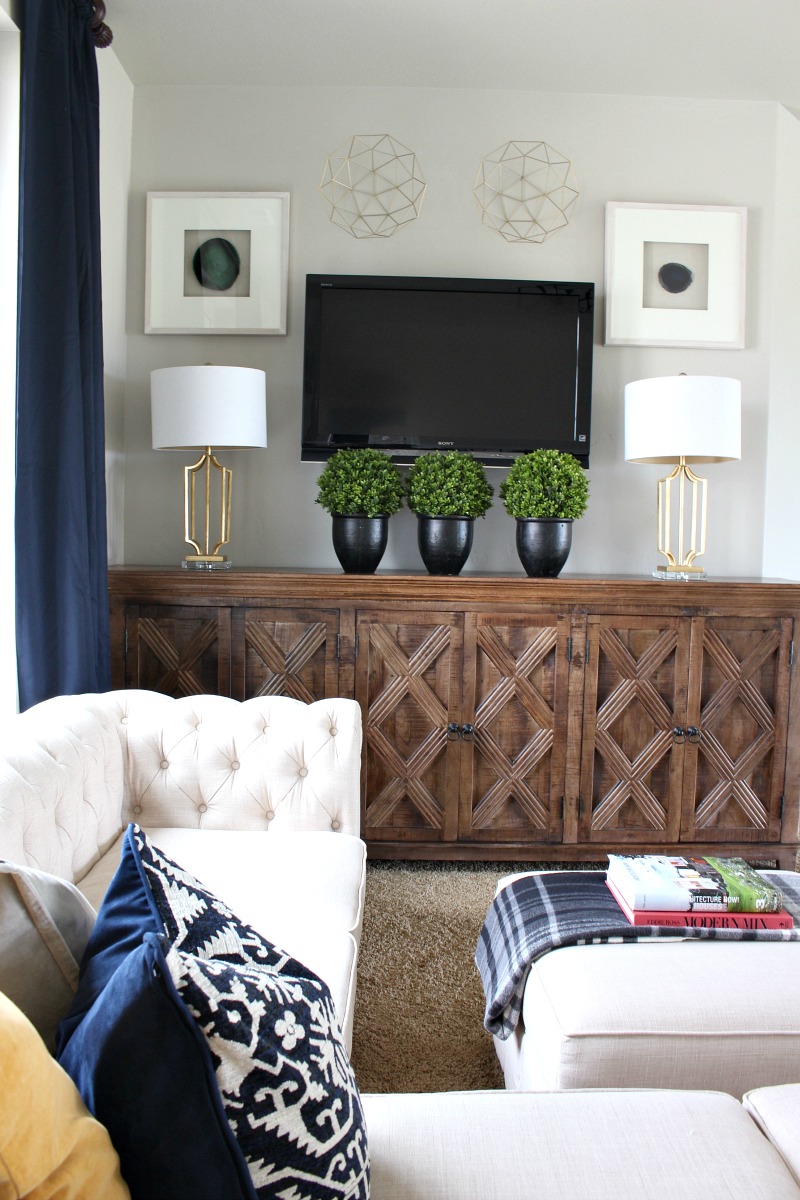 I struggled on how to fill the space between the TV and the sideboard. There are so many options from hanging framed art, to stacking decorative "boxes" or trunks, etc. I'm a sucker though for topiary balls and I especially like the black pots to tie into that black TV screen.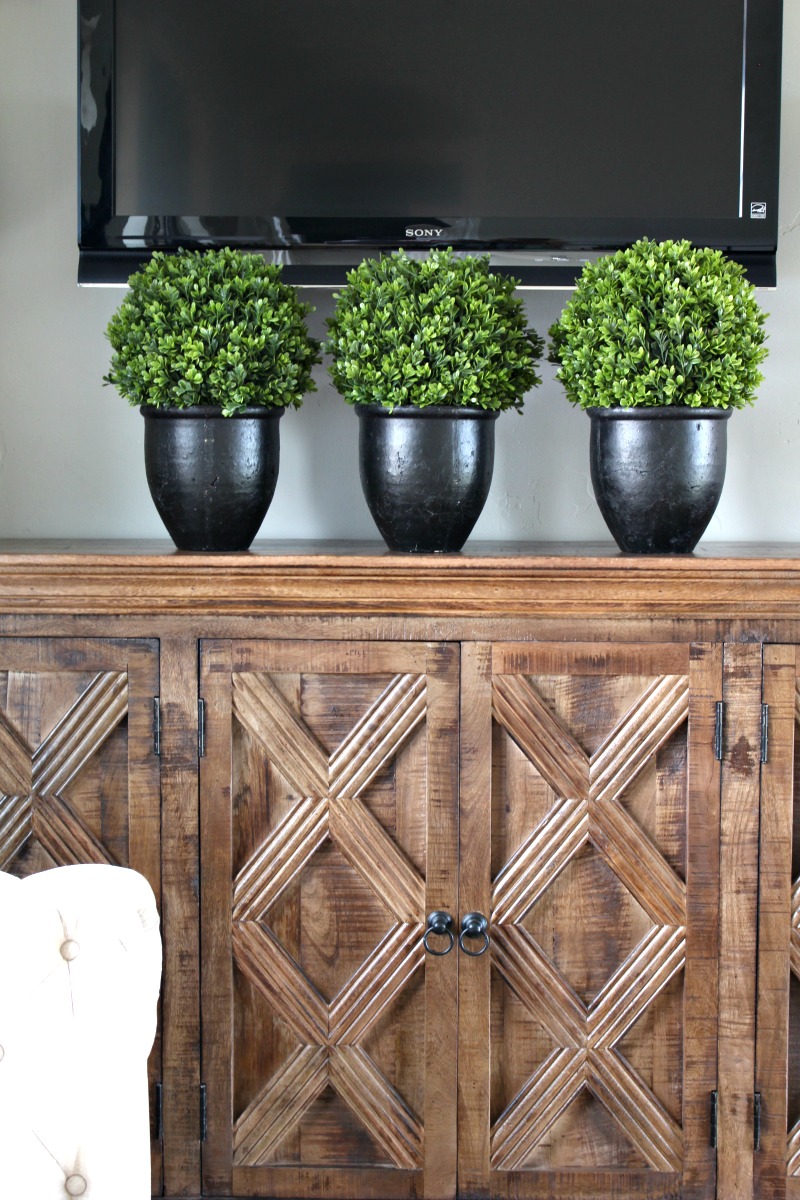 Design tip:  If you can't cover the elephant in the room, embrace it and decorate around it.
The elephant in this room is the TV, but I had fun building around it with these agate framed art and brass bowls from the clearance section at Homegoods.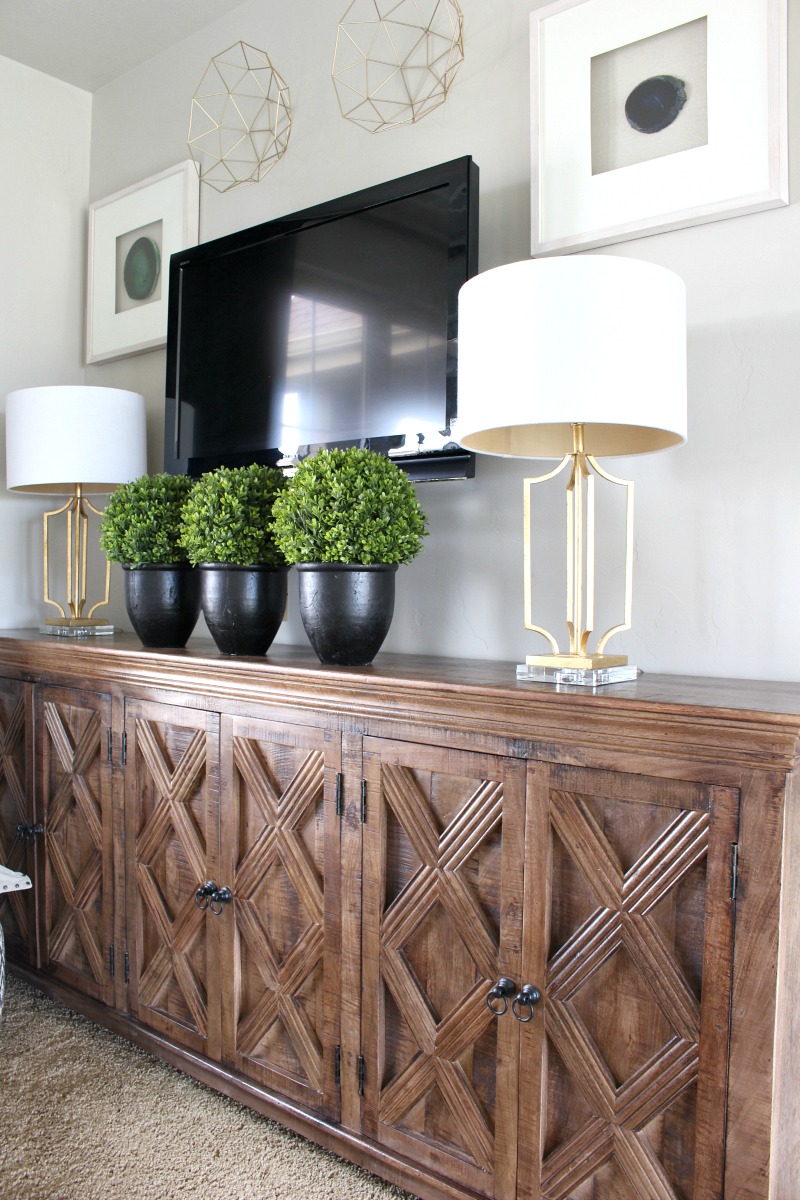 Instead of having everything "flat" against the wall, the brass geometric bowls add a fun dimensional look and they are light as a feather to hang.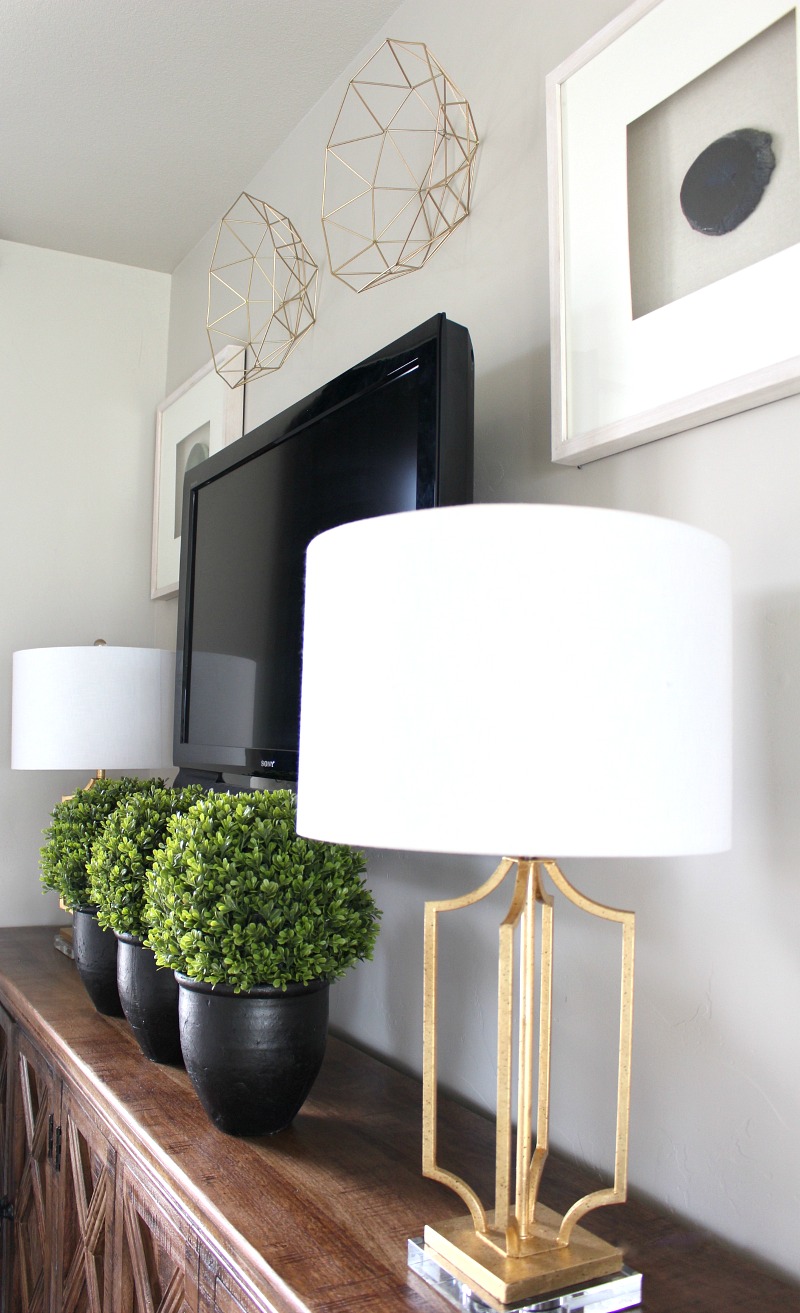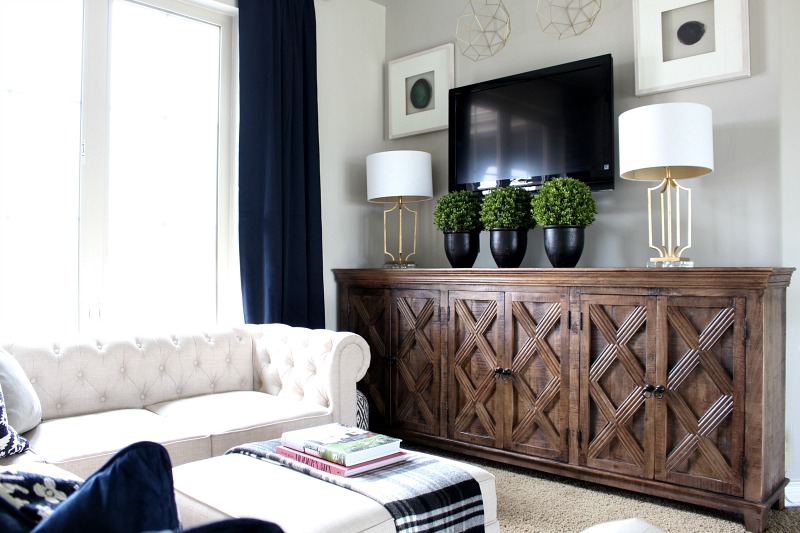 Shop The Look:

The only item this room is missing is a rug that would pull it all together. Not completely necessary since there is carpet, but I'd love to find one that has some navy in it.  For now though, I love looking up the stairs and seeing this area lit up with the glowing lamps.  Just another inviting spot to relax and hang out with the boys.
(American Furniture Warehouse sponsored the sideboard, hand picked by me.  All honest opinions of product and photography are mine. You can visit more of their furniture selections HERE)
*affiliate links used (similar items sourced)