Our Modern Chateau with Farmhouse Flair
Modern, Chateau, Farmhouse.  The three definitive characteristics I wanted for our new home.  All with good balance, playing off of one another. My style is not overly modern, chateau-ish, nor farmhouse. However, there are elements of those three definitive looks that I love and when you mix them all together in design it becomes a beautifully curated eclectic style. That's what the exterior of The Forest Modern is. I'm not ready to show the full facade of our exterior until we finish landscaping but today I'm giving some sneak peeks of our Modern Chateau with Farmhouse Flair.
The exterior of our home is a balanced mix of custom European style stone with vertical and horizontal board and batten siding. We live in an area that was actually partly devastated by a wild forest fire 5 years ago here in Colorado Springs. We had to take fires into consideration when we built this home which required building with "fire resistant" products. Our board and batten siding is by Hardie Board and is made to resist igniting if hit by a fire flame. That gives us more peace of mind.  Our roof is a mix of concrete slate tiles and black metal. I love driving under that porte-cochère every day over the cobblestones to get to my garage.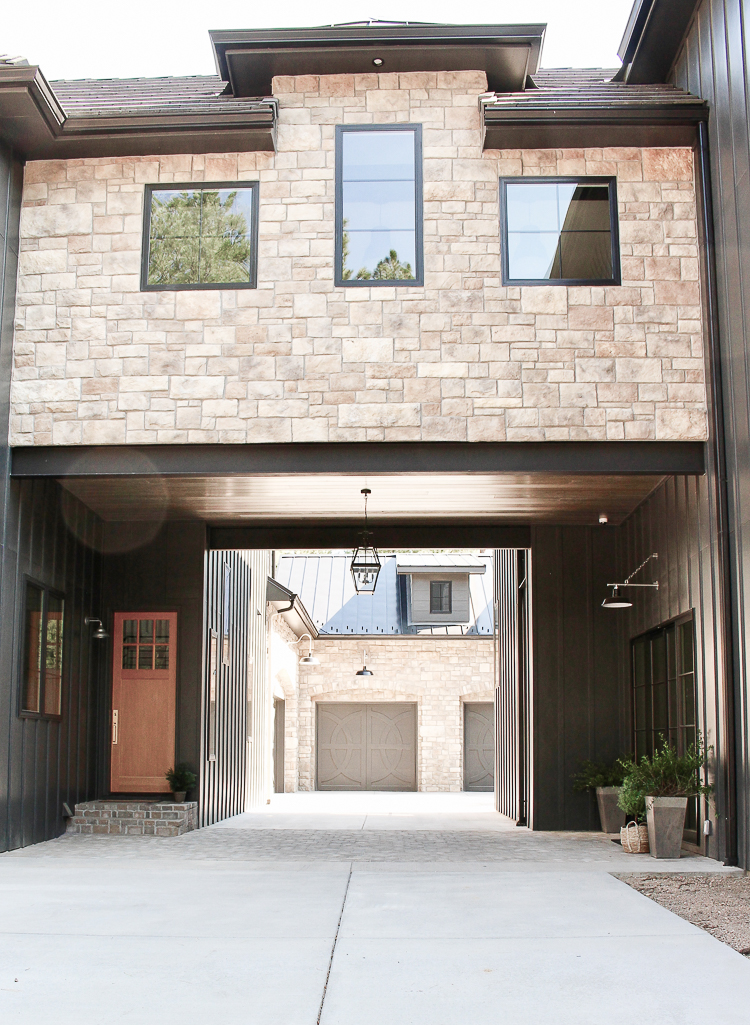 I had a lot of fun picking out our gooseneck lights from Barn Light Electric Company.  They have so many options for gooseneck style lights.  You can choose from a large variety of arm styles and finishes to multiple color painted options for the shades. The gooseneck lights I have are the Rodeo Warehouse Gooseneck light with galvanized arms and black shades. I was also able to add the photocell option so they automatically turn off and on at dawn and dusk. I'm so impressed with the quality and can see why Barn Light Electric Company has such a good reputation for quality lights.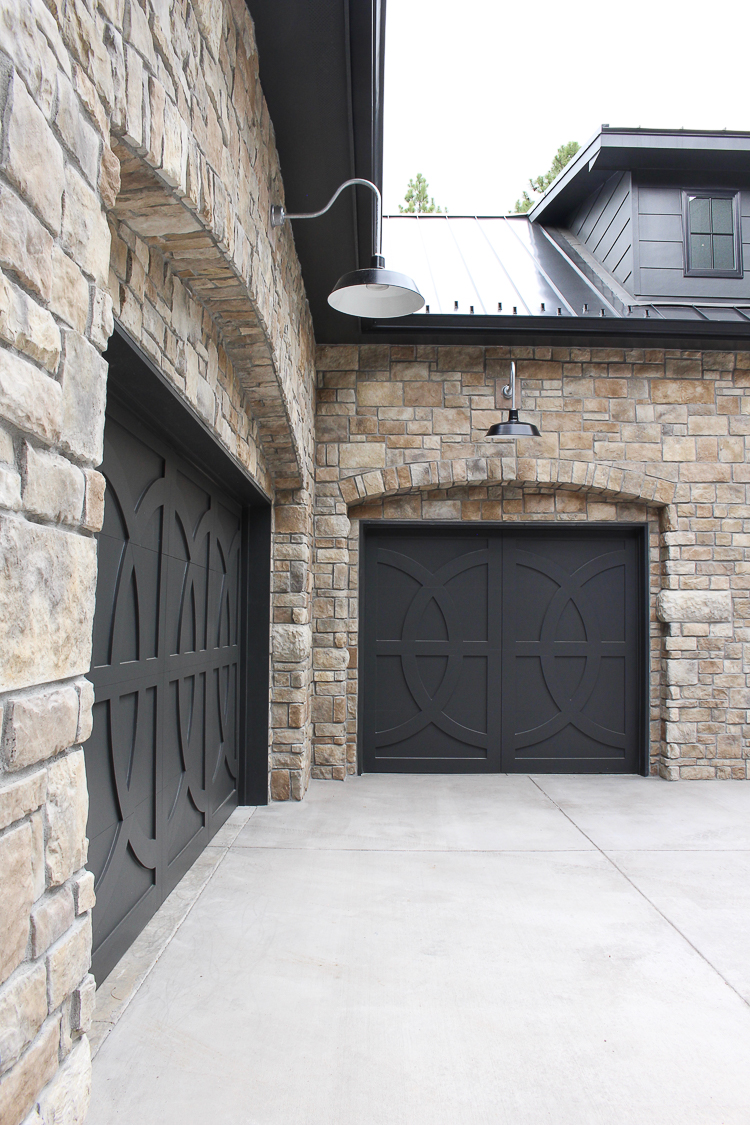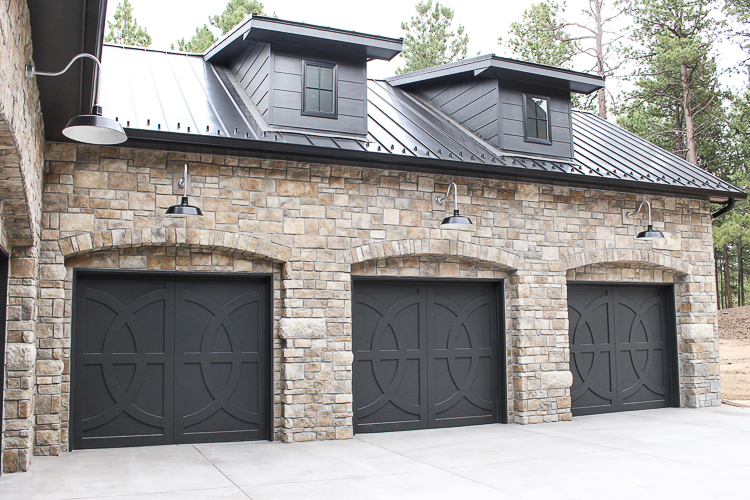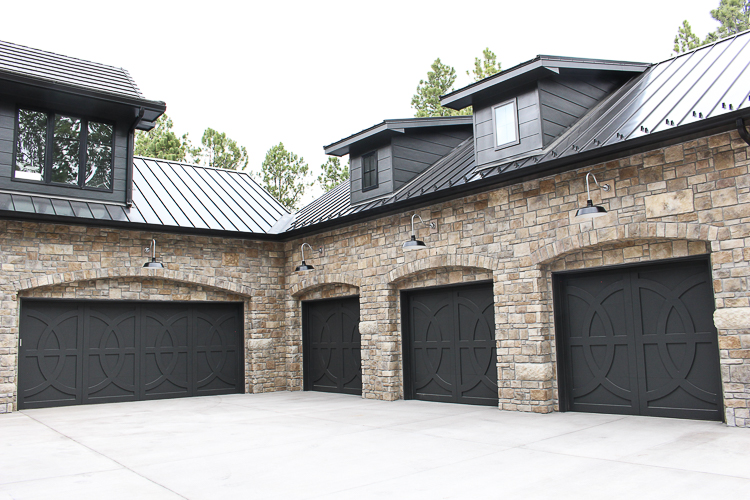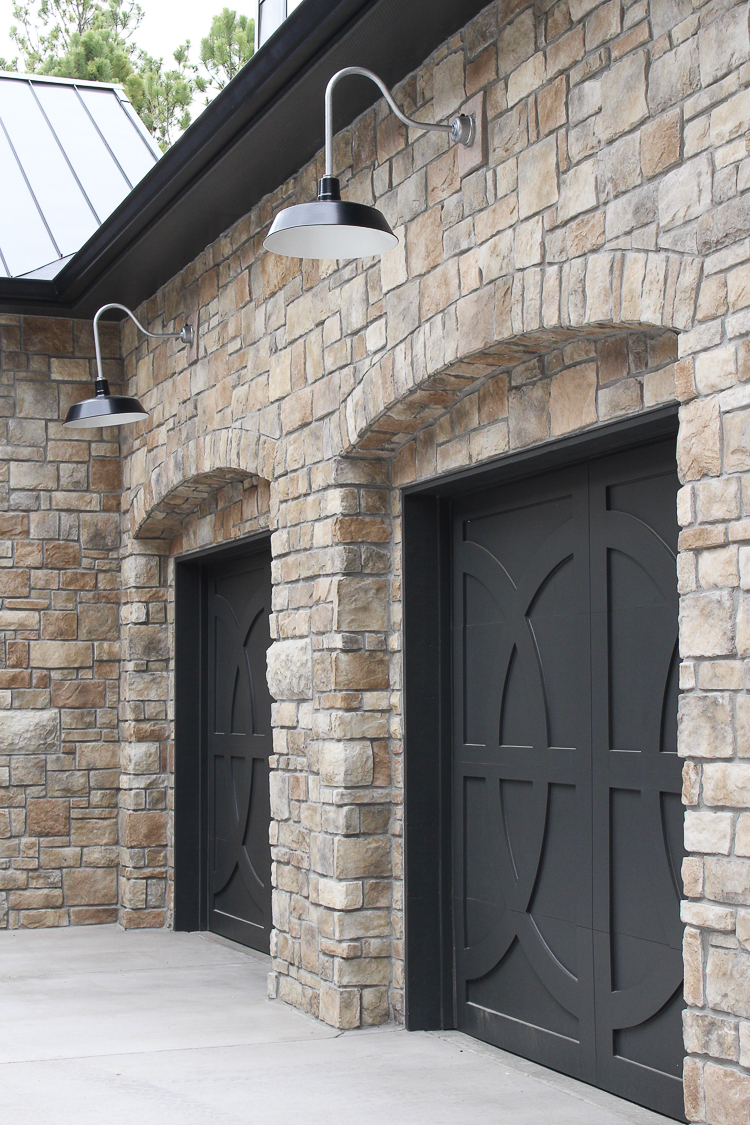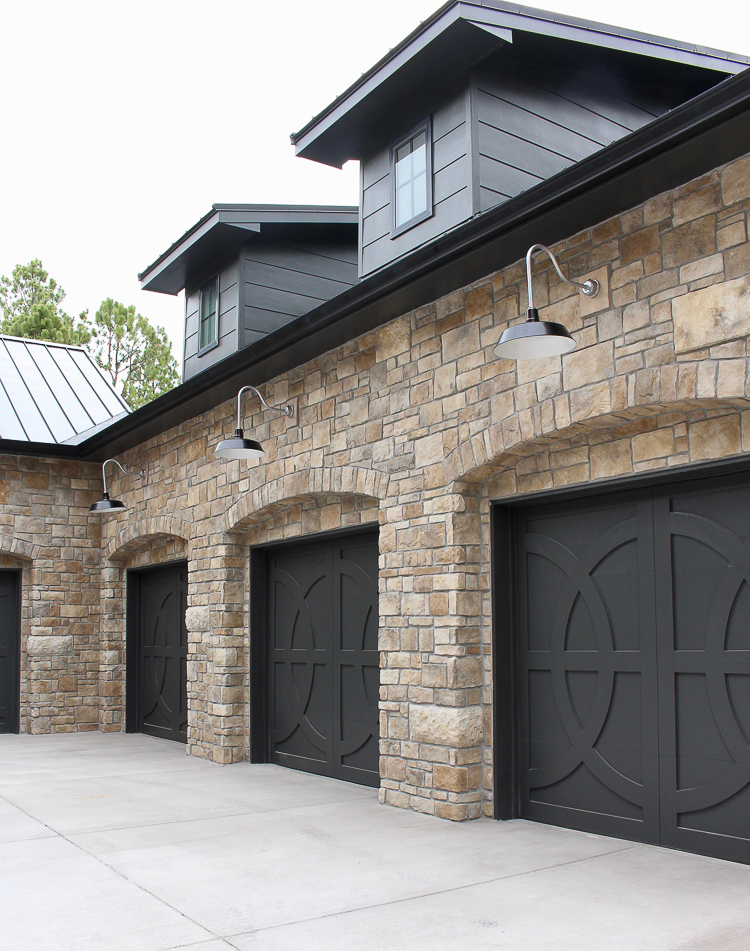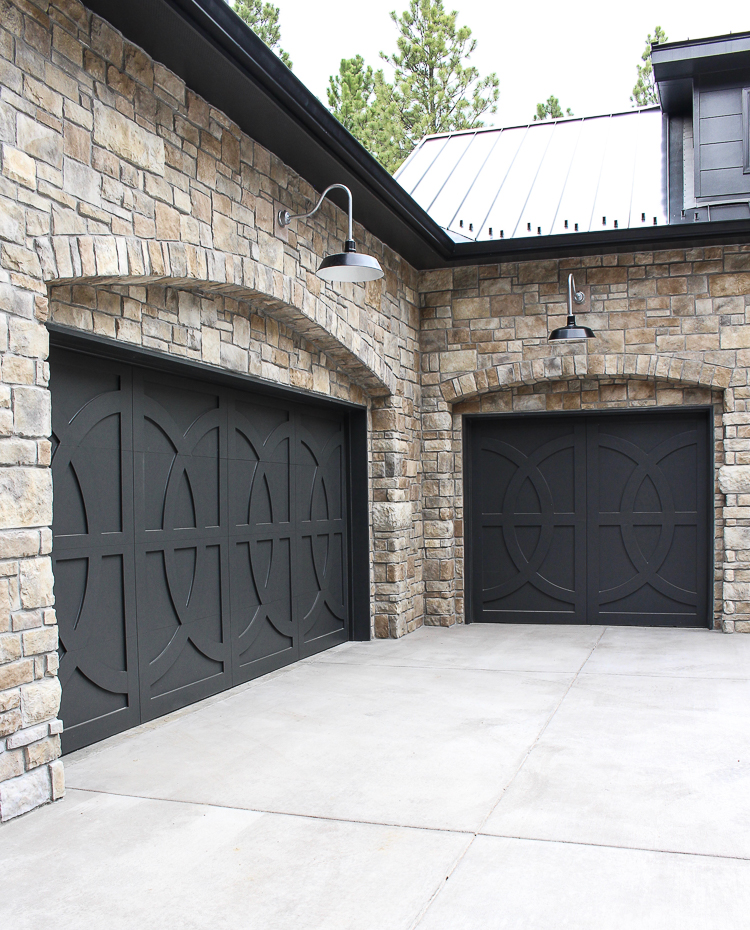 Our garage doors were custom made locally. You can read more about them HERE.  Our exterior paint color that's also seen on our doors is Iron Ore by Sherwin Williams. It's the perfect charcoal gray!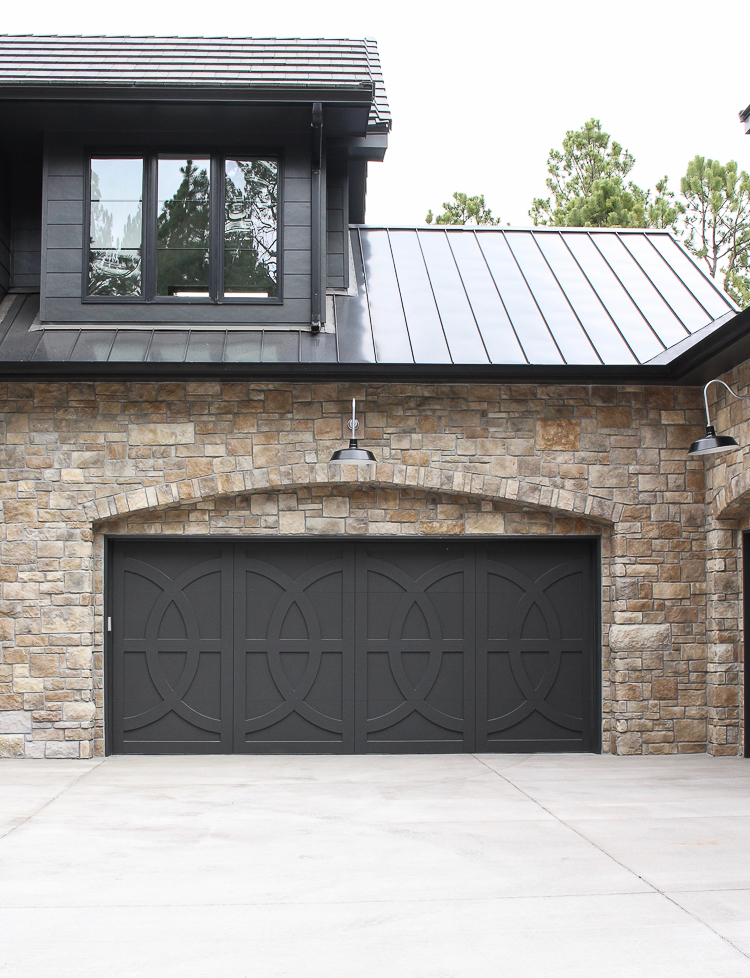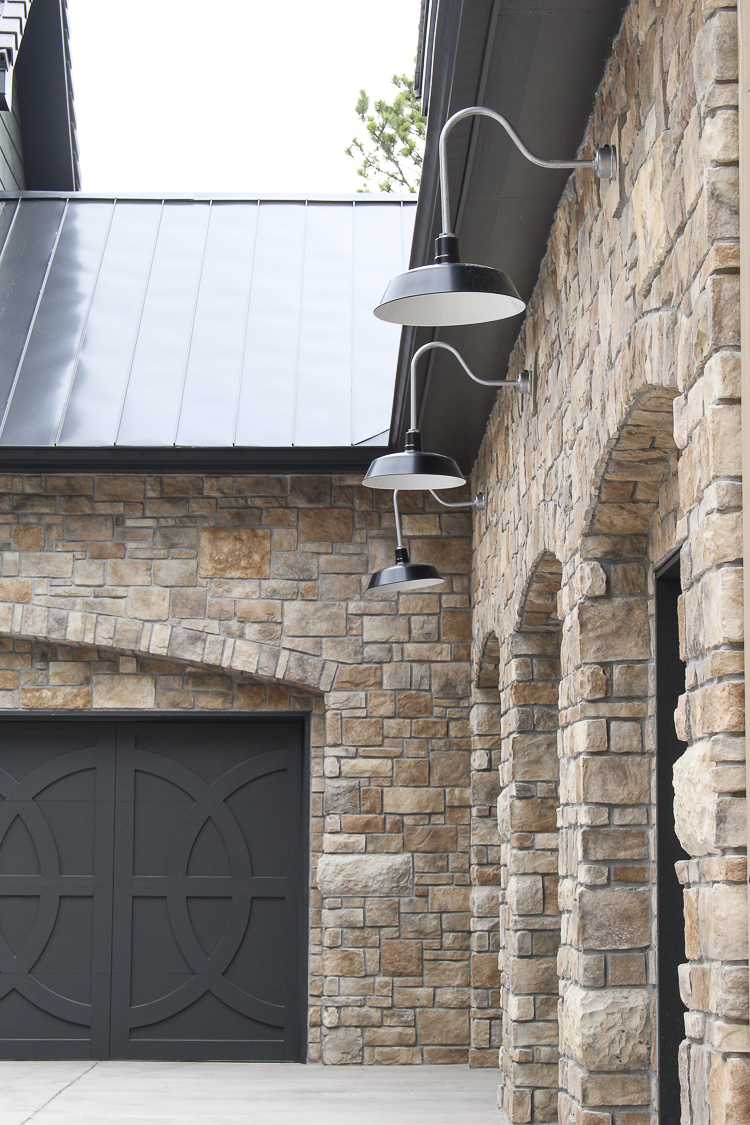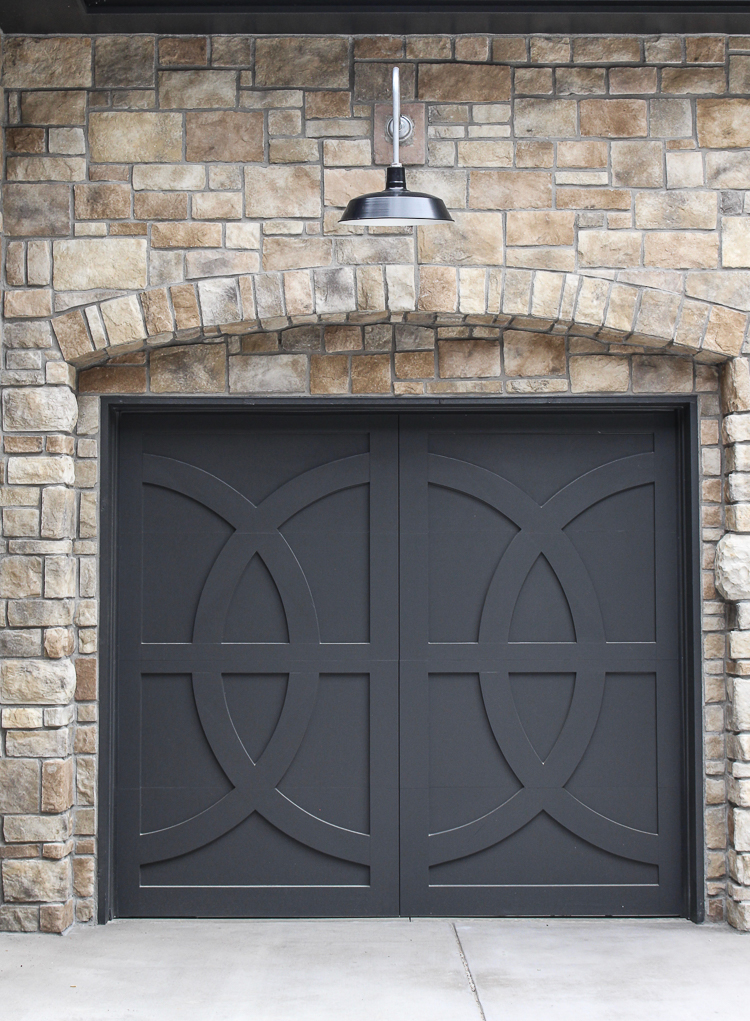 Underneath the porte-cochère we chose the Original Gooseneck Light with the special chain hung feature. Here again we were able to customize with a galvanized arm and 14″ shade painted black. What makes this light so unique is the chain. I get so many compliments when visitors stop by. I love it so much that I also have two more on a patio side of our home. Eventually when we get that area landscaped I'll show you that space.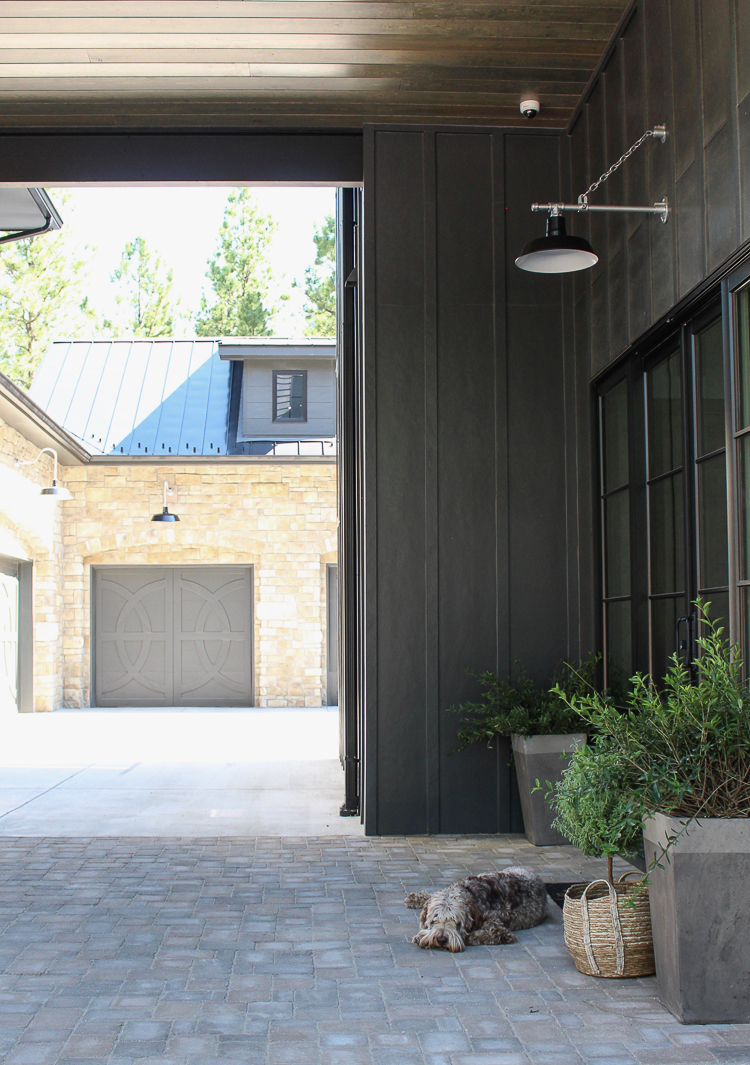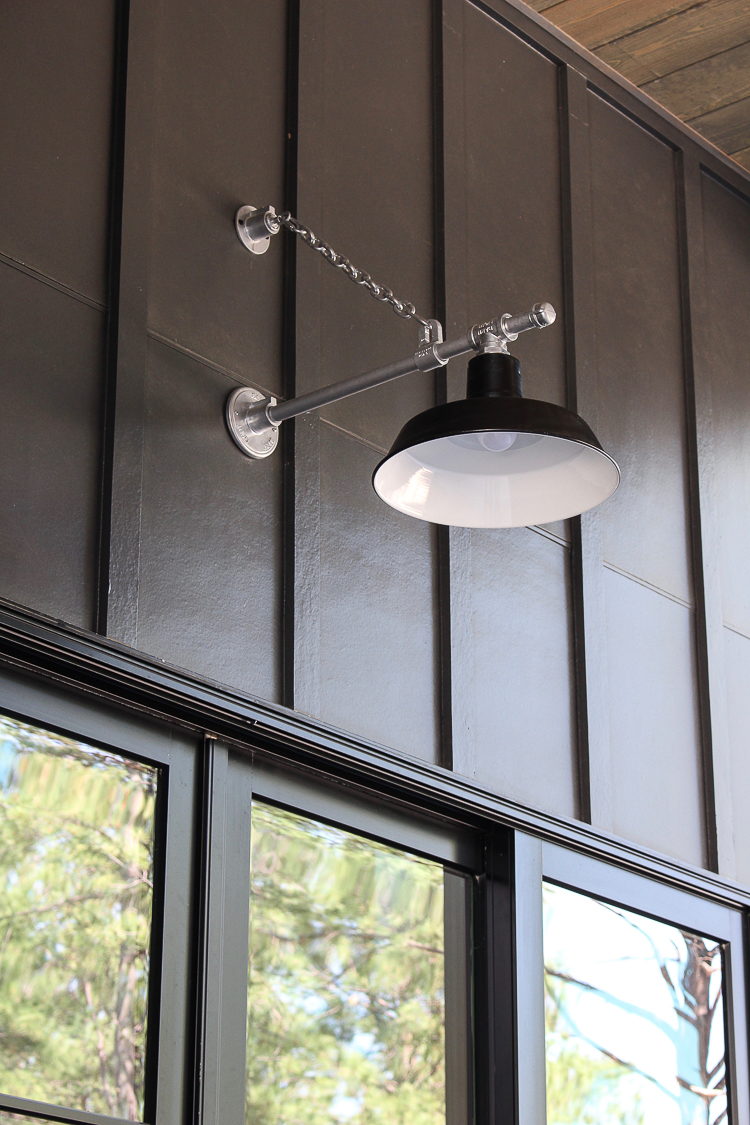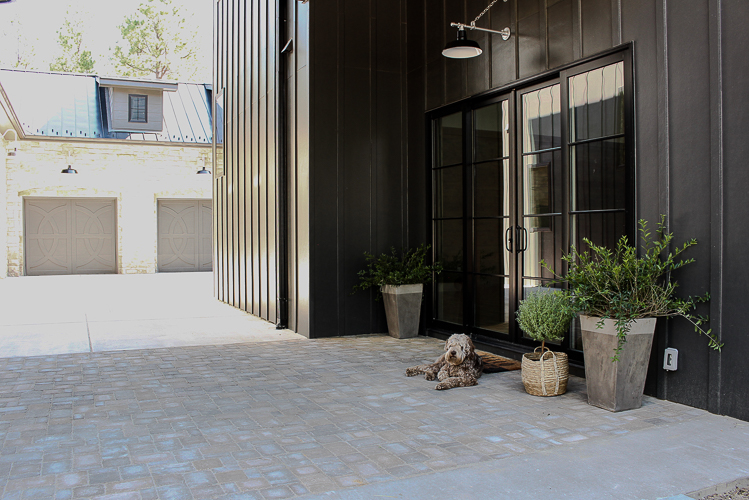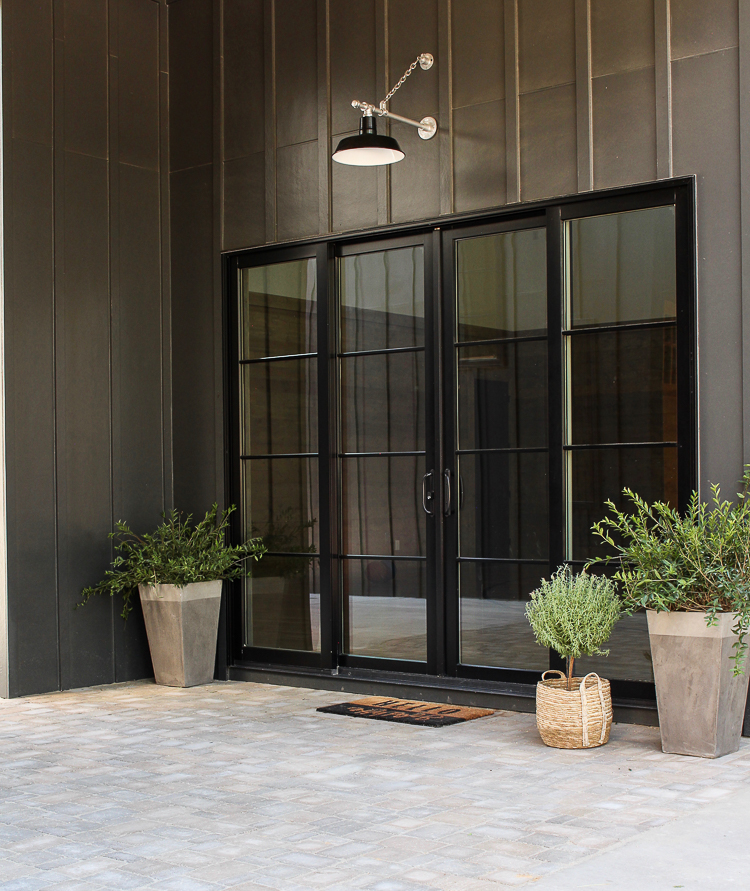 Eventually I'll be sharing what's behind those doors. If you follow me on Instagram you may have guessed already. It's certainly the most popular spot in our home.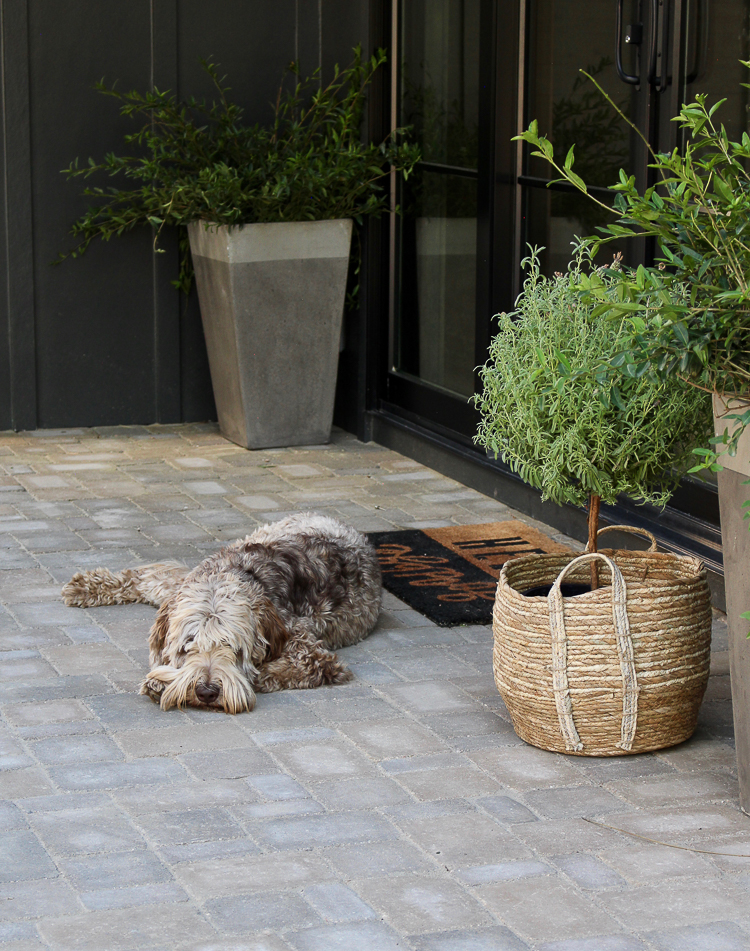 Kodak is loving his new home and all the space to run free on.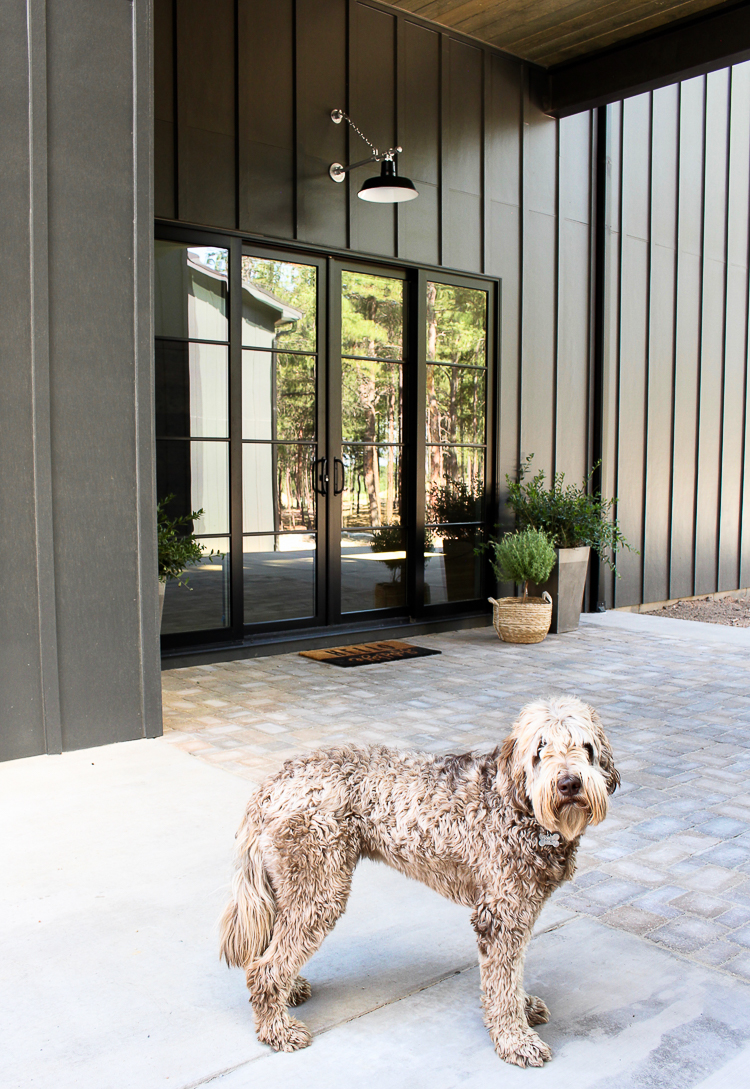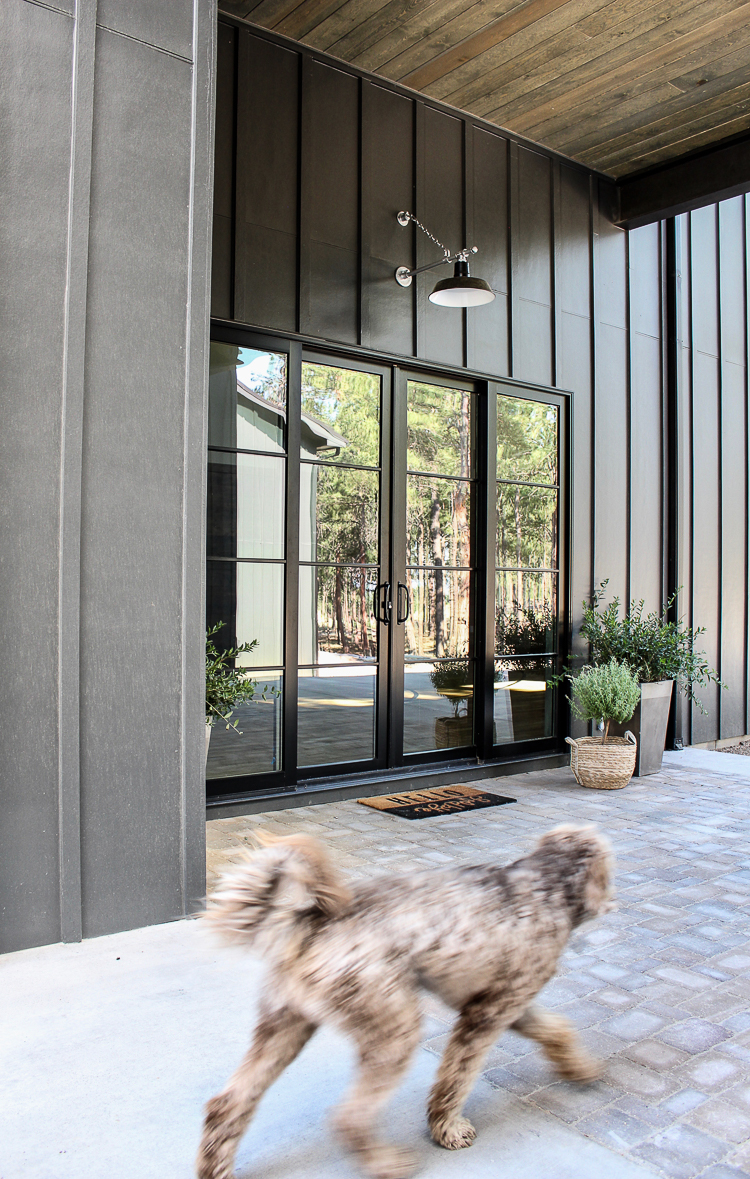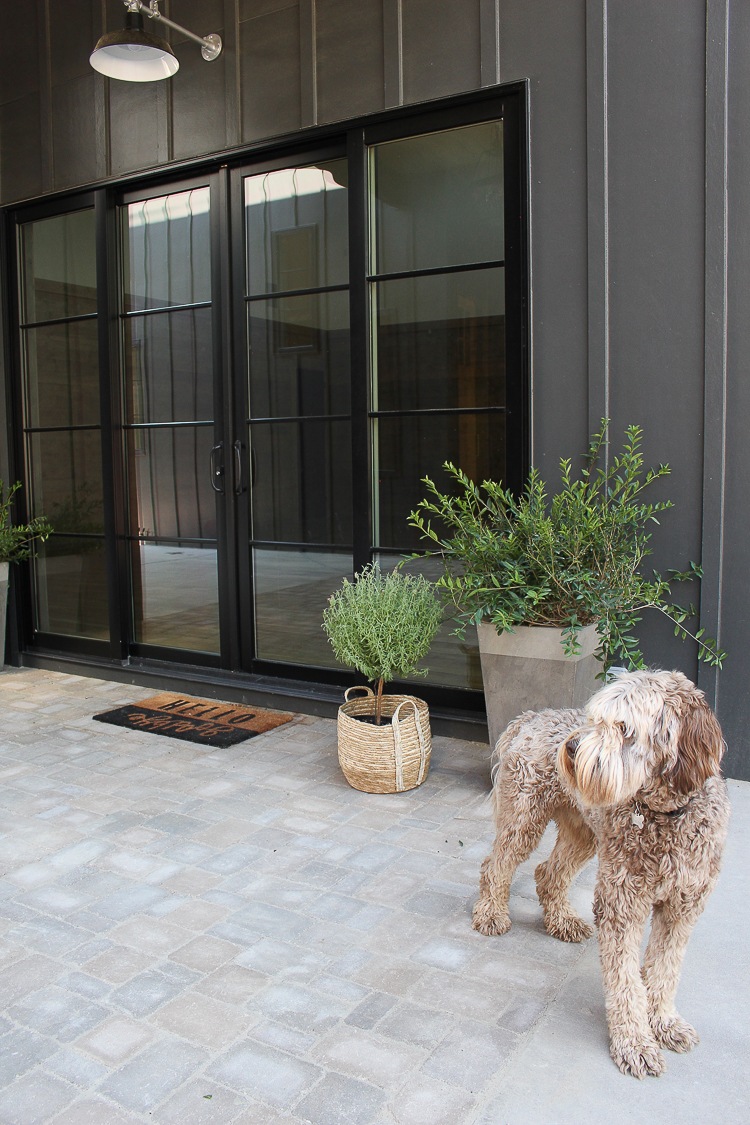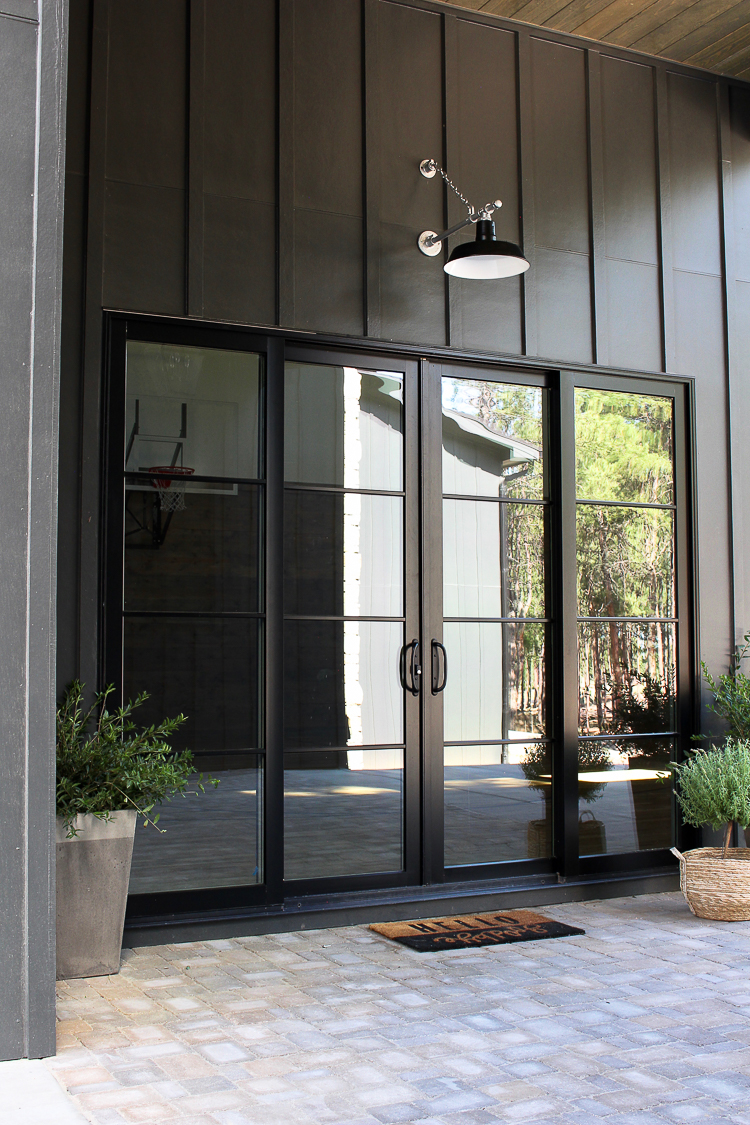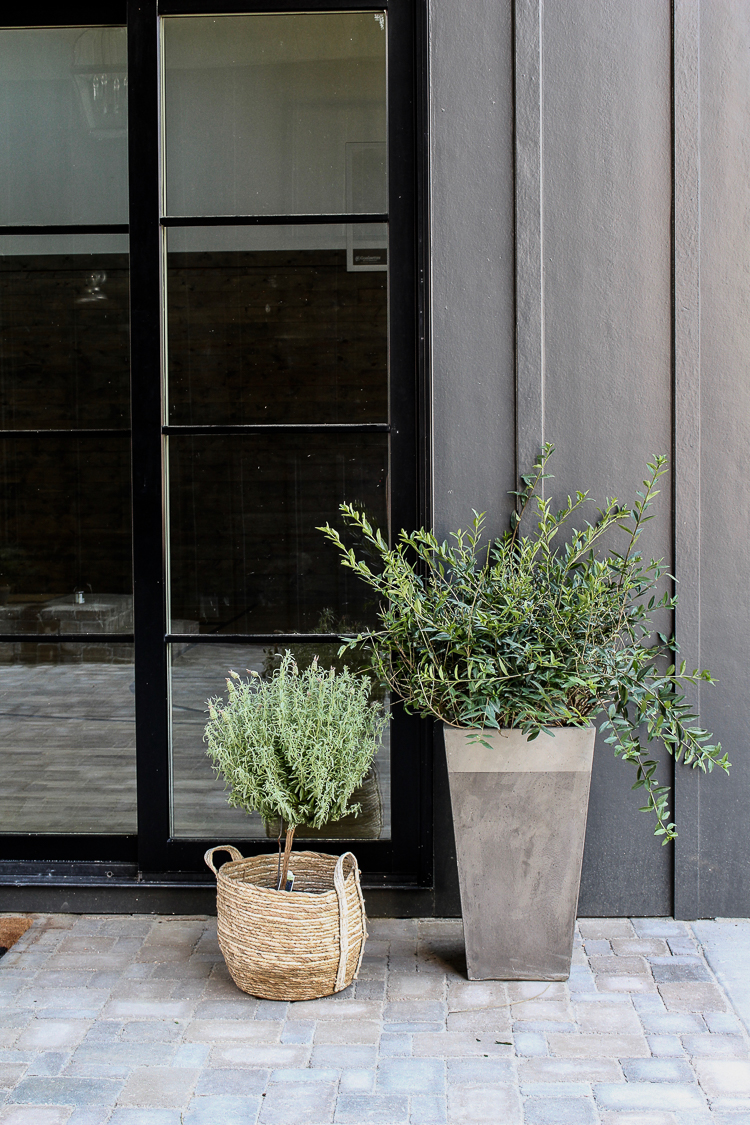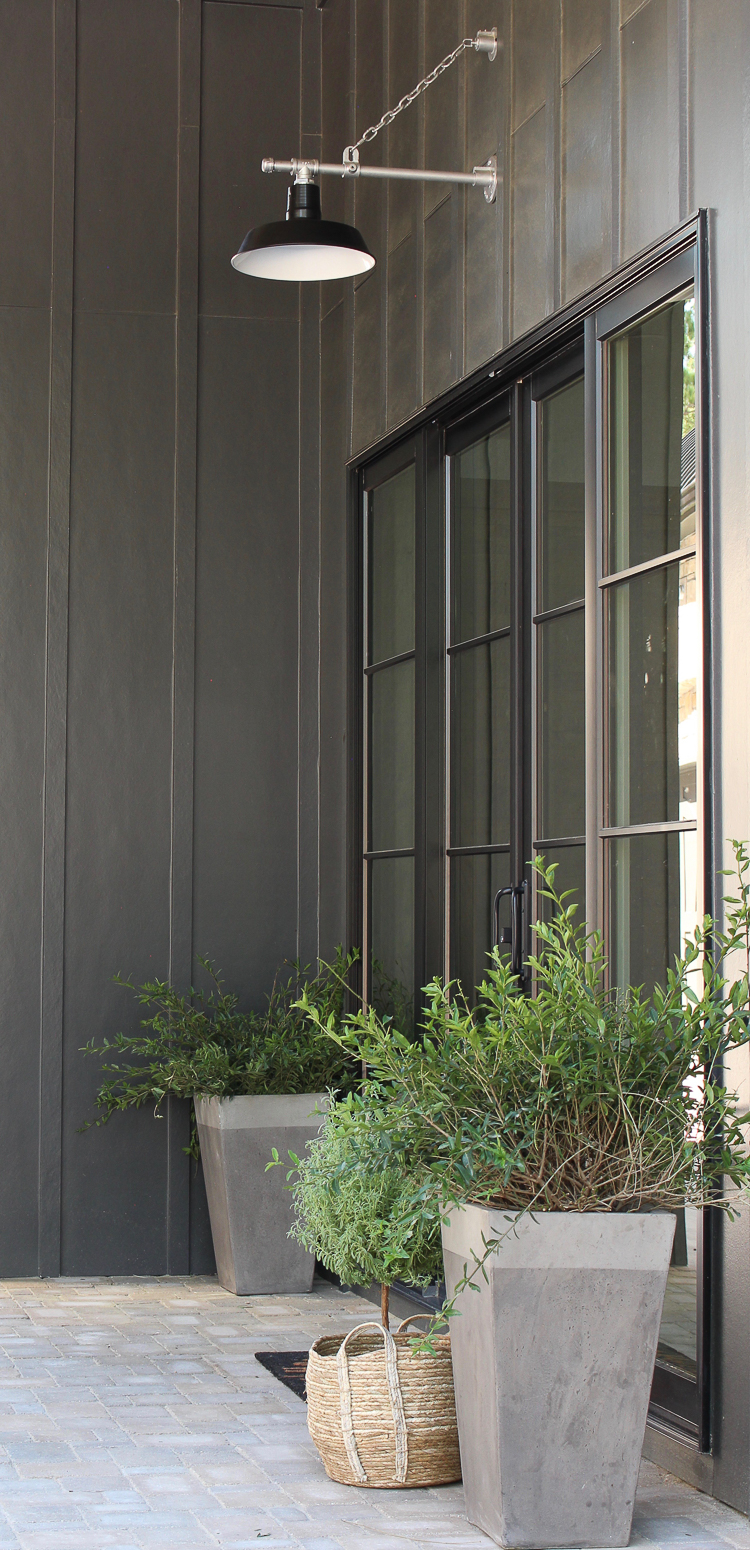 RUG || CONCRETE PLANTAR (SIMILAR) || BASKET OPTION (GREAT DEAL ON SET OF 3!)
THANK YOU TO BARN LIGHT ELECTRIC COMPANY FOR PARTNERING WITH ME ON PRODUCT FOR OUR HOME. OPINIONS, REVIEWS AND PHOTOGRAPHY ARE MY OWN. AFFILIATE LINKS USED FOR YOUR SHOPPING CONVENIENCE. PLEASE SEE FULL DISCLOSURE POLICY HERE.