Our Sleek Minimalist Living Room
When I designed the living room space of our new home, I envisioned it being sleek and minimal. A color neutral room grounded by a statement fireplace as the focal point with refined furnishings. I've craved simplistic style in this home that does not require a lot of adornment. I think the massive purge of home decor I did before we moved really has helped me stay very intentional on the new pieces I buy for this home. It took me a couple of months staring at an empty living room to get a feeling of how I wanted this space to look and feel.
**affiliate links used. Our full disclosure can be read HERE.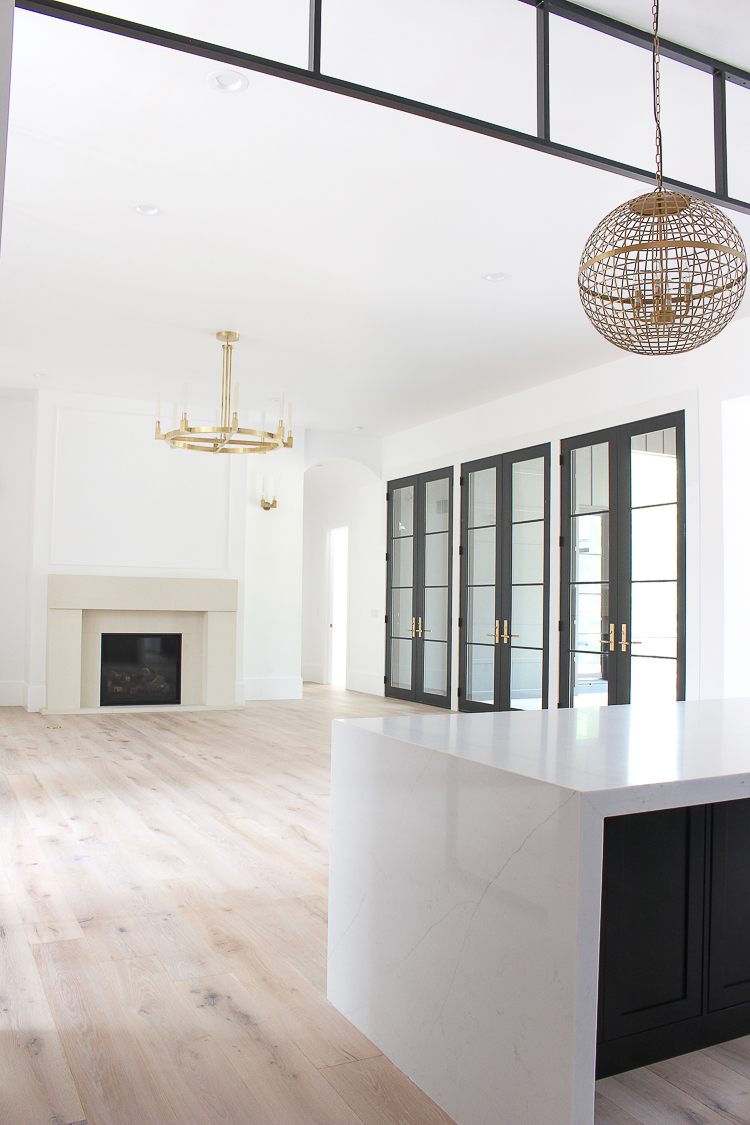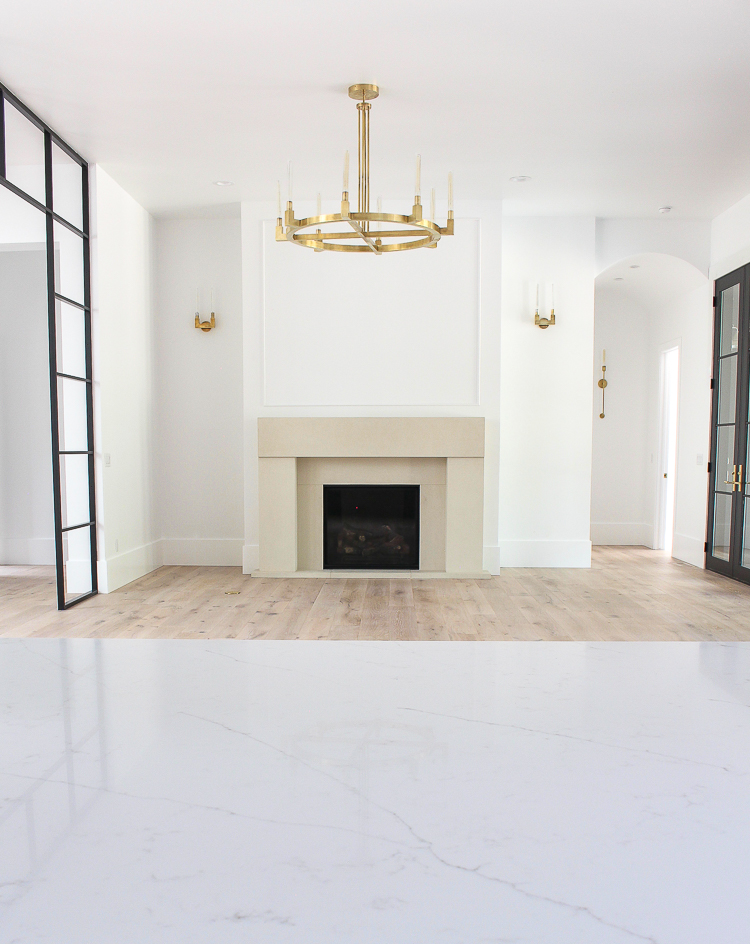 For me, an empty room felt better than a room filled with furniture that no longer represented my new evolved style. I took my time researching sofas, coffee tables and rugs. I found myself a few times straying from the neutral-refined look I was craving and looking at beautiful saturated colors. Although that design recipe can make for a fabulous living room, I had to remind myself to stay true to the "feeling" I had felt all along.  Let the gorgeous fireplace mantel make a statement on it's own. Surround it with neutral tone furniture that feels organic, refined, and simplistic, yet bold in stature.  Layer the space with multiple textures in the natural woven jute rug, assortment of pillows, and accessories.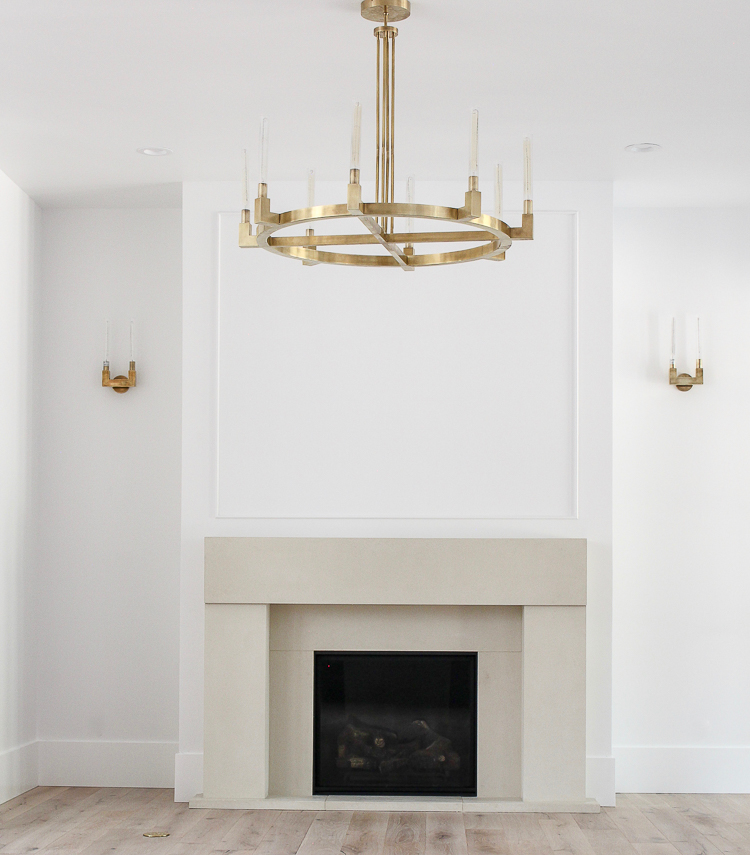 The chandelier and sconces are the jewelry that truly take our living room to the next level.  I'll have all sources listed at the end of this post.
After living in our home for 5 months now, I'm finally at a point where I can show you the updates to our new sleek, minimalist living room. There's still final touches to be done, including adding a mural or wall art above the fireplace mantel and maybe a lamp or two on some end tables. Right now though it feels exactly how I wanted it to feel and just in time to decorate it for Christmas!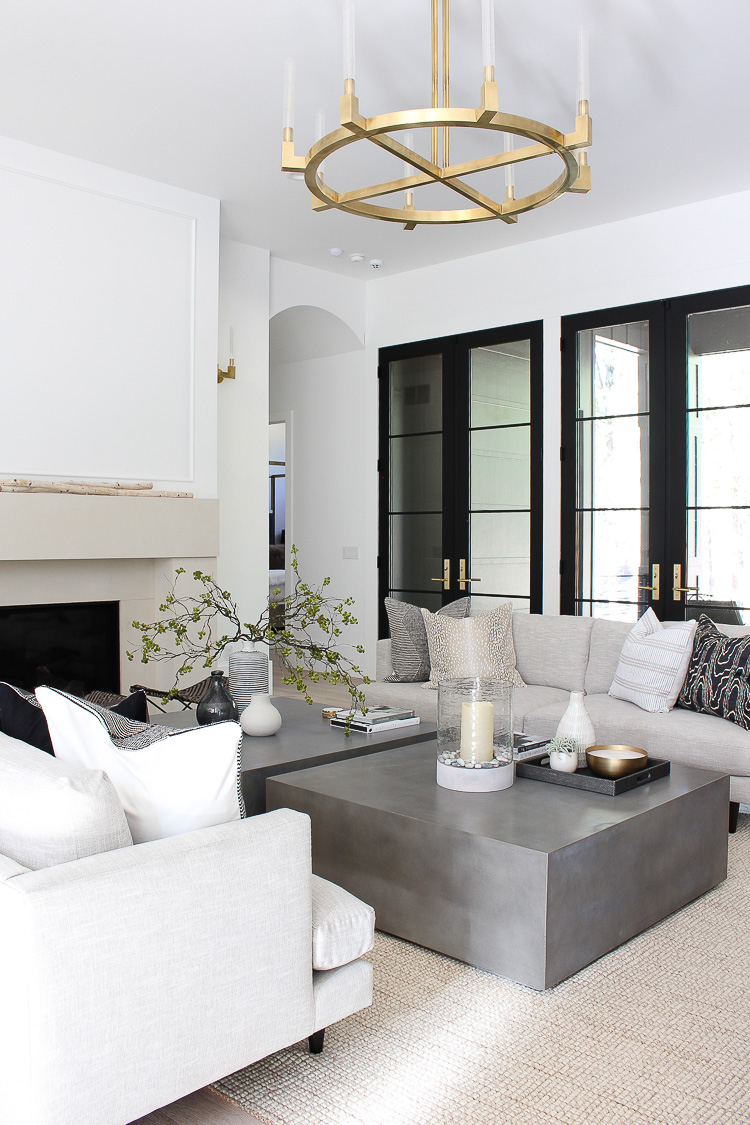 The concrete-look coffee tables have a nice contemporary, organic look that make a bold, yet refined statement. We have 12 foot ceilings on the entire main level of the home which can make furnishings feel like dollhouse furniture if not thought out carefully. Two large square coffee tables positioned between the two matching sofas really ground the space, giving a nice flow of symmetry.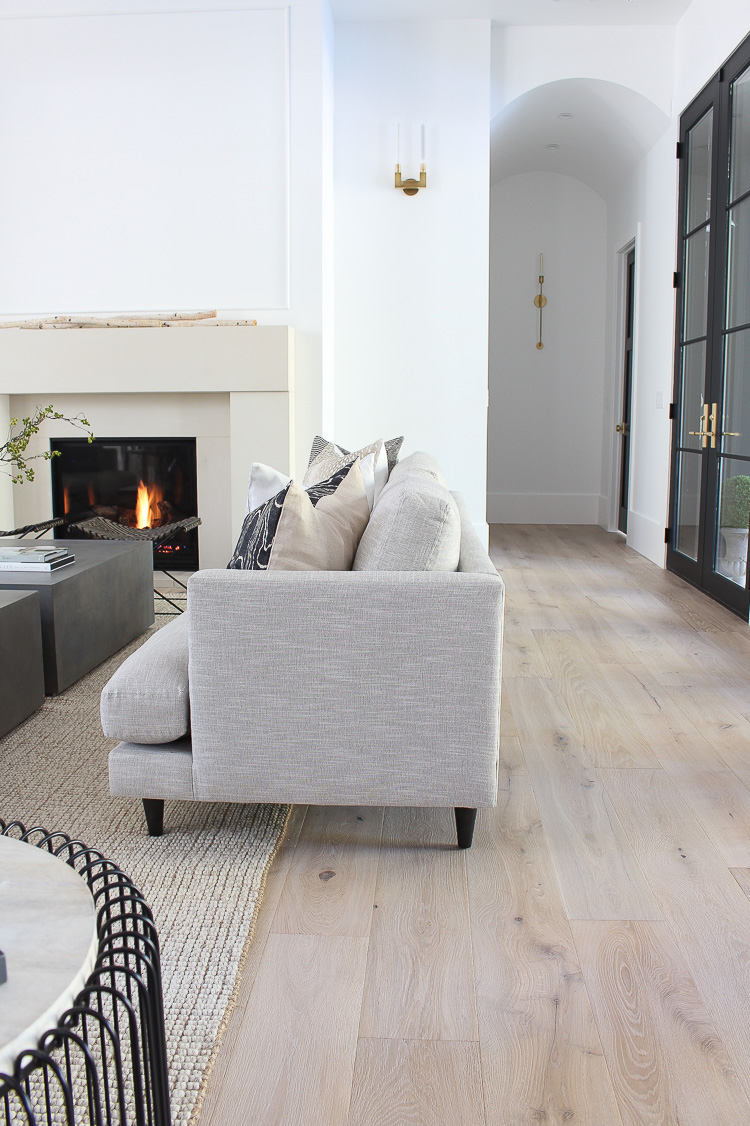 Speaking of sofas, I cannot be happier with the ones I chose after doing all my research.  A furniture store I've always loved yet never actually owned furniture from is Room & Board. I've had friends who have owned furniture from this store and I was impressed with the quality and the modern, Scandinavian style.  I visited the Room & Board store in Denver to try out some sofas I had my eye on. Not only was the overall look of the sofa of utmost importance, but the comfort level and durability were also big factors in making my decision. I looked at quite a few fabulous sofas there, but the one that ultimately had my heart was the campbell sofa.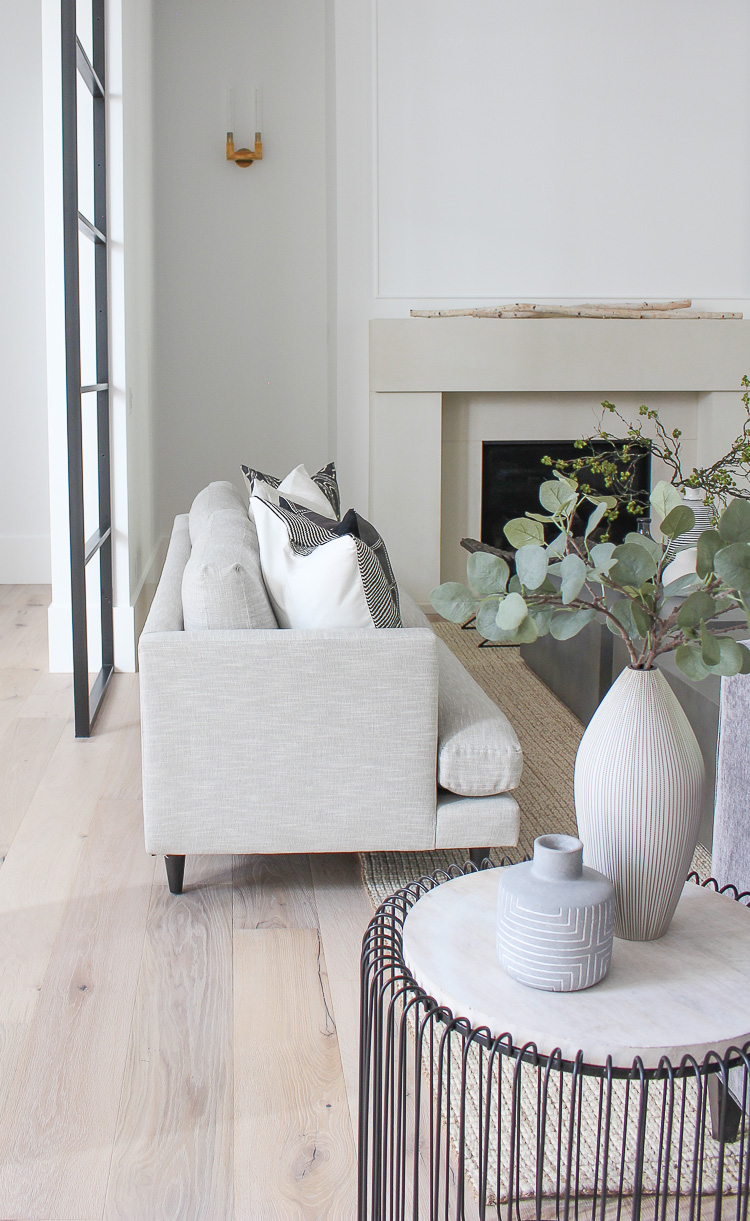 The modern profile is exactly what I was looking for with its timeless look. The cushions are very comfortable and are made out of an eco friendly, high resiliency, foam core wrapped in a down feather blend. They are made to hold their shape over time without compromising comfort. I went with the in stock fabric, Destin Linen, which is made out of synthetic fibers making it family friendly, fade resistant and a low maintenance fabric to care for. Obviously that's a big selling factor for me since my dogs are always sneaking their way up onto the furniture and we have a house full of boys. Another great feature of this sofa is that it is available in three lengths. Ours is 96″ and has seated four adults comfortably with elbow room left over.  It also can be customized in a variety of other beautiful fabrics.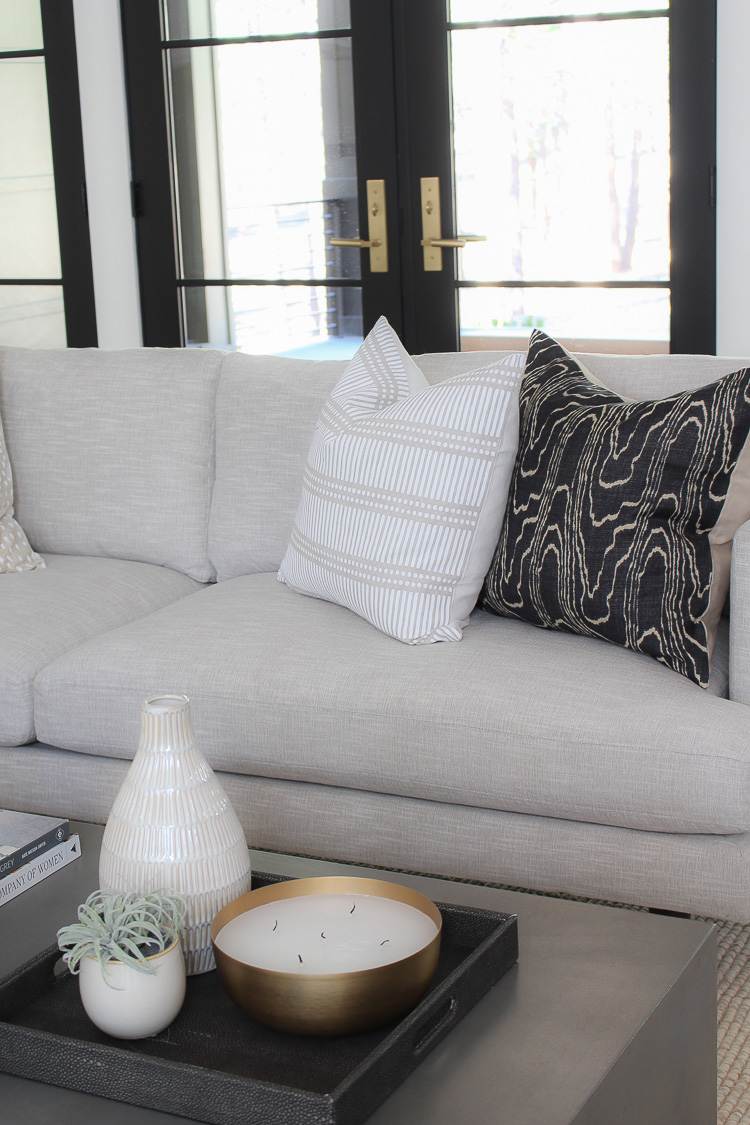 The great part about having a neutral color sofa with clean lines is that I can switch out my throw pillows with any color or texture and it'll look great! The linen fabric is the perfect backdrop to any color trend I may want to incorporate down the road. Mixing pillows and textures is a great way to add a lived in organic feel to your sofas. I focus on blending different patterns within the same neutral color scheme to give a cohesive feel.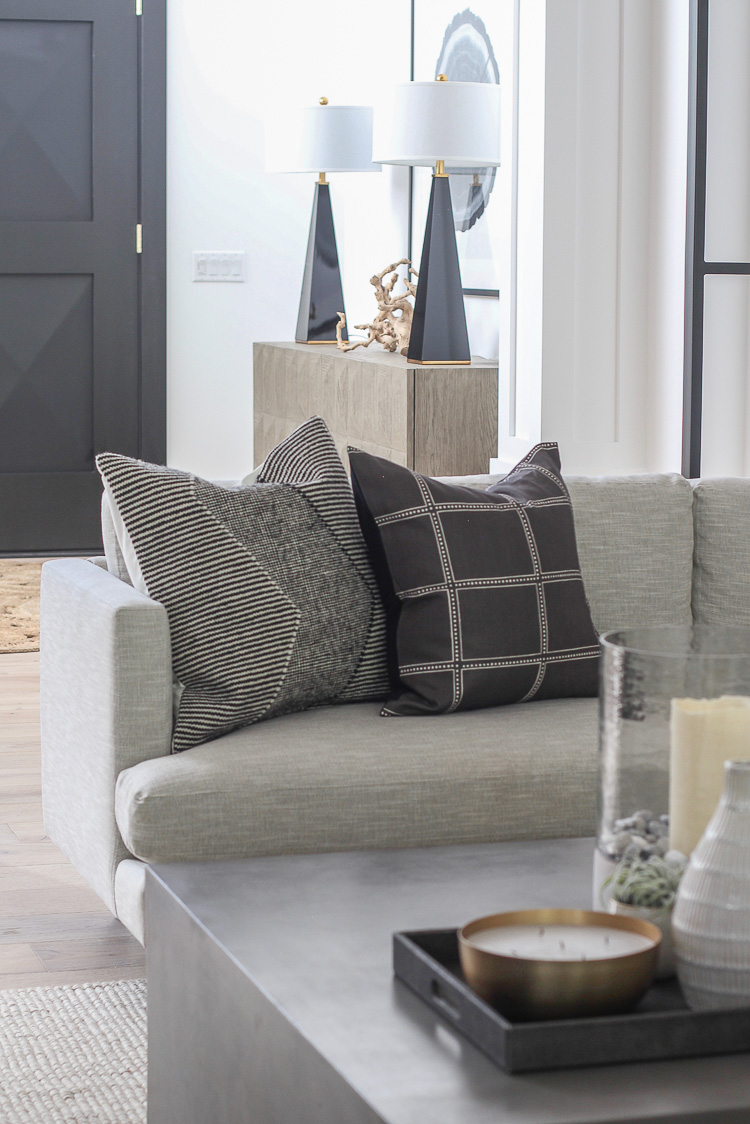 The rug may have been my greatest challenge making a decision on. I would look at rugs with a hint of color and pattern and they wouldn't feel right to me. The concrete coffee tables needed to stand out against a neutral rug with great texture. I didn't want to add any more focal points to the room, yet a rug was necessary to define the space and ground all the pieces of furniture. This natural jute rug I chose is another GOOD decision and one that I recommend to everyone now.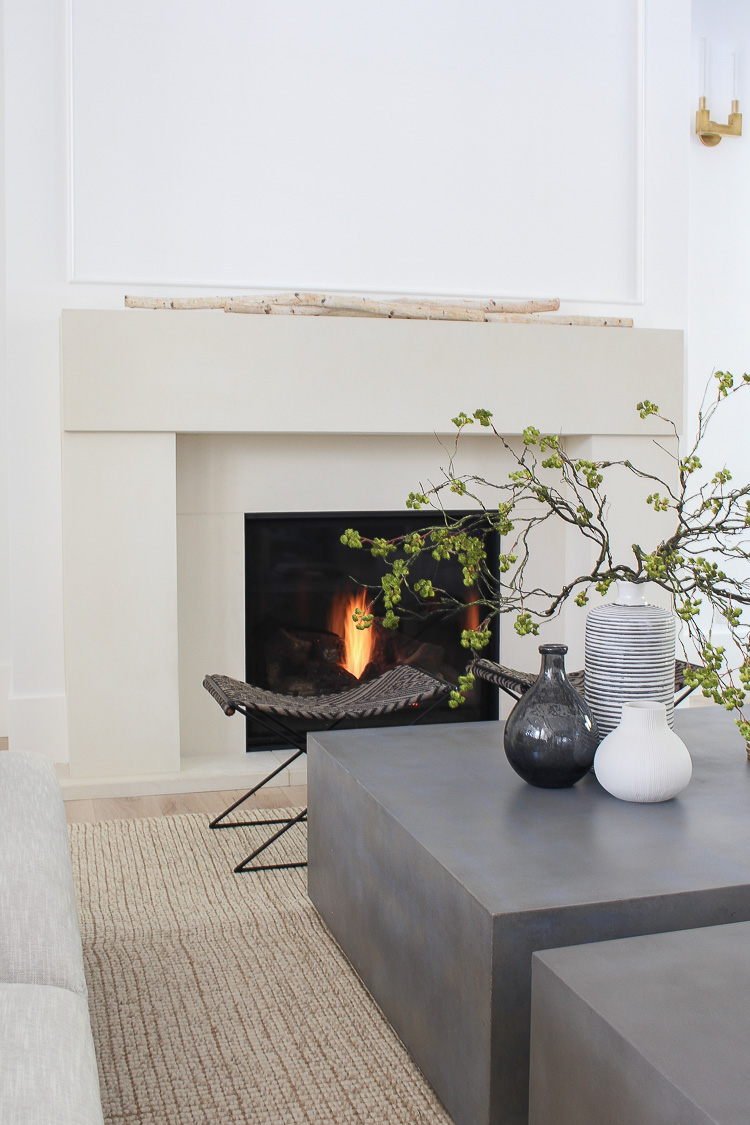 A pair of stools (also from Room & Board) are nestled next to the fireplace to allow extra seating without taking up visual space. The steel frame with a handwoven Kilim pattern sling seat is perfect for sitting on to warm your toes and fingers during our long cold winters.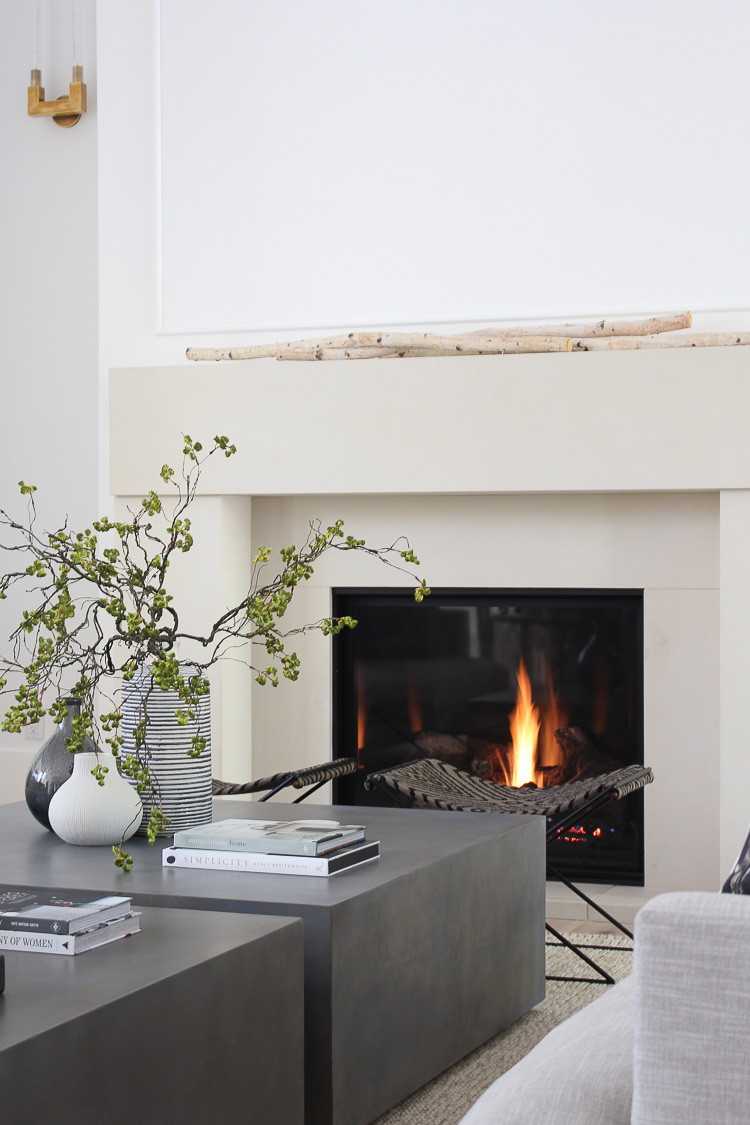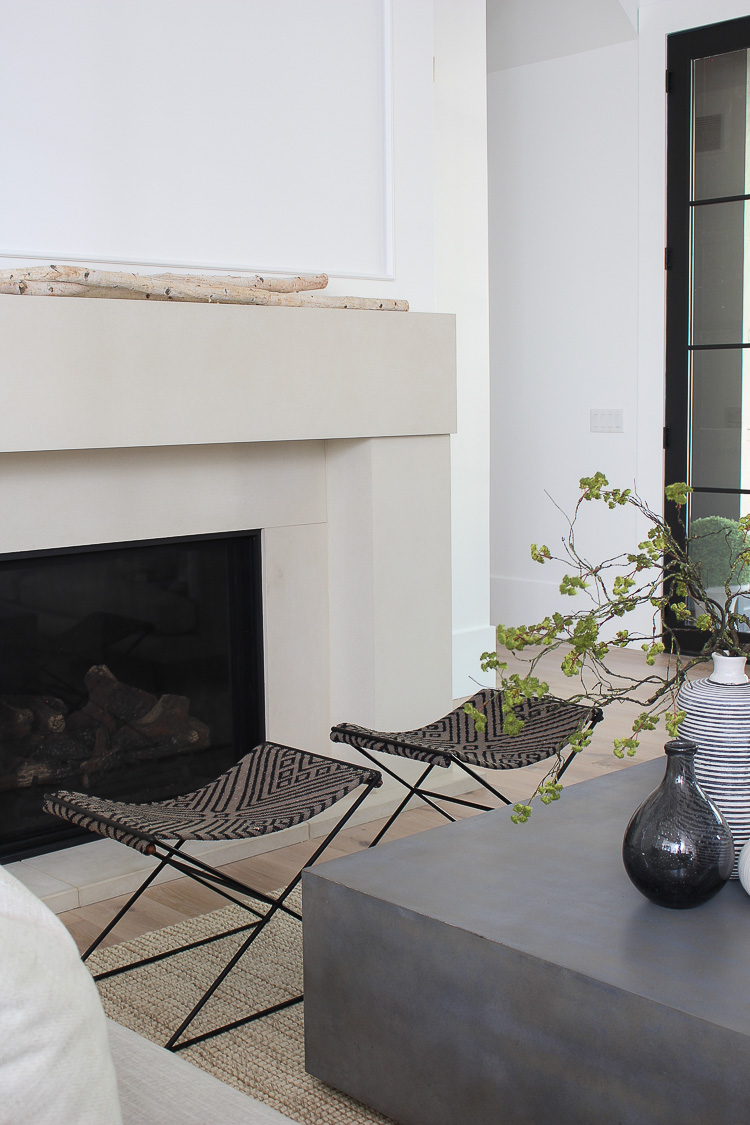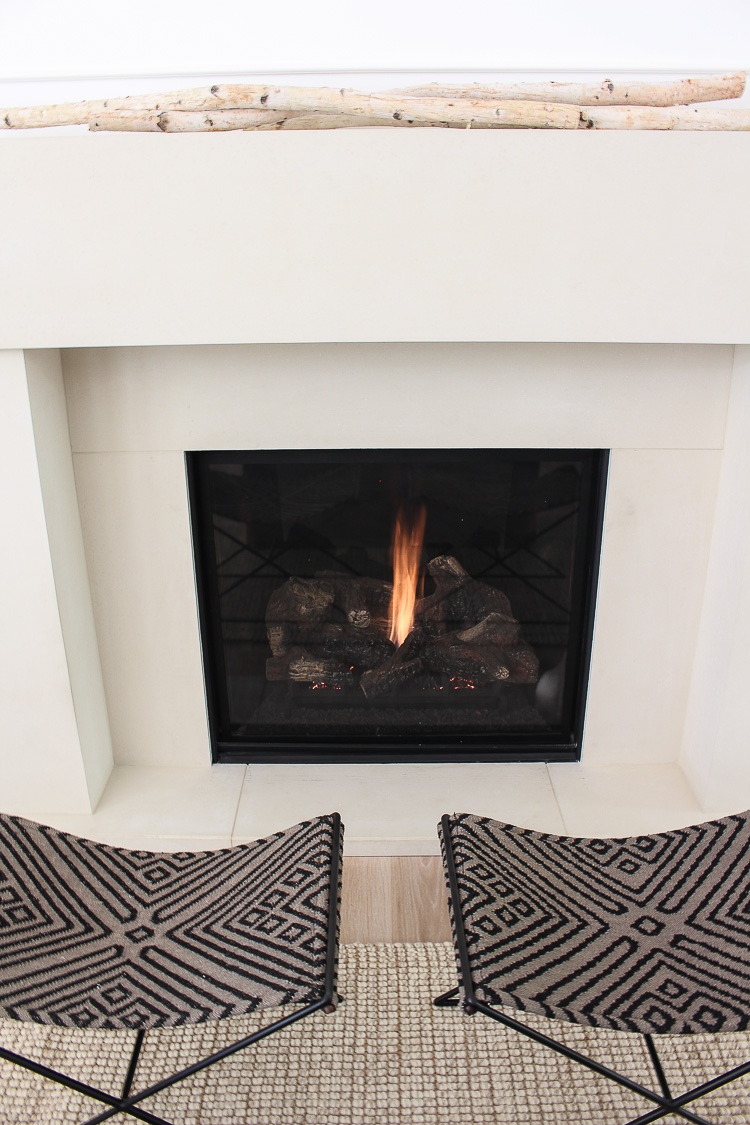 As I mentioned previously, I haven't quite found what I'm looking for to finish of the wall space above the mantel. Honestly, the bare wall doesn't even bother me and I'm embracing the simplistic backdrop that I'll get to decorate for Christmas. A few birch tree branches give a nice organic feel and that's simply all it needs for now.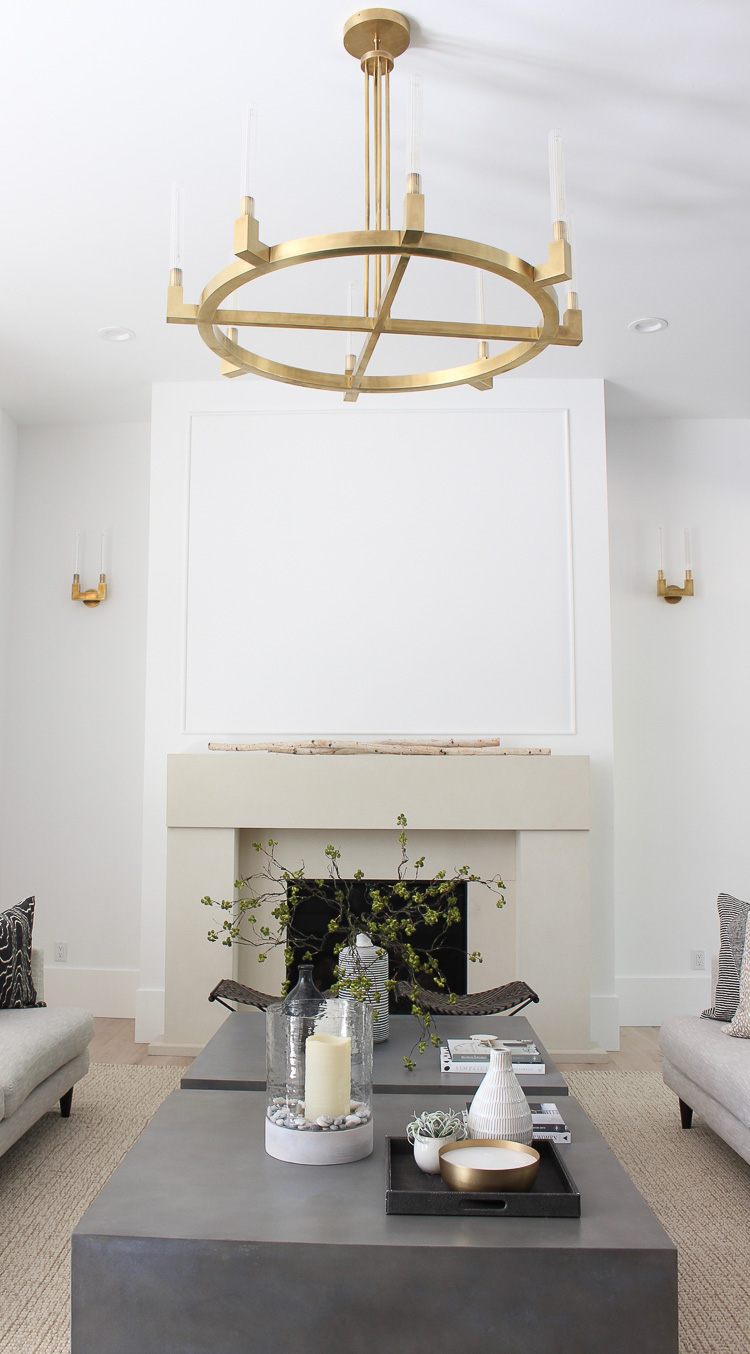 More layers of organic textures were added with some faux branches among a trio of vases.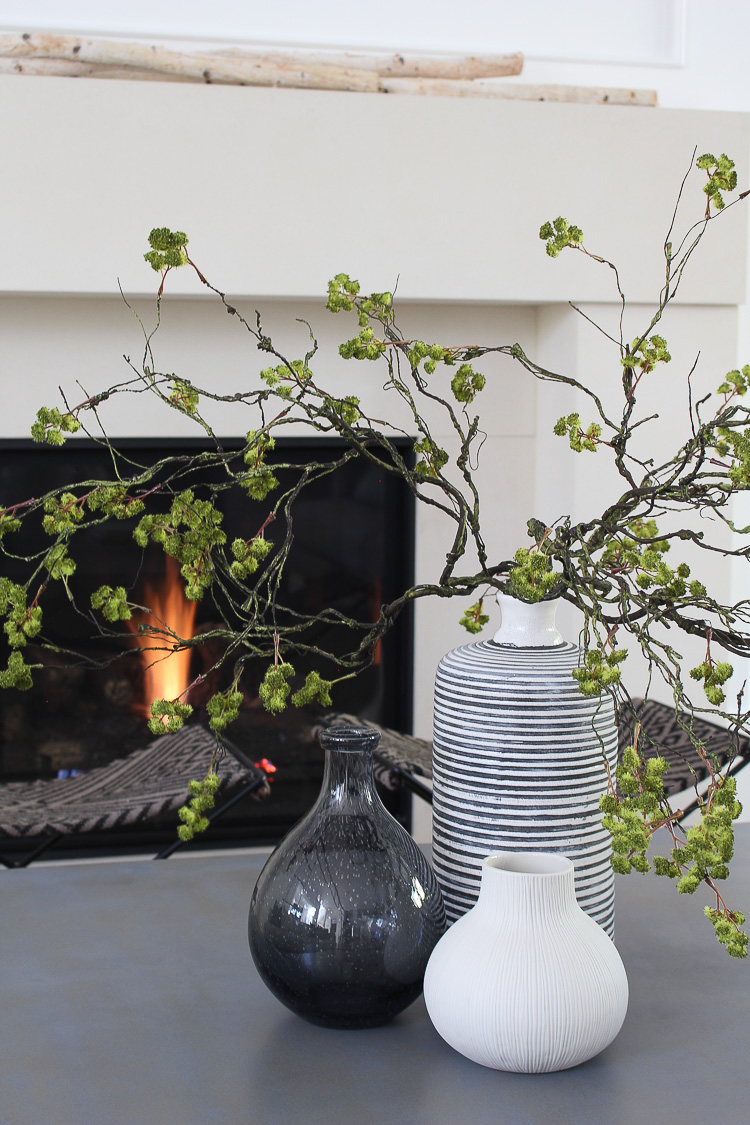 Having a large coffee table can have the tendency of making the accessories feel a bit lost. I like to use trays to group items together and give them their own defined space.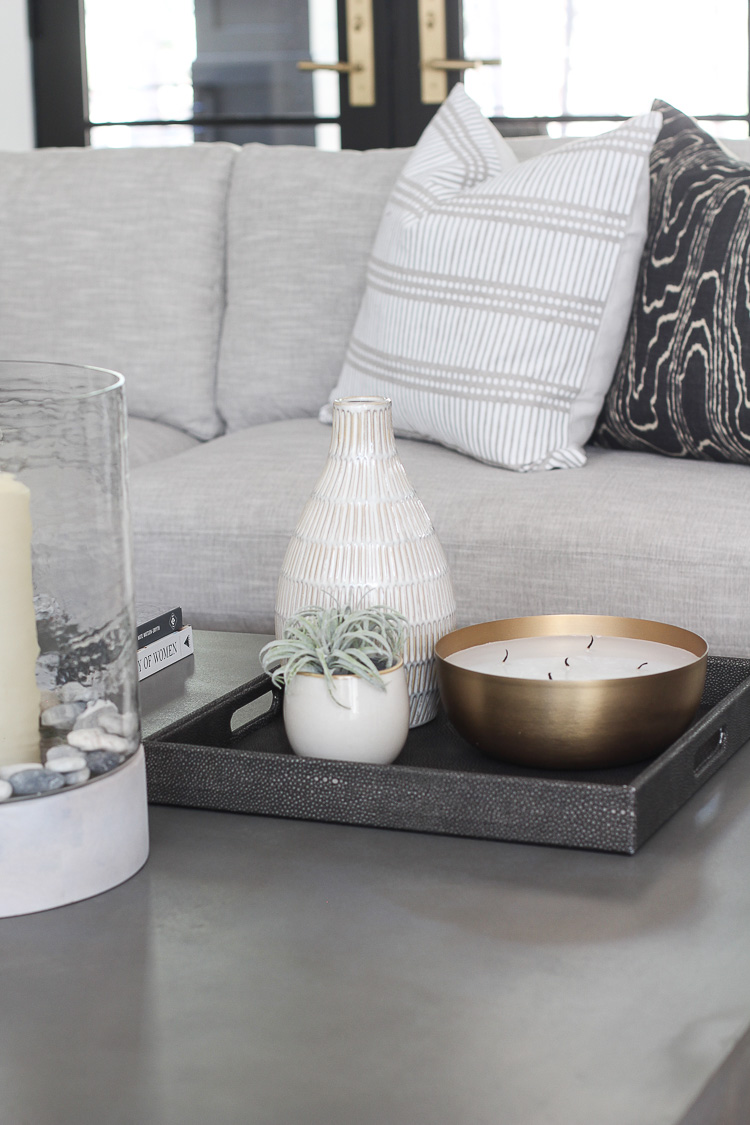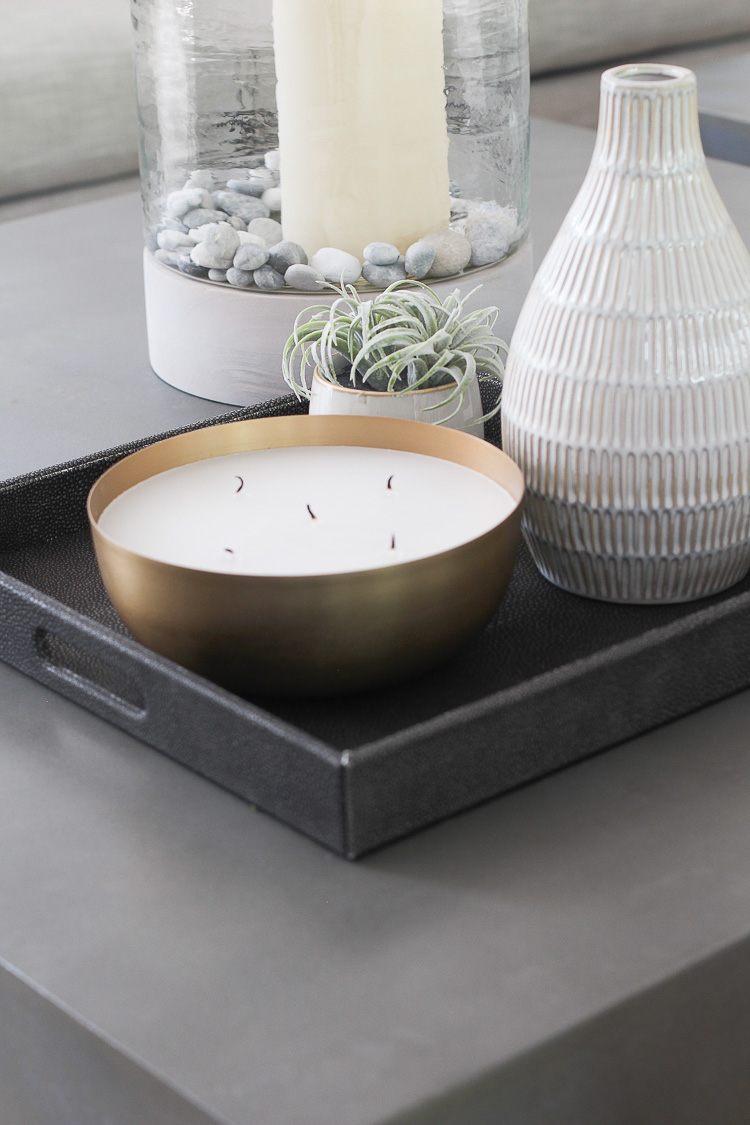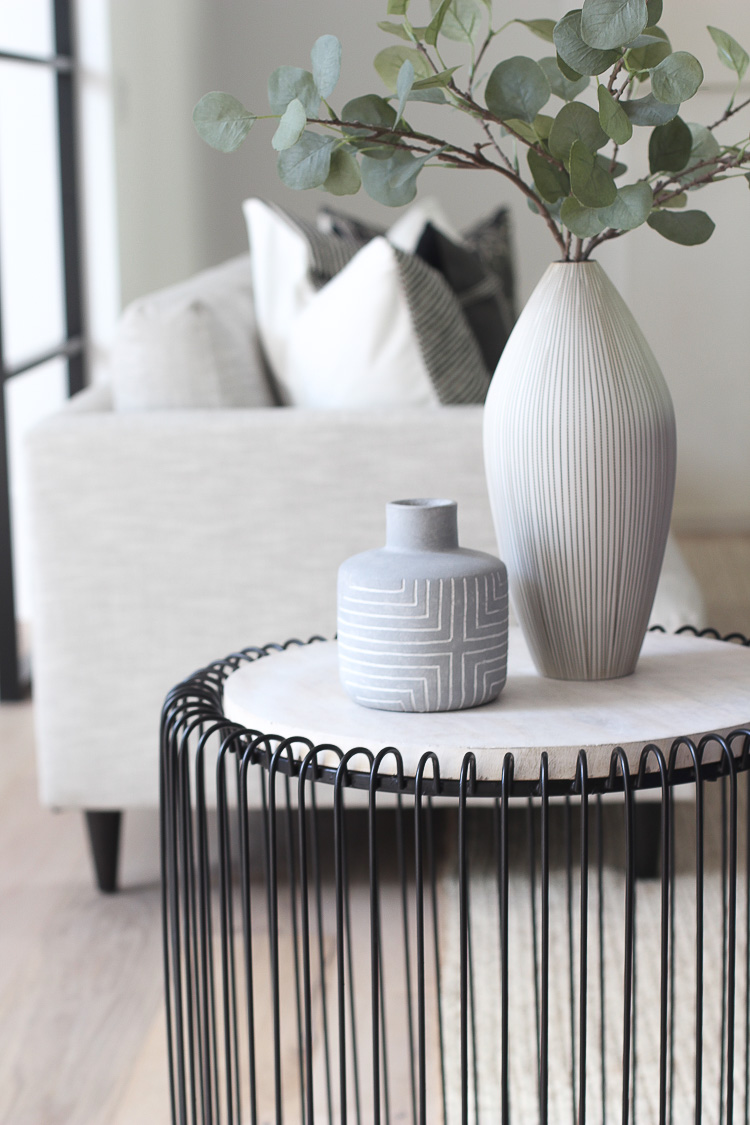 You can see a glimpse of our front entry. I'll be posting more on that space soon with a full source list.




Additional Sources:
Furniture:  Sofas (color is Destined Linen) | End Tables – Homegoods find!
Lighting:  Chandelier | Sconces
Wood Floors: Info can be found HERE.
Paint: Walls are painted in Sherwin Williams Pure White
French Door Hardware: Emtek
Special thanks to Room & Board for providing some furnishings in our living room. All opinions and photography are my own.